Reporte de Curación Semanal//Weekly Curation Report
Un saludo amistoso a todos Hivers, El equipo de Be Entrepreneur se encuentra complacido por la respuesta positiva que ha tenido, por parte de ese grupo creadores de contenidos, que se sienten inmersos en el apasionante mundo del emprendimiento.

Llevar nuestros emprendimientos a un nivel superior requiere de conocimientos y experiencias. Un conocimiento que abarca desde lo más íntimo del emprendedor como pueden ser sus emociones, motivaciones, fortalezas, debilidades hasta los aspectos más técnicos del emprendimiento como son la creación de tu modelo de negocio, plantear los objetivos y estrategias de crecimiento, definir tu cliente y las posibilidades de tu producto, entre tantos otros.

La experiencia es un aporte que parte del camino andado y es validado por la enseñanza que nos deja. Compartir nuestras experiencias y aprendizaje siempre será valioso para otro, aun cuando partamos del hecho de que cada emprendimiento es único en su esencia y, lo que para unos funciona, no necesariamente funciona para todos, posiblemente, de esos altos y bajos que narramos, alguien puede extraer alguna respuesta que, en ese momento, guíen una acción que favorezca a su hacer como emprendedor.

Friendly greetings to all Hivers, The Be Entrepreneur team is pleased with the positive response we have had from this group of content creators who feel immersed in the exciting world of entrepreneurship.

Taking our entrepreneurship to a higher level requires knowledge and experience. A knowledge that ranges from the most intimate of the entrepreneur such as emotions, motivations, strengths, weaknesses to the more technical aspects of entrepreneurship such as the creation of your business model, raise the objectives and growth strategies, define your customer and the possibilities of your product, among many others.

The experience is a contribution that comes from the road we have traveled and is validated by the lessons we learn from it. Sharing our experiences and learning will always be valuable to others, even if we start from the fact that each venture is unique in its essence and what works for some does not necessarily work for all, possibly, from those ups and downs that we narrate, someone can extract some answer that, at that moment, guide an action that favors your work as an entrepreneur.


Hoy nos complace dar inicio al Reporte de Curación Semanal de la comunidad, en él recogemos algunos de los autores cuyas publicaciones expresan esa dinámica de enseñanza-aprendizaje que es propósito fundamental de Be Entrepreneur y aportan con su contenido herramientas que nos ayudan a fortalecer el crecimiento de nuestros emprendimientos.

¡Gracias a todos por ser parte activa de la comunidad!

Today we are pleased to start the Weekly Curation Report of the community, in which we collect some of the authors whose publications express the teaching-learning dynamic that is the fundamental purpose of Be Entrepreneur and contribute with their content tools that help us to strengthen the growth of our ventures.

Thank you all for being an active part of the community!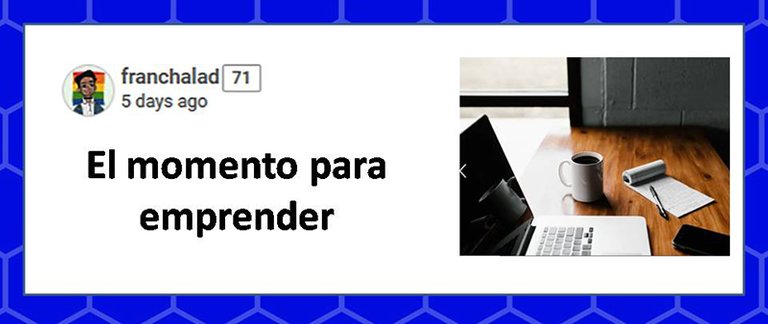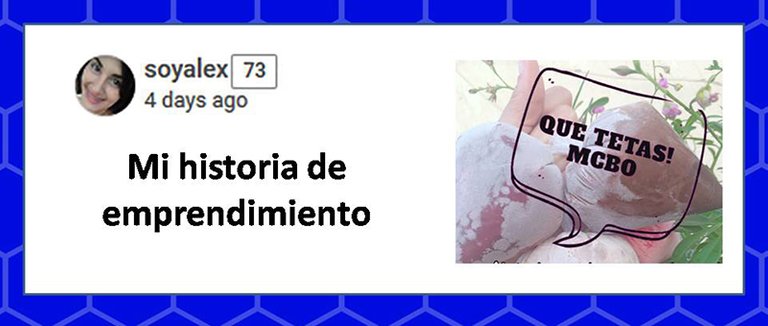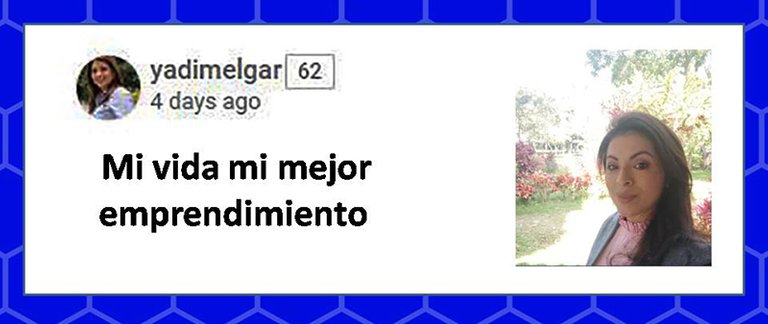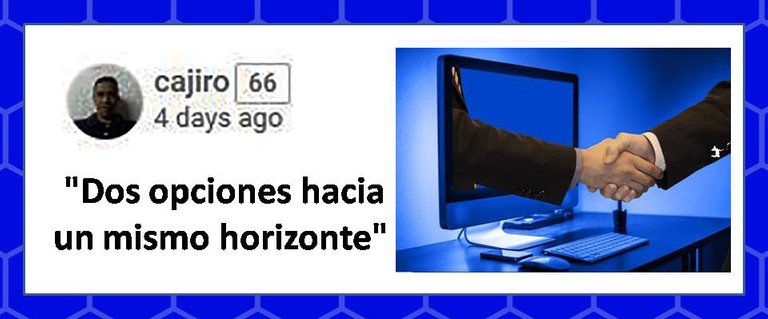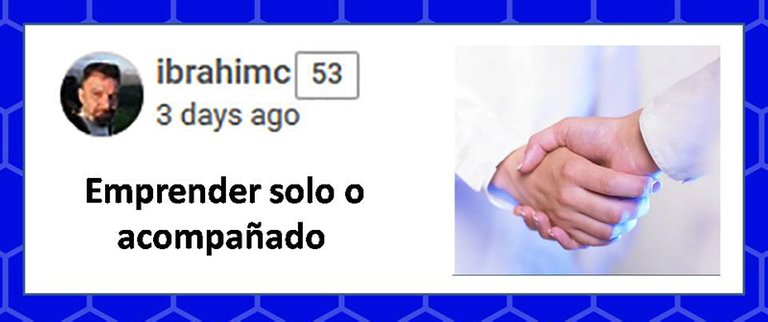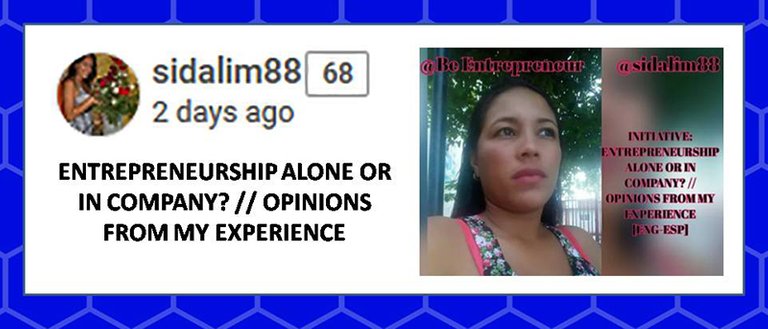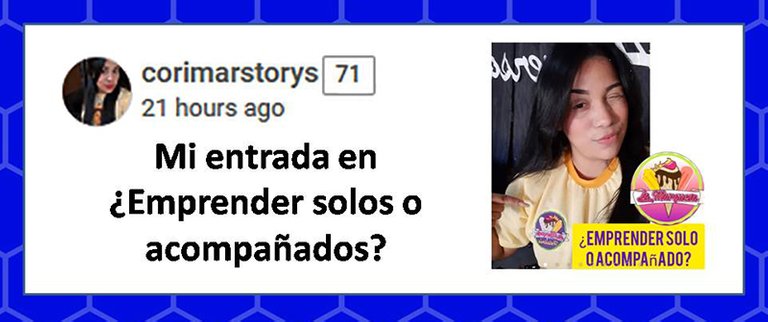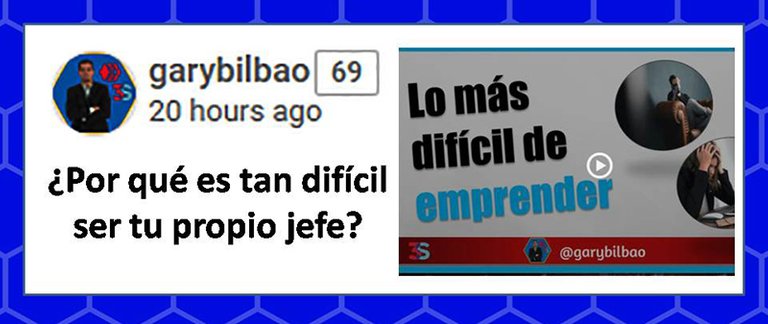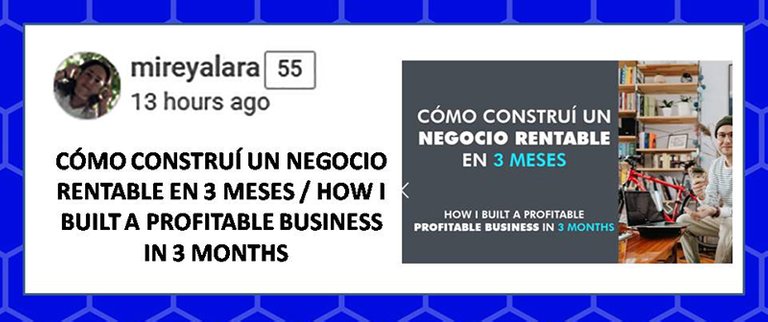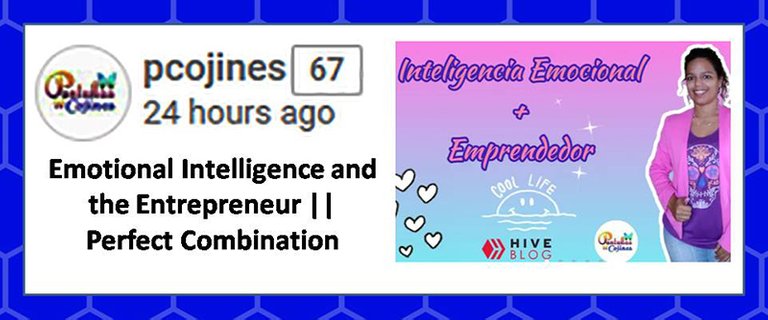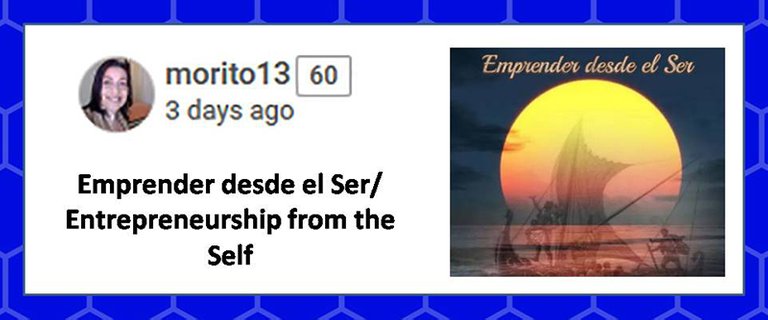 Gracias, Gracias, a cada uno por sus valiosos aportes que impulsan y hacen crecer a la comunidad. Nuestro trabajo para promocionar sus trabajos es constante. Hagamos de Be Entreprneur una comunidad que genere contenido que ayude a cualquier usuario, que se proyecte en Hive y más allá de la plataforma como un espacio de referencia para el emprendedor.
Thank you, thank you, everyone, for your valuable contributions that drive and grow the community. Our work to promote your work is constant. Let's make Be Entreprneur a community that generates content that helps any user, that projects itself on Hive and beyond the platform as a reference space for entrepreneurs.

---
---