The Crazy Zucchini Omelet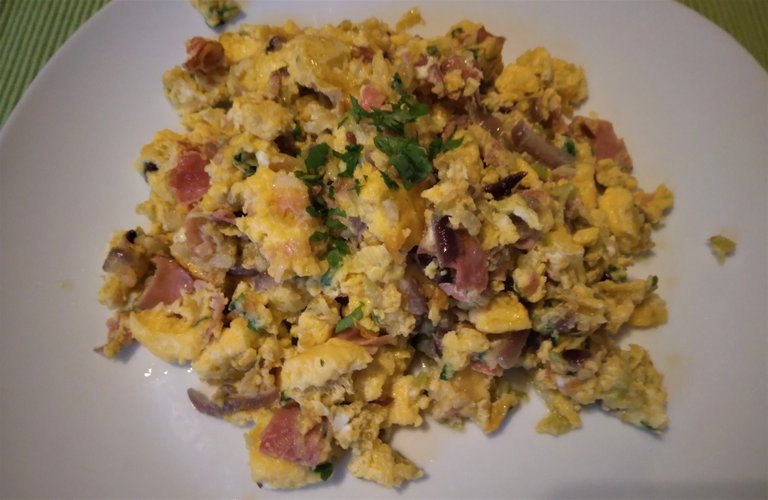 ( EN / DE ) Today like every Thursday was once again PYPT - the Pimp Your Post Thursday - in the @dreemport discord. A live meeting where you can present your postings, moderated by @shadowspub
It's a wonderful thing, but may I give you one good piece of advice:
Never attend it hungry ;-) eat something before!
According to my Central European time, the PYPT starts at 6h in the evening, so also today. And then @bluefinstudios presented his post, about the garden and - ZUCCHINI ! And off we went, with delicious things to cook and then with cheese to boost....
So I said goodbye early because I had gotten really hungry, it was time for dinner and I remembered that there was still a zucchini in the fridge....
Here you can see what ingredients I found: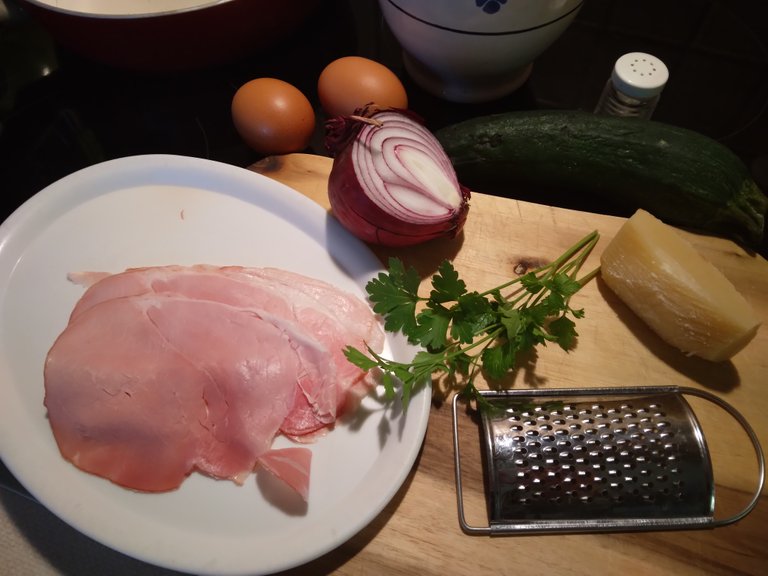 Zucchini, onion, ham, eggs, parmesan, parsley, salt, olives oil.
Onion, zucchini, parsley stems and ham sliced and sautéed in olive oil in order: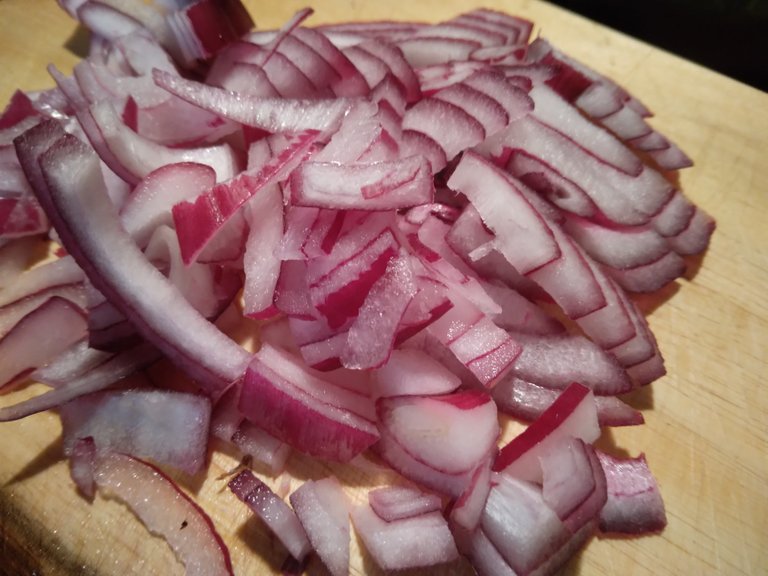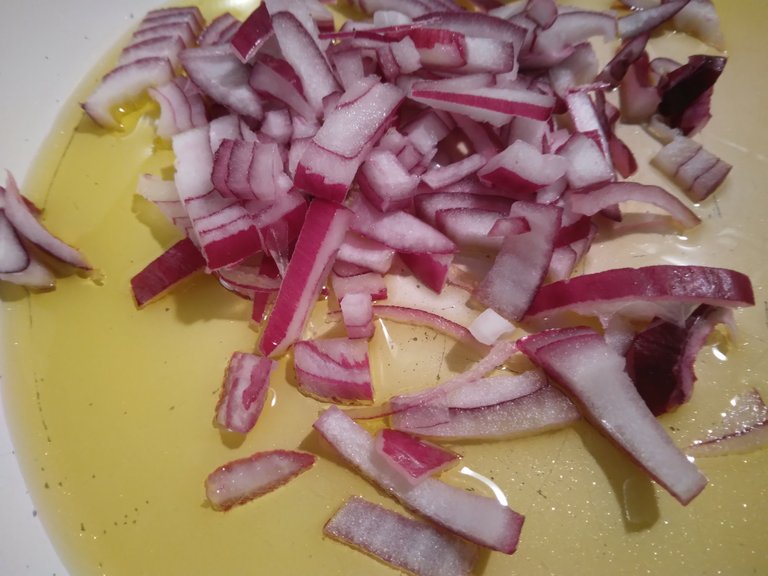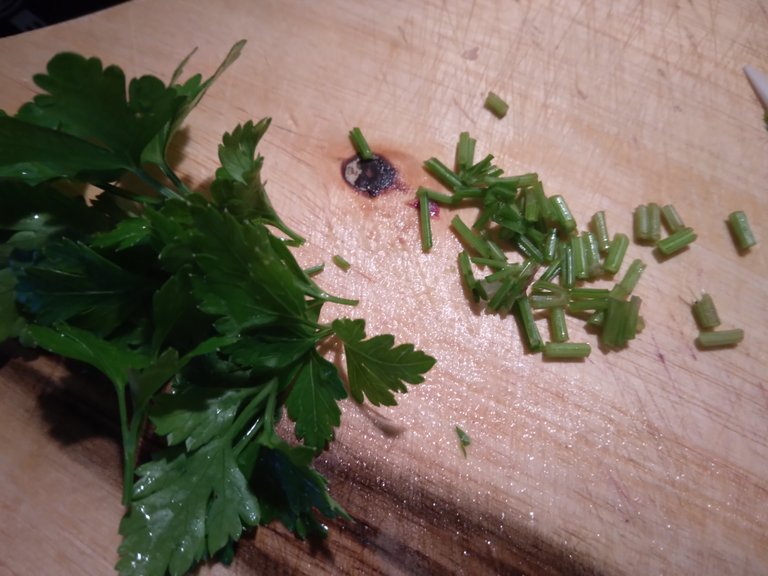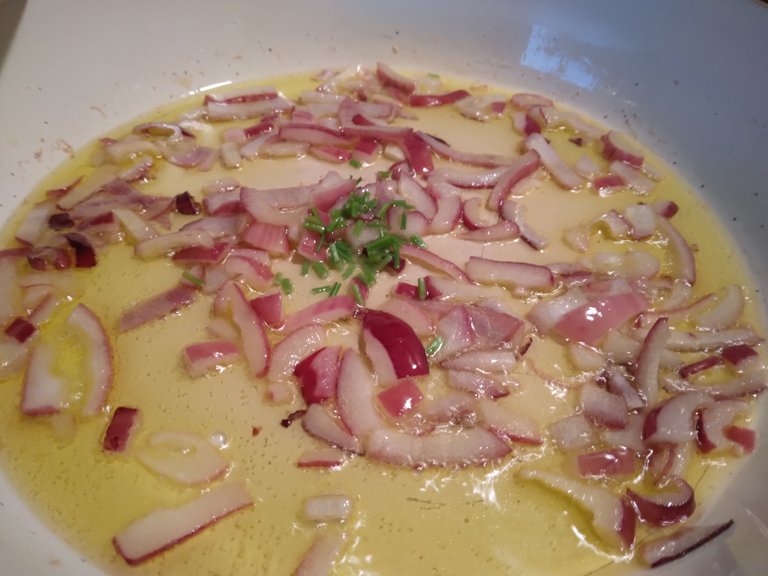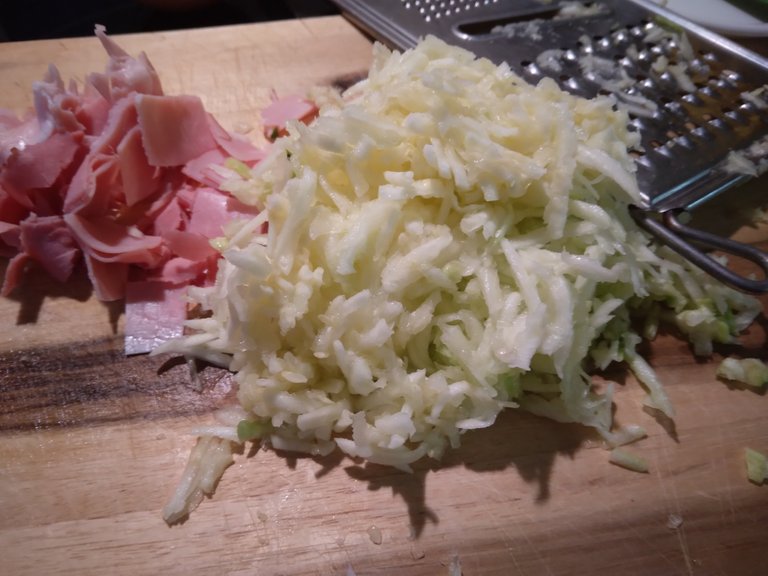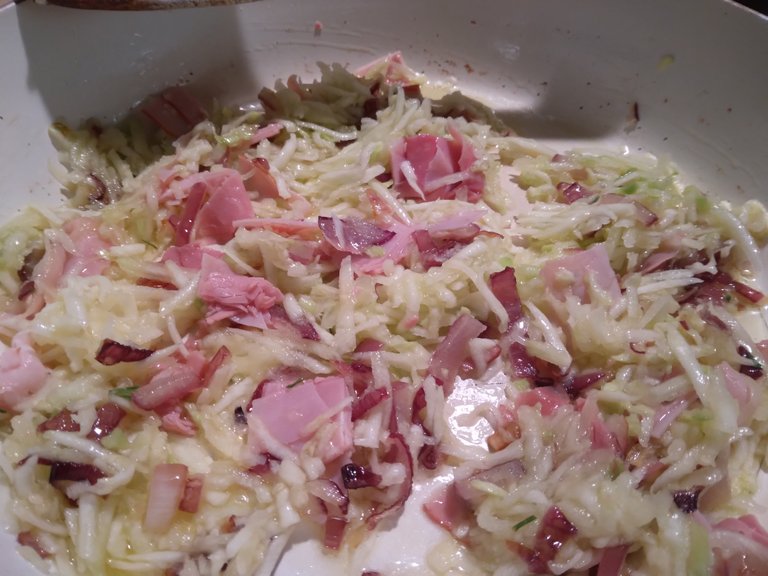 Chopped the remaining parsley and grated Parmesan. The eggs whisked, here I noticed 2 are too few and I added another, then the egg mixture over the fried and sprinkle with parsley and parmesan: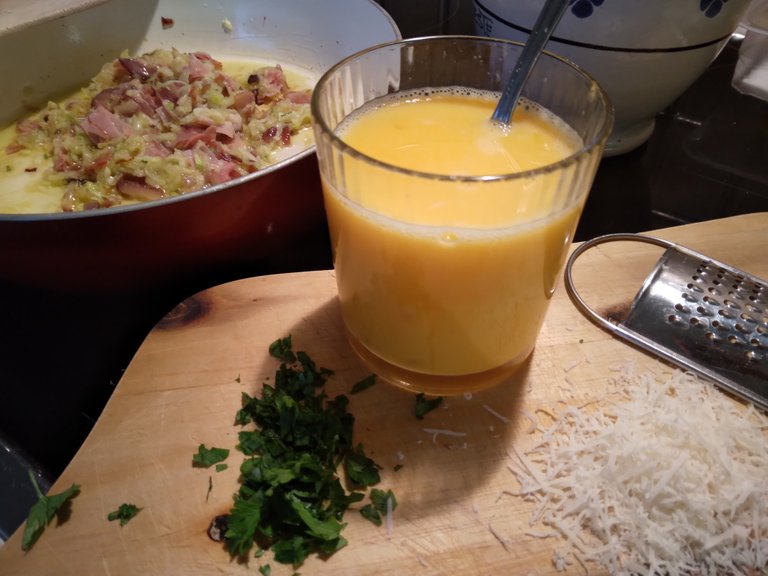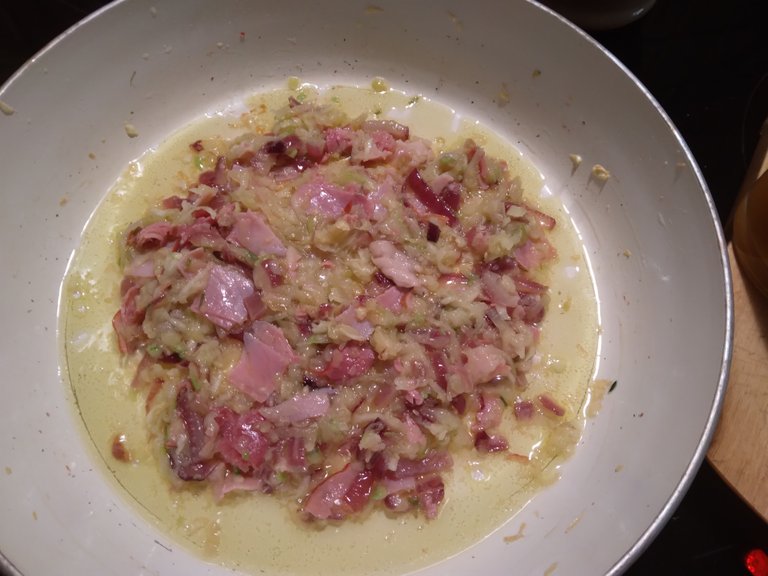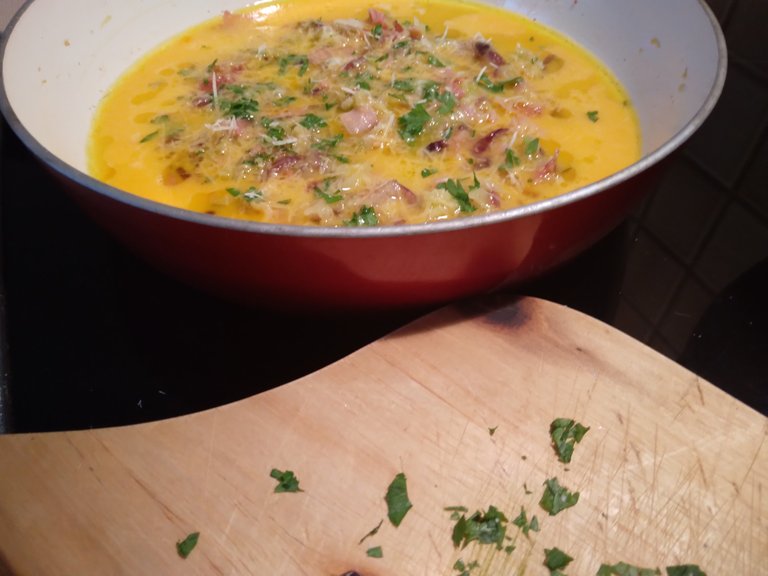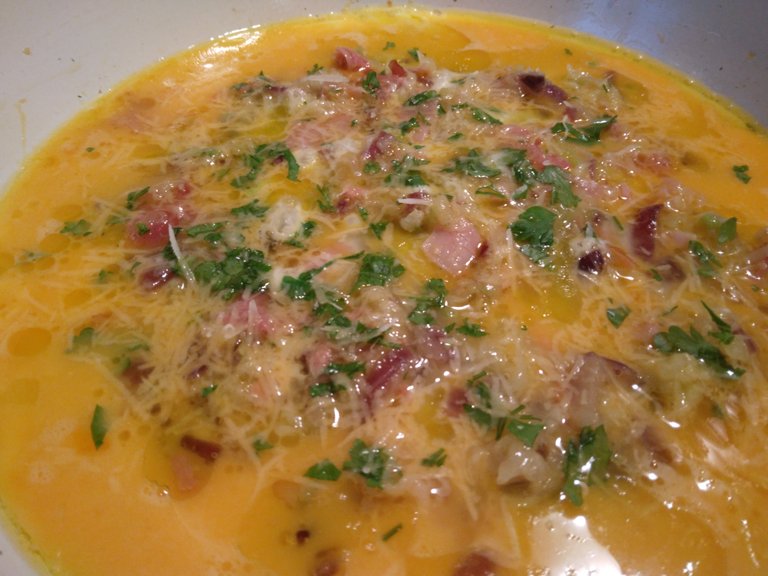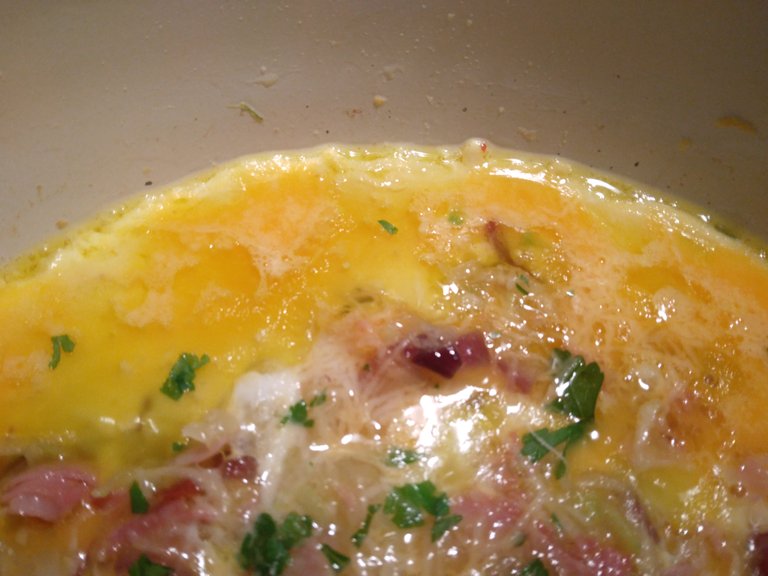 Here I made a small mistake, because I should have stirred this mixture better, so that the egg mixes better. The result was that the omelet did not unfold.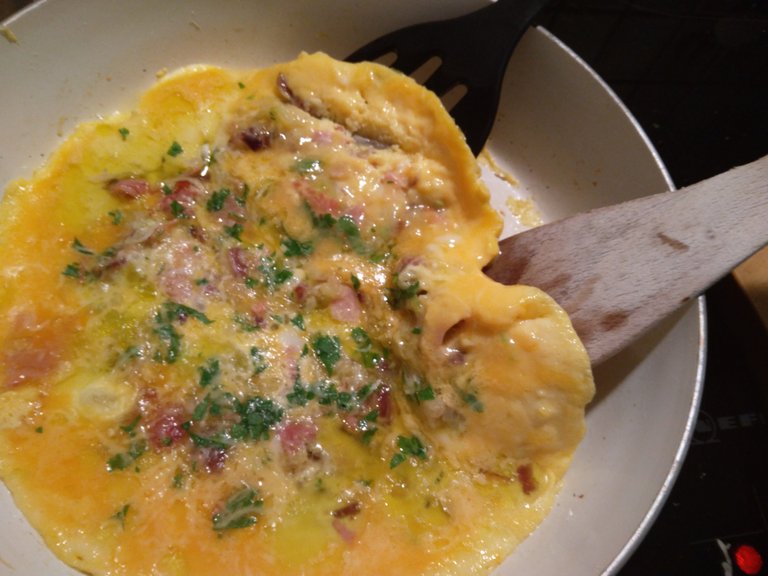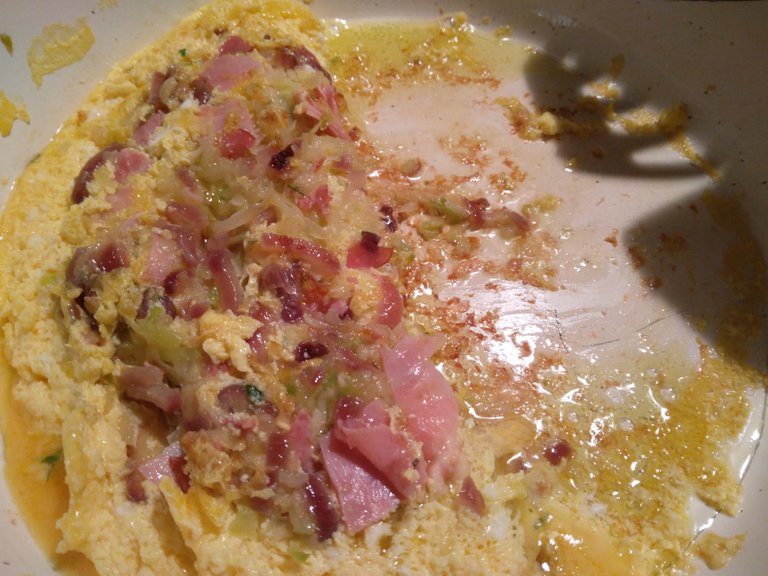 But it wasnt a problem. I then just mixed everything and thus instead of the omelet got a scrambled egg with zucchini ;-) It has tasted either way.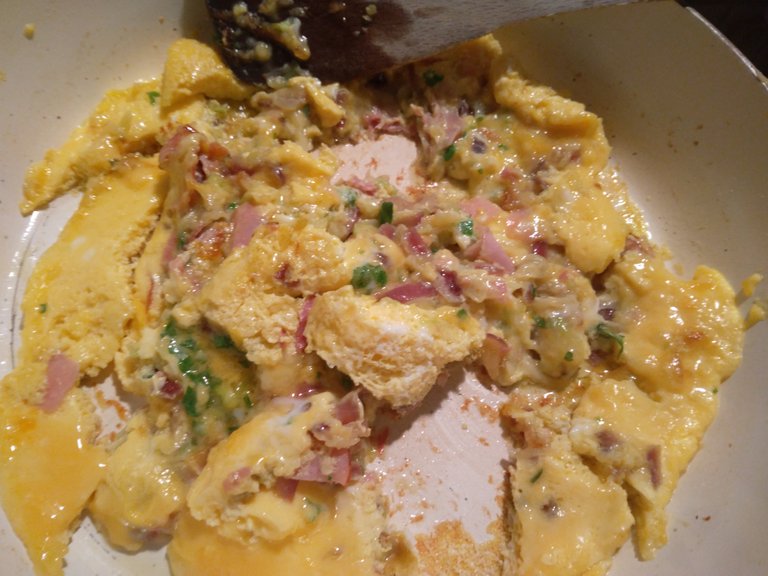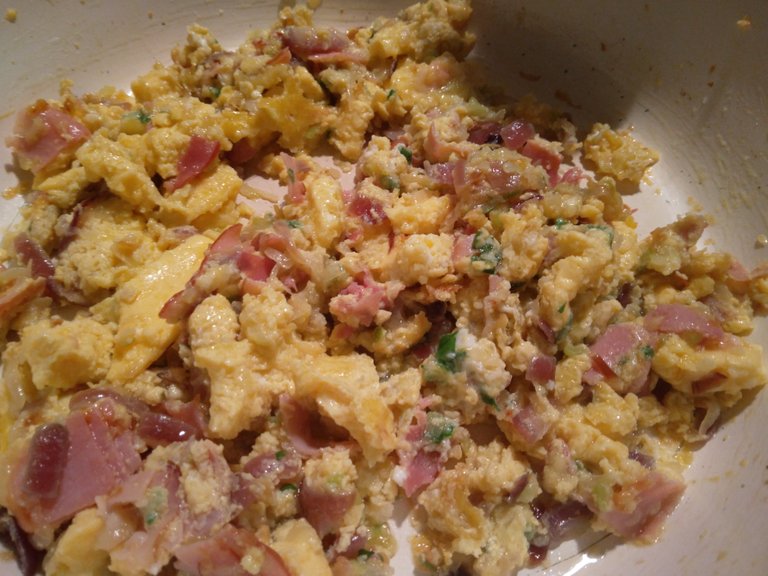 ---
---
DEUTSCH / GERMAN
Das verrückte Zucchini Omelet
Heute wie jeden Donnerstag war mal wieder PYPT - der Pimp Your Post Thursday - im @dreemport discord. Ein live Treffen, bei dem man seinen Postings präsentieren kann, das von @shadowspub moderiert wird.
Es ist eine wunderbare Sache, aber einen guten Rat darf ich euch geben:
Nehmt niemals hungrig daran teil ;-) esst etwas davor!
Nach meiner mitteleurpäischen Zeit startet das PYPT um 6h abends, so auch heute. Und dann präsentierte @bluefinstudios seinen Post, über den Garten und - ZUCCHINI ! Und schon ging es los, mit leckeren Sachen, die man kochen kann und dann noch mit Käse dazu....
Also habe ich mich frühzeitig verabschiedet, weil ich wirklich hungrig geworden war und ich mir erinnerte, dass da im Kühlschrank noch eine Zucchini lag...
Hier seht ihr, welche Zutaten ich gefunden habe: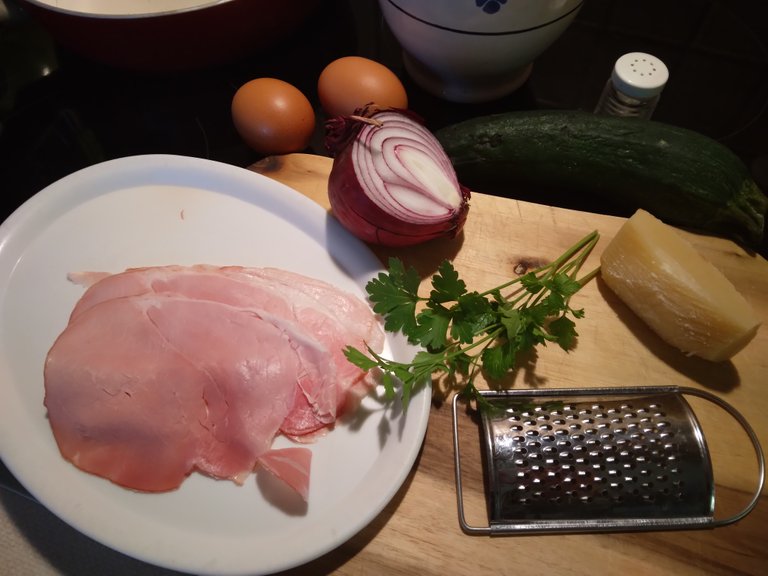 Zucchini, Zwiebel, Schinken, Eier, Parmesan, Petersilie, Salz, Olivenöl.
Zwiebel, Zucchini, Petersilienstängel und Schinken geschnibbelt und der Reihe nach in Olivenöl angebraten: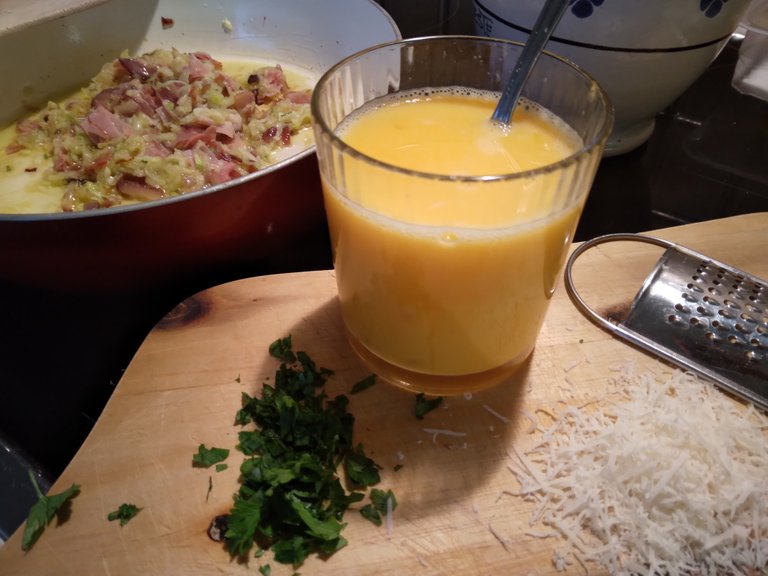 Die restliche Petersilie geschnitten und den Parmesan gerieben. Die Eier verquirrelt, hier fiel mir auf 2 sind zuwenig und ich habe noch eines dazu, dann die Eimasse über das Gebratene und mit Petersilie und Parmesan bestreuen: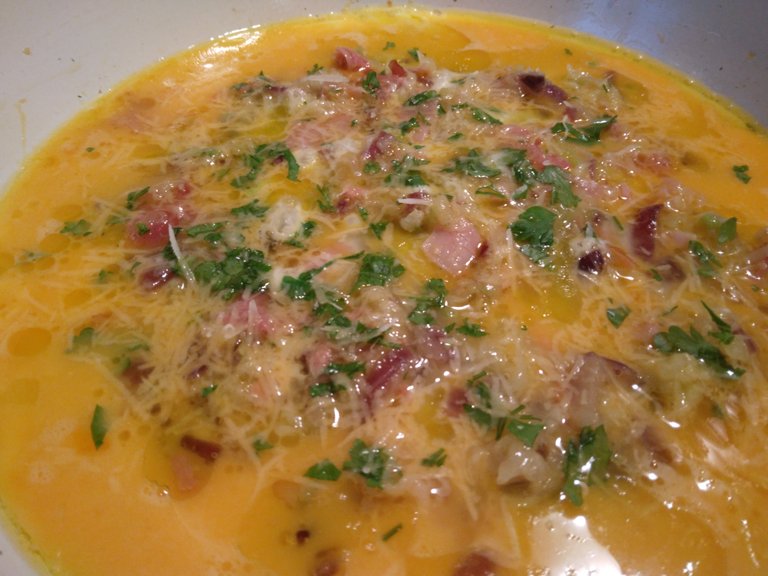 Dabei ist mir ein kleiner Fehler passiert, denn ich hätte diese Masse besser umrühren sollen, so dass sich das Ei besser vermischt. Das Ergebnis war, dass sich das Omelet nicht aufklappen ließ.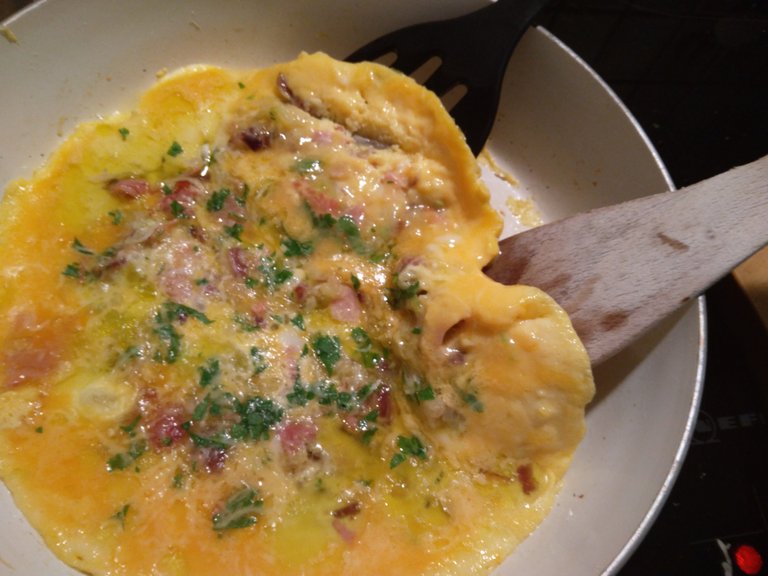 War aber nicht weiter schlimm. Ich habe dann einfach alles verrührt und somit statt dem Omelet ein Rührei mit Zucchini erhalten ;-) Geschmeckt hat es so oder so.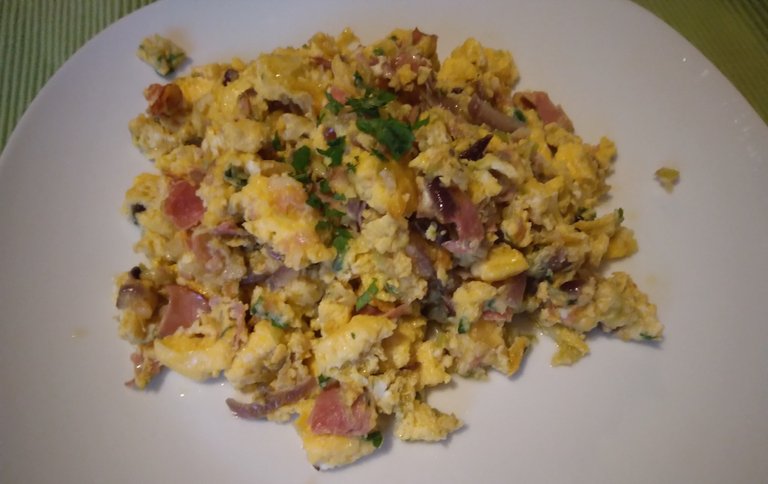 Ich danke allen vom PYPT für diese wundervolle Inspiration, das misglückte Zucchini Omelet hat hervorragend geschmeckt :-) Eure B.
---
---
Thank you all from PYPT for this wonderful inspiration, the failed zucchini omelet tasted great :-) Yours, B.
all photos by @beeber
mostly Translated with www.DeepL.com/Translator (free version)

---
---