Sublime Lunch with Good Friends
( EN / DE ) A wonderful Sunday on a very beautiful summer day. I was invited to lunch by friends and we ended up having so much fun that lunch stretched into the early evening hours.
The best part was, I got to see one of my oldest friends for the first time in a whopping 5 years. It's always fascinating, isn't it? These ancient friends, even if you don't see them for ages, as soon as you sit together again it's like you just saw each other yesterday. That's what true friendship is all about I think.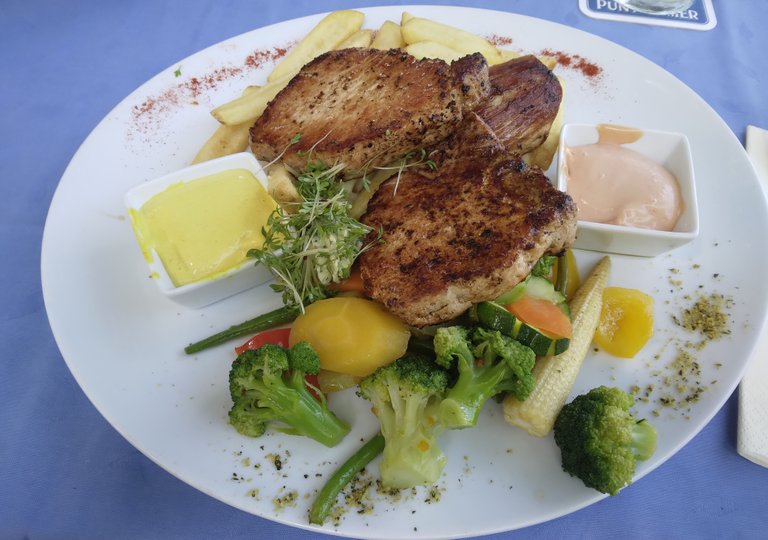 The food was gigantic, in the truest sense of the word. It doesn't look like it in the pictures, but it was really huge portions, almost all of us had a large portion wrapped up to take home.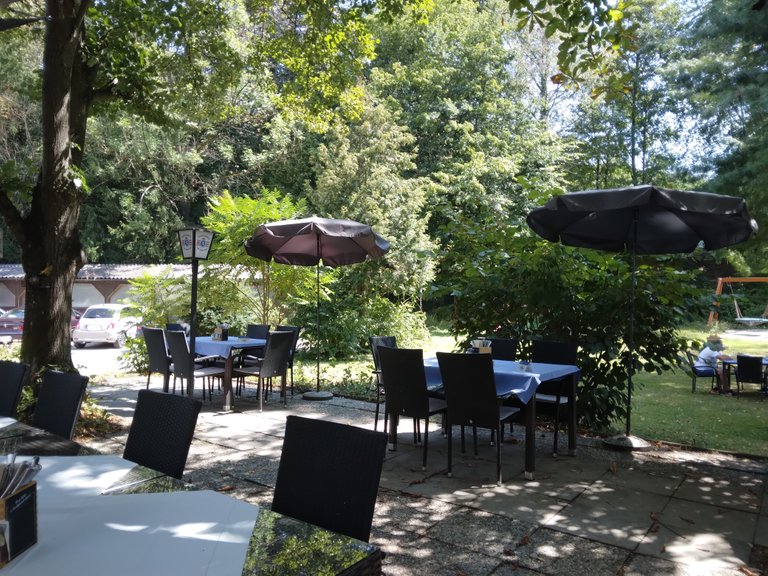 This inn is located on the outskirts of the city. Even when I was a kid we came here for the various family celebrations and my sister celebrated her wedding here. So it's a place that is really very familiar to me. And they still have this great guest garden with tall shade trees, behind it is a meadow, facing away from the street side perfect for children to play. Just like I did when I was a kid, a lot of kids still do today. Good to see a little consistency in these times full of change.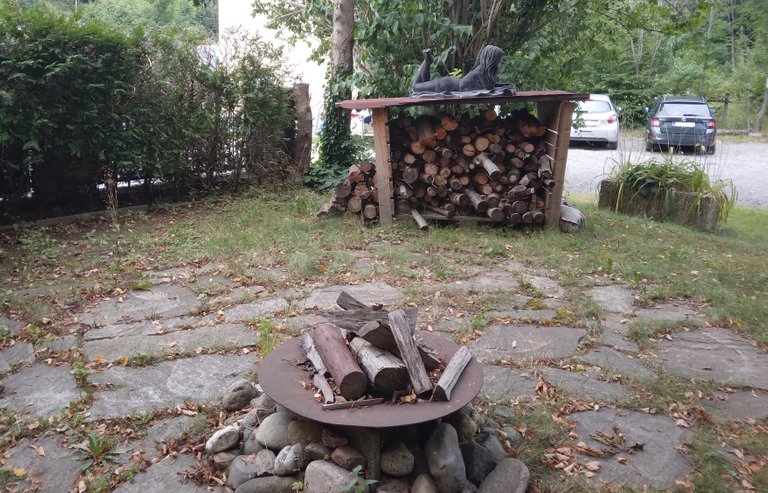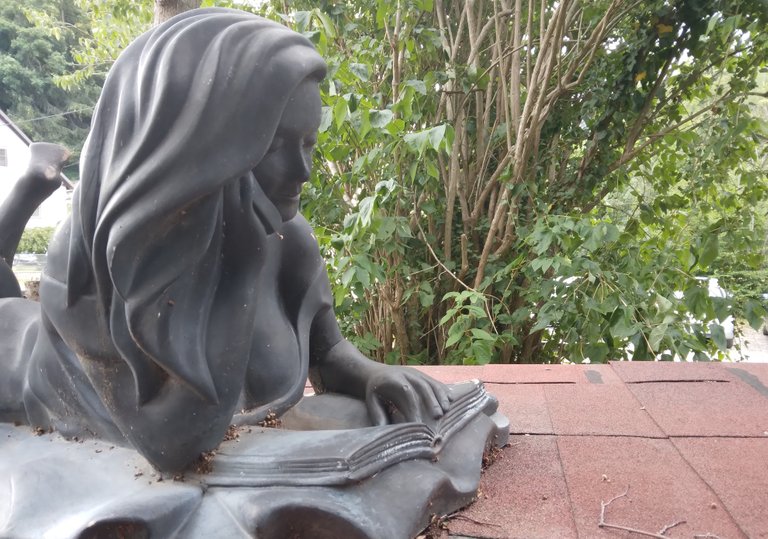 In the entrance area they have a place with a fire bowl, behind it is a kind of "maid with book and telephone" draped on a pile of wood. Honestly, I have no idea what it is supposed to mean, but somehow it fascinated me.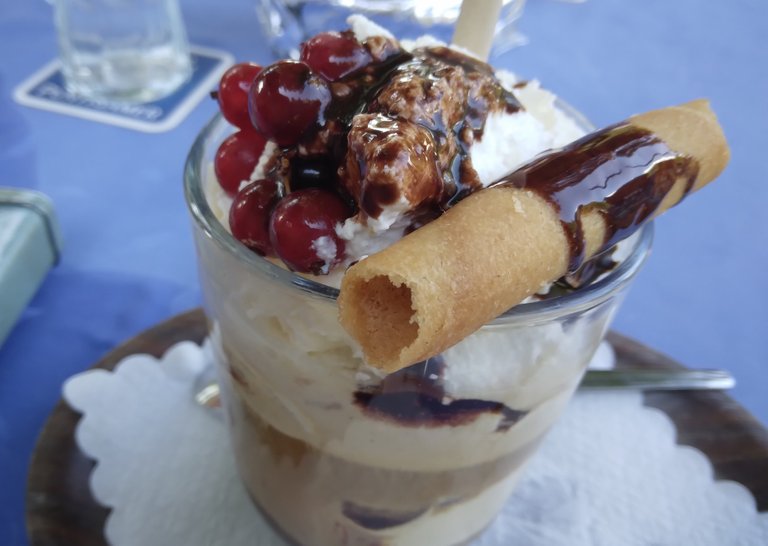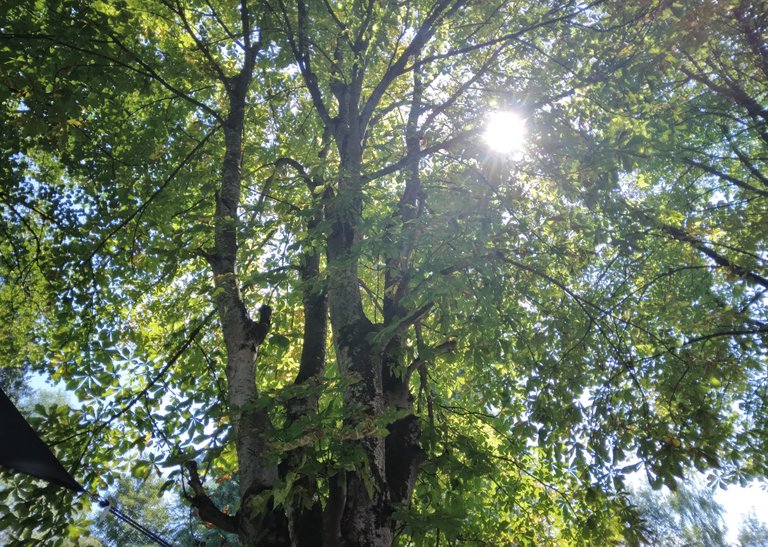 ---
---
DEUTSCH / GERMAN
Das war ein wundervoller Sonntag an einem sehr schönen Sommertag. Ich war von Freunden zum Essen eingeladen und am Ende hatten wir so viel Spaß, dass das Mittagessen sich bis in die frühen Abendstunden erstreckte.
Am schönsten war, ich habe eine meiner ältesten Freundinnen nach sage und schreibe 5 Jahren zum ersten mal wieder gesehen. Es ist immer wieder faszinierend, nicht wahr? Diese uralten Freunde, auch wenn man sie ewig nicht sieht, sobald man wieder zusammen sitzt ist es so als hätte man sich gerade gestern zuletzt gesehen. Das ist es wohl, was wahre Freundschaft ausmacht denke ich.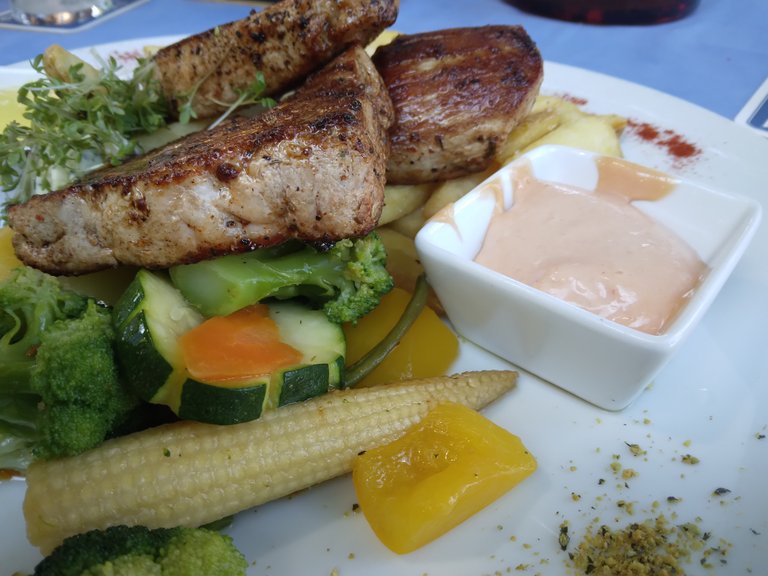 Das Essen war gigantisch, im wahrsten Sinne des Wortes. Es sieht auf den Bildern gar nicht so aus, aber es waren wirklich riesige Portionen, fast alle haben wir uns einen großen Teil einpacken lassen um ihn mit nach Hause zu nehmen.
Dieses Wirtshaus liegt am Rande der Stadt. Schon als ich noch ein Kind war kamen wir zu den diversen Familienfesten hierher und meine Schwester hat hier ihre Hochzeit gefeiert. Also ein Ort, der mir wirklich sehr vertraut ist. Und sie haben immer noch diesen tollen Gastgarten mit hohen Schatten spendenden Bäumen, dahinter befindet sich eine Wiese, von der Straßenseite abgewandt perfekt für Kinder zu spielen. So wie ich das als Kind seinerzeit tat, tun es heute immer noch viele Kinder. Gut ein wenig Beständigkeit zu sehen in diesen Zeiten voller Veränderung.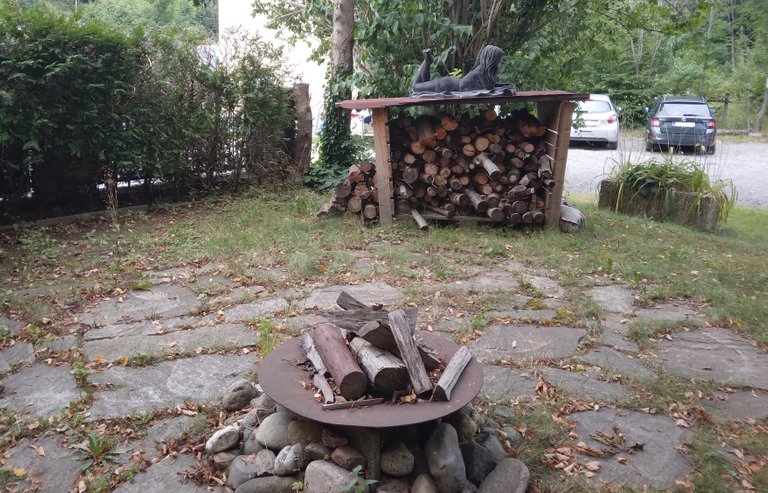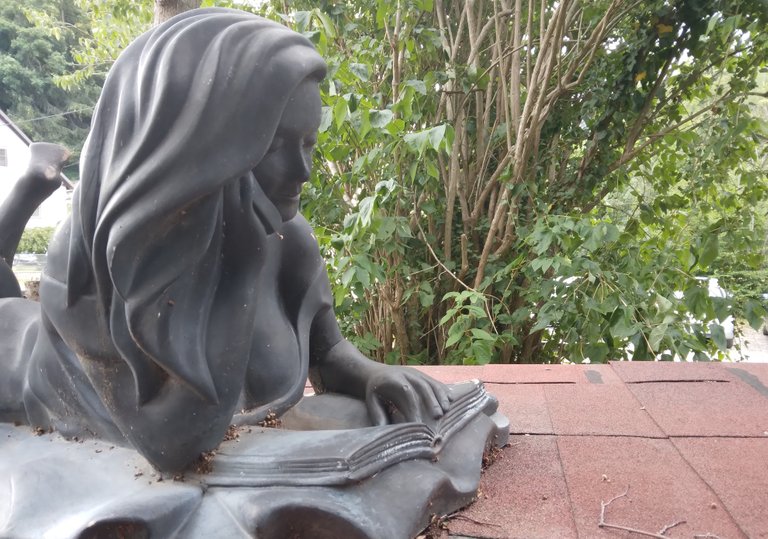 Im Eingangsbereich haben sie einen Platz mit einer Feuerschale, dahinter ist eine Art "Meer.. äh Lesejungfrau mit Buch und Telefon" auf einen Holzstapel drapiert. Ehrlich gesagt habe ich keine Ahnung, was sie bedeuten soll, aber irgendwie hat sie mich fasziniert.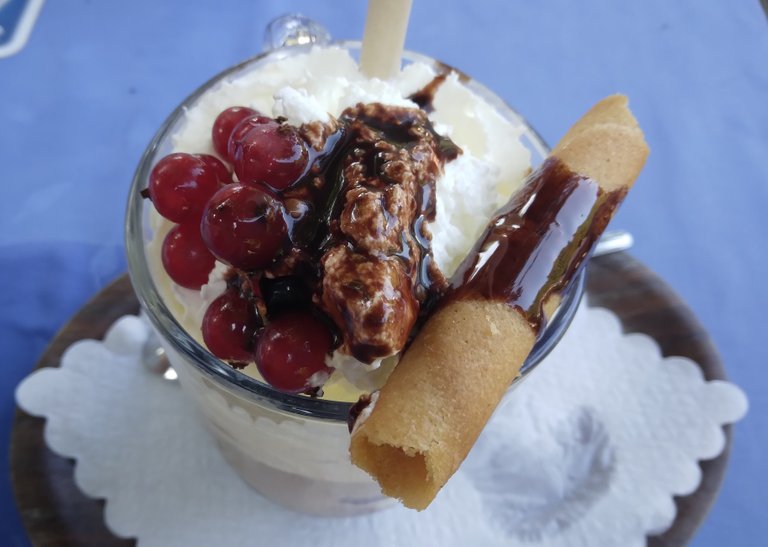 Ich habe mir den Grillteller mit Country Kartoffeln und Gemüse bestellt. Da ich erst gestern ein Gespräch über Preise in Österreich hatte, diese Portion kostete 17,90 EUR das sind in etwa 18,36 USD, zum derzeitigen Stand 29,14 HIVE ;-) der Preis ist normal, angesichts der riesen Portion sogar eher als preiswert einzustufen.
Danach seht ihr, was die anderen so bestellt haben, was es gesamt gekostet hatte weiß ich leider nicht, da ich ja eingeladen wurde. Ich schätze aber für 6 Personen müssen das mit den Getränken mindestens EUR 150,- ( ca 242 HIVE) gewesen sein.
---
---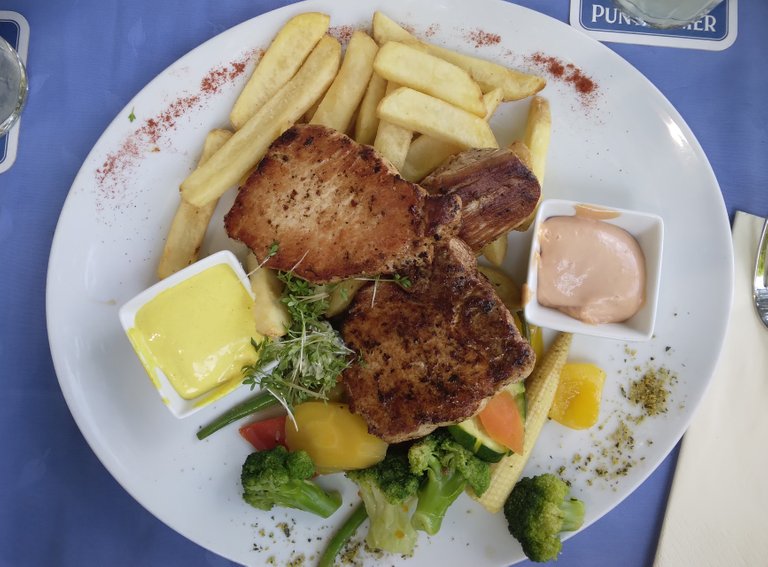 I ordered the grill plate with country potatoes and vegetables. Since I had a conversation with @asgharali about prices in Austria only yesterday, this portion cost 17.90 EUR which is about 18.36 USD, as of today 29.14 HIVE ;-) the price is normal, in view of the huge portion even rather to be classified as cheap.
Here you can see what the others have ordered, what it cost in total I do not know, because I was invited. But I guess for 6 people must have been with the drinks at least EUR 150, - (about 242 HIVE).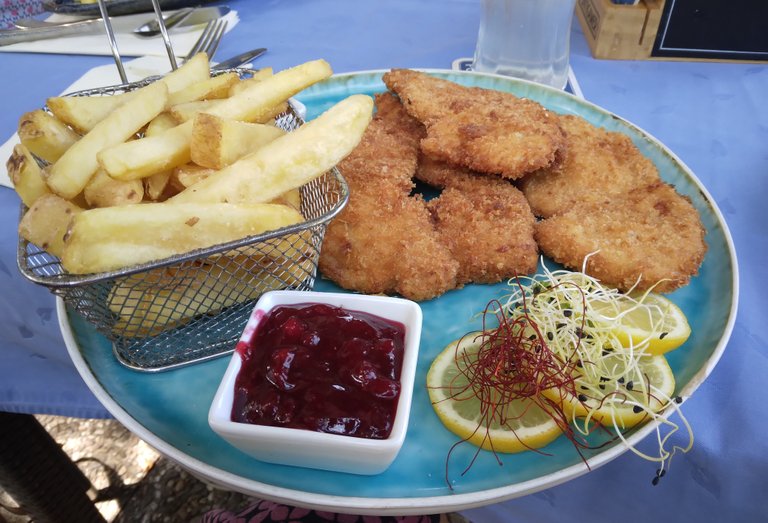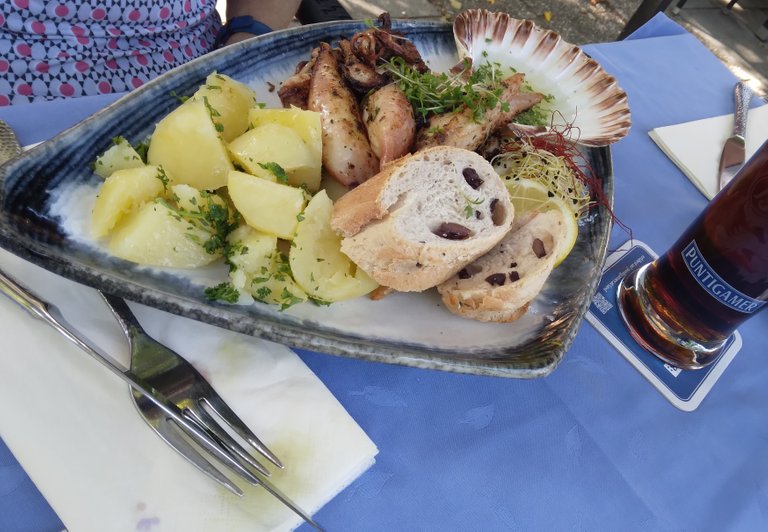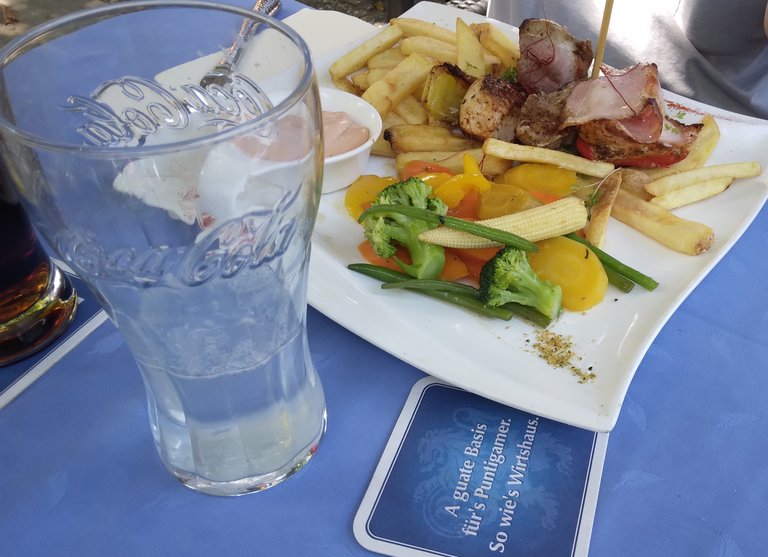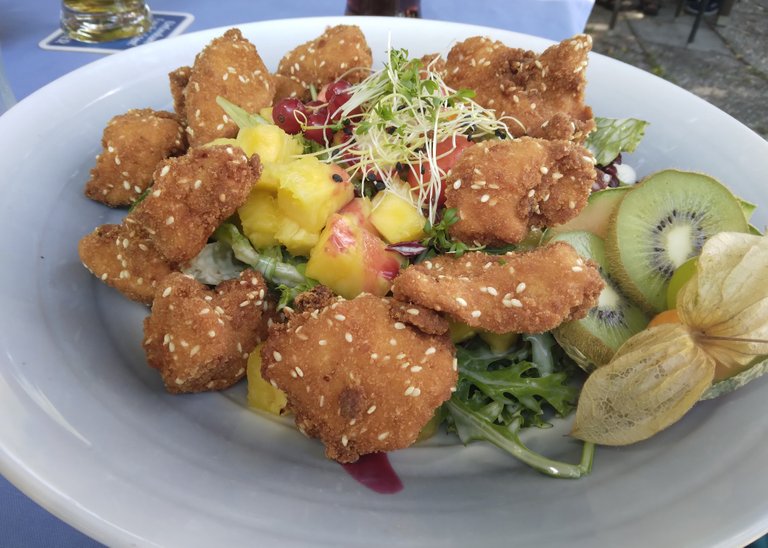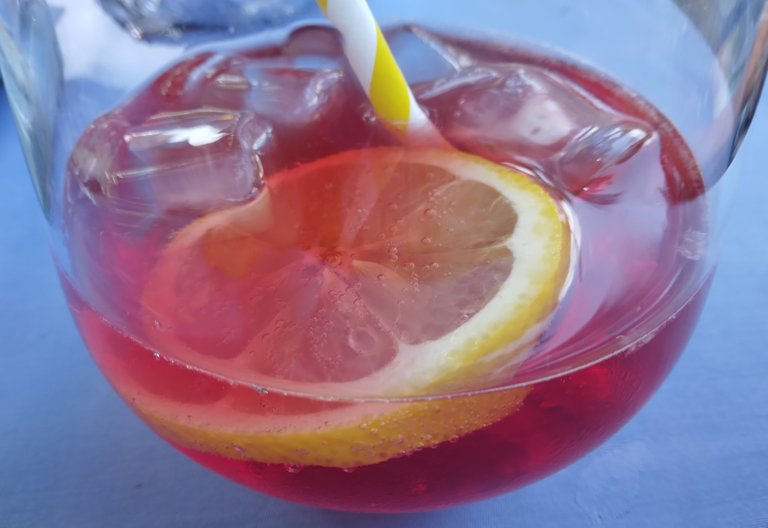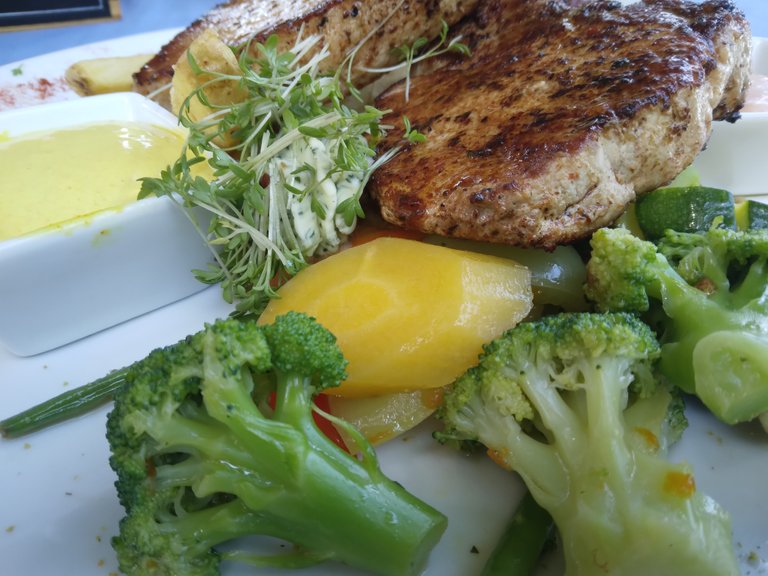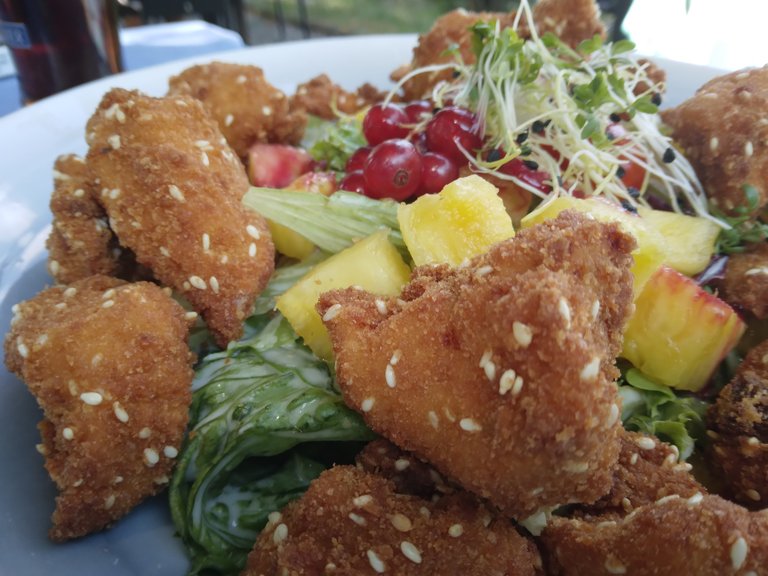 This was my posting for #SublimeSunday by @c0ff33a and for #BeautifulSunday by @ace108 and as always I hope you enjoyed reading :-) Yours, B.
---
I am a blogger from Austria, founder of the Hive Memorial Forest Community and admin of the Introduce Your City Community, active in ecency discord and here and there all around this beautiful blockchain.
all photos by @beeber
mostly translated with www.deepl.com (free version)
---
---