Foolproof Pork Crackling (with soft, juicy, tender meat )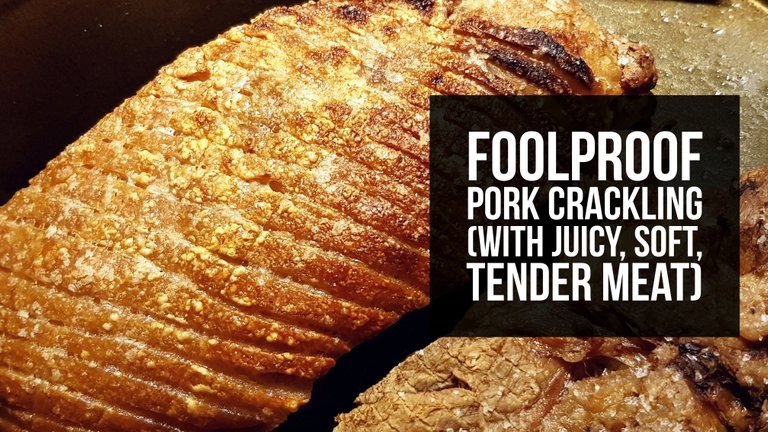 YOU GUYS!!!!!
This is, dead set, THE easiest, THE best, THE MOST foolproof way of cooking pork EVER. Well, that I have ever done anyway.
And it all starts in the slow cooker.
THE CUT
Whenever people talk about pork crackling they always seem to say get pork belly. I mean, I get it, you get the layer of skin and a nice even layer of fat underneath it and under that is another even layer of meat. But for some reason, every time I've tried it I ended up with either crackling and tough meat, or tender meat and half crackling 🤷🏻‍♀️🤦🏻‍♀️. It didn't matter how much I scored or salted the skin.
Pork belly isnt a cheap cut to be messing around with either. And let's face it, most people get the belly cut for the crackling.
But what if I told you you can get value for money, b*tching crackling AND delicious meat EVERY TIME. Would you ditch the belly and move on?
THE METHOD
My method of cooking pork isn't an exact science. Cook times will vary depending on the size and cut of pork you're cooking. Generally, the bigger the slab of pork the longer the slow cooker cook time. That said, once that's done, the oven time is about the same.
Here's what you do
Chuck your slab of pork (skin side up) in the slow cooker and pour water in until the pork is submerged. You can add spices in if you want for additional flavour (I didn't) but don't add salt. That's for later.
Cook on low or high, depending on how much time you have. I cooked a 2.5kg pork shoulder slab for 5 hours on high.
Once the pork skin is super soft, and by that I mean, when you touch the skin with the tongs and the skin rips apart, it's ready for the next step. Turn the oven on to preheat at 180°c.
Take the pork out and place in a roasting pan, dry with paper towels, score by slicing deep~ish lines across skin, add salt and rub that salt in.
Once oven is at 180°c chuck the pork in. You're looking at roughly 1 to 1.5 hours cook time here.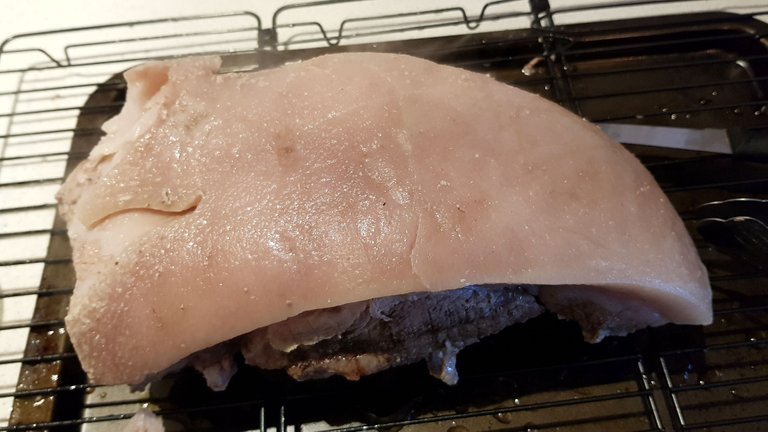 TIPS
THE CUT. The cut for this method doesn't really matter but I prefer the shoulder not because it's cheap (although, not gonna lie, I factor that in) but because it's got heaps of everything. Lots of skin, lots of fat and lots of meat. Most people are deterred by pork shoulder because it's a meaty cut and no one likes tough pork meat, but because this is going to be in the slow cooker for hours the meat ends up fall off the bone juicy.
DON'T USE THE ROASTING RACK. You want the meat part to sit in the pork fat. It fries the meat so you get crunchy meat.if you don't like that then by all means use the roasting rack.
USE THE SLOW COOKER JUICE FOR GRAVY. Whether you use gravy powder or make your own from scratch, the slow cooker pork juice is a much better choice than water.
USE THE BROILER IF the crackling isn't quite done yet an hour and a half into cook time, use the broiler. If you don't have a broiler, hike the temp up for 5 mins and see how you go. I had to do this to crisp up a tiny section
TAKE IT OUT OF THE OVEN ASAP. Once you get your crackling the way you like it, take it out of the oven immediately to prevent the meat from overcooking and becoming tough.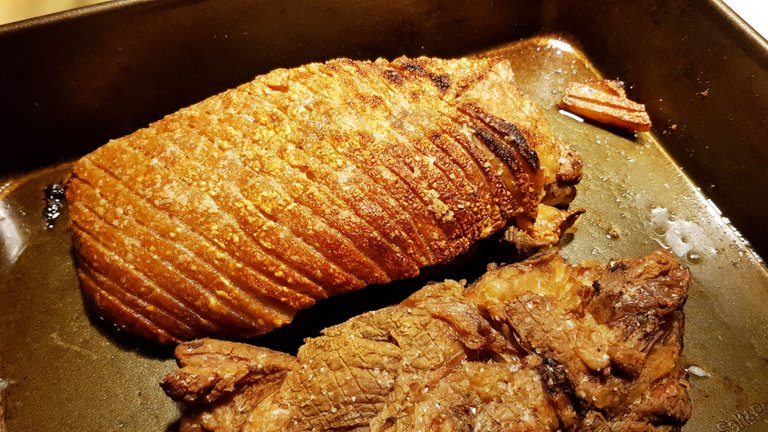 I served it with smashed potatoes (boiled then thrown in the pork fat to fry in the oven); apple, rocket salad with walnuts and goats cheese, with apple sauce and gravy sauce.
It was sooo good I'm actually considering making it again this weekend 🤤. Why not right? It basically goes in the slow cooker and then in the oven. Sure it's a long cook time but you barely have to do anything to it. 🤷🏻‍♀️
Why don't you give it a go?
Let me know if you do!
❤🧸1️⃣
---
---