Early Learning: Music
🎵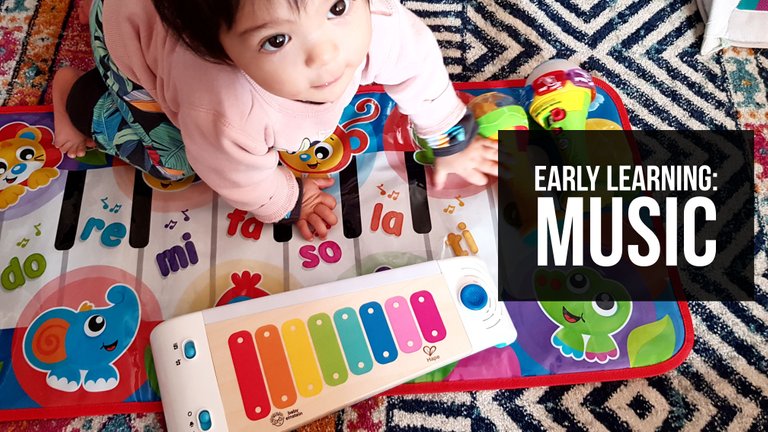 I come from a very musical family.
My dad's a musician and can play the piano, guitar and drums. My aunt taught the piano and my uncle plays the piano and guitar. I like to think this musical gene came from my grandmother who played the harp.
Unfortunately, the gene seemed to have skipped a generation since neither I or my cousins play any instruments (that I know of), but instead we all love to sing.
Aside from books and reading the one thing we always made sure to expose Bella to as part of her every day life/routine is music. From the moment she wakes up to when she falls asleep music is present. We would put YouTube on and play music when she gets up in the morning, any genre, just not baby music and I sing her to sleep at every nap time.
From a very early age she's come to recognise music. She's got her favourite songs she stops to pay attention to and lately she'll dance to any song with a good beat.
She's also been playing with her music toys a lot more.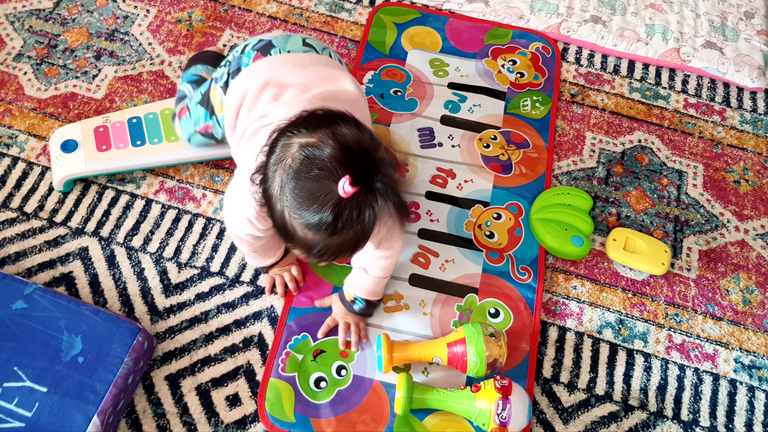 We've been told we spoil her too much because we buy her so many toys but we believe she's at a crucial learning age at the moment where she's absorbing everything like a sponge and when we buy her toys we have her early learning and development in mind.
Loving music and wanting to play an instrument are two very different things. I mean, I love watching the footy but that doesn't mean I wanna be on the field playing.
It's also like that time I was 5 years old and Mum and Dad made me take piano lessons. Between my crappy, abusive teacher and my uncoordinated fingers, as much as I love music, playing the piano just wasn't for me.
I did, however, tell them I wanted to play the violin but since everyone played the piano... 🤦🏻‍♀️🤷🏻‍♀️ I think about that every now and then and wonder if they let me play the violin instead would that have worked out?
I think that's why we're not focusing on just one instrument and why we've gotten her a few things to try.
Baby Musical Instruments
Bubsicle has a nice little selection of instruments she plays with. She's had most of them for a few months but she's only getting into them now.
Playgro Jumbo Jungle Musical Piano Mat (+6 Months)
This is the first one we ever got her. As an instrument I personally don't think it's functional. Sure the keys/notes work but it requires a bit of pressure to play and there's lag. As a musical toy it's great. It not only plays the notes but also animal sounds and music.
It teaches cause and effect. Like pressing the button turns it on and crawling on it makes sounds. The difference animal sounds are also great for teaching kids what the animals sound like.
LeapFrog Learn & Groove Shaking Colours Maracas (6+ Months)
These are the newest additions.
I was actually looking for a ukulele but found these instead and I'm glad I did because these are her current favourite toys.
You get two Maracas. One is just a shaker while the other is an electronic, shaker with a light up dome.
The electronic shaker is bells and whistles plus. It's motion sensitive so when you shake it it plays shaking sounds. It's got 3 modes; music, colours and numbers and when you shake it on numbers mode it counts every time you shake.
Theres 6 push buttons that light up and says the colour, or the instrument name or play the instrument.
But wait, there's more.. You can switch from English to French and it will say everything in both languages at a flick of a button.
It's an intense toy. Really interactive, so colourful and perfect for little hands to grab hold of.
Bella loves it so much she crawls around with it in her hand 😅. Not sure if she's broken it already or it needs a new battery.
The only thing I don't like about it is the hard plastic. She's whacked herself in the face a few times already.
Baby Einstein Hape Magic Touch Xylophone & Piano (+12 Months)
These are my favourite and by far, imho, two of the best toys we've gotten her.
The wooden finish to these are 👌 and not only do they look amazing they also give off a warm and safe feel.
Since they're 12+ we decided to hold off giving her the piano but we gave her the xylophone a few months ago.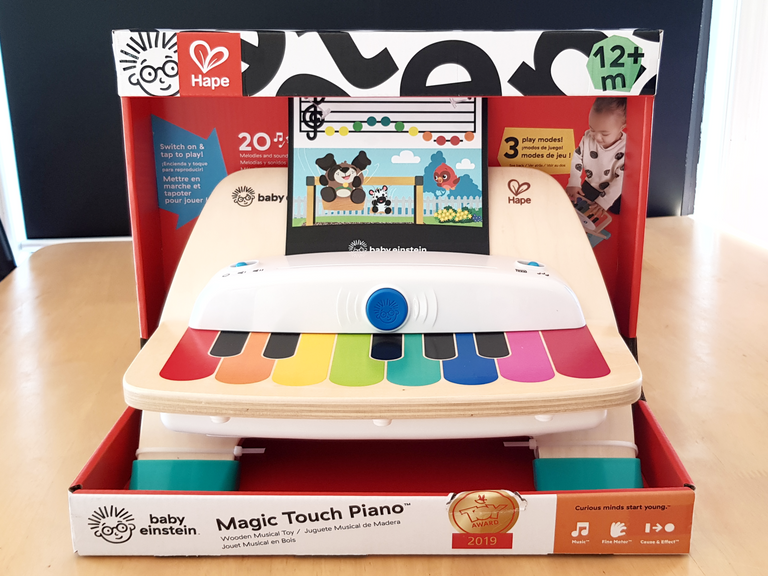 The xylophone is pretty amazing. What drew us in was the touch sensitive board and the bright colours that would light up when you touched a key.
There's two play modes; Instructor where you learn how to play a song by tapping the key that's lit up, and Freestyle where you can play your own tune. There's also the blue Einstein button that when pressed will play one of the many songs built in. And when I say "songs" I mean classical music. It really lives up to the Einstein reference.
The xylophone came with a stick that could be stored underneath it but we cut the cord and put the stick away. It's cool and all and it could be handy in the future but since the xylophone only needs touch and Bub only chewed on the stick, we figured to be on the safe side to take it off.
---
Of course, it's not simply enough to buy toys. I believe it's important to set an example and play the toys with her so she gets the idea. She's very observant and is starting to imitate what I'm doing and I've noticed she likes to play with the things I often touch like my phone or the remote controls so I make a conscious effort to play with the xylophone when I can so she understands what to do.
So far I think it's working she's been playing with these a lot more often and seeks them out like she does with her books. It's all I could ever ask for ❤.
Is music also a part of your homeschooling curriculum? Which instrument(s) did you start off with? Let me know in the comments!
❤🧸1️⃣
---
---