My Hive Goals - Weekly Progress Report
Every week on Sunday I write this post sharing the status of my Hive goals. I actually missed writing this report last week. I realized it only later after a few days. Then I thought it should be okay to write a report in the coming week. Today in this article, I will mostly be covering my progress for nearly two weeks. We hardly have a few more weeks for the year-end and my goals are still looking pretty good. I would like to go through each one of them.
But before that, I'm very glad to see the price of Hive pumping like this. It had been a great week for the traders and investors. The long-term investors have a great opportunity now to reap some profits from Hive. I have been holding my Hive really tight. I'm hoping to see more and more opportunities on Hive soon. Now let's start looking at the data and my progress.
27,000 Hive Power
This goal is going to be a little challenging goal. I guess the reason is that the price of Hive keeps going high. Even though it increases the reward value in the post, the number of Hive tokens we get during the payout will reduce. I'm guessing this is what can make the journey a little bit challenging here. But in spite of that, I'm still having good confidence to reach 27k Hive Power before the end of this year. Let's see how it goes.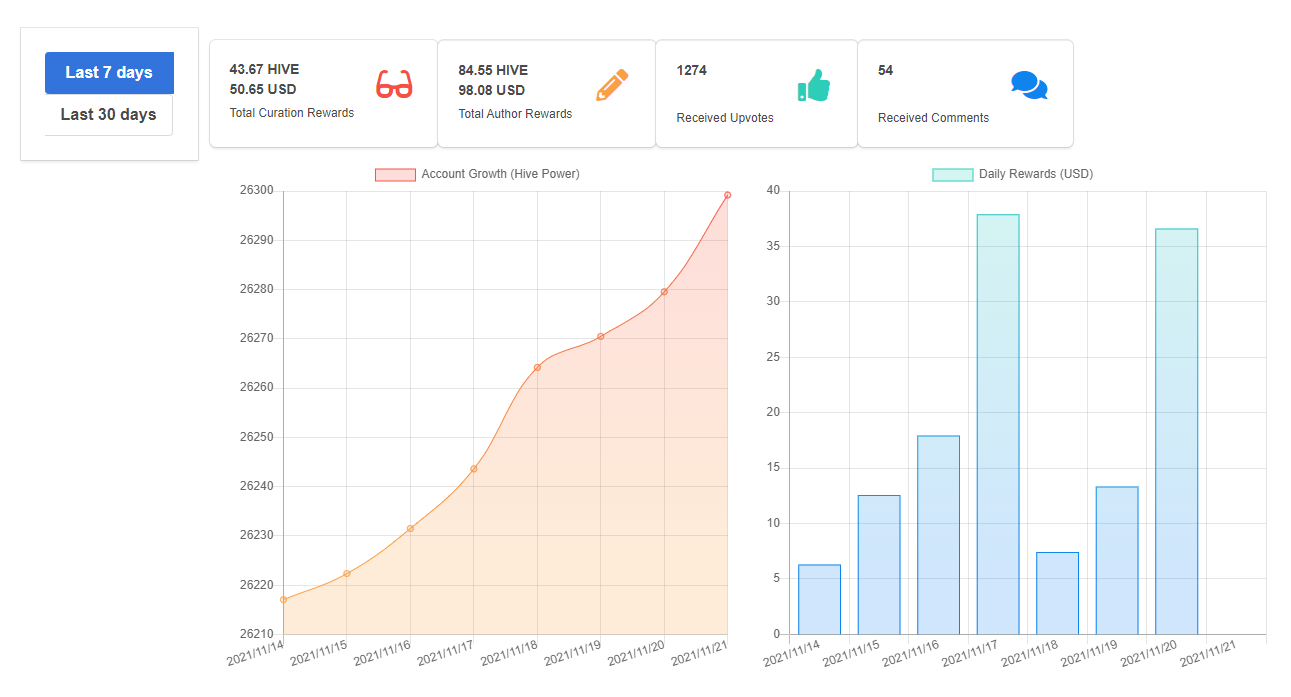 I'm glad that the curation rewards I get keep increasing gradually. This is really a good thing. In another 15 days, I'm going to be completing 4 years on this blockchain. I'm having a few ideas to make my journey better here. I already contribute as much as I can in the form of content creation and development work. I would like to increase that a little more to make Hive a better source of income for me.
2500 STEM Power and 1000 POB stake
As usual, the STEM power generation is a bit slow compared to all other tokens but the good thing is that POB stake accumulation is pretty good. I power up all the POB tokens I get from my post rewards. I think it is pretty good and easy to reach 1000 POB before the end of the year. I'm already over 90 percent of my goal. A little more to go. I'm still thinking STEM power can be a little bit challenging to achieve before the end of the year. But I will not quit trying.
As the price of Hive is also high, it is so tempting to sell some Hive and book profits. I also did some swing trades and made a decent profit out of it. I know it is not always easy to make money from swing trades but as long as it gives a good income, I'm happy about it.
This week's goal status
I'm still confused about which coins I should be holding and which coins I should be selling during this wonderful opportunity. But overall I feel that holding long term is definitely helping and the value of all these tokens are doing well over the course of years. Even though there is individual inflation, we are also traveling along with that and our stake keeps increasing accordingly.

Every week, somehow I make around 100 Hive which is pretty good. At this rate, it should definitely be possible to reach 27k considering the number of weeks left. There will also be another power-up day where I should be able to power up some Hive. I'm not planning to set any new goals for this year which reminds me that I should also think about the new goals for next year.
---
---
Posted Using LeoFinance Beta
---
---