My Hive Goals - Weekly progress report
I'm really happy when it comes to writing this article. These articles help me take a look at how I'm progressing with my goals and my overall growth in the Hive ecosystem. The price of Hive is also pretty decent and we are all hoping for it to reach above 1 dollar. I hope soon there will be more people joining Hive and investing in Hive. There are also new projects that are good and hopefully can bring more engagement.
I'm really happy with the way Hive is going and I hope someday I'm able to retire with my Hive assets. I also would like to keep contributing in some way or the other to the growth of Hive and this ecosystem. Hive is good because people make it good. There are so many dApps and many people would like to build on Hive and that is what brings value to Hive. We need more investors from the FIAT world taking a look at Hive and building something very cool. Right now I'm happy with the way Hive gets a decent pump in the price now and then.
50k Hive Power
This is my first goal for the year and I've been pushing myself hard toward this. I'm very happy that last week I was able to reach 45k Hive power which makes it, even more, easier for me to achieve the goal. 5k to complete the goal shouldn't be very hard I hope. There are still 4 more months to go and if I'm able to make a little over 1000 Hive per month on average, I think it should be easier to complete the goal. Let's see how it goes.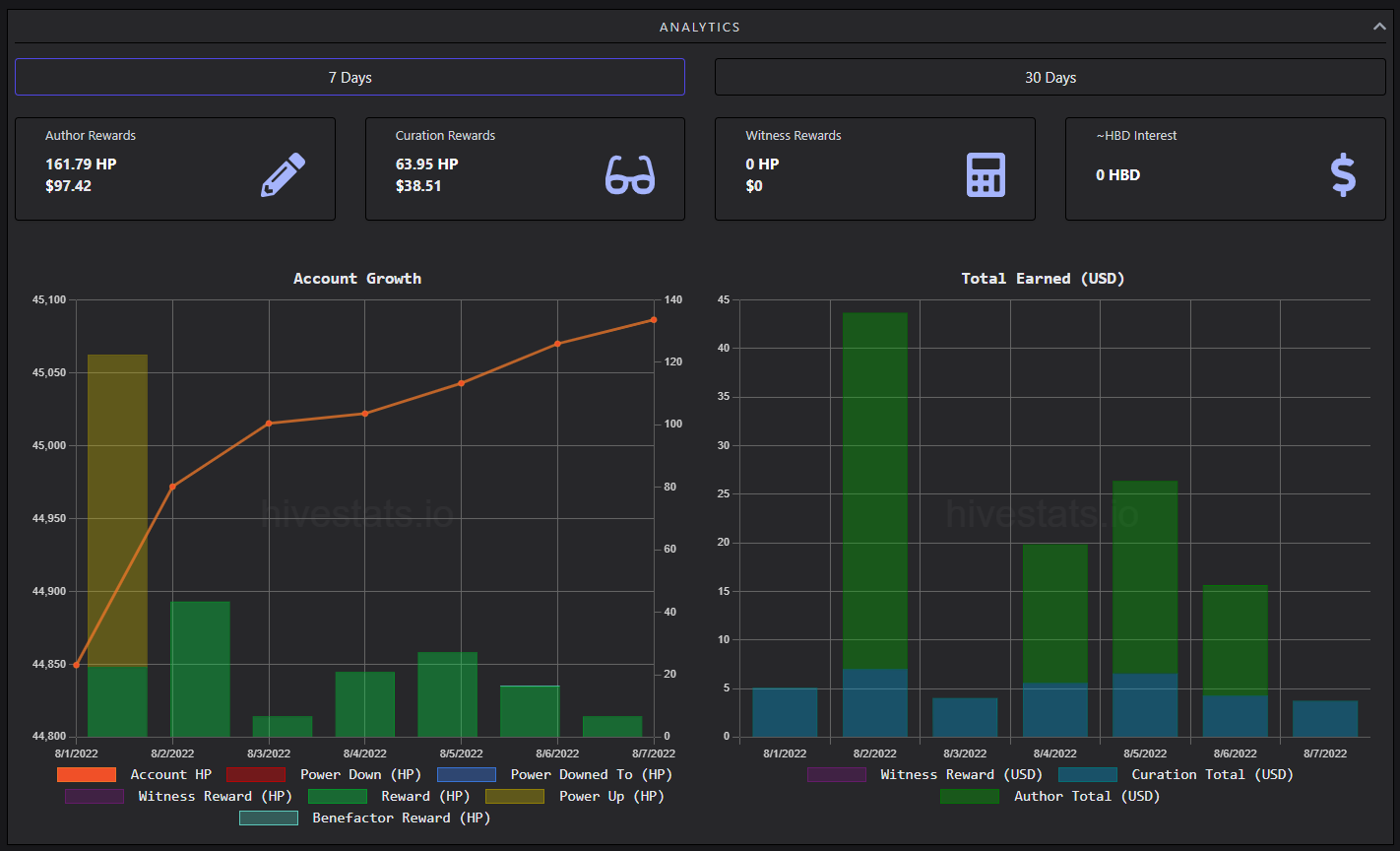 The chart looks very attractive. I'm glad that I'm making around 100$ per week from author rewards and around 40$ per week from curation rewards. I wish someday the 40$ per week that I make should become 40$ per day and 100$ per day. Then only I will be able to be very happy about my growth and earnings on Hive. Maybe that day I should be able to retire just by being dependent on Hive alone.
100k SPS
Before I talk about the progress, I would like to share that I'm happy to see the price of SPS recovering after the airdrop. I was thinking probably people might start powering down or selling their SPS but the price looks good. We also recently had an exchange listing for SPS. There is now a token pair available in Huobi exchange for SPS - USDT. People who would like to trade their assets can do it easily from the exchange now. It would be nice to see more and more exchange listings for SPS and also some good use cases too.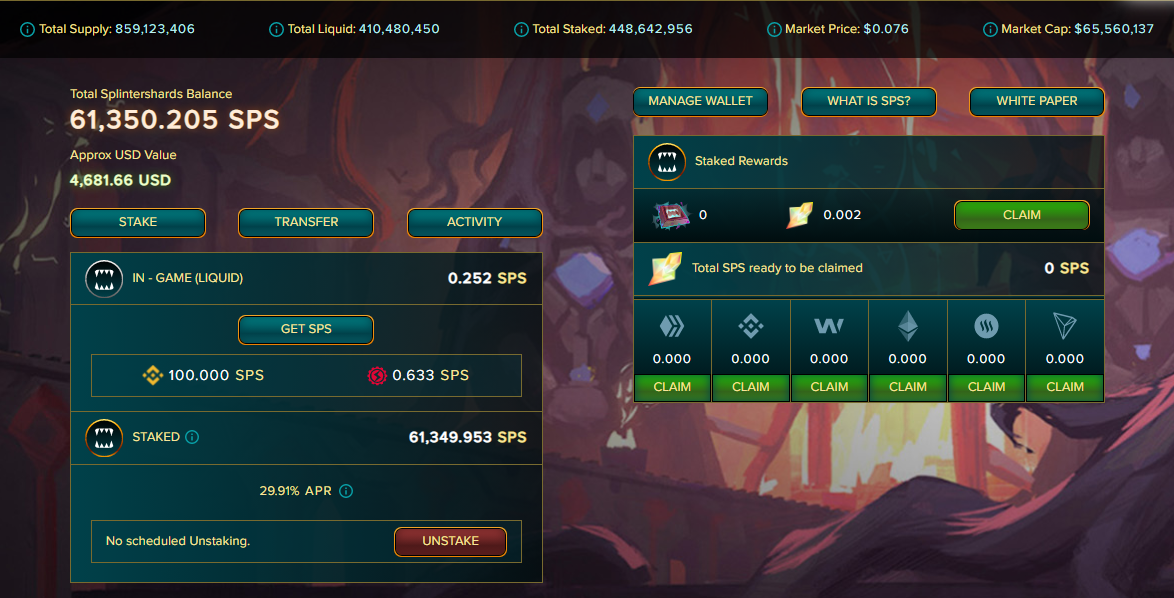 Yeah, right now they have built a new user interface for the SPS wallet. This is really good-looking. I now have 61k SPS in total. The last time when I wrote the post I was having around 57k SPS and airdrop was still happening. Now the airdrop has ended and the only way for me to get SPS is by swapping my Vouchers for SPS. I guess for the remaining, I have to purchase them only from the market. Without airdrop, it is hard to grow my SPS. Let's see if I can do something about it. The price of SPS is also pumping after the exchange listing. Next updates from Splinterlands might pump SPS price a little bit further hopefully.
2000 HBD in savings
I have completed this goal already. In my last article, I had a goal to reach close to 2000 HBD. I thought it would be a slow process but I'm glad to have completed the goal already. Maybe I can target more HBD before the end of the year but I think it would be better to focus more on the previous two goals than trying to increase my HBD even though it gives better returns compared to others.
---
If you like what I'm doing on Hive, you can vote me as a witness with the links below.

Vote @balaz as a Hive Witness
Vote @kanibot as a Hive Engine Witness
---
---
Posted Using LeoFinance Beta
---
---