Hive brings good fortune now and then
Yesterday was a great day for Hive investors. Many people who know very well about Hive booked some decent profits from Hive yesterday. It is a fortune we get on Hive now and then. Though the price of Hive is unpredictable, we all know for a fact that the price of Hive is very good anywhere below 1$. It is one of the undervalued cryptocurrencies in the entire market. Some great dApps try to bring the potential of Hive to light. We still need more investors.
I was thinking that someone who had a fat paycheck decided to purchase a lot of Hive yesterday and pump the price of Hive. Maybe it was Koreans again but I personally feel that this is something that can happen anytime. We have to be ready for massive pumps here and there. But from what happened today, we have to understand that what goes up will always come down. Today Hive had a small fall but the price still looks good.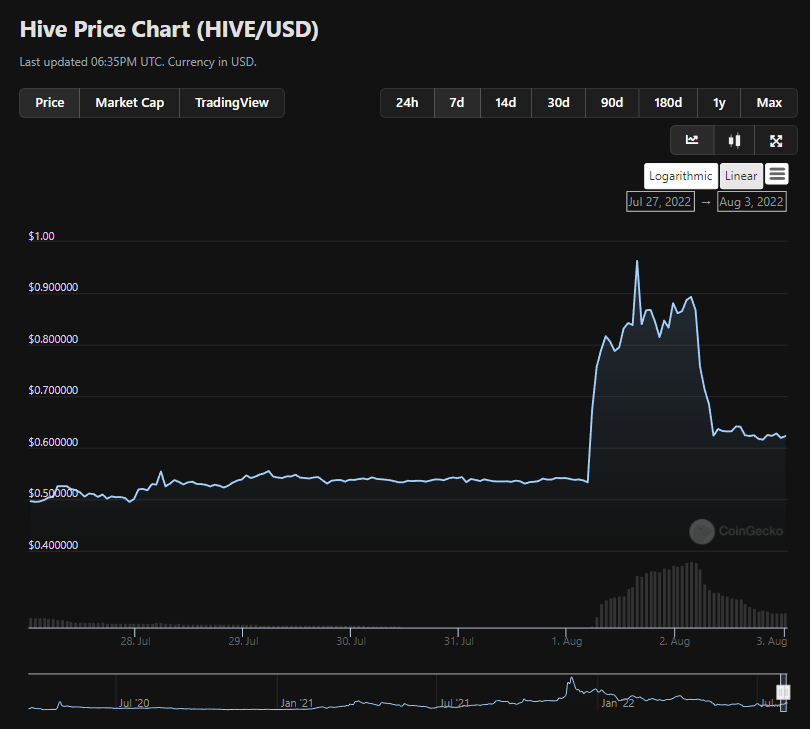 People who had sold their Hive for over 80 cents yesterday would have had a great opportunity to buy more at 60 cents today. 20 cents is a huge amount per hive if the purchased quantity is high. Also for people who bought Hive at 80 cents, it is definitely not a bad deal either. I bought Hive for 90 and 95 cents a few months back before the fall happened. I still believe Hive will soon hit 1 dollar again and I would be able to sell some for profits.
Currently, my focus is on getting my Hive power to 50k before the end of the year. Even though I had many opportunities to sell my Hive, I didn't get hold of the opportunity but I was focused only on powering up. I still think that's a good decision I made and maybe in some years' time we will know the true power of Hive and we will be able to reap some good profits from the same.
There is no other blockchain that gives a decentralized 20% APR for stablecoin investments. DeFi chains talk about more APR but they don't consider the price of their token as the criteria. Some chains and smart contracts even lack decentralization. Considering all these factors I think Hive is definitely decentralized and at the same time, 20% is a great deal for the stablecoin investment. Recently when there was a massive market fall, the price of HBD was very stable and I always saw that above 1$. This is really good and increases the trust of the token holders.
After I reach my goal this time I'm going to hold some liquid Hive for sure to do some swing trades. A few months back I used to do that but later after the price of Hive fell, I stopped doing swing trades. Even now there are opportunities for swing trades. If we really can't do a buy and sell, we can target sell and buy. There is always room for swing trades. We have to pick the right moment and make the right decision. Finally, I wish there is one more massive pump that takes Hive back to 1$ and makes it stay there.
---
If you like what I'm doing on Hive, you can vote me as a witness with the links below.

Vote @balaz as a Hive Witness
Vote @kanibot as a Hive Engine Witness
---
---
Posted Using LeoFinance Beta
---
---