HBD or Hive Power which one is a better investment?

Today I was thinking it should be good to decide which one should be a better investment inside Hive. Both have their pros and cons but I wanted to write an article discussing the pros and cons so that I myself will get some idea and be confident on what I decided to do. I will probably write a conclusion towards the end of this article after discussing the pros and cons of each type of investment.
I'm guessing it was always clear that Hive was the best investment but now that we have a good 12% interest rate for HBD investment, it is good to check which one is best and gradually increase that investment. the pros and cons are not going to be about the currency itself but only about the investment factor. Let's get started. By the way, if you find out any pros and cons that I have missed, please let me know in the comments section.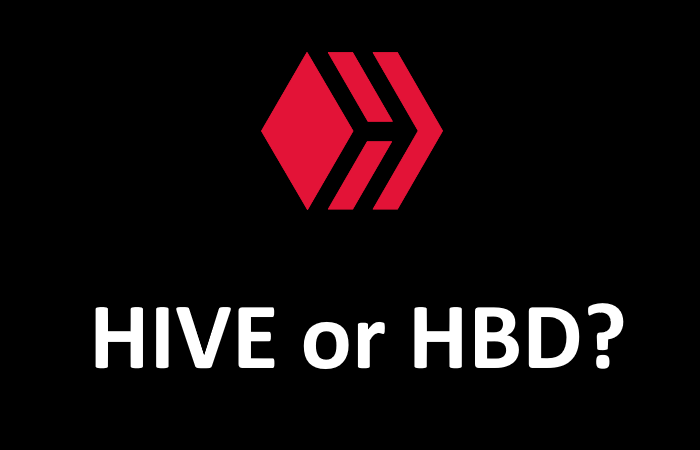 Investing in Hive
Hive is the primary currency of this platform. Many people might vote for Hive as it has so many use cases. I'm going to be discussing the pros and cons but in general, I personally think that Hive is still an underrated cryptocurrency in the entire crypto world and it can have a blast at any time when things are brought to the table one fine day.
Pros of Hive investment
The first point would be the fact that Hive is an underrated coin and it can pump to a great height at any time. Staying invested in Hive long term can give that opportunity to grow our investment value.
Having Hive power will not only let our investment grow but also vote on other individuals and make a good engagement. It not only benefit the individuals but also others.
Having Hive power gives us control over the proposal system, witness voting, reward pool, etc.
We can support other community initiatives and manual curation efforts by delegating our Hive power. Some communities like Indiaunited give 100% curation reward share to their delegators.
The interest from curation rewards is pretty decent and close to 11%.
Cons of Hive investment
The investment value is subject to change based on the market movement. If Hive value goes down, the overall investment value will also go down.
We have to wait 13 weeks to get our funds out if we want to cash out completely.
Investing in HBD
This is pretty new and especially after the recent hard fork and there was a 10% interest offered to HBD savings, this type of investment got popular. We have a good advantage that HBD is now a stable coin and due to recent changes HBD offers 12% interest to the investors. Let's see the pros and cons now.
Pros of HBD investment
HBD is a stable coin and investing on HBD becomes a decentralized stable coin investment.
HBD gives an interest rate of 12% right now which is pretty good. No other decentralized platform offers such a huge interest rate on stable coin investment.
If there is an emergency, we can get our funds out in 3 days.
The interest can be claimed once in 30 days. Someone looking for a monthly income kind of thing can use this.
As HBD is a stable coin, the market fluctuations will not affect our overall investment value much.
The interest rates are better than most of the bank interest rates across the world.
Cons of HBD investment
We can only make ourselves happy with the interest rates. With this investment, we cannot make others happy.
There is a small possibility for the interest rates to go down if the supply of HBD is very high or for a few other unknown reasons.
Conclusion
Considering the fact that both have more pros than cons, I would personally recommend both options. People who are not keen on getting their funds out in 3 days should consider Hive Power as their investment. The main reason is that they will be able to participate in doing governance vote and also rewards other authors. I have also started investing in HBD a lot recently. Especially after the interest rates were increased to 12%, I personally think it is a good investment for another 5 years down the line and we can always harvest the interest every month.
---
---
Posted Using LeoFinance Beta
---
---