Blue Tree Wansao Market, Phuket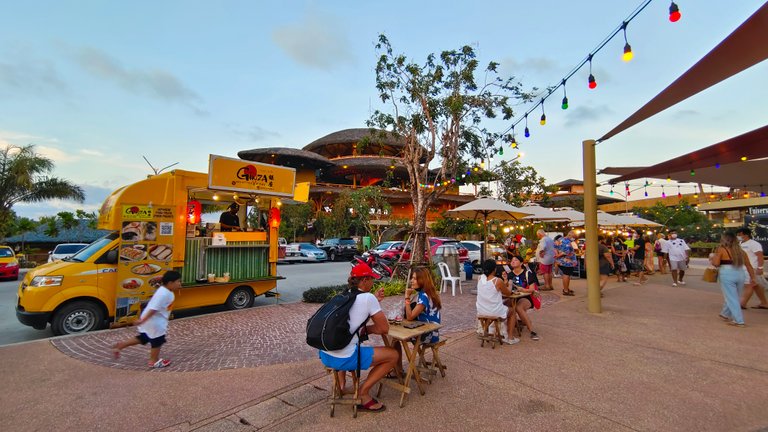 Hello everyone
Last weekend my family and I went chilling at "BLUE TREE" which has a flea market every Saturday under the name "WANSAO MARKET" in a comfortable atmosphere, there are clothes, food, and beverages available for sale.
Blue Tree Phuket, is a one-stop place for relaxation and entertainment for the whole family. In addition, within the Blue Tree, there is also an area where people can exercise for free.
It features a leisure area and a variety of water sports centers filled with fun for all ages. Surrounded by artificial beaches with chilled cabanas by the lake with many activities such as water playground, slip and fly slider, splash zone, rock climbing activity, lagoon zip-line activity, extreme blasting activity, beach volleyball, darts, sumo wrestling, Beach tennis, fitness, kids club, and trampoline zone, jumping ride to enhance children's skills and develop.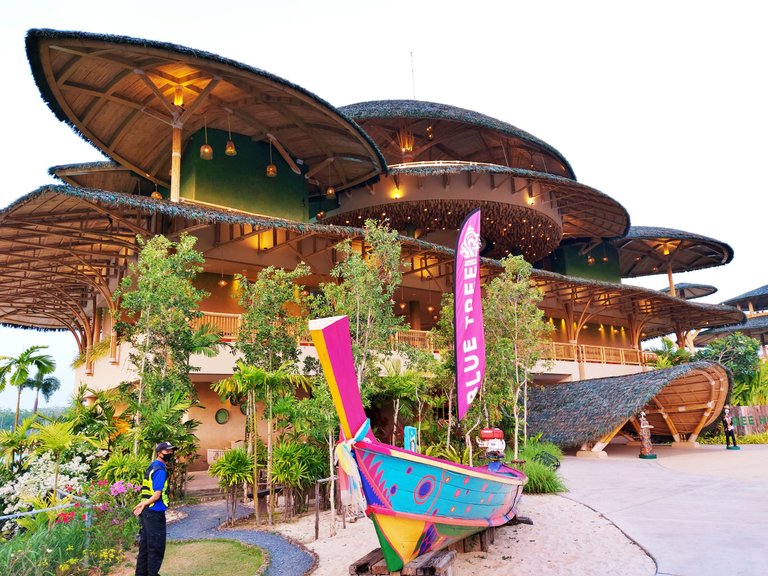 The evening atmosphere here is very good, the place is huge with beautiful decorations at every corner.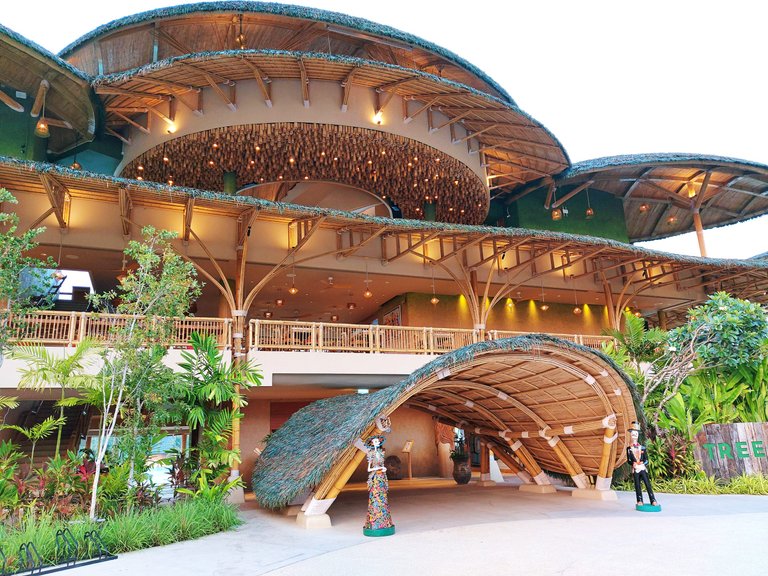 This is the "Tree House" is a 4-story beach club offering food and beverage outlets and a beautiful rooftop viewpoint.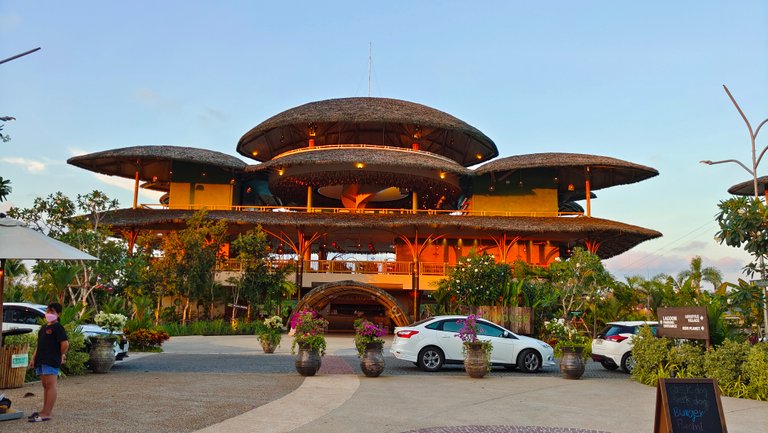 สวัสดีคร้าาาาา..... เมื่อสุดสัปดาห์ที่ผ่านมา ช่วงเย็นๆ บัวกับครอบครัวก็ไปลั้นลาชิลล์ๆ ที่บลูทรี ก็ไปหาอะไรกิน เพราะที่นี่ทุกวันเสาร์เว้นเสาร์จะมีตลาดนัดตอนเย็นๆ ซึ่งก็อยู่ใกล้บ้านอีกล้าวววววว.... ก็เป็นสถานที่ท่องเที่ยวแบบครบวงจร มีทั้งสนามเด็กเล่น สถานที่ออกกำลังกาย ร้านอาหาร และสวนน้ำ ซึ่งภายในสวนน้ำมีเครื่องเล่นมากมาย บัวมาใช้บริการ 2 ครั้งแล้ว ก็สนุกทุกครั้ง ก็อยากจะไปอีกค่ะ หยอดกระปุกก่อน เพราะช่วงเน้..... บัวเล่นเที่ยวทุกวันจนสาผลิตแบงค์ไม่ทันใช้แล้ว 555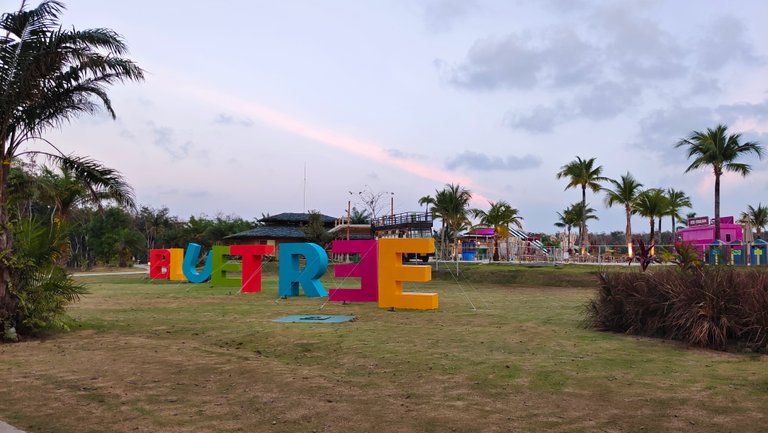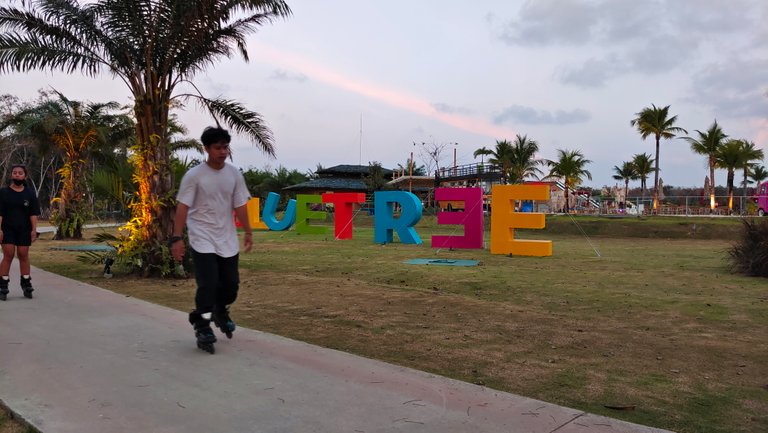 Children use the Blue Trees huge garden to exercise, skate on rollerblades, skateboard, ride a bike.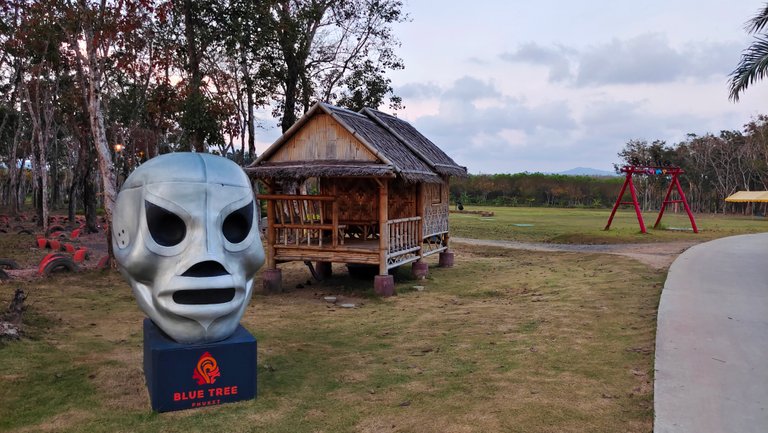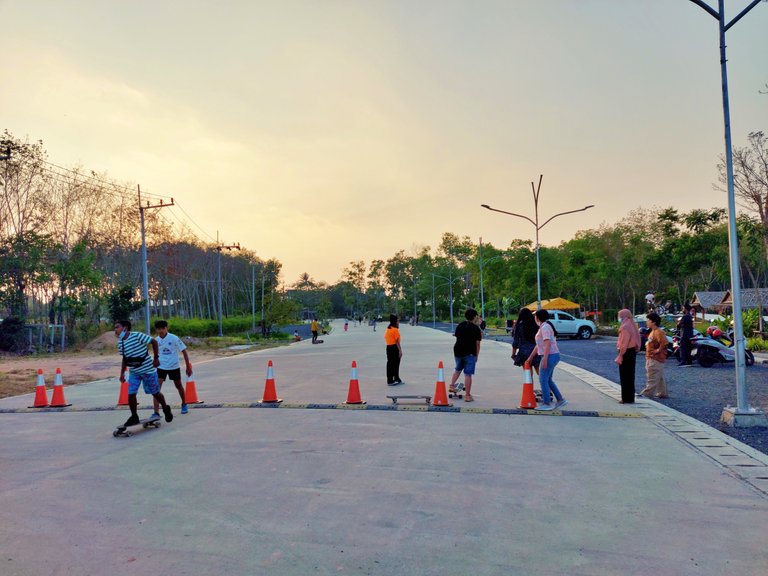 In the evening this area becomes a real playground for children making it extremely lively.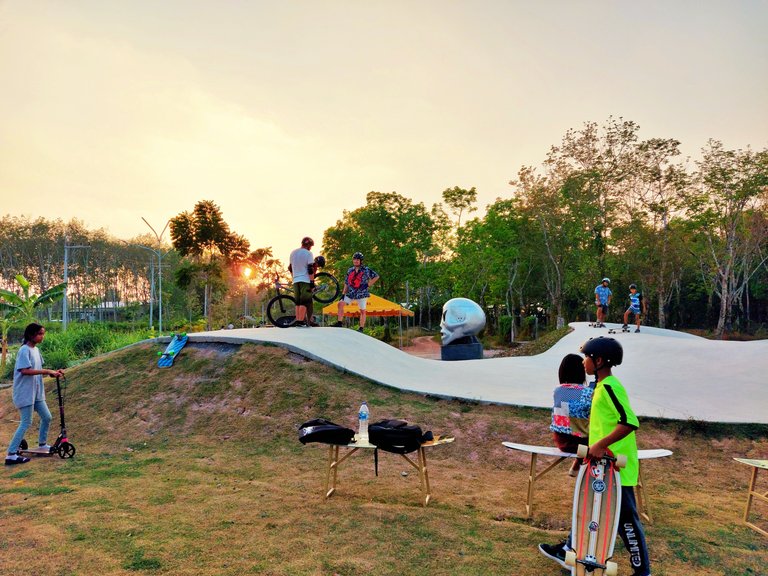 Blue Tree Skate Park is a skating rink that stands out like no other because real skaters have co-designed the concept of the skate park "Created by skaters for skaters" to create a unified community of skaters.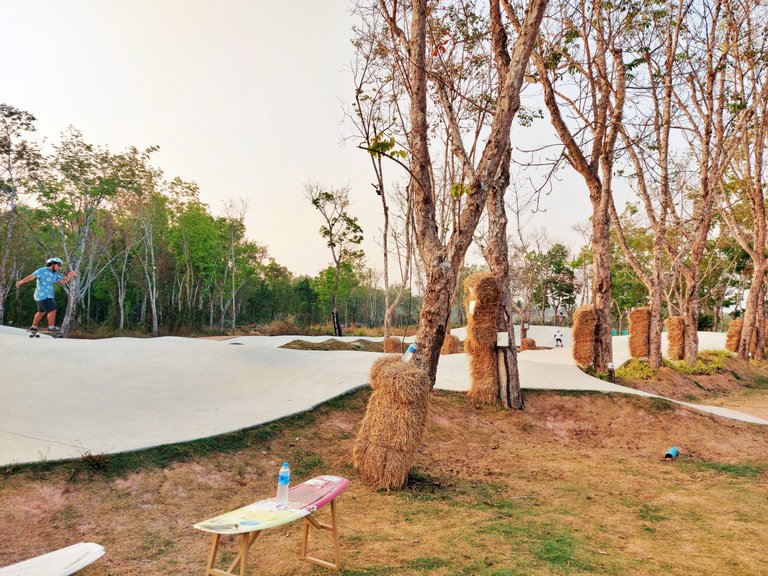 Skateboarding is suitable for everyone, whether you are an interested beginner. Or even a professional lineup, everyone can enjoy together in the same field.
In addition, Blue Tree Skate Park's specialty is not only skateboarding but also a combination of longboarding, surfing, inline skating, and roller skating skate Let's have fun together in one field as well.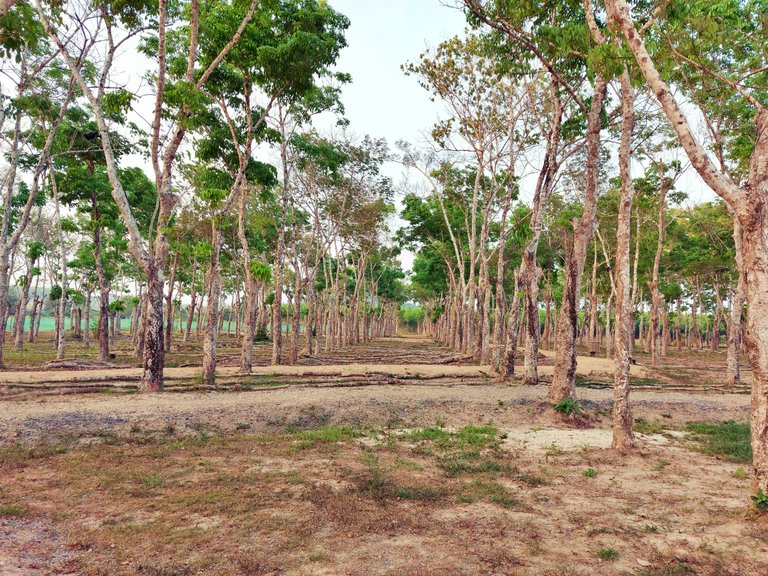 80,000 Square Meters of rubber forest have been designed as Tracks and Trails under the name Forest Fit Trails for exercise, walking, running, mountain biking, about 5 kilometers, including outdoor exercise equipment. That is fun and makes a healthy body. In this zone, it is an area that is open for free use.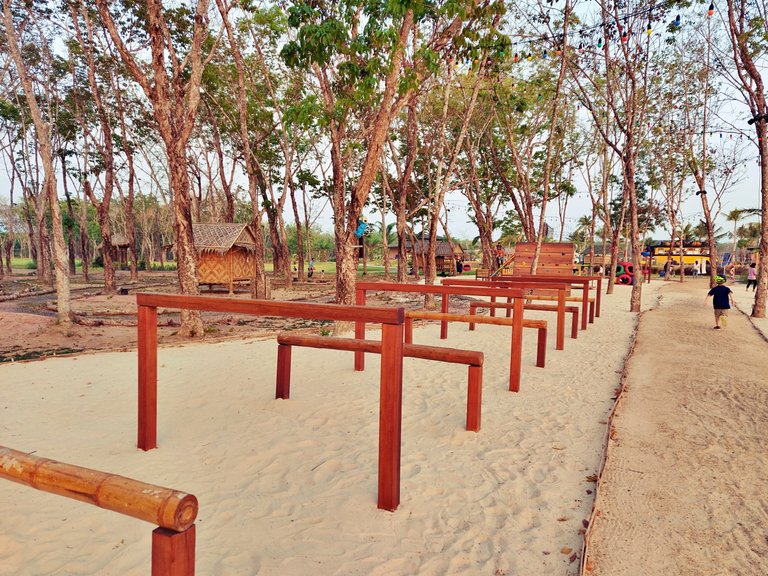 ด้านหลังของบลูทรีก็จะเป็นสถานที่ออกกำลังกาย สามารถเล่นสเก็ต เซิฟสเก็ต หรือปั่นจักรยานก็ได้ เพราะมีพื้นที่ถึง 50 ไร่ ถ้าปั่นรอบก็เหนื่อยเอาการ ที่สำคัญบริเวณนี้คือฟรีค่ะ ไม่เสียค่าบริการใดๆ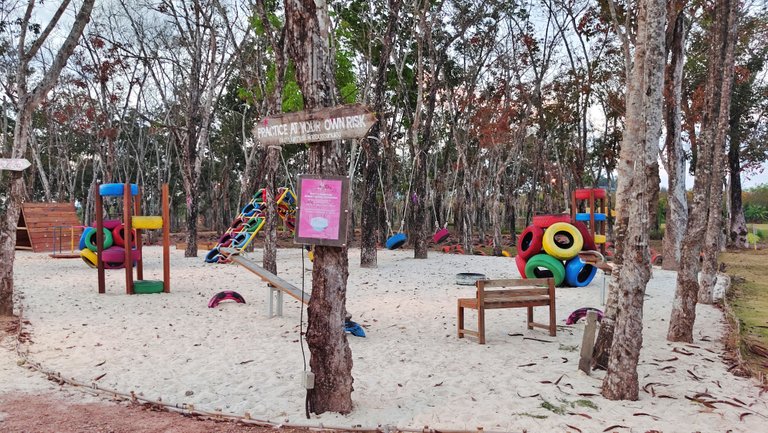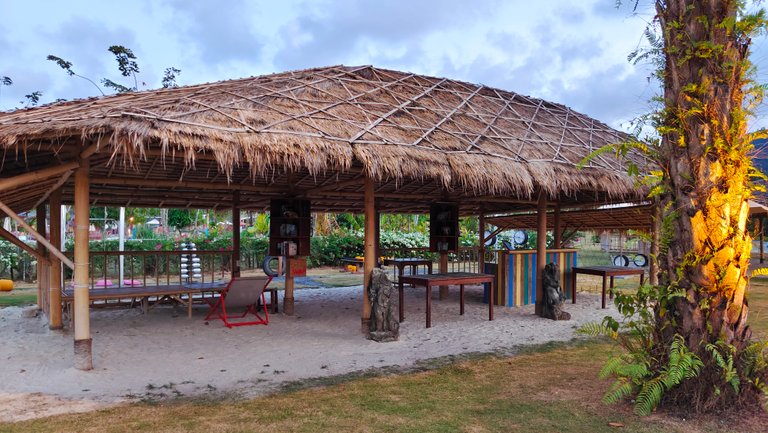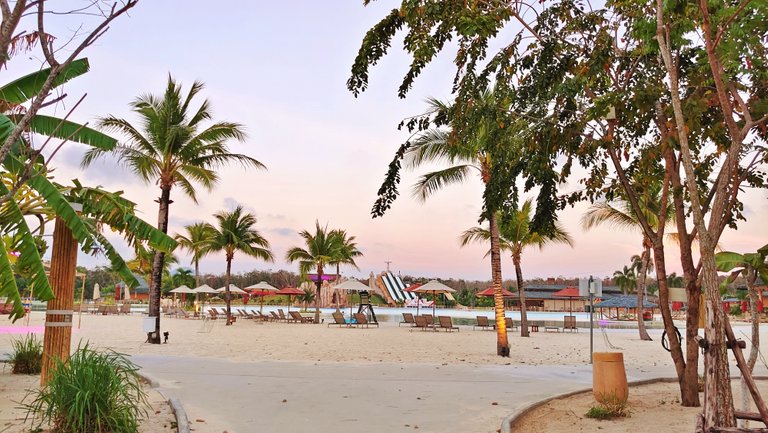 From this part you can see the inside of the water park, as it was late evening nobody inside because the water park was closed.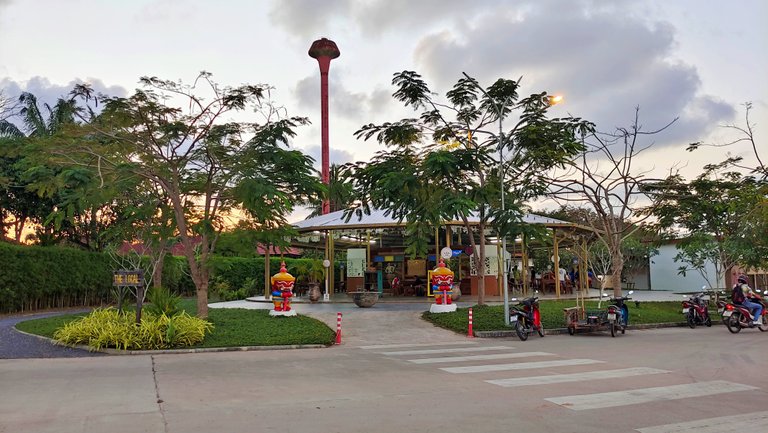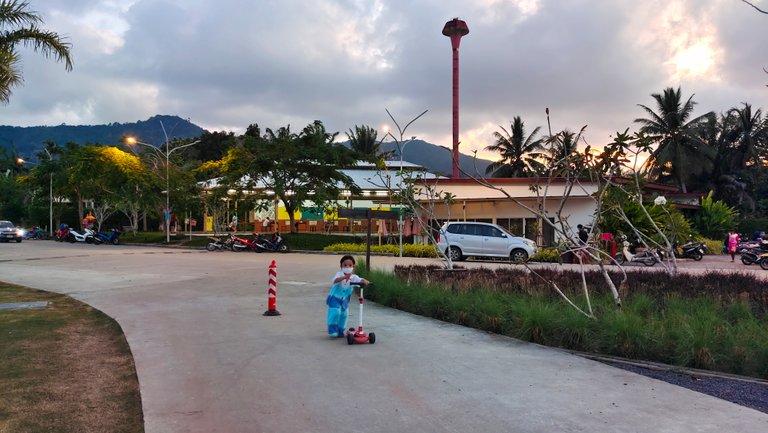 Have a small kid have fun with a scooter, my son is a lot older than this kid but he's afraid to play.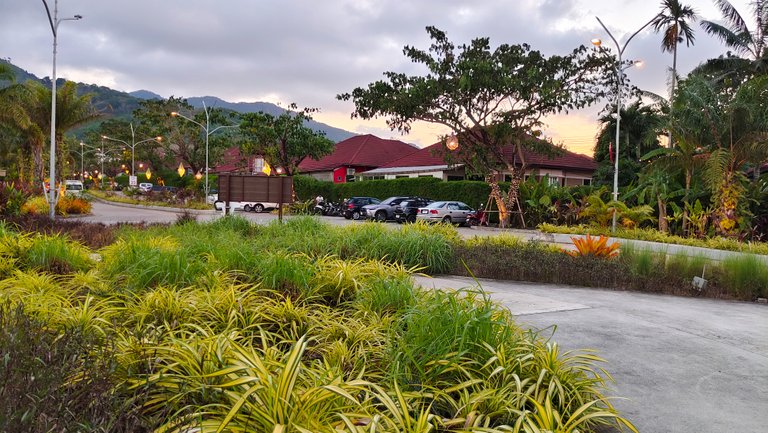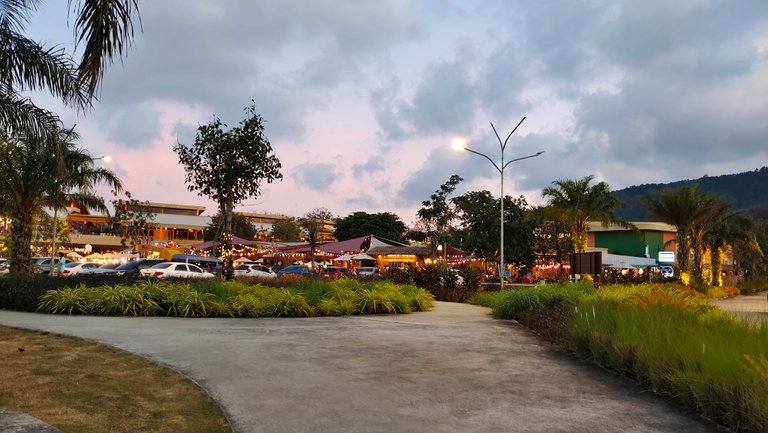 ที่บลูทรีคือกว้างม๊วกกกกก..... ที่จอดรถก็กว้างขวาง มีสวนย่อมตกแต่งบริเวณให้ดูสวยงาม บรรยากาศยามเย็นๆ ก็ดีไปอี๊กกกก....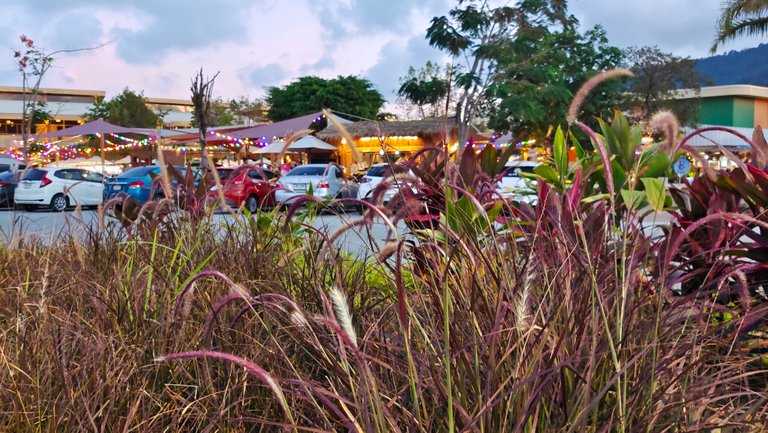 The parking lot is spacious with a garden atmosphere.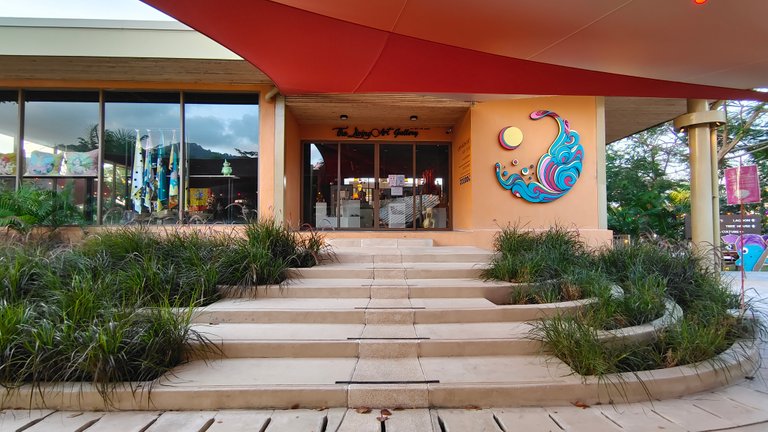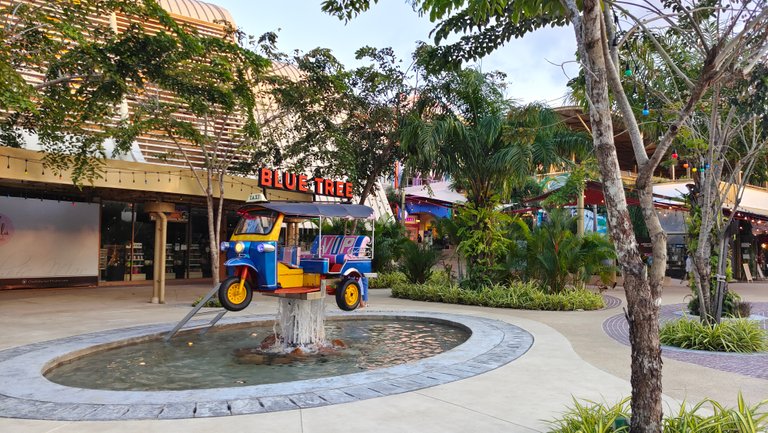 There are a lot of photo spots here, perfect for selfie lovers.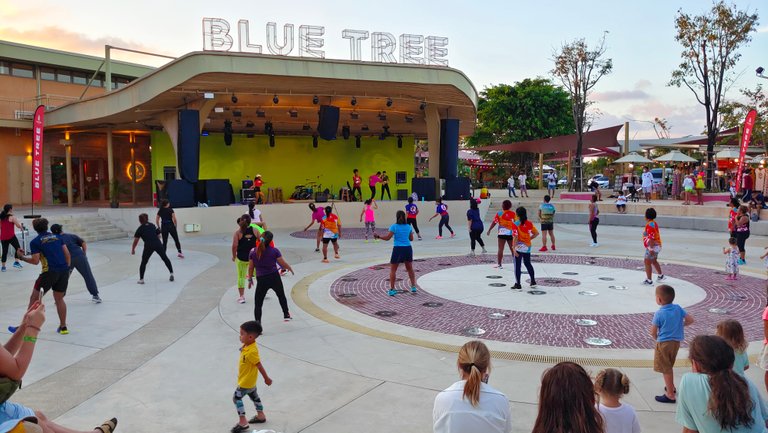 Here, every evening, there will be aerobics and Zumba girls who are healthy and love to dance and have a lot of fun. I also want to be in good shape to do anything but not exercise. 🤣🤣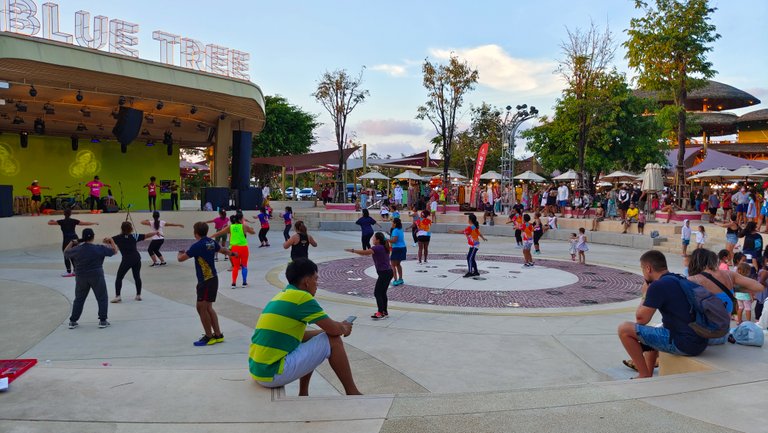 ที่นี่เย็นๆ จะมีเต้นแอโรบิคและซุมบ้า จังหวะมันก็จะมันๆ สามารถขยับแข้งขยับขาตามจังหวะของดนตรีได้ สาวๆ ที่รักสุขภาพและชอบเต้น สามารถมาสนุกกันได้ที่บลูทรี บัวก็อยากจะสวยหุ่นดีเหมือนกัน ให้ทำอะไรทำได้หมด ยกเว้นออกกำลังกาย 555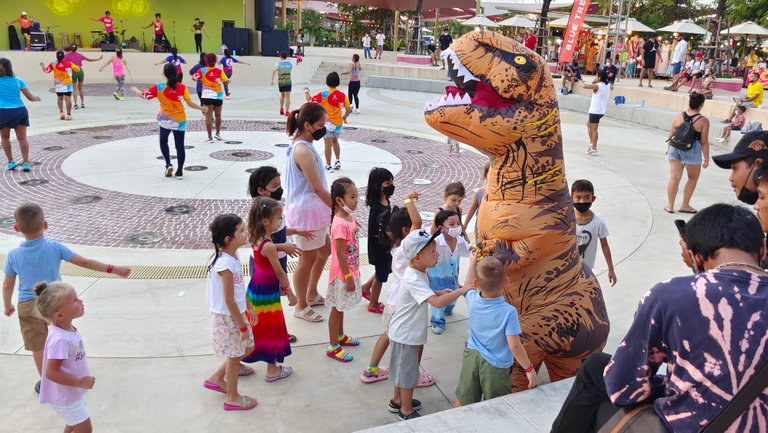 In addition to the adults enjoying the aerobics, the children also enjoyed playing with the dinosaur man.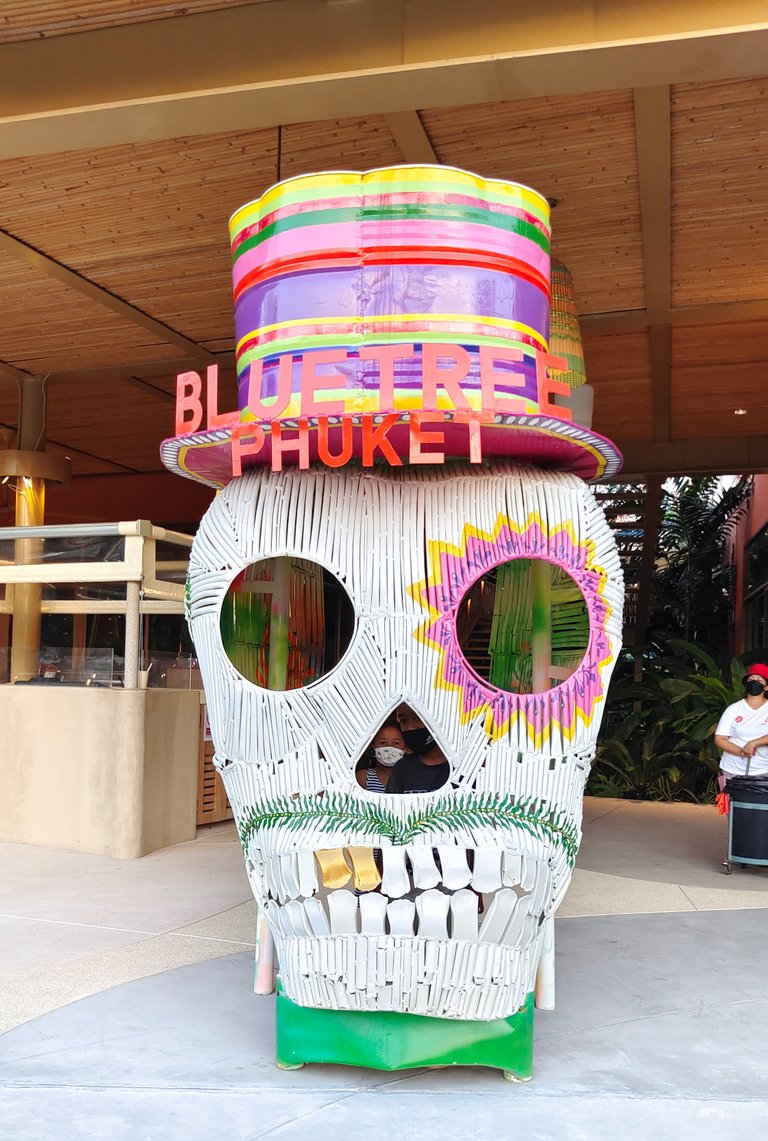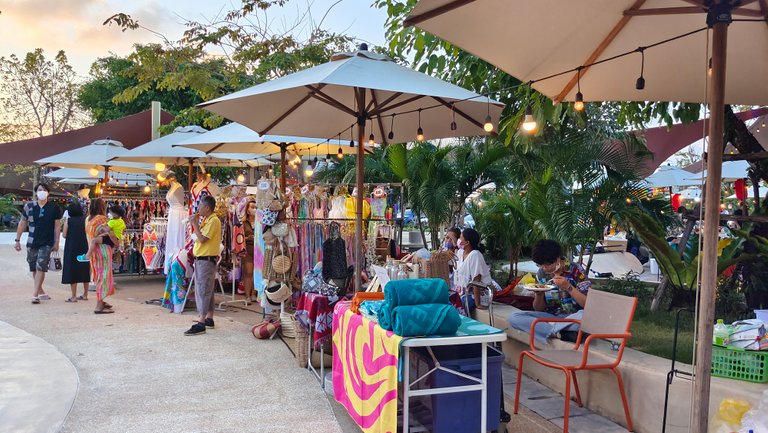 Near the aerobic field, there is a market that sells clothes, food, and beverages.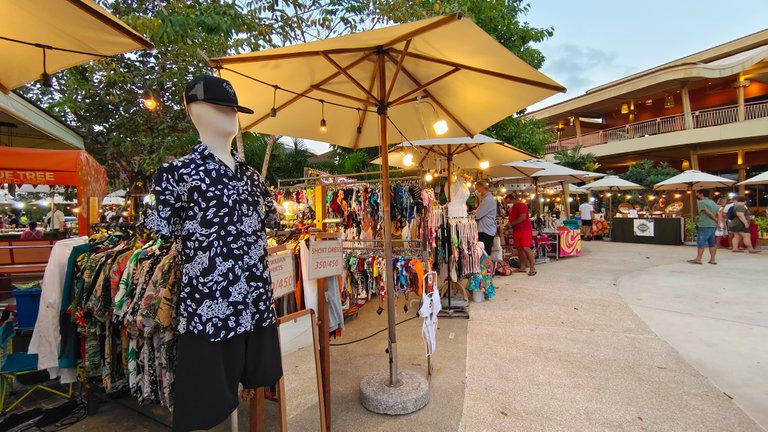 ถัดจากลานเต้นแอโรบิค ก็จะเป็นตลาดนัดเล็กๆ ที่มีขายทั้งเสื้อผ้า อาหาร และเครื่องดื่ม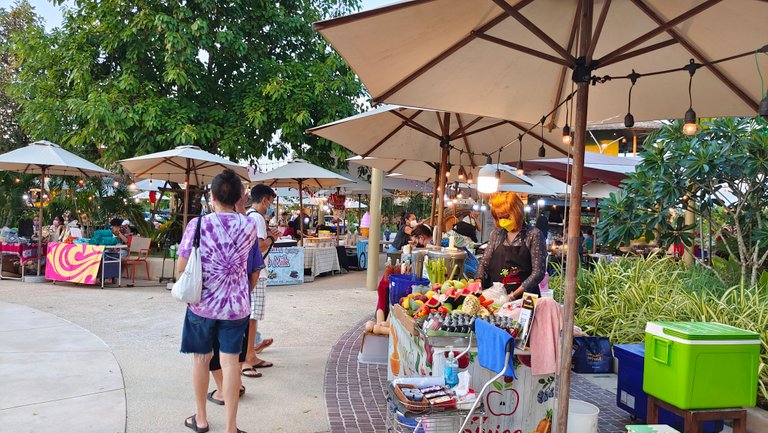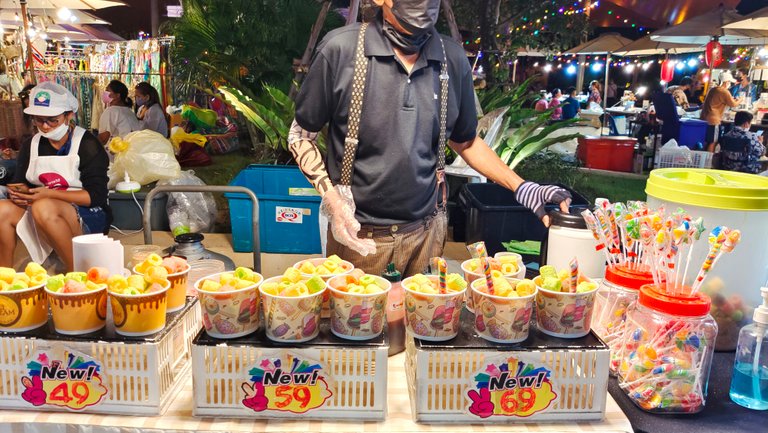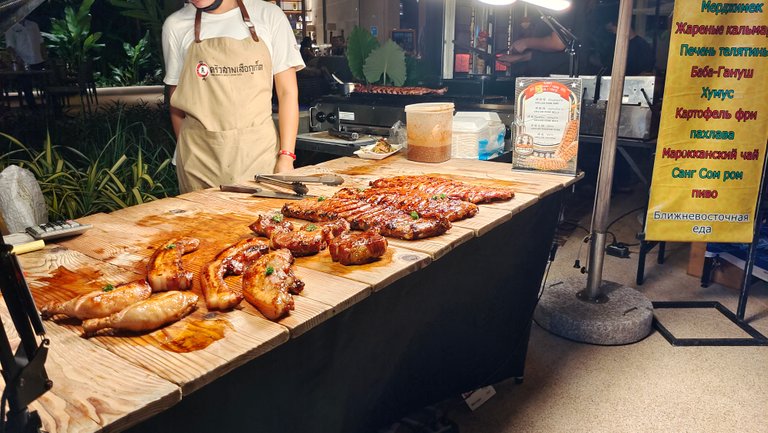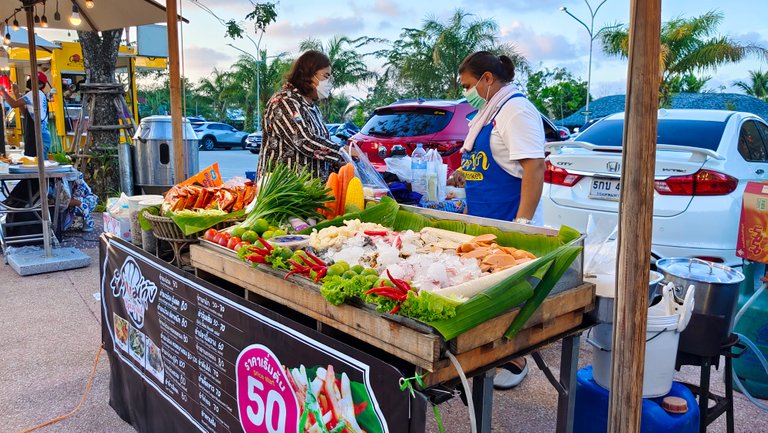 Spicy salad It's one of my favorite dishes, but at that time I had a stomach ache so I had to refrain from eating spicy food.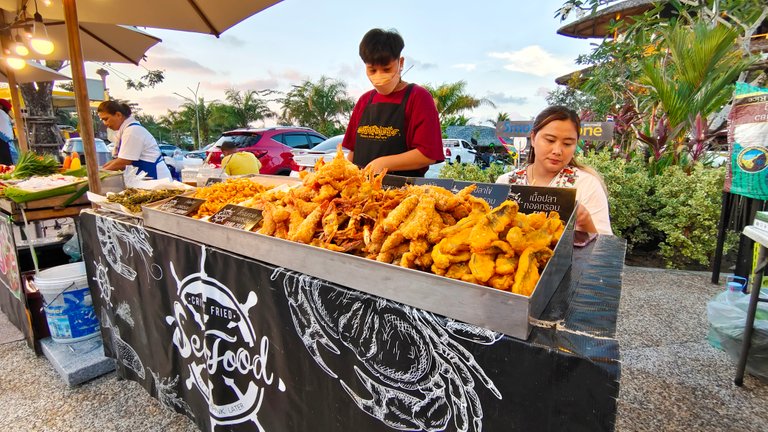 I bought battered fish and battered shrimp for my eldest son who didn't come to this market with us.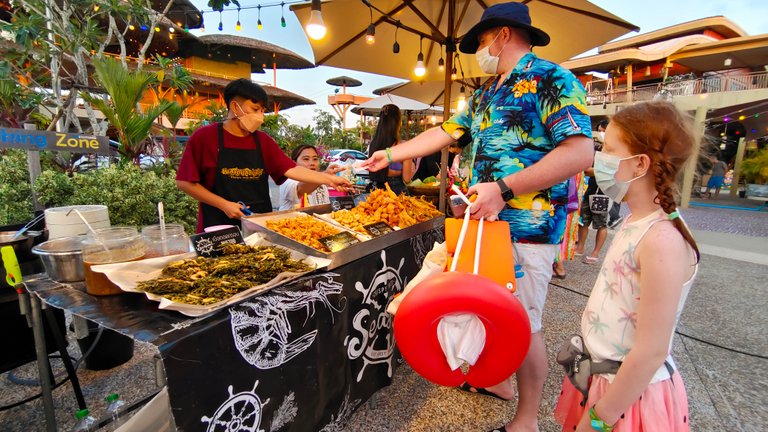 ยำรสรสเด็ดเมนูโปรดของบัวเลยค่ะ แต่วันนั้นเผอิญท้องเสีย ก็เลยต้องงด แล้วก็ซื้อปลาและกุ้งชุปแป้งทอดไปฝากลูกชายคนโตที่ไม่ได้มาด้วยกัน เพราะนางไปฝึกงานยังไม่กลับบ้าน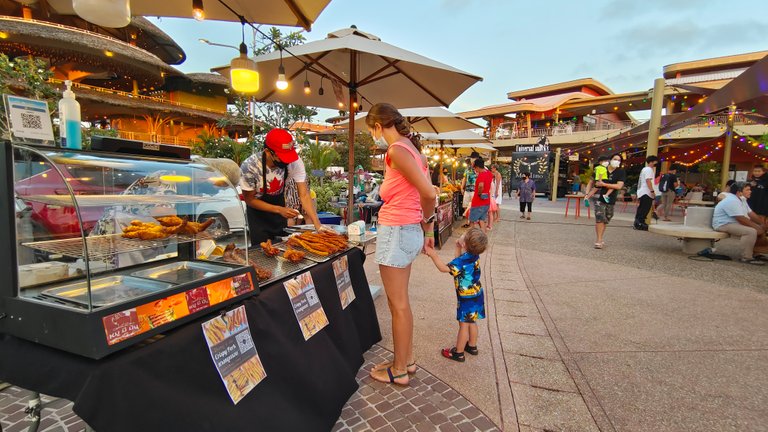 The Food Truck sells Japanese food there are 5-6 dishes to choose from. My husband wanted to eat so I ordered Japanese food for everyone. But have to wait in the queue because there are 2 queues before me.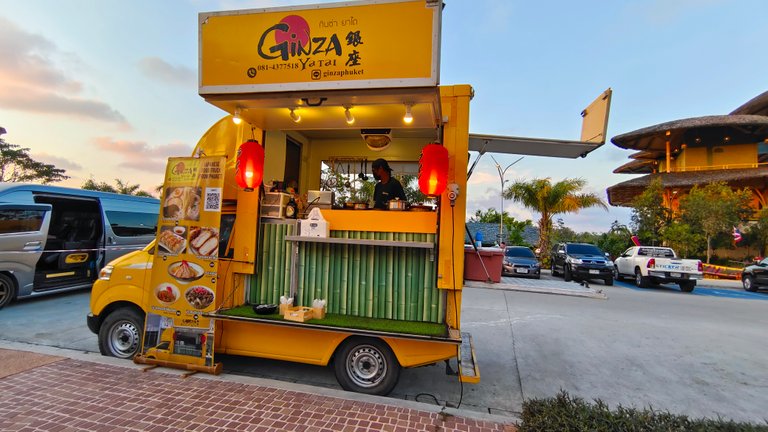 While waiting for my food, I found an empty table to sit and eat but there are few tables, we have to wait for the people to sit before they are full and get up from the table so we can sit down.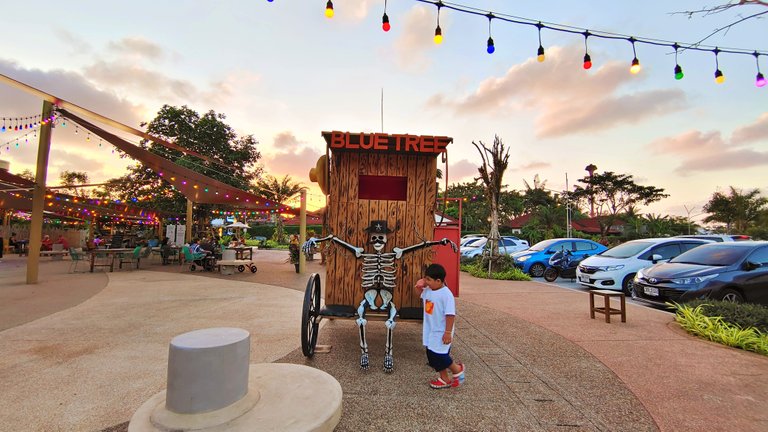 สาอยากกินอาหารญี่ปุ่น ซึ่งเป็นรถแบบ Food Truck เมนูก็มีอยู่ประมาณ 5-6 อย่าง บัวสั่งอาหารไว้ แต่ต้องรอคิวหน่อย เพราะมีคิวอยู่ก่อนหน้าบัว 2 คิว ระหว่างที่รอคิดก็ไปหาโต๊ะนั่งไปพลางๆ ก่อน เพราะโต๊ะที่นี่มีน้อย ก็ต้องรอให้คนที่นั่งอยู่ก่อนกินอิ่มและลุกออกไปถึงจะได้โต๊ะนั่ง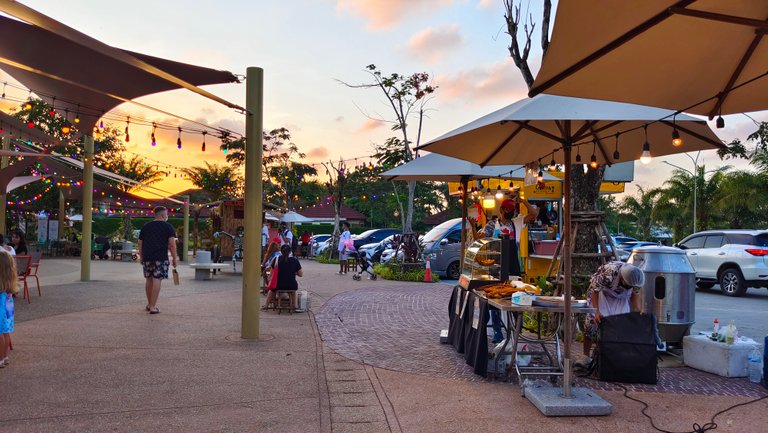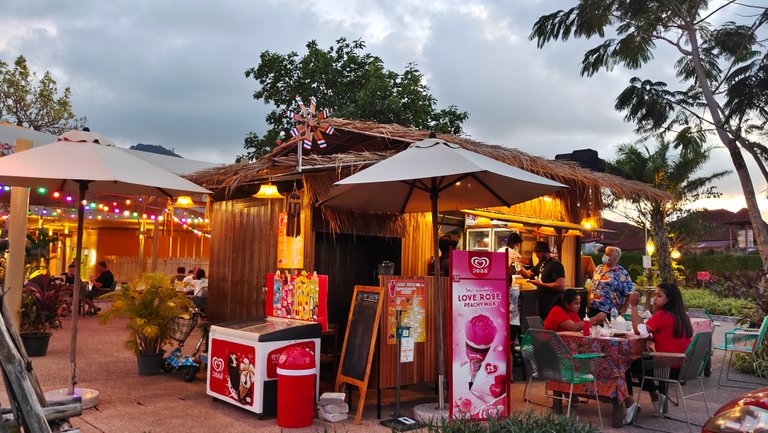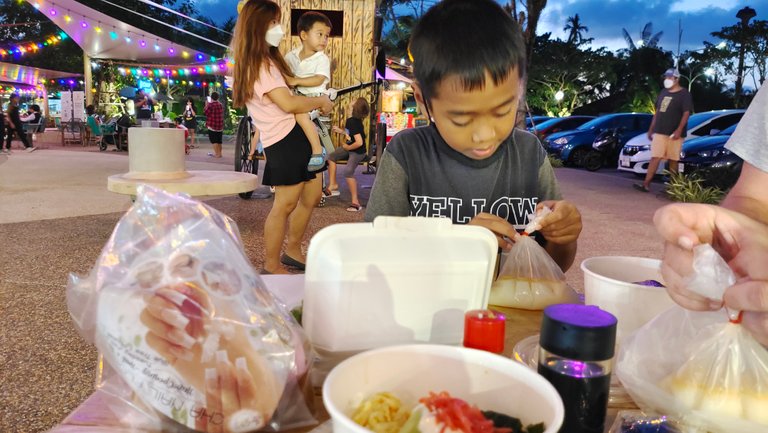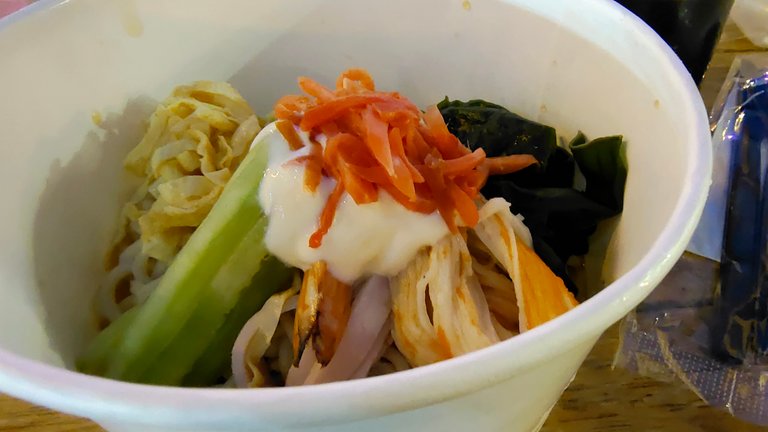 When the food is served, they sit and eat happily the atmosphere at night is decorated with colorful lights and beautiful music even if it's not a fancy meal.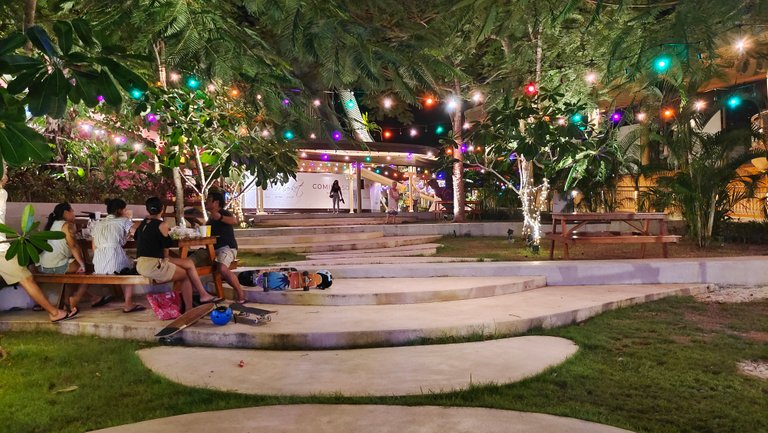 เมื่อได้อาหารพวกเราก็นั่งรับประทานอาหาร ในบรรยากาศของแสงไฟหลากสี ก็เป็นความสุขอีกแบบหนึ่ง แม้ว่าอาหารมื้อนั้นจะไม่ได้หรูหราก็ตาม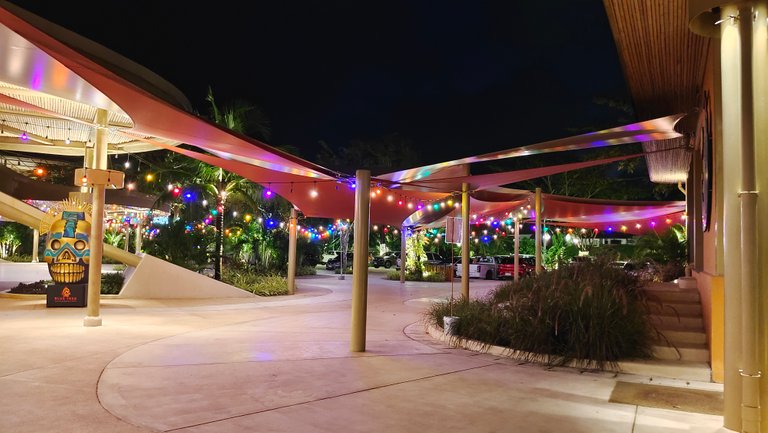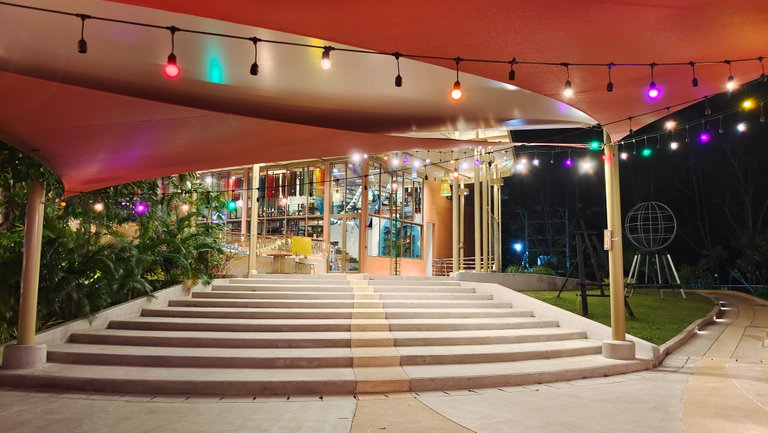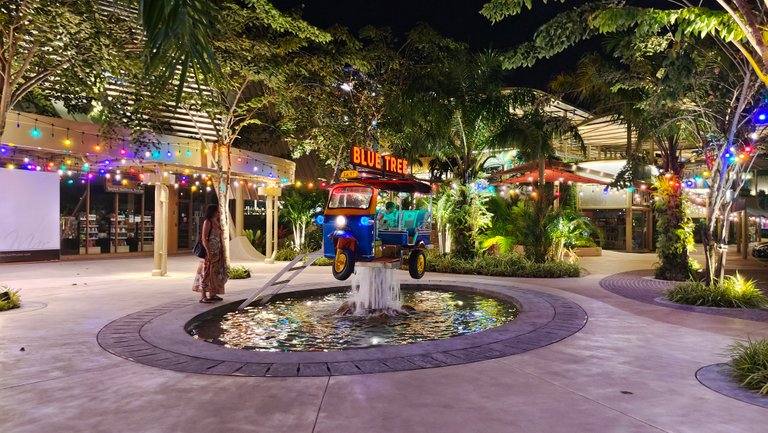 งานเลี้ยงย่อมมีวันเลิกรา หลังจากทานอาหารเสร็จพวกเราก็เดินทางกลับบ้าน ด้วยท้องที่อิ่มแปล้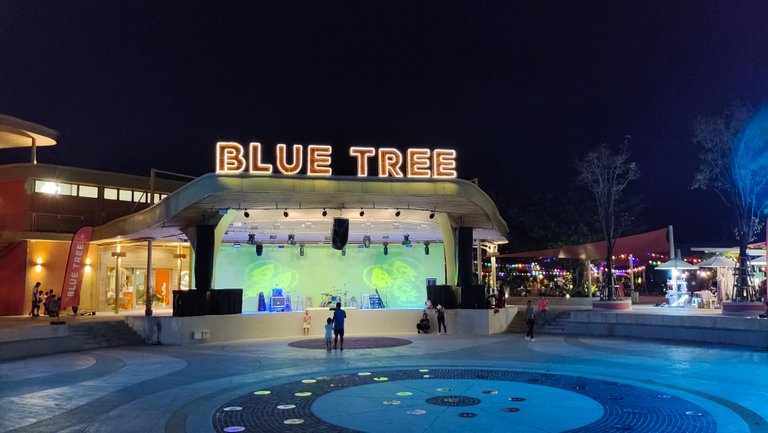 The feast has an end date, and when we finished our meal, we went back home.

As usual I hope you enjoyed our #wednesdaywalk and invite you to read more walks at the Wednesday Walk community and to travel through the Pinmapple map. 😉
| 📷 Picture | smartphone |
| --- | --- |
| Model | Vivo X60 5G |
| Type | Android |
| Photographer | @baibuaza |
| Location | Blue Tree, Phuket, Thailand |

Thank you for your support
ขอบคุณสำหรับการโหวต
เลิฟนะยู้ววววววว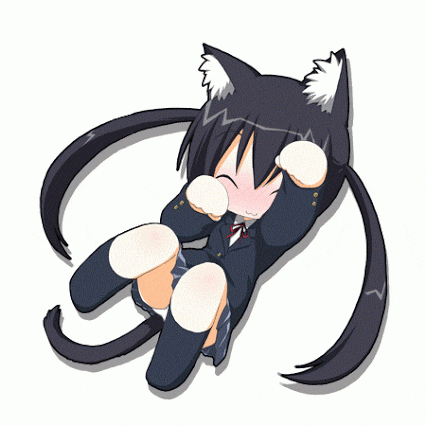 if you missed my last travel posts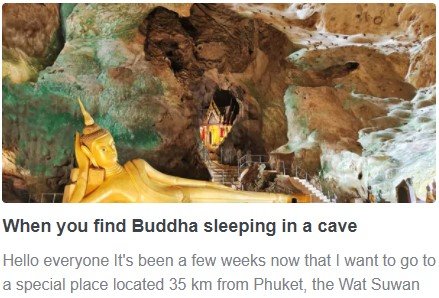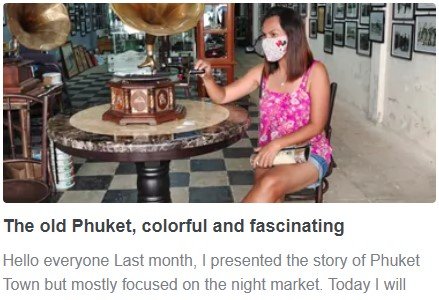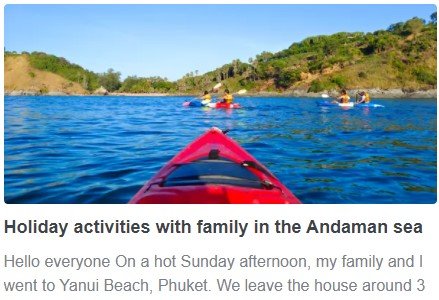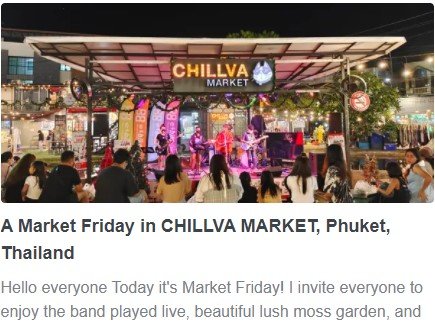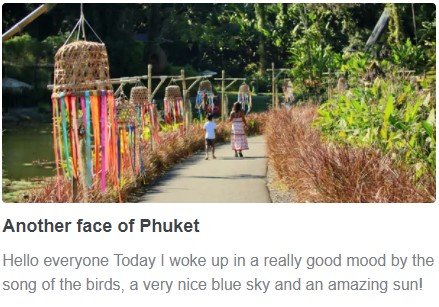 ---
---