Why should you vote for your favorite witnesses?
---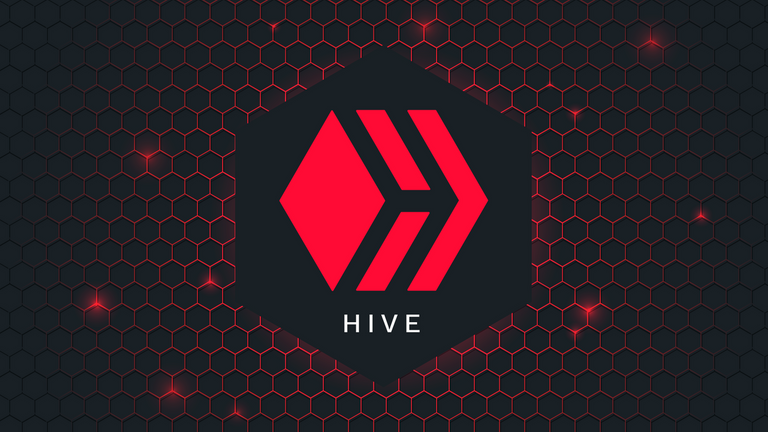 Photo by @doze
---
Today I was discussing with my friends and somehow the topic went to witnesses. Thanks to this conversation I realized there are a lot of newbies (and even a few oldies) who don't know about witnesses or don't know what they do and how important they are to the blockchain. For this reason I decided to create this post and explain all of this.

Who are witnesses?
For the hive blockchain to function blocks have to be created. The work of a witness is to create these blocks. By creating these blocks they are not only creating new data structures but also mining hive in the process. This hive is what goes into the reward pool and is what is distributed among we authors and curators (of course they also get their share)
65% of the hive goes to the reward pool, which is shared between authors and curators, 15% is shared among all those with hive power (according to stake of course), 10% is given to the proposal system, for funding of proposals, and the remaining 10% is paid to the witnesses to power the blockchain.
Apart from creation of blocks, witnesses also help to improve the blockchain. In order for a new development on the blockchain (e.g HBD's apr increasing from 10 to 12 then 20%) the top 20 witnesses have to agree on it. Witnesses are the alternative to a regular centralized governing body. Why have one person call the shots and make everything benefit him, when we can have 20 different people from different backgrounds with different beliefs making decisions and keeping each other in check?

Where do we fit in all of this?
Sure witnesses are big and strong and important to the blockchain, but thankfully hive works using a Delegated Proof of Stake (Dpos) model. This simply means we get our say in the governance by voting for our witnesses.
Witnesses are ranked according to the cumulative hive power of everyone who voted for them. Hive power is used in ranking instead of number of people to avoid creating multiple accounts to game the system.
We all get 30 witness votes and are to make use of them by choosing good and trustworthy witnesses who are focused on the development of the blockchain.
Majority of the top witnesses have projects which help improve the hive. Personally I like to vote for the witnesses of projects which I enjoy using, you can vote whoever you want, it's a free blockchain of course 😁.

How to vote for witnesses?
I'll be showing you how to do this on the three major frontends (those are the only ones I know how to use), hive.blog, peakd, and ecency

Hive.blog
To do this simply click on the drawer button with 3 lines by the top of your screen.
---

---
Then click on "Vote for witness"
---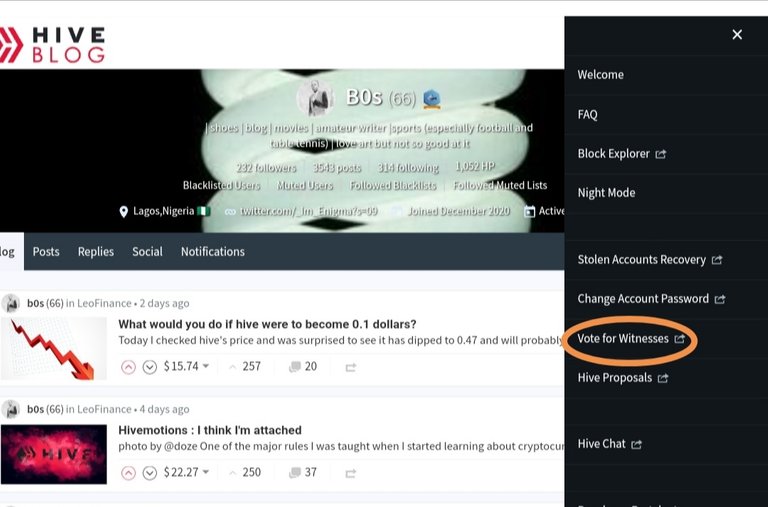 ---
From there, you vote the witness you want with your active key by pressing the little upvote button in front of them.
---
---
Alternatively you can simply click this link here and go straight to the witness page and vote.
And if you don't want to vote yourself, or you have multiple accounts and want them to vote in unison simply go to the bottom of the page and select a proxy account. Such that whenever that account votes for a witness, you automatically vote for the witness as well
---

---

peakd
Simply go to your profile and click "account actions"
---

---
Then click on "review witnesses"
---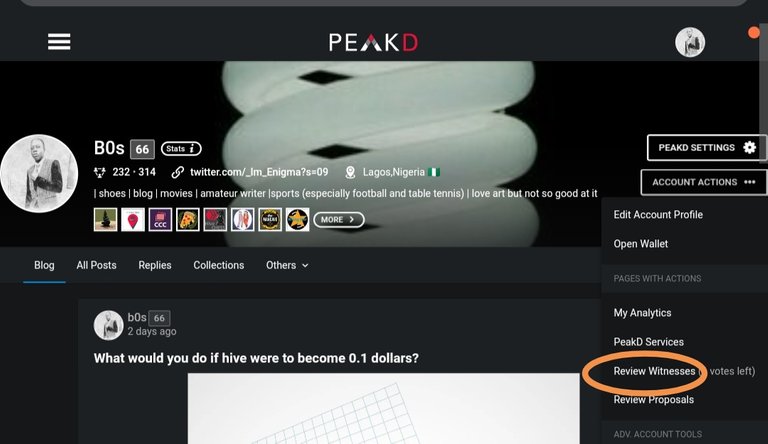 ---
And select the witnesses you want with your active key by clicking the check mark.
---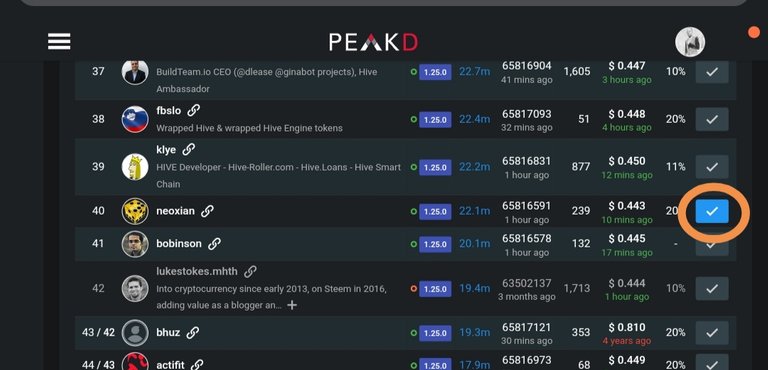 ---
Or alternatively just click here and go straight to the above page and vote your witness.
To set a proxy voter, simply go to the person's page, click "interactions" then click "Set as proxy voter"
---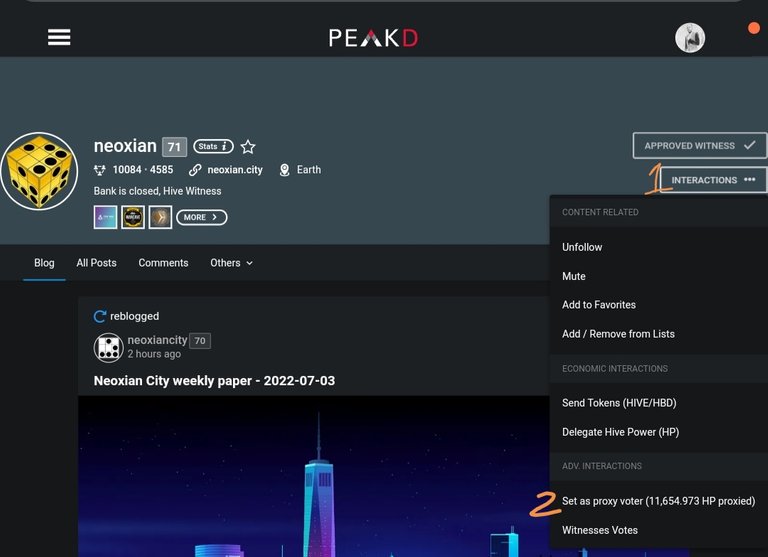 ---

Ecency
As soon as you view your profile you should see the "witnesses" option by the left hand side
---
---
Simply click the little upvote in front of your favorite witness and vote for them with your active key
---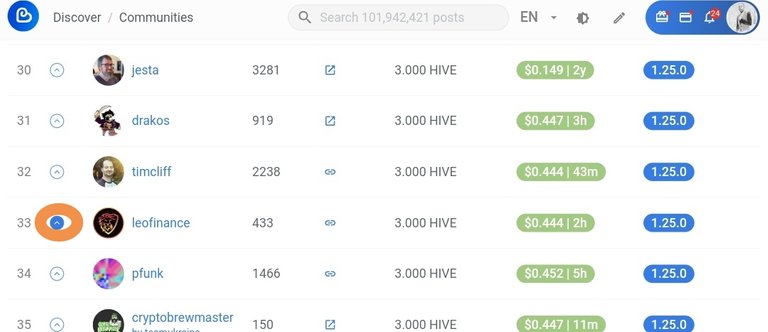 ---
Or you could use this link here to be sent to that page directly to vote for your favorite witness.
To select a proxy voter scroll to the bottom of the page and input the account name.
---

---

Conclusion
I think that the hive witnesses are very important for the growth of the hive blockchain, and that it is very important to vote for witnesses that we trust will develop the blockchain rather than letting our votes go to waste. I hope with the little I've done I have been able to show you the importance of witnesses.

Posted Using LeoFinance Beta
---
---