Tutorial de Arreglo en globos de Super Mario Bros / Super Mario Bros Balloon Arrangement Tutorial [ESP-ENG]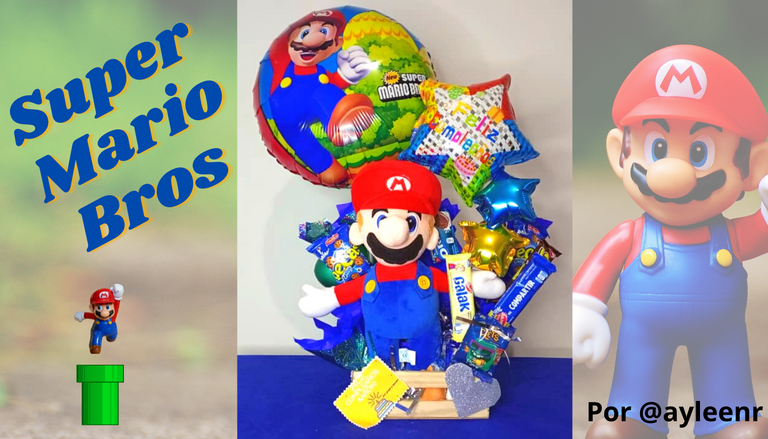 Hola amigo de la comunidad Build-it
Después de mucho tiempo inactiva con respecto a la elaboración de arreglos, me llamó una clienta fiel, debo decirle que fue la primera que obtuve, al inicio de este mundo del arte en globos y siempre tengo el placer de recibir sus mensajes solicitando ayuda para cualquier festividad, así que esta vez solicitó un arreglo de Mario Bros para su hijo que cumple 7 años de edad, al principio debo confesarles me fue difícil conseguir desde la base hasta los globos, pues mi proveedor de globos está muy lejos y la persona que me vende las base de madera trabaja actualmente con grandes cantidades, sin embargo por ser mi cliente fiel, hice todo por conseguirle lo que ella deseaba, con tal de llevarle una alegría a su hogar, porque cuando trabajo de corazón, lo hago como si fuera para un hijo, sobrino, primo o cualquier familiar.
Hello friend of the Build-it community
After a long time inactive regarding the elaboration of arrangements, a loyal customer called me, I must tell you that she was the first one I got, at the beginning of this world of balloon art and I always have the pleasure of receiving her messages requesting help for any festivity, so this time she requested an arrangement of Mario Bros for her son who turns 7 years old, at the beginning I must confess it was difficult to get from the base to the balloons, because my balloon supplier is far away and the person who sells me the wooden base is currently working with large quantities, however for being my loyal customer, I did everything to get her what she wanted, just to bring joy to her home, because when I work from my heart, I do it as if it were for a son, nephew, cousin or any family member.

Comenzaré con decirle lo que se necesita para realizar un lindo arreglo de Mario Bros:
Peluche Mario Bros de 33cm
Base de madera medidas 20x15x7
Palito de globo burbuja
Palitos de altura
Papel de seda azul rey
Papel de regalo brillante
tijera
Globo de Mario Bros 18"
Globo de estrella Feliz Cumpleaños 9"
Globo de estrella azul y dorado 5"
Pega americana para globos
Pistola de silicón
Barra de silicón
Anime
Golosinas a preferencia
Tirro de cinta para embalar
3 o 4 globos R5 verde y negro
Nylon
Foami plateado
I'll start with telling you what is needed to make a nice Mario Bros arrangement:.
Plush Mario Bros of 33cm
Wooden base measures 20x15x7
Bubble balloon stick
Sticks of height
King blue tissue paper
Glossy wrapping paper
scissors
Mario Bros 18" Balloon
Happy Birthday 9" star balloon
5" blue and gold star balloon
American glue for balloons
Silicone gun
Silicone stick
Anime
Candy of your choice
Strip of packing tape
3 or 4 green and black R5 balloons
Nylon
Silver foami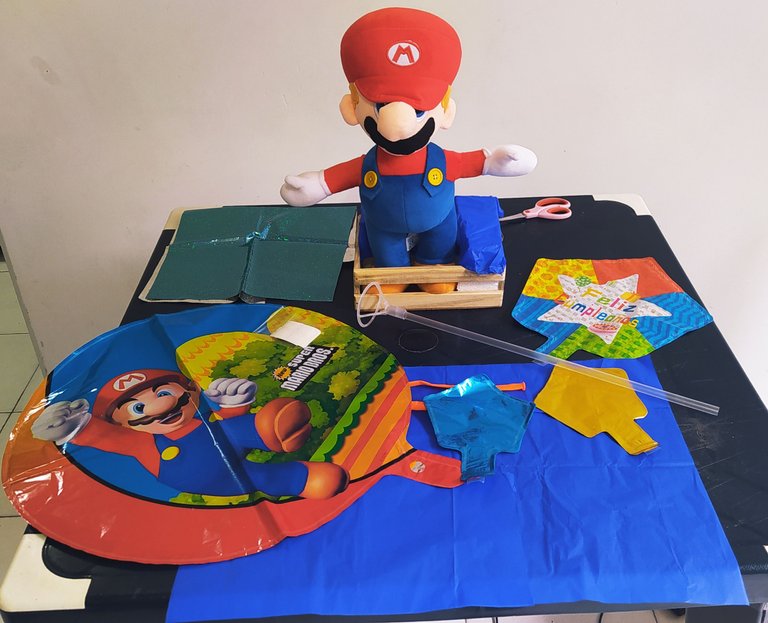 🅿🅰🆂🅾 🅰 🅿🅰🆂🅾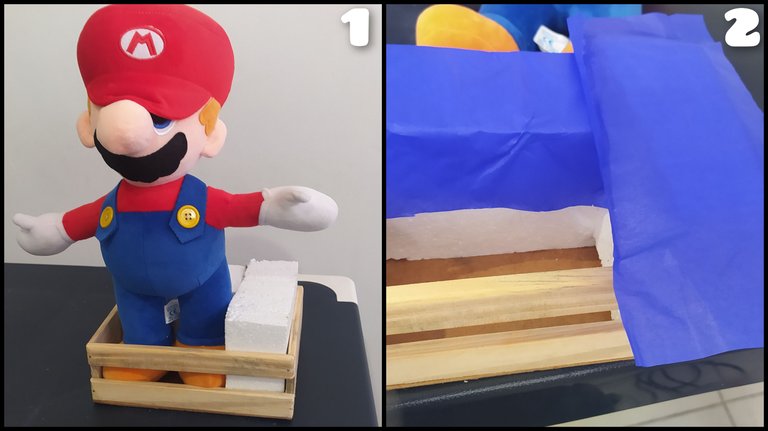 Ubiqué el muñeco en la base, por lo grande y pesado que es, le coloqué un anime detrás para los globos y otro a los lados para las golosinas, forré los animes solo la parte de arriba con papel de seda y pegué con silicón caliente.
I placed the doll on the base, because of how big and heavy it is, I placed an anime behind it for the balloons and another on the sides for the candies, I lined the anime only on the top with tissue paper and glued with hot silicone.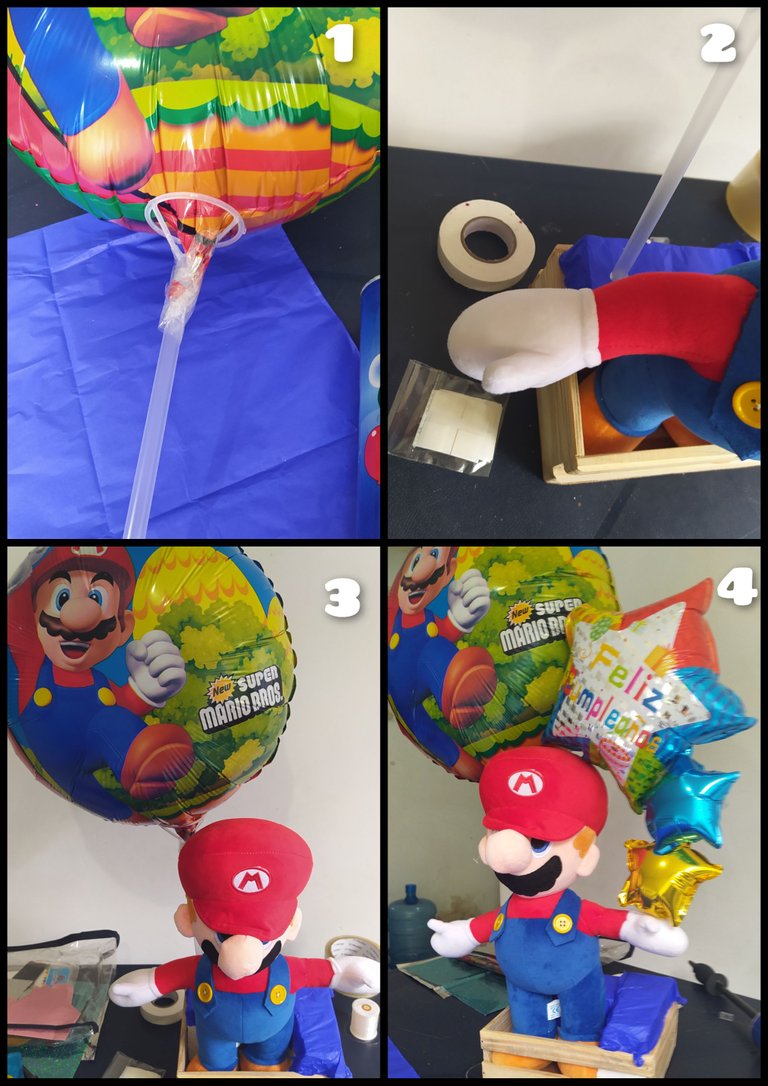 Coloqué tirro de cinta transparente al cerrar el globo, para poder introducirlo en el palo transparente y cerré con la misma cinta, luego ubiqué el sitio donde ira el globo, al estar segura coloqué silicón caliente en el palo, ahora ubique los demás globos en forma ascendente desde la mano de Mario Bros hasta el globo mas grande (los pegué con pega americana de punto).
I placed a strip of transparent tape on the balloon, to be able to introduce it in the transparent stick and I closed it with the same tape, then I located the place where the balloon will go, when I was sure I placed hot silicone on the stick, now I placed the other balloons in ascending form from the Mario Bros hand to the biggest balloon (I glued them with American glue).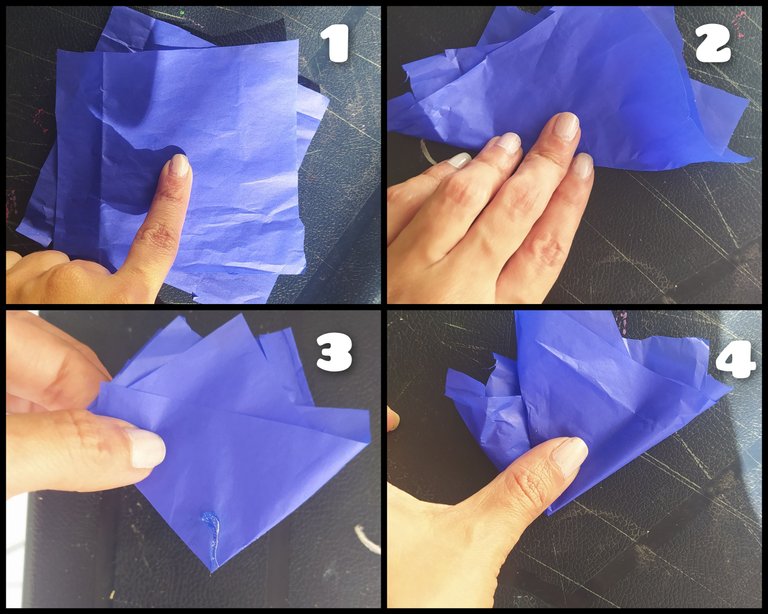 Paso importante para decorar, recorté dos cuadros de papel de seda del tamaño deseado, lo ubiqué haciendo una estrella, lo doble por la mitad, le coloqué un puntico de pega de silicón caliente y volví a doblar, de esta manera obtuve muchos para tapar los espacios y palitos de altura, aunque no lo crean es importante tapar para un acabado profesional.
Important step to decorate, I cut out two squares of tissue paper of the desired size, I placed it making a star, folded it in half, put a dot of hot silicone glue and folded it again, this way I got many to cover the spaces and sticks in height, believe it or not it is important to cover for a professional finish.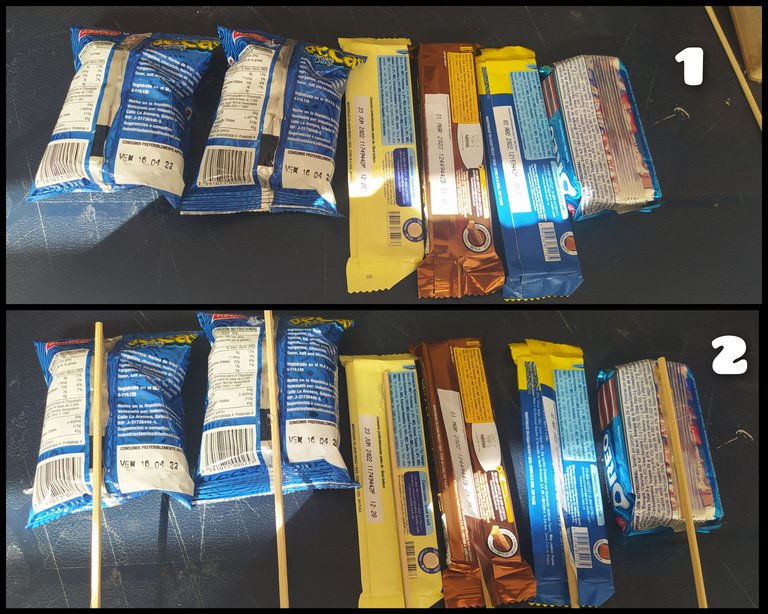 Coloqué las golosinas en la mesa de trabajo, les apliqué pega de silicón caliente detrás de cada una, procedí a pegar los palitos de altura, y culminé asegurando con cinta transparente las golosinas al palito.
I placed the golosinas on the work table, applied hot silicone glue behind each one, proceeded to glue the sticks high, and finished by securing the candies to the stick with transparent tape.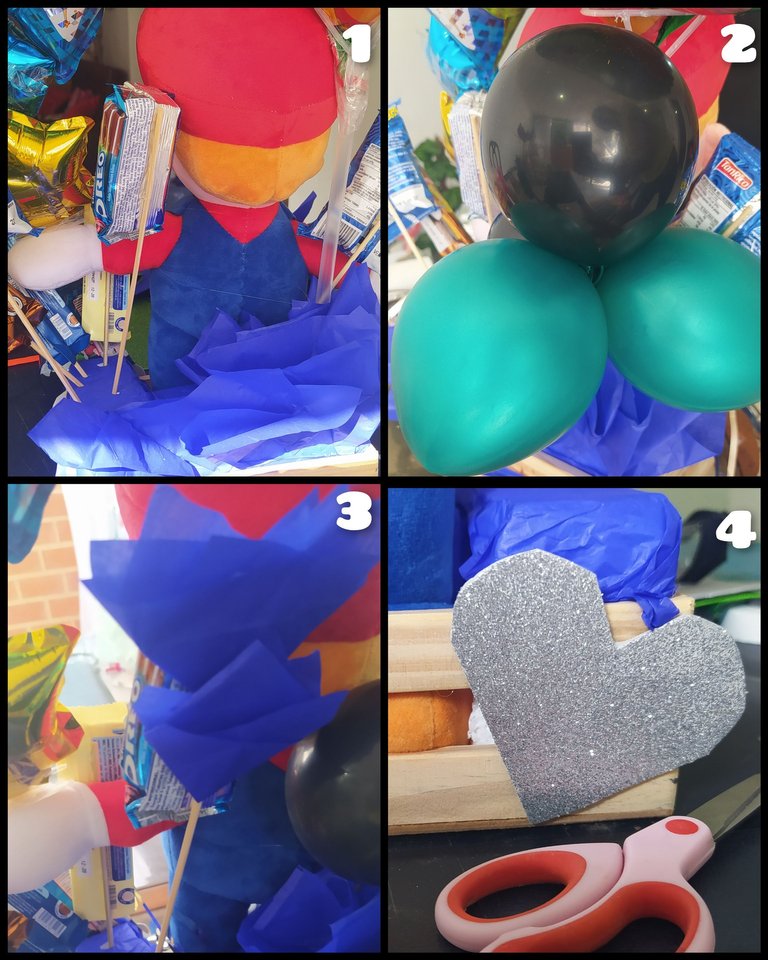 Ubiqué las golosinas, en el anime que esta a un lado de Mario Bros , coloqué unos 3 globitos detrás, los amarré con nylon junto al palo del globo y Mario Bros, además forré los palos de alturas que están detrás finalmente coloqué un corazón de foami plateado en la parte delantera.
I placed the golosinas, in the anime that is on one side of Mario Bros , I placed about 3 balloons behind, tied them with nylon next to the balloon stick and Mario Bros, also lined the sticks of heights that are behind finally I placed a silver foami heart in the front.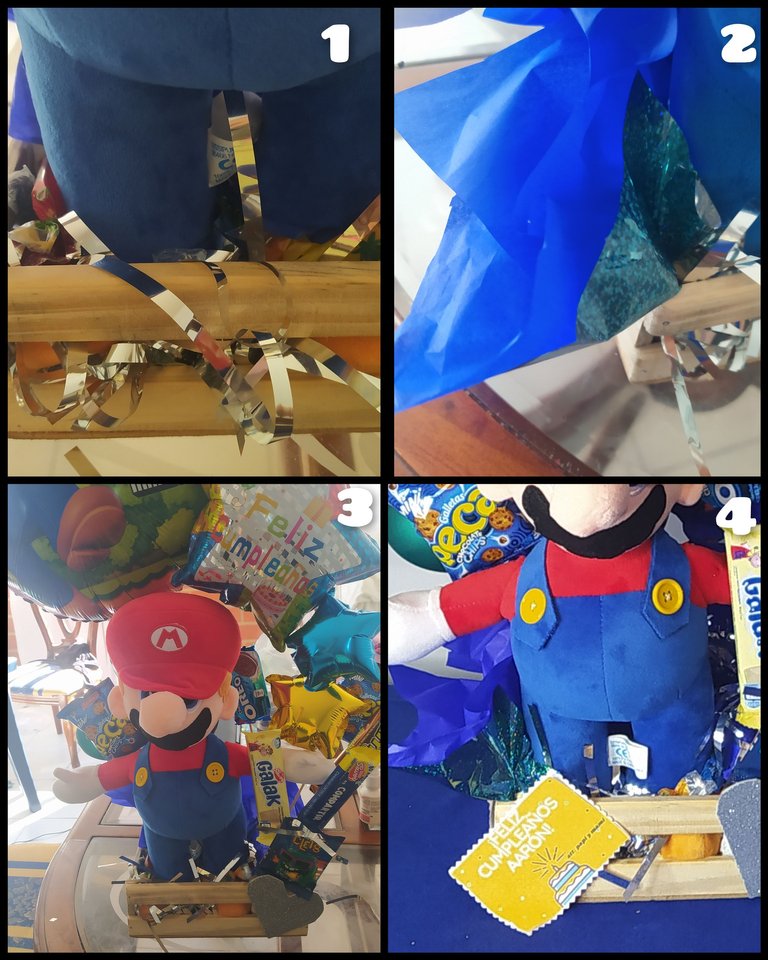 Finalmente coloqué unas cintas plateadas como serpentina, agregué unos caramelitos y chicles, por ultimo coloqué una dedicatoria.
Nota: Es importante utilizar una buena pega para los globos, en mi caso compré una americana que no se despega por nada, se debe medir el espacio antes de colocar la pega.
Finally I placed some silver ribbons as a streamer, I added some candy and gum, finally I placed a dedication.
Note: It is important to use a good glue for the balloons, in my case I bought an American glue that does not peel off for anything, you must measure the space before placing the glue.


Aquí esta el resultado...Here is the result...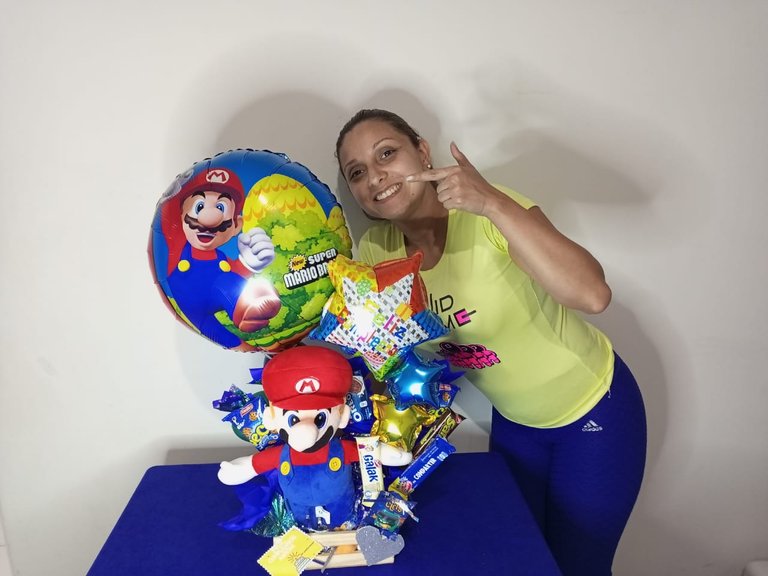 Espero les guste este lindo arreglo de Super Mario Bros... Nos vemos en el próximo post.
Si desea realizar un lindo arreglo en globos no dudes en contactarme.
I hope you like this nice arrangement of Super Mario Bros.... See you in the next post.
If you want to make a nice balloon arrangement do not hesitate to contact me.


𝘚𝘦𝘱𝘢𝘳𝘢𝘵𝘰𝘳 𝘺 𝘣𝘢𝘯𝘯𝘦𝘳: 𝘥𝘦𝘴𝘪𝘨𝘯𝘦𝘥 𝘣𝘺 @𝘢𝘺𝘭𝘦𝘦𝘯𝘳 𝘢𝘯𝘥 𝘊𝘢𝘯𝘷𝘢 || 𝘾𝙤𝙡𝙡𝙖𝙜𝙚: 𝘱𝘦𝘳𝘧𝘰𝘳𝘮𝘦𝘥 𝘪𝘯 𝘾𝙤𝙡𝙡𝙖𝙜𝙚 𝙈𝙖𝙧𝙠𝙚𝙧 || 𝘐𝘮𝘢𝘨𝘦𝘴: 𝘖𝘸𝘯 𝘦𝘥𝘪𝘵𝘦𝘥 𝘪𝘯 𝘊𝘢𝘯𝘷𝘢 || 𝘗𝘩𝘰𝘵𝘰𝘨𝘳𝘢𝘱𝘩𝘦𝘳: @𝘢𝘺𝘭𝘦𝘦𝘯𝘳 𝘶𝘴𝘦𝘥 𝘢 𝘵𝘳𝘪𝘱𝘰𝘥 || 𝘛𝘳𝘢𝘯𝘴𝘭𝘢𝘵𝘰𝘳: 𝘋𝘦𝘦𝘱𝘓 || 𝘓𝘰𝘤𝘢𝘵𝘪𝘰𝘯: 𝘐𝘯 𝘮𝘺 𝘢𝘱𝘢𝘳𝘵𝘮𝘦𝘯𝘵 𝘭𝘰𝘤𝘢𝘵𝘦𝘥 𝘪𝘯 𝘊𝘢𝘳𝘢𝘤𝘢𝘴, 𝘝𝘦𝘯𝘦𝘻𝘶𝘦𝘭𝘢.

---
---