Maquillaje Inspirado en Zombie Pop Art / Zombie Pop Art Inspired Makeup [ESP-ENG]
Hola linda comunidad de #MakeupPower
!Espero se encuentren bien! estamos entrando en el mes de octubre, donde se celebra Halloween, así que se me ha ocurrido crear un maquillaje inspirado en Zombie Pop Art, las películas de Zombies son una de mis favoritas, así que esta vez realicé una liga entre Zombie con Comic. Debo confesarles que me cuesta un poco realizar maquillajes sangrientos, espero poder hacerlo en algún momento.
Hello beautiful #MakeupPower community!
I hope you are well! we are entering the month of October, where Halloween is celebrated, so I have thought of creating a makeup inspired by Zombie Pop Art, Zombie movies are one of my favorites, so this time I made a link between Zombie and Comic. I must confess that it's a bit difficult for me to make bloody makeups, I hope to be able to do it sometime.

Así que empezaré por decirles los materiales que utilicé:
Correcto n°2 salomé
Polvo compacto porcelana
Paleta en cremas óleo: azul, amarillo,
rosado, verde, blanco y negro.
Delineado Negro
Sombras café, negro, blanco y naranja
Pincel para difuminar sombras
Pincel angular
Pincel perfilador
Brocha para polvos
Lápiz rojo para delinear
So I'll start by telling you the materials I used:
Correct n°2 salomé
Porcelain compact powder
Palette in oil creams: blue, yellow, pink, green, white and
black,pink, green, white and black.
Black eyeliner
Brown, black, white, orange shadows
Shadow blending brush
Angular brush
Liner brush
Powder brush
Red liner pencil

Procedimiento
Comencé aplicando corrector de ojeras número 2 de salomé, con la ayuda de la brocha apliqué polvo compacto para difuminar y sellar, dibuje con lápiz rojo los detalles para el maquillaje, boca, frente y ojos.
I started by applying salome under eye concealer number 2, with the help of the brush I applied compact powder to blend and seal, I drew with red pencil the details for the makeup, mouth, forehead and eyes.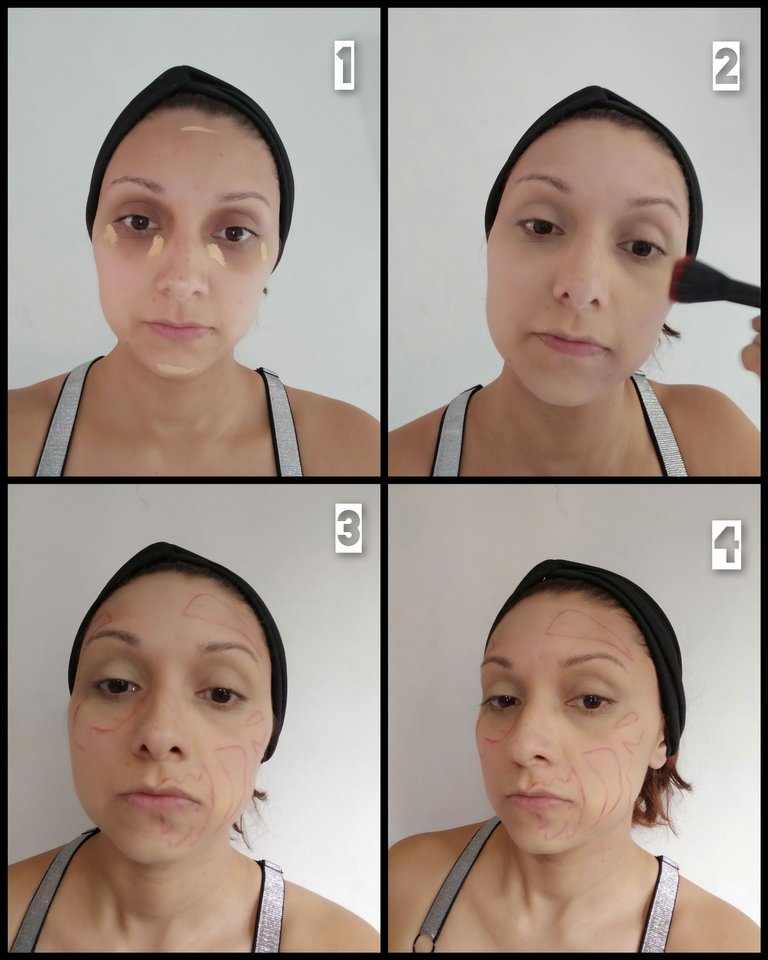 Apliqué pintura oleo en crema color azul y difuminé con la esponja, aproveche para dibujar el cerebro, pinté las cejas de color negro con la ayuda del pincel angular.
I applied blue cream oil paint and blended with the sponge, I took the opportunity to draw the brain, I painted the eyebrows in black with the help of the angled brush.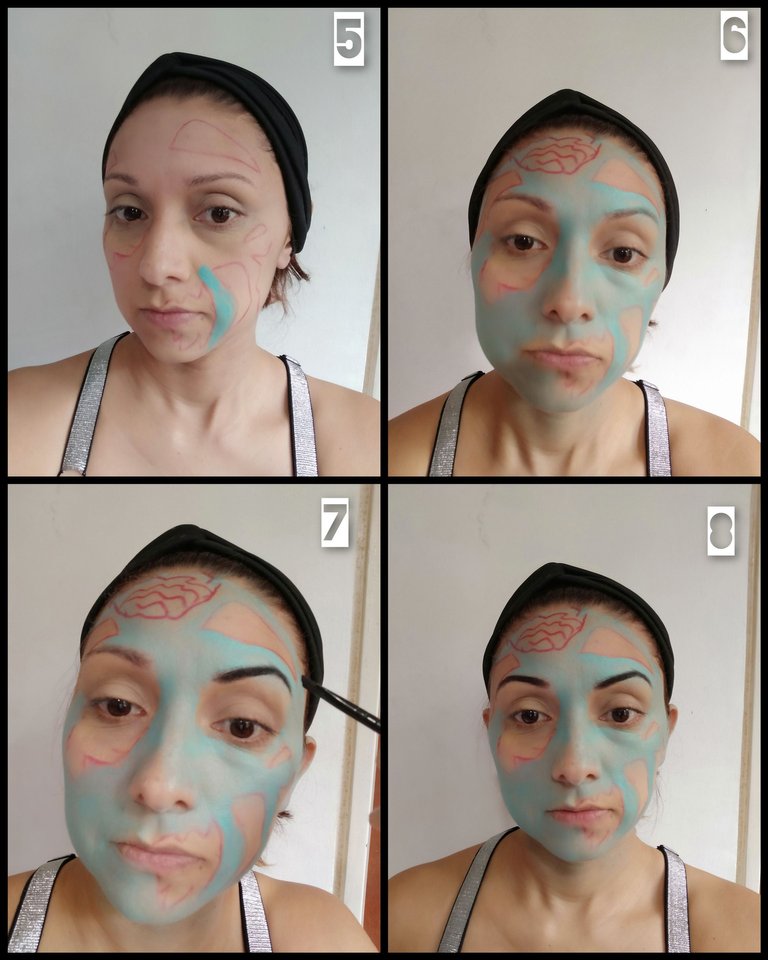 La parte del ojo la pinte de verde, el resto de los dibujos apliqué color rosado que se asemeja a la piel y con el pincel lengua de gato dibujé los dientes de la siguiente manera.
The part of the eye I painted green, the rest of the drawings I applied pink color that resembles the skin and with the cat tongue brush I drew the teeth as follows.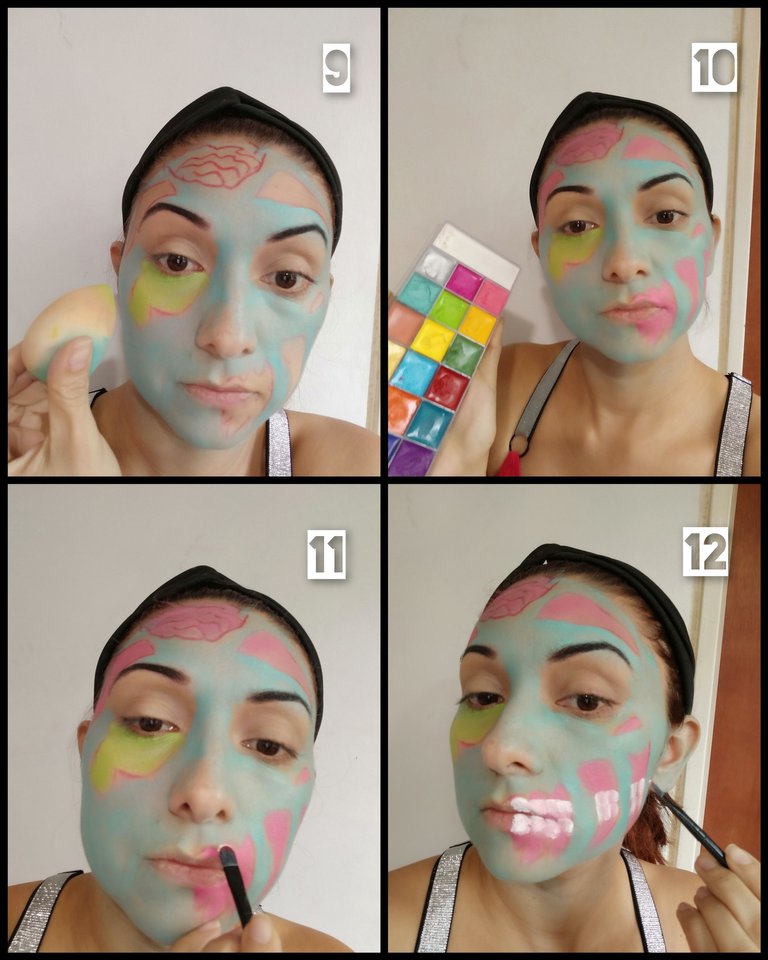 Con el pincel delineador repasé los dibujos, en la parte del ojo hice un efecto de ojo caído, la nariz y mitad de boca las pinté de negro, realicé las rayas para el efecto pop art y con la brocha para polvos difuminé sombra blanca para darle iluminación.
With the eyeliner brush I went over the drawings, in the part of the eye I made a droopy eye effect, the nose and half of the mouth I painted in black, I made the stripes for the pop art effect and with the powder brush I blended white shadow to give it illumination.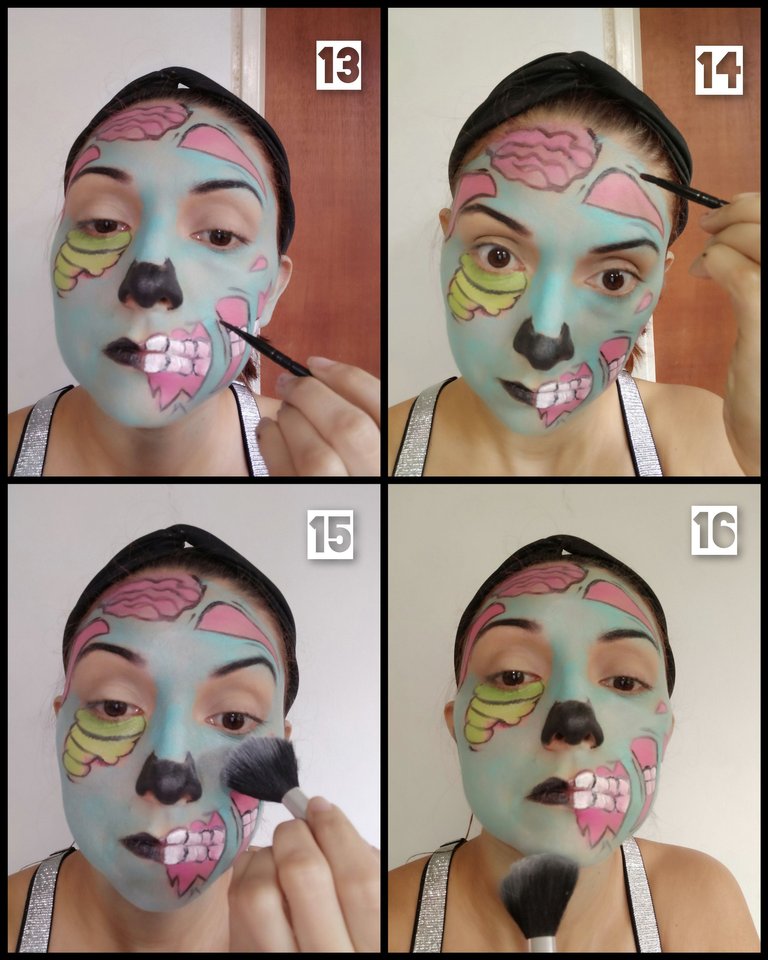 Con el pincel para difuminar apliqué sombra morado y negro en los bordes de los dibujos realizados, realicé unos puntos blancos para el efecto pop art, en los párpados apliqué sombras color naranja y café, utilicé sombra óleo blanca en el párpado móvil y por ultimo utilicé delineador negro.
With the blending brush I applied purple and black shadows on the edges of the drawings, I made some white dots for the pop art effect, on the eyelids I applied orange and brown shadows, I used white oil shadow on the mobile eyelid and finally I used black eyeliner.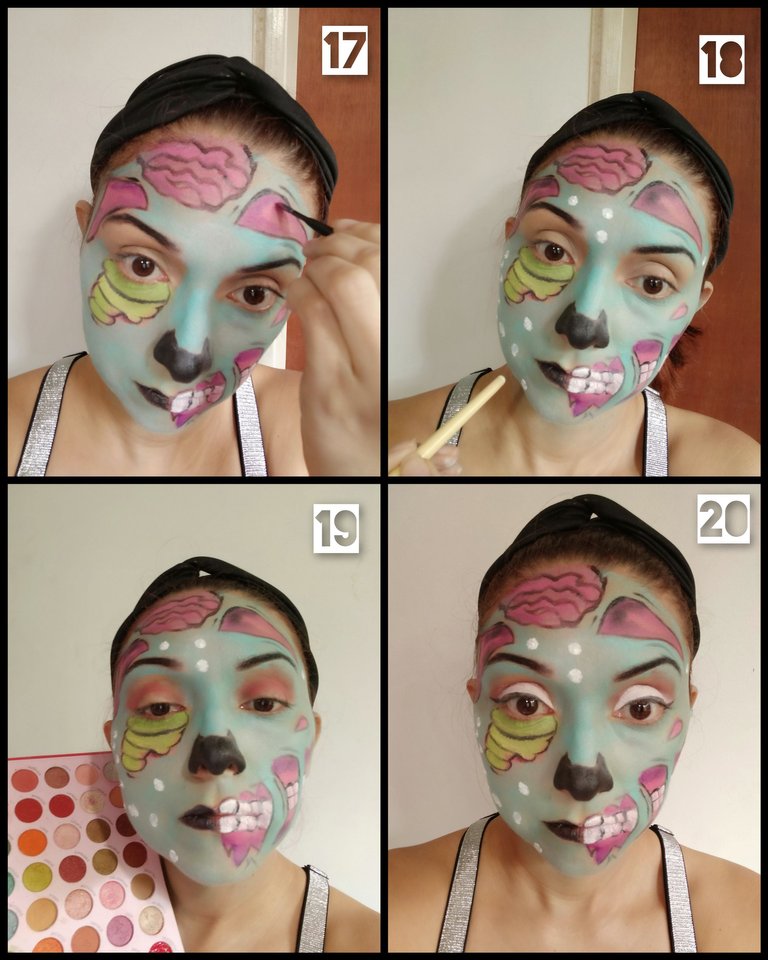 Procedí a pintar mi cuello con la misma tonalidad y con la ayuda de la esponja difuminé, con el lápiz rojo dibuje la traquea y huesos, apliqué las pestañas.
I proceeded to paint my neck with the same tonality and with the help of the sponge I blurred, with the red pencil I drew the trachea and bones, I applied the eyelashes.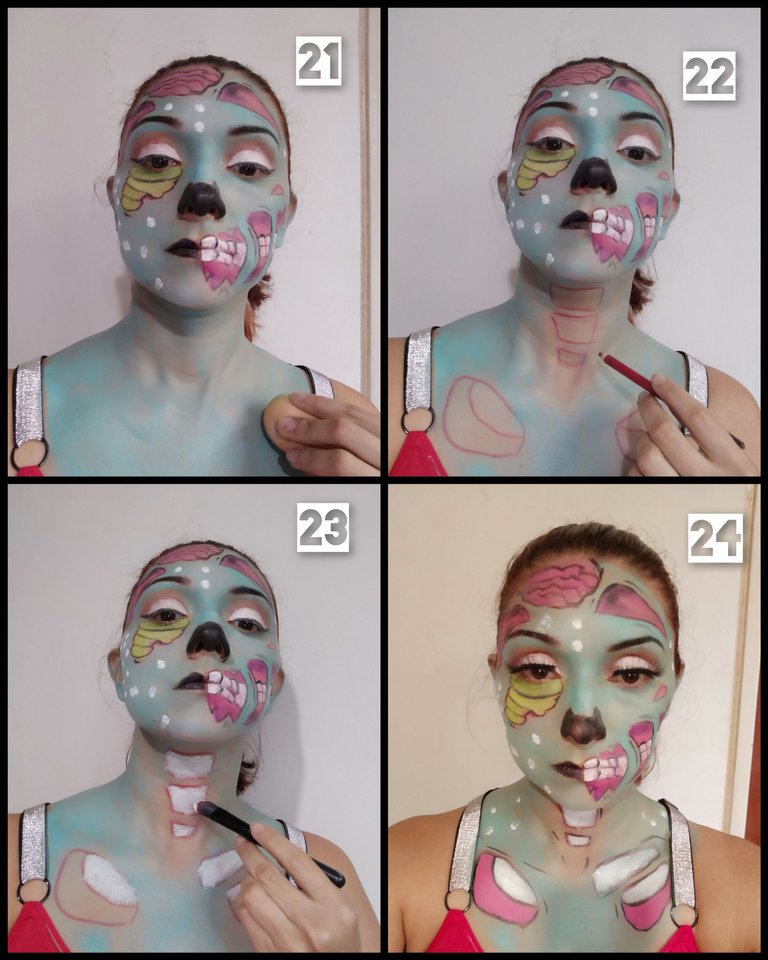 Finalmente pinte los hombros para finalizar...Aquí el resultado...
Finally I painted the shoulders to finish... Here is the result...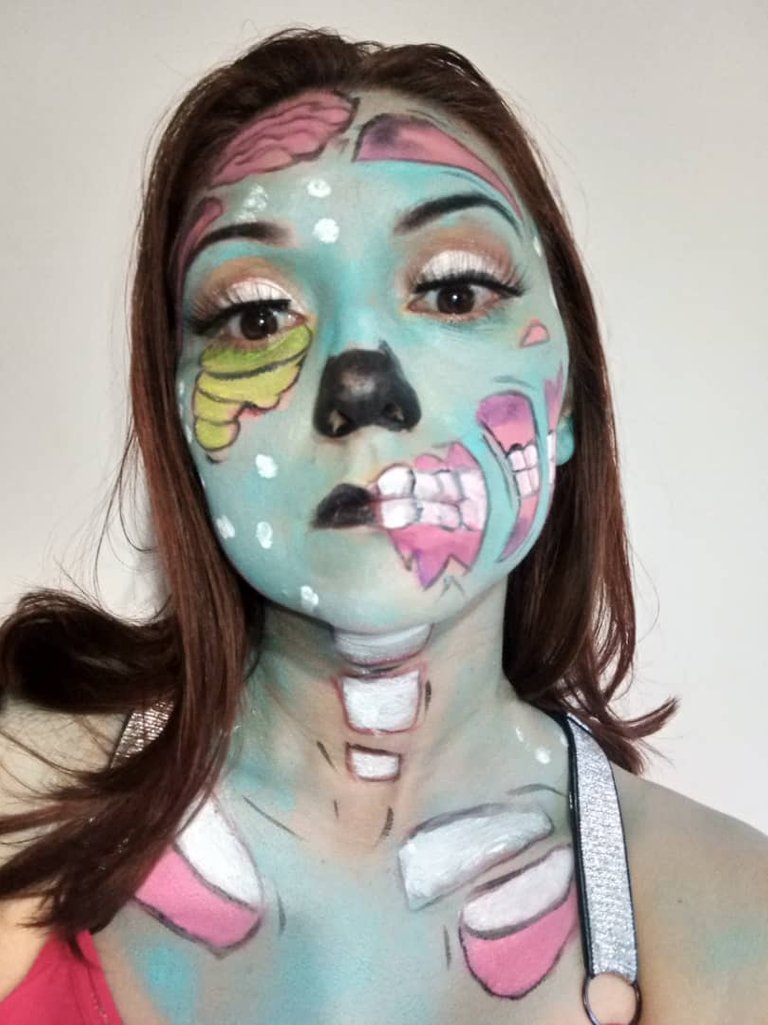 Espero les haya gustado mi maquillaje de Zombie Pop Art.../ Nos vemos en un próximo post...
I hope you liked my Zombie Pop Art makeup.../ See you in a future post....


𝘚𝘦𝘱𝘢𝘳𝘢𝘥𝘰𝘳 𝘺 𝘣𝘢𝘯𝘯𝘦𝘳: 𝘥𝘪𝘴𝘦ñ𝘢𝘥𝘰 𝘱𝘰𝘳 @𝘢𝘺𝘭𝘦𝘦𝘯𝘳 𝘦𝘯 𝘊𝘢𝘯𝘷𝘢 || 𝘾𝙤𝙡𝙡𝙖𝙜𝙚: 𝙧𝙚𝙖𝙡𝙞𝙯𝙖𝙙𝙤 𝙚𝙣 𝘾𝙤𝙡𝙡𝙖𝙜𝙚 𝙈𝙖𝙧𝙠𝙚𝙧 || 𝘐𝘮á𝘨𝘦𝘯𝘦𝘴: 𝘗𝘳𝘰𝘱𝘪𝘢𝘴 𝘦𝘥𝘪𝘵𝘢𝘥𝘢𝘴 𝘦𝘯 𝘊𝘢𝘯𝘷𝘢 || 𝘗𝘩𝘰𝘵𝘰𝘨𝘳𝘢𝘱𝘩𝘦𝘳: @𝘢𝘺𝘭𝘦𝘦𝘯𝘳 || 𝘛𝘳𝘢𝘥𝘶𝘤𝘵𝘰𝘳: 𝘋𝘦𝘦𝘱𝘓 || 𝘓𝘰𝘤𝘢𝘵𝘪𝘰𝘯: 𝘐𝘯 𝘮𝘺 𝘢𝘱𝘢𝘳𝘵𝘮𝘦𝘯𝘵 𝘭𝘰𝘤𝘢𝘵𝘦𝘥 𝘪𝘯 𝘊𝘢𝘳𝘢𝘤𝘢𝘴, 𝘝𝘦𝘯𝘦𝘻𝘶𝘦𝘭𝘢.

---
---