Maquillaje en LLamas 🔥 / Flames Makeup 🔥
---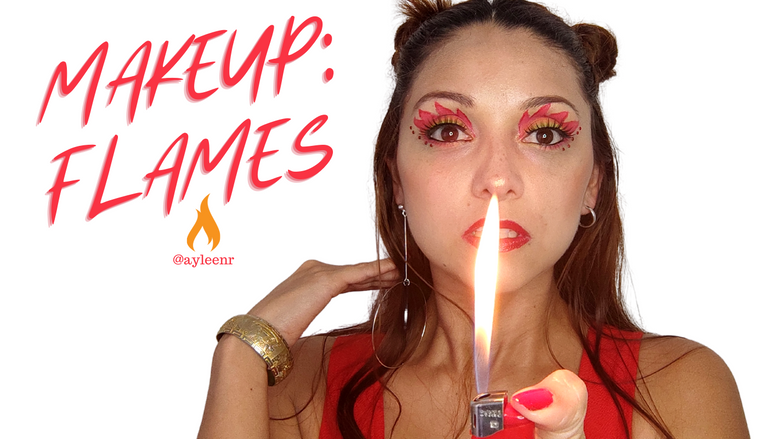 Quieres un maquillaje seductor? Te invito a que disfrutes de este tutorial de Maquillaje en Llamas 🔥, para tener una mirada ardiente 🔥es fácil de realizar, solo recuerda preparar tu rostro para que tu maquillaje sea duradero y hermoso.

Cosméticos a utilizar:

🔥 Agua Micelar marca Zoah
🔥 Protector Solar marca Zoah
🔥 Primer marca Amuse 14k gold
🔥 Base en crema marca Mac
🔥 Corrector en crema de Salomé n. 2
🔥 Corrector en crema de Salomé n. 1.50
🔥 Paleta en crema óleo tonalidad rojo
🔥 Polvo compacto Naylen n.2
🔥 Pincel angular para ojos
🔥 Brocha angular para rostro
🔥 Pincel para difuminar ojos
🔥 Pincel plano pequeño
🔥 Brocha para difuminar
🔥 Esponja para difuminar
🔥 Pincel lengua de gato para ojos
🔥 Pincel lengua de gato grande
🔥 Pincel Abanico
🔥 Sombra roja marca Área cosmetic
🔥 Lápiz de labio rojo
🔥 Lápiz de ojos negro
🔥 Pintura labia rojo brillante
🔥 Blush, contorno y iluminador Salomé
🔥 Pestañas
🔥 Pega Duo
🔥 Pedrería roja


Tutorial

Paso 1
Primero realicé una limpieza facial con agua micelar marca Zoah esperé a que se secara, luego utilicé protector solar de las marca Zoah, esparcí el producto hasta que se absorbió en la piel, apliqué primer de la marca Amuse 14k gold y comencé el maquillaje con una base marca MAC, difuminé con unas esponja.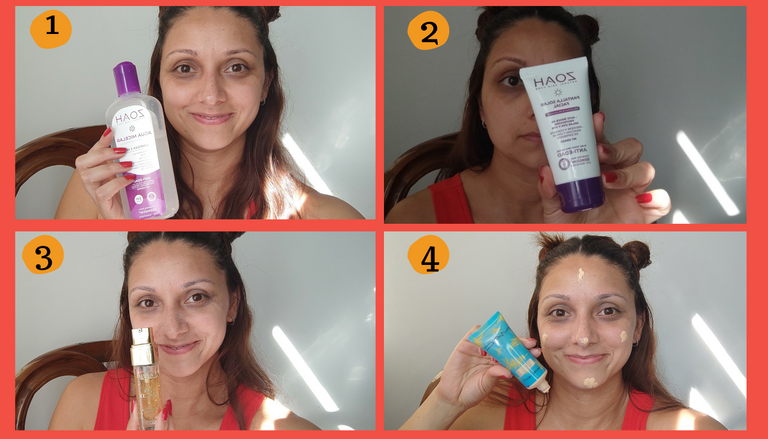 Paso 2
Luego utilicé corrector número 2 y 1,5 marca Salomé para cubrir ojeras, también apliqué en la zona de la barbilla, a los lados de la nariz. Es importante utilizar la cantidad de producto necesaria, selle con polvo compacto de la marca Naylen, con una brocha para brush esparcí por todo el rostro.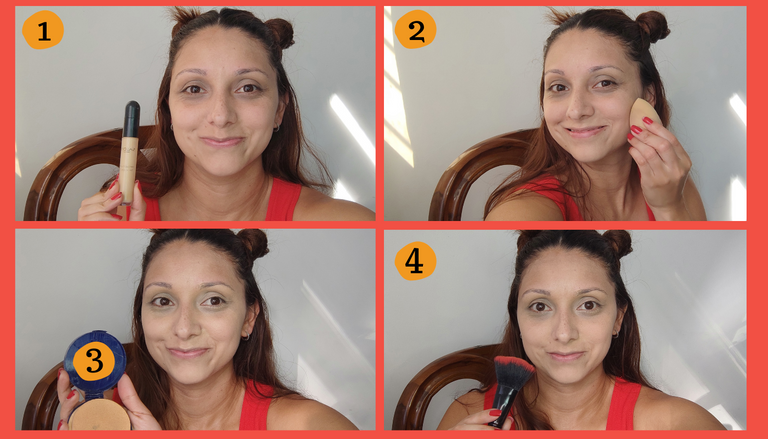 Paso 3
Maquillé mis cejas con sombra marrón oscuro, con la paleta óleo utilicé la tonalidad roja, dibuje las llamas 🔥 y rellené con las sombras roja, naranja y amarillo, de la marca Área Cósmetic.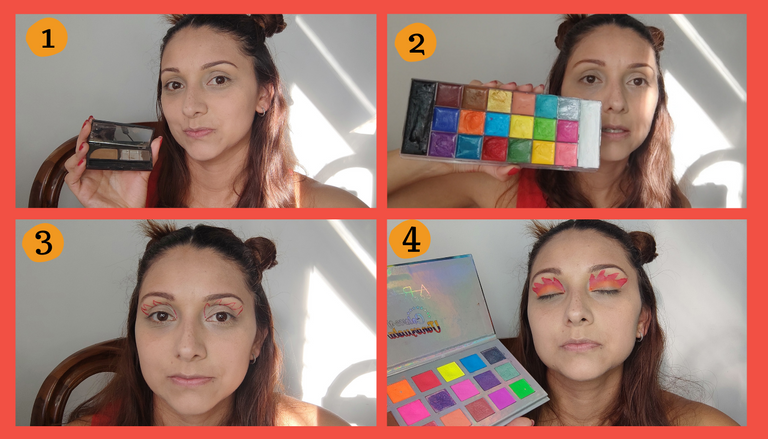 Paso 4
Utilicé una paleta de Salomé que tiene Blush, Contorno e Iluminador, adicional pegue las pestañas desde el lagrimal luego en el centro hasta el final del ojo, apliqué contorno marrón el cual difuminé con movimientos hacia arriba para alargar el rostro, luego coloqué blush rosa y finalmente con un pincel abanico apliqué iluminador color perla en las mejillas, arco de cejas, arco de cupido, punta de nariz.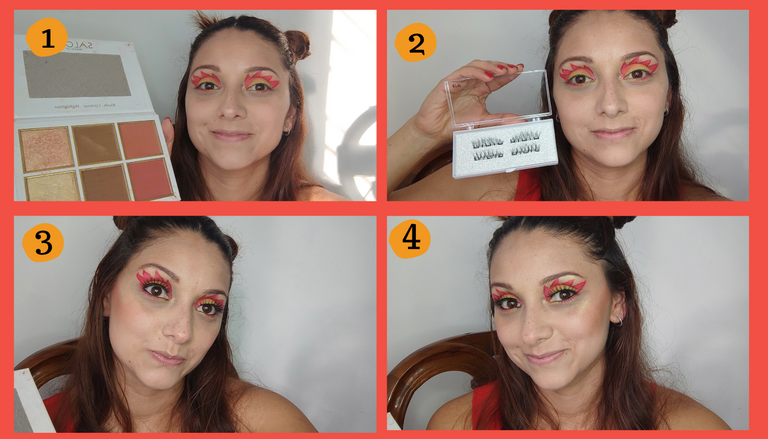 Finalmente pinté mis labios de rojo y apliqué la pedrería roja con punticos de pega Duo.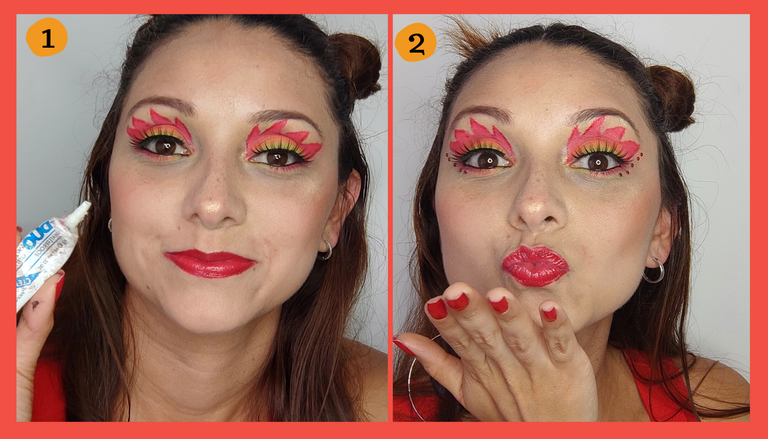 Aquí estan los resultados: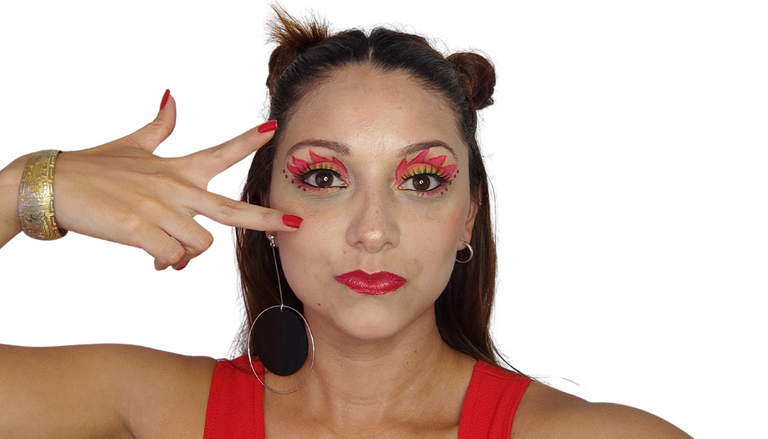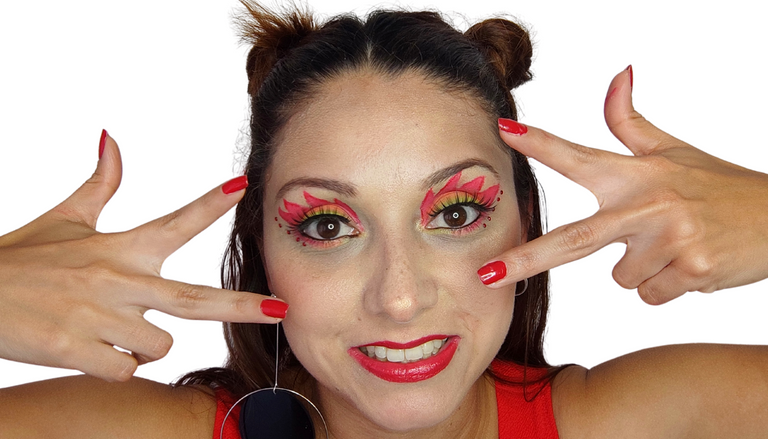 Si viste mi video puedes dejar tu comentario 😍 Espero les haya gustado, nos vemos en un próximo post...



𝘚𝘦𝘱𝘢𝘳𝘢𝘥𝘰𝘳 𝘺 𝘣𝘢𝘯𝘯𝘦𝘳: 𝘥𝘪𝘴𝘦ñ𝘢𝘥𝘰 𝘱𝘰𝘳 @𝘢𝘺𝘭𝘦𝘦𝘯𝘳 𝘦𝘯 𝘊𝘢𝘯𝘷𝘢 || 𝘾𝙤𝙡𝙡𝙖𝙜𝙚: 𝙧𝙚𝙖𝙡𝙞𝙯𝙖𝙙𝙤 𝙚𝙣 𝘊𝘢𝘯𝘷𝘢 || 𝘐𝘮á𝘨𝘦𝘯𝘦𝘴: 𝘗𝘳𝘰𝘱𝘪𝘢𝘴 𝘦𝘥𝘪𝘵𝘢𝘥𝘢𝘴 𝘦𝘯 𝘊𝘢𝘯𝘷𝘢 || 𝘍𝘰𝘵𝘰𝘨𝘳𝘢𝘧𝘪𝘢 𝘵𝘰𝘮𝘢𝘥𝘢 𝘱𝘰𝘳: @𝘢𝘺𝘭𝘦𝘦𝘯𝘳 𝘶𝘵𝘪𝘭𝘪𝘻𝘢𝘯𝘥𝘰 𝘶𝘯 𝘢𝘳𝘰 𝘥𝘦 𝘭𝘶𝘻 || 𝘛𝘳𝘢𝘥𝘶𝘤𝘵𝘰𝘳: 𝘋𝘦𝘦𝘱𝘓 || 𝘝𝘪𝘥𝘦𝘰 𝘦𝘥𝘪𝘵𝘢𝘥𝘰 𝘦𝘯 𝘐𝘯𝘴𝘩𝘰𝘵 ||𝘔ú𝘴𝘪𝘤𝘢: 𝘕𝘪𝘨𝘩𝘵 𝘖𝘶𝘵 - 𝘓𝘪𝘘𝘞𝘠𝘋 𝘕𝘖 𝘊𝘖𝘗𝘠𝘙𝘐𝘎𝘏𝘛 𝘔𝘜𝘚𝘐𝘊 || 𝘓𝘰𝘤𝘢𝘭𝘪𝘻𝘢𝘤𝘪ó𝘯: 𝘌𝘯 𝘮𝘪 𝘢𝘱𝘢𝘳𝘵𝘢𝘮𝘦𝘯𝘵𝘰 𝘶𝘣𝘪𝘤𝘢𝘥𝘰 𝘦𝘯 𝘊𝘢𝘳𝘢𝘤𝘢𝘴-𝘝𝘦𝘯𝘦𝘻𝘶𝘦𝘭𝘢.


ℕ𝕆𝕎 𝕀ℕ 𝔼ℕ𝔾𝕃𝕀𝕊ℍ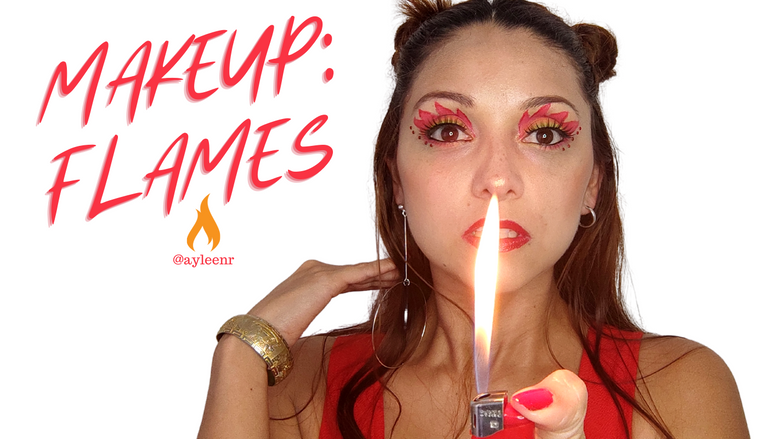 Do you want a seductive makeup? I invite you to enjoy this Flaming Makeup tutorial 🔥, to have a fiery look 🔥it's easy to do, just remember to prepare your face so that your makeup is long lasting and beautiful.

Cosmetics to be used:

🔥 Zoah Brand Micellar Water
🔥 Zoah Brand Sunscreen
🔥 Amuse brand primer 14k gold
🔥 Cream foundation Mac brand
🔥 Salomé cream concealer n. 2
🔥 Salomé cream concealer n. 1.50
🔥 Oil cream palette in red shade.
🔥 Naylen compact powder n.2
🔥 Angled eye brush
🔥 Angled Face Brush
🔥 Eye blending brush
🔥 Small flat brush
🔥 Blending Brush
🔥 Blending sponge
🔥 Cat Tongue Eye Brush
🔥 Large cat tongue brush
🔥 Fan Brush
🔥 Area cosmetic brand red shadow
🔥 Red lip pencil
🔥 Black eyeliner pencil
🔥 Bright red lipstick
🔥 Salomé blush, contour and highlighter.
🔥 Eyelashes
🔥 Duo glue
🔥 Red rhinestones


Tutorial

Step 1.
First I did a facial cleansing with Zoah micellar water and waited for it to dry, then I used Zoah sunscreen, I spread the product until it was absorbed into the skin, I applied Amuse 14k gold primer and started the makeup with MAC foundation, I blended it with a sponge.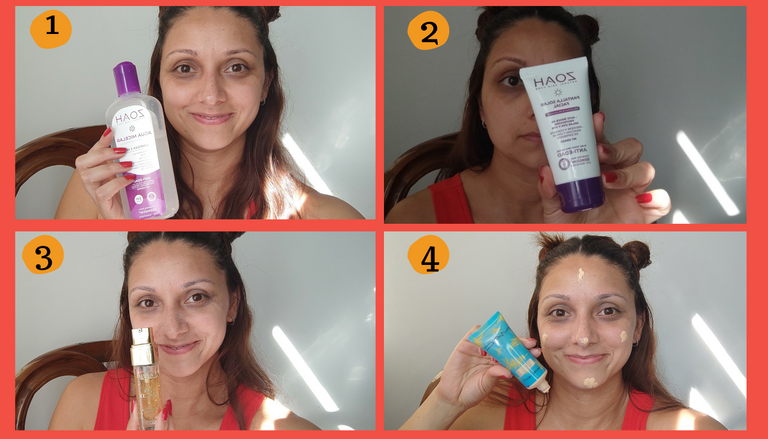 Step 2.
Then I used Salomé brand concealer number 2 and 1.5 to cover dark circles under the eyes, I also applied on the chin area, on the sides of the nose. It is important to use the necessary amount of product, I sealed with Naylen pressed powder, with a brush I spread it all over the face.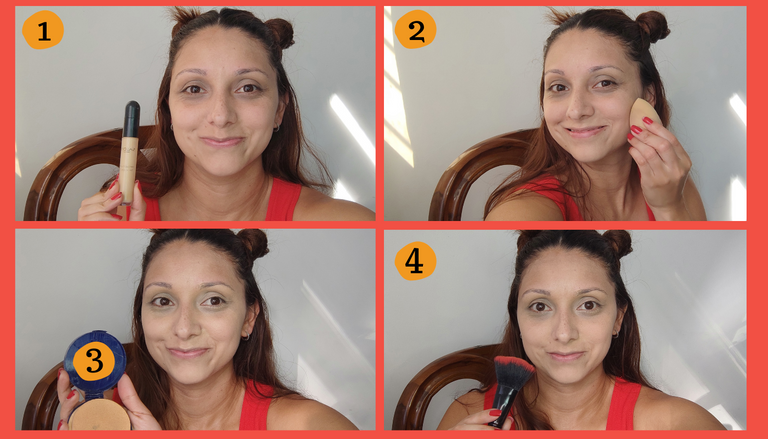 Step 3.
I made up my eyebrows with dark brown shadow, with the oil palette I used the red shade, drew the flames 🔥 and filled in with the red, orange and yellow shadows, from the brand Área Cósmetic.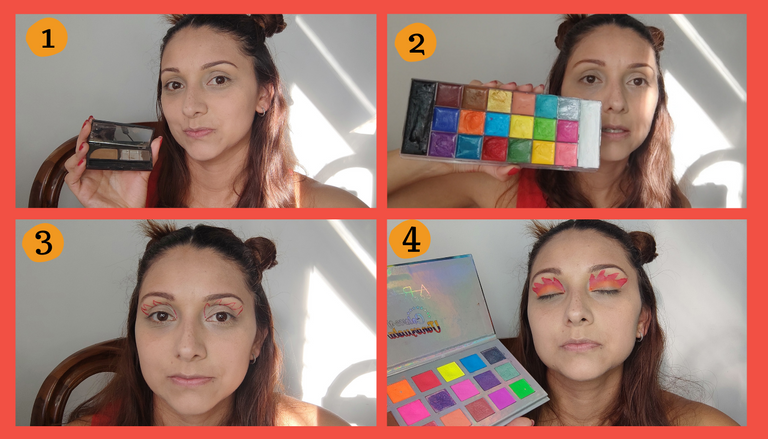 Step 4.
I used a Salomé palette that has Blush, Contour and Illuminator, additional glue the lashes from the tear drop then in the center to the end of the eye, I applied brown contour which I blurred with upward movements to lengthen the face, then I placed pink blush and finally with a fan brush I applied pearl color illuminator on the cheeks, eyebrow arch, cupid's bow, tip of the nose.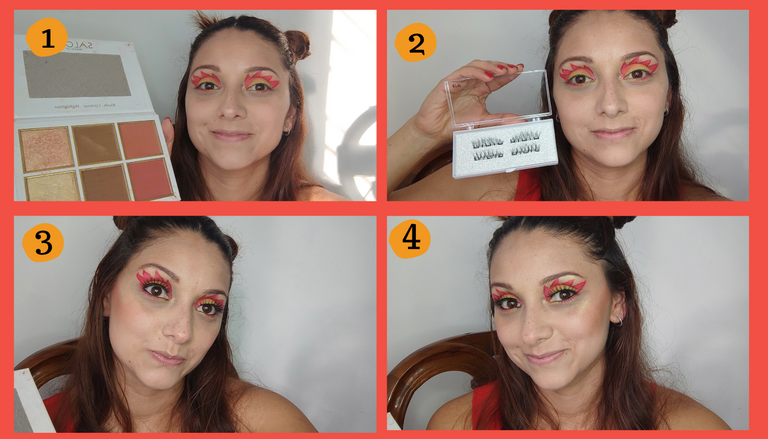 Finally I painted my lips red and applied the red rhinestones with Duo glue dots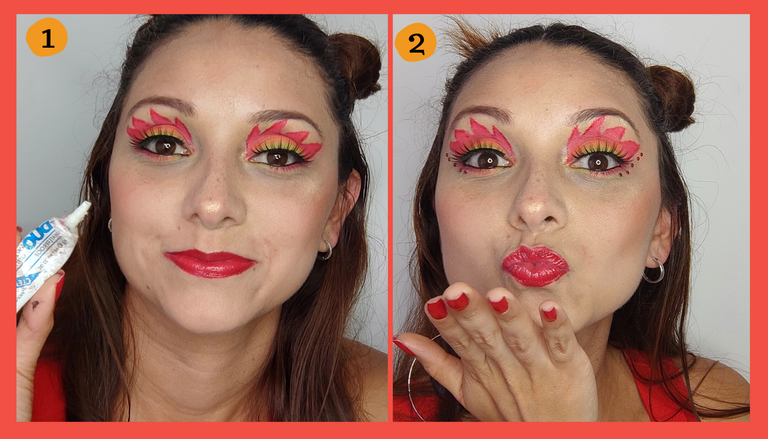 Here are the results:
.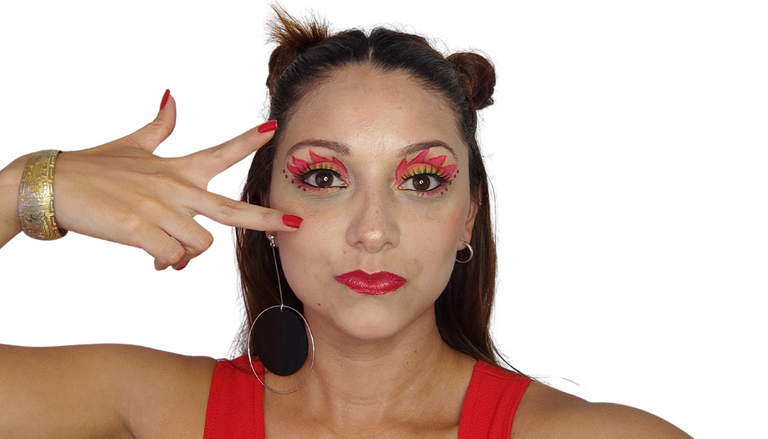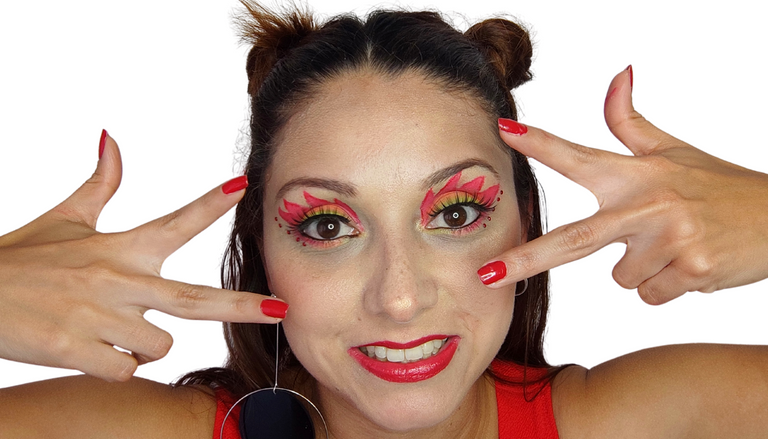 If you saw my video you can leave your comment 😍 I hope you liked it, see you in a next post....



𝘚𝘦𝘱𝘢𝘳𝘢𝘵𝘰𝘳 𝘢𝘯𝘥 𝘉𝘢𝘯𝘯𝘦𝘳 : 𝘥𝘪𝘴𝘦ñ𝘢𝘥𝘰 𝘱𝘰𝘳 @𝘢𝘺𝘭𝘦𝘦𝘯𝘳 𝘢𝘵 [𝘊𝘢𝘯𝘷𝘢](𝘩𝘵𝘵𝘱𝘴://𝘸𝘸𝘸𝘸.𝘤𝘢𝘯𝘷𝘢. 𝘤𝘰𝘮/) || 𝘾𝙤𝙡𝙡𝙖𝙜𝙚: 𝘮𝘢𝘥𝘦 𝘢𝘵 𝘊𝘢𝘯𝘷𝘢 || 𝘐𝘮𝘢𝘨𝘦𝘴: 𝘖𝘸𝘯 𝘦𝘥𝘪𝘵𝘦𝘥 𝘢𝘵 [𝘊𝘢𝘯𝘷𝘢](𝘩𝘵𝘵𝘱𝘴://𝘸𝘸𝘸.𝘤𝘢𝘯𝘷𝘢. 𝘤𝘰𝘮/) || 𝘗𝘩𝘰𝘵𝘰 𝘢𝘯𝘥 𝘷𝘪𝘥𝘦𝘰 𝘵𝘢𝘬𝘦𝘯 𝘣𝘺 @𝘢𝘺𝘭𝘦𝘦𝘯𝘳 𝘶𝘴𝘪𝘯𝘨 𝘢 𝘭𝘪𝘨𝘩𝘵 𝘳𝘪𝘯𝘨 || 𝘛𝘳𝘢𝘯𝘴𝘭𝘢𝘵𝘰𝘳: [𝘋𝘦𝘦𝘱𝘓](𝘩𝘵𝘵𝘱𝘴://𝘸𝘸𝘸𝘸.𝘥𝘦𝘦𝘱𝘭. 𝘤𝘰𝘮/𝘦𝘴/𝘵𝘳𝘢𝘯𝘴𝘭𝘢𝘵𝘰𝘳) || 𝘝𝘪𝘥𝘦𝘰 𝘦𝘥𝘪𝘵𝘦𝘥 𝘢𝘵 𝘐𝘯𝘴𝘩𝘰𝘵 ||𝘔𝘶𝘴𝘪𝘤: 𝘕𝘪𝘨𝘩𝘵 𝘖𝘶𝘵 - 𝘓𝘪𝘘𝘞𝘠𝘋 𝘕𝘖 𝘊𝘖𝘗𝘠𝘙𝘐𝘎𝘏𝘛 𝘔𝘜𝘚𝘐𝘊 || 𝘓𝘰𝘤𝘢𝘵𝘪𝘰𝘯: 𝘐𝘯 𝘮𝘺 𝘢𝘱𝘢𝘳𝘵𝘮𝘦𝘯𝘵 𝘭𝘰𝘤𝘢𝘵𝘦𝘥 𝘢𝘵 𝘊𝘢𝘳𝘢𝘤𝘢𝘴-𝘝𝘦𝘯𝘦𝘻𝘶𝘦𝘭𝘢.

---
▶️ 3Speak
---
---