[Esp-Eng]Maquillaje Inspirado en el Muñeco de Nieve / Snowman Inspired Makeup
---
Hola comunidad de Makeup Power, es un gusto saludarlos, estamos en la mejor época del año, donde la felicidad por la Navidad invade nuestros corazones, quiero decirles que esta vez quise hacer un video explicándole el paso a paso de un maquillaje inspirado en el Muñeco de Nieves. Este maquillaje puede ser perfecto para un disfraz de Navidad de los niños, eso sí, se debe utilizar pintura hipoalergénica para evitar daños en su rostro.
Así que no se lo pueden perder.
Hello Makeup Power community, it is a pleasure to greet you, we are in the best time of the year, where the happiness for Christmas invades our hearts, I want to tell you that this time I wanted to make a video explaining you the step by step of a makeup inspired by the Snowman. This makeup can be perfect for a Christmas costume for children, of course, you must use hypoallergenic paint to avoid damage to your face.
So you can't miss it..

Brochas y cosméticos a utilizar / Brushes and cosmetics to be used:
Pintura óleo blanca, negro y naranja
Base el polvo
Contorno en crema para ojeras
Brocha para difuminar
Brocha para corrector
Pincel angular
Pincel para difuminar punta redondeada
Sombras azul, negro, marrón y rosado
Sombra Glitter azul
Pintura de labios color Nude
Pincel delineador
Pincel en punta de detalle
Esponja para difuminar
Brocha para Rubor
White, black and orange oil paint
Powder foundation
Cream contour for dark circles under the eyes
Blurring brush
Concealer brush
Angled brush
Blending brush with rounded tip
Blue, black, brown and pink shadows
Blue Glitter Shadow
Nude lipstick
Eyeliner brush
Detail tip brush
Blending Sponge
Blush Brush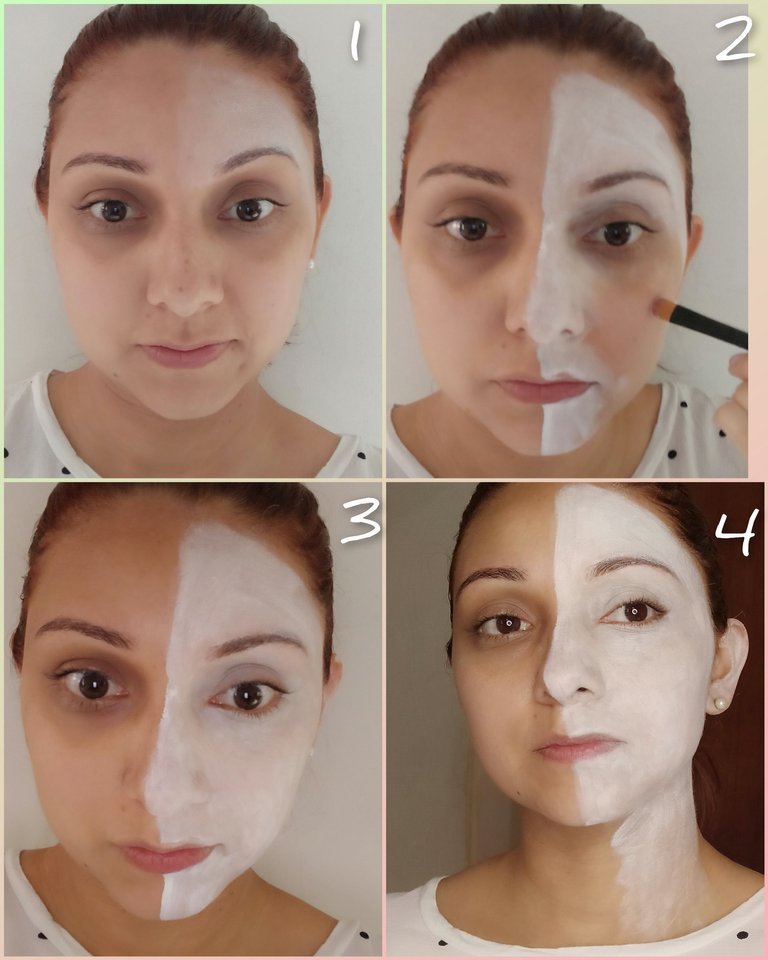 Primero que hice fué, con la brocha para corrector, apliqué pintura óleo blanco en la mitad del rostro, coloqué suficiente desde la frente hasta el cuello.
The first thing I did was, with the concealer brush, I applied white oil paint in the middle of the face, I put enough from the forehead to the neck.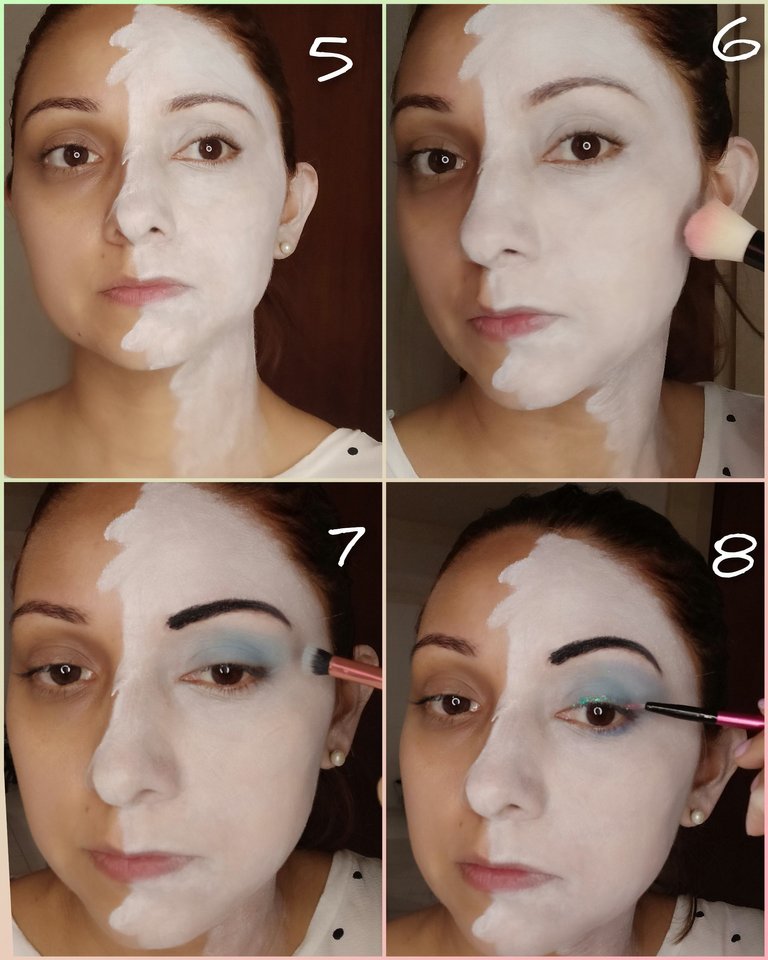 Luego realicé unas especie de nieve derretida donde culmina el color blanco, con la brocha para difuminar apliqué base en polvo para sellar, con el pincel angular apliqué oleo negro para dibujar cejas, con el pincel difuminador coloqué sombra azul en el párpado móvil y linea de pestaña finalmente con el pincel delineador apliqué sombra glitter azul. Este paso es solo en la mitad del rostro blanca.
Then I made a kind of melted snow where the white color culminates, with the blending brush I applied powder foundation to seal, with the angled brush I applied black oil to draw eyebrows, with the blending brush I placed blue shadow on the eyelid and lash line finally with the eyeliner brush I applied blue glitter shadow. This step is only on the white half of the face.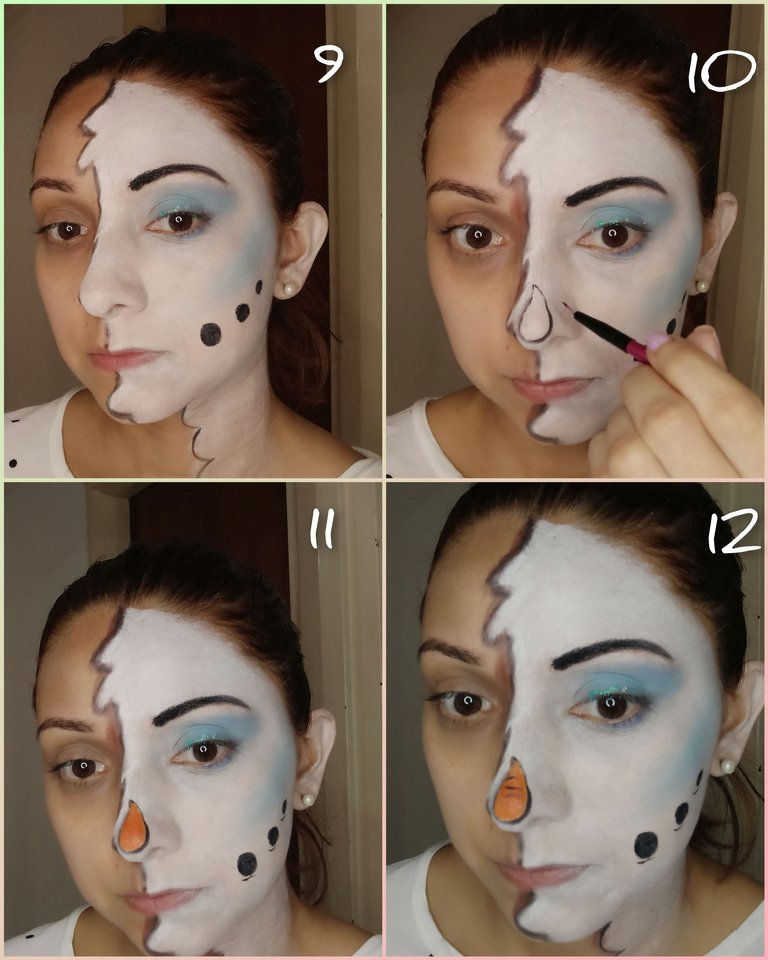 Con el pincel angular coloqué sombra negra para dibujar la máscara de nieve, con el pincel para difuminar de punta redondeada apliqué sombra marrón, con el pincel en punta de detalle, dibuje tres circulo, grande, mediano y pequeño, con la ayuda del pincel delineador dibujé una zanahoria en la nariz, pinté con pintura óleo naranja, coloqué detalles como en los borde de los circulo y zanahoria.
With the angled brush I placed black shadow to draw the snow mask, with the rounded tip blending brush I applied brown shadow, with the detail tip brush, I drew three circles, large, medium and small, with the help of the eyeliner brush I drew a carrot on the nose, I painted with orange oil paint, I placed details as in the edge of the circle and carrot.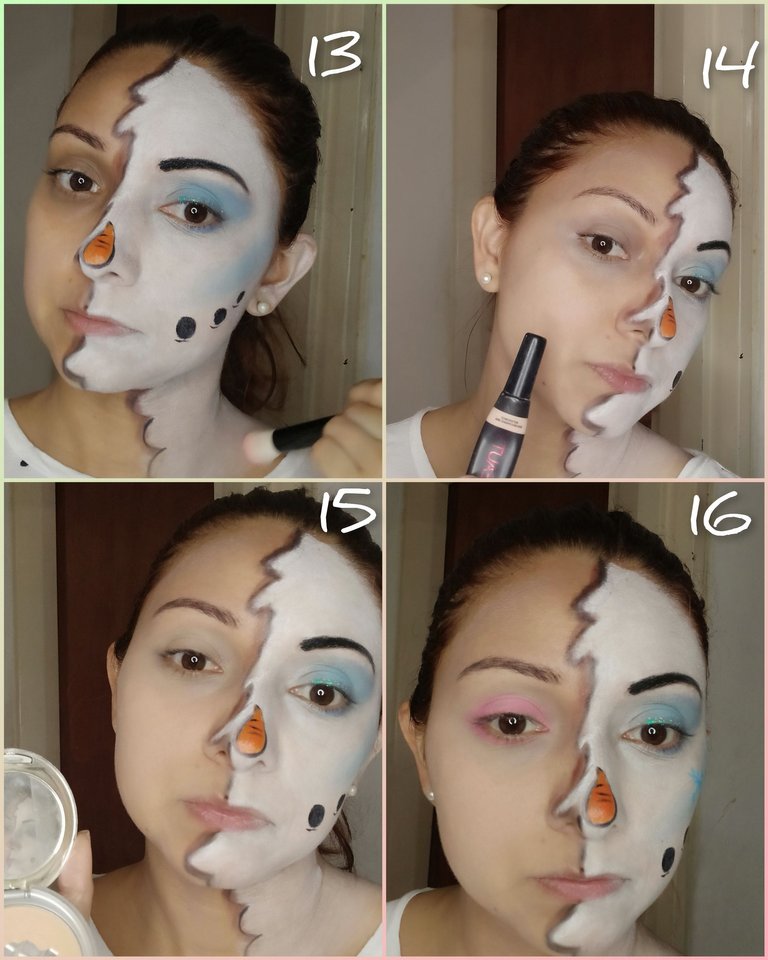 Continuando con el maquillaje, con la brocha para rubor, apliqué sombra azul en la mejilla, además culminé la parte del cuello, ahora al otro lado del rostro, apliqué base para tapar las ojeras, sellé con compacto en polvo y apliqué con la brocha mediana, sombra color rosado.
Continuing with the makeup, with the blush brush, I applied blue shadow on the cheek, I also completed the part of the neck, now on the other side of the face, I applied base to cover the dark circles, sealed with powder compact and applied with the medium brush, pink color shadow.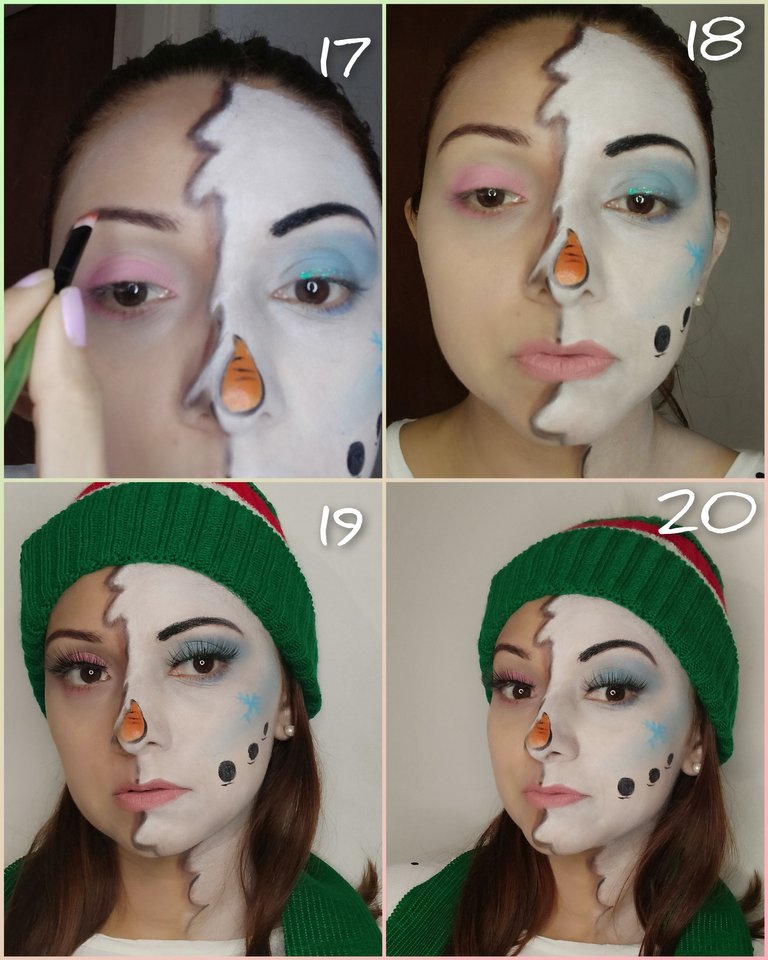 Con el pincel angular rellené mi otra ceja con sombra marrón, apliqué las pestañas, pinté mis labios de color nude y finalmente me coloqué un gorro y bufanda.
En la mejilla coloqué una estrella color azul.
With the angled brush I filled in my other eyebrow with brown shadow, applied lashes, painted my lips a nude color and finally put on a cap and scarf.
I placed a blue star on my cheek.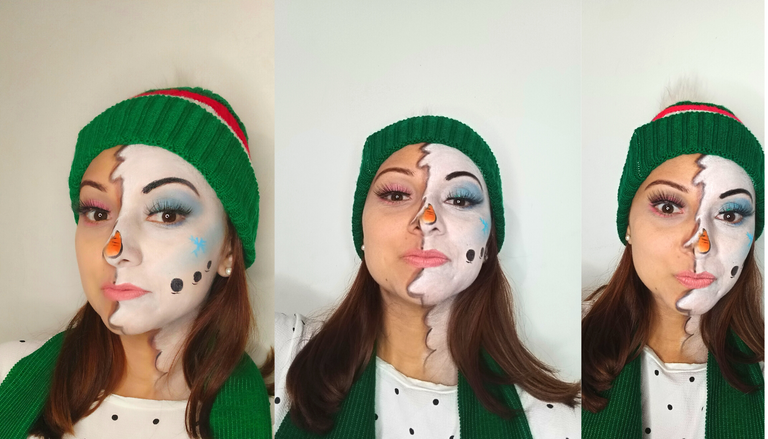 Si has llegado hasta aquí, gracias por verlo, espero que te haya gustado, nos vemos en un próximo post.
If you've made it this far, thanks for watching, I hope you liked it, see you in a future post.



𝘚𝘦𝘱𝘢𝘳𝘢𝘥𝘰𝘳 𝘺 𝘣𝘢𝘯𝘯𝘦𝘳: 𝘥𝘦𝘴𝘪𝘨𝘯𝘦𝘥 𝘣𝘺 @𝘢𝘺𝘭𝘦𝘦𝘯𝘳 𝘰𝘯 𝘊𝘢𝘯𝘷𝘢 || 𝘾𝙤𝙡𝙡𝙖𝙜𝙚: 𝘮𝘢𝘥𝘦 𝘰𝘯 𝘾𝙤𝙡𝙡𝙖𝙜𝙚 𝙈𝙖𝙧𝙠𝙚𝙧 || 𝘪𝘮𝘢𝘨𝘦𝘴 𝘦𝘥𝘪𝘵𝘦𝘥 𝘰𝘯 𝘊𝘢𝘯𝘷𝘢|| 𝘗𝘩𝘰𝘵𝘰𝘨𝘳𝘢𝘱𝘩𝘴 𝘵𝘢𝘬𝘦𝘯 𝘣𝘺 @𝘢𝘺𝘭𝘦𝘦𝘯𝘳 𝘸𝘪𝘵𝘩 𝘵𝘩𝘦 𝘩𝘦𝘭𝘱 𝘰𝘧 𝘢 𝘵𝘳𝘪𝘱𝘰𝘥 𝘸𝘪𝘵𝘩 𝘭𝘪𝘨𝘩𝘵 𝘳𝘪𝘯𝘨|| 𝘛𝘳𝘢𝘯𝘴𝘭𝘢𝘵𝘰𝘳 : 𝘋𝘦𝘦𝘱𝘓 || 𝘝𝘪𝘥𝘦𝘰 𝘦𝘥𝘪𝘵𝘦𝘥 𝘪𝘯 𝘐𝘯𝘴𝘩𝘰𝘵 || 𝘓𝘪𝘘𝘞𝘠𝘋 𝘔𝘶𝘴𝘪𝘤 - 𝘈𝘯𝘰𝘵𝘩𝘦𝘳 𝘛𝘪𝘮𝘦 || 𝘓𝘰𝘤𝘢𝘵𝘪𝘰𝘯 :𝘱𝘩𝘰𝘵𝘰𝘴 𝘪𝘯 𝘮𝘺 𝘢𝘱𝘢𝘳𝘵𝘮𝘦𝘯𝘵 𝘭𝘰𝘤𝘢𝘵𝘦𝘥 𝘢𝘵 𝘊𝘢𝘳𝘢𝘤𝘢𝘴, 𝘝𝘦𝘯𝘦𝘻𝘶𝘦𝘭𝘢.

---
▶️ 3Speak
---
---