First Time Meeting A Virtual Friend and a Hiver

It was a fine day to start with and supposed to be one of our rest days from the class but the school asked us to sacrifice a few hours of it. We have to go back to the school and participate at the auditions for the mass dance and school pageant to be held at the upcoming Freshmen Day after the midterm exams. Since dancing is the very least that I can do, I just logged in at the NSTP office to lessen my duty hours for the week. It's boring as expected as I have nothing to do in there but to sit and wait for someone who needs some first aid treatment and give them assistance. Gladly, no one was injured or not feeling well during the day. All I did was just browsing my phone and sleep in my desk.
Image created in Canva.
Then, Ate @lhes sent a picture of the Bacolod public plaza in the Discord general chats. Goodness, seeing that had awaken my sleepy soul. I can't express how much excitement I have felt seeing that and I immediately replied to asked her for a meetup after her work and after my class. I thought that we will be here until 8 pm, so I said that having a dinner with her would be perfect after we're done with responsibilities.
Yet, it doesn't went with what I have expected it to happen. We were dismissed at around 2 pm. It would be a long wait before the meetup could happen but thanks to my classmates who don't have any plans to go home yet, we roam around the mall and the downtown first until they're satisfied with sightseeing and got tired with all the walks.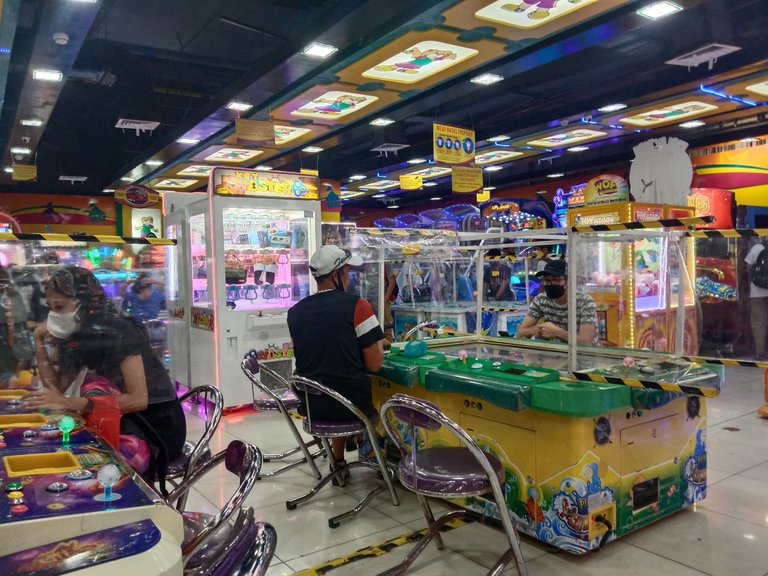 They went here straight at the arcade as they have missed playing and wanted to unleash the inner in them though they are already in college. Nothing wrong since they are teenagers, I guess, even me which is in my 20s still wanted to play the games here, collect a lot of tickets and exchange them for the available merchandise in their store. They wanted to rent a Karaoke booth at first but it was full, so they reserved one for us. A lot of them is fond of singing and actually have a good talent for it unlike me who loves to sing but the singing doesn't like me. Sad.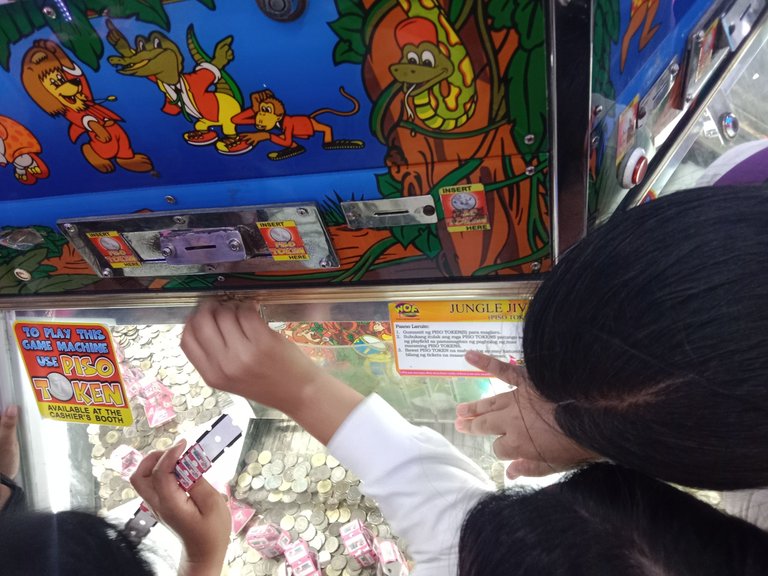 While waiting for a Karaoke Booth to get vacant, they played another game instead. I don't how this is called but this requires the players to drop a coin and it will pushed the piled up coins to the hole. You have to know where is the right spot to drop your coins, so it can pushed some of the coins to get dropped to the hole and received a ticket if your lucky to do it.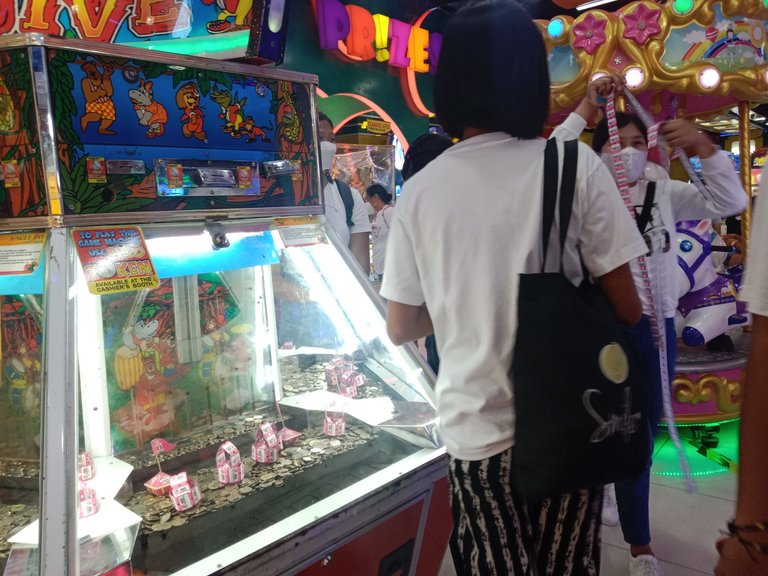 I have been laughing with the girls. Some of their coins got stuck in and they have been trying to shake the machine for it to fall but to no success. They never give up and just keep on finding ways for it to drop. One of them tried to reach it by inserting their finger on a broken side of the coin bar and one of them tried reaching it using a pen, still to no success. At their last resort, one of the girls used her ID. She inserted it under the coin bar and keep on pulling the coins to her and it finally went out. They happily dropped it again and this it worked without getting stuck. Their strategy worked and they were asking us to lend them more coins. I happily obliged to their wishes as I saw their happy faces. See the happy kid wearing the tickets as a sash over there? She ain't a happy kid but a college student. 😆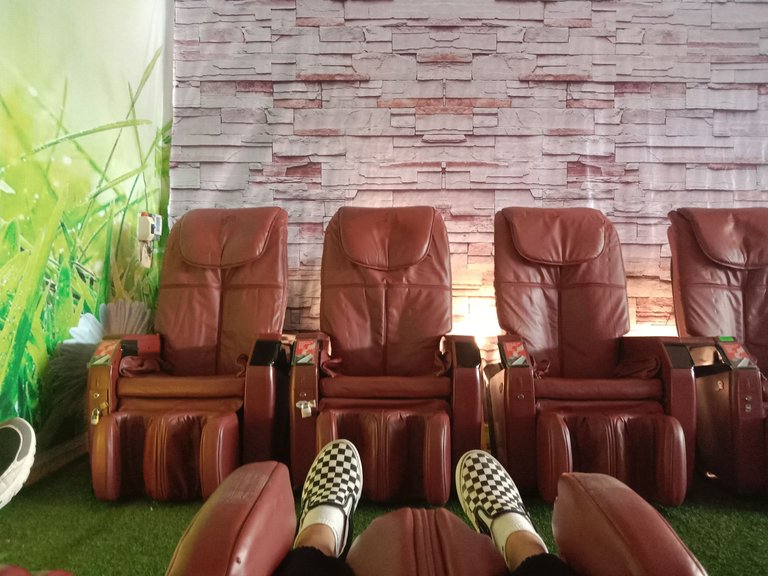 I got out and went to the next shop after they won the tickets. They still wanted to play but I felt tired from all the activity of the week. So, I went to rent a massage chair for 30 minutes for only while they still enjoy playing in the arcade. I can hear their names got called out by the staff for the reserved karaoke booth, I'm guessing that they were singing already.
We were just hopping from store to store around the mall they were done inside the arcade. We don't have something to buy here but just keeps on window shopping, looking at every item that can piqued our interest and taking selfies in front of big mirrors.
I just remembered a joke while he made this gesture in front of the girl. That "All of the things you see from here to there, all of it... wasn't mine". This joke is old but popular in our place even now. I sent it to him and have been teasing him that I would send it in the group chats, then make a meme contest out of it. He begged not to, and I'm not that petty, so I didn't. It was a waste, tho.
By the way, this was what they are seeing in that corner. Some of my classmates wanted to take a picture with that background and the other was their photographer, then the guy was teaching the girl how to take good photos of them. After that, we bought snacks as they got tired and hungry from the walks. Each of them caught a ride to go home after they were done eating and I was the only one left as I was still waiting for Ate Lhes. I just looked for a seat to rest from all the walks and read some blogs to kill time.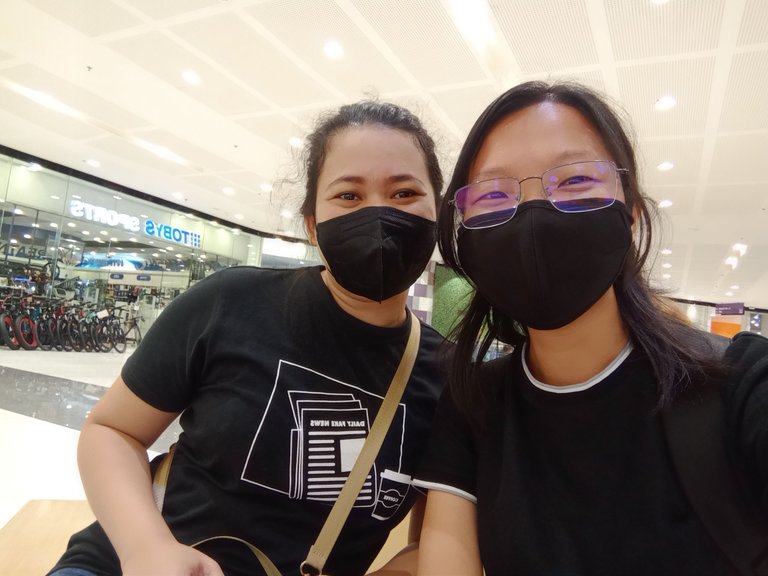 After hours of waiting, the beautiful Lhes finally arrived. Then, the chit chats about anything under the sun began and become non-stop as we were walking while contemplating of where to eat. We couldn't decide where to eat inside the mall, so we got out and tried looking outside and until we decided to eat at the famous Manokan Country of Bacolod City.
---
| | |
| --- | --- |
| I was admiring these lights, while | Ate Lhes took a pic of me taking a pic of them. |
Though I started to be active online for years, this is still my first time meeting my virtual friends personally. Back then, I wasn't really fond of the idea and I'm not the type who will stick on keeping those virtual acquaintances for long time friend. That kind of perspective have changed as I started blogging since I can get to know them through their blogs and I can interact with them more on Discord. We have built trust and friendship overtime, some of them are already like my brothers and sisters. Just like Ate Lhes, she's like an older sister to me. I'm just lucky that she has a field work in my place which gave me an opportunity to meet up with her in person. Sadly, her time here was limited as she had to go back to her place the next day. It's okay. Though she left so soon, she still left me a memory that I could cherished forever.
---
All of the photos are mine unless specified otherwise.
Thanks for reading!!!
---
---