A coulinary-business trip through the adriatic cost of Italy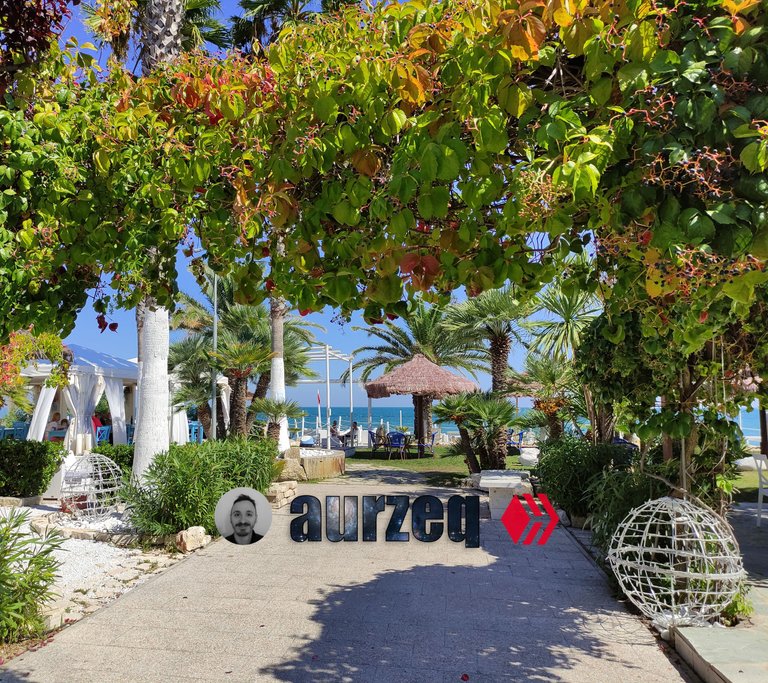 Hello Hivers,
today I want to share with you a business trip that I did last month, in an amazing region in the southern part of Italy: Puglia.
I have travelled a lot in the last years, both for fun and for work, and I have seen a lot of cities and countries (actually google today remembered me that in the last 4 years I have made more than 40 trips).
I love food, and I am always open to new flavors and sensations. When I go to new places I always want to try the local specialties, even if they do not seem so tasty from the description. Last week I was in Colone-Germany for work, and for dinner I went to a local restaurant. I was told that in Cologne they have a very particular dish, called Himmel und Ääd (Sky and Earth) named like this because it has apples inside of it (that are symbolically near to Heaven/Sky being on trees) and potatoes (which represent the earth). The thing that they didn't mention until the plate was in front of me, was the black pudding, that is basically a sausage boiled with the blood of the pig (yeah it doesn't seem so tasty, and it doesn't even look good when you see it ). So, you can imagine that I was really doubtful on eating or not the plate, but to not be disrespectful and to not waste food (which is something that I hate), I decided to try the infamous black pudding, and to my great surprise, it was quite good and the mix with potatoes and apples was incredible.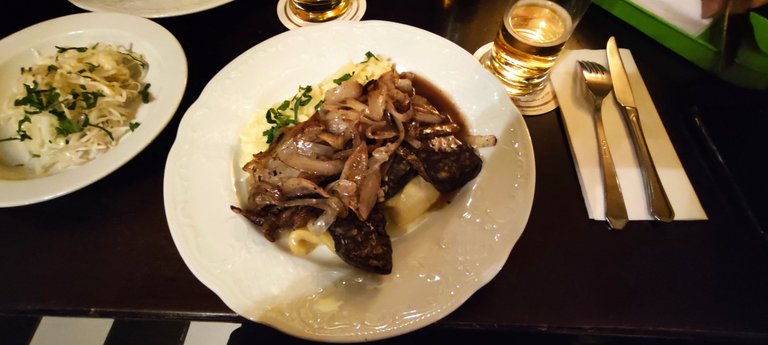 A typical Colone dish: Himmel und Ääd
I went in Puglia by car, actually it is a quite long journey (it takes 8 hours without traffic), so me and my colleague form work decided to stop halfway to have lunch. We stopped in Roseto degli Abruzzi, a wonderful place by the sea. Here, by complete chance we went in a restaurant on the seaside and it was an amazing experience.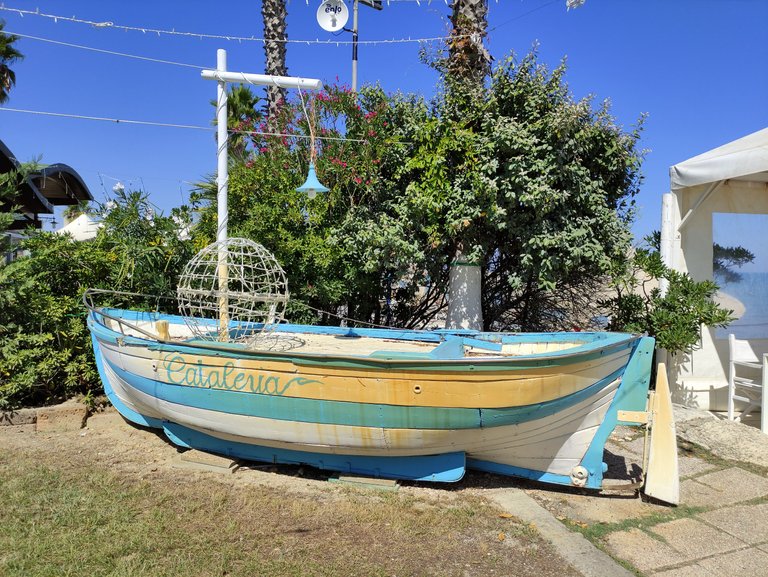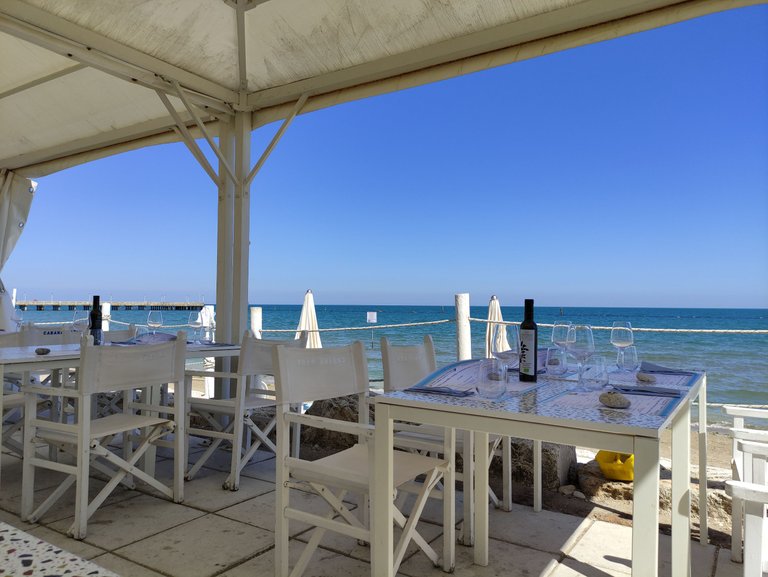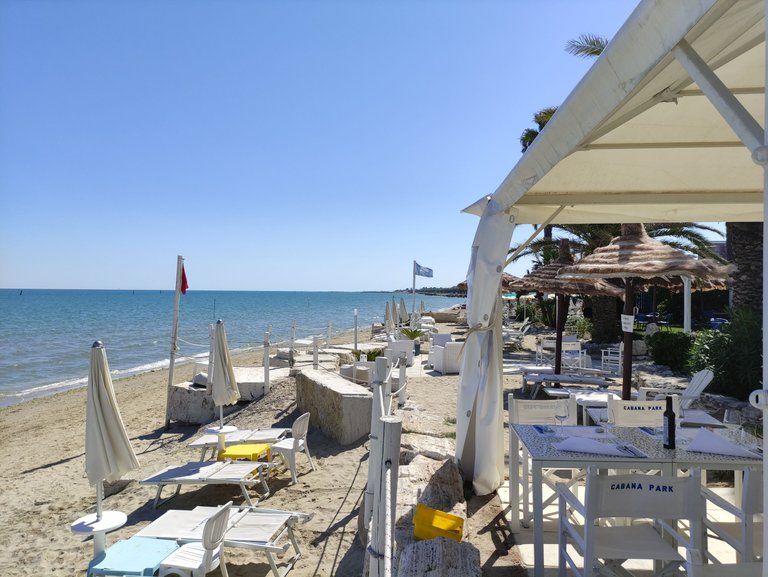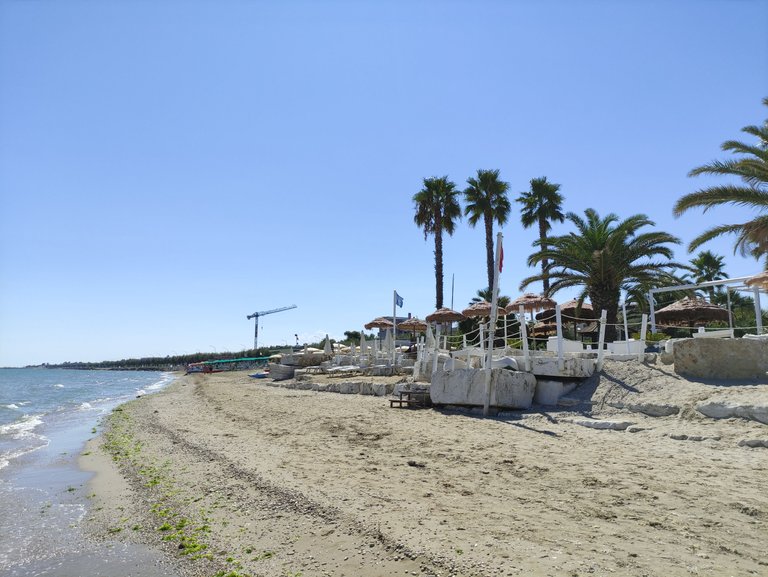 So we start from here our culinary journey, and since we were by the sea we decided to take some fish based plates: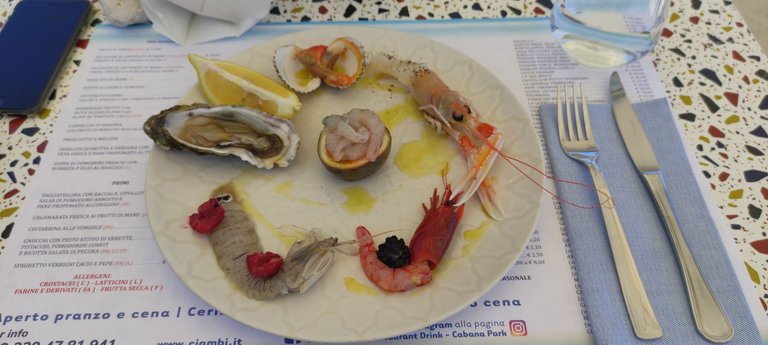 an amazing mix of crudites
After we got back on route and we arrived in Lecce, later that day. We arrived to our hotel, took a shower and then headed to the city center. Here we went to have dinner in a local restaurant, called La Tipografia, which is actually a strange name for a restaurant, since it is the equivalent of typography in English.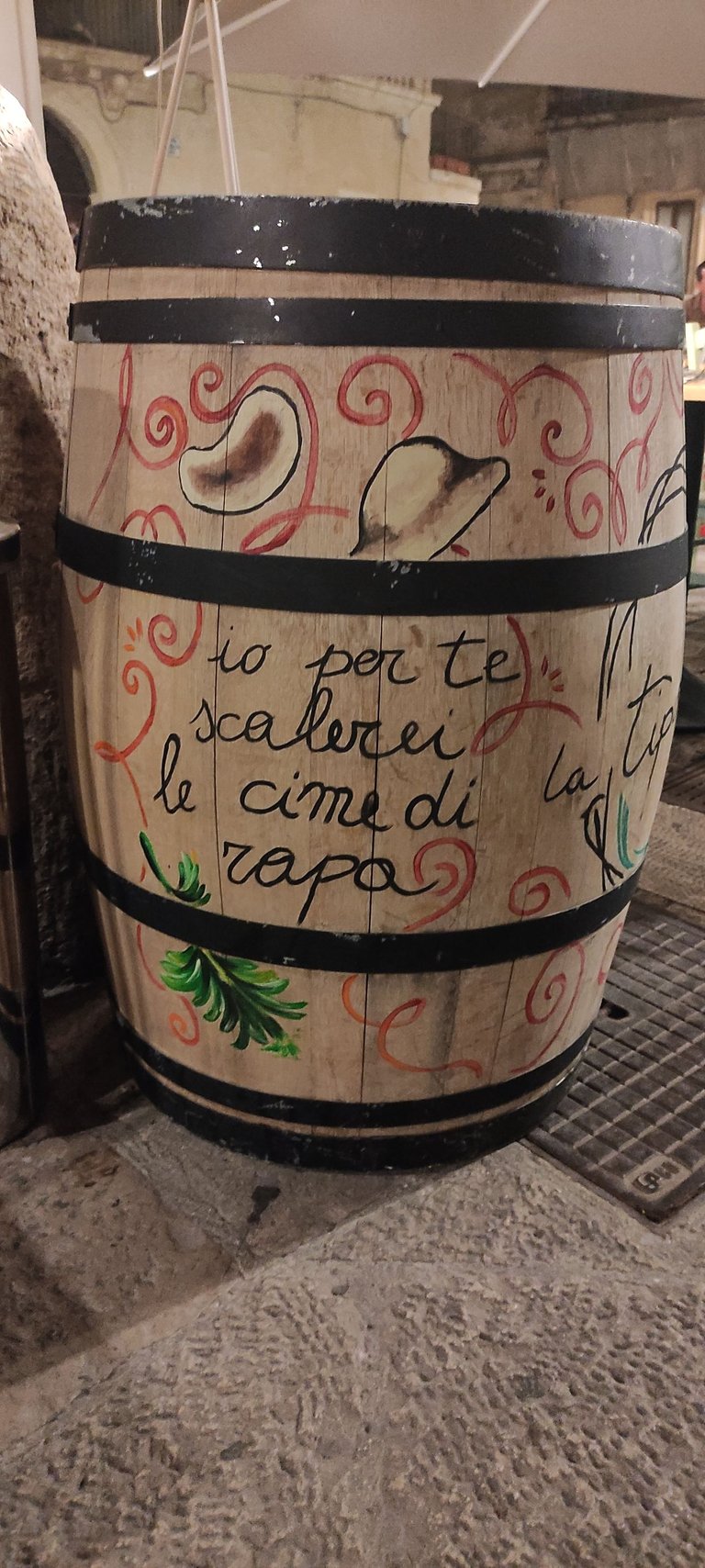 On the entrance of the restaurants there was this barrel with a really fun inscription on:
"Io per te scalerei le cime di rapa"
which in English would mean:
"For you, I would climb the rape peaks"
using a word pun, since the pasta is named cime di rape, but cime in Italian means also peaks.
I took an appetizer and a first course. The appetizer was a specialty of the restaurant called "Frisa de la Tipografia", made of salmon tartare and avocado cream. La Frisa, also called friseddhra is a special Bread from Salento, made of dried durum wheat bread baked in the oven, cut in half and baked again.
The waitress warned us that the plate was really heavy and that it was better for us to split it, but we insisted on having two separate plates, and probably we didn't make the right choice (😂).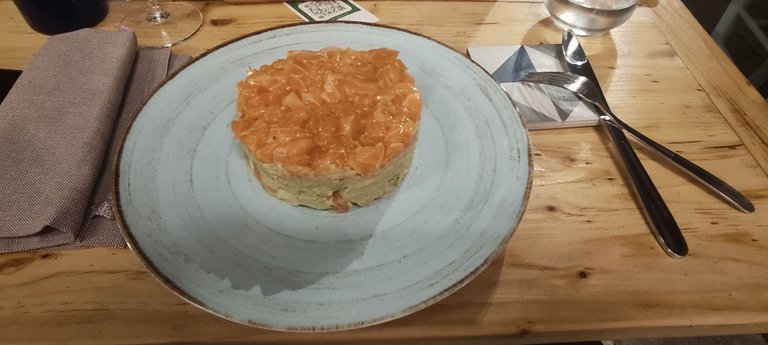 The dish was really good, but the problem was that the bottom part was full of this Frisa bread, and it was really heavy. In the end I was able to eat only half of eat, and then I declared my loss.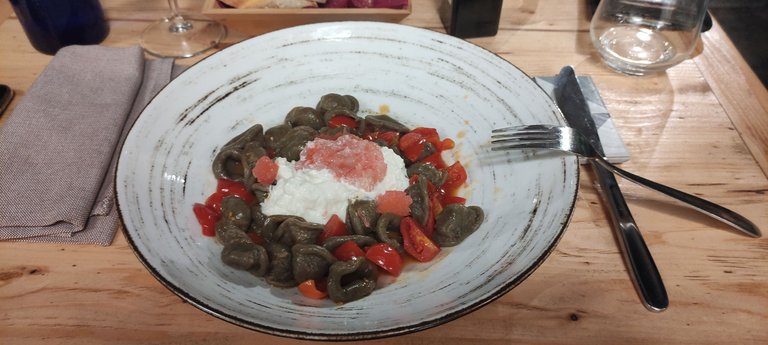 As a prime course, I took: Orecchiette with fresh tomatoes, buffalo mozzarella, rucola and crispy Martina Franca capocollo.
This was an amazing dish, where the contrast of flavors between the mozzarella and the capocollo was the main ingredient.
After dinner we took a quick walk through the city center, but since we were really tired from the trip, we went to the hotel.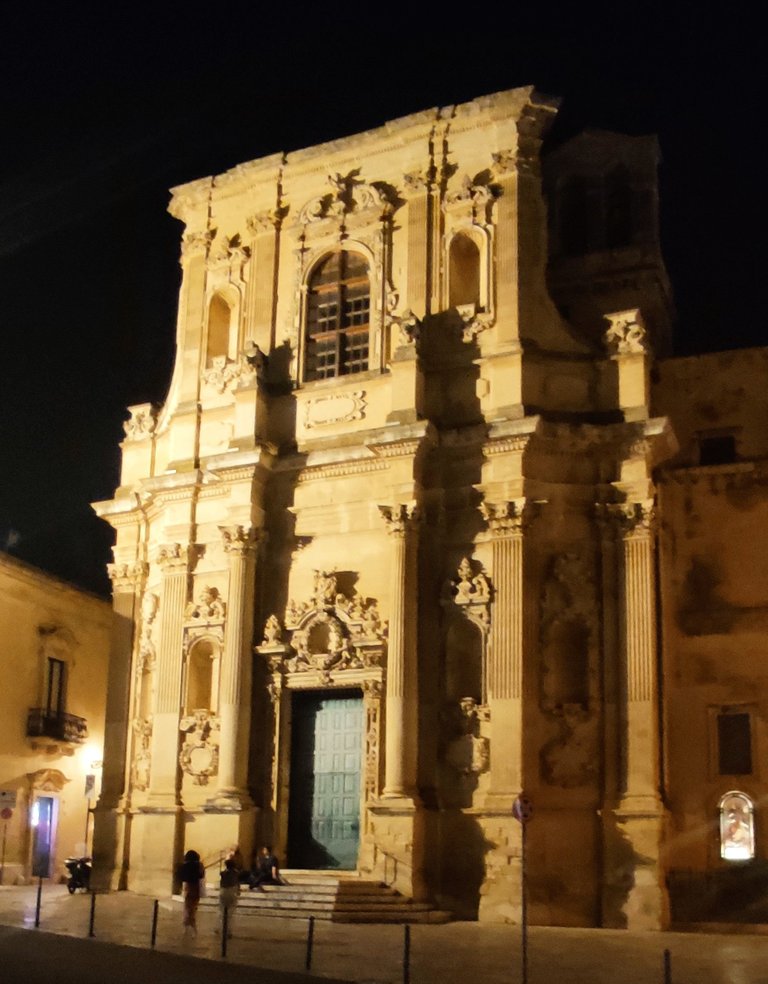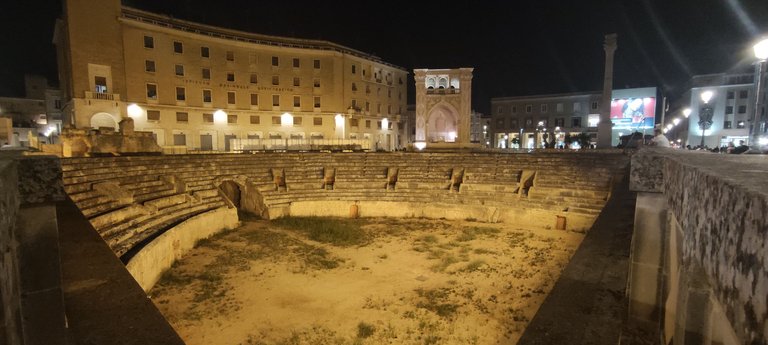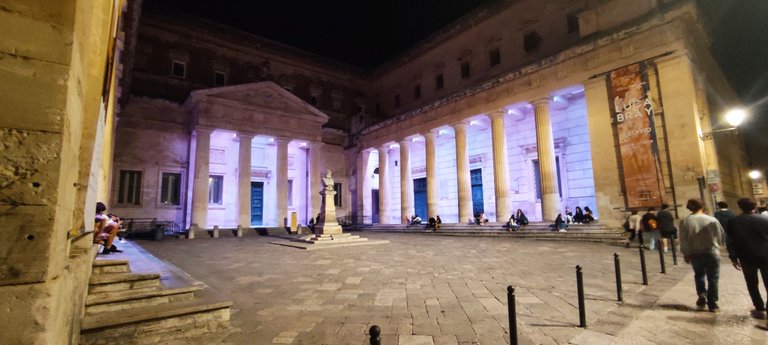 After we finished our work, we had to come back home, and since also this time we had a lot of Km to do, we decided to split the travel in half and stop for lunch in Lesina, a small town that is part of the National park of the Gargano.
Here we stopped on a local restaurant on the seaside, and also this time we were really lucky, since also here the food was really good.
First we had a tuna tartare with avocado and caramelized onions.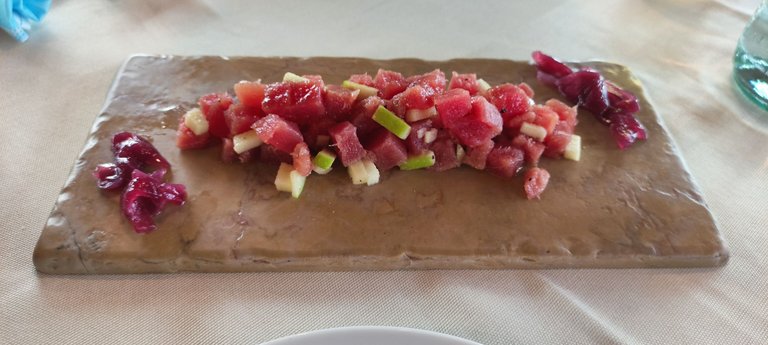 Then a pasta plate, with bettle, egg and bottarga.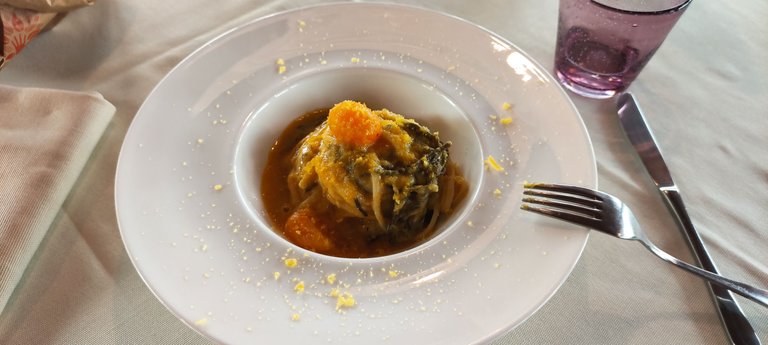 Traveling is always fun, and even if you are traveling for work, still you can retaliate some time for yourself and enjoy the food.
If you enjoyed the post, please leave an upvote and/or a comment and feel free to follow me (at the link below) if you want to see my next post about speleology/climbing/skydiving and all the other crazy things I love to do.

---
---