Will Hive/Leofinance Require KYC in Future?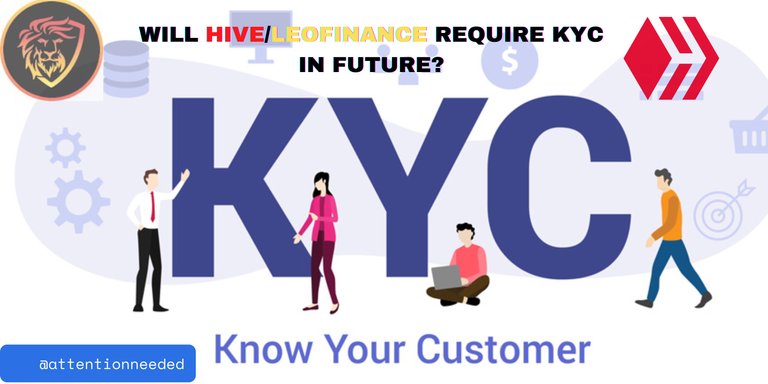 original Image
Introduction
KYC also known as Know Your Customer is a check that is usually required to know about customers or clients by getting their necessary information and documents. It is usually done in traditional financial services in case of any suspicious activities like money laundering or to keep track of their customer database.
The sole purpose of the KYC is to help financial services get to verify their clients by filling in their information and when filled, they have to verify the information to make sure they are correct. For example, when a client or customer needs a loan from a bank and an address is filled, the customer service officer in charge will have to visit the address to make sure that the address is correct or matches the one filled.
However, there are some decentralized exchanges that also use KYC on their platform like Binance for example when registering or before you complete any trade, you will have to pass through some verification checks like a face scan, filling in your bank details and submitting a valid ID card like passport, National ID or driving license before you will be able to do any transaction.
The Purpose of KYC in the crypto Industry
Money laundering is a common practice in any financial industry and the people who launder the money are often caught when they try to do it through the normal traditional way crypto being decentralized has become an easy way for them to launder money. With KYC it can help reduce any possible means of money laundering that may come up and it also helps to know that the customers themselves can be trusted and not carry out fraudulent activities on the platform and if carried out it will be easy to identify and track.
Purpose of KYC in Hive/Leofinance
With KYC:
it can help reduce mass account creation that frequently arises on the platform, and this mass account creation is due to when a user has plagiarized and in order to escape punishment or do the necessary amendments they open another account.

It can help stop the milking of rewards, where one person posts from two or three different accounts in order to accumulate the tokens/rewards. I do understand some have two accounts for different purposes, one can be based on their passion and the other can be based on general activities.

Believe it or not, KYC can help prevent theft of accounts and money laundering on the platform.
Summary
At the end of the day, it might not be possible to have KYC on Hive/Leofinance because that would be acquiring user data and the management of users' data isn't that easy, also Hive/Leofinance platform is decentralized there is no need for that (I guess).
Posted Using LeoFinance Beta
---
---