😬😬Splinterlands Daily Mission 25-10-21 ITA-ENG😬😬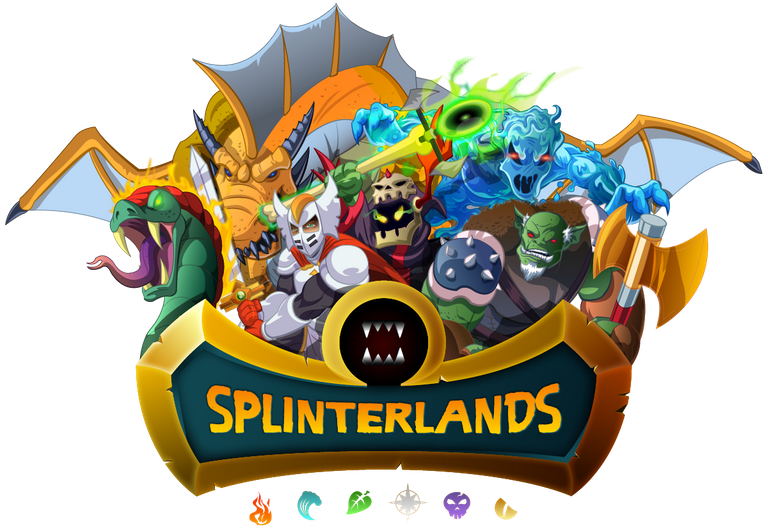 Buon pomeriggio e buon inizio settimana a tutti, oggi e domani sono a casa dal lavoro, anche se ogni tanto tossisco inizio a stare un po' meglio. Dopo pranzo ho fatto una prova di trasferimento di HIVE su binance e poi un sonnellino, ora ho appena finito di fare la missione di splinterlands, oggi death quest.
Direi che a velocità di completamento è andata benissimo. ci ho messo davvero poco e ho perso solo 2 match.
Un successo, mentre per quanto riguarda la ricompensa, ho smesso di guardarla da tempo. Sempre le solite carte.
primo match, partita con pochi punti, nulla di saliente, diciame che una volta abbattuto il tank avversario sono venuti giù tutti uno dietro l'altro
https://splinterlands.com?p=battle&id=sl_4e0ef783816561602d6e2d0bafc903b5&ref=atnep111
persa
secondo match, questo è l'esempio perfetto di focus dps sulla prima carta avversaria dove le cure non bastasno mai ed infine procedi avanti spedito a togliere di mezzo via a via tutto quello che ti si para davanti
https://splinterlands.com?p=battle&id=sl_cf96472a5871348ab84ada9d4044cb3d&ref=atnep111
perso
terzo match, qui mi janno conciato per le feste ma alla fine grazie al terremoto sono rimasto in piedi anche se con 3 carte volanti con un soffio di vita e come si suol dire, il risultato finale è quello che conta
https://splinterlands.com?p=battle&id=sl_bd4c328cd61abac2972e3957a6c07e84&ref=atnep111
quarto match, scontro tra magici con bonus equalizer, l'avversario con bonus al danno magico si è praticamente suicidato col reflect magic, quindi oltre ai miei danni ogni volta che attaccava si faceva male da solo
https://splinterlands.com?p=battle&id=sl_d60067aadfcd6ee97e8da1fd8c59d6cc&ref=atnep111
quinto match, mi è piaciuta questa parte, sono riuscito anche a battere Kron in last stand facendo più danni di quanti ne potesse curare
https://splinterlands.com?p=battle&id=sl_bce39802977cc28044cfd75ebf889999&ref=atnep111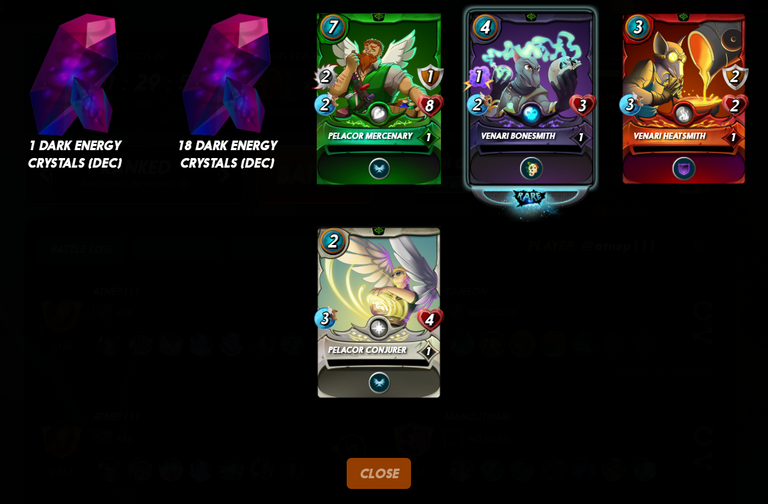 ENG VERSION
Good afternoon and good week to everyone, today and tomorrow I'm home from work, even if every now and then I cough I start to feel a little better. After lunch I did a HIVE transfer test on binance and then a nap, now I just finished doing the splinterlands mission, today death quest.
I would say that at speed of completion it went very well. it took me very little and I only lost 2 matches.
A success, while as far as the reward is concerned, I stopped looking at it for some time. Always the same cards.
first match, game with few points, nothing salient, say that once the opposing tank is downed they all came down one after the other
https://splinterlands.com?p=battle&id=sl_4e0ef783816561602d6e2d0bafc903b5&ref=atnep111
lost
second match, this is the perfect example of focus dps on the first opponent's card where care is never enough and finally proceed forward quickly to get rid of everything in front of you
https://splinterlands.com?p=battle&id=sl_cf96472a5871348ab84ada9d4044cb3d&ref=atnep111
lost
third match, here I am tanned for the holidays but in the end thanks to the earthquake I remained standing even if with 3 flying cards with a breath of life and as they say, the final result is what counts
https://splinterlands.com?p=battle&id=sl_bd4c328cd61abac2972e3957a6c07e84&ref=atnep111
fourth match, clash of magic with bonus equalizer, the opponent with bonus magic damage has practically committed suicide with reflect magic, so in addition to my damage every time he attacked he hurt himself
https://splinterlands.com?p=battle&id=sl_d60067aadfcd6ee97e8da1fd8c59d6cc&ref=atnep111
fifth match, I liked this part, I also managed to beat Kron in the last stand doing more damage than he could cure
https://splinterlands.com?p=battle&id=sl_bce39802977cc28044cfd75ebf889999&ref=atnep111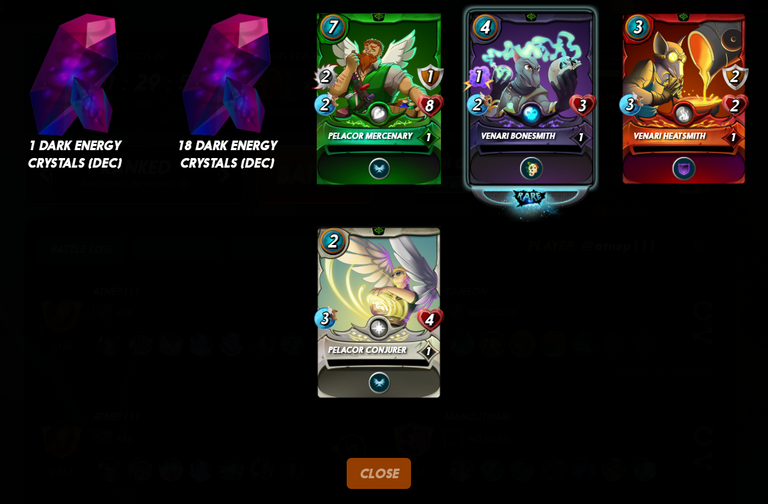 ---
---