👾👾Splinterlands daily mission 13-10-21 ITA-ENG👾👾

Buona sera eccoci ancora una volta qui con il solito post del giorno della missione di splinterlands. Inizialmente mi è stata proposta la fire quest ma calcolando che non è un mazzo a me tanto congeniale l'ho cambiata subito senza neanche provare una partita.
Sneak quest, direi che va benissimo, mi piace perchè posso scegliere meglio il deck in base a quello proposto per ogni partita e generalmente riesco spesso a usare l'earth deck
Nel complesso non è andata male, in totale ho perso 6 match
persa
primo match, iniziamo con una partita con enrage e solo carte melee, bello il tank avversario con riduzione al danno, però tra i tank con riduzione al danno il mio preferito rimane sempre il fantomatico e incommensurabile chain golem, inoltre l'avversario non aveva altre carte buone per supportare il suo tank, hanno pure mandato in enrage il sand worm facendogli raggiungere un danno esagerato
https://splinterlands.com?p=battle&id=sl_971751cf72a7f7895169ea978bc2c80e&ref=atnep111
secondo match, qui il maledetto phantom of the abyss avversario ha schivato tutti gli attacchi della mia carta sneak, alla fine si è trovato faccia a faccia con Kron in last stand e non c'è stato scampo neanche per lui
https://splinterlands.com?p=battle&id=sl_bd6b610eb7548b07393b407782f6d9d2&ref=atnep111
2 perse
terzo match, i melee attaccano da ogni posizione, entrambi non ci siamo curati molto di questo buff, anche perchè non c'erano molti punti disponibili per sfruttarlo con tanti tank che costano tanti punti mana, alla fine arrivato il turno di Kron ha messo a nanna tutti
https://splinterlands.com?p=battle&id=sl_3fd1c1550782938f9549541c455bd8b0&ref=atnep111
3 perse
quarto match, stone golem, il fratello minore dei golem, comodo in partite dove si hanno davvero pochi punti, danno di spine e l'aggiunta del danno magico del goblin e anche questa partita è vinta
https://splinterlands.com?p=battle&id=sl_9b0aac44d1aba8bcbb9612a87c168c3b&ref=atnep111
quinto match, red ragon lvl 3 WOW potente ma non abbastanza per contrastare le mie umili carte
https://splinterlands.com?p=battle&id=sl_027cd9861aedcadea0b5a4bb080360e4&ref=atnep111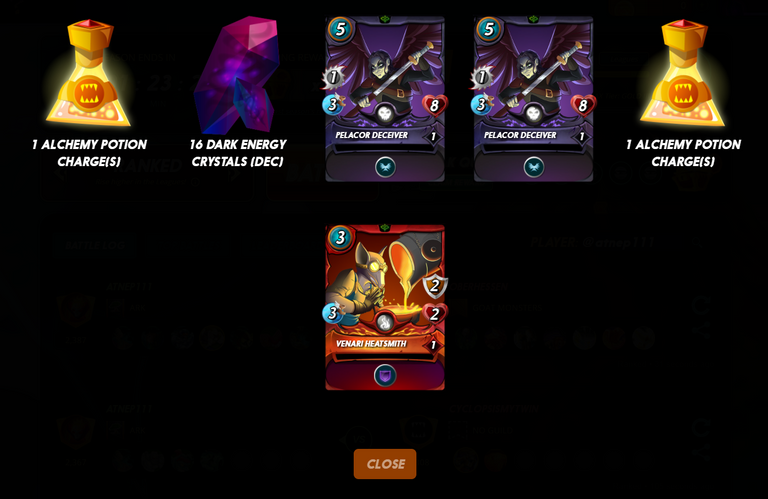 ENG VERSION
Good evening here we are once again with the usual splinterlands mission day post. Initially I was offered the fire quest but calculating that it is not a deck that is so congenial to me, I immediately changed it without even trying a game.
Sneak quest, I would say that it's fine, I like it because I can better choose the deck based on the one proposed for each game and generally I can often use the earth deck
Overall it was not bad, in total I lost 6 matches
lost
first match, let's start with a game with enrage and only melee cards, the opponent tank with damage reduction is beautiful, but among the tanks with damage reduction my favorite is always the elusive and immeasurable chain golem, also the opponent had no other good cards to support his tank, they also sent the sand worm into enrage causing him to achieve exaggerated damage
https://splinterlands.com?p=battle&id=sl_971751cf72a7f7895169ea978bc2c80e&ref=atnep111
second match, here the cursed phantom of the abyss opponent dodged all the attacks of my sneak card, in the end he came face to face with Kron in the last stand and there was no escape for him either
https://splinterlands.com?p=battle&id=sl_bd6b610eb7548b07393b407782f6d9d2&ref=atnep111
2 lost
third match, the melee attack from every position, we both didn't care much about this buff, also because there were not many points available to exploit it with so many tanks that cost a lot of mana points, in the end Kron's turn arrived. everyone sleeps
https://splinterlands.com?p=battle&id=sl_3fd1c1550782938f9549541c455 Adesivob0&ref=atnep111
3 lost
fourth match, stone golem, the younger brother of the golems, comfortable in games where you have very few points, thorn damage and the addition of the magical damage of the goblin and this game is also won
https://splinterlands.com?p=battle&id=sl_9b0aac44d1aba8bcbb9612a87c168c3b&ref=atnep111
fifth match, red ragon lvl 3 WOW powerful but not enough to counter my humble cards
https://splinterlands.com?p=battle&id=sl_027cd9861aedcadea0b5a4bb080360e4&ref=atnep111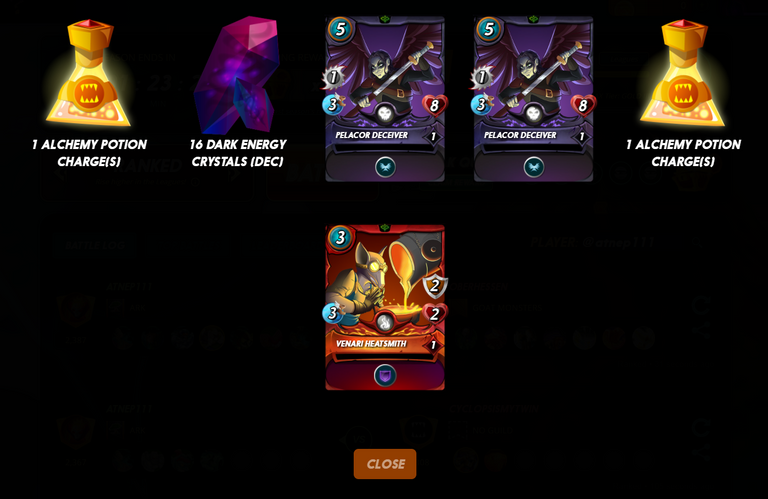 ---
---