Braun Coffee Architecture
---
---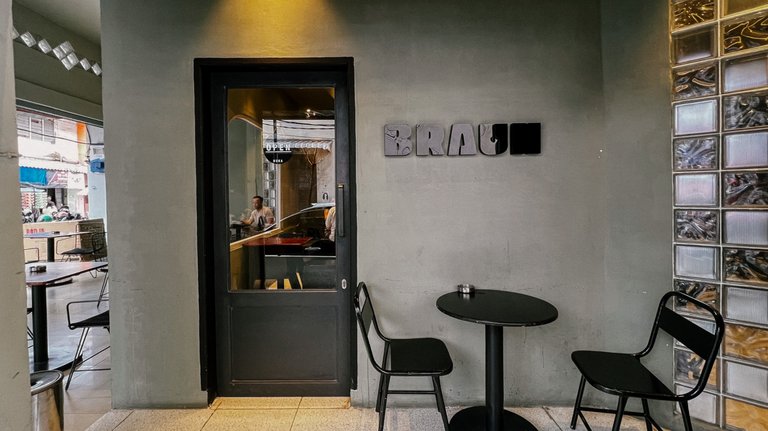 Hello everyone, Welcome!
Every era has its own progress, so much technology has helped humans to do many things. One example is social media, an era that continues to develop and becomes even crazier. The sophisticated thing is, nowadays to get information, you only need to have a smartphone with an internet connection, you will know everything that exists on earth, you can even be inspired by it.
For example, nowadays, social media often becomes a place for prestige competitions, but it can also be used as a promotional event. Wait, promotion on social media is a very good thing, I can even find out about many famous coffee shops with beautiful architecture all over the world.
---
Inspired By A Viral Coffee Shop At South Jakarta
---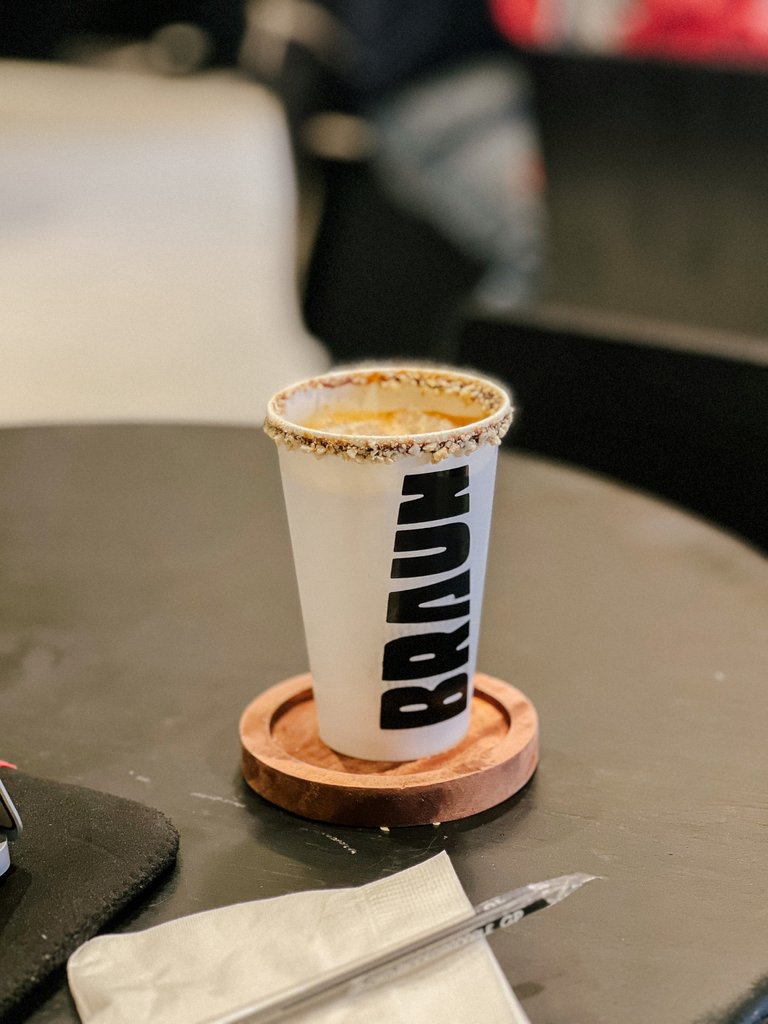 Talking about that, I want to talk about one of the viral coffee shops in the city of Medan, but in my opinion, this coffee shop is very interesting to discuss because one of the coffee menus they serve is inspired by a famous coffee shop in South Jakarta. Harlan Holden, maybe some people in South Jakarta really know it, but now you can enjoy this type of coffee menu in Medan City too.
This unique form of serving kopii, with a luxurious butterscotch coffee taste, made Harlan Holden famous throughout South Jakarta, thus becoming the inspiration for Braun Coffee. Let's call this shop Braun, our discussion will be very much about Braun Coffee, especially the architecture which is quite good for me.
---
Braun Coffee Architecture
---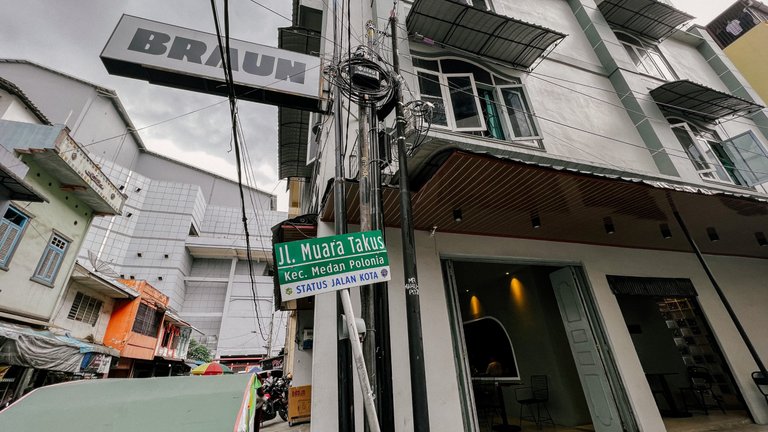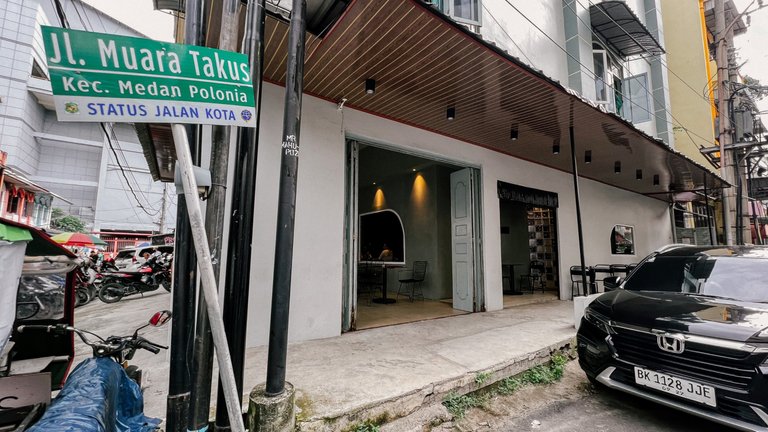 Braun Coffee is located on Jl Muara Takus, precisely behind Sun Plaza, a large mall in the city of Medan. The small and busy street is Braun Coffee's choice as a place to anchor and serve coffee to many customers. In my opinion, this coffee shop is quite reckless in placing its coffee shop on a road like this, because it is located on a narrow road and it is very difficult to find parking, especially for car users.
You can see in this photo, Braun's writing is very clear with black font and white backdrop. Located in a 4-story building with dark gray paint. I think this coffee shop has quite a small space, considering that this place is also densely populated and several buildings were built in a limited space because the land is small.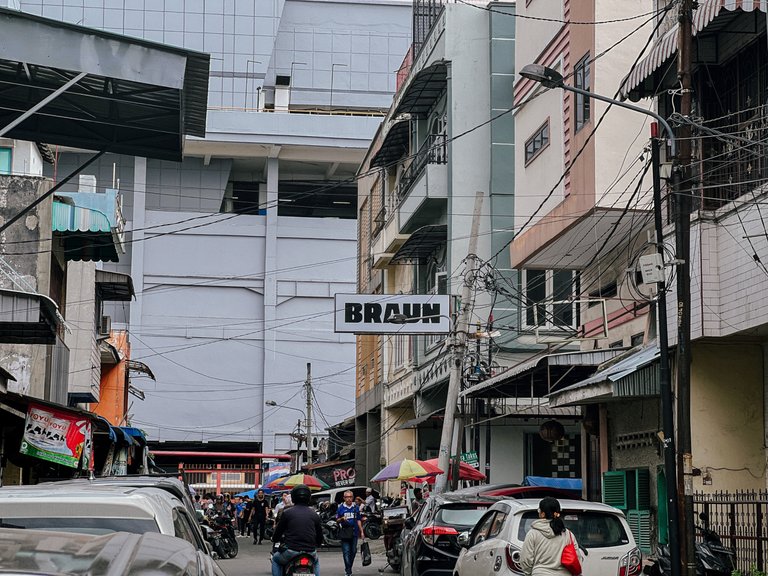 In front of the coffee shop, I saw from a distance that this coffee shop was already crowded with visitors. Because this coffee shop is still very hotly discussed because it is still very eye-catching on social media, you look really cool if you post the Braun coffee you drink, that's how social media works.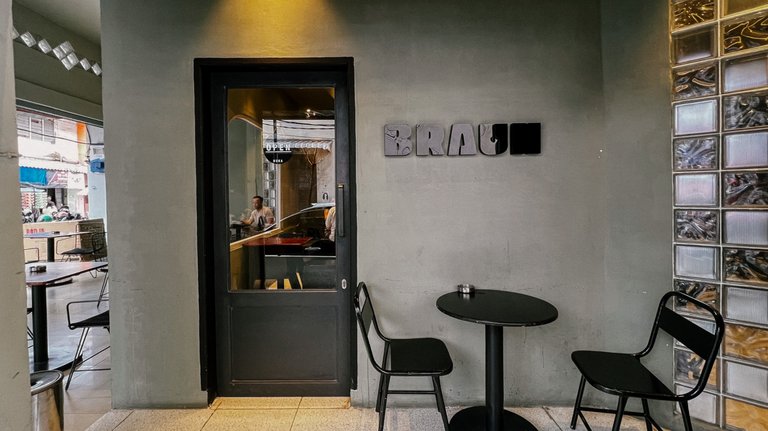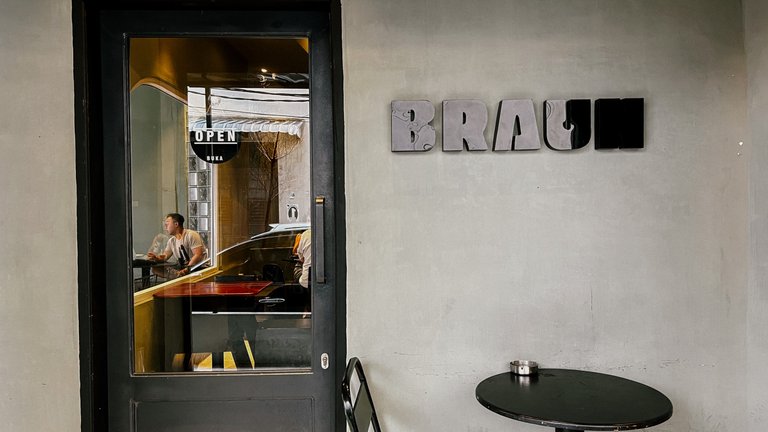 There are two parts of this coffee shop that you can choose, indoor and outdoor. If you need some cool room, then choose a table indoors, but if you need more space and with natural breeze, you choose to sit outside, but seriously, many people choose outside to smoke, because cigarettes and coffee are a good combination . There weren't many people sitting outside because the Muara Takus road was a bit congested and it was really uncomfortable.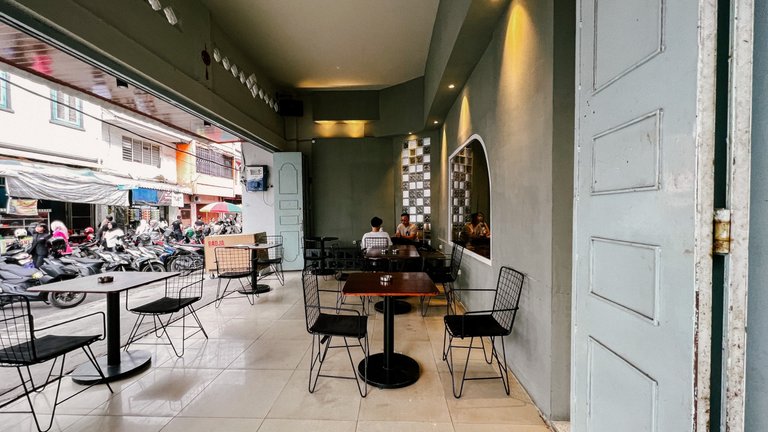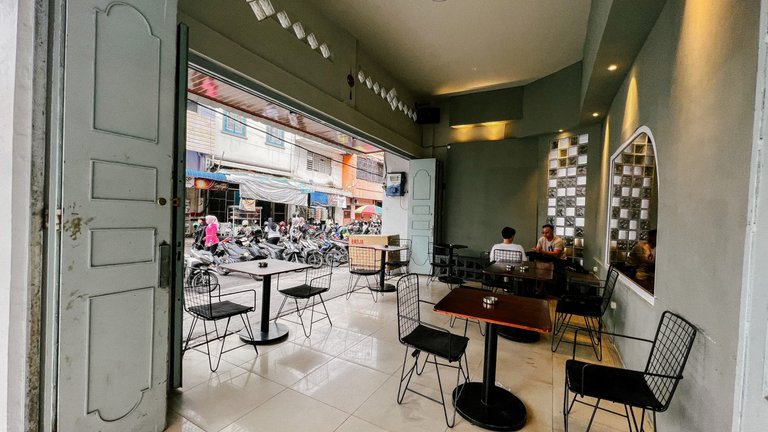 Several simple tables with wood and iron, arranged but with several lamps and other accessories. I chose to go into the room to order the coffee that was going viral, the menu was butterscotch coffee for 37,000 rupiah or $3.5. While waiting, I chose to sit in one of the chair and chosing to take away because it was very busy with visitors.
I took the time to take photo of some interesting and unique architecture, such as the dry tree in the corner of the room and the white rocks used. Then several tables and industrial accent are neatly tried out in every corner, giving a cozy and comfortable impression, but that's when this coffee shop has few visitors.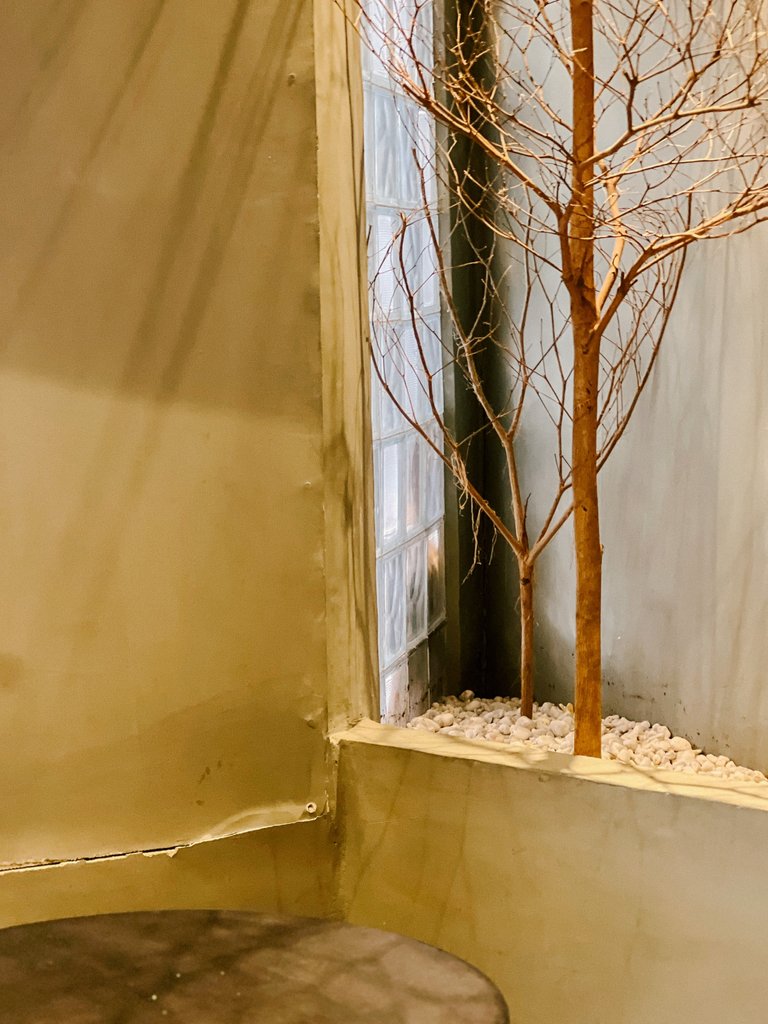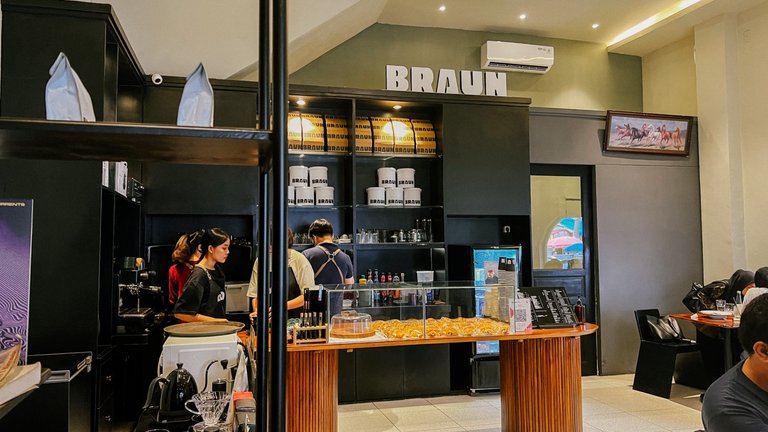 Good lighting for several spots makes this coffee shop look neat and beautiful, lots of black, brown and dark gray are used which are suitable and make this coffee shop very comfortable for enjoying a cup of coffee. I also see it as similar to the Harlan and Holden coffee shop that inspired them.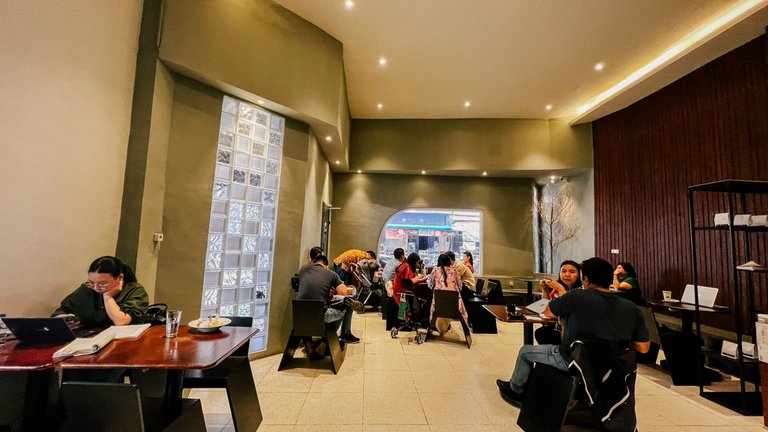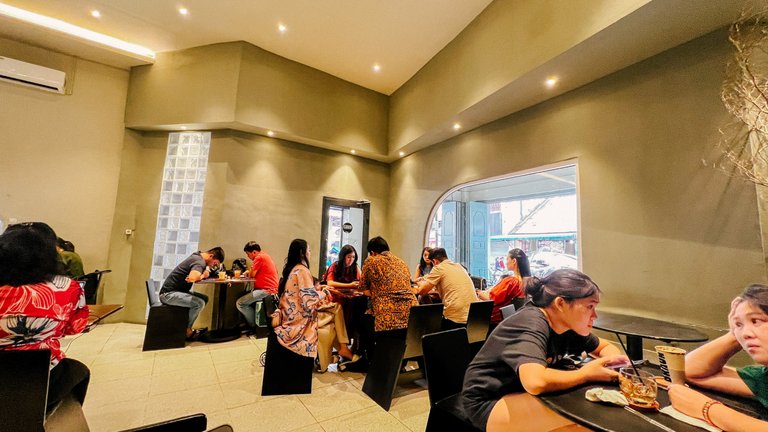 Apart from that, there are also several shelves hanging various types of coffee beans that they sell, including several arrangements of croissants and other types of bread on the bar table. It looks like they are also showing an open kitchen for the brewers, at first glance it looks like a good show as entertainment for anyone who wants to see and learn about coffee. I also felt a warm sensation from the service of the brewers and other workers, considering that you can ask lots of interesting questions about coffee.
So, Braun Coffee is one of my recommendations for enjoying delicious, sweet and creamy Butterscotch Coffee that is different with every sip.
---
See you the next time hive friends!
---
---
Editing by Lightroom and VN iphone 11
---
---
---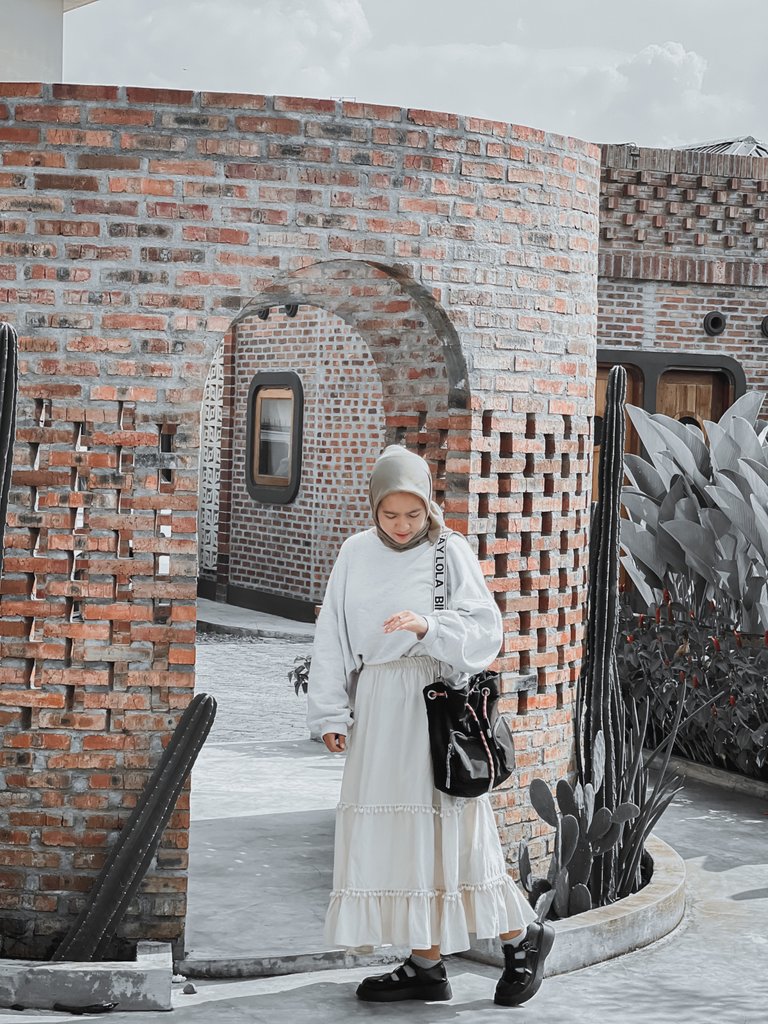 About Author
Annyeong yorobun! Welcome to wita's corner. Author is a full time housewife who loves to eat while writing. Enthusiasm to gardening and cooking. Like the exploration of new things and have many dream is unlimited. Always vote and give suggestions to advance this author.
If you like his content, don't forget to support me and leave a comment below. Make sure to keep read and watch my content. Thankyou so much :)

---
---