Diving Into Grayscale's Bitcoin Investor Study for 2021 | Part 3: Investment or Currency?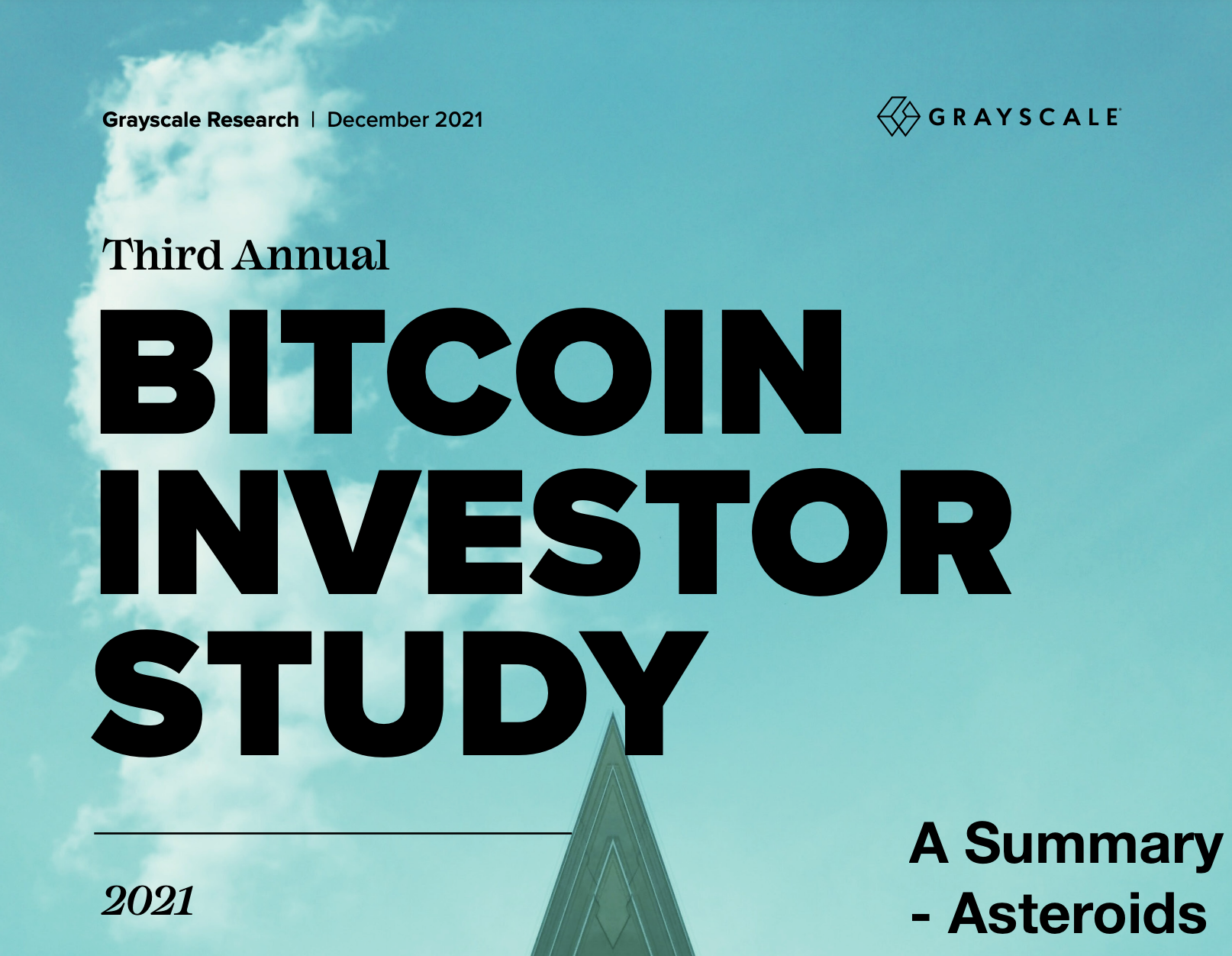 In this short series I'm going to summarize and share the Bitcoin Investor Study Report by Grayscale Investments.
---
---
This is their 3rd annual report and while I like the data presented, I'm not a huge fan of how they present that data.
In my next few posts, I'll take their report and share it in a bit more of a "reachable" way for the retail investor (like me). I hope you enjoy my synopsis of their reporting:
Part 3: Investment or Currency?
Bitcoin has two main uses, according to the poll respondents. They either hold onto it as a store of value and use it for payments or else trade Bitcoins back-and-forth with other people who are also invested in this currency like an investment.
The first thing most investors think about when they hear about Bitcoin is whether its going up or down; however there's actually more than one reason why someone might want invest some money into crypto currencies such as Ethereum (ETH).
"3x as many investors would consider owning Bitcoin as an
investment vs. as currency."
"More than half (55%) of investors perceive Bitcoin as a long-term play that fits into their overall investment strategy."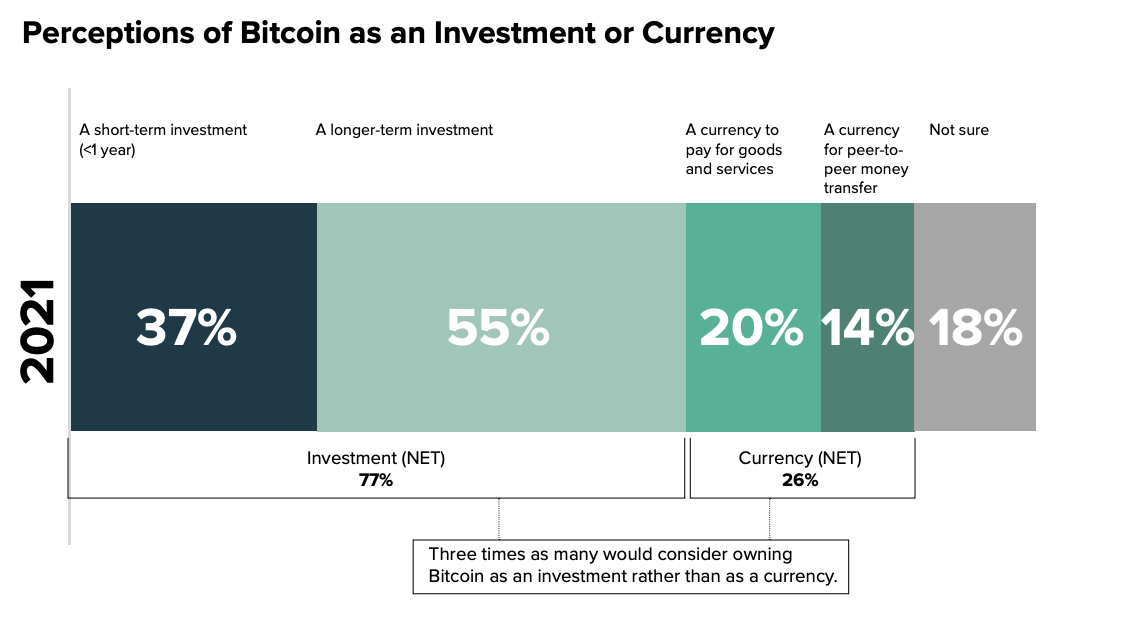 Despite Bitcoin's meteoric rise in value, many investors still view it as a currency and one fifth of them are using the cryptocurrency for paying goods or services. 14% would turn to Bitcoins if they want peer-to-peer money transfers too!
The current Bitcoin use case dynamic was echoed by tech entrepreneur, Mark Cuban. His NBA team the Dallas Mavericks accepts bitcoin as a payment method and he believes that fewer fans pay with this cryptocurrency than meme coin Dogecoin ("DOGE"). Both are treated more like mediums for exchange rather than something used just in transactions between people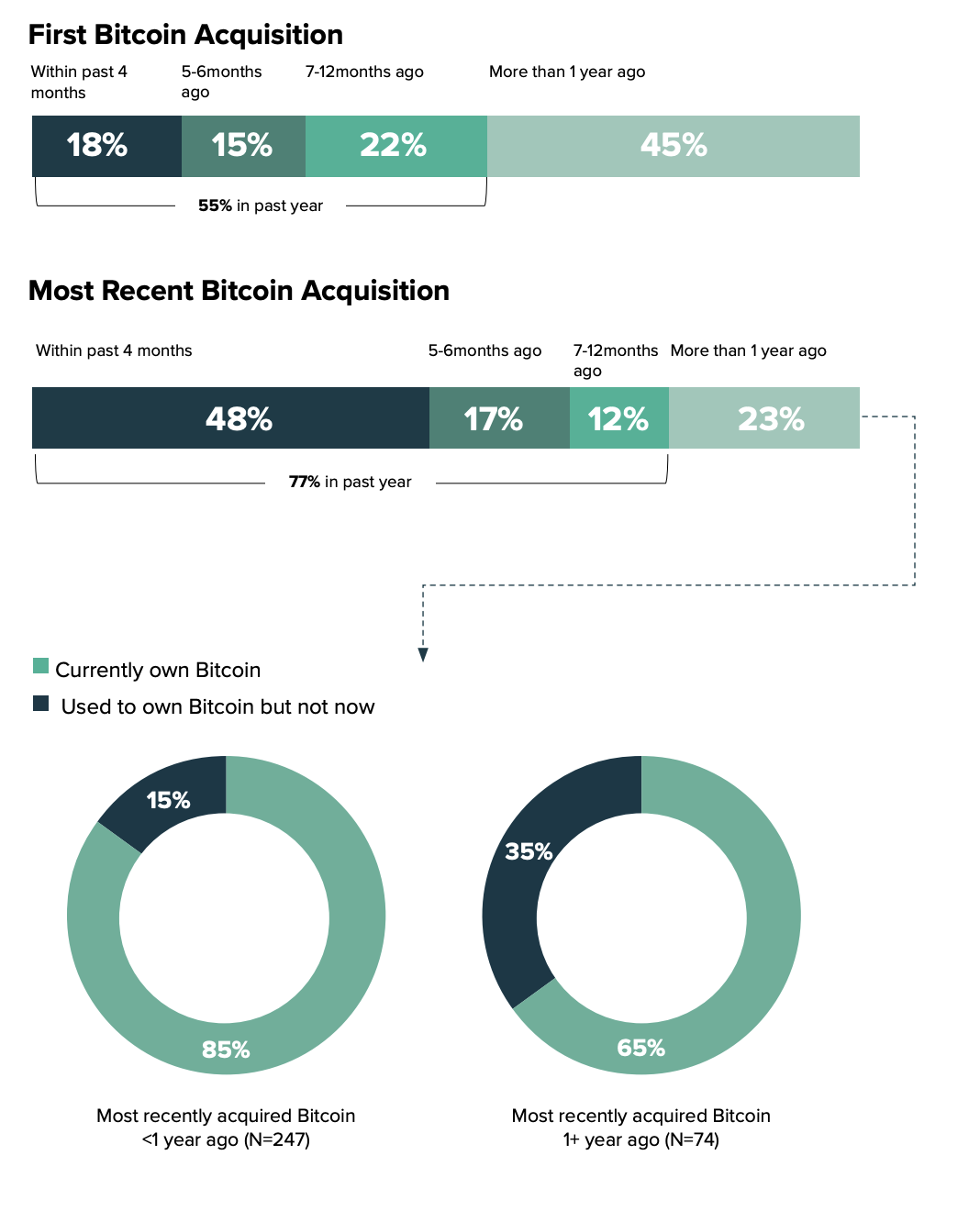 Many investors are treating Bitcoin as a store-of value and more than half of them haven't sold their position in the cryptocurrency. The fact that many continue to hold it underpins this theory, suggesting they view long term investments with confidence.
A sign that there is an increasing number people who want bitcoin for storage mechanism rather than solely on speculation can be seen through data analysis conducted by Coinmarketcap over time: From 2017 up until now we see at least thirty percent (30%)to forty five percent(45%).
---
---
AskLeo: Do You Think BTC is an Investment or a Currency?
Posted Using LeoFinance Beta
---
---