Storytime. Mi experiencia con la copa menstrual | My experience with the Menstrual Cup🙆🏽‍♀️💜 [ESP-ENG]

¡Hola chicos bienvenidos a mi blog!
¡Hi guys, welcome to my blg!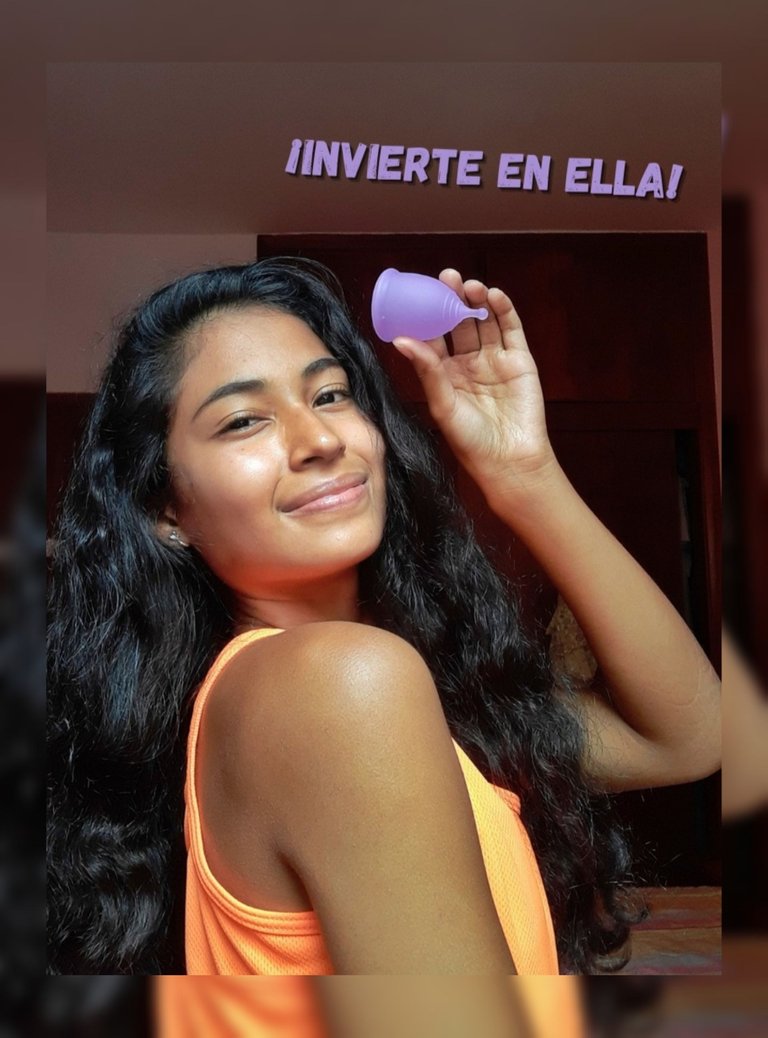 Espero se encuentren bien y estén teniendo una buena semana chicos! Antes de comenzar a contarles un poco sobre mi experiencia, por favor, seas mujer o si algún hombre le da curiosidad de leer, los invito al menos por el tiempo que duren leyendo este post que dejen tabúes, mitos y creencias a un lado, y simplemente lean y ya después con toda libertad pueden sacar sus conclusiones al respecto. Digo esto porque hoy día hay muchas personas que aún se cierran para hablar y escuchar sobre estos temas con libertad ya sea por tabú o simplemente no les gustan estos temas y de paso hay quienes hasta llegan a hacer comentarios sin antes informarse. OJO, yo no soy doctora, ni experta, simplemente hago este post para contarles mi experiencia personal y mi opinión por si alguna chica pudiese estar interesada.
Así que teniendo mente abierta, tomando con seriedad y respeto el tema y no viendo este post como algo raro, ahora si paso a contarles un poco de como me ha ido😊.
I hope you are well and are having a good week guys! Before I start telling you a little bit about my experience, please, whether you are a woman or a man, I invite you to leave taboos, myths and beliefs aside, and just read and then you can freely draw your own conclusions about it. I say this because today there are many people who are still closed to talk and listen about these issues freely either by taboo or simply do not like these issues and incidentally there are those who even come to make comments without first informing themselves. I am not a doctor, nor an expert, I am simply making this post to tell you my personal experience and my opinion in case any girl might be interested.

So having an open mind, taking the subject seriously and respectfully and not seeing this post as something weird, now I will tell you a little of how I have done😊.
Qué es la Copa Menstrual? | What is the Menstrual Cup
Por si alguna persona no sabe exactamente que es la Copa Menstrual, pues hay que comenzar explicándolo jeje. Esta es, como su nombre lo dice, una copa o un pequeño envase hecho de silicona médica que se introduce dentro de la vagina y recoge el flujo menstrual. A diferencia de las toallas sanitarias o tampones, esta no absorbe sino que simplemente deposita la menstruación (como si echaran cualquier líquido en un vaso) y una vez llena o no, la retiras, vacías el contenido, la lavas y te la vuelves a colocar, es totalmente reutilizable.
Hay muchos modelos para elegir y diferentes tallas para cada mujer, por ejemplo, para las chicas menores de 25 años sin parto les viene bien una talla S, para mujeres que ya han tenido partos y pasan cierta edad talla L, incluso hay algunas marcas que tienen modelos mini más pequeñas que la talla S común para que niñas que aún comienzan a menstruar puedan utilizarla, porque si, desde el primer periodo puedes utilizar una copa.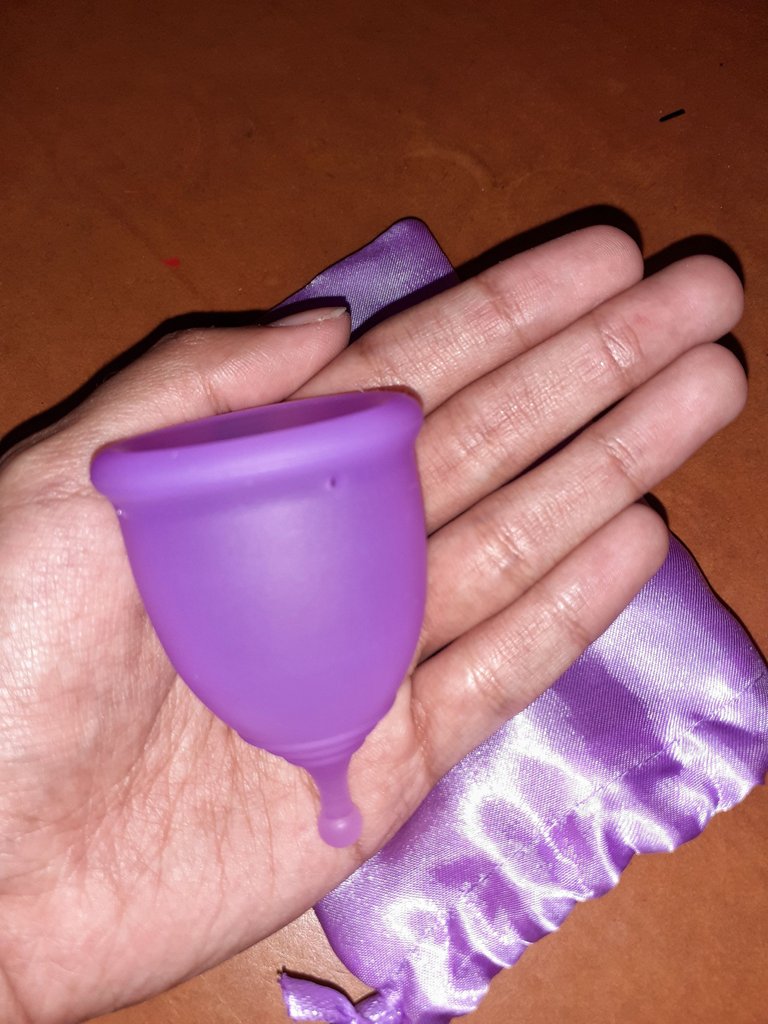 In case someone does not know exactly what the Menstrual Cup is, we have to start by explaining it hehe. This is, as its name says, a cup or a small container made of medical silicone that is inserted into the vagina and collects menstrual flow. Unlike sanitary pads or tampons, this one does not absorb but simply deposits the menstruation (as if you pour any liquid in a glass) and once full or not, you remove it, empty the contents, wash it and put it back on again, it is completely reusable.

There are many models to choose from and different sizes for each woman, for example, for girls under 25 years old without childbirth size S, for women who have already had births and pass a certain age size L, there are even some brands that have mini models smaller than the common size S so that girls who are still starting to menstruate can use it, because yes, from the first period you can use a cup.
Beneficios | Benefits
La copa menstrual cuenta con muchos beneficios, te voy a mencionar algunos y los que yo he experimentado durante mi primera ciclo usándola:
Ahorras mucho dinero, ya que la copa menstrual puede durar de 10 hasta 12 años, haces una sola inversión, o a menos que quieras probar distintas marcas y modelos (que me gustaría personalmente)
Más higiene, nunca he utilizado tampones, pero con las toallas sanitaria pasa mucho que retienen humedad, pueden ocasionar mal olor e incluso se corre el riesgo de contener infecciones e irritaciones, en cambio como la copa no absorbe ya no existe esa humedad, malos olores, no se mezcla el flujo menstrual con las bacterias, brinda mucha seguridad, no irrita, nada, es lo máximo jajaja.
No se marcan, por lo que tienes libertad de usar cualquier prenda de ropa sin la incomodidad que da el que se marque la forma de la toalla con los leggins por ejemplo, si está bien puesta nadie se va a enterar de que la tienes y tampoco tendrás fugas. Así que te permite moverte, hacer ejercicio sintiéndote cómoda y segura.
Es ecológica, ya que dura muchos años, en cambio con las toallas se genera cualquier cantidad de basura que tarda en descomponerse, las copas son mucho más amables con el medio ambiente, imagínense si gran parte de la población femenina la usara se estaría reduciendo significativamente la contaminación en ese aspecto.
Tiene mayor capacidad y puedes duras más tiempo con ella puesta. Con ella me he podido dar cuenta que es menos la cantidad de flujo de lo que creemos, sin embargo para las chicas que tienen un flujo abundante despreocúpense de que van a tener accidentes porque las copas tienen la capacidad suficiente para recolectar y además puedes durar hasta 12h con ella. No es necesario cambiarla tan seguido y si estás en sitios públicos y no te sientes cómoda para quitarla y lavarla ¡no hay problema! Puedes esperar a llegar a casa para vaciarla con tranquilidad pero aún así es bueno tener agua contigo por si hay que cambiarla en un baño público.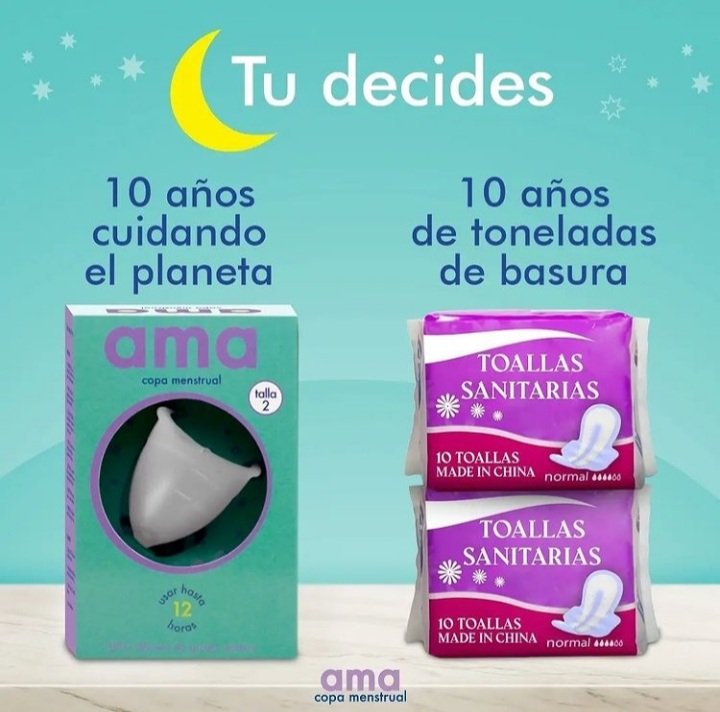 Fuente
The menstrual cup has many benefits, I am going to mention some of them and the ones I have experienced during my first cycle using it:

You save a lot of money, since the menstrual cup can last from 10 to 12 years, you make a single investment, or unless you want to try different brands and models (which I would like personally).

More hygiene, I have never used tampons, but with sanitary napkins happens a lot that retain moisture, can cause odor and even run the risk of containing infections and irritations, instead as the cup does not absorb there is no moisture, odors, menstrual flow is not mixed with bacteria, provides much security, does not irritate, nothing, is the maximum hahaha.

They do not mark, so you are free to use any article of clothing without the discomfort that gives the shape of the towel is marked with leggings for example, if it is well placed no one will know that you have it and you will not have leaks. So it allows you to move, exercise feeling comfortable and safe.

It is ecological, since it lasts for many years, instead with towels any amount of garbage is generated that takes time to decompose, the cups are much kinder to the environment, imagine if much of the female population would use it would be significantly reducing pollution in that aspect.

It has greater capacity and you can last longer time with it on. With it I have been able to realize that the amount of flow is less than we think, however for girls who have an abundant flow do not worry that you will have accidents because the cups have enough capacity to collect and also you can last up to 12 hours with it. It is not necessary to change it so often and if you are in public places and you do not feel comfortable to remove and wash it, no problem! You can wait until you get home to empty it calmly but it is still good to have water with you in case you have to change it in a public restroom.
Mi experiencia | My experience
Me compré esa marca porque ya una amiga se la había comprado antes y le parecía buena, ellos tienen dos modelos, La Sport, que es la que yo tengo, y otra de un material un poco más suave, yo elegí el modelo Sport que es unos centavos más cara que la otra nada más ya que como soy una persona bastante activa, estoy en natación, bailo y demás preferí tenerla de un material resistente.
Yo aún soy virgen y en cuanto a estos casos hay muchos mitos al respecto, como el que quita la virginidad, rompe el himen y quien sabe que más, pero la verdad es que todo eso es falso, primero el termino de "virginidad" es creado por la sociedad y se pierde en el momento en que decidas tener relaciones sexuales, no porque utilices la copa o introduzcas algo en ella; y en cuanto al himen, eso no se rompe así de fácil, esa "telita" es flexible y se va debilitando con el tiempo, no la romperás insertando la copa a menos que seas muy brusca y te lastimes (tratate con gentileza), en fin son temas extensos que los resumo de esta forma para no extenderme tanto.
Para las chicas que somos vírgenes si puede ser un poquito más tedioso o incómodo el proceso pero es posible, la primera vez que intenté colocármela (no tenía aún el periodo) no entró, intenté de distintas formas y no lo logré, sin embargo no perdí ni nada y me informé un poco mejor, encontré a una chica en Youtube que compartió ejercicios que se pueden hacer para ir expandiendo las paredes vaginales, teniendo más flexibilidad y preferí intentarlos a forzar la situación, así que estuve practicando los ejercicios que recomienda y cuando me vino mi menstruación, volví a intentarlo y entró!! Jajaja, yo estaba feliz en ese momento y a la vez impresionada de como el cuerpo cede y se adapta, solo sentí un poquito de incomodidad al terminar de introducirla. La primera vez para chicas vírgenes o no puede ser incómodo y hasta doloroso, mi recomendación es ir con calma, el cuerpo es tan perfecto que no deja entrar cualquier cosa así por así, tratate con amabilidad y no fuerces el introducirla para que no te hagas daño.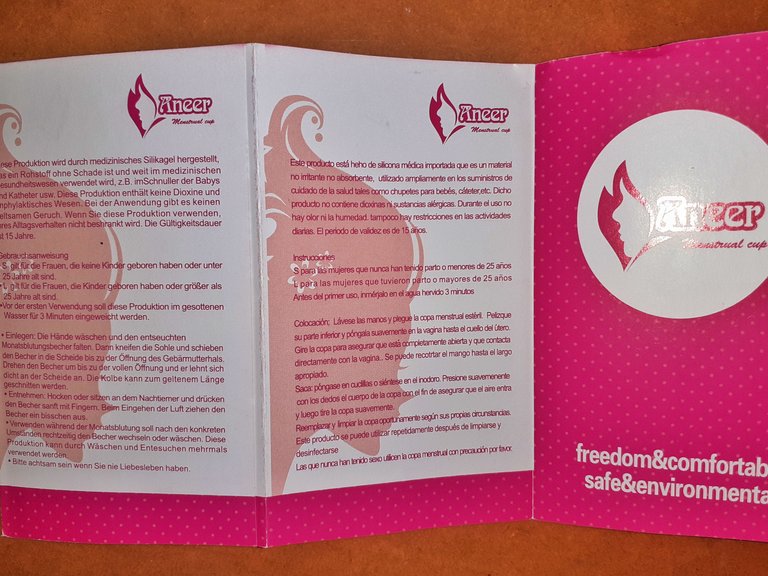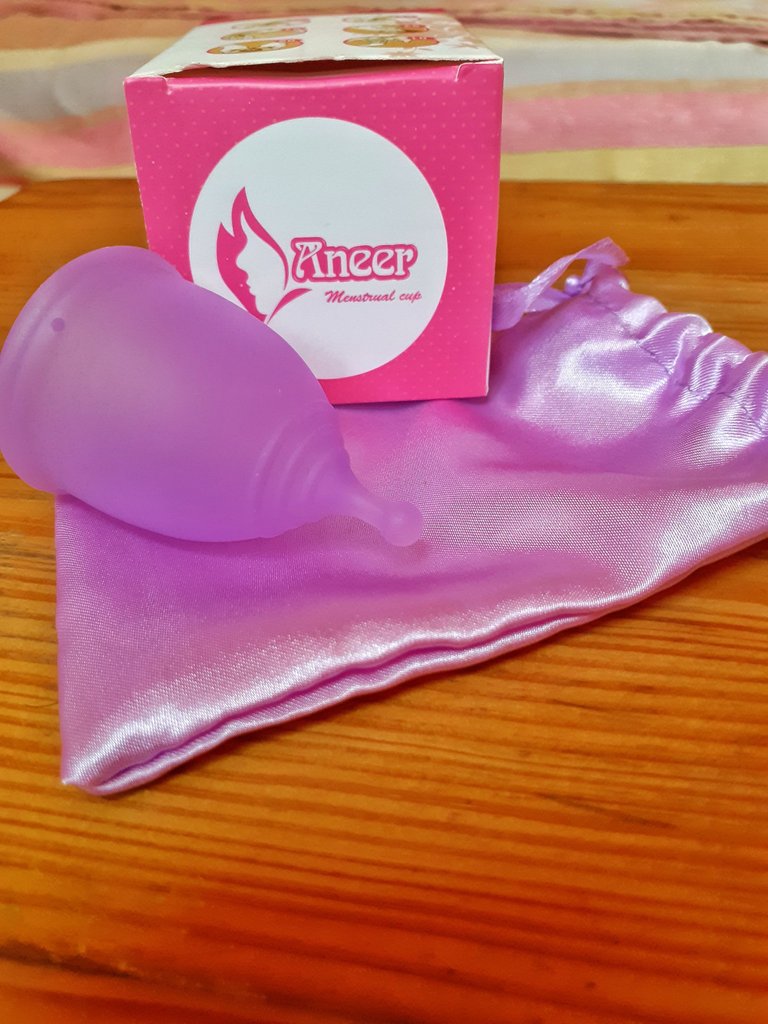 ---
I bought that brand because a friend had already bought it before and she thought it was good, they have two models, the Sport, which is the one I have, and another of a slightly softer material, I chose the Sport model which is a few cents more expensive than the other just because as I am a fairly active person, I'm in swimming, dancing and others I preferred to have it of a resistant material.

I am still a virgin and in these cases there are many myths about it, such as that it takes away virginity, breaks the hymen and who knows what else, but the truth is that all that is false, first the term "virginity" is created by society and is lost at the time you decide to have sex, not because you use the cup or introduce something in it; And as for the hymen, that does not break that easily, that "web" is flexible and weakens over time, you will not break it by inserting the cup unless you are very rough and hurt yourself (treat yourself with gentleness), in short, these are extensive topics that I summarize in this way to not extend so much.

For girls who are virgins if it can be a little more tedious or uncomfortable process but it is possible, the first time I tried to put it (I had not yet the period) did not enter, I tried different ways and did not succeed, however I did not lose or anything and I learned a little better, I found a girl on Youtube who shared exercises that can be done to expand the vaginal walls, having more flexibility and I preferred to try them to force the situation, so I was practicing the exercises she recommends and when I got my period, I tried again and it went in! ! Hahaha, I was happy at that moment and at the same time impressed with how the body gives in and adapts, I only felt a little bit of discomfort when I finished inserting it. The first time for virgin girls or not can be uncomfortable and even painful, my recommendation is to go calmly, the body is so perfect that does not let anything in just like that, treat yourself with kindness and do not force the introduction so you do not hurt yourself.
Existen distintas formas de doblar la copa para colocarla, mi favorita es el 7, la C no la recomiendo para chicas vírgenes porque la copa queda muy ancha y es más difícil colocarla y más incomoda, el 7 es la forma de que quede más pequeña y sea más fácil de entrar. Cuando ya está adentro no sientes absolutamente nada, con el tiempo hasta te puedes olvidar de que la tienes puesta, para mi eso es una maravilla y la amo por eso jaja.
Para quitarla la primera vez tardé un montón y fue tedioso porque no sabía como hacerlo para que no molestara y aún así no me la quité de la mejor forma, pero ya luego investigando y probando encontré que la mejor forma es pujar un poco hasta que puedas agarrarla, no por la colita sino más arriba de manera que la puedas presionar, la pongas más delgada (es como si le apretaras el botón de seguridad jaja) y así ir halándola poco a poco con cuidado hasta que salga por completo. Para esto las primeras veces recomiendo hacerlo cuando tengas tiempo y puedas hacerlo con calma, si es en casa mejor para ir descubriendo que te funciona y sacarla y colocarla sin presión alguna.
Ya he hecho ejercicio, fui a la playa y la utilicé y en serio que es excelente, cumple con su función, dos veces nada más manché un poquito, recomiendo también utilizar protectores diarios las primeras veces por si acaso, no molesta todo es cuestión de práctica, como todo y que pruebes de distintas formas y no te rindas a la primera, la he utilizado solo durante un periodo no quise esperar tantos meses para hacerle el post para contarles mi proceso desde el principio, que no considero que ha sido traumático ni nada, todo lo contrario lo he llevado de buena forma, comprendiendo a mi cuerpo y dejando que se adapte poco a poco, a se que en mis próximos ciclos voy a estar mucho más segura y confiada colocándola y retirándola...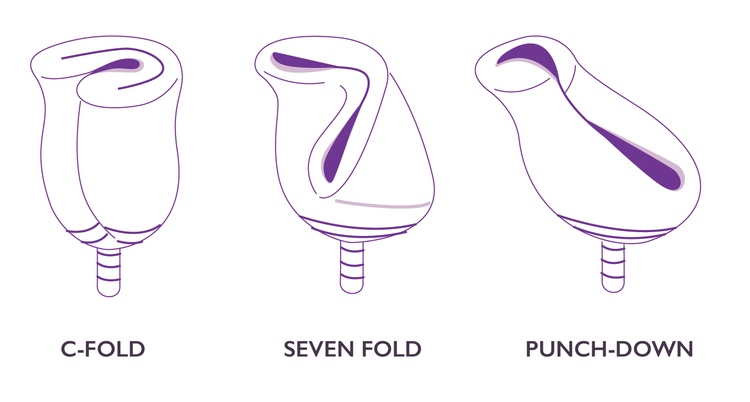 Fuente
There are different ways to fold the cup to place it, my favorite is the 7, the C I do not recommend it for virgin girls because the cup is very wide and it is more difficult to place it and more uncomfortable, the 7 is the way to make it smaller and easier to enter. When it is already inside you feel absolutely nothing, eventually you can even forget that you have it on, for me that's a wonder and I love it for that haha.

To remove it the first time it took me a lot of time and it was tedious because I didn't know how to do it so it wouldn't bother me and even then I didn't remove it in the best way, but after researching and testing I found that the best way is to push a little until you can grab it, not by the tail but higher up so that you can press it, put it thinner (it's like if you press the safety button haha) and then pull it little by little carefully until it comes out completely. For this the first few times I recommend doing it when you have time and you can do it calmly, if it is at home better to discover that it works for you and take it out and place it without any pressure.

I have already exercised, I went to the beach and I used it and seriously it is excellent, it fulfills its function, twice I just stained a little bit, I also recommend using daily protectors the first few times just in case, it does not bother everything is a matter of practice, like everything and that you try different ways and do not give up the first time, I have only used it for one period, I didn't want to wait so many months to do the post to tell you about my process from the beginning, which I don't consider to have been traumatic or anything, on the contrary I have taken it in a good way, understanding my body and letting it adapt little by little, I know that in my next cycles I will be much more secure and confident placing it and removing it. ..
Palabras finales | Final Words
Yo estoy encantada con mi copita, sin duda la recomiendo, repito, todo es cuestión de práctica y hasta de probar distintas marcas para elegir una favorita, yo más adelante quisiera probar con otra, aunque con la que tengo me siento bien y no he tenido inconveniente. Me ha gustado la experiencia porque he podido conocerme, conectar más con mi feminidad, respetarme y tratame con amabilidad, creo que es algo muy bonito comprender nuestro proceso y la menstruación, poder ver su color, su textura, la sangre de la menstruación no es un desecho y no tendría por que dar asco o idea tener contacto con ella, así que las invito a no tener miedo a utilizarla, ni a tocarse, ni verse, más bien es una oportunidad para conocernos, honrarnos y amar nuestro cuerpo.
Ser mujer es maravilloso y si tienen la oportunidad de cambiarse a la copa háganlo porque la experiencia es única, al menos yo la considero así, es segura, confiable y te sientes muy cómoda y libre con ella puesta.
Hay muchas cosas más que quisiera recomendarles y contarles pero creo que lo resumí bastante bien, este tema me gusta, pero si les explicaba a profundidad iba a ser eterno el post jajaja, espero igual que haya servido de ayuda y haya sido pesado de leer. Les dejo estos videos de recomendación por si quienes investigar más, que es bueno hacerlo, conocer distintas opiniones y si deciden cambiarse a la copa consúltenlo con su médico de confianza para que se sientan más seguras y tengan su aprobación por cualquier cosa. Espero que les haya gustado este post, cuídense, amen y respeten su cuerpo. Nos vemos en un próximo post!!
I am delighted with my cup, I definitely recommend it, I repeat, it's all a matter of practice and even try different brands to choose a favorite, I would like to try another one later, although with the one I have I feel good and I have not had any inconvenience. I liked the experience because I have been able to know myself, connect more with my femininity, respect myself and treat me with kindness, I think it is something very nice to understand our process and menstruation, to see its color, its texture, menstrual blood is not a waste and should not be disgusting or idea to have contact with it, so I invite you not to be afraid to use it, or to touch or see yourself, rather it is an opportunity to know, honor and love our body.

Being a woman is wonderful and if you have the opportunity to change to the cup do it because the experience is unique, at least I consider it so, it is safe, reliable and you feel very comfortable and free with it on.

There are many more things I would like to recommend and tell you but I think I summarized it pretty well, I like this topic, but if I explained it in depth it would be an eternal post hahaha, I hope it has been helpful and it has been hard to read. I leave these recommendation videos in case you want to investigate more, it is good to do it, to know different opinions and if you decide to change to the cup, consult with your trusted doctor so that you feel safer and have his approval for anything. I hope you liked this post, take care, love and respect your body. See you in a future post!

¡Gracias por visitar mi blog💜!
¡Thanks for visiting my blog💜!




---
---