Compartir emotivo de nuestro último día de clases! 💙🥺🧠 [ESP-ENG]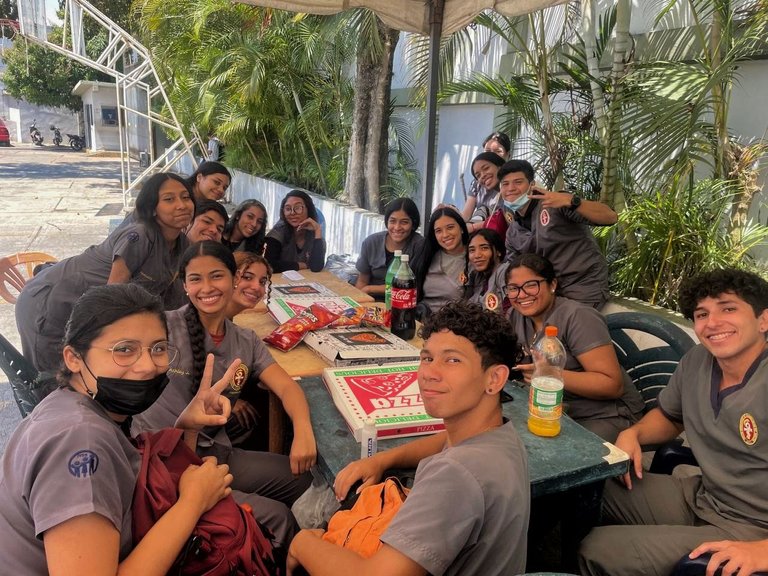 Feliz domingo bonita comunidad, espero se encuentre todos muy bien! El pasado viernes fue el último día de clases de nuestro Primer Trayecto en la Universidad. Estudio Fisioterapia, y de forma resumida puedo decir que no ha sido un camino para nada sencillo, pero amo lo que estudio, me he ido enamorando conforme el transitar por la carrera y eso ha sido mi motor para mantenerme constante y disciplinada a pesar de todo el estrés y piedritas que la misma universidad pone en el camino... dentro de una semanas, cuando me inscriba para segundo año quiero hacer un video contando mi experiencia con un poco más de detalle, pero mientras, en este post quiero hablarles sobre un compartir que realizamos entre practicamente toda mi Sección, para celebrar de cierta forma que culminamos nuestro primer año de universidad.
Happy Sunday beautiful community, I hope you are all doing well! Last Friday was the last day of classes of our first journey at the University. I study Physiotherapy, and in summary I can say that it has not been an easy path at all, but I love what I study, I have been falling in love as I go through the career and that has been my engine to keep me constant and disciplined despite all the stress and little stones that the university itself puts in the way .... In a few weeks, when I register for my second year I want to make a video telling my experience in a little more detail, but in the meantime, in this post I want to tell you about a sharing that we made between practically all my Section, to celebrate in a way that we finished our first year of university.

Antes que todo quiero mencionar que nunca antes había vivido en este contexto lo que es verdaderamente el Compañerismo, recuerdo que una de las razones por la que decidí comenzar la Universidad fue para relacionarme con otras personas, y quiero decir que me siento afortunada y muy agradecida porque la Vida me premió con personas increíbles para transitar este camino retador que decidí emprender. Desde las primeras semanas, veía en mis compañeros una buena energía, y a medida que nos íbamos conociendo y compartiendo más, literalmente nos convertimos en una Familia. Toda la sección siempre fue muy unida, aunque por supuesto siempre existieron los grupitos, pero aún así siempre estuvimos para apoyarnos todos, y el ambiente, hablando por mi, nunca llegó a ser pesado. Más bien, fuimos la Sección favorita de varios de nuestros profesores por esa misma razón, la unión y forma de ser de todos.
El proceso fue más llevadero y divertido gracias a cada uno de mis compañeros, podíamos tener días y semanas cargadas de mucho estrés y presión por evaluaciones, sintiendo frustración, cansancio o cualquier emoción de baja vibración, pero siempre entre todos mitigabamos esas sensaciones estando reunidos durante el desayuno, el almuerzo o simplemente mientras ésperabamos a que iniciara alguna clase en los pasillos de la universidad; riéndonos, jugando o ayudándonos a estudiar para alguna prueba. Siempre fue y será una de mis cosas favoritas y que más agradezco de esta vida universitaria.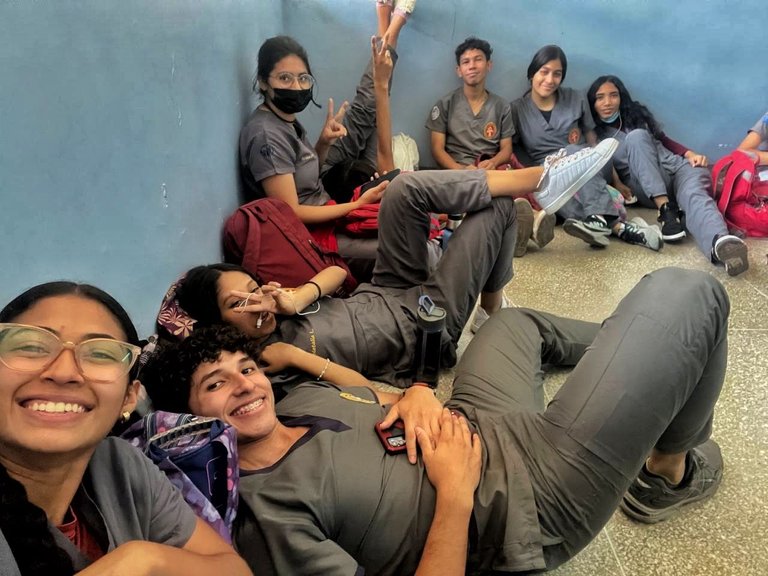 Pero el viernes como tal no fue una celebración para muchos, porque lastimosamente todos (a excepción de mi), se van a segundo año repitiendo uno o dos módulos del primer año, lo cual retrasa el proceso y hace sentir frustración y desanimo totalmente válido en mis compañeros, motivado no solo por no esforzarse un poquito más, sino también por cosas injustas de parte de la universidad, como el hecho de que aunque te haya quedado solo una materia de un módulo (por lo general un módulo tiene entre 4 y 5) tengas que repetirlo completo... a ese tipo de irregularidades y problemas de organización de parte de la universidad me refiero.
First of all I want to mention that I had never before experienced in this context what Companionship really is, I remember that one of the reasons why I decided to start the University was to relate with other people, and I want to say that I feel fortunate and very grateful because Life rewarded me with incredible people to walk this challenging path that I decided to undertake. From the first weeks, I saw in my colleagues a good energy, and as we got to know each other and shared more, we literally became a family. The whole section was always very united, although of course there were always cliques, but even so we were always there to support each other, and the atmosphere, speaking for myself, never became heavy. In fact, we were the favorite section of several of our teachers for that very reason, the union and the way everyone was.

The process was more bearable and fun thanks to each one of my classmates, we could have days and weeks full of stress and pressure for evaluations, feeling frustration, tiredness or any low vibration emotion, but we always mitigated those feelings by being together during breakfast, lunch or just while waiting for a class to start in the halls of the university; laughing, playing or helping each other to study for a test. It has always been and will always be one of my favorite and most appreciated things about college life.

But Friday as such was not a celebration for many, because unfortunately everyone (except for me), goes to second year repeating one or two modules of the first year, which delays the process and makes feel frustration and discouragement totally valid in my classmates, motivated not only by not making a little more effort, but also by unfair things on the part of the university, such as the fact that even if you have only one subject left of a module (usually a module has between 4 and 5) you have to repeat it completely. ... I am referring to this type of irregularities and organizational problems on the part of the university.

Cada quien tiene un ritmo de aprendizaje diferente y la responsabilidad de estudiar una carrera del área de la Salud es bastante grande, pero algo que si pude notar de mis compañeros que no decidieron abandonar la carrera a principios de año al ver tantas limitaciones (si se podría decir así) es que tenemos todos disposición de aprender y que nos gusta lo que estamos haciendo, y por esto, digo también que he conocido lo que es la Resiliencia, de parte de todos. Eso somos, personas Resilientes y Perseverantes, que a pesar de esa situación de atrasarse con las materias, e incluso algunos están considerando repetir el año entero, no nos rendimos y pues seguimos allí firme con esa meta de convertirnos en grandes Fisioterapeutas.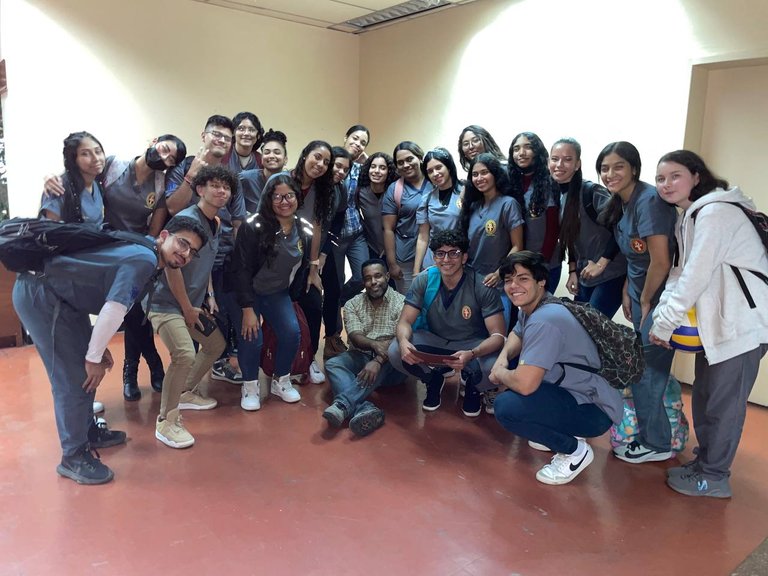 Esta semana fue bastante nostálgica, porque aún no sabemos con exactitud si continuaremos estando juntos, y si se sucede no veremos todas las materias por igual porque la mayoría tiene que repetir parte del primer año como les digo, y por ello quisimos comprar Pizzas para compartir en el almuerzo el viernes, para celebrar por lo menos ese compañerismo que nos ha caracterizado. Yo puedo sentir y abrazar el desanimo o tristeza de mis compañeros, y aunque me enorgullece y tranquiliza saber que hasta los momentos pasé lisa (para el momento en que publico este post solo me hacen falta las notas de una materia), la verdad no fue sencillo, de hecho 3 materias las pasé con la nota mínima, lo cual no me hace sentir al 100% satisfecha pero si me consuela porque de verdad fue rudo el lidiar con muchas cosas, y adaptarse a esa nueva vida. Pero bueno, gracias al cielo lo logré...
Ese comparir entre todos lo atesoro con el alma, porque desde hace mucho intentábamos tener momentos así para celebrar que terminamos materias con éxito, pero nunca lográbamos ponernos de acuerdo en su totalidad. Ese día todo fluyó sin tanta planificación y fue verdaderamente hermoso, la pasamos muy bien y comimos rico. Recordé esa frase que dice "familia que come unida, permanece unida" lo sentí tal cual al ver a casi toda mi Sección sentada en una mesa, lo cual me da la certeza de que independientemente de que estemos todos juntos o no este próximo año, el cariño y union se matendrá en el tiempo. Fue un día y un año de experiencias bonitas gracias a que muchas personas con ganas de aprender, superarse y de buena vibra coincidieron en un mismo salón de clases... la Vida sin duda coloca siempre a las personas correctas en el camino, y yo estoy sumamente agradecida y feliz por eso.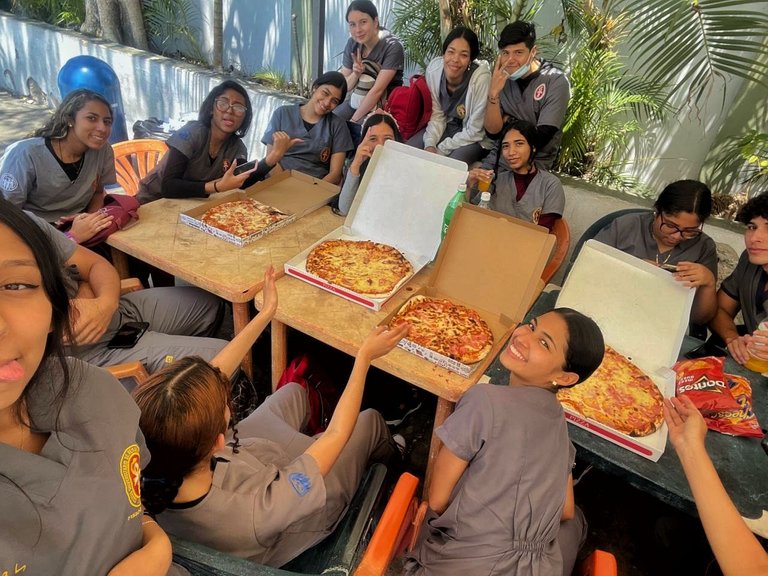 Everyone has a different learning pace and the responsibility of studying a career in the area of Health is quite large, but something that I could notice from my classmates who did not decide to leave the race at the beginning of the year to see so many limitations (if you could say so) is that we all have willingness to learn and that we like what we are doing, and for this, I also say that I have known what Resilience is, from all of us. That is what we are, Resilient and Perseverant people, that despite the situation of falling behind with the subjects, and some are even considering repeating the whole year, we do not give up and we are still there with the goal of becoming great Physiotherapists.

This week was quite nostalgic, because we still do not know exactly if we will continue to be together, and if it happens we will not see all the subjects equally because most have to repeat part of the first year as I say, and therefore we wanted to buy pizzas to share at lunch on Friday, to celebrate at least that companionship that has characterized us. I can feel and embrace the discouragement or sadness of my classmates, and although I am proud and reassured to know that so far I passed smoothly (by the time I publish this post I only need the grades of one subject), the truth is that it was not easy, in fact I passed 3 subjects with the minimum grade, which does not make me feel 100% satisfied but it consoles me because it was really hard to deal with many things, and adapt to this new life. But well, thank goodness I made it....

I treasure that sharing with everyone, because for a long time we had been trying to have moments like that to celebrate the successful completion of our studies, but we never managed to agree on everything. That day everything flowed without so much planning and it was truly beautiful, we had a great time and ate delicious food. I remembered that phrase that says "family that eats together, stays together" I felt it as I did when I saw almost all my Section sitting at the same table, which gives me the certainty that regardless of whether we are all together or not this coming year, the love and union will remain in time. It was a day and a year of beautiful experiences thanks to the fact that many people with a desire to learn, to improve themselves and with a good vibe coincided in the same classroom... Life undoubtedly always puts the right people on the right path, and I am extremely grateful and happy for that.

Espero que les haya gustado este post gente amada, cuéntenme en los comentarios si han vivido experiencias similares en la universidad, o que tal les pareció nuestro compartir para interactuar un poquito. Les mando un fuerte abrazo a todos, nos leemos pronto, byebye!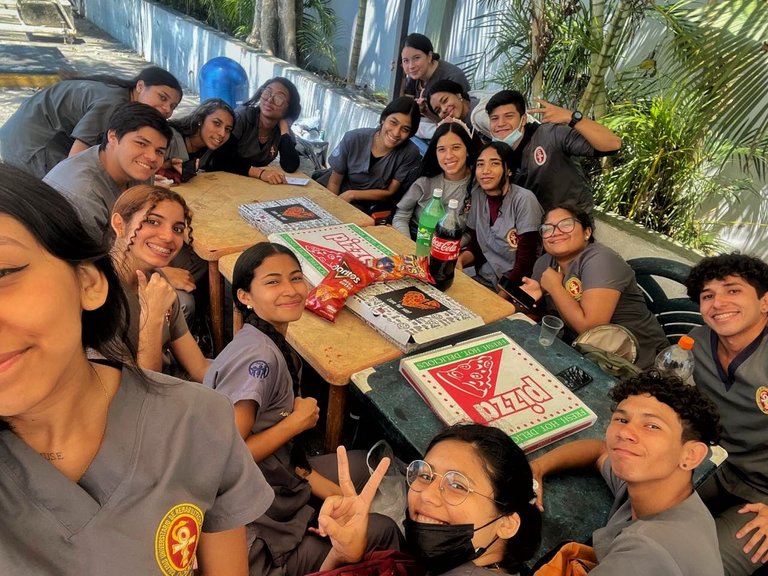 I hope you liked this post beloved people, tell me in the comments if you have lived similar experiences in college, or how did you like our sharing to interact a little bit. I send you all a big hug, see you soon, byebye!


Fotos de mi propiedad y de Natalia Linares | Photos of my property and Natalia Linares
Separadores | Separators
Traducción hecha en Deepl | Translation done in Deepl

---
---