Tortoise as a pet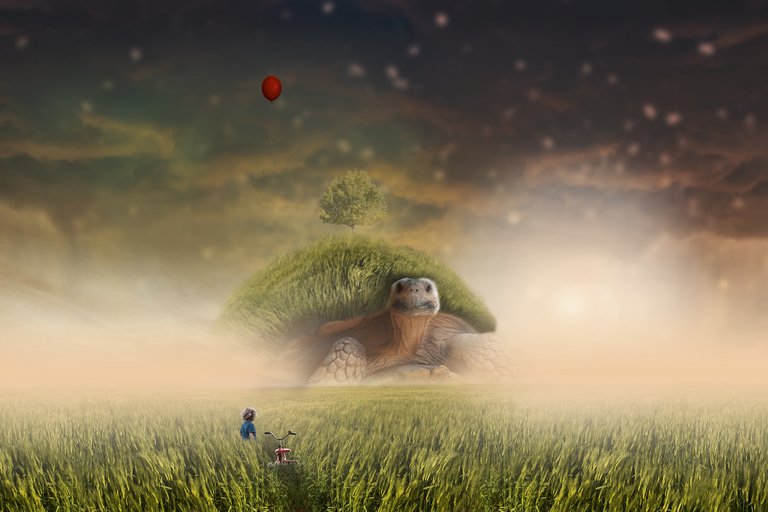 We have a new addition to our family, it a miniature tortoise. No, she is not a giant in a picture. Quite the opposite. It is too small for her age. Her needs are met and she is doing fine. I will give you a few basic information about this species for a start.
When we encountered her, the tortoise has been on her way to meet her tortoise god and was heavily starved. It took her two days to fill up on bananas and then she turned to other food.
Her shell markings show about twice as age then her size should be, which testifies to huge malnutrition. She is 5 centimeters in length only and she has 7 circles on her shell. Each circle represents a year. By now she should be around 10-12 centimeters.
The tortoise of this species lives more than 100 years and can reach sizes ( depending on nutrition) of 25 centimeters and 5.5 kilograms. This one will outlive both me and my kid, and can easily reach the age of 5 human generations.
They have been kept as pets often, as they are extremely grateful and easy to satisfy.
Food requirements are simple, as they are herbivores that occasionally can eat an insect or a worm.
Tortoises are docile, peaceful, and solitary. They couple up only during the mating and sleep over the winter period by burrowing and then hibernating for 3 months ( at least).
This species will avoid confrontation as long as it is possible, and will not bite unless given no other choice. This one seems to enjoy petting on the head and doesn't hide in the shell. This change of behavior was sudden and too soon if you ask me.
Tortoise represents wisdom, endurance, and long life.
They are also a symbol of perseverance, tranquility, and success.
I will report more about our crawling friend soon.

---
Contact info
Element ( Matrix): @aschatria:matrix.org
Session (Oxen): 05c9f58a59882e1c459ec59fc6bedf7203c448e23cecd2c7cfe25e6732fb5c5371
Discord: aschatria#1254
Twitter: https://twitter.com/ascha3a

---
---