Dorstenia Lusting and Bush Succulent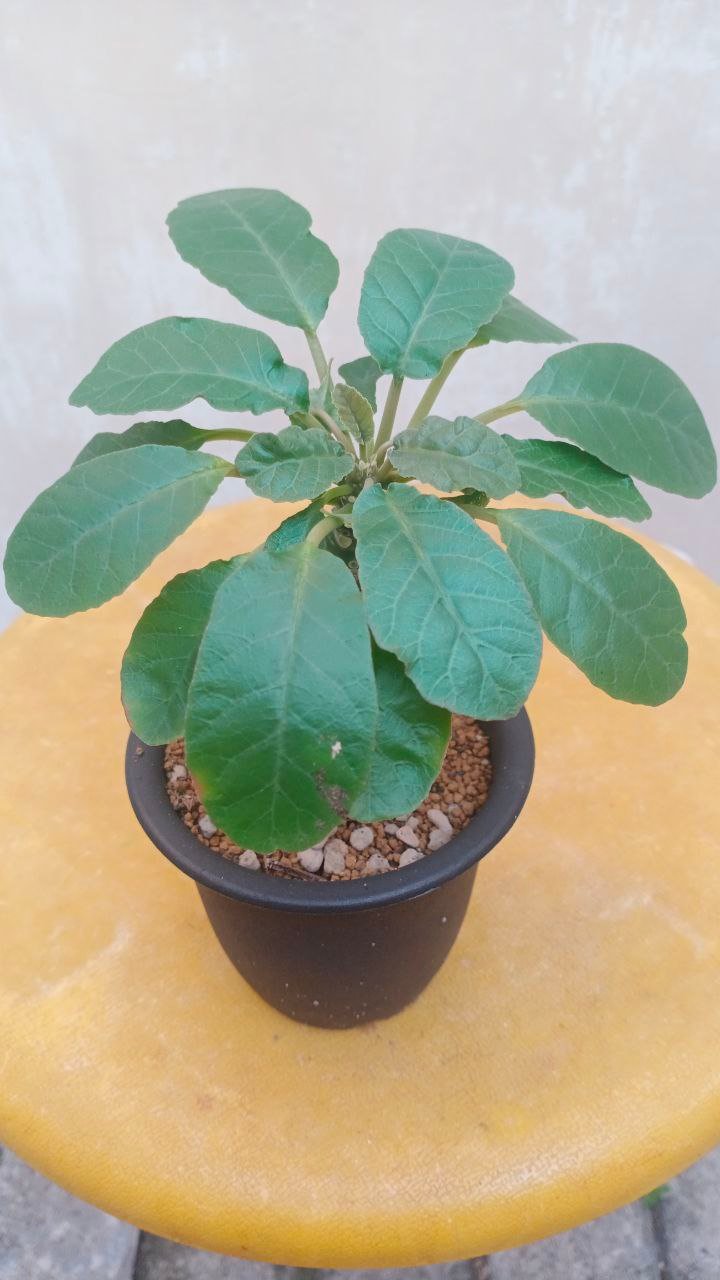 Hi succulents lover in the world, How are you doing right now?
i hope you all got blessed and still loving succulents plants. Right now in this content i want to sharing about one of my common succulent plant in my collection. It is Dorstenia, do you know about this plant??
This plant is so amazing for me because i dont know about the fact or truth but in my case this plant help my other succulent preventing from pest. I am ever experienced looking from my eyes rat after biting the body of this plant and get the sap. The rat going away and didn't like it. Fortunately the plants is okay just bunch of the branch has gotten off and got bitten. Not only from rat but somehow i am never look bee approaching this plant,neither ants too.
So, in my opinion the sap of this plant is poisonus i guess. But, what i learned from other literature that the sap of Dorstenia did not poisonus at all. Maybe the odor of the sap is very2 stink so the pest got away from this plant and its area. But yeah, thanks to that my other succulents and cactus did not appoached by rat that number 1 pest in around my home.
From the picture above i am sharing my Dorstenia Foetida that very healthy and lusting. This plant have super tolerance from heat and direct sunlight. It is like the other cactus species that this plants love in dry area with low humidity and have porous soil.But, like the other plants like porous soil did not mean this plants does not need the water.This plant still needs the water thought just give them reguler watering every 4-6 days once in highly humid area or 3-4 days once in dry area. Not too much water but not to little water just average and wetting the soil is done.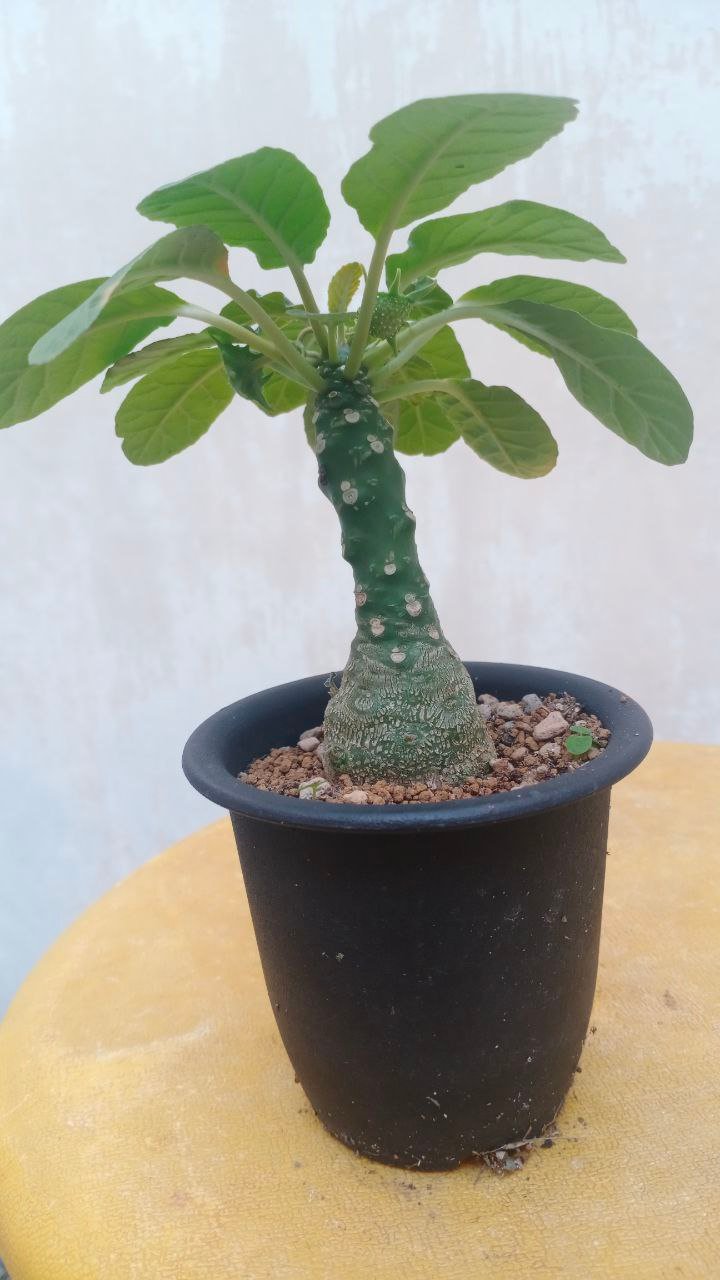 Many succulent lover know this plant and collect them because not only cheap and not too much hard to keep this plant and not toublesome just give them Sunlight, a little watering, and dont forget to love them too.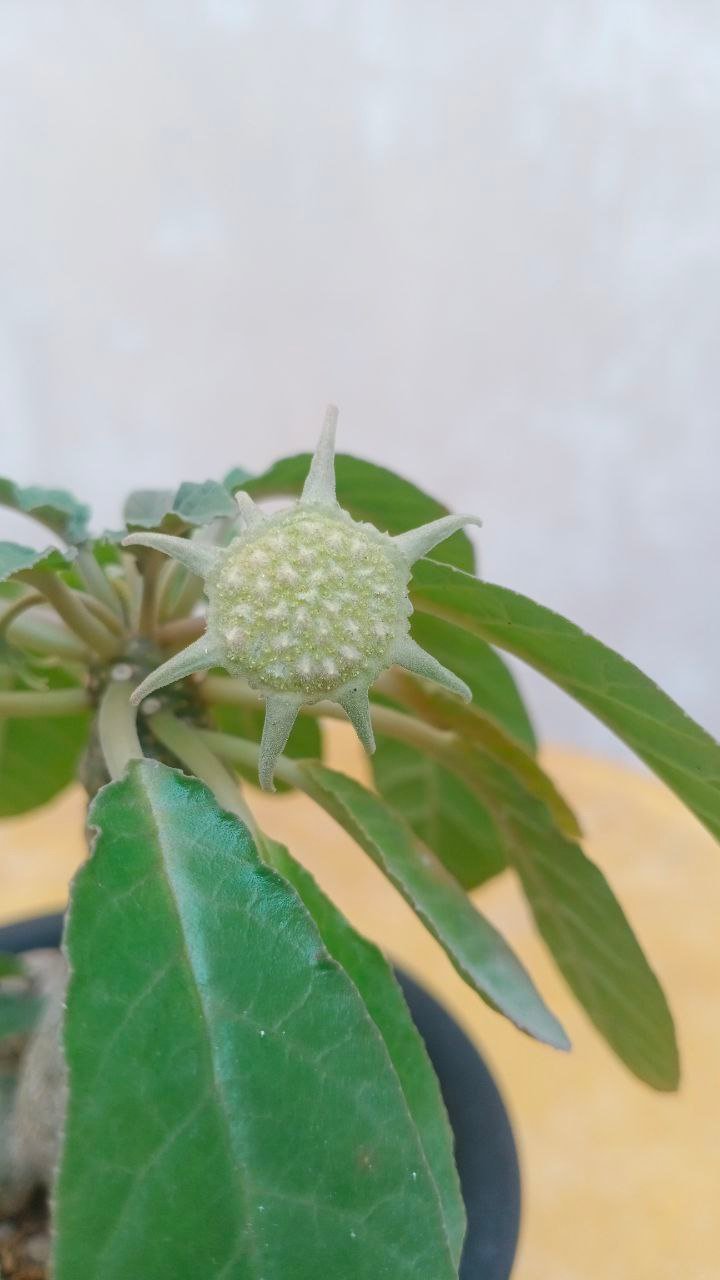 As a keeper usually we asking about how to reproduce this plant right?
in this picture above you can see it that plant have flower and can generate seeds but in the picture above is not fully blossoms yet. When blossoms it will going to more red coloured and you can see the seeds about to popping. The fun facts about this plant the seeds that mature and ripe it will pooping and snapped around anywhere. So, If you dont wrap the flowers in plastic clip, it will going to be nowhere and can grow anywhere in the area of this plant.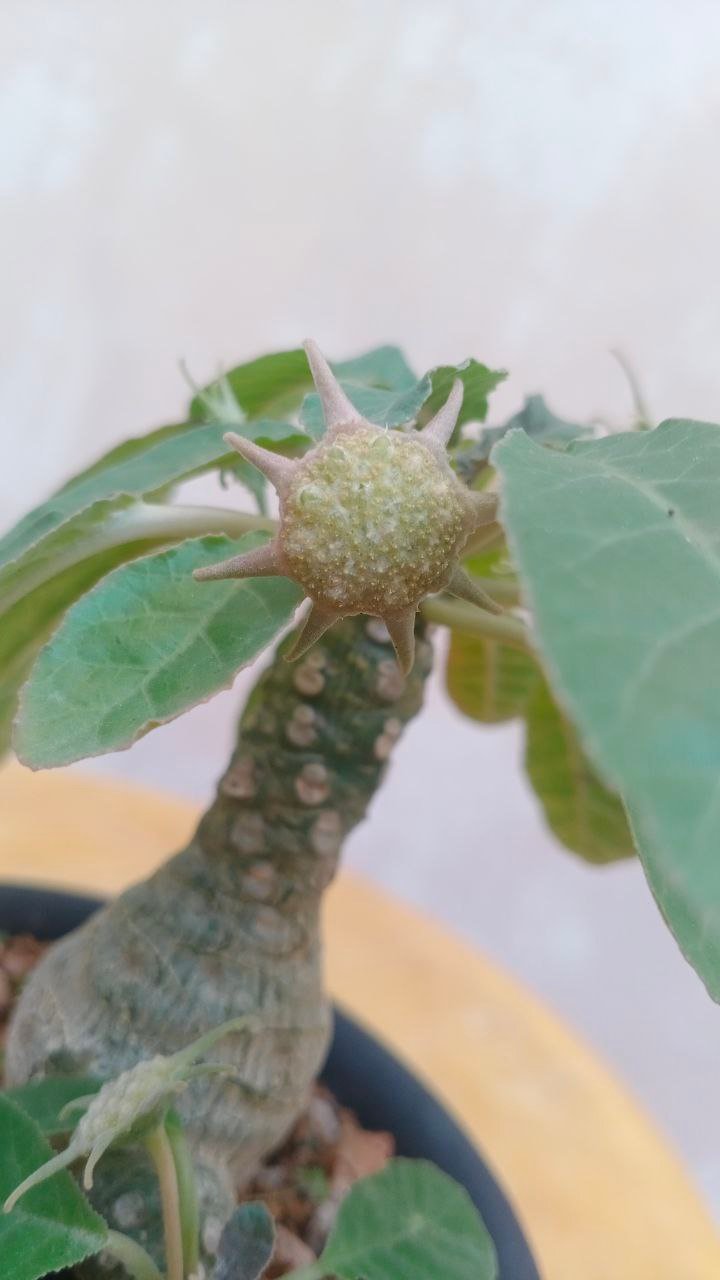 Besides seeds, Dorstenia can be propagated by cutting but in my country that are super rare the succulent lover or the keeper cut this plant and make it 2 plants. because if we cut the succulent plant that can make the forms not natural and be cripple all the lifetime of this plant.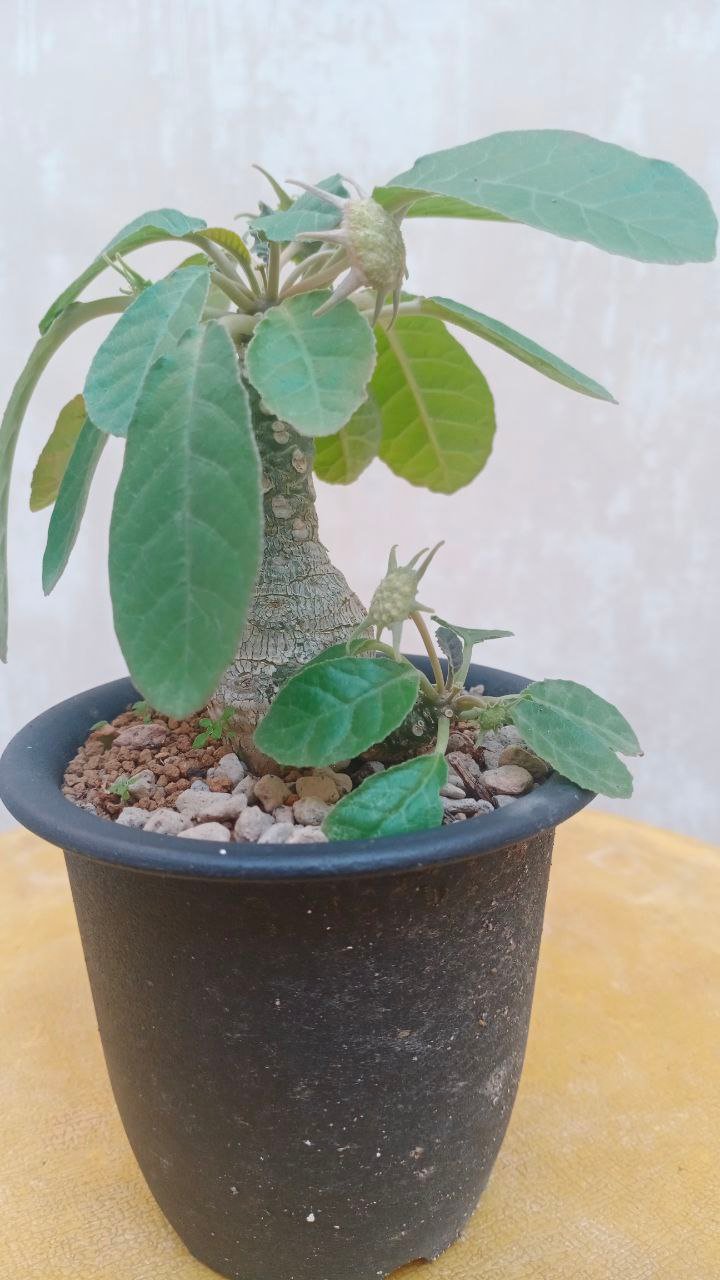 One of the specials thing about Dorstenia is caudex form of this plant. After few months or few years this plant can make caudex and growing little caudex besides the mother plants. That makes the plant lusting and bushing at the same time. if the caudex can make big cluster it will make very beautifull and can registered in the succulents competition. I dont know in your city they have competition in succulent or plant community or not but in Indonesia i think once in a year they gathering and make competition. Dorstenia include in that cluster caudex category. So the succulents lover still loving the plants and keep growing and growing until the cluster got big.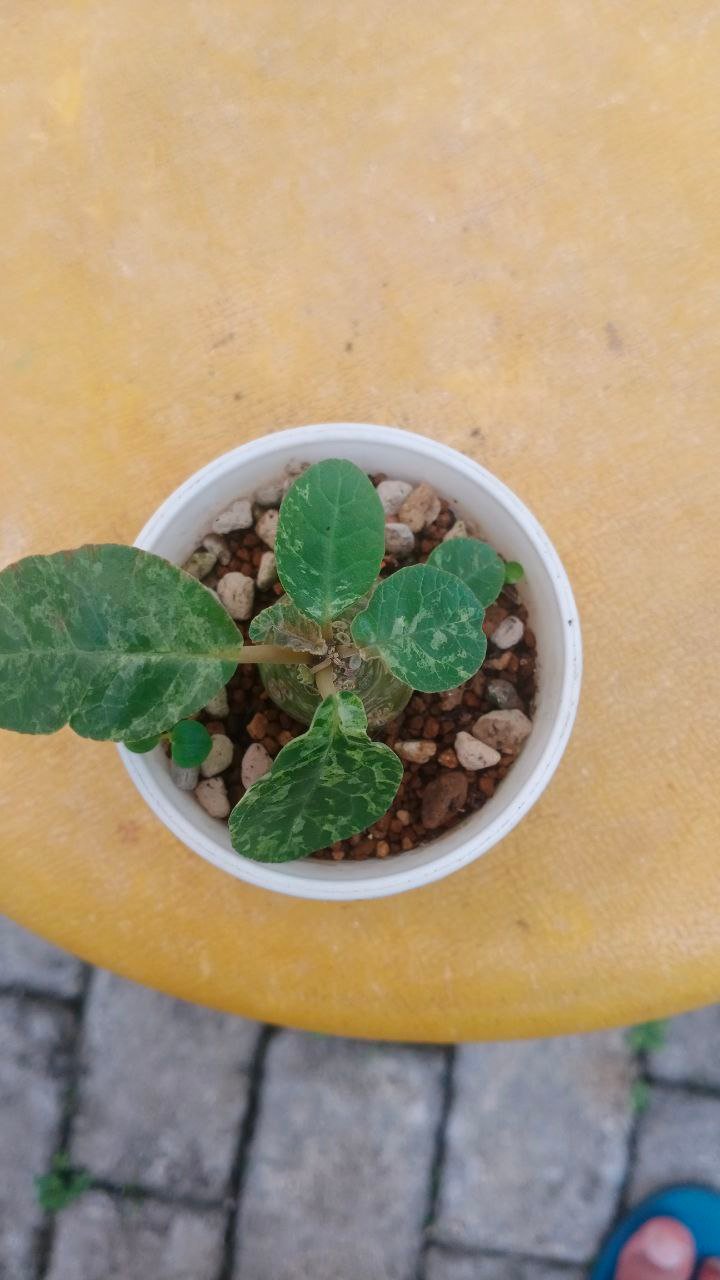 Not only caudex form that make this plant special but the variegata of this plant can be added value for this plant. It is different from Cactus that the variegata in their body but in Dorstenia the colour change in their leaves so if the plants is stressed out or not get the proper environment it will drop the leaves and cannot be seen the variegata. So we need make good environment and not make this plants stressed out by give the enough sunlight and water. Still, this plant need some time to stable and can growing back the leaves maybe around 1-4 months
If you are loving to arrange mini succulents terrarium you can added Dorstenia to be your favourite plants but just buy them if the caudex is unique or still small plant because it can be like coconut tree in the succulent terrarium and this plants can be super photogenic like this picture below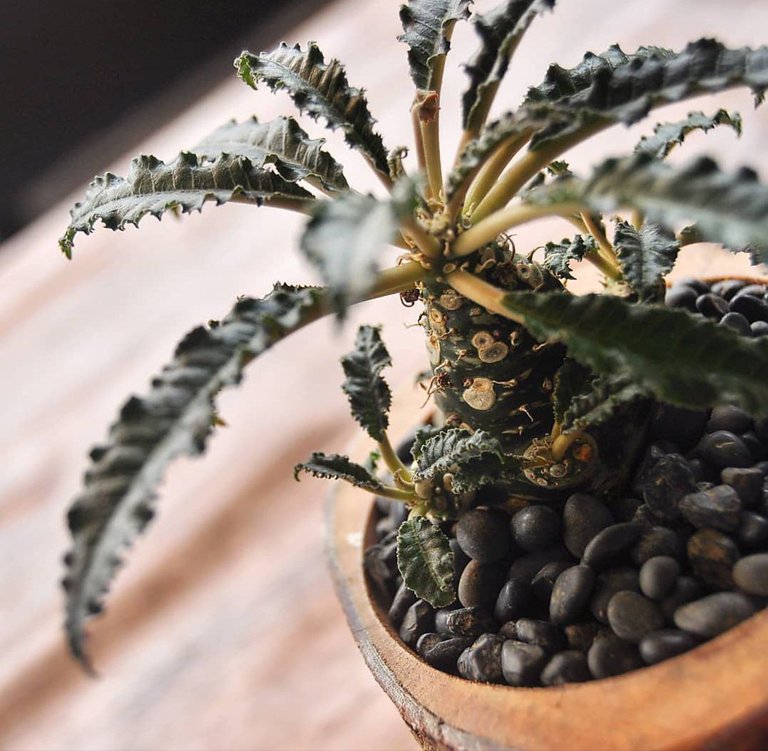 So, what do you think about this plants guys?
Interesting to have one?
i suggesting to new succulent lover and plant lover this plant need to be your watchlist because as i said it above this plants not troublesome to be keeped.
For me this plants still awesome and maybe i want adding some of dorstenia in my mini garden.
What do you suggest for to be discussed for the next content?
i want to buy Echeveria Raindrops what do you think guys?
we need to discussed about echeveria raindrops?
---
---