Liverpool , England. Birthplace of the Beatles and Culture Capital of the UK.

If there was one place in the UK I never thought I'd enjoy visiting, it's Liverpool. I'll be honest, the Liverpudlian accent makes me want to glue the side of my head to a church bell and have someone jack-hammer the other side. I've nothing against Liverpudlians, in fact, my aunt is a full-blown "Scoucer" and she's a laugh-a-minute.
(A "Scoucer" is another name for someone from Liverpool - pronounced "Scow-ser").
Let me put it this way. Listening to someone speak in a Liverpudlian accent is much like listening to techno music. It's great when you're in a party mood but when you just want to relax it's the last thing you need to hear.
So, the thought of visiting somewhere I would be unable to escape this tenaciously chirpy lingo has always overridden my desire to go check out what's now known as "The culture capital of the UK".
As fate would have it, me and the Mrs went on a cruise holiday around the UK and one of the stop-off points was in Liverpool. This gave me the chance to finally overcome my angst and see for myself what a surprisingly wonderful place Liverpool actually is.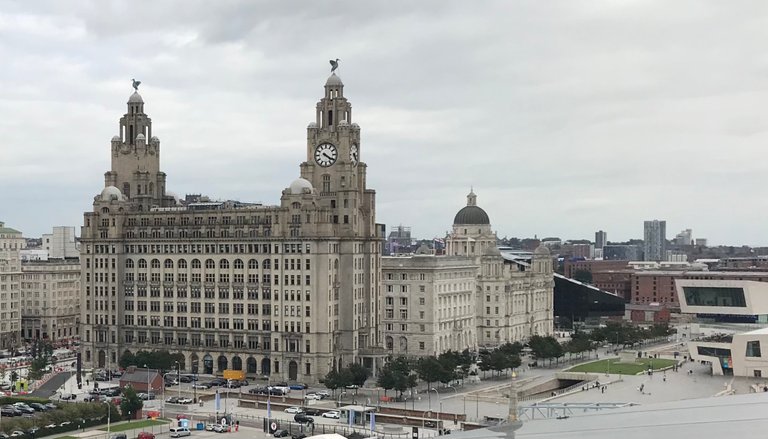 Entering Liverpool via the port is probably the most fitting way to welcome yourself to the city. Liverpool's history is moored to its seafaring ancestors and familiarizing yourself with this side of the city's past really allows a fondness to grow.
The original dock which stood many years ago has since been filled in and pedestrianized, however, the majority of what you see is just as it was hundreds of years ago.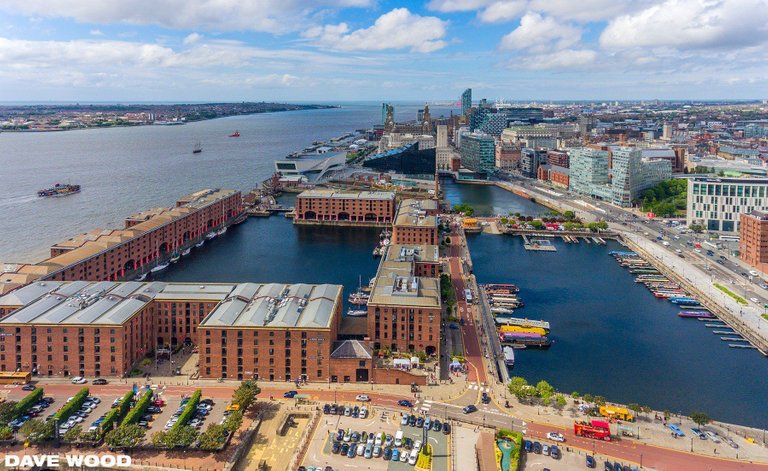 pic source
The square dock surrounded by orange buildings on the left-hand side of the photo above is the iconic Royal Albert Dock. During its hay day, Albert dock's unique design blew its competitors out of the water. The first dock in the world to be constructed without the use of wood meant it was non-combustible, which was a big deal for those who wanted to store their valuable cargo. Another advantage Albert dock had over any other was that ships could be loaded and unloaded directly to and from the warehouses.
Due to its inability to accommodate larger, more modern ships, Albert Dock soon became just a storage depot and faded out of significance. It was only during the 2nd world war that Albert Dock found itself busy once more as it was utilised as a base for royal navy vessels. Sadly for Albert Dock, this was to be its final mission as a working dock and after the war ended this once iconic dock was left to ruin. It was only thanks to some opportunistic investors, who saw the hidden potential of Albert Dock, that this once pioneering maritime development was allowed to reinvent itself and regain its significance within the city of Liverpool.
Reopening in 1984, Albert Docks saw its warehouses transformed from storage facilities into bars, restaurants, and even the Liverpool branch of the famous Tate art gallery. It also seems quite appropriate that Liverpool's Maritime Museum decided to relocate to the grade 1 listed building attached to the docks.
Besides being one of the most visited tourist attractions in Liverpool, Albert Dock became "Royal" Albert Dock after being granted a royal charter in 2018.
On the surface, a day out at the docks doesn't seem all too appealing to me but this just goes to show that maybe I shouldn't be so hasty in my judgments. I found this place really fascinating and given more time I would love to have spent the entire afternoon here.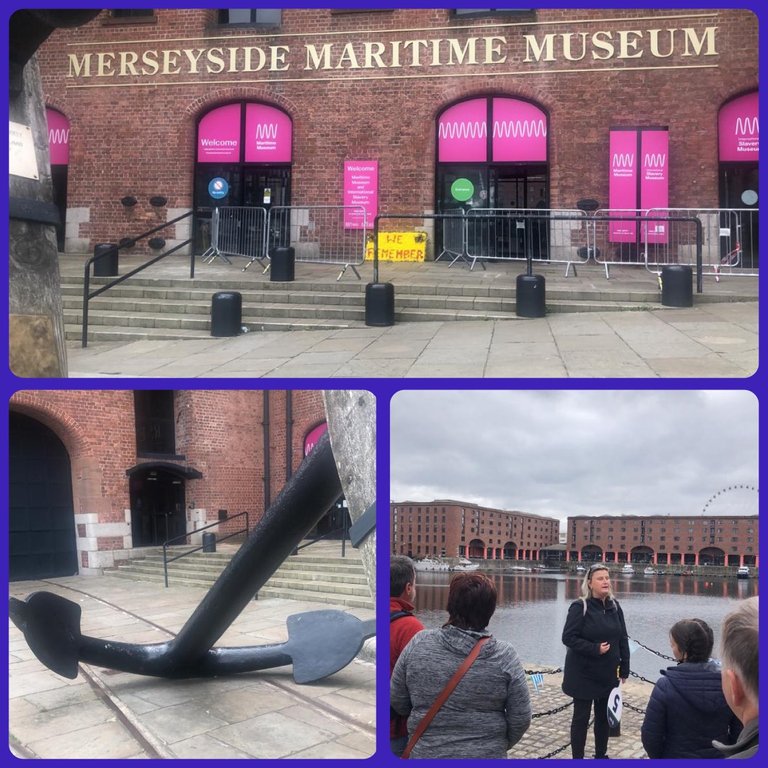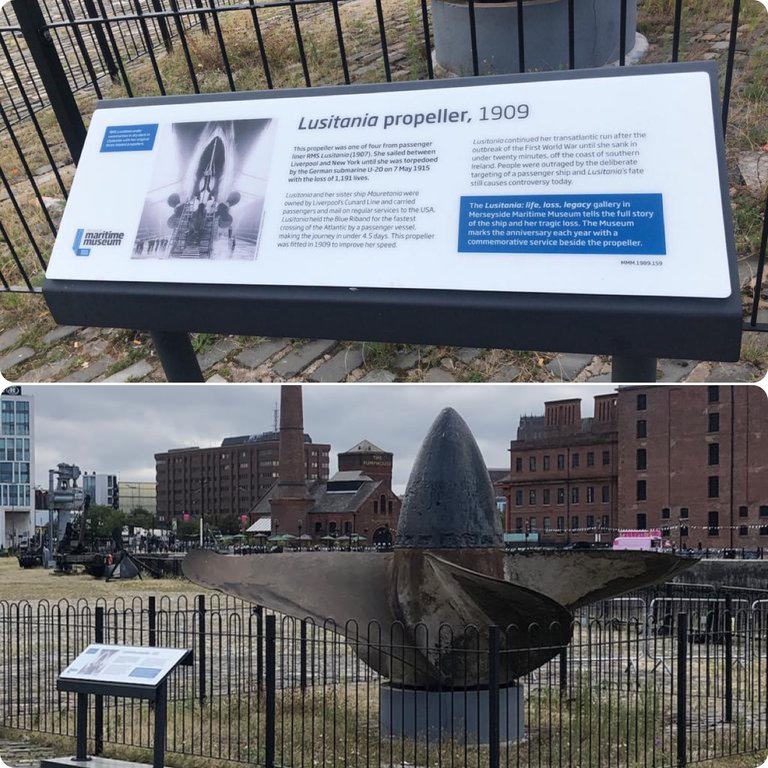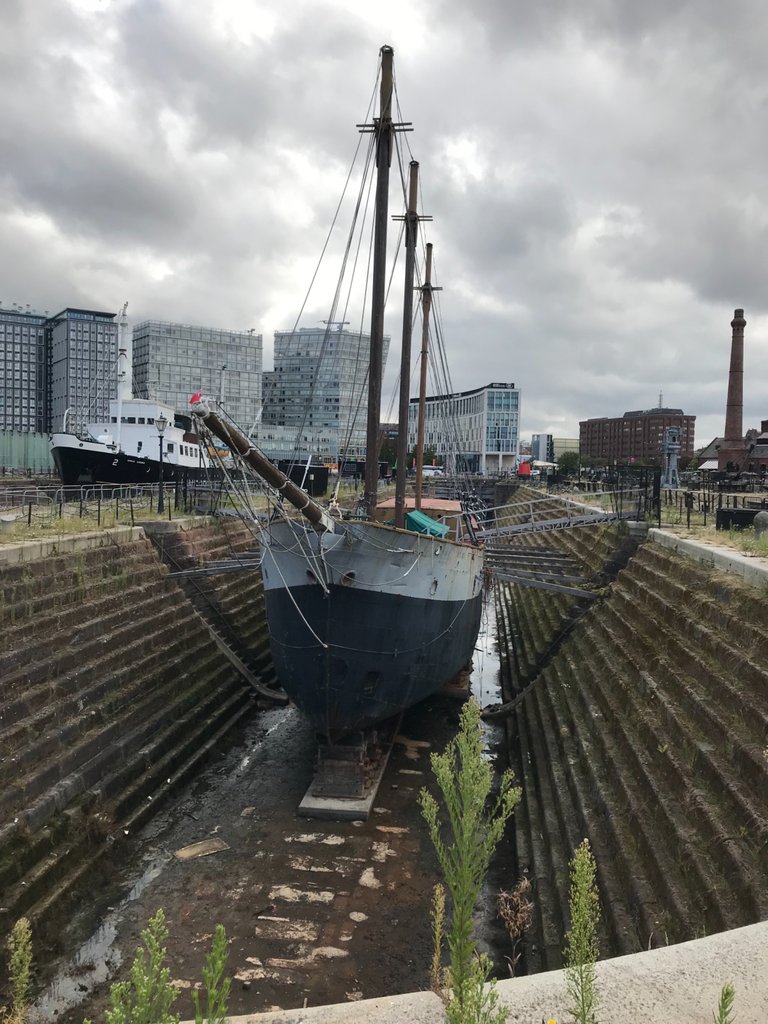 So many tales to tell
One thing I enjoyed the most about our short tour around Liverpool was the stories told by our tour guide. Around every corner, there seemed to be a statue or a sculpture with a tale to tell. Take the "Superlambananas" for instance.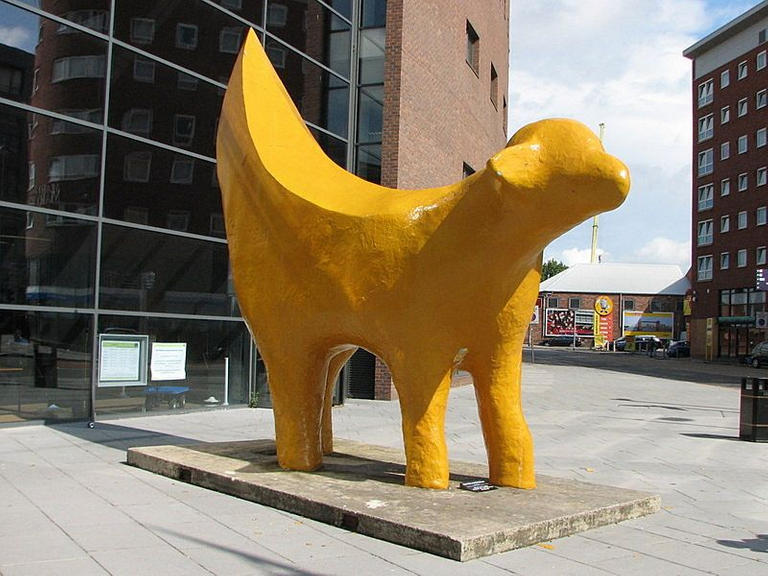 pic source
Four 4-inch versions of these charming sculptures were originally created to highlight Liverpool's history of trading Sheep and bananas while also bringing attention to the dangers of genetic engineering (strange combination, right?). Not long after some local artists decided to make a giant version of the Superlambanana and the city of Liverpool eventually fell in love with this bizarre character.
In true Liverpudlian style, the people of Liverpool woke one day to find 125 Superlambananas spotted all around the city. These smaller models came in various different sizes and various designs and were created to celebrate the city's status as "Capital of Culture".

pic source
Another great story is that of the Liver Birds which sit proudly on top of Liverpool's Liver building.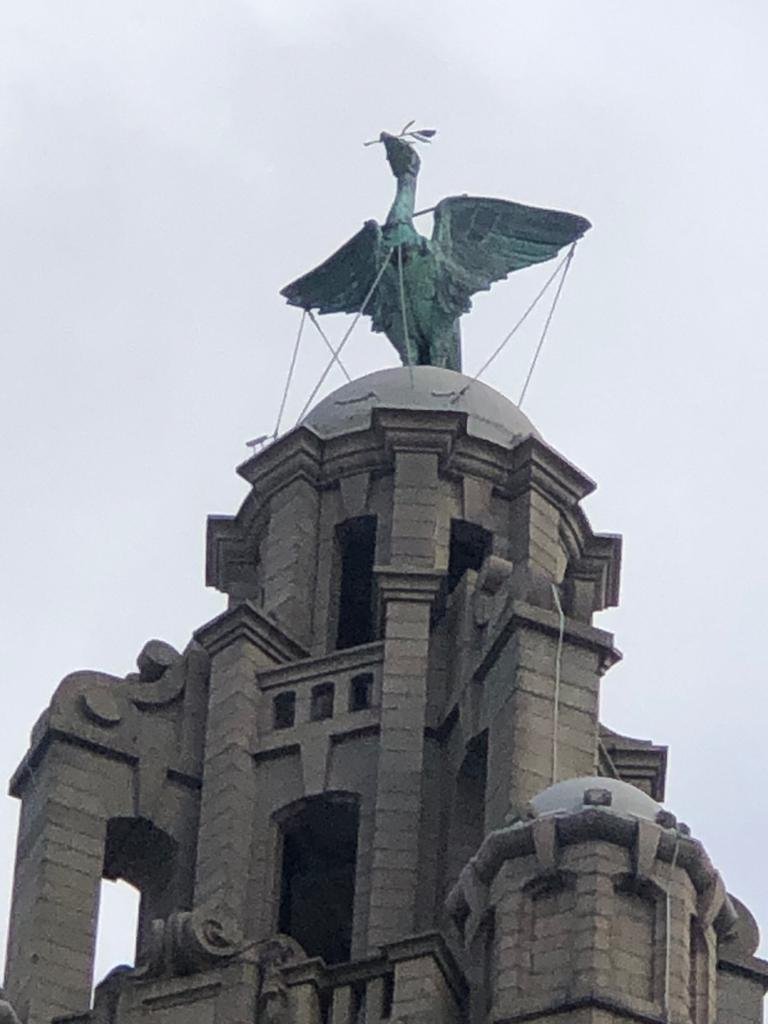 You can find these iconic birds all over the city, on plaques, flags, doorways, football shirts, and even tattooed onto the arms of many locals, these birds are that well thought of. However, it's the giants sitting upon the Royal Liver building looking out over the city who have a funny tale to tell.
Bella and Bertie, as they're known to the people of Liverpool, stand facing away from one another. One is said to look over the sailors who are out to sea while the other looks over those at home. Our tour guide offered her own version that the bird looking to land was actually there to make sure the pubs stayed open for the sailors coming home. I like that version. She also added that if the birds ever flew away then the people of Liverpool would lose their famous sense of humour, which is also a better version than the one more commonly told.

As I've said, there are statues, sculptures, and monuments all over the city of Liverpool, too many to mention in fact. Nonetheless, I'd like to give a quick mention to two other stand-out pieces of art.
Billy Fury was a singer that modeled himself on Elvis and might have become as famous if it had not been for his tragic end in a plane crash. So popular was our Billy that even to this day his fans leave flowers at his statue.
Another intriguing sculpture we saw that day had something to do with a band named the Beatles, whoever they are? There's no deep or hidden meaning to this sculpture other than one man's tribute to a band he obviously loved. Nonetheless, I found this a thought-provoking work of art and therefore well worth a mention.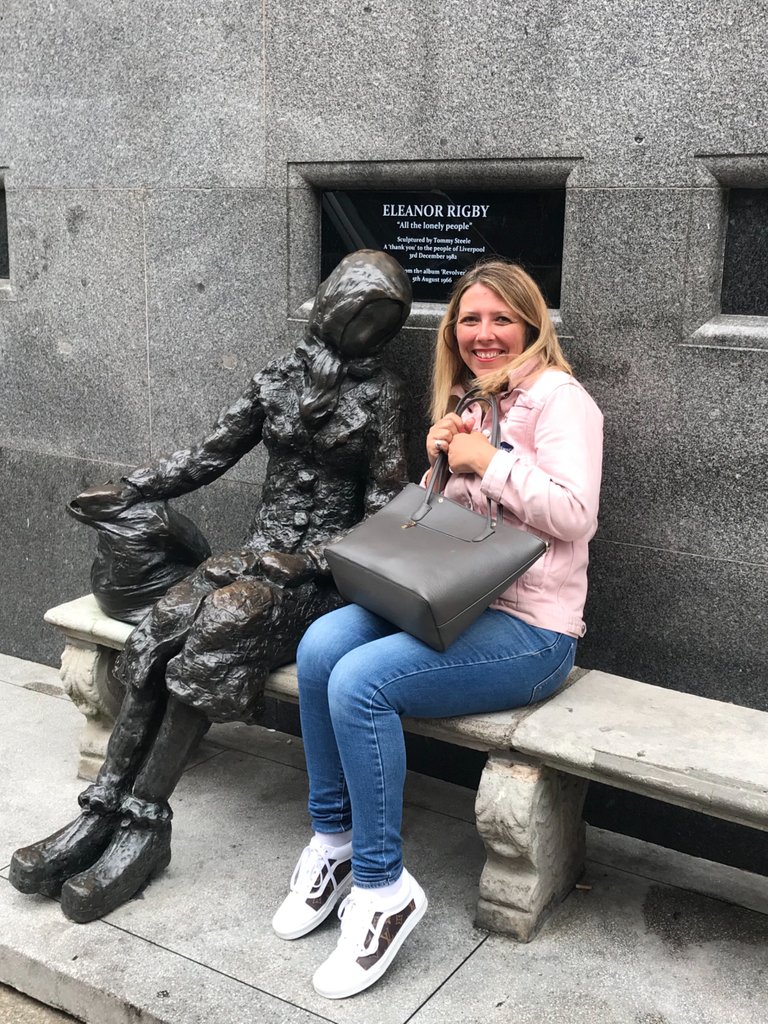 And this brings me nicely to what is undeniably the main attraction of Liverpool (no, I'm not talking about Anfield Football ground).
"She loves you, yeah, yeah, yeah!"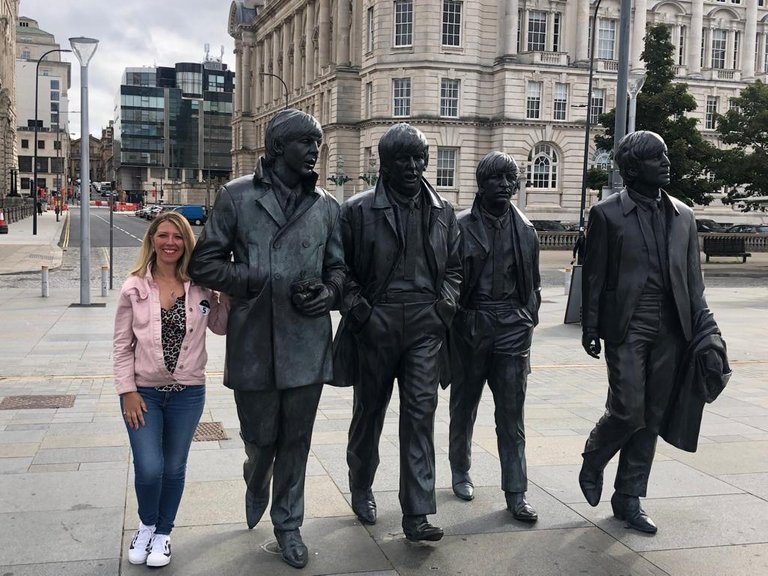 10 points to anyone who you guessed correctly.
Of course, I was referring to Liverpool's very own Beatles.
Again, I have to admit to not being the biggest Beatles fan, but that doesn't mean I don't appreciate the impact they had and what they mean to the people of Liverpool. In fact, it's only when you travel to Liverpool that you see exactly how much this city adores their famous 4.
The Beatles are everywhere, whether it be in statue form, memorabilia, graffiti, museums, bars and shops that are named after them or one of their songs. Liverpool simply refuses to allow this band to slip into the past and be forgotten. Best of all though, they do it with sincerity and that makes even someone like me want to be part of it all.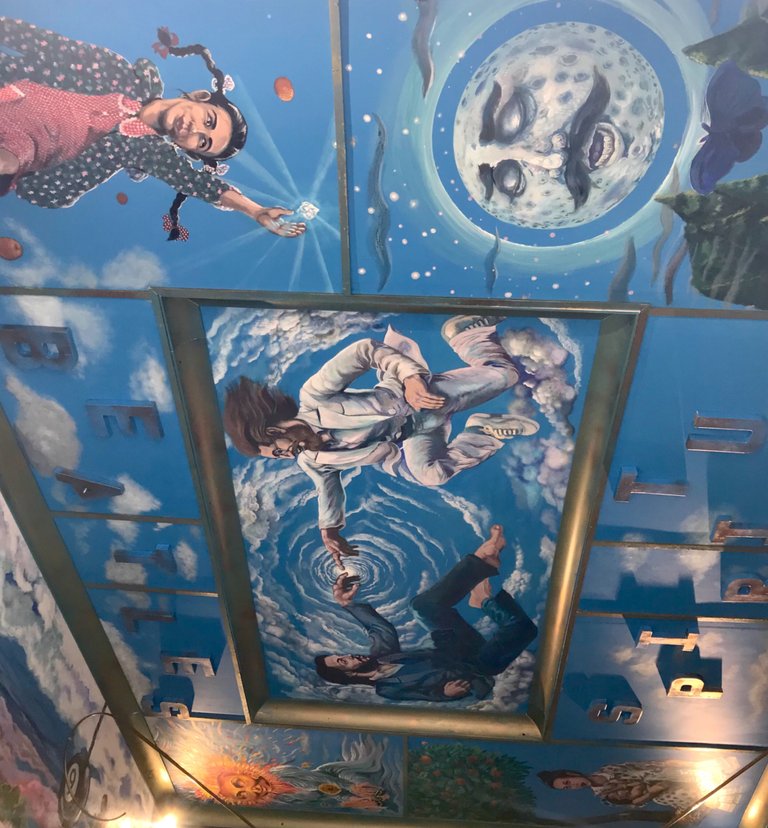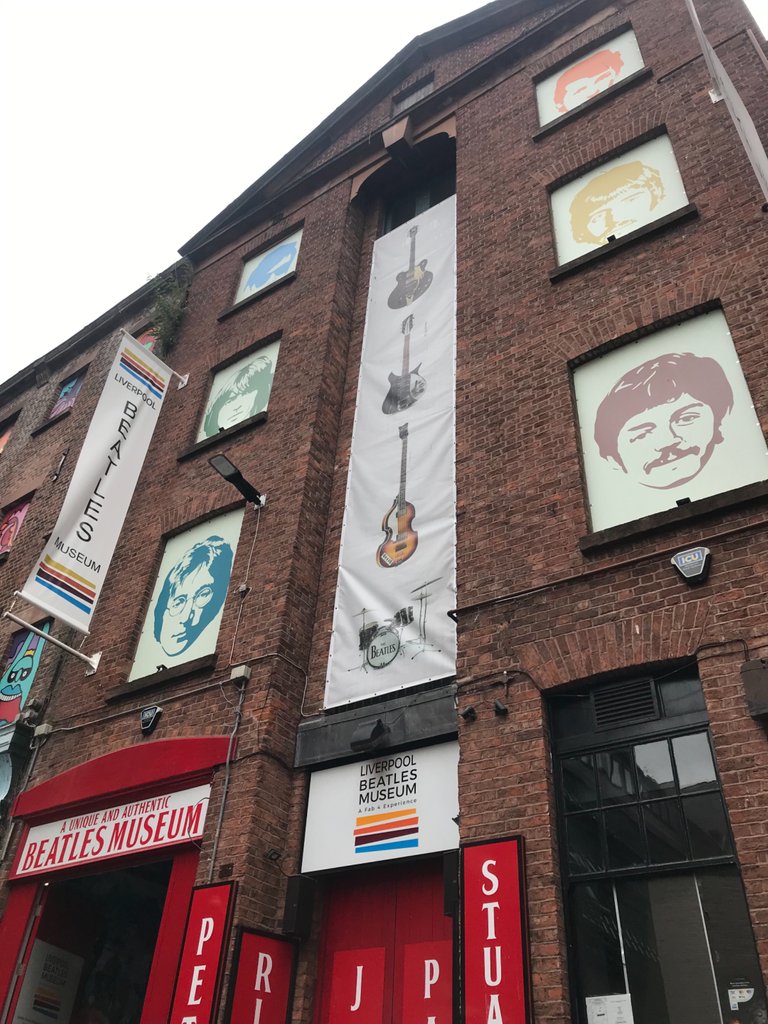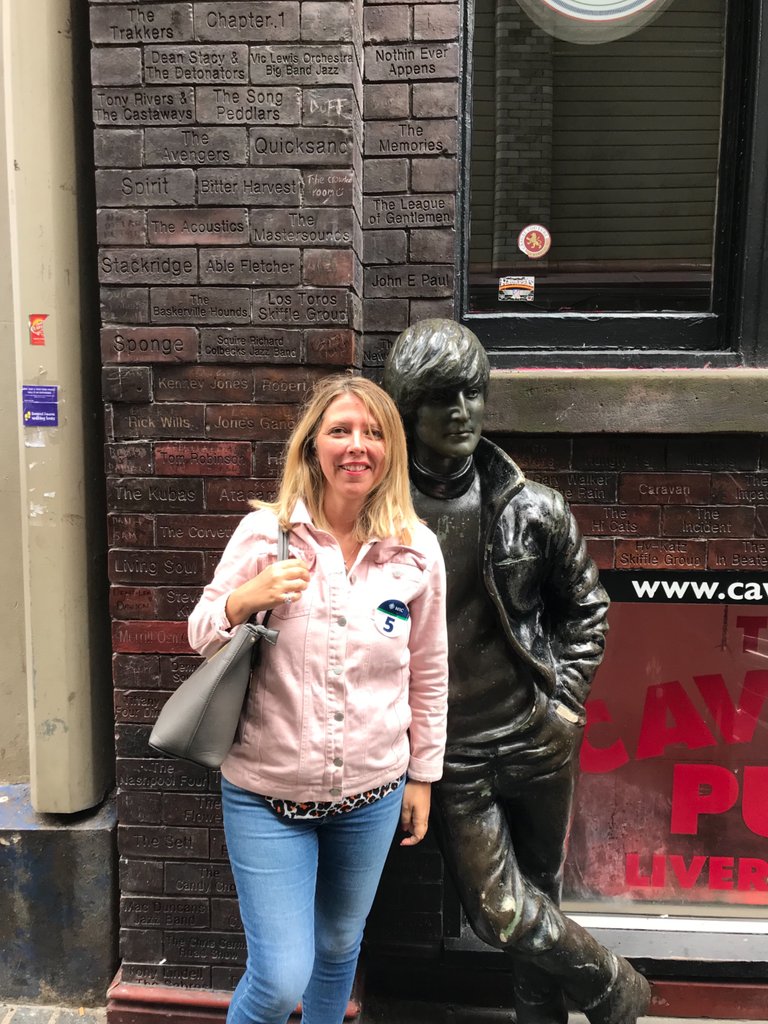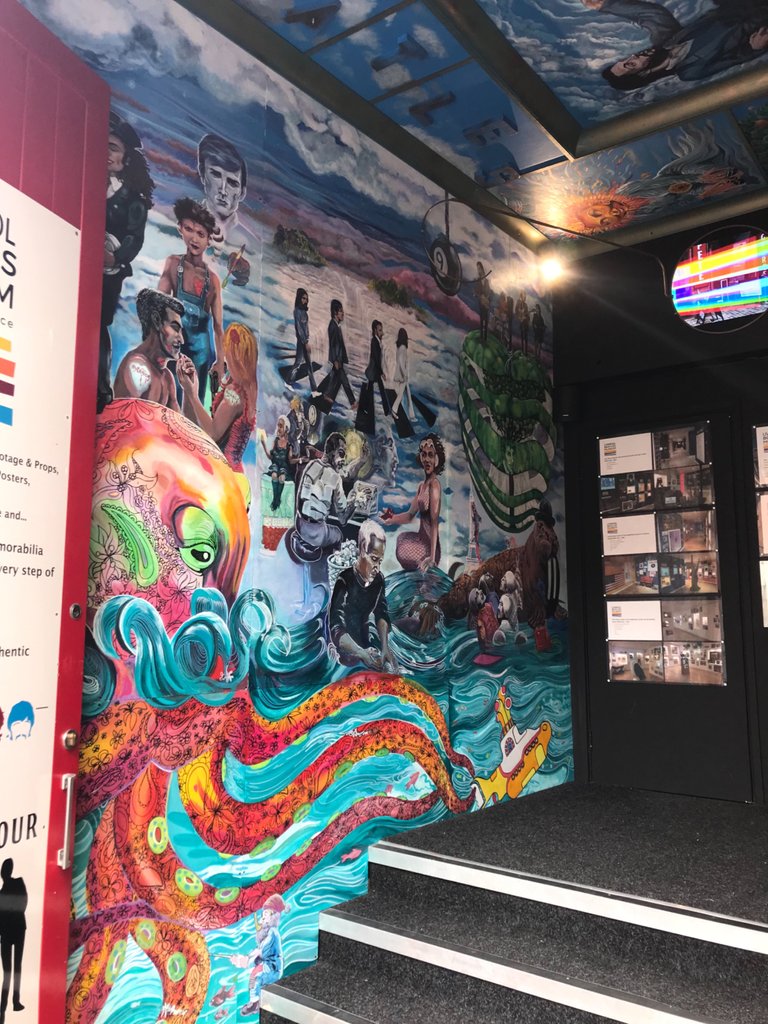 The Cavern Club
The Cavern Club is to Beatles fans, what Bethlehem is to Christians. It is the birthplace of their messiah(s). For those who don't already know about The Cavern Club, this is the place where the Beatles began to take over the world. As we were informed by our guide, people were literally queuing round the block to see these cheeky Scoucers perform (And this was way before they became superstars). Their interaction with the crowds inside the Cavern Club is legendary and it's what set them apart from all the rest.
To give you an understanding of how much the Beatles and the Cavern Club mean to this city, let me relay an interesting story to you about the Cavern Club...
Long after the Beatles had found fame, the once renowned Cavern Club closed its doors, seemingly forever, after being forced to sell the premises to British Rail. Soon after the sale went through this unique underground live music venue was completely bulldozed to make way for a new rail line, which bizarrely was never actually built. It wasn't until decades later that investors decided to dig up the remains of the cellar and reconstruct the Cavern Club to as near a replica as possible.
According to Wikipedia,
15,000 bricks from the Cavern site were used on the authentic reconstruction of the Cavern Club within the redevelopment. The Cavern Club now sits at a 90-degree angle to the original and covers 70% of the original Cavern footprint, the stage is not far from the original location, and the 'Live Lounge' is an exact replica of the original, using as many of the old bricks as possible.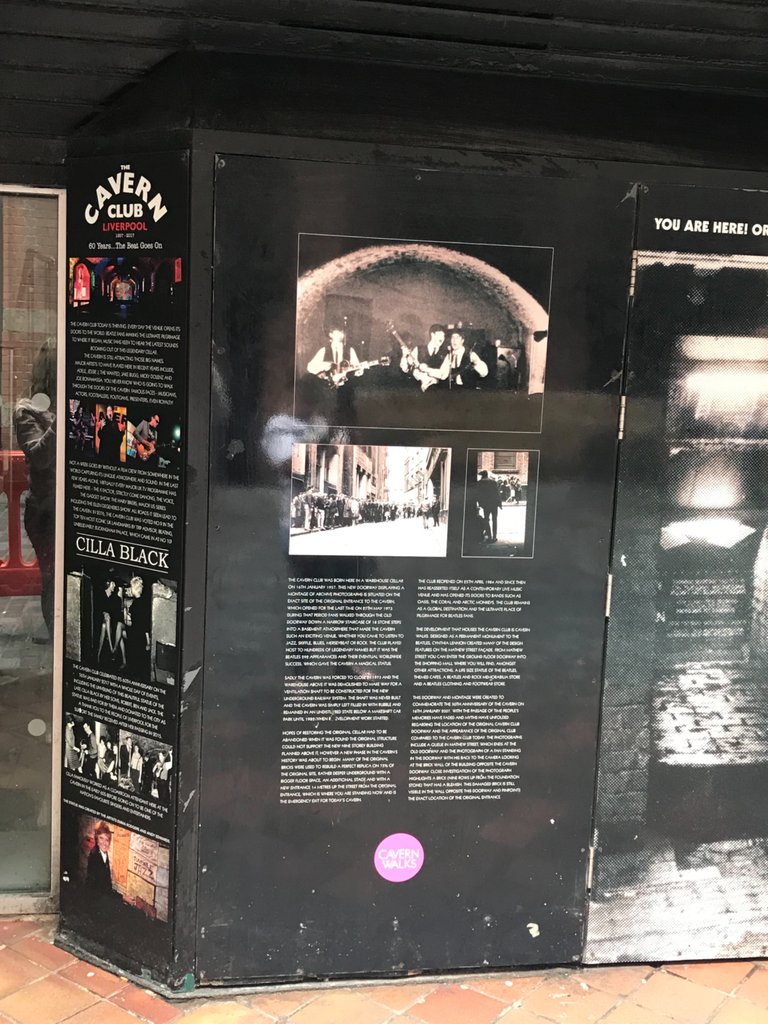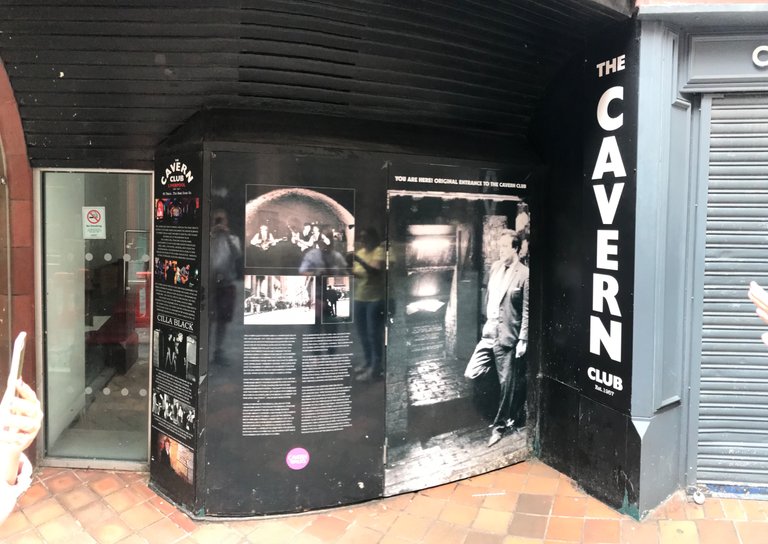 Hearing a Liverpudlian speak about the Cavern Club's relationship with the Beatles and the effect it had on the city sends a tingle up your spine and you just can't help feel slightly envious of those who were lucky enough to be there at the time. Bands like this don't come along very often, maybe one in every generation if we're lucky. So, after learning a little more about the band and visiting this part of Liverpool I can totally understand why they treasure them so much.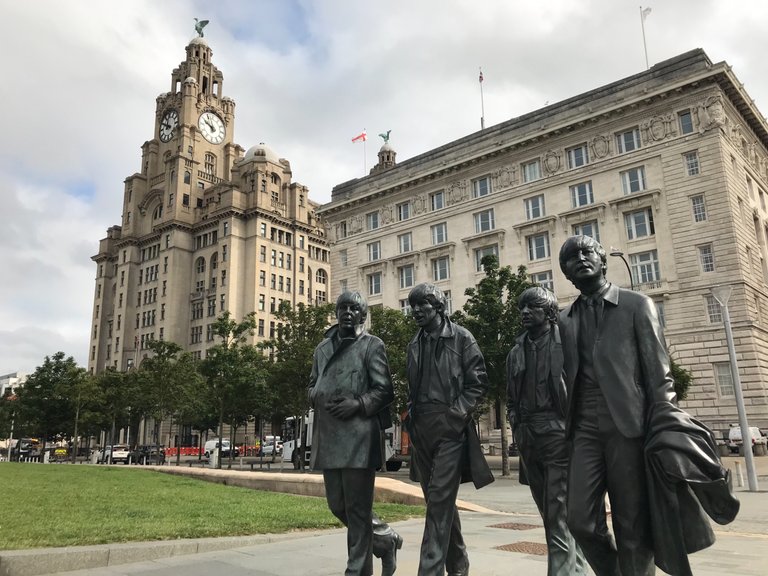 But not only are the people of Liverpool fanatical about this particular band but also about live music in general.
Mathew Street

Walking down Mathew Street is an experience in itself. Bar after bar advertised some form of live entertainment and each one venue looked as enticing as the last. Unfortunately, our tour was during the day but even then you sensed the place was waiting to explode with energy. All the bars are geared up and ready to go, like drag racers waiting for the lights to turn green. The bars all jostle to be the next Cavern Club and boast about the bands that have entertained those lucky enough to be there on the night.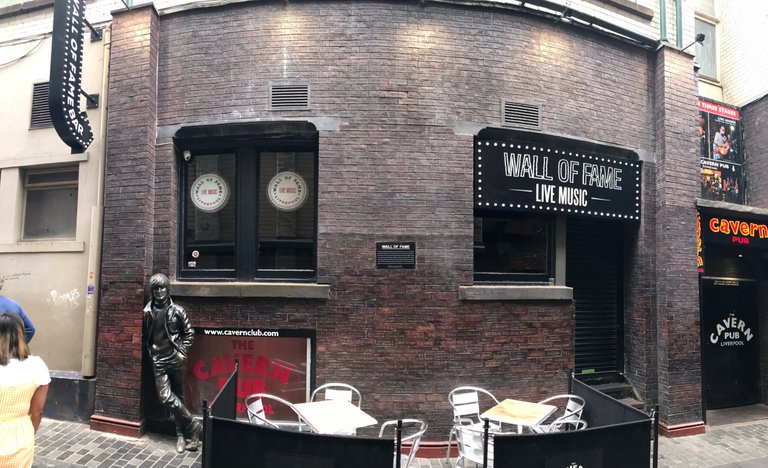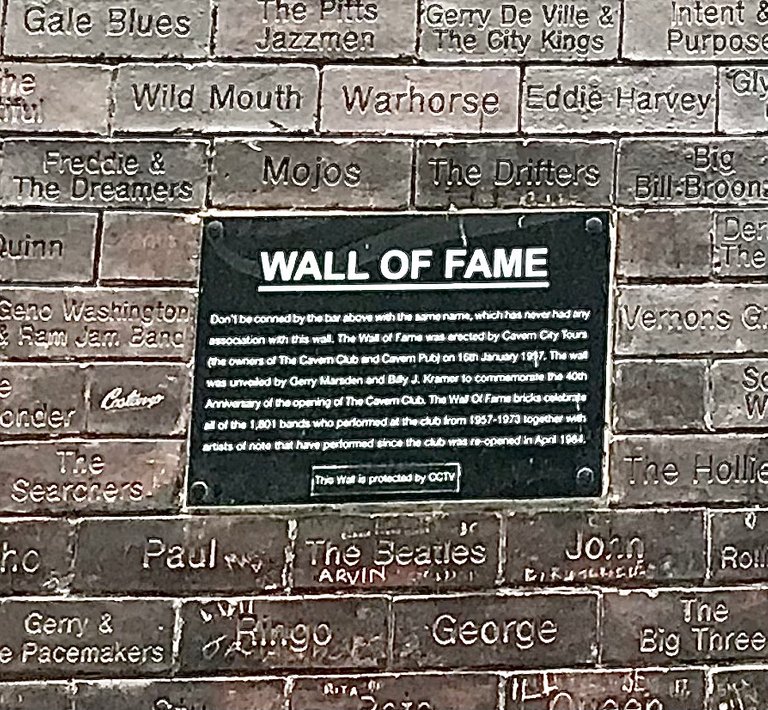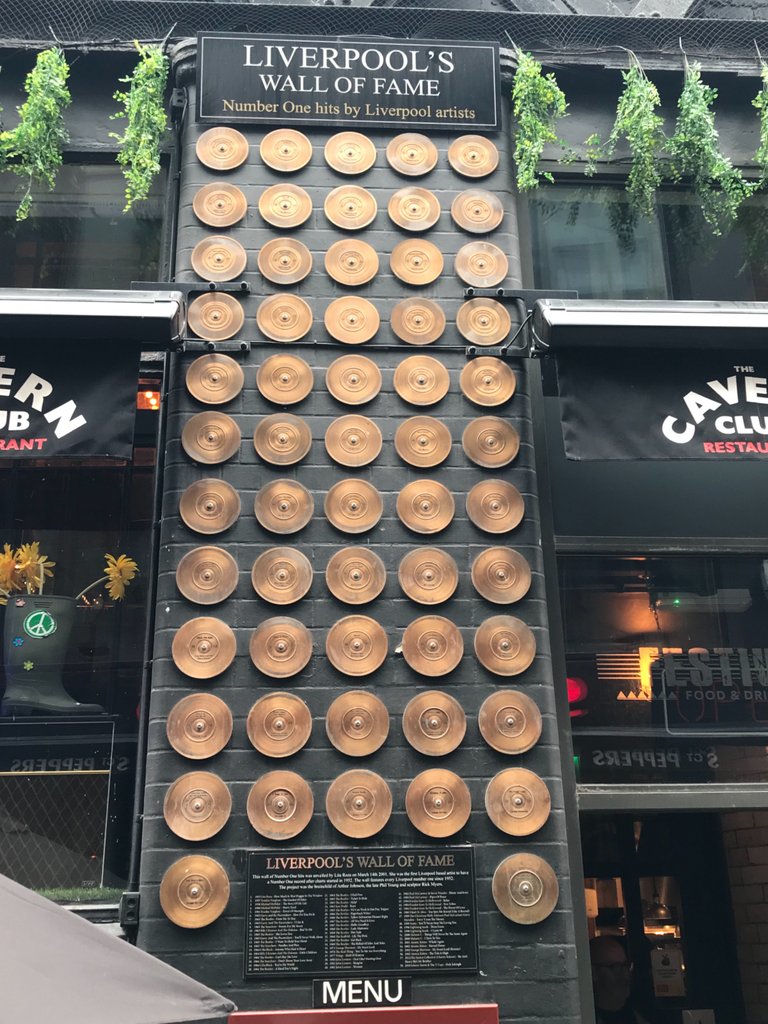 Never have I been to a place so rooted to live music that it actually seems to be an intrinsic part of the city. And although I have been told before of how Liverpool's nightlife is "special" and "unique", it is only now that I realise what they meant.
I said at the beginning of this post that visiting Liverpool wasn't something I was too enthusiastic about, but after listening to these stories I'm now itching to make my musical pilgrimage to Mathew Street and experience this amazing nightlife for myself.

Well folks, that's all from me. Thanks to all those who took the time to read this post and for all those who support my work on Hive.
As always, you can find more of my travel blogs here and you'll also find other great travel bloggers on https://www.pinmapple.com/ or @haveyoubeenhere.


pic source
All picture featured in this post that are not given a source are my own.
Untill next time...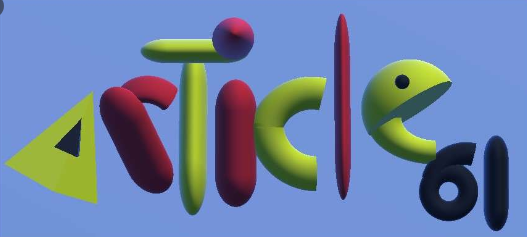 ---
---