Adventure all the way in Newquay!

Standing on the cliffs that overlooked the beach, we gazed in awe at a deep blue sea as it became shallow on its approach to the beach and transformed in colour to a beautiful, shimmering turquoise. Ending its journey, the waves lapped upon the most golden of sands, the likes of which you'd expect to find on a Caribbean island. Large white Yachts lazily rocked from side to side in the harbour with not a care in the world while weathered fishing vessels weaved around them like servants at an exclusive restaurant. Away from the boats, surfers lined up to catch the next big wave and with every successful effort becoming younger and younger.
As I stood there admiring the wonderful view before my eyes, I thought to myself, "Surely this can't be England?"…
…but it most certainly is
As you may have noticed by my emotive introduction, Newquay is a place I adore and by the time you've finished reading this post I hope you'll understand why.
Newquay is one of the most popular holiday destinations in the UK and attracts around 2.2 million visitors per year. Located in the southwest corner of England on the Atlantic coastline, Newquay is one part of the ceremonial county of Cornwall.
A laid-back surfers paradise would be the easiest way to describe Newquay, but by doing so I believe you would be selling this wonderful town short. Although Newquay is best known for its surfing and, yes, it hosts the prestigious Boardmaster festival every year, Newquay is also a place where you find great local food, endless hours of live music, art of all kinds, and, most important of all, adventure. I've visited Newquay as a partying 18-year old and I've twice visited Newquay as a slightly more mature parent. On every occasion, I've had the greatest of times creating memories that will last forever.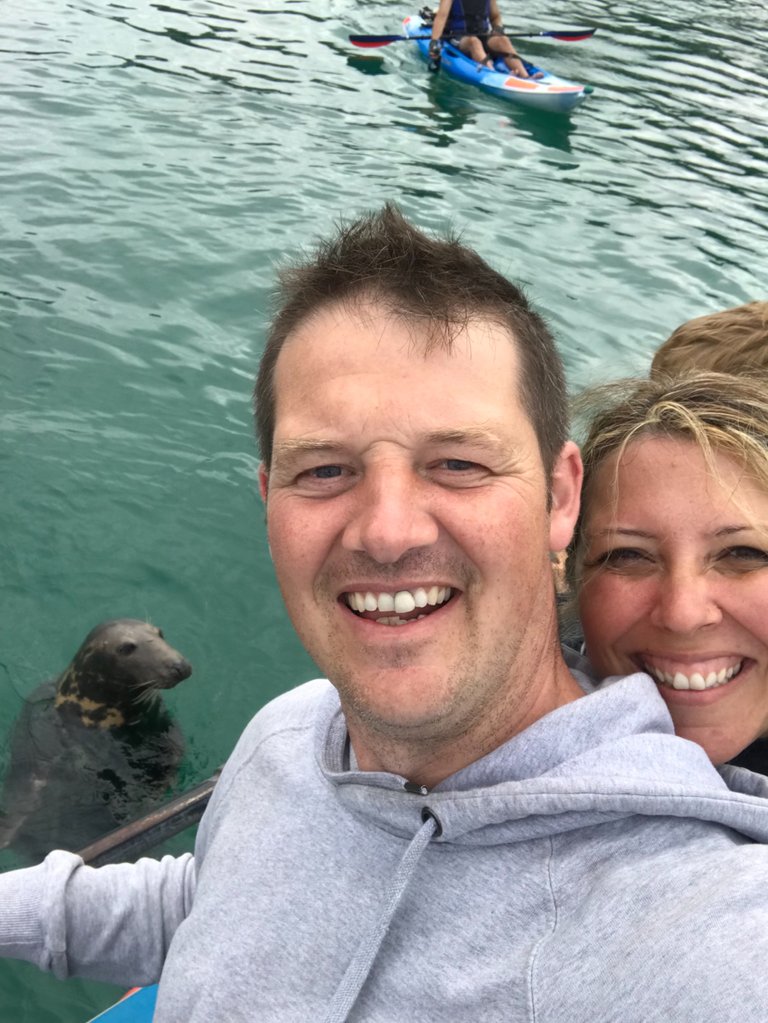 The picture above was taken while my girlfriend, her son, and myself went on a mackerel fishing trip. On the way out of the harbour we spotted this beautiful seal swimming around the boats, but no sooner did it appear, it then disappeared and I thought I'd missed my chance to capture a video. Little did I know that on our return from fishing, we would be chaperoned into the harbour by the very same seal!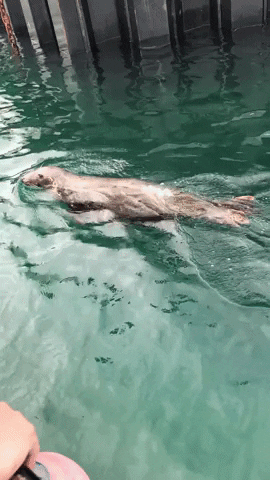 A great way to be welcomed back on land, right? Obviously, this cheeky chappie was hoping for a free dinner but for a couple of reasons that wasn't going to happen…First of all, we'd only caught one fish each and intended to take them home to eat. Secondly, the Skipper informed us that the "do-gooders" had complained about seals being fed this way as it discouraged them from hunting. Whether that's true or not I honestly have no idea, however, either way, it means this seals efforts were not going to be rewarded (no matter how much I wanted to).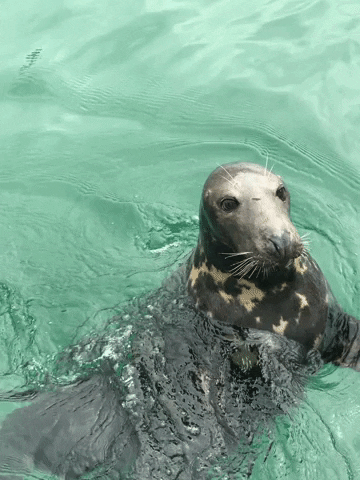 Nonetheless, the fishing trip itself was a lot of fun and besides the lack of fish and inevitable sea-sickness, we all really enjoyed the experience.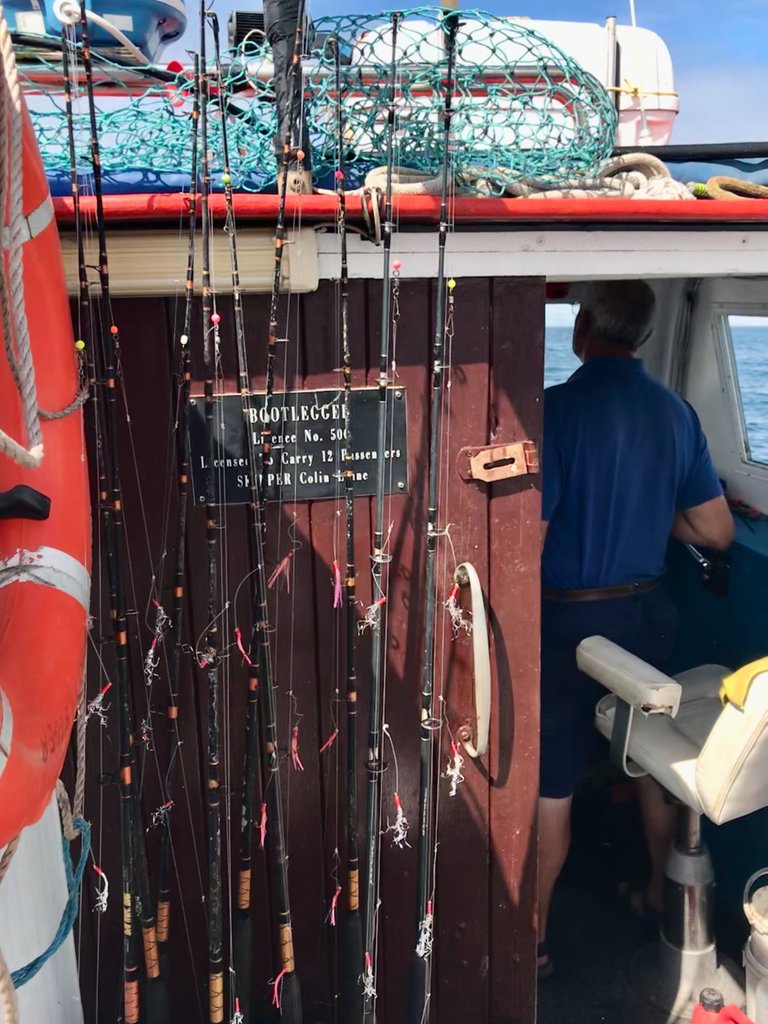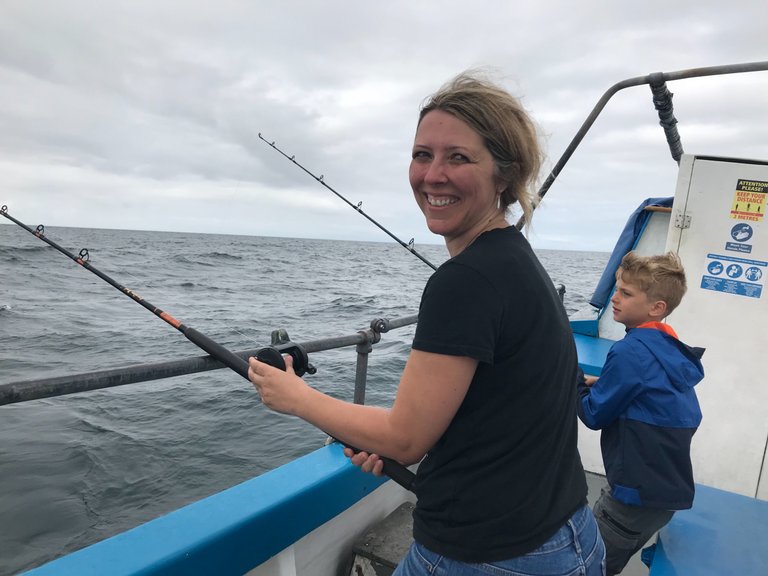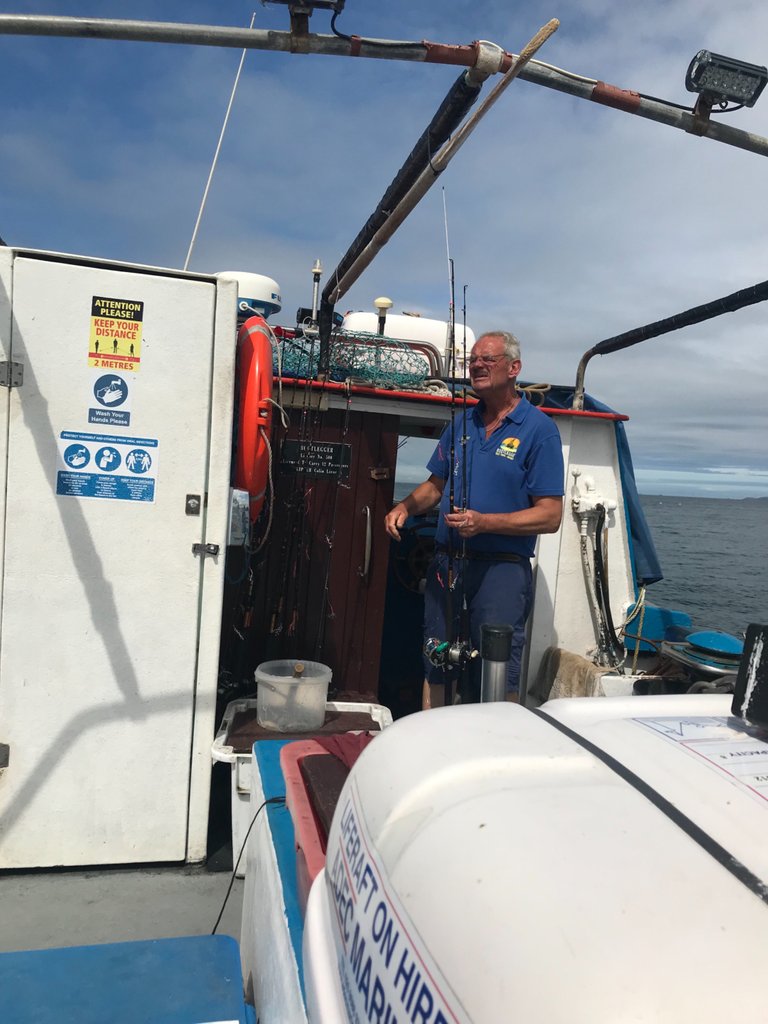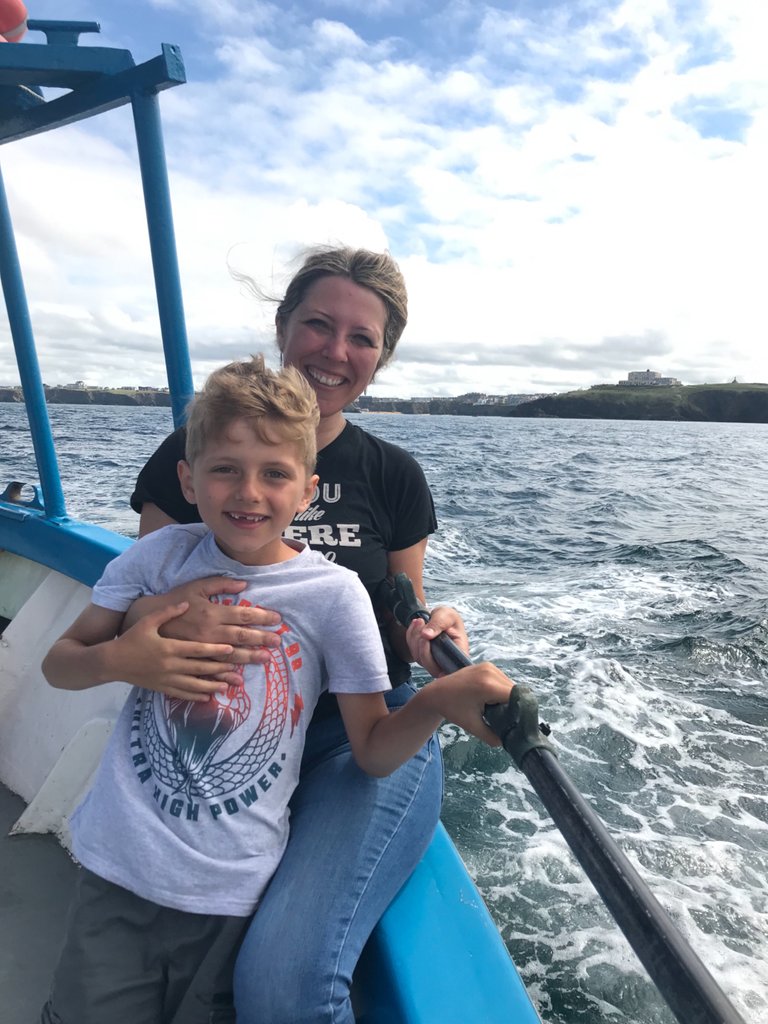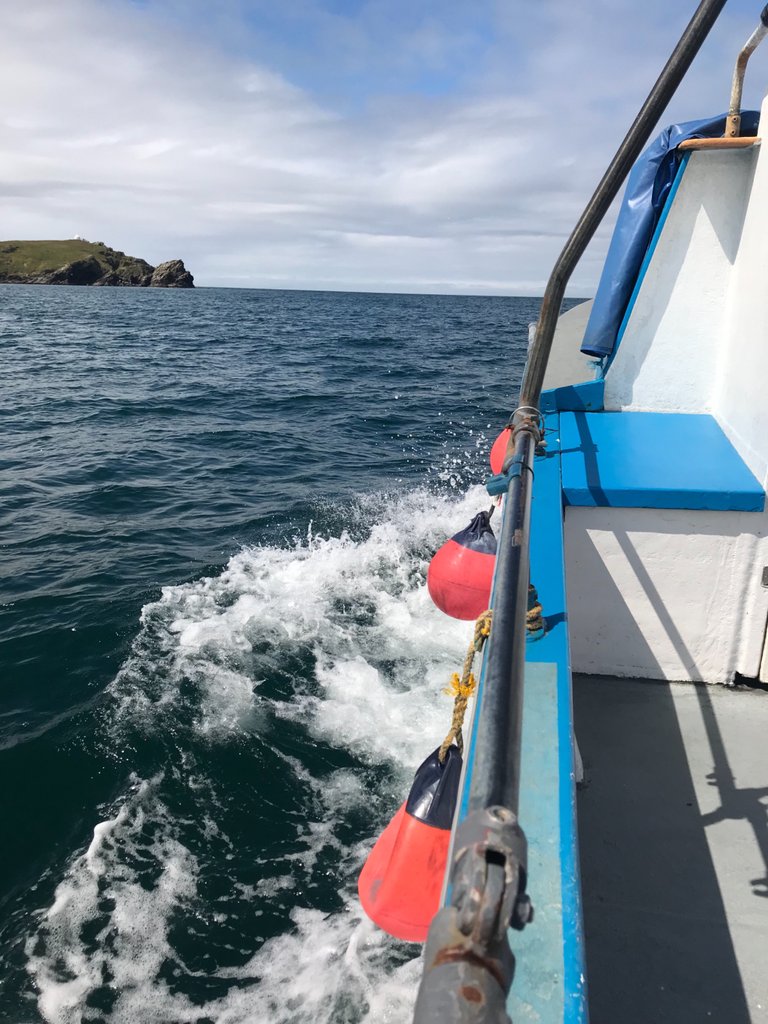 For me and my girlfriend, the best part was being able to take home our catch and eat the freshest, most tasty fish we've ever had in our life! From hook to the dinner plate in about 2-hours. Now, you don't get any fresher than that!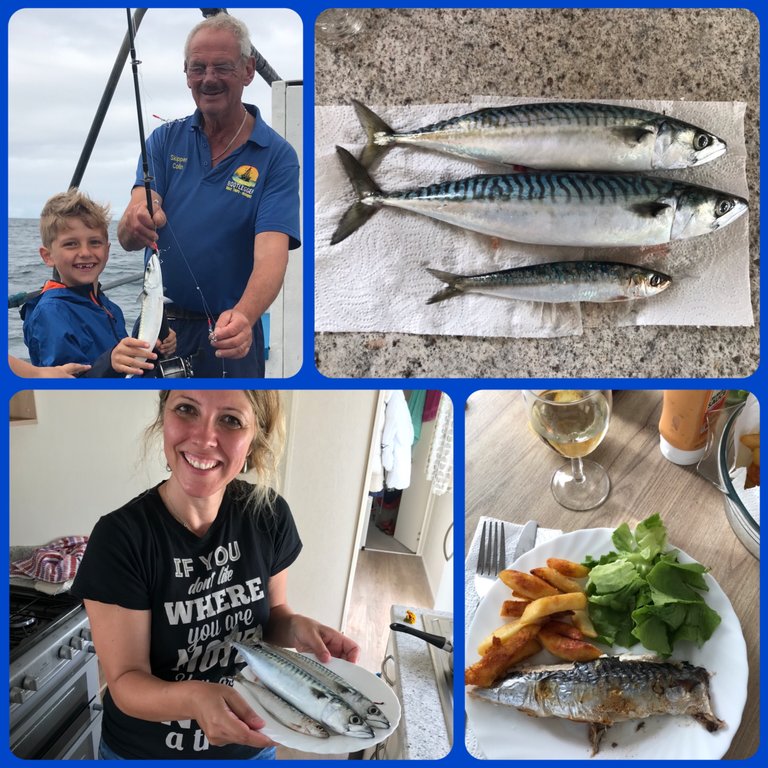 Back on dry land, Newquay has plenty to offer its visitors, whether that be food, shopping, or entertainment. I'll get to my personal favourite in a moment but I can't write this post without mentioning a shop that became a running joke throughout the holiday thanks to our immature sense of humour...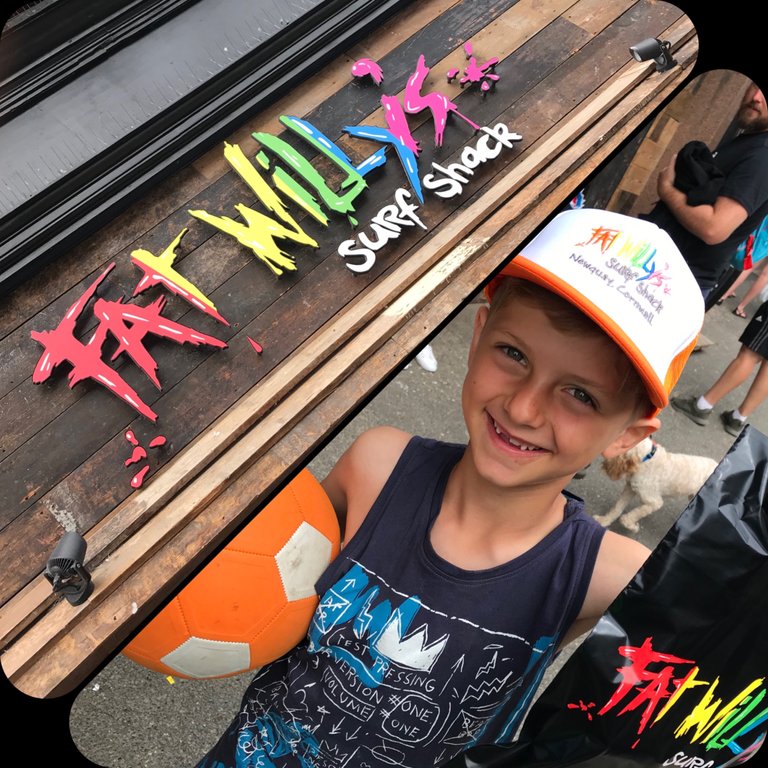 I'll admit to pointing out this shop to Leonardo knowing it would get a cheap laugh but I take no responsibility for him constantly shouting out "FAT WILLY!!" every time he saw somebody wearing one of their caps or T-shirts (OK, maybe I did shout it out a few times, but why miss out on a cheap laugh?).
Now for something much more grown-up...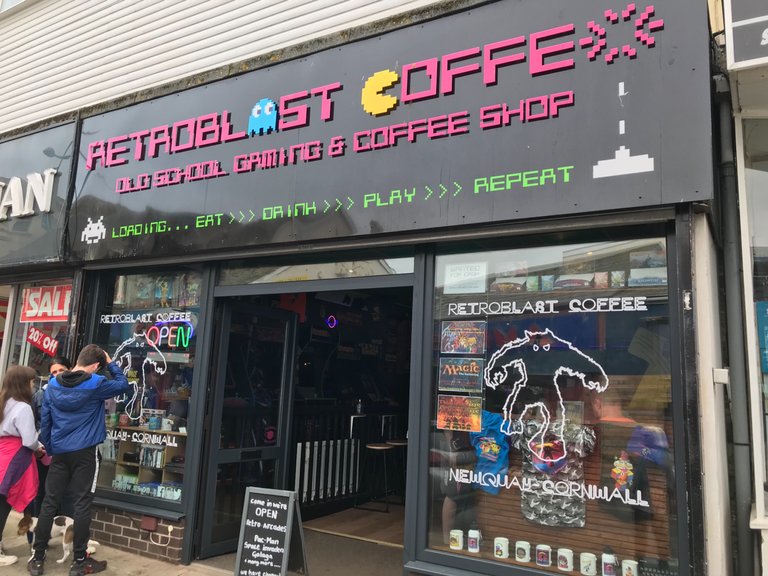 HAHA! Come on, what did you expect, a trip to the theater?! Yeah right. Give me a nostalgia overdose any day of the week.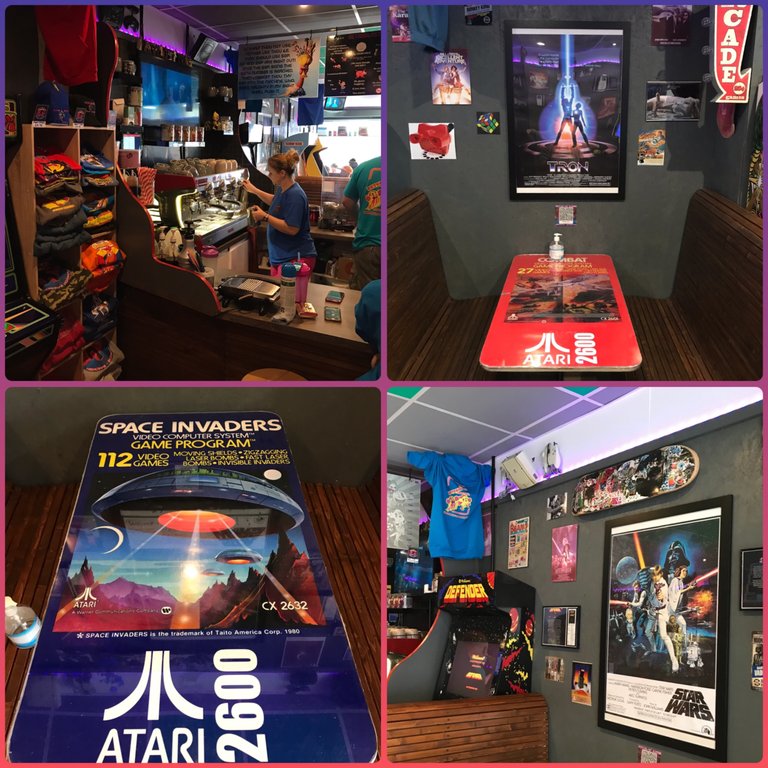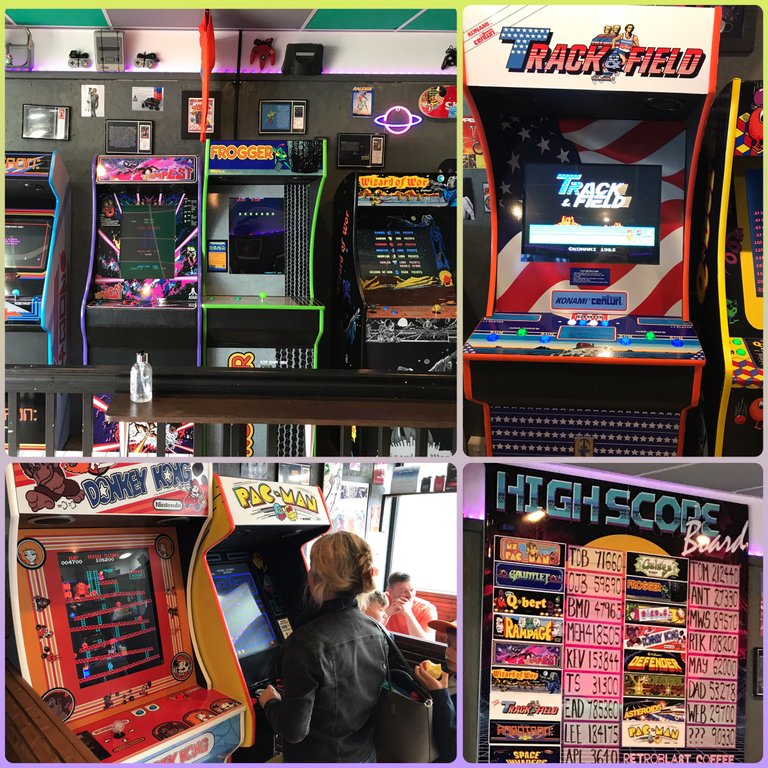 If it was up to me and the Mrs, we'd have stayed here all week long and happily fed the sprogs cheese and ham toasties from the snack bar. Putting such classic games in front of us, like Donkey Kong, Pac-Man, and my personal favourite, Track & Field, left us wondering why we ever grew up had kids in the first place! Unsurprisingly, the children were non too impressed by these dated relics (I mean the arcade games, not the Mrs & I), and after swatting them away a few times their moans became impossible to ignore. So, after spoiling any chance of adding our names on to the coveted high-score board, we peeled ourselves away from the machines and said goodbye to our childhoods once more.

An afternoon in Padstow
Just a few miles up the road from Newquay is the town of Padstow, a quaint little place full of shops, pubs, restaurants, and tourists, literally thousands of tourists!
As you can see from the graffitied road sign, not everyone who lives in Padstow enjoys the fact their postcard town has become a major tourist attraction...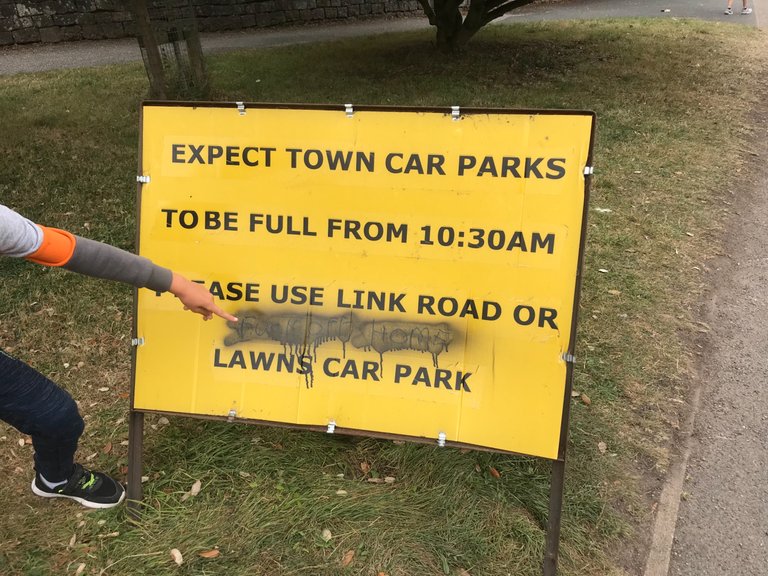 Undeterred by this disgruntled local, we parked our car in one of the many public car parks and made our way into town. After a short walk down the winding roads and past some very pretty houses we eventually arrived at the town center. Some lovely souvenir shops welcomed our arrival and surprisingly they weren't all selling the same thing. Quite the opposite in fact, and this could be said about many of the shops in Padstow, they were all quite unique. So, we picked up a few things along the way and visited a little gin distillery to sample the local tipple.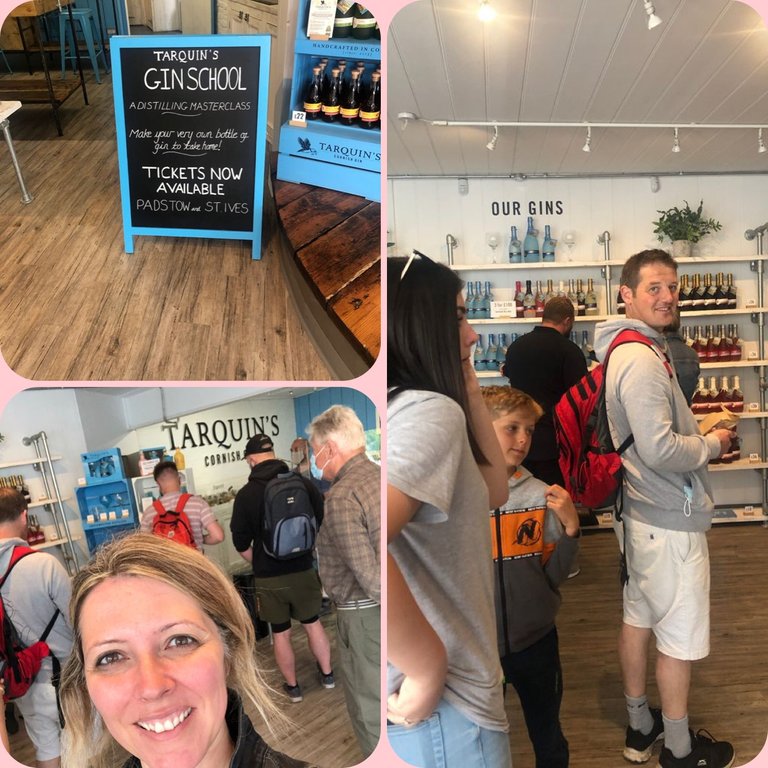 Once we'd finished with all the shops we followed the flow of the crowd and ended up at the town's harbour. Here we found many tourists sat around the wall of the harbour pulling out crabs using long lines of string tied to little mesh bags filled with food. Kids and adults were all dangling their bait into the water, secretly competing with one another to catch the biggest crab. In a time when you often see too many kids staring at their phones, it was very uplifting to see all these families enjoying such a simple and traditional activity.

Walking further around the harbour we got to its entrance and found many people queuing to be taken by boat around the bay. For a relatively small price, you could be taken to a variety of picturesque destinations, one being a nearby beach that was across the water.
As for us, we were quickly running out of time, and so, carried on around the harbour to the other side, where I'd spotted a very busy shop selling traditional Cornish icecreams! Well worth waiting in the long queue. Yum! Yum!
And with sticky fingers and major ice-cream-induced brain freeze, we made our way back through the crowds and out of Padstow.
All in all, Padstow was worth the visit, and given a little more time it would have been nice to pop into one of the traditional pubs for a light lunch and, of course, a pint of real Cornish ale.

Surfs up, Dude!
Of course, the only logical way to end this tour of Newquay is by writing about my very first surfing experience. But just before I do, let me quickly digress to tell you about another water sport we enjoyed later that same day...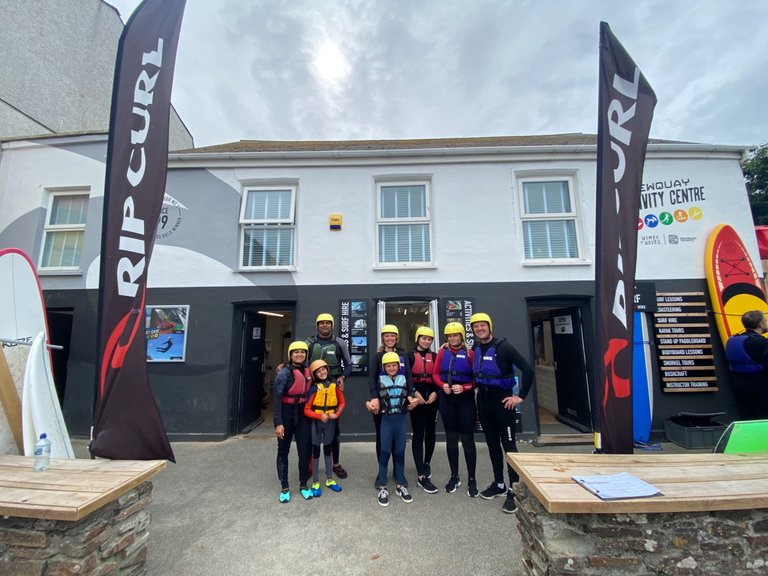 For the second time this day, I had to endure one of the most unpleasant experiences known to man...Putting on a wet suit.
For those of you who have already had to go through this process, you will know exactly what I'm about to describe. For those of you who haven't, allow me to enlighten you...
Putting on a wetsuit is probably bad enough when it's your own and when it's nice and dry. However, putting on a hired wetsuit which is both wet and peppered with sand is altogether a quite disturbing form of self-inflicted torture. Imagine being born in reverse to an animal with a sandpaper-womb and you'll have some understanding of what it's like getting into a wetsuit. Before getting in the water, I honestly couldn't understand why surfers were always so happy. I mean these things are a nightmare to get in and out of and once they're on you can wave goodbye to any idea of reproducing. My balls have yet to resurface, and that's assuming they haven't just been ground away by the sand which lined the entire inside of my wetsuit!
As harrowing an experience it is, I will admit to the fact that put in their natural environment the wetsuit acts like a wizard's cloak. It was probably only 15-degrees on land the day we went out, which means the water was considerably colder. Still, when I entered the water wearing my new skin I could not feel a thing. My body felt not one iota of cold and, more importantly, neither did my wedding tackle! Whether this was because I no longer owned a pair of gonads is a matter for debate, but nonetheless, I felt like a sea creature who was at home on the ocean waves.
Now I understand why surfers are so happy.
For this second occasion of wearing the wetsuit, my family and I went on a fantastic Kayaking expedition. Our guide was a young lady who took us all around the rocks and caves that separated the beaches in Newquay. Obviously, taking your phone or a camera onto a kayak isn't a wise thing to do so I have very few pictures to show you, however, you can see where we paddled in the drone video at the beginning of this post. Fortunately, our young guide was talented enough to be able to take her phone with her and managed to get a couple of pictures during our session.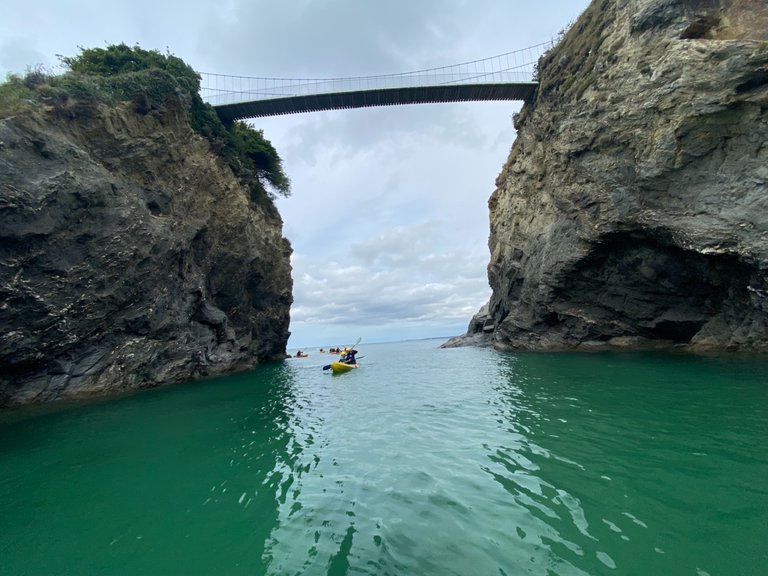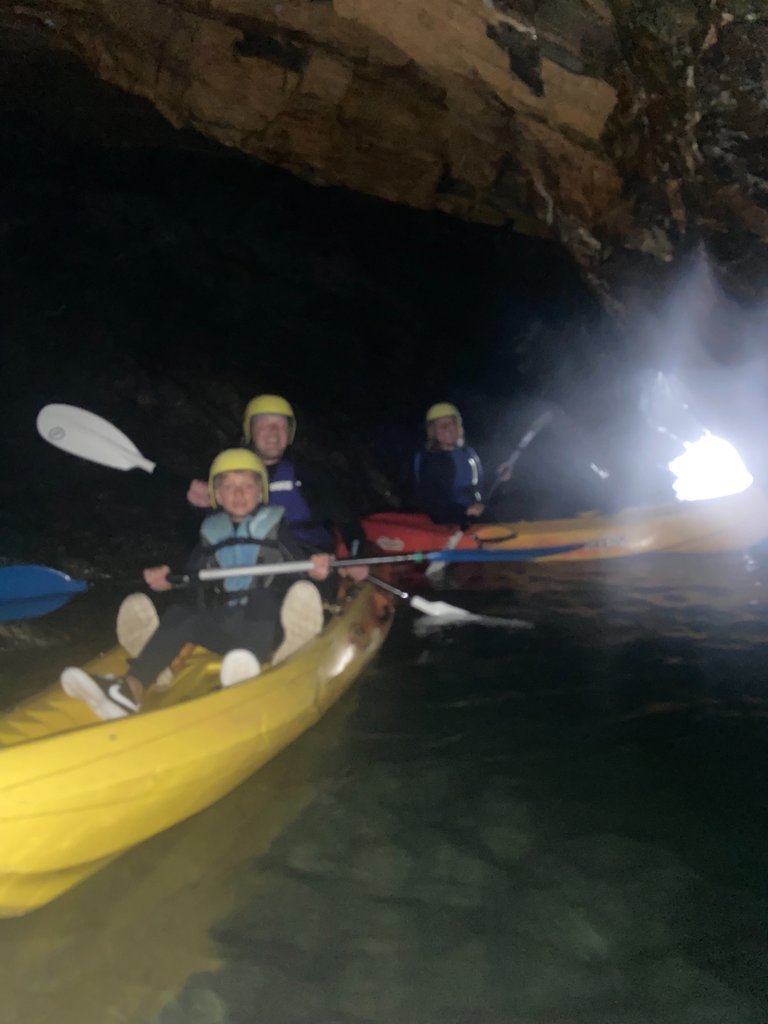 Although kayaking wasn't nearly as exciting as surfing, it was still lots of fun and well worth putting on a wetsuit for.
Time to ride those waves!
Again, taking a camera with you while you go surfing is pretty pointless, which means I have even fewer photos (none, to be precise). So, you'll have to take my word for it when I tell you that it took only an hour of tuition to get me riding the waves like Kahuna-Bob. Radical.
The one reason I have never attempted to learn to surf is that I thought it would take ages to learn. Even to be able to stand up on a board looked difficult and never did I believe someone could get you to that point after one lesson. But guess what? He blooming well did! "He" being the greatest, most chilled out surfer dude I have ever met (I've actually never met any surfer dudes before, but don't let that take anything away from this guys coolness. He was one cool dude!). After about 15-minutes of us all laying on the sand with our boards, attempting to learn the process needed to go from laying down to standing, our teacher came out with the coolest statement I've ever heard...
"Guys and Girls, you've all just experienced the chaos and now it's time to breathe and exhale it from your body. Surfing is about being calm and I need you all to be calm"
Fucking, right on, Kahuna-Bob! And after that speech, we were all like Zen disciples ready to go catch our first wave.
I won't lie, it took several attempts and seemed pretty impossible at first. But then, all of a sudden, it all clicked and there I was, riding my very first wave while simultaneously grinning like a child who'd just rode his bike without stabilisers for the first time. Kowa-fucking-bunga!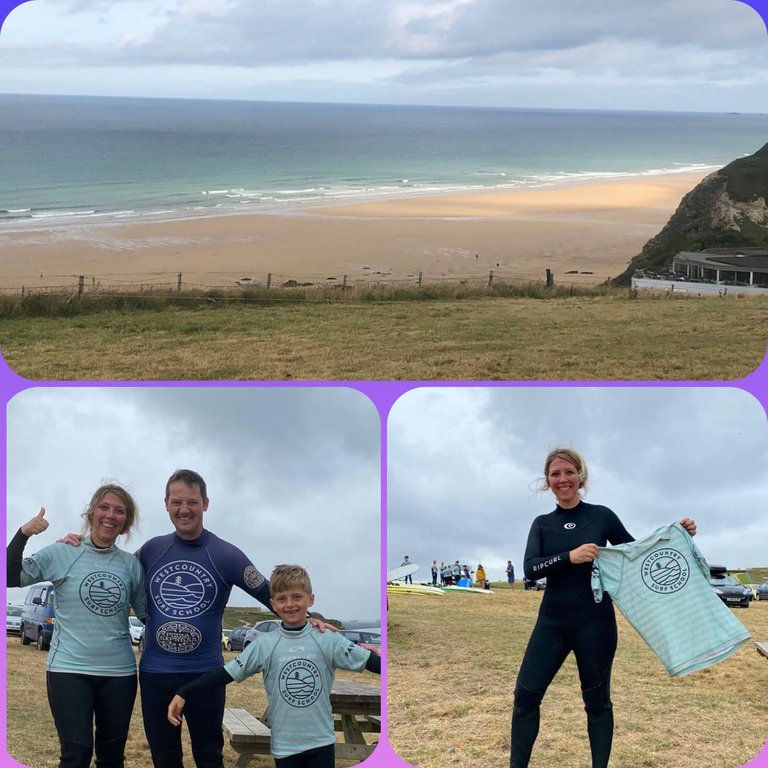 And that's it for my Newquay experience. I hope you've all enjoyed reading this as much as I enjoyed reliving it? Anyone thinking of visiting the UK, make sure you put Newquay in your list of places to see. Fuck Big Ben or the Houses of Parliament, you can see that when you're old and crusty. Newquay is where it's at, trust me.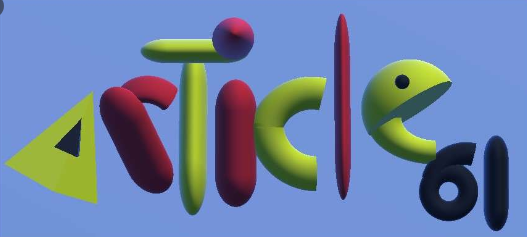 If you enjoyed this post, you can find more like it on https://pinmapple.com/@article61, or you can check other great travel blogs by visiting #haveyoubeenhere.
See you all next time!

---
---