Painting CD's - Part III [Eng-Esp]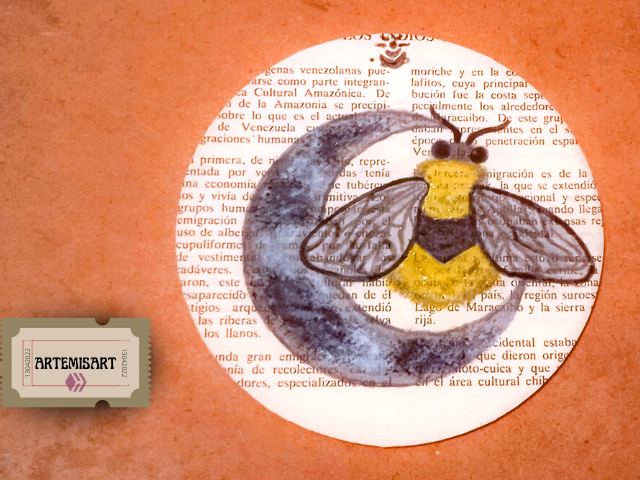 Inglés/English



Greetings, hivsartics. In today's installment I want to share with you a piece made with paint (I hope later to be able to buy watercolor paints, as they are my goal). I simply wanted to create a piece and listening to music (Spotify on shuffle), I have let myself get creative.

The reason why I am talking about book leaves is because I own many books (some of them complete and some of them stripped) in deplorable conditions that have been damaged by humidity and even some rodents, but knowing their condition I decided to keep them, recycle their leaves and make art with them, apart from the one they already are. Because each book is a portal to learning, adventure or love. In addition, for this new line of art I also used old, scratched and deteriorated cd's. The idea certainly yielded a very colorful result and I was in loved, so I think I'll be doing this for a while.

For this installment N° 2 of "Painting CD's", I bring you again a few flowers, a different and quite recognizable variety. A complete recycling work turned into art. I loved the result, it's simple but beautiful, I hope you can enjoy it too.


Español/Spanish



Saludos, hivsarticos. En la entrega de hoy quiero compartir con ustedes una obra hecha con pintura (espero más adelante poder comprar las pinturas de acuarela, ya que son mi objetivo). Simplemente quise crear una pieza y escuchando música (Spotify en aleatorio), me he dejado llevar por la creatividad.

El porqué sobre hojas de libros es debido a que poseeo muchos libros (algunos completos y algunos deshojados) en estados lamentables que se han dañado por la humedad e incluso algunos roedores, pero sabiendo su estado decidí quedarmelos, reciclar sus hojas y hacer arte con ellos, aparte de la que ya son. Porque cada libro es un portal a la enseñanza, a la aventura o al amor. Además, para esta nueva línea de arte también utilicé cd's viejos, rayados y deteriorados. La idea sin duda arrogó un resultado bastante pintoresco y quedé enamorada, por lo que creo que haré esto por un tiempo.

Para esta entrega N° 2 de "Pintando CD's", les traigo de nuevo unas cuantas flores, una variedad distinta y bastante reconocibles. Un trabajo completo de reciclaje convertido en arte. Me encantó el resultado, es simple pero hermoso, espero que también lo puedan disfrutar. .




Materiales de elaboración - Materials for the elaboration
- 1 page of a medium size antique book

-Brushes

-A pencil

-Black, yellow and white paint.

-Glue and scissors
- 1 hoja de un libro mediano antiguo

-Pinceles

-Un lapiz

-Pintura negra, amarilla y blanca.

-Pegamento y tijeras




One step in front of the other - Un paso adelante del otro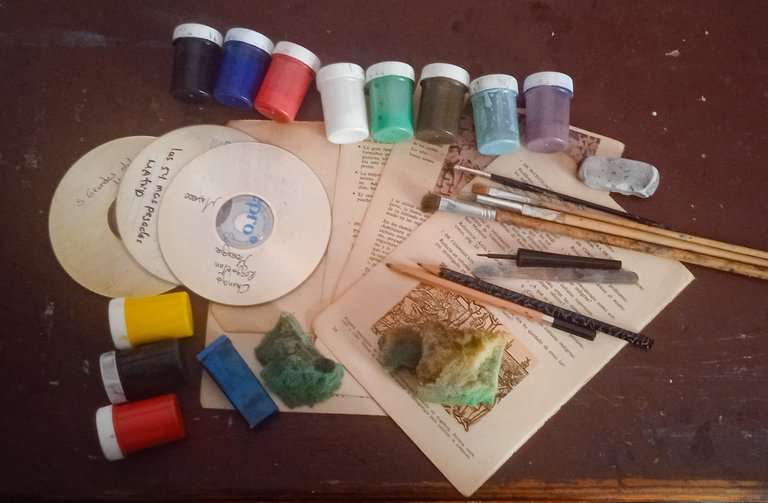 1. To begin we will gather all the materials on our work area, which of course must be clean, dry, well lit, quiet and free of distractions. The idea is to feel comfortable with the space to be able to carry out our work without inconveniences. Besides, the tranquility is for our creativity and inspiration to flow freely. In my case I usually paint in the early hours of the morning because the weather is cool, my anxiety appears at this late hour and this is my way to appease it, I also usually listen to music to feel even more at ease.
1. Para comenzar reuniremos todos los materiales sobre nuestra área de trabajo, que por supuesto debe estar limpio, seco, bien iluminado, ser tranquilo y libre de distracciones. La idea es sentirnos cómodos con el espacio para poder llevar a cabo nuestra obra sin inconvenientes. Además la tranquilidad es para que nuestra creatividad e inspiración fluyan con libertad. En mi caso suelo pintar en horas de la madrugada porque el clima es fresco, mi ansiedad aparece a estas altas horas y esta es mi manera de apaciguarla, también suelo escuchar música para sentirme incluso más a gusto.



---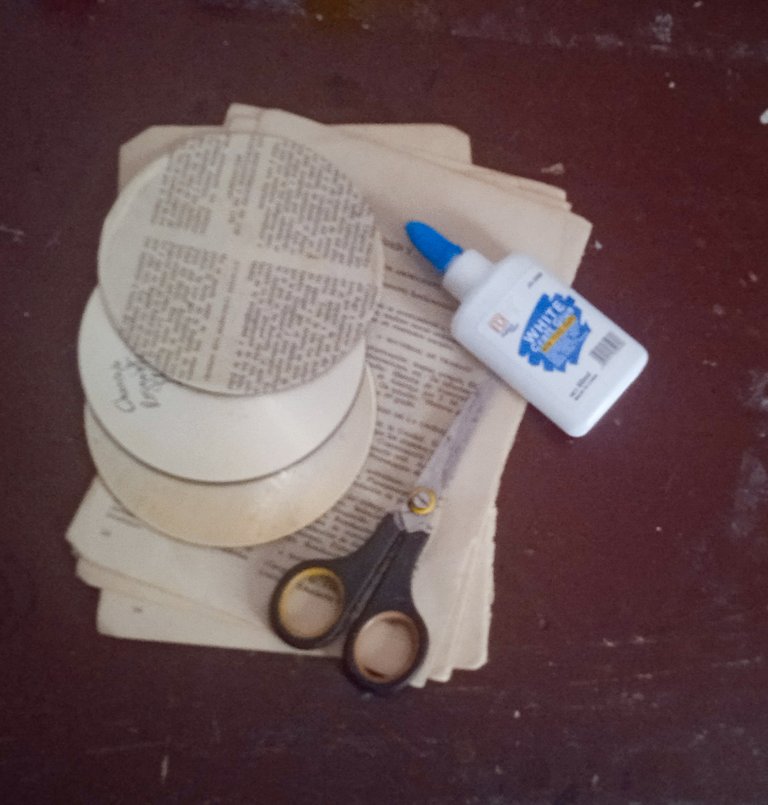 2. To be able to start with our piece, we must add glue directly on our cd in the part of the cover and then glue it to the sheet, press a poo to fix it well and let it dry. At the time and verifying that it is no longer wet we will remove the excess of the sheet, this we will do it following the shape of the cd with a scissors and cutting the rest of the sheet. In my case I leave the rest aside because it is possible that I will use it in a craft or in a new piece of paint, you never know.
2. Para poder comenzar con nuestra pieza, debemos añadir pega directamente en nuestro cd en la parte de la caratula y luego pegarla a la hoja, presionamos un poo para fijar bien y dejamos secar. Al tiempo y verificando que ya no esté humedo vamos a quitar el exceso de la hoja, esto lo haremos siguiendo la forma del cd con una tijera y cortando el resto de la hoja. En mi caso dejo a un lao el resto porque es posible que lo utilice en una manualidad o en una nueva pieza de pintura, nunca se sabe.



---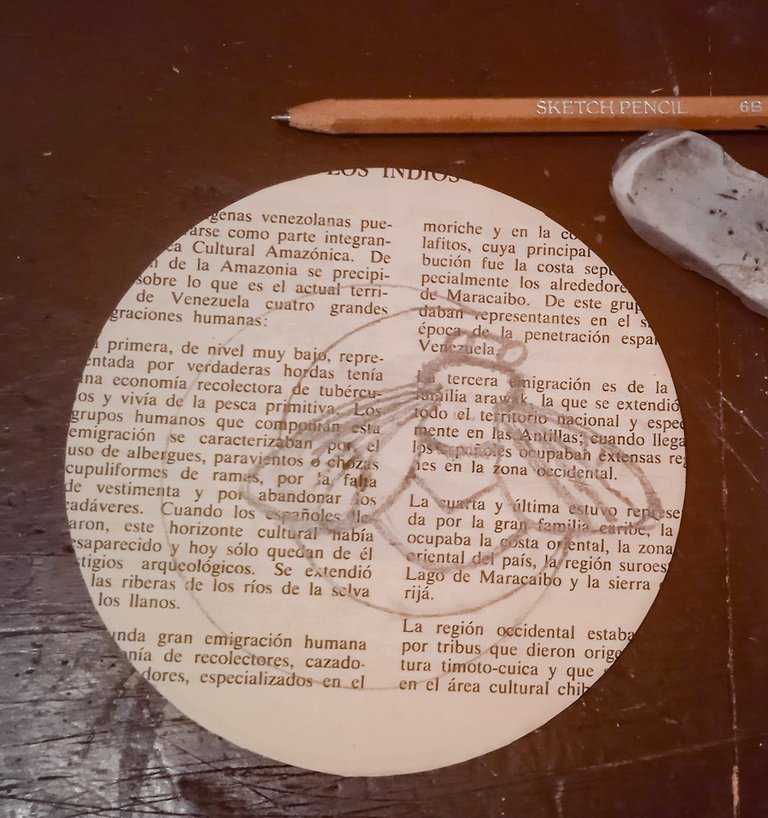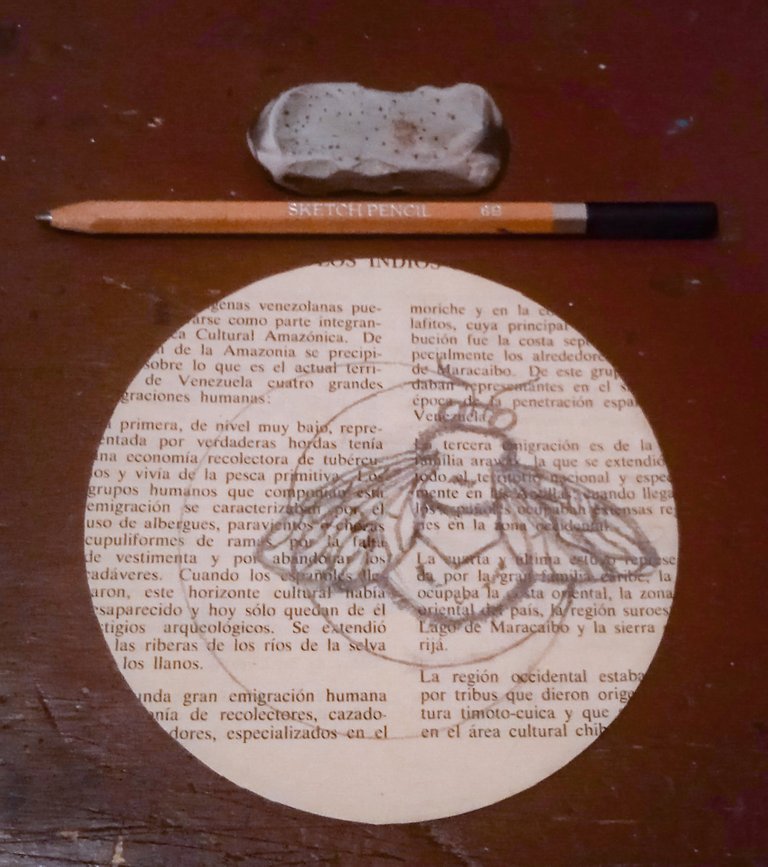 3. Before applying paint, what I do is to draw what I want to paint. This is because I am not yet good at expressing directly what I want to paint, and I am very detailed.
3. Antes de aplicar pintura, lo que yo hago es dibujar lo que quiero pintar. Esto se debe a que aun no soy buena plasmando de manera directa lo que quiero pintar, eso y que soy muy detallista.



---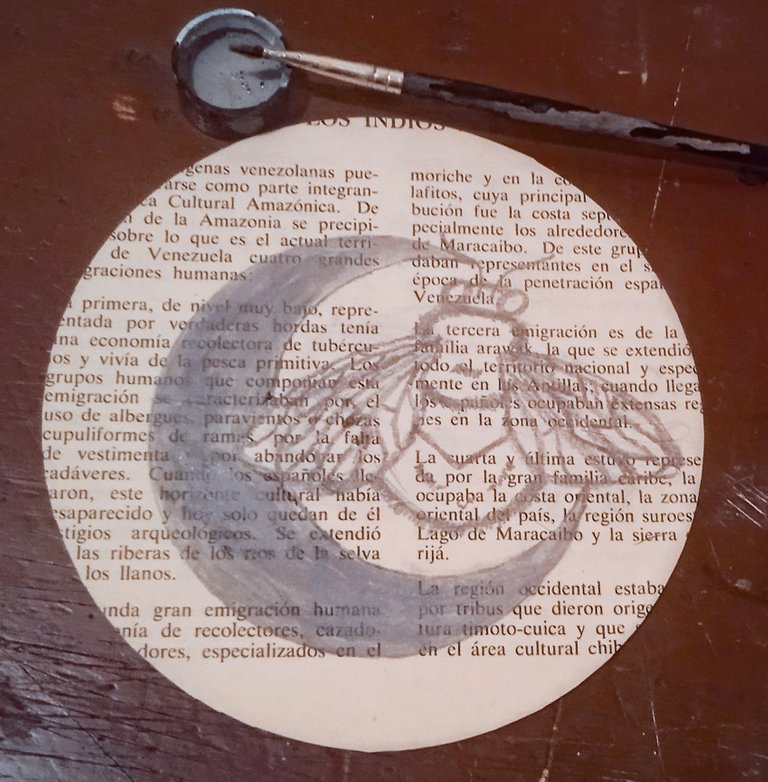 4. To proceed we start by applying a coat of gray paint only on the half moon. When it dries we will apply the second one and let it dry.
4. Para proceder comenzamos aplicando una capa de pintura gris solo sobre la media luna. Al secarse aplicaremos la segunda y dejaremos secar.



---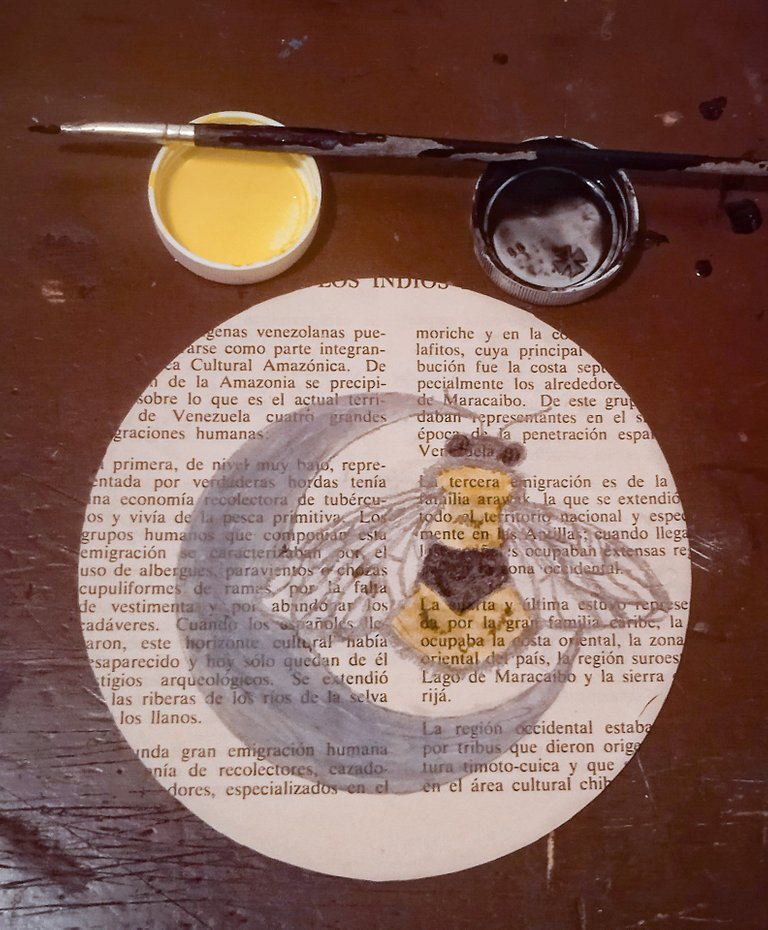 5. Then we will add paint to the bee. We will do this by first applying black to its small center. Also to its eyes and let it dry.
5. Luego añadiremos pintura a la abeja. esto lo haremos primero aplicando negro en su pequeño centro. Tambien a sus ojos y dejaremos secar.



---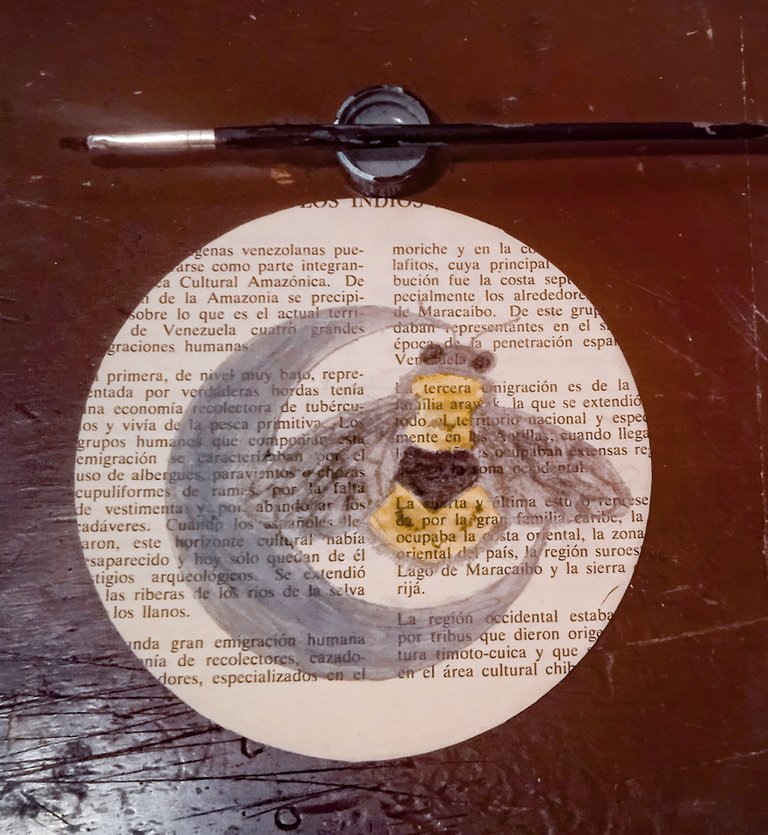 6. Then we will apply yellow for the fluffiest areas, let it dry and then we will add a little bit of diluted black to give it a little more intensity. After drying we will apply a little bit of white only to the edges to give it a little bit of reflection.
6. Luego aplicaremos amarillo para las zonas más esponjosas, dejaremos secar y luego añadiremos un poco de negro diluido para darle un poco mas de intensidad. Luego al secar le aplicaremos un poco de blanco solo a los bordes para darle un poco de reflejo.



---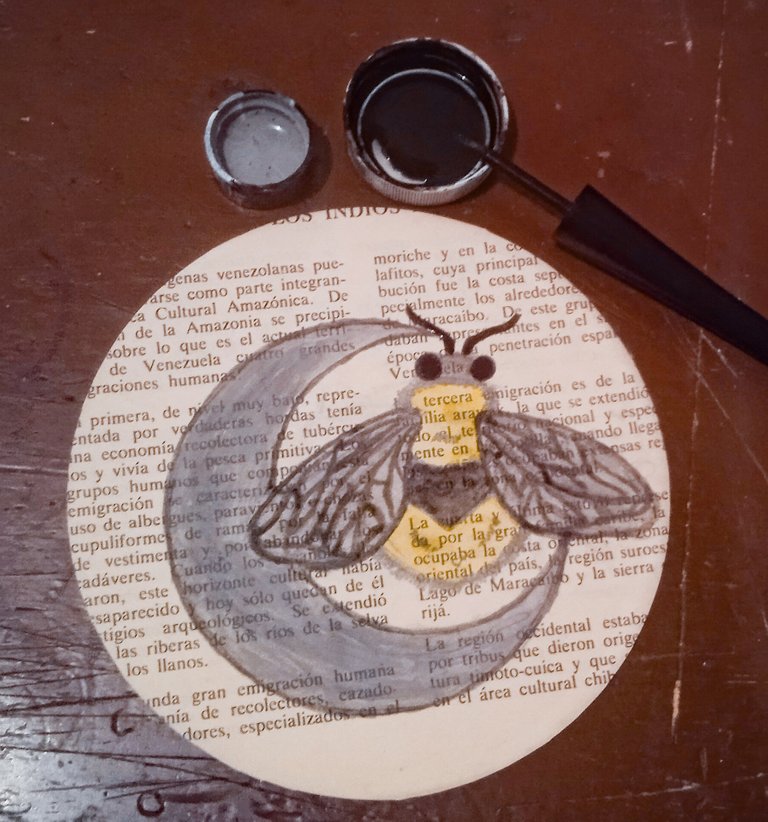 7. Then we will apply gray diluted in water for the wings, this will give them a little transparency effect. We will also go over with black paint for the lines of the wings. In addition, we will outline with black the crescent moon and the antennae of the bee and we will intensify the black color in the eyes.
7. Luego aplicaremos gris diluido en agua para las alas, esto les dará un poco el efecto de transparencia. También repasaremos con pintura negra para las lineas de las alas. Además, delinearemos con negro la media luna y las antenas de la abeja e intensificaremos el color negro en los ojos.



---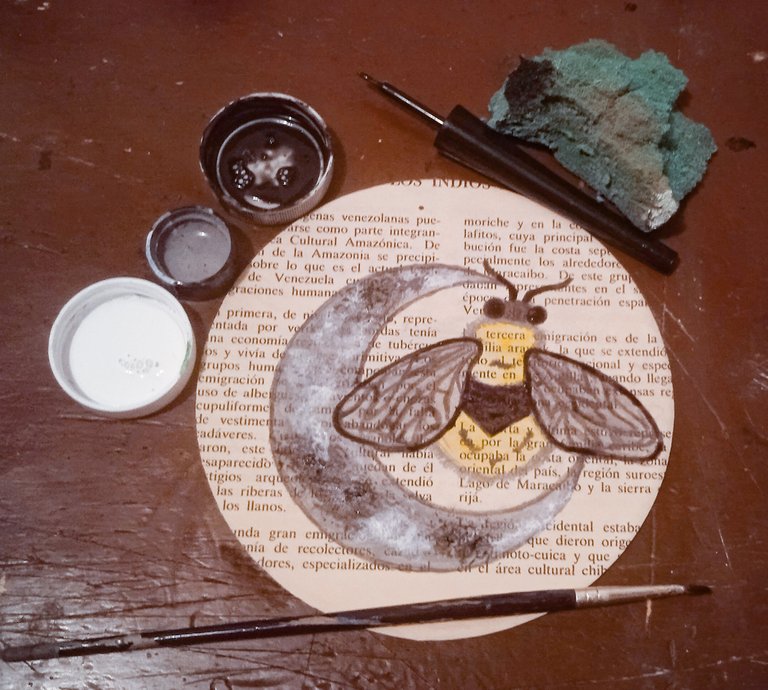 8. For the moon, we will add some black paint with a sponge to give it some texture. Let it dry and then add white paint with the same technique.
8. Para la luna, añadiremos un poco de pintura negra con una esponja para darle cierta textura. Dejaremos secar y luego añadiremos pintura blanco con la misma tecnica.



---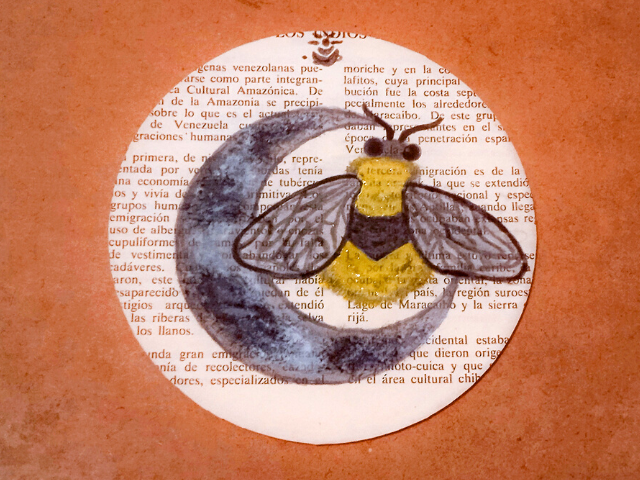 9. To finish, we will add a last coat of yellow paint and with a toothpick we will drag the paint from the center to the edge so that it does not lose that texture of hairs. Finally I painted with eyeliner and black paint the Artemisart logo sealing my work.
9. Para finalizar, añadiremos una última capa de pintura amarilla y con un palillo arrastraremos la pintura desde el centro hasta el borde para que no pierda esa textura de pelitos. por ultimo pinté con delineador y pintura negra el logo de Artemisart sellando mi trabajo.



---
I really enjoyed making this piece. I understand that it can be better and I will work on it to make it better. That was it for this installment. I will see you in the next installment where I will share my art with you. I say goodbye to you with a song, because.... Why not? Blessings.
Realmente disfruté hacer esta pieza. Entiendo que puede ser mejor y trabajaré en ello para lograrlo. Eso fue todo por esta entrega. Nos veremos en la siguiente entrega donde les comparta mi arte. Me despido de ustedes con una canción, por que... ¿por qué no? Bendiciones.




My recommendation for today's post is:

I hope you like it and enjoy the music.
Mi recomendación para el post de hoy es:

Espero les guste y puedan disfrutar de la música.



Nota: All the images used in this post are my own, taken with my Redmi 9A cell phone, modified in the Lightroom app and (to the cover) the Artemisart stamp has been added in the Canva page, where the stamp was also made. On the other hand, the separator and the welcome and farewell banners were also made by me in Canva. I saw this on a couple of blogs and thought it looked beautiful, so I wanted to give it a try.
Nota: Todas las imágenes utilizadas en este post son de mi propiedad, tomadas con mi celular Redmi 9A, modificadas en la app de Lightroom y (a la portada) se le ha agregado la estampilla de Artemisart en la página de Canva, donde también se elaboró la estampilla. Por otra parte, el separador y los banners de bienvenida y despedida también fueron realizados por mi en Canva. Vi esto en un par de blogs y me pareció hermosísimo, así que quise intentarlo.



---
---