The Big Switch? Living with Casper and the Bunnies
Life with Casper
It's been over a week since decided to foster Casper and boy oh boy, what an adventure it had been already.
It's like having a new baby all over but at least this one does not keep me awake all night. What I have to deal though is potty training this little guy. It's a challenge that I just might have to put diapers on him. LOL. While he stays outside of the house most of the time, he would sneak in every time one of us would open the door. So far, he learned how to pee on my door mat. Perfect.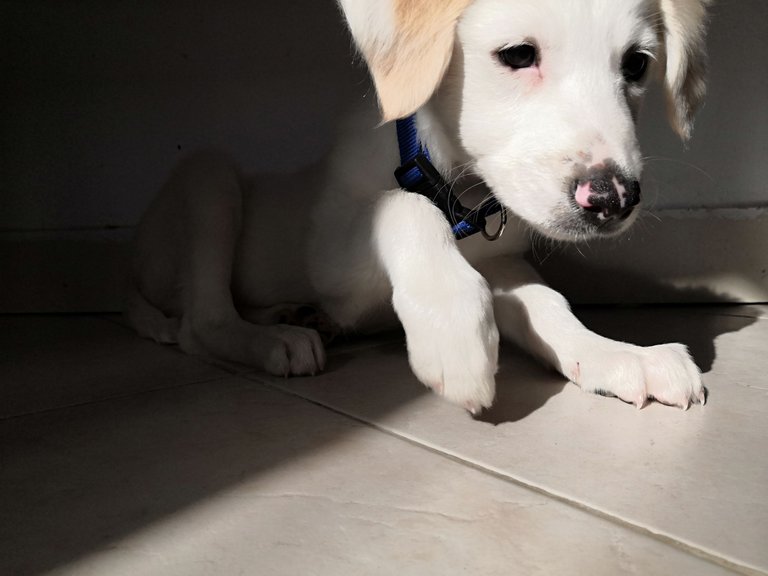 Don't be fooled by these innocent-looking eyes. He just finished doing the deed.
Having Casper is like having a hyper active toddler who is in constant need of shaking off any excess energy. Keeping him out of the house does not seem to help coz as soon as he comes inside and sees us, he will be jumping up and down all of us. Of course, all of us will engage him and play with him until his energy wears off.
Casper is proving to be a handful but nothing any of us at home cannot tolerate. Every one has been patient with him - even the kids are okay cleaning up after him. I mean, just look at that! He does seem pretty harmless (when he sleeps!).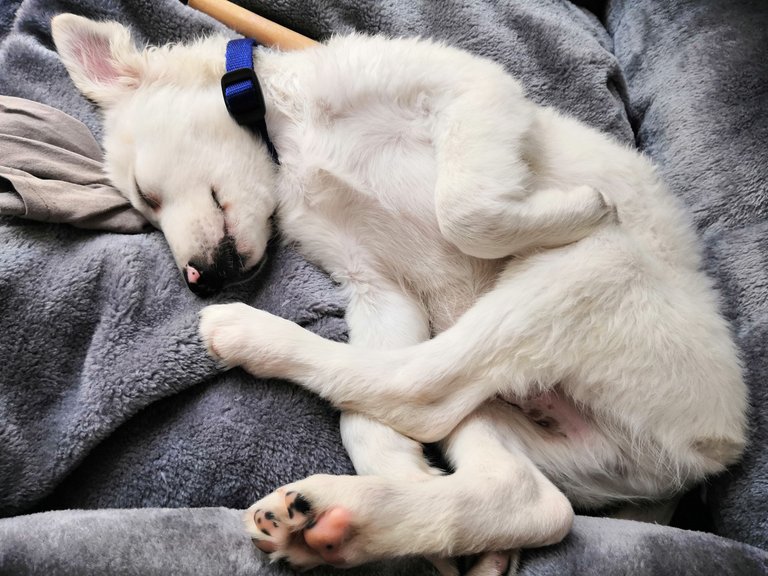 Sleeping with "attitude".
I also love that he "doesn't smell like a dog" and I can afford to pet him. His coat is so soft, shiny, and smooth. He also does not mind bath time. Did I mention that I am really not a dog lover? But Casper is slowly converting me. Just look at me, taking these photos of him while asleep, like I would for my babies. :D
My daughter got an idea to paint his paws and make paw prints. Hmmm... as long as they'd clean up afterward and my floor won't get soiled then that seems to be fun!
The Big Diet Switch
So you might ask, what's become of the bunnies? Wew! They actually learned how to co-exist. The bunnies are not too petrified of Casper anymore. I think they realized that Casper isn't really a threat.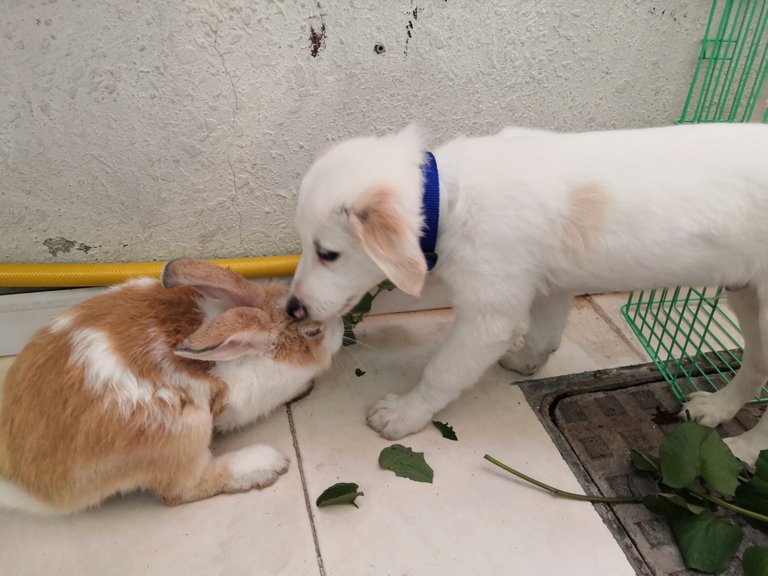 Casper cleaning Cookie.
Bunnies eating dog food!
Something weird has happened though. Cookie and Bun-Bun seem to enjoy Casper's dog food. At mealtime, they would come and also nibble on Casper's food. Hmmmm, for all I know, it is them who finishes Casper's food.
Seriously, I won't be surprised if these bunnies get "Saluki-big".
I think they even prefer the dog food now than their leafy greens!
Casper becoming a vegetarian?
Casper, on the other hand, is also joining the leafy party each bunny meal time. He would barge in and get a few stalks for himself too! Maybe he doesn't like tasty, but prefers bland leafy?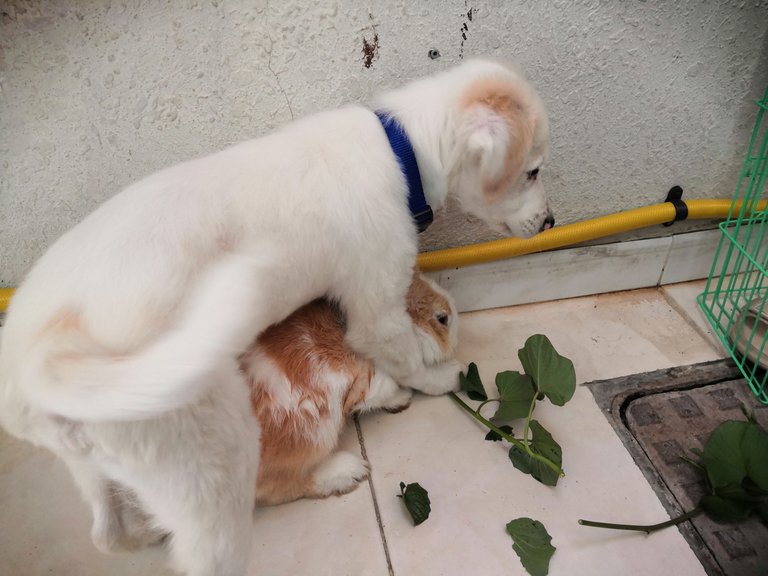 It's been crazy with Casper so far. Oh, want to know something crazy-crazy?! Casper wails (or whimpers?!) each time the mosque calls out for their prayer (5x a day!). We live next to a mosque and the first call to prayer for the day is at 4am. As soon as he hears the mosque, then he would whimper. I wonder why...


---
---