Home Edders Community-Inspired Activities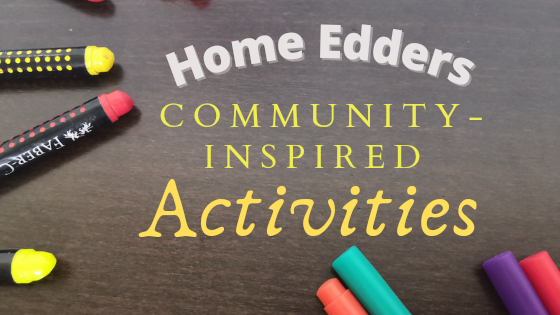 Why We Love The Home Edders Community
While there are lots of homeschool resources across the web, I love spending time browsing through the Home Edders Community feed here on Hive. Why not? Here, I find like-minded individuals/families who are passionate about homeschooling and love to share their journey here on the platform.
There are activities that I wouldn't have found, if not for this community and its awesome members. Whenever I feel like I am running out of creative and fun activities for my kids, this community come to the rescue. We have done a few in the past already but I have never shared them here.
Today is one of those days when the kids and I performed some activities recently shared by our amazing members and I would like to take time to impart what we have done.
Community-Inspired Activities
Basically, it is a game that aims to develop our children's brain development by engaging the left and right side of the brain simultaneously.
What do we love about it? It is easy to prepare but definitely challenging and fun!
Here's what you need:
2 sheets of paper
coloring pens
enthusiastic child/ren
Since we are focusing on Little Man's fine motor skills + handwriting, I commissioned him to help me with the preparation of the activity sheets. I drew the shapes and he colored them.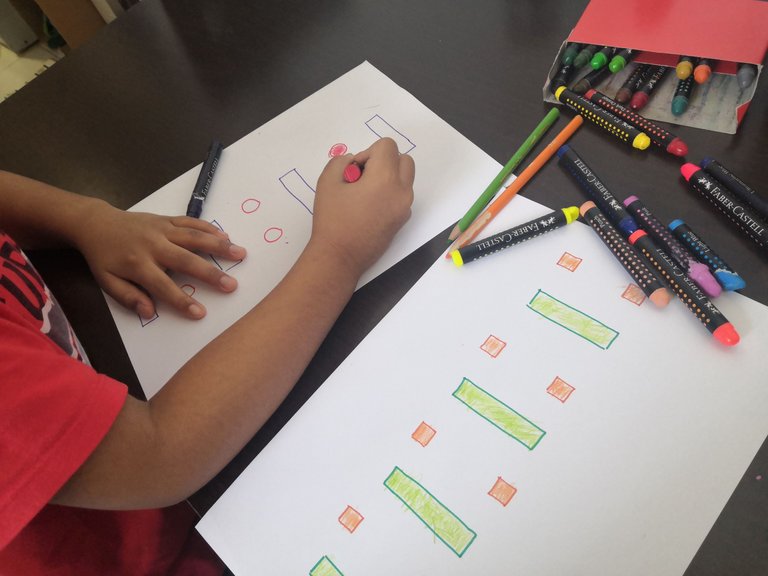 We're ready!
Now time to test out this activity. All of us got to try it and let me tell you, it is really not easy. It takes lots of practice, concentration, and coordination to successfully do it.
How to do it:
Alternately point the fingers to the shapes on the activity sheet. Two fingers separately point to the two small shapes, then two fingers together on the bigger shape i.e. the rectangle.
Here's a gif showing Little Miss give it a try.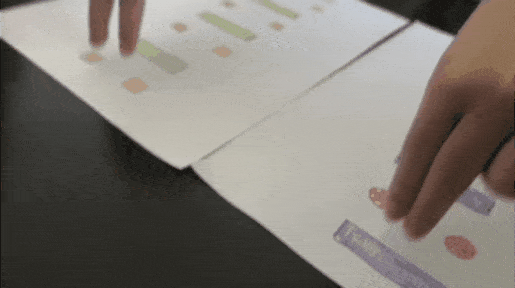 If you have not tried doing it, I really encourage that you do, no matter what your age is. It is a good mental exercise and a great way to use those lazy fingers that got used to typing and clicking on gadgets. 🙃
2. Science Class - Biology shared by @melbourneswest
When I saw melbourneswest share this activity a few days ago, I knew right there and then that it is something that we have to do, too. It is a Science experiment that shows how water travels up the plant (celery) stalk.
We have done an activity with a similar concept using colored water and tissue paper last year. The traveling water experiment was something that my kids also really enjoyed. It was colorful, fun, and amusing!
Here's what you will need:
a stalk of celery
a clear glass jar
water + food coloring
How to do it:
Again, this is fairly simple and straightforward. Small kids can easily perform this experiment.
First, just add a drop of food coloring to the water. The color is important because it is how we will see that the water from the jar indeed traveled up to the plant stalk.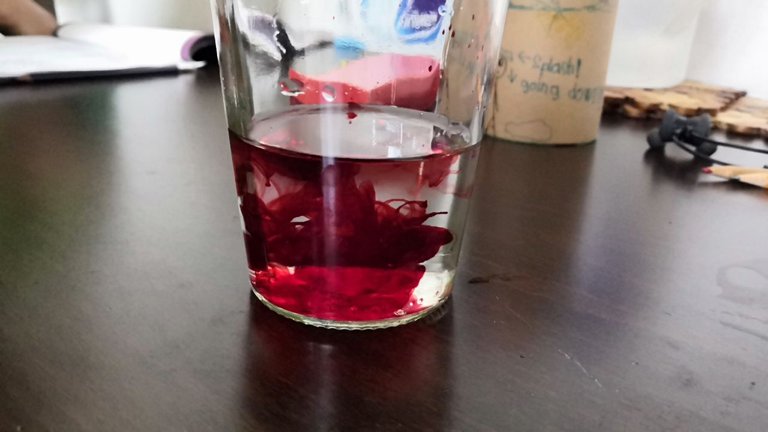 Then, place the celery stalk in the water. Now is a good time to tell the child that plants have vein-like parts that transport water from the soil through the roots up to the stems and leaves.
After this, set the jar aside and check back after a few hours.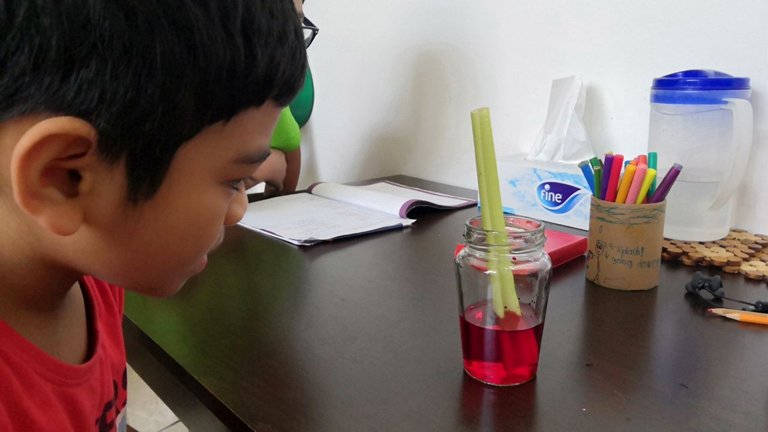 Can you see it?
The photo below shows the celery stalk with visible lines of red mainly at the edges. This one is roughly around 5 hours since we placed the celery stalk in the water.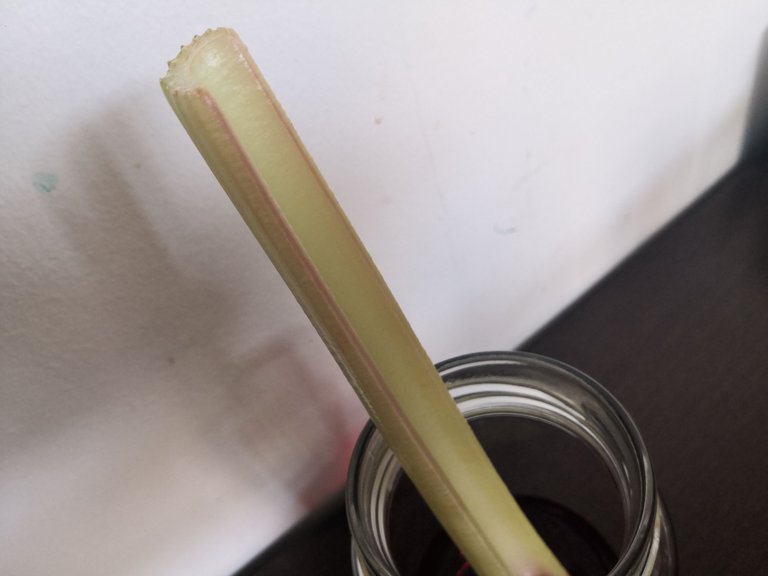 More Science Fun!
Our third activity just came out just out of the blue. Simply because I had a tea light candle and lighter on the table (I used it to glue together some broken crayons) and the jar.
My eldest told his siblings a story about his Science experiment when he was in third grade about fire needing oxygen to keep burning. So if you cover the candle with the jar, the fire will die.
Adult supervision is definitely required in this activity.
Here's what you will need:
a glass jar
candle
lighter
The activity can be done using only one candle and one jar - it will already prove the fact that fire needs oxygen. But for the sake of comparison, we used two jars of different sizes.
The parent/guardian must overlook the handling of the fire. We do not want any accidents. No.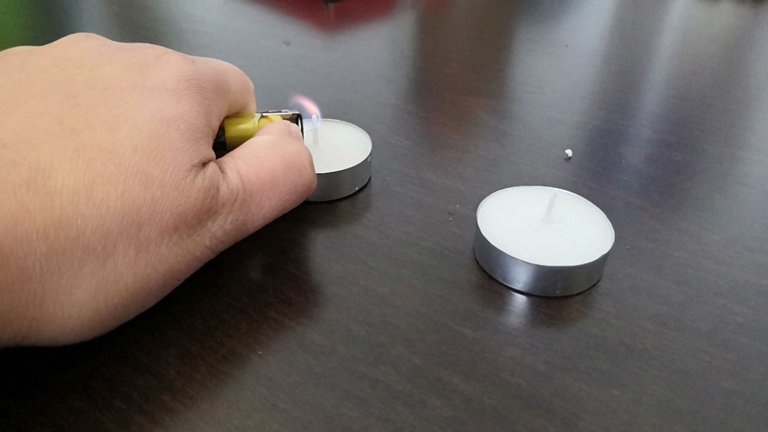 Mommy lighting the candles.
We carefully placed the jars over each candle simultaneously.
In which jar will the fire last longer?
On the left side of the photo, you will see the bigger jar. The smaller jar on the right.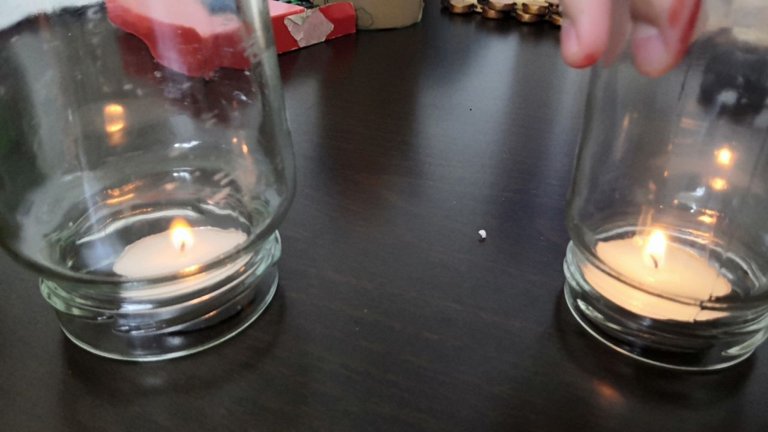 As you have rightly predicted, the fire on the left side (covered by the bigger jar) lasted longer because it had more oxygen trapped inside it than the smaller one.
The kids played for a bit longer where whenever the fire was about to be extinguished, they removed the jar to let oxygen through and the fire didn't die.
How did we eventually put off the fire?
Oh, Little Man sang the Happy Birthday song then blew the candle. LOL.
---
Again, I would like to thank this beautiful community for the learnings and ideas that are shared here. The engagement and thoughtful comments are really appreciated too!
We look forward to more activities that will be shared here, try them out as they deem fit in our own little homeschool, and if possible, share our experience too.


---
---