Fostering Casper: On To A New Adventure!
A new addition to the family!
As if we do not have enough on our plates, we now have a new pet puppy. We avoided having pets for a long time because our living conditions do not really call for big pets like dogs. We settled for manageable ones like fish. Until we moved here to our current apartment where we could afford to shelter a few kittens (but not allow them inside the house). The kittens, the last one being Maxxie, are long gone and have been replaced with a pair of bunnies, Cookie and Bun-Bun.
Anyway, last night there was a knock on our gate. It was our neighbor, the mom of the playmate of our kids. She was tugging along with her a little white puppy.
I've heard of this puppy. The day before, the kids mentioned that their friend was going to have a new puppy. She was excited for this new pet!
Or not.
"We need to find a new foster home for Casper because our daughter doesn't like him," our neighbor said.
This seemingly reserved puppy apparently has lots of energy in him that he keeps on jumping all over the place and is very playful!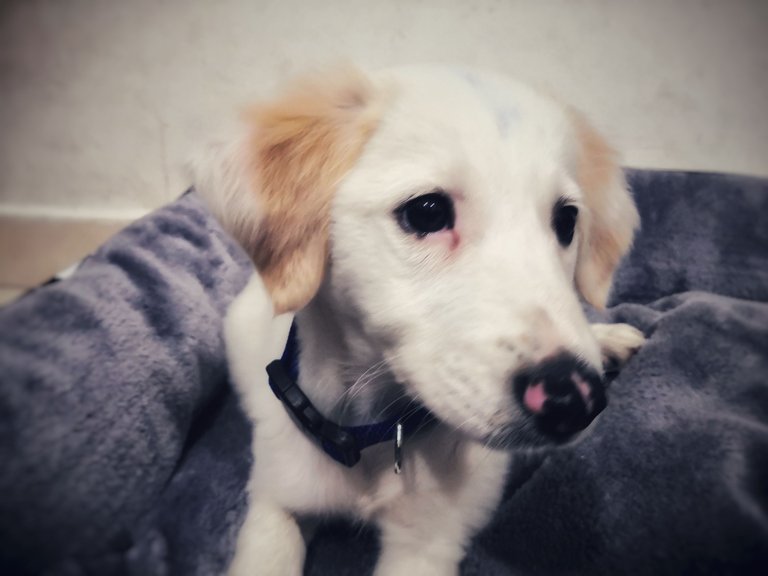 Casper in his bed. Isn't he cute?!
We decided to take Casper (the puppy) in with very little thought. After all, he came with all he would need in the short term like a big bag of dog food, his bed, and shampoo.
And boy, is he jumpy! This little canine is of the Saluki breed, though not a 100% anymore.
Training Casper
Oh, we are no dog experts. Casper is basically our first every pet dog. Though as per the very little reading I had about this kind, they are fast and are sight hunters. His breed was amongst those that are companions of the Arabian nomads back in the day.
Casper is only three months old and is apparently minimally trained. He doesn't respond to his name (yet). I think he only had this name for two days, LOL! He is very recently weaned from his mother.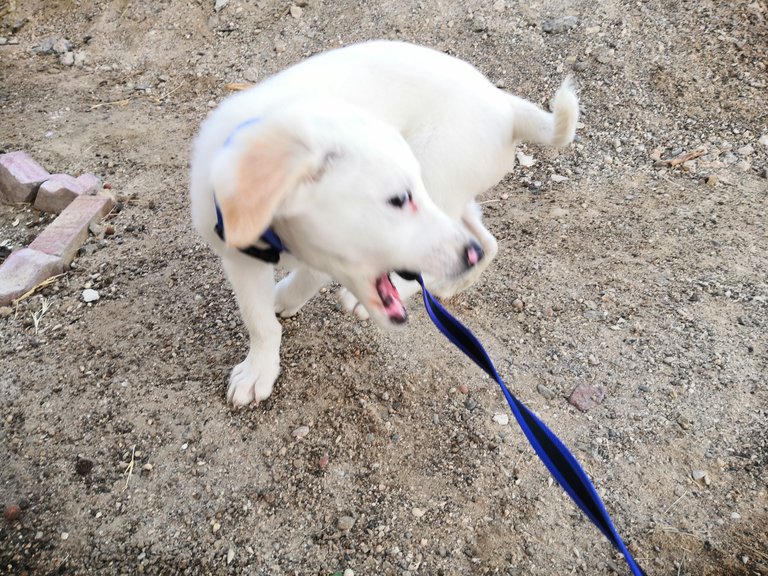 Casper trying to bite off his leash.
Can you spot a n00b dog owner?
This morning I tried to take him for a walk. I put on his leash and was successful in going around the villa halfway. He stopped in front of the entrance of our neighbor's house. He must have remembered he stayed here for a night. Haha.
Moving on, we went back to our house. The kids were finally awake and joined me. Then, they pointed out that I have put on the leash the wrong way!
I have put the leash handle around Casper's neck!
Sorry, Casper!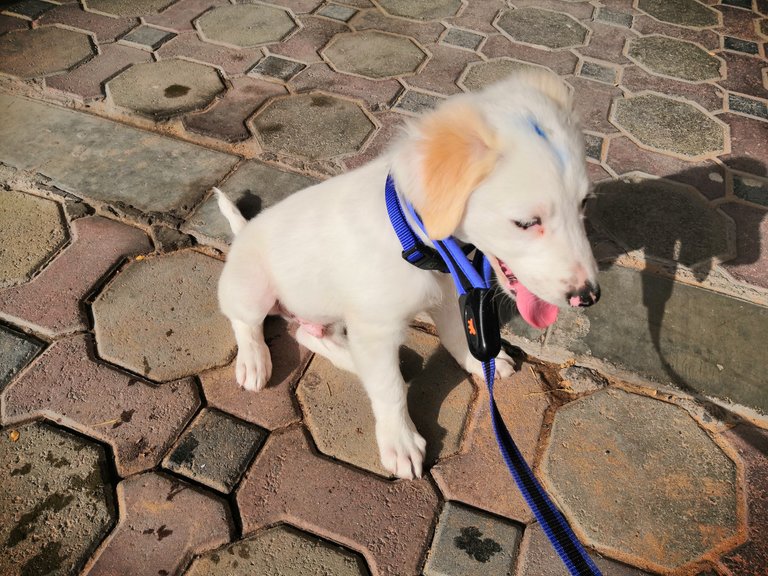 There! Finally fixed it!
He wasn't interested in going for a long walk and wander far away from the house. Hmmm, I wonder if that is good or not. I guess we will find out soon enough.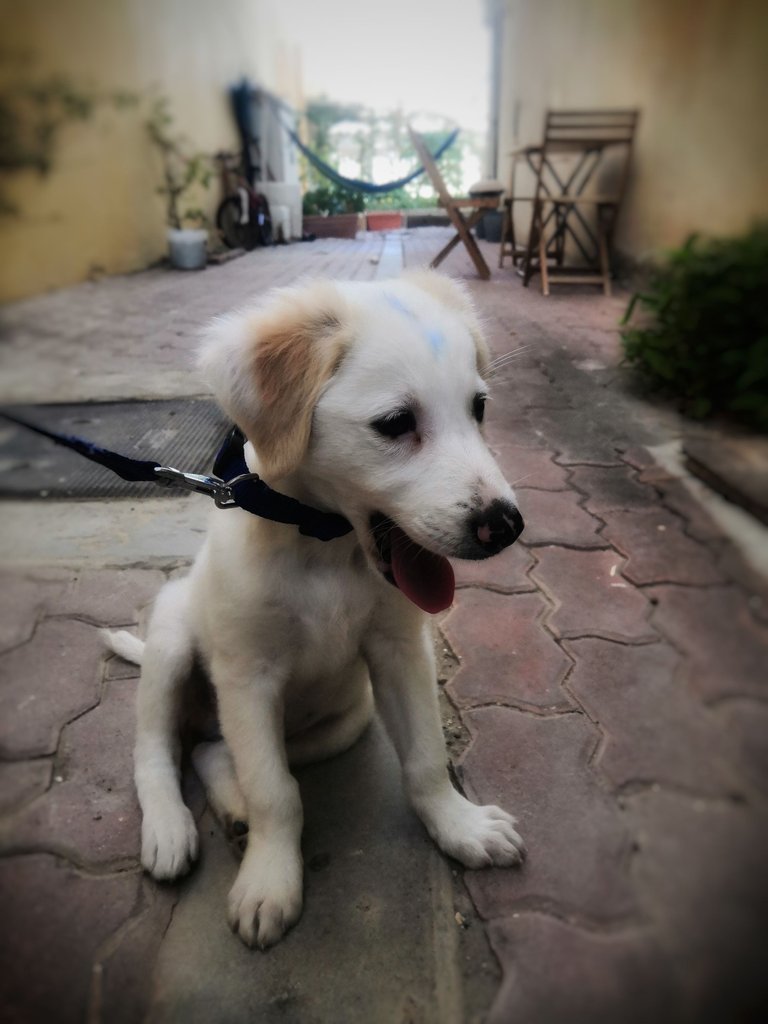 Casper and the Bunnies
Casper, Cookie, and Bun-Bun peacefully coexisted last night. They all slept outside without any remarkable signs of aggression from Casper.
However, the bunnies are of course petrified and are not able to roam freely so we are keeping Casper indoors most of the day today.
It's like having a little baby inside the house. The kids keep of shusshing each other so as not to wake this little guy up.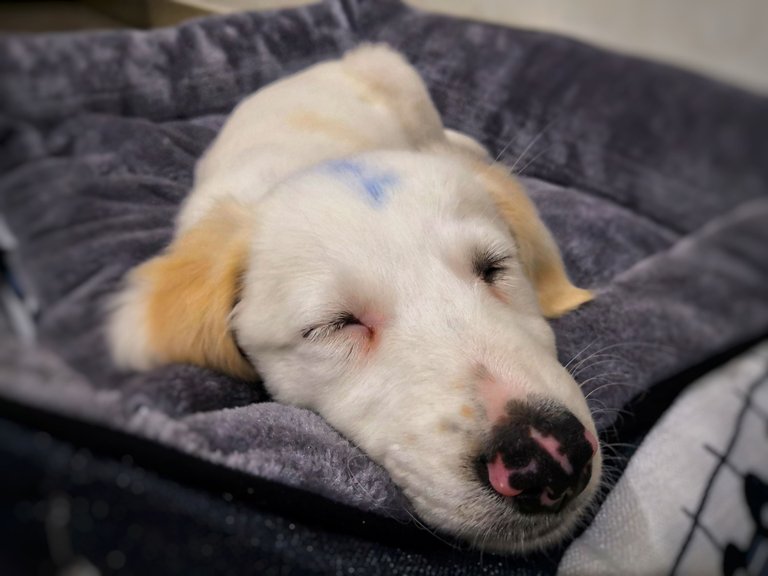 It's been a pretty chill first day with Casper so far. The following days are yet unknown. Let's see... it will be a new adventure indeed!


---
---