Vegetable garden at home. Basil cultivation (Ocimum basilicum L.). // Huerto en casa. Cultivo de albahacas (Ocimum basilicum L.). [ENG-ESP]
Vegetable garden at home. Basil cultivation (Ocimum basilicum L.). // Huerto en casa. Cultivo de albahacas (Ocimum basilicum L.). [ENG-ESP]
Hello to all the members of this creative community. I am glad to be able to contribute something about the benefits of planting or having a vegetable garden at home. One of the questions we could ask ourselves before we start planting is: what kind of plants can I grow? Everything will depend on the climate where you live and the type of land you have, and even to see what pests can plague the site. But, to start with, we can grow plants that are easy to care for and not too delicate. One of these is basil, especially for use in food and also has health benefits to take it in infusion.
Hola a todos los integrantes de esta creativa comunidad. Encantada de poder aportar algo sobre los beneficios de sembrar o tener un huerto en casa. Una de la preguntas que pudiéramos hacernos antes de empezar a sembrar es: qué tipo de plantas puedo cultivar?. Todo dependerá del clima donde vivas y del tipo de terreno que tengas, e incluso de ver qué plagas pueden azotar el sitio. Pero, para empezar podemos hacer cultivos de plantas que sean sencillas de cuidar y que no sean muy delicadas. Una de esas es la albahaca, especial para usar en las comidas y también tiene beneficios para la salud tomarla en infusión.


---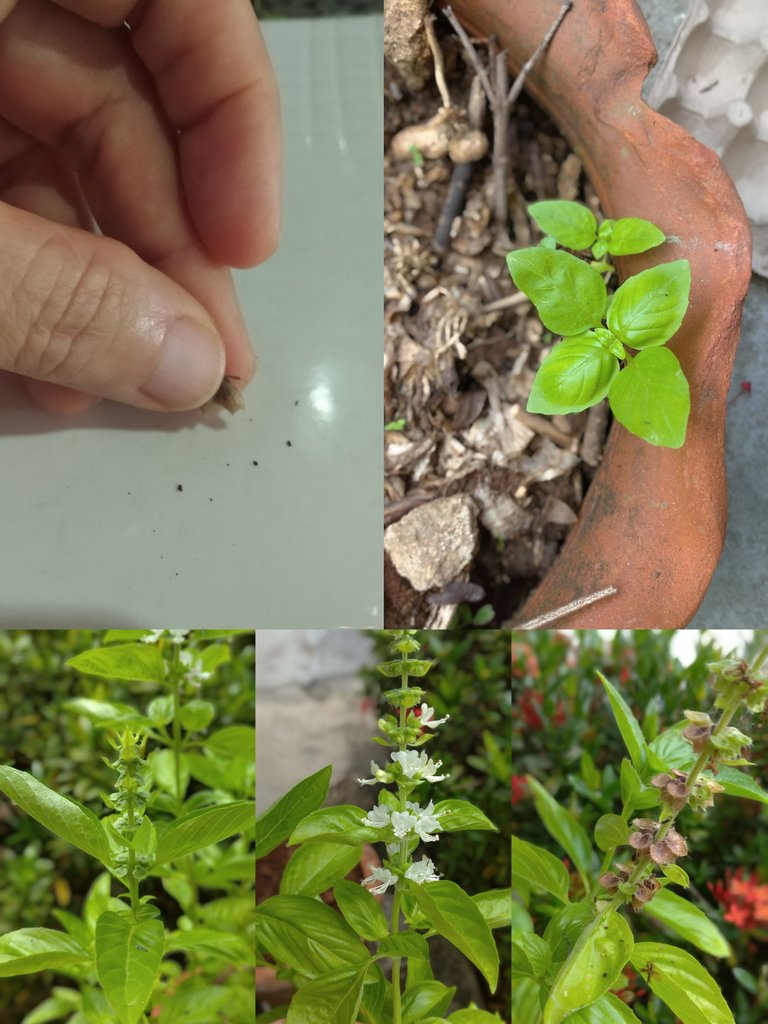 ---

I wanted to have this plant at home, because I love to use it in my meals and to improve my stomach problems. I almost always had to buy them in stores or look for gifts from those who already had them, so I decided to plant them in pots at home. I started by preparing the pots with soil that I previously fertilized with shells or vegetable waste that I take out of the daily use of these in the kitchen. Mixing these with soil and leaving some time for the decomposition process to begin, makes this soil more beneficial for the plant and its fruits to be produced, if it is the case. That is why I proceeded to fill these pots with this compost soil.
Yo con mi deseo de tener está planta en casa, pues, me encanta usarla en mis comidas y para mejorar mis problemas estomacales. Casi siempre me tocaba comprarla en las tiendas o buscar que me regalaran los que ya las tenían, así que decidí sembrarlas en macetas en casa. Empecé por preparar las macetas con tierra que previamente aboné con conchas o desperdicios vegetales que saco del uso diario de estos en la cocina. Mezclar estos con tierra y dejar un tiempo para que empiece su proceso de descomposición, hace de esta tierra más beneficiosa para que se produzca la planta y sus frutos si es el caso. Por eso en estas macetas procedí a llenar de esta tierra abonada.
---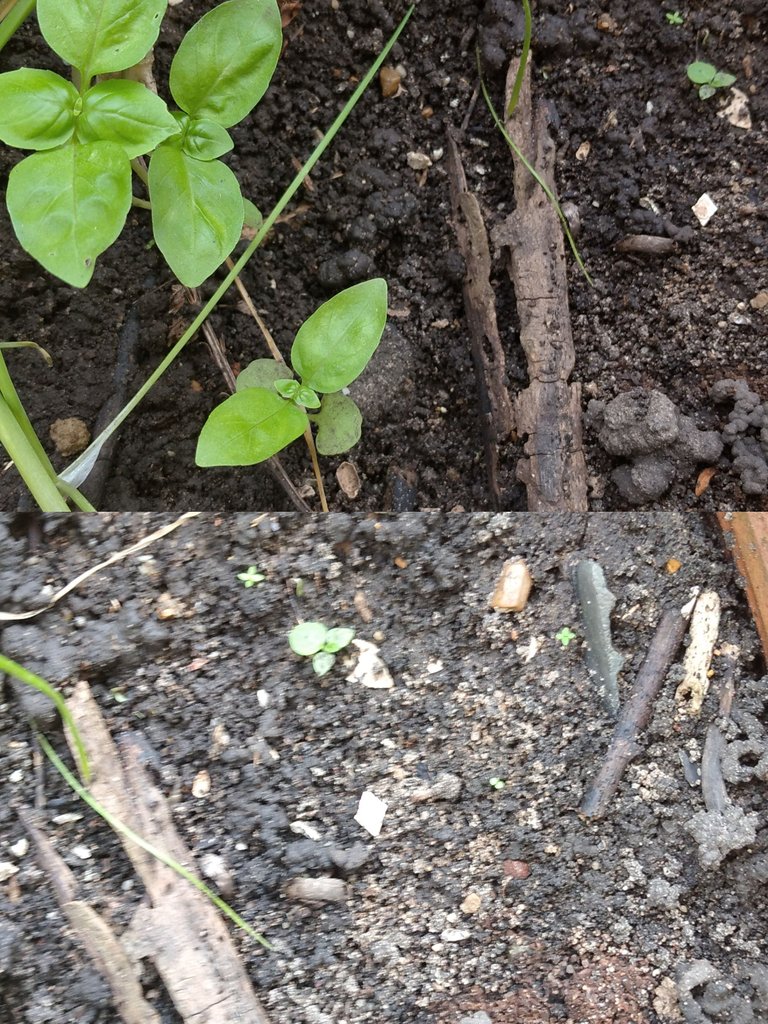 ---

Then a neighbor who had a lot of basil plants, I asked her for some seeds for sowing. In the bush itself the seeds are dried as in a long spike, and then they can be cut and watered in the pots. Here according to the photos I took the seeds that were encapsulated in the spike that the plant throws out after flowering.
Luego a una vecina que tenía muchas plantas de albahaca, le pedí unas semillas para sembrar. En la propia mata las semillas se secan como en una espiga larga, y luego se pueden cortar y regar en las macetas. Aquí según las fotos saque las semillas que estaban encapsuladas en la espiga que echa la planta después de florecer.
---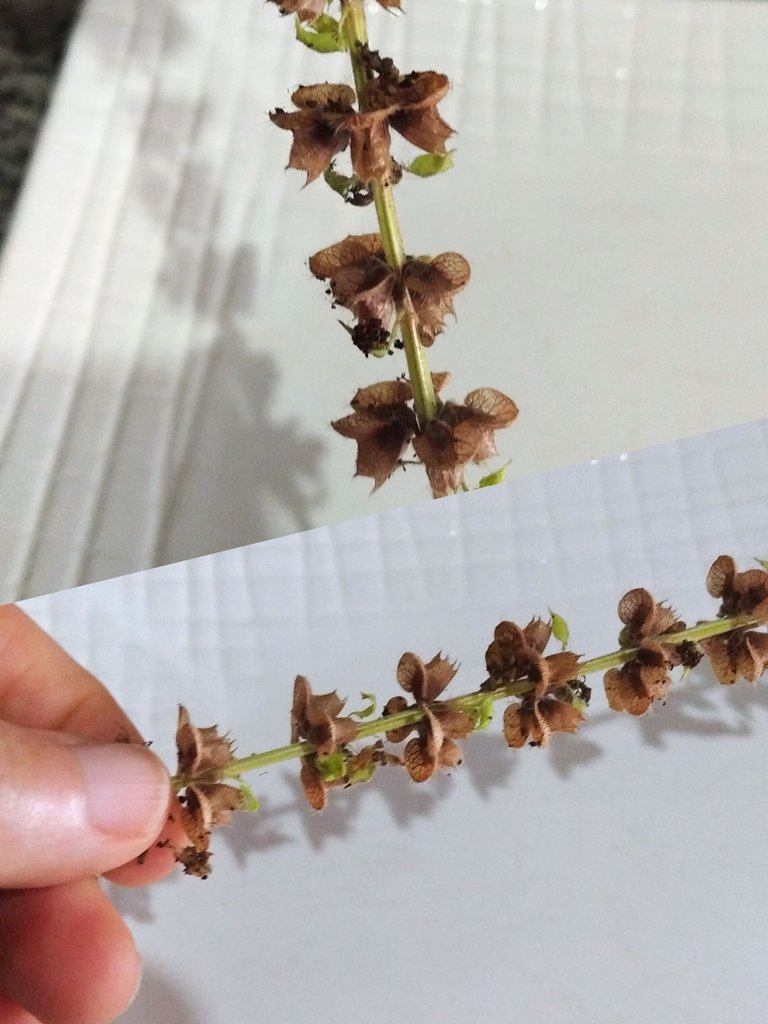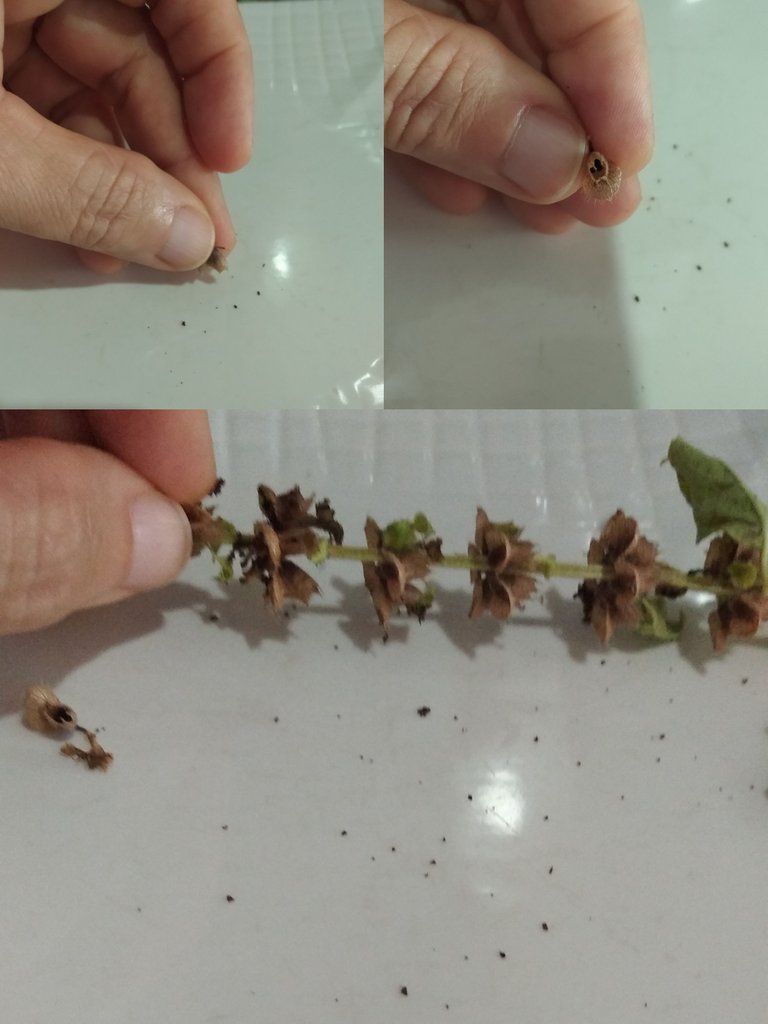 ---

After a few days, you can see the tiny sprouts of the seeds...at last! ...I am going to have my own basil plant. Afterwards, I made sure to water them daily because where I live the climate is warm, and I learned from my neighbor and experts in basil cultivation that basil must receive constant sunshine. No wonder, when I lived in a colder area it was difficult for me to grow it, the seeds almost never germinated, because of so much humidity they were damaged. Now I am happy with the birth of my offspring and I can already see that after 3 weeks my plant has more branches and strength. I also learned that it is necessary to prune it constantly after the plant is adult, this is done by cutting the newest leaves from the tip of each branch. This strengthens the plant and it grows faster and not only its branches go upwards, but sideways like a bush.
Al pasar unos días, se pueden ver los retoños pequeñitos de las semillas...al fin! ...voy a tener mi propia planta de albahaca. Después estuve pendiente de regarlas a diario pues donde vivo el clima es cálido, y aprendí con mi vecina y expertos en el cultivo de la albahaca, que debe recibir constantemente los rayos del sol. Con razón, cuando vivía en una zona más fría fue difícil para mí cultivarla, casi nunca germinaban las semillas, pues de tanta humedad se dañaban. Ahora contenta con el nacimiento de mis retoños Ya puedo ver qué a las 3 semanas mi planta tiene más ramas y fuerza. También aprendí que es necesario podarla constantemente después que la planta es adulta, esto se hace cortándole las hojas más nuevas de la punta de cada rama. Esto fortalece la planta y crece más rápido y no solo sus ramas se van hacia arriba, sino hacia los lados como un arbusto.
---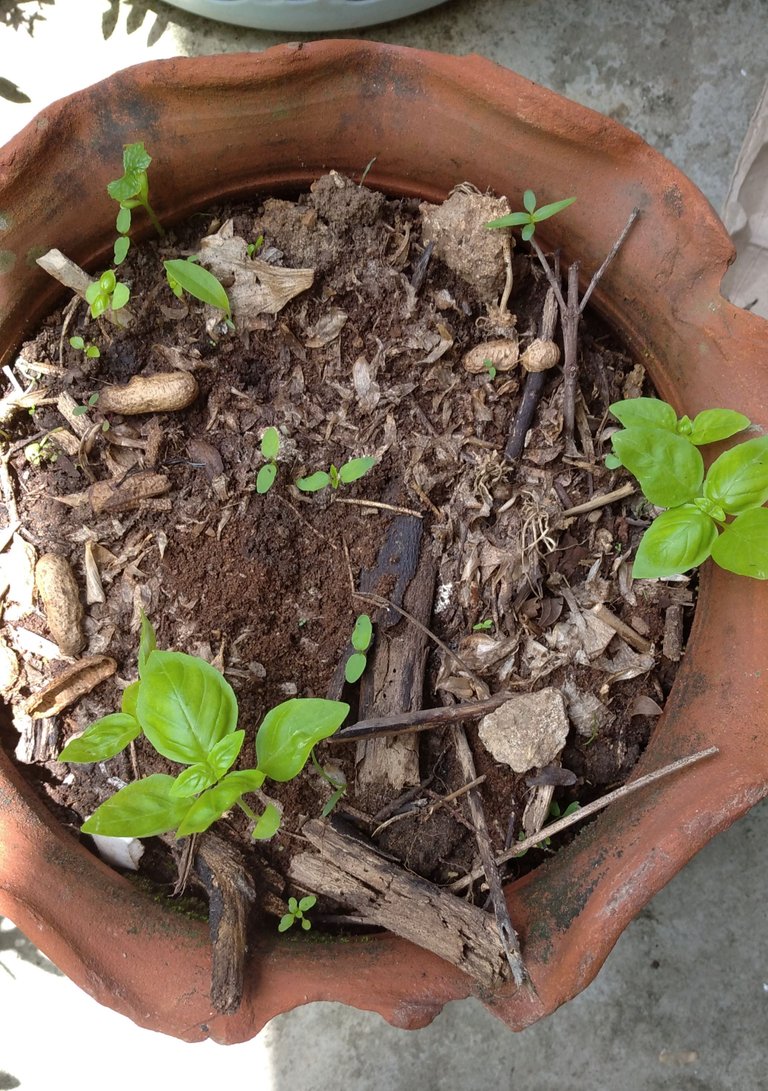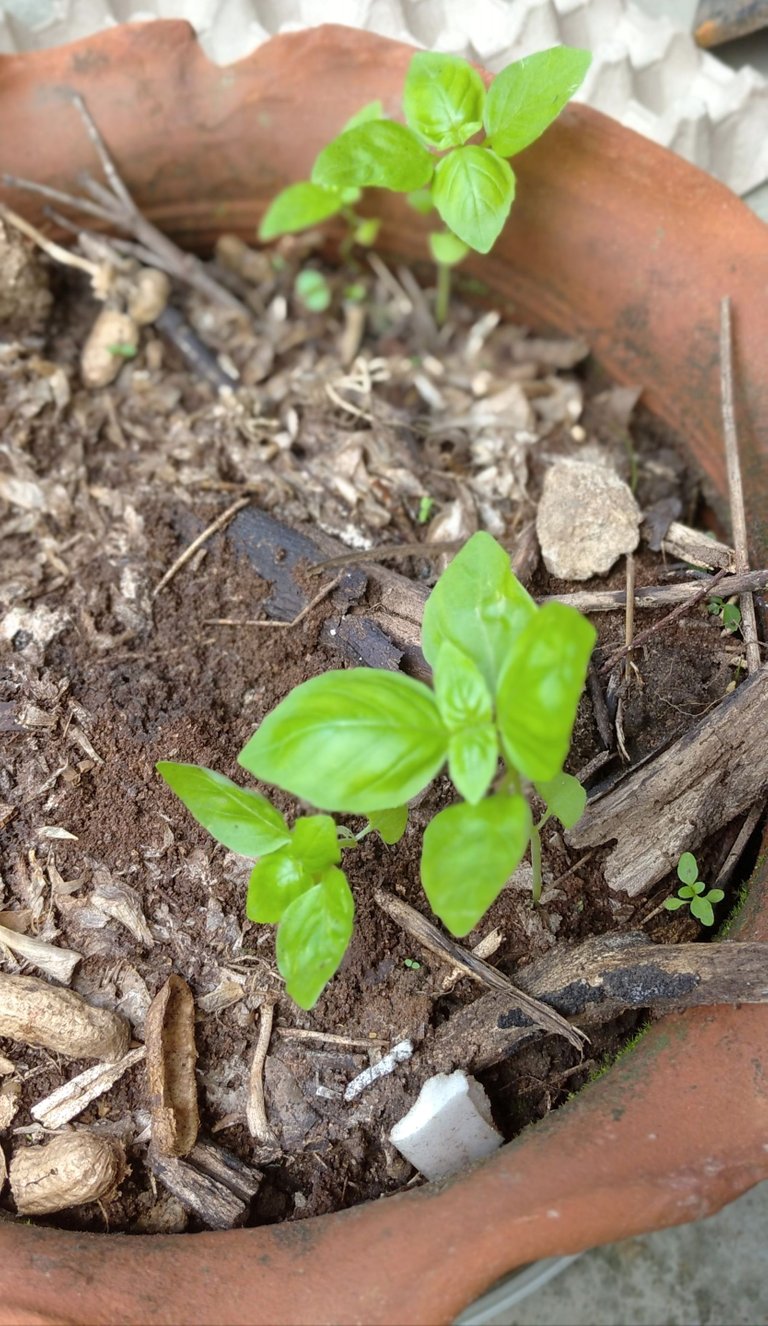 ---

Then I started to see some spikes with several green buds. And to my surprise, after more than a month of growth, I saw the flowers coming from there. The time came when it would give new seeds to continue planting. At that time it was beautiful to see the tiny flowers of extraordinary beauty that the basil plant produces. They are white with white pistils and at the tip of each one, some yellow grains that match perfectly. I was delighted with their aroma and beauty. From there the process was that the flowers began to dry and the seeds were left in each section where the flower bloomed.
Después empecé a verle unas espigas con varios botones verdes. Y para mí sorpresa después de más de un mes de crecimiento, de allí ví que venían las flores. Llegó la época en qué daría nuevas semillas para seguir plantando. En esa época fue hermoso ver las diminutas flores de extraordinaria belleza que produce la planta de albahaca. Son de color blanco con pistilos blancos y en la punta de cada uno, unos granos amarillos que le combinan a la perfección. Me deleite con su aroma y belleza. De allí el proceso fue que se empezaron a secar las flores y quedaron las semillas en cada sección donde se dió la flor.
---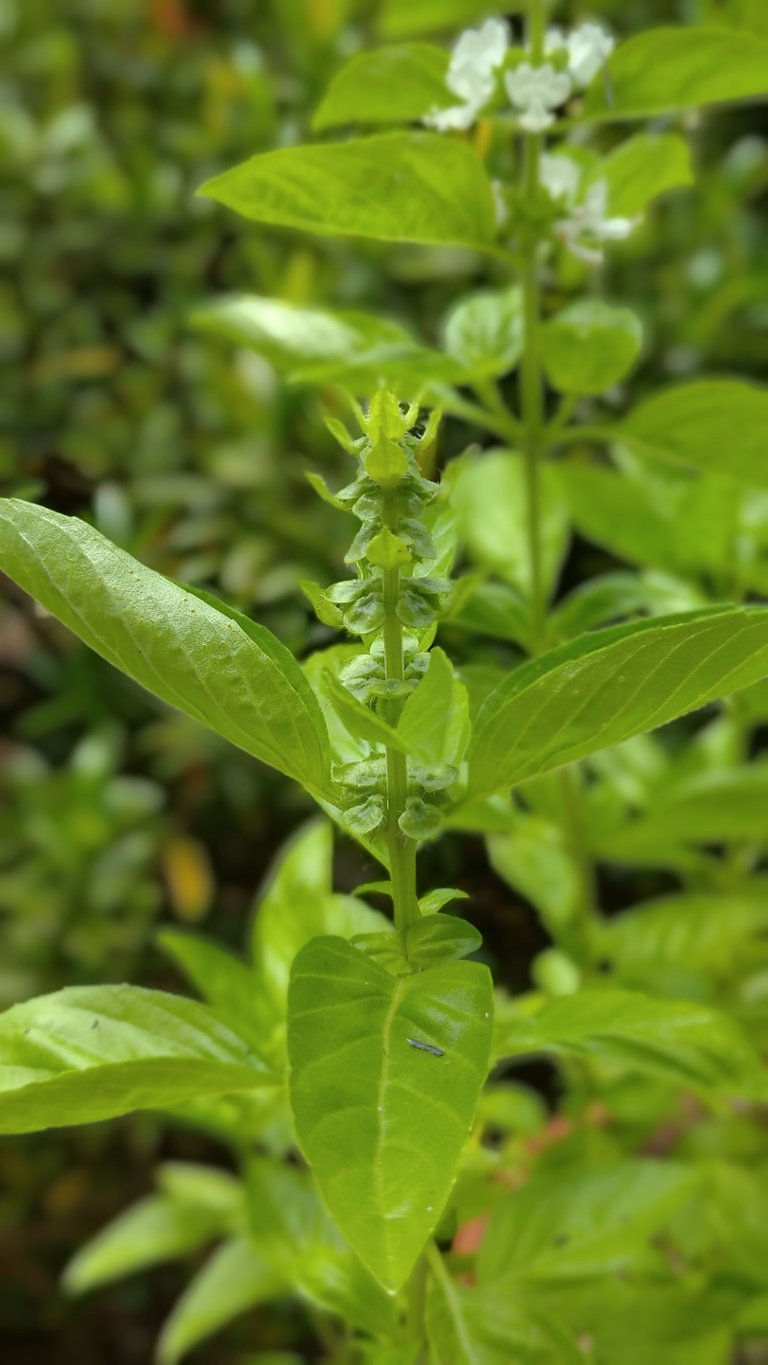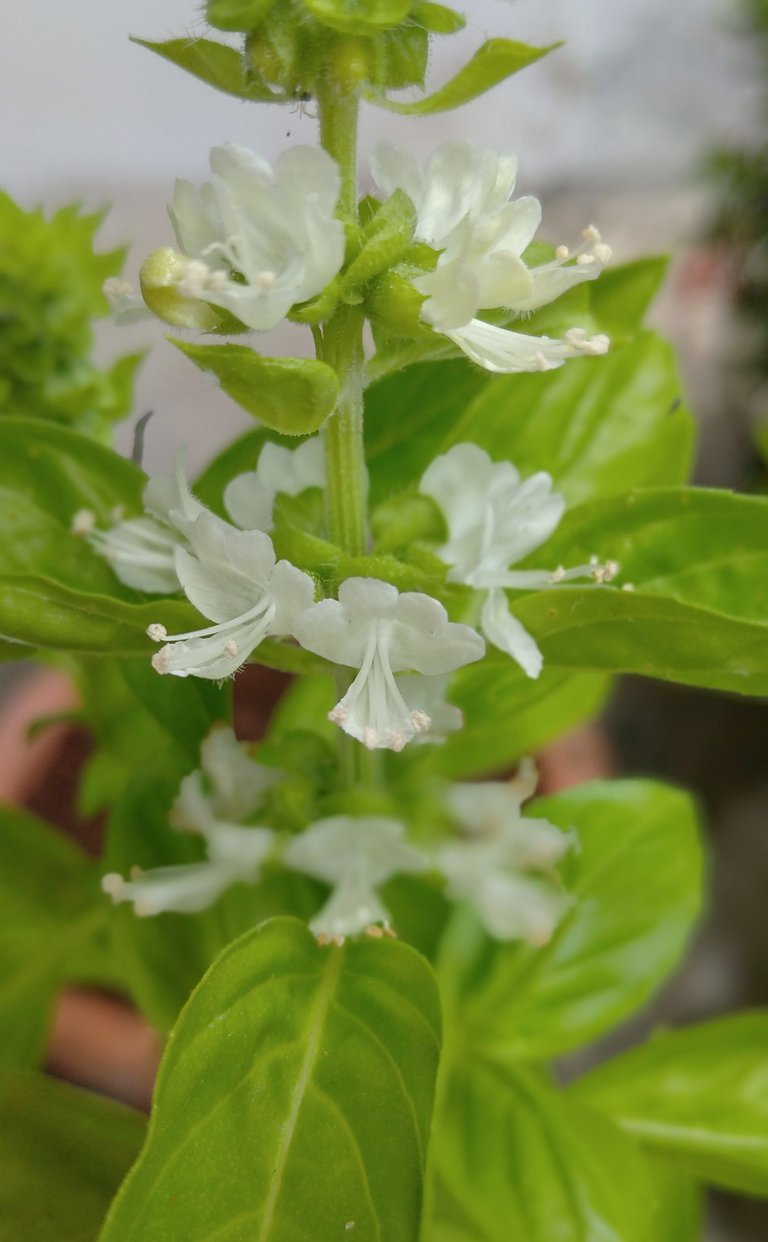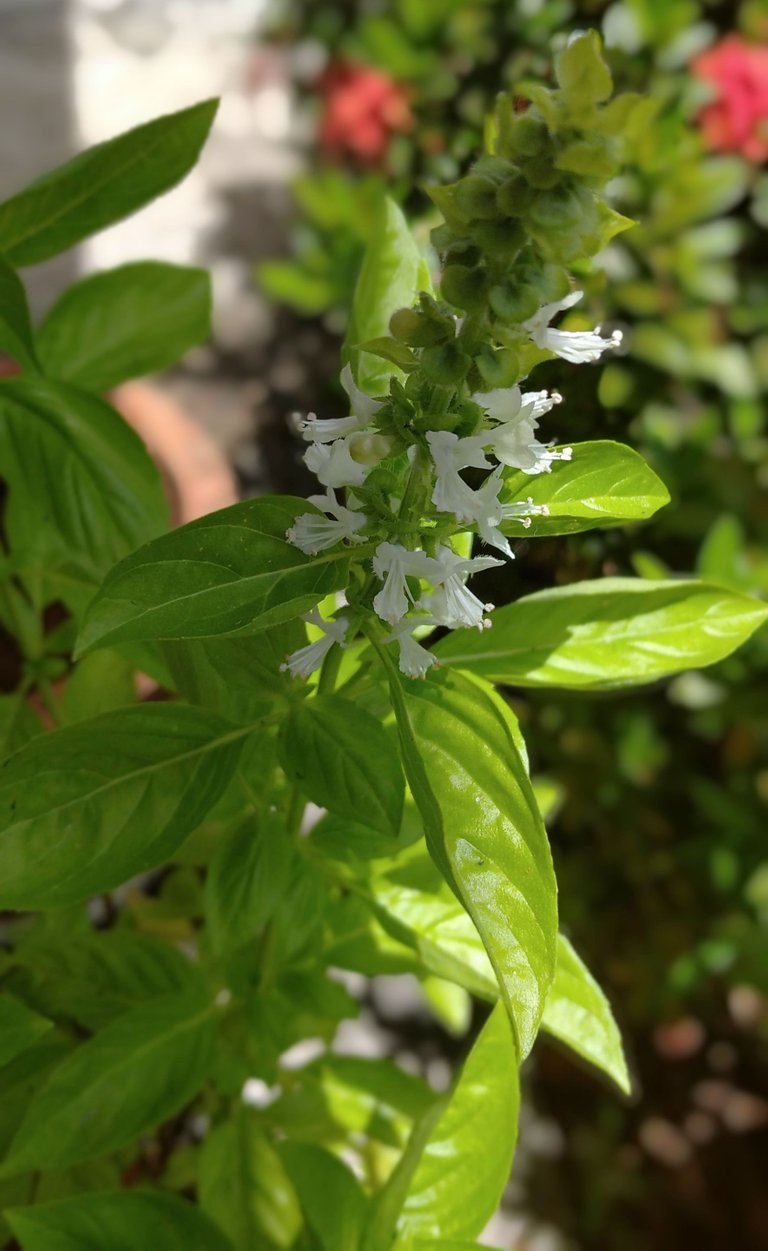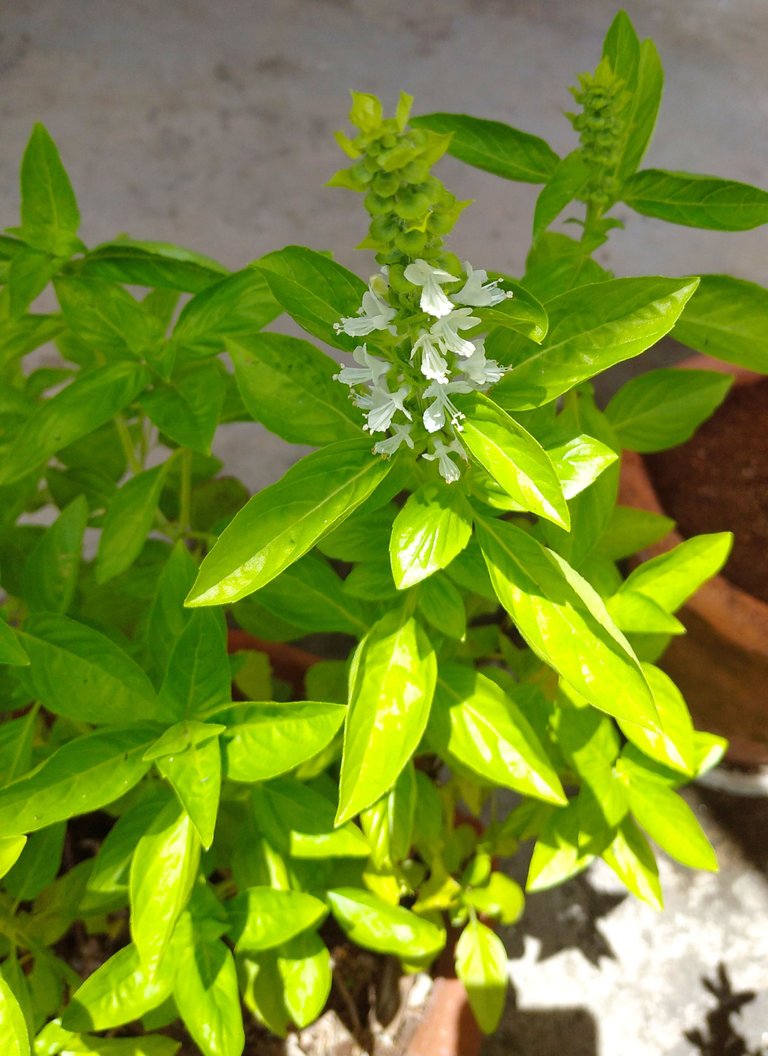 ---

Then, start again the process of cutting these spikes with the dry seeds and save them for sowing. There are times when moving the plant to remove the leaves, the seeds fall by themselves and are reborn near the other plants. But to control this I cut the seed spikes and set them aside and there I have new reserves to sow.
Entonces, empieza de nuevo el proceso de cortar estas espigas con las semillas secas y guardar para sembrar. Hay veces que al mover la planta para sacarle las hojas, las semillas caen por si solas y renacen cerca de las demás plantas. Pero yo para controlar esto le corté las espigas de semillas las aparté y allí tengo nuevas reservas para sembrar.
---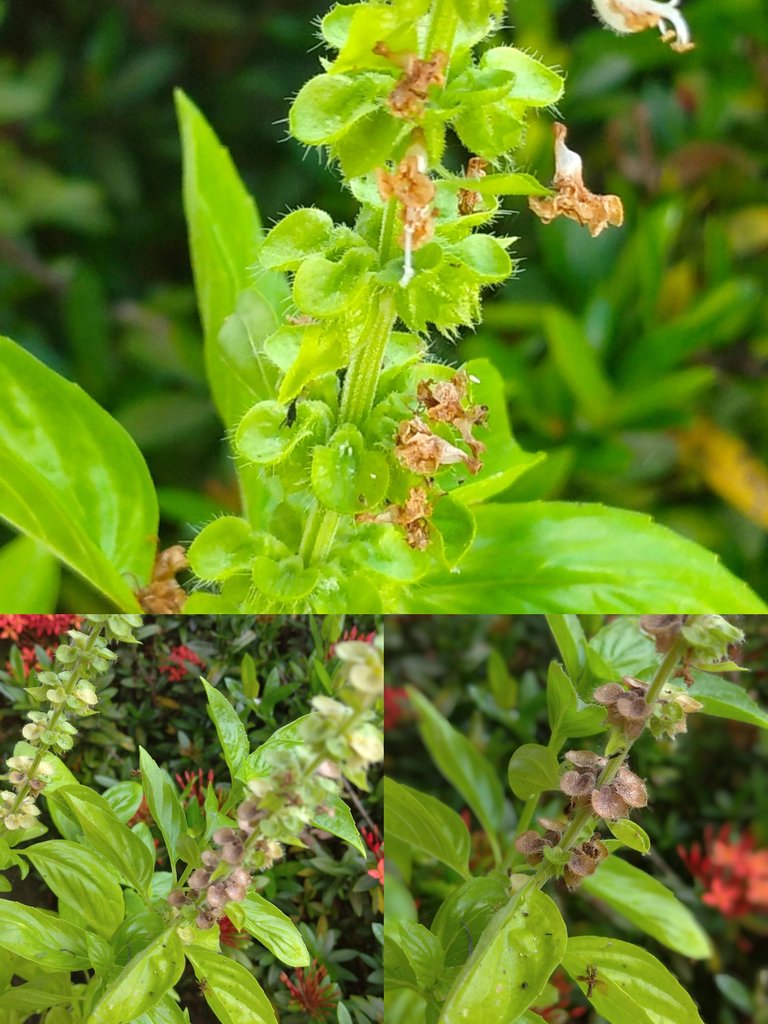 ---

From this plant I was able to obtain many benefits because I used it for meals, especially tomato sauce for spaghetti. I also took its leaves to make infusions and thus have better digestion and good sleep. This plant also serves to fight depression and at the same time it is a natural mosquito repellent. I put the pots on one of the edges of the patio facing the window, with this I enjoy its aroma and also that it does its job of keeping mosquitoes away. So, gardening at home always benefits, both physically and also helps to save money from the budget because you no longer have to buy to use it, as it happened to me at the beginning.
De esta planta pude obtener muchos beneficios pues la usé para las comidas, en especial las salsa de tomates para el espagueti. También tomaba sus hojas para hacer infusiones y así tener mejor digestión y un buen sueño. Esta planta también sirve para combatir la depresión y a la vez es repelente natural de mosquitos. Las macetas las coloque en uno de los bordes del patio que dan hacia la ventana, con esto disfruto de su aroma y también de que haga su trabajo de alejar a los mosquitos. Por eso, el hacer huertos en casa siempre beneficia, tanto físicamente como también ayuda a ahorrar dinero del presupuesto pues ya no tienes que comprar para poder usarla, como me pasaba al principio.
---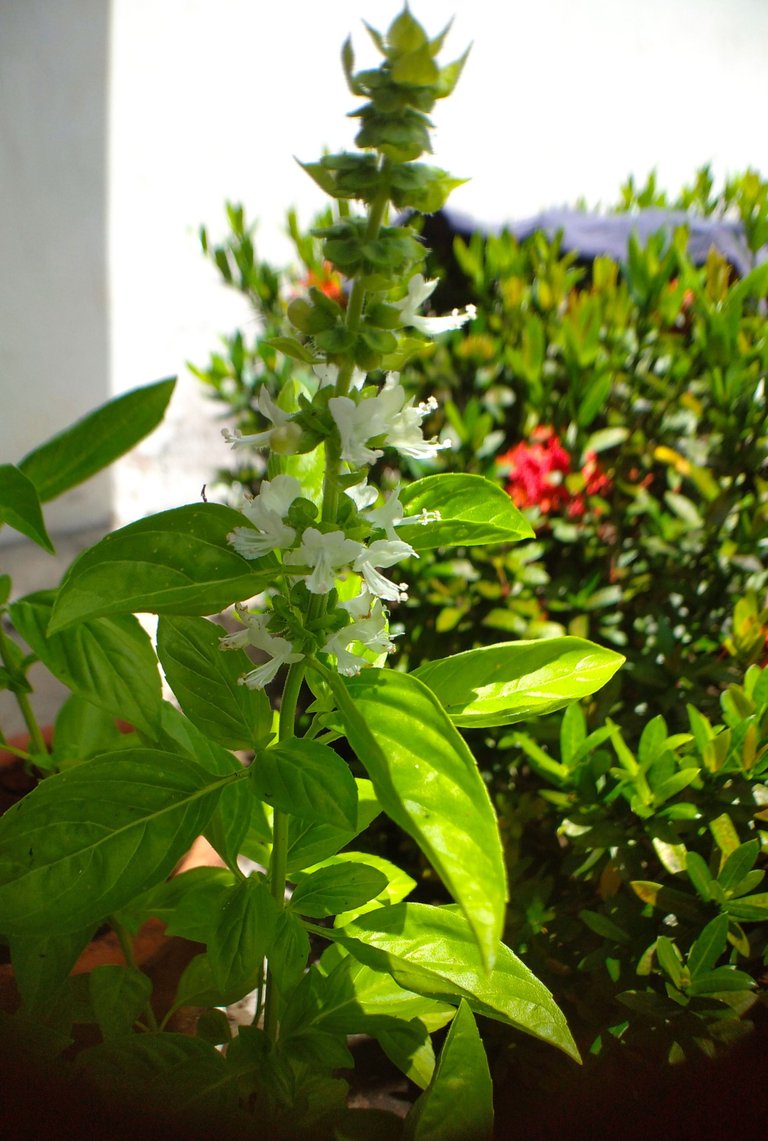 ---

Another benefit of planting and following the growth of a plant is that it produces great emotional well-being. It is satisfying to be able to harvest what you plant and use it for the benefit of the family. Having natural and organic resources on hand and using them for the garden helps sustainability. So, starting your garden with a plant like basil encourages you to keep expanding it. I was so excited with my basil plant that I even shared it with those who needed it. I also encouraged those who wanted to, to plant it in their gardens, so they could enjoy having their own plants.
Otro beneficio de sembrar y seguir el crecimiento de una planta, es que produce un bienestar emocional grande. Es satisfactorio poder recoger de lo que siembras y usarlo para el beneficio de la familia. El tener a mano recursos naturales y orgánicos y usarlos para el huerto ayudan a la sustentabilidad. Por eso, empezar tu huerto con una planta como la albahaca, te anima a seguir ampliando este. Yo emocionada con mi planta de albahaca, que hasta compartí de ella con quién la necesitaba. También incentive a los que querían, a sembrarla en sus jardines, y así ellos pudieran disfrutar de tener sus propias plantas.

As a whole, the seed, the interest in growing it, preparing a good soil, proper irrigation and then the necessary care, make us succeed in the cultivation at home. Not only can it be done in pots, but you can also set aside a place in the yard of the house to prepare it and plant there other plants that bear fruit for consumption. My husband and I also planted ginger, another medicinal plant that has culinary uses, and like basil, it is very easy to grow and care for. I will tell you about this one in another opportunity. I say goodbye, hoping that every day you can enjoy nature and what this beautiful planet that God gave us offers us. Knowing how to use these natural resources with awareness and prevention will allow future generations to also enjoy what our planet offers to make us happy and with a better life.The photos are my property. I wish you all a happy weekend. See you next time.
En conjunto, la semilla, el interés por cultivarla, preparar un buen terreno, el riego apropiado y luego los cuidados necesarios, hacen que tengamos éxito en los cultivos en casa. No solo se puede hacer en macetas, sino también se puede apartar un sitios del patio de la casa para prepararlo y sembrar allí otras plantas que den frutos para el consumo. También sembramos, mi esposo y yo, gengibre, es otra planta medicinal y que tiene usos culinarios, está al igual que la albahaca, es muy fácil de cultivar y cuidar. De esta les hablaré en otra oportunidad. Me despido, esperando que cada día puedan disfrutar de la naturaleza y de lo que nos ofrece este hermoso planeta que nos regaló Dios. El saber usar estos recursos naturales con conciencia y prevención, permitirá que futuras generaciones también disfruten de lo que nuestro planeta ofrece para hacernos felices y con una vida mejor. Las fotos son de mi propiedad. A todos les deseo un feliz fin de semana. Hasta la próxima.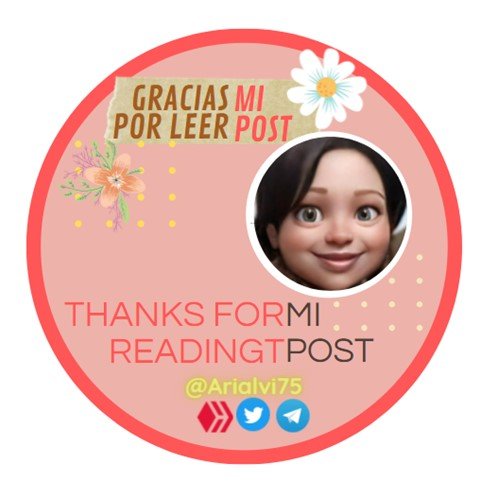 Banner made with canva.com //Banner realizado con canva.com
Separator:** Separadores de texto para Blog
---
---