Musical memories: a song for each decade, the ones that marked my life. (#BoM) // Recuerdos musicales: una canción para cada década, las que marcaron mi vida.(#BoM).[ENG-ESP]

Musical memories: a song for each decade, the ones that marked my life. (#BoM) // Recuerdos musicales: una canción para cada década, las que marcaron mi vida.(#BoM).[ENG-ESP]
Hello to all those who make life in this community. This is the first time I write here, because I didn't know the community yet, but I'm glad to be able to do it just to participate in this contest. Since I was a child I like music very much, as my mother did too and I inherited it from her. Music makes feelings come out, whether they are good memories or sad stories. So remembering the songs that mark your life is a very pleasant mental and emotional exercise. Although I have many songs in my head with unforgettable memories, I will highlight only one from each era.
---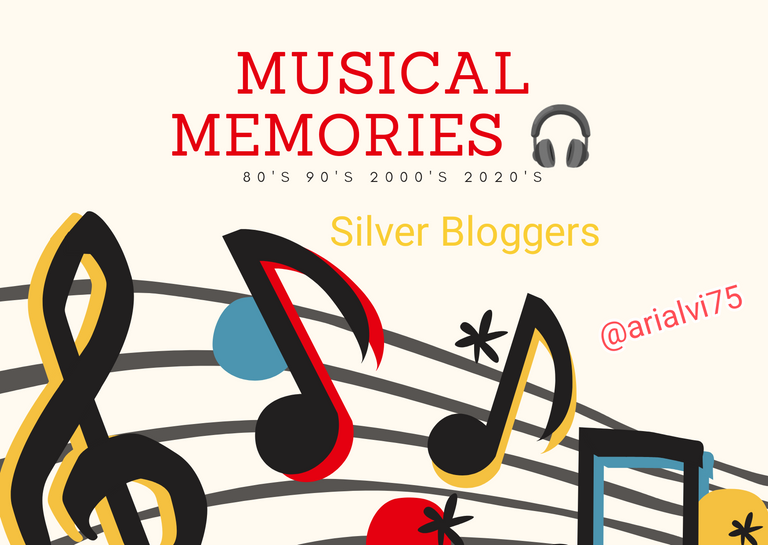 ---

📻 From the 80's. "Take on me" by the Norwegian group A-ha.
A "boom" for the time, I remember I was already in high school and listening to this song gave us impulses for the imagination, because the video was for that time as futuristic, you can see how from a comic the protagonist of the video comes to life, until the end and manages to get out of the inanimate to life as a human. Besides the lyrics of the song is significant because it is romantic, and I'm romantic, imagine in those moments of school was very easy to fall in love, hahaha. And something funny and why it is memorable for me too, is that since I did not know how to speak English, I sat down to listen to the song and copied each word as it sounded like the pronunciation so I could learn it and sing it when my classmates did, hahaha and thus enter the "slingshot" of that time.
---
---

📀From the 90's. "De Música Ligera" by the Argentine rock band Soda Stereo and lead vocalist Gustavo Cerati.
Who doesn't remember the expression "¡Gracias... totales!", an expression that this band uses at the end of this song. It was a very popular song in the 90's here in Venezuela. At that time I was in the middle of higher education or university, and this was another level, I had a little more maturity, hahaha, but with this song it was hard not to get the internal euphoria that caused listening to it. Even in public transportation it was common to listen to this song while arriving home or going to college. So, how could I forget it, hahaha.
Also at that time I really liked to listen to romantic pop songs by Latin artists. From Shakira I liked: "ciega,sordomuda". From the group Maná: "rayando el sol". And from Ricky Martin, several of his songs. So I have more than one song to remember from that time. And almost all of them are my favorites.
---
---

🎧 From 2000. "Beautiful Day" . From the Irish rock band U2.
From the album: All That You Can't Leave Behind. Bono vocalist of this group was able to convey through the lyrics of this song, about the significance of moving forward despite the losses we suffer in life, try to be happy and move forward.
This theme, won Grammy awards for song of the year.Who does not sing to this day this memorable chorus, which I also learned, this time if in English, because I already knew a little more this language, hahaha, which says:
"It's a beautiful day.
The sky is falling and you feel like
It's a beautiful day
Don't let it slip away".
---
---

🎶 From 2020. "Ya Pasará" by Mexican singer, Carlos Rivera.
This is from his album "Crónicas de una guerra" from 2021. He himself was one of the authors of this song.
Why is it a musical memory, although not a very good one?..... In the midst of the covid -19 pandemic it was a song of hope and encouragement in the midst of so many deaths and sick people. Confinement robbed us of joy and emotional stability. Many times I cried while singing or listening to this song. For me it is unforgettable.
For in its chorus it says:
"The storm will pass
It will bring calm and what hurts today, it will heal
You'll see, this end will be the beginning
Will be the beginning and the best may come to pass
And we will begin again
And we will return".
The lyrics also state:
"Without hesitation, I know I can hold on
I know I can start again
The storm will pass
It will bring the calm and what hurts today will heal
You'll see, this end will be the beginning
Will be the beginning and the best may come to pass
That we will start again
Stronger".
This song made me see that what we lived through during the pandemic was although painful and a gray period, it was also something that would pass someday and we would come back to our life... "stronger". Here I leave you the link to enjoy the full song if you haven't listened to it.
---
---

And to end my participation in this contest I want to leave this phrase in your minds:
"Sometimes you don't know the true value of a moment until it becomes memory"(Dr. Seuss).
So, let's value those special moments that we relive with the themes of songs that are still in our memory and that you listen to them and you are transported back in time and that are the basis of your future. I hope you have a happy day and success to all participants. See you next time.

Spanish version: // Versión en español:

Hola a todos los que hacen vida en esta comunidad. Está es la primera vez que escribo aquí, pues no conocía aún la comunidad, pero me agrada poder hacerlo justo para participar en este concurso. Desde pequeña me agrada mucho la música,pues a mi madre también y eso lo heredé de ella. La música hace que los sentimientos salgan a flote, sean buenos recuerdos o tristes historias. Así que recordar las canciones que marcan tu vida es un ejercicio mental y emocional muy agradable. Aunque tengo muchas canciones en mi cabecita con recuerdos inolvidables, solo destacaré una por cada época.
---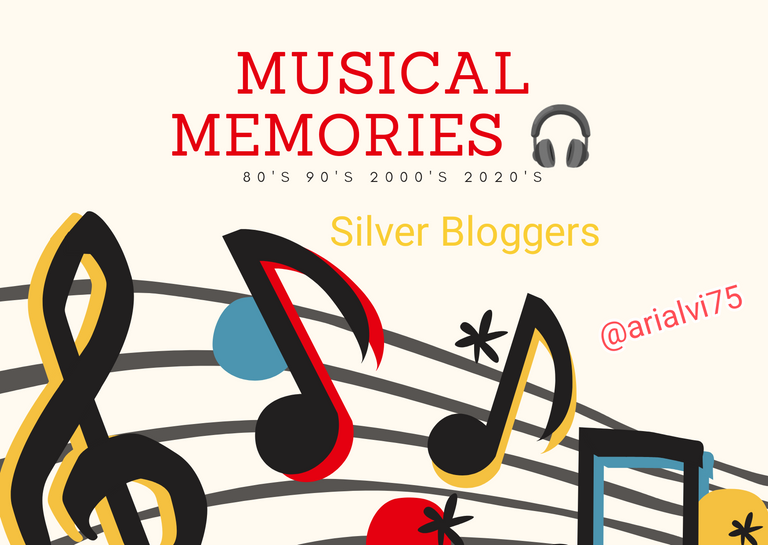 ---

📻De los 80. "Take on me" del grupo noruego A-ha.
Un "boom" para la época,recuerdo que estaba ya en el liceo(secundaria) y escuchar esta canción nos daba impulsos para la imaginación,pues el vídeo era para ese tiempo como futurista, se nota como de un comic el protagonista del vídeo cobra vida, hasta que al final ya logra salir de lo inanimado a la vida como humano. A parte de que la letra de la canción es significativa pues es romántica, y yo soy romántica, imagínense en esos momentos del colegio era muy fácil enamorarse, jajaja. Y algo chistoso y de porque es memorable para mí también, es que como no sabía hablar inglés, me senté a escuchar la canción y copié cada palabra tal y como me sonaba la pronunciación para poder aprenderla y cantarla cuando mis compañeros de clase lo hacían, jajaja y así entrar en la "honda" de ese tiempo.
---
---

📀De los 90. "De Música Ligera" de la banda argentina de rock Soda Stereo y como vocalista principal Gustavo Cerati.
Quien no recuerda la expresión "¡Gracias… totales!", una expresión que este grupo utiliza al final de esta canción. Fue un tema muy sonado en esta época de los 90 aquí en Venezuela. Yo en ese tiempo estaba en plenos estudios de educación superior o universidad, y ya este era otro nivel, tenía un poco más de madurez, jajaja, pero con esta canción era difícil no sacar la euforia interna que causaba escucharla. Incluso en el transporte público era común escuchar este tema mientras llegabas a tu casa o de ida a la universidad. Así que, como olvidarlo, jajaja.
También en esa época me gustaba mucho escuchar temas de canciones pop románticas, de artistas latinos. De Shakira me gustaba: "ciega,sordomuda". Del grupo Maná: "rayando el sol". Y de Ricky Martin, varios de sus temas. Así que tengo más de una canciones del recuerdo para esa época. Y casi todas las tengo como preferidas.
---
---

🎧Del 2000. "Beautiful Day" . De la banda de rock irlandesa U2.
Del álbum: All That You Can't Leave Behind. Bono vocalista de este grupo pudo transmitir a través de la letra de esta canción, sobre lo significativo de salir adelante a pesar de las pérdidas que suframos en la vida, tratar de ser felices y seguir adelante.
Este tema, ganó premios Grammy a la canción del año.Quien no canta hasta hoy este coro memorable, que también me aprendí, esta vez si en inglés, pues ya conocía un poco más este idioma, jajaja, que dice:
"Es un hermoso día
El cielo cae y te sientes como si
Es un hermoso día
No dejes que se escape".
---
---

🎶Del 2020. "Ya Pasará" del cantante mexicano, Carlos Rivera.
Este es de su álbum "Crónicas de una guerra" del 2021. Él mismo fue uno de los autores de este tema.
Por que es un recuerdo musical, aunque no muy bueno?... En plena pandemia de covid -19 fue una canción de esperanza y ánimo en medio de tantas muertes y personas enfermas. El encierro nos robó la alegría y la estabilidad emocional. Muchas veces lloré mientras cantaba o escuchaba este tema. Para mí es inolvidable.
Pues en su coro dice:
"Ya pasará la tempestad
Traerá la calma y lo que hoy duele, sanará
Ya lo verás, que este final
Será el principio y lo mejor podrá pasar
Y volveremos a empezar
Y volveremos".
También dice la letra:
"Sin dudar, sé que puedo aguantar
Sé que puedo volver a empezar
Ya pasará la tempestad
Traerá la calma y lo que hoy duele, sanará
Ya lo verás, que este final
Será el principio y lo mejor podrá pasar
Que volveremos a empezar
Más fuertes".
Está canción hizo me hizo ver qué lo vivido por la pandemia era aunque doloroso y una epoca gris, también era algo que pasaría algún día y volveríamos a nuestra vida... "más fuertes". Aquí les dejo el enlace para que disfruten de la canción completa si no la han escuchado.
---
---

Y para terminar mi participación en este concurso quiero dejar esta frase en sus mentes:
"A veces no conoces el verdadero valor de un momento hasta que se convierte en memoria"(Dr. Seuss).
Por eso, valoremos esos momentos especiales que revivimos con los temas de canciones que aún están en nuestras memoria y que los escuchas y te transportas a la época de atrás y que son la base de tu futuro. Espero que tengan feliz día y éxito a todos los participantes. Hasta una próxima oportunidad.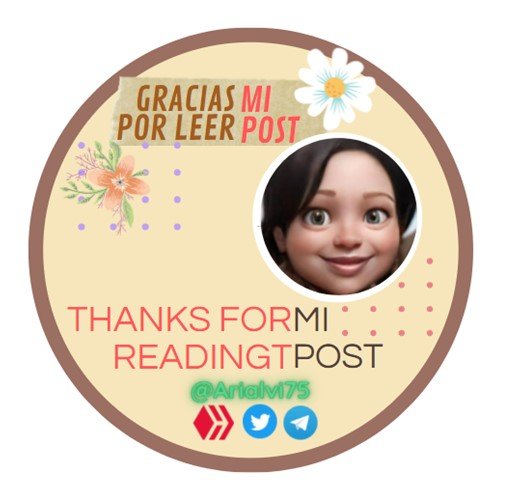 First photo, card made by me with canva.com // Primera foto, tarjeta hecha por mi con canva.com
Banner made with canva.com //Banner realizado con canva.com
Separator:** Separadores de texto para Blog
---
---