COCONUT MAJARETE. A rich and nutritious Venezuelan dessert. // MAJARETE de COCO. Un rico y nutritivo postre venezolano.[ENG- ESP]
COCONUT MAJARETE. A rich and nutritious Venezuelan dessert. // MAJARETE de COCO. Un rico y nutritivo postre venezolano.[ENG- ESP]
Greetings to all lovers and beginners of the art of cooking. Among the delights of life is eating, for this we must learn every day more ways to prepare and improve the dishes we make. I love cooking and inventing recipes...giving them my personal touch. One of my favorite dishes are desserts. And I have specialized in making desserts with coconut. The majarete, which is the recipe I present today, is a typical dessert well known throughout Venezuela, which has a unique texture and flavor due to its ingredients and spices. And who doesn't like coconut?.....


Saludos a todos los amantes y principiantes del arte de cocinar. Dentro de los deleites de la vida está el comer, para esto debemos aprender cada día más formas de preparar y mejorar los platos que hacemos. A mí me encanta cocinar e inventar en las recetas...darle mi toque personal. Uno de los platos preferidos para mí, son los postres. Y me he especializado en hacer los que llevan coco. El majarete, que es la receta que les presento hoy, es un postre típico muy conocido en toda Venezuela, que es de una textura y sabor único por sus ingredientes y especias. Y a quien no le gusta el coco?...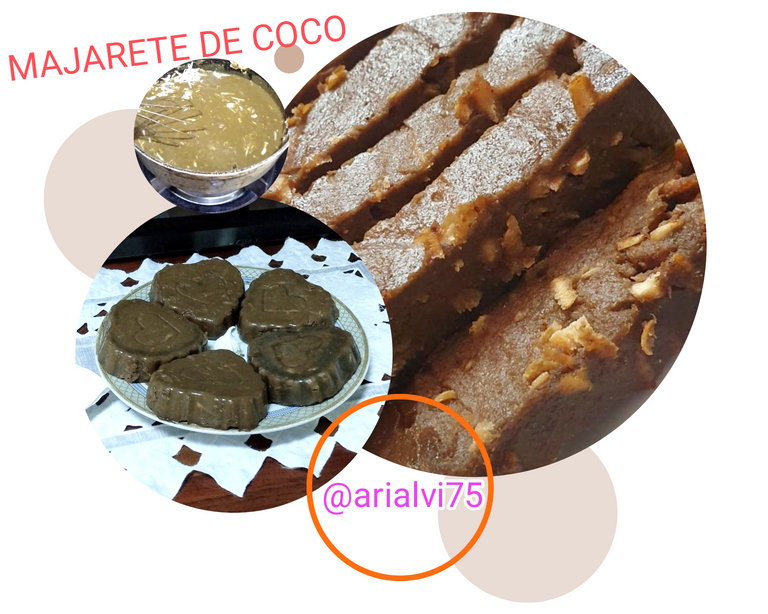 This dessert is very easy to make and nutritious, especially for the children and the not so children of the house, hahaha. Some make it with coconut and sugar cane molasses (papelón) and others do not. This past weekend a very dear friend of mine was celebrating her wedding anniversary and I know she loves this dessert, so I made it with love for her enjoyment. This time as I have some heart molds, I took the opportunity to pour the mixture into them, resulting in beautiful "hearts of coconut majarete". Although I made it in my kitchen, the best majaretes, in my opinion, are the ones made in "fogón" or cooked in firewood, that is the most original flavor. However, here I show you my style to make this delicious dessert.
Este postre es muy fácil de hacer y es nutritivo, especial para los niños y los no tan niños de la casa, jajaja. Algunos lo hacen con coco y melaza de caña de azúcar(papelón)y otros no. Este fin de semana pasado una amiga muy querida estaba de aniversario de bodas y sé que le encanta este postre, por eso, se lo hice con mucho cariño para su disfrute. En esta ocasión como tengo unos moldes de corazón, aproveché de echar la mezcla en ellos, resultando en lindos "corazones de majarete de coco". Aunque lo hice en mi cocina, los mejores majaretes ,a mí parecer en sabor, son los que se hacen en "fogón" o cocidos en leña, ese es el sabor más original. Sin embargo, aquí les muestro mi estilo para hacer este rico postre.

Ingredients: // Ingredientes:
For the coconut milk:
🥥3 cups shredded coconut.
☕️2 and 1/2 cups of hot water.
For the majarete:
🥥1 cup shredded coconut.
🥛2 and 1/2 cups of coconut milk.
🍚1 cup of precooked corn flour.
🥣1 cup of sugar cane molasses (molasses liquid).
🍶1 cup of liquid milk.
🧂️1/2 teaspoon salt.
🍋1/2 teaspoon grated lemon zest.
🥄1/4 teaspoon nutmeg.
🥄3 teaspoons of cinnamon powder.
Para la leche de coco:
🥥3 tazas de coco rallado
☕️2 y 1/2 tazas de agua caliente.
Para el majarete:
🥥1 taza de coco rallado.
🥛2 y 1/2 tazas de leche de coco.
🍚1 taza de harina de maíz precocida.
🥣1 taza de melaza de caña de azúcar(papelón líquido).
🍶1 taza de leche líquida.
🧂️1/2 cucharadita de sal.
🍋1/2 cucharadita de ralladura de cáscara de limón.
🥄1/4 cucharadita de nuez moscada.
🥄3 cucharaditas de canela en polvo.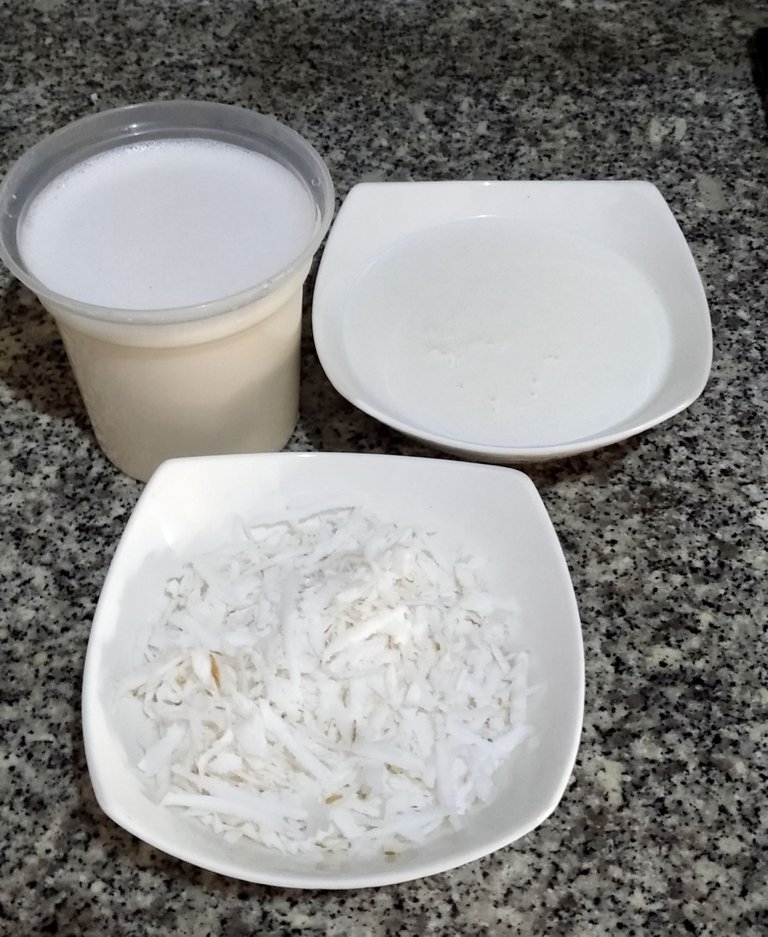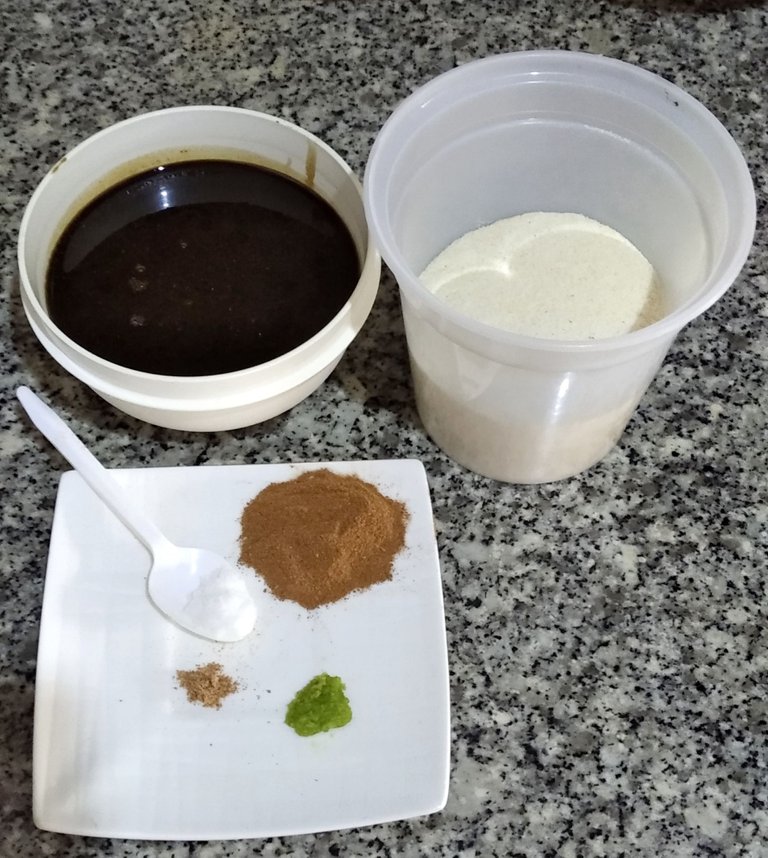 Preparation: // Preparación:
I start by removing the coconut milk. In a simple way, as I said in my style, hahaha. I put the 2 and 1/2 cups of water to boil, and once it boils, I turn it off and that's when I add the 3 cups of shredded coconut. The coconut should preferably have the black shell that covers it removed, so that it is almost completely white. I let it rest for 10 minutes and then I blend it well. Once liquefied, I pour the mixture into the strainer and start pressing the coconut so that the milk comes out. Some people use a piece of cloth and pour the mixture there to squeeze the milk better, but whatever you prefer and have at your disposal. After straining the whole mixture, I get the coconut milk for the majarete.
Empiezo por sacar la leche de coco. De manera sencilla, cómo dije a mi estilo, jajaja. Pongo a hervir las 2 y1/2 tazas de agua, y una vez que hierve, la apago y es cuando echo allí las 3 tazas de coco rallado. El coco preferiblemente se le quita la concha negra que lo cubre, de tal manera que quede blanco casi totalmente. Lo dejo reposar 10 minutos y luego lo llevo a licuar bien. Una vez licuado, echo la mezcla en el colador y empiezo a presionar el coco para que salga la leche. Algunos usan un trozo de tela y echan allí la mezcla para exprimir mejor la leche, pero lo que ustedes prefieran y tengan a su alcance. Después de colar toda la mezcla, obtengo la leche de coco para el majarete.

Now in a pan or if you have a Teflon pot, pour the coconut milk, the other milk, and the sugar cane molasses.
Ahora en una paila o si tiene una olla de teflón, echan la leche de coco, la otra leche, y la melaza de caña de azúcar.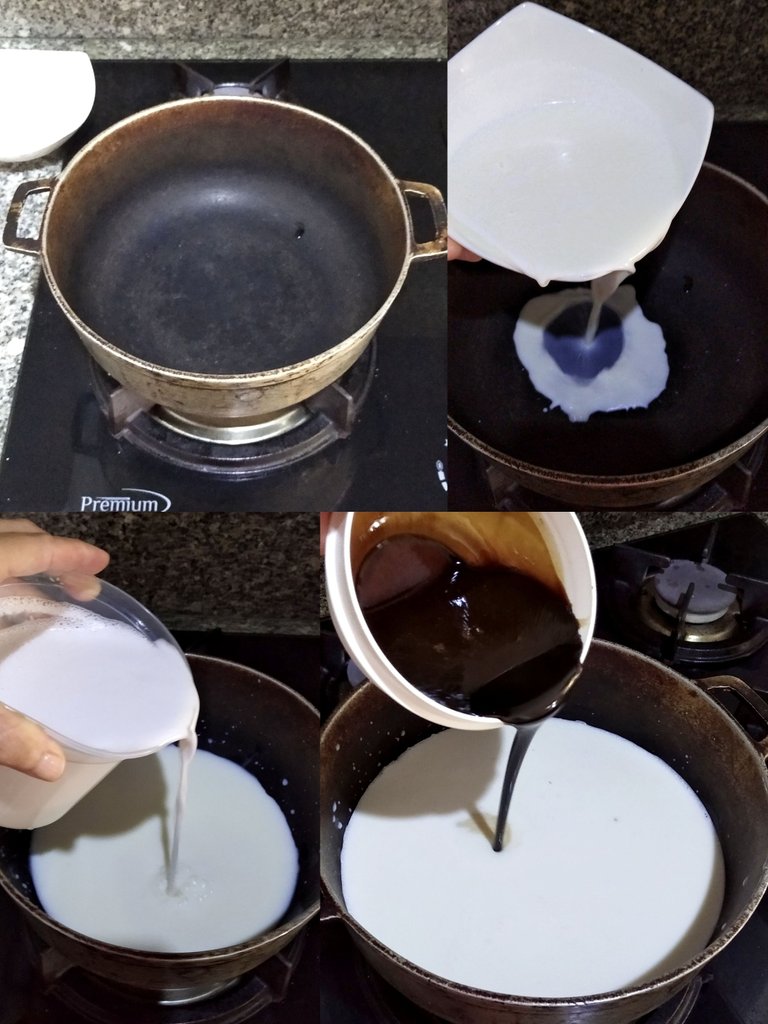 They also add at once to the pot, the salt, the grated lemon peel, the nutmeg. There they turn on the stove at medium-low heat and begin to whisk to unite the ingredients.
También agregan de una vez a la olla, la sal, la ralladura de la cáscara del limón, la nuez moscada. Allí encienden la estufa a fuego medio-bajo y empiezan a batir para unir los ingredientes.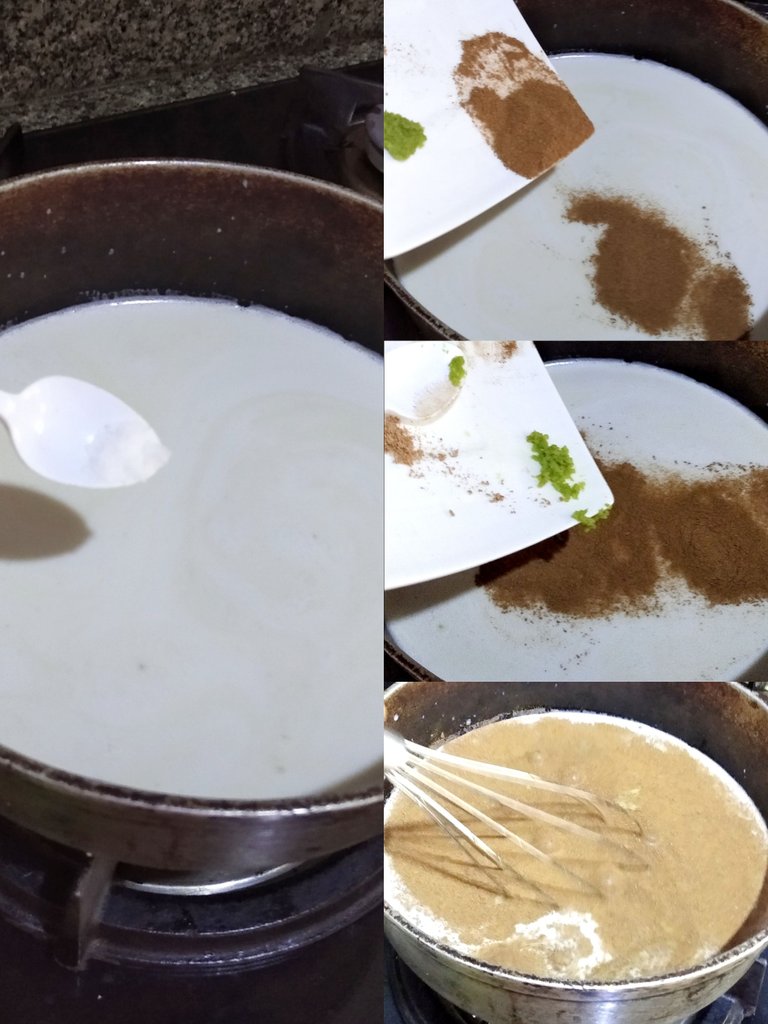 The only ingredients that are not incorporated at once are the corn flour and the extra cup of shredded coconut. Once the mixture starts to get hot, we see the smoke coming out, then we add the pre-cooked corn flour.
Los únicos ingredientes que no se incorporan de una vez son la harina de maíz y la taza extra de coco rallado. Una vez que la mezcla empieza a agarrar calor, que vemos el humo que sale, allí le agregamos la harina de maíz precocida.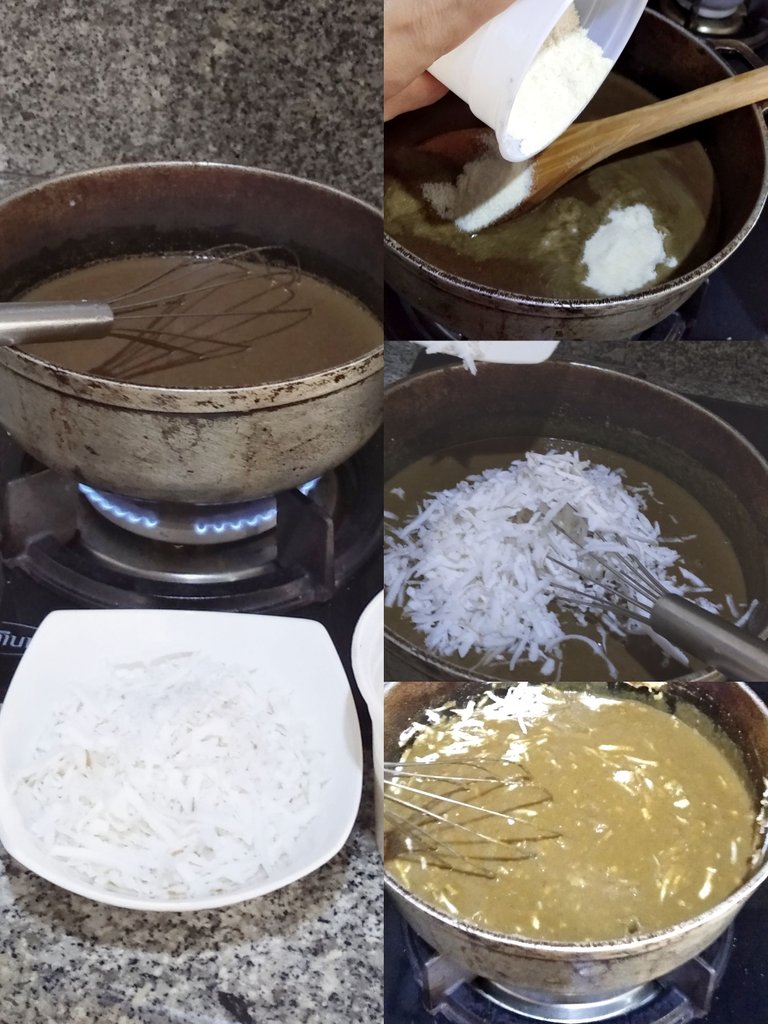 We start stirring the mixture with a wooden paddle, until we see that it becomes thicker. When it is evident that it is thick, we add the grated coconut and stir until the mixture comes off easily from the pot. With this information, we can see that the majarete is ready.
Empezamos a remover con una paleta de madera la mezcla, hasta que vemos que se va tornando más espesa. Cuando es evidente que está espesa, le agregamos el coco rallado y movemos hasta que la mezcla se despega con facilidad de la olla. Con este dato, ya nos fijamos que el majarete está listo.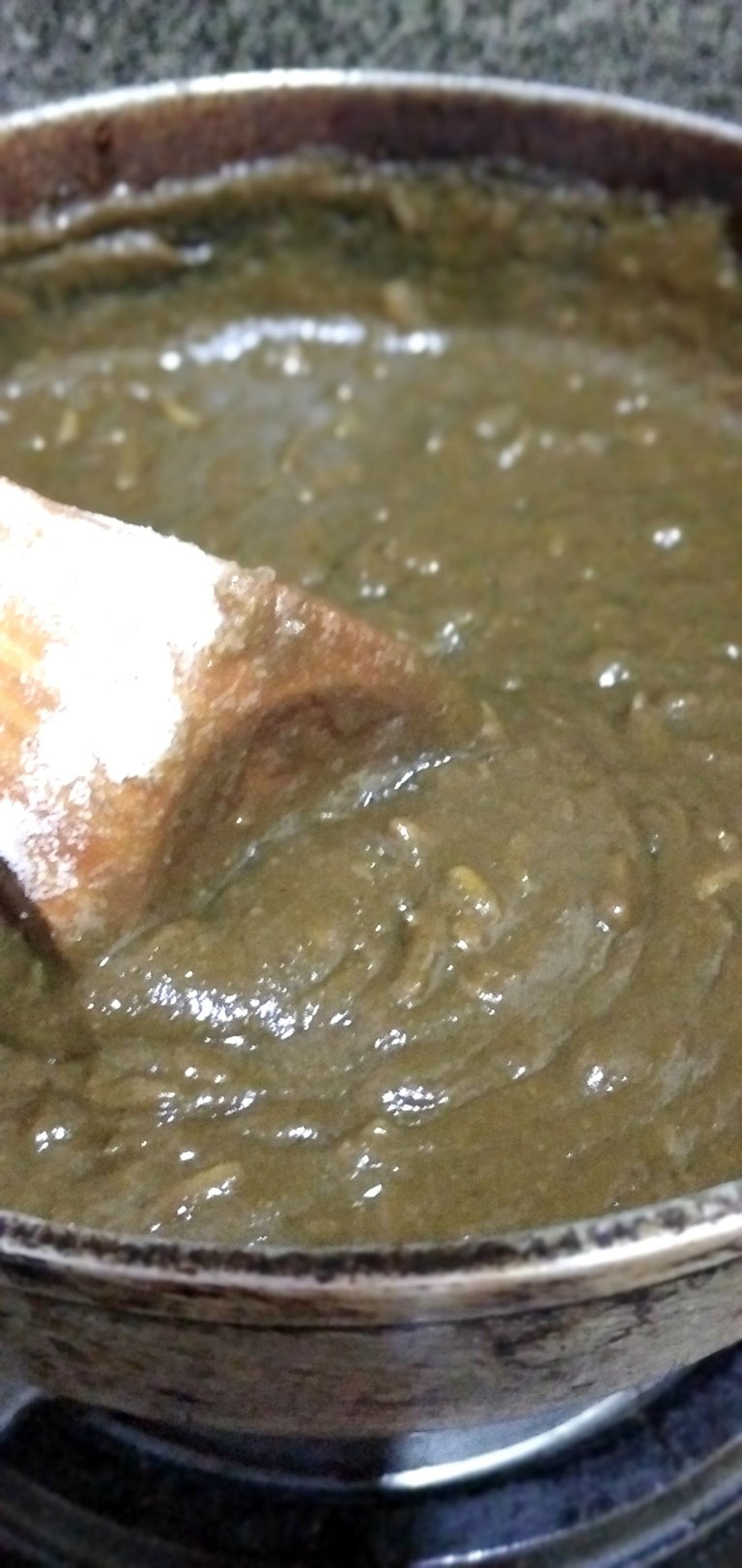 I have already prepared the greased molds, either with liquid butter or oil, so when it is time to take out the majarete, it will not stick to the mold. With the majarete mixture still hot, I pour it into the molds and let it rest. Then I take them to the refrigerator for at least 2 hours to eat it later.
Ya tengo preparado los moldes engrasados, sea con mantequilla liquida o aceite, así a la hora de sacar el majarete, no se pegará del molde. Con la mezcla del majarete caliente aún, la echo en los moldes y dejo reposar. Luego los llevo a la nevera por lo mínimo 2 horas para luego comerlo.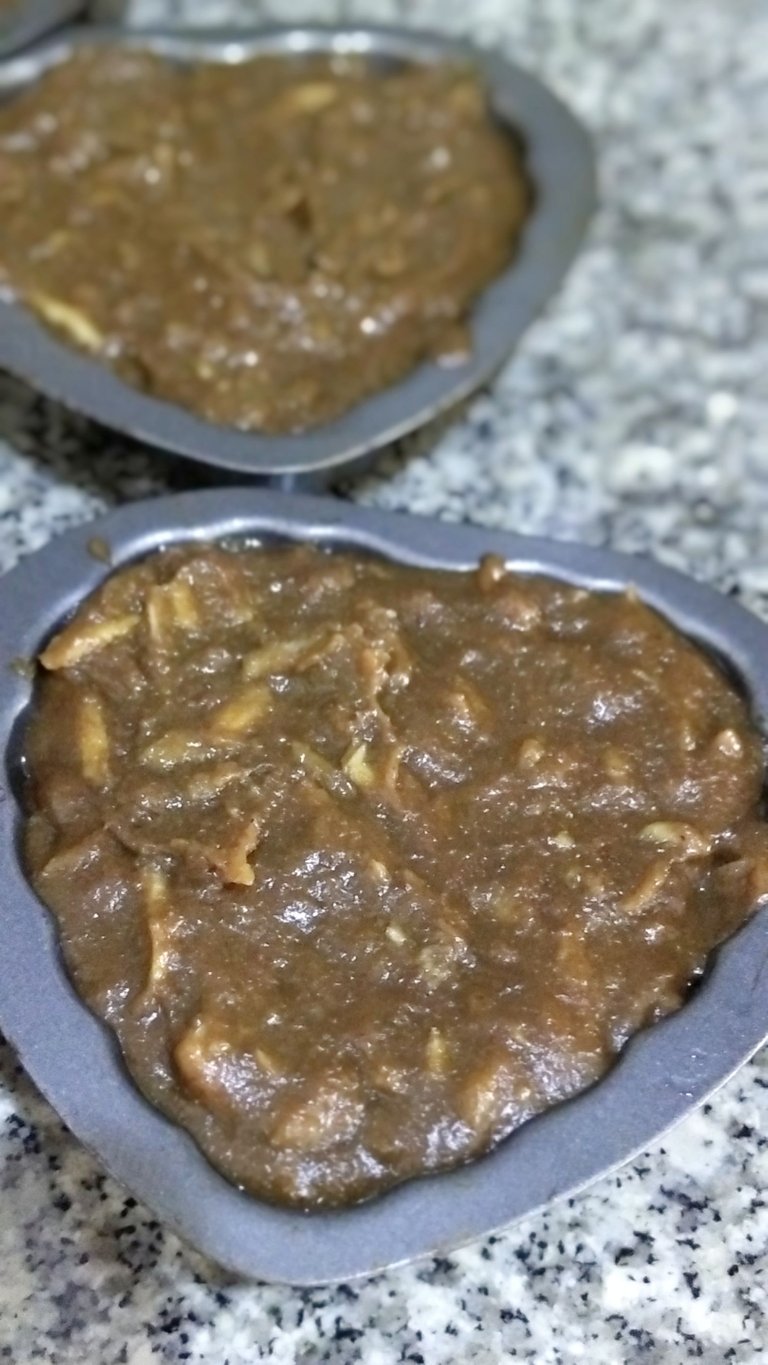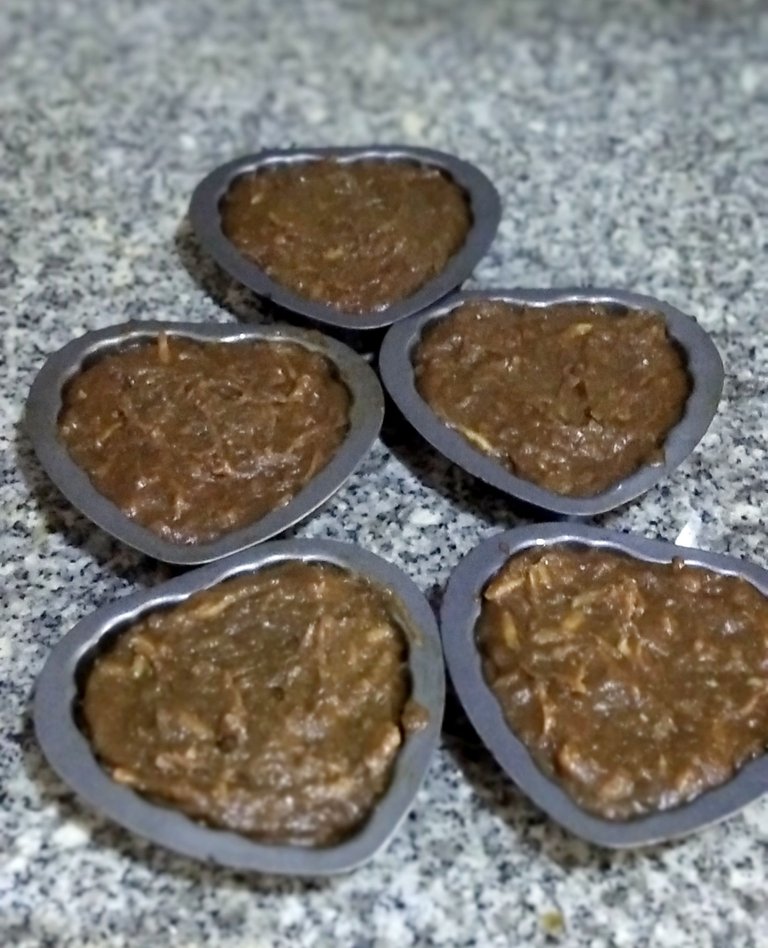 After the two hours that I take out the coconut majarete, it is good to try them, hahaha. They unmold easily and in the shape of a heart. They have a firm texture and a delicious flavor because the nutmeg with the cinnamon, the coconut pieces and the other spices give them a rich and unique flavor.
Después de las dos horas que saco el majarete de coco, viene bien probarlos, jajaja. Se desmoldan fácilmente y con la forma de corazón. Su textura es firme y de un sabor delicioso pues la nuez moscada con la canela, los trocitos de coco y las otras especias le dan un rico e inigualable sabor.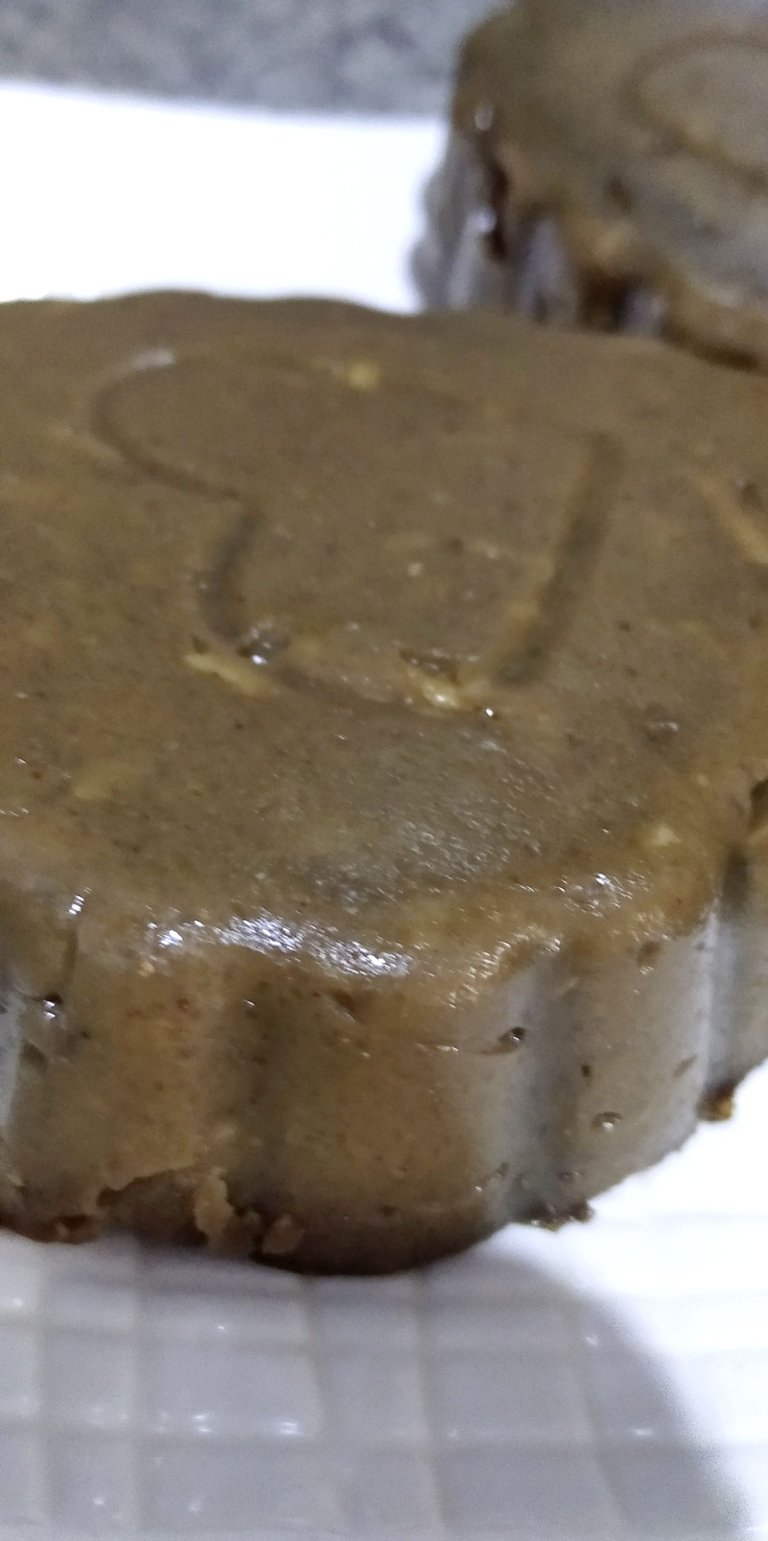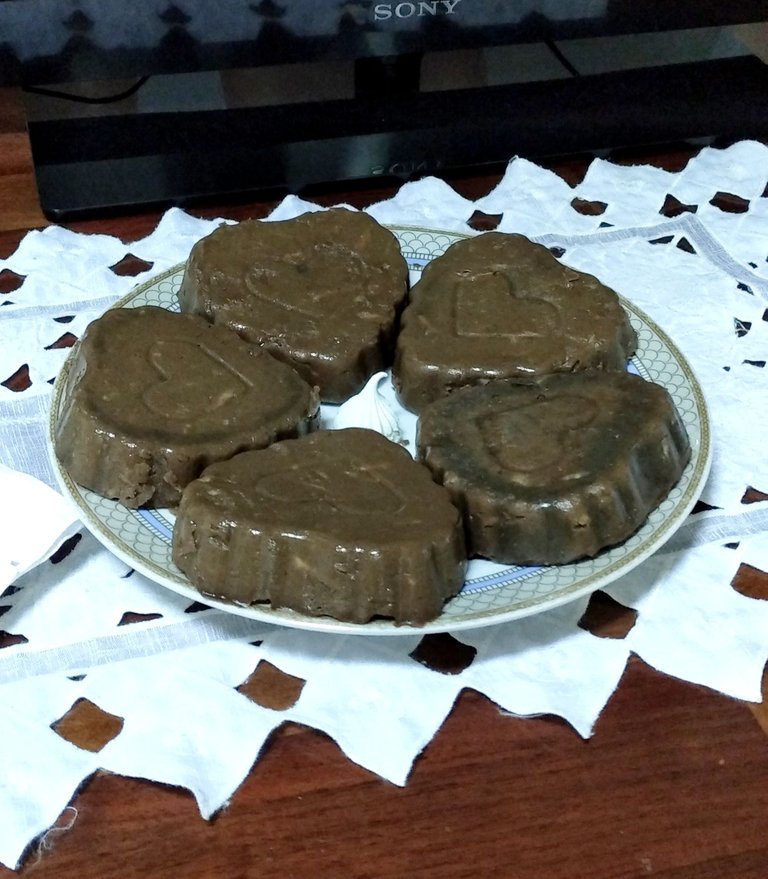 With this amount of final mixture, take out 5 hearts of approximately 200g each. So if you pour it into a cake pan, you will have a cake of about 1kg. Yielding and tasty.
Con esta cantidad de mezcla final, saque 5 corazones de aproximadamente 200g cada uno. Así que si lo echamos en un molde para tortas, quedará un majarete de 1kg aproximadamente. Rendidor y sabroso.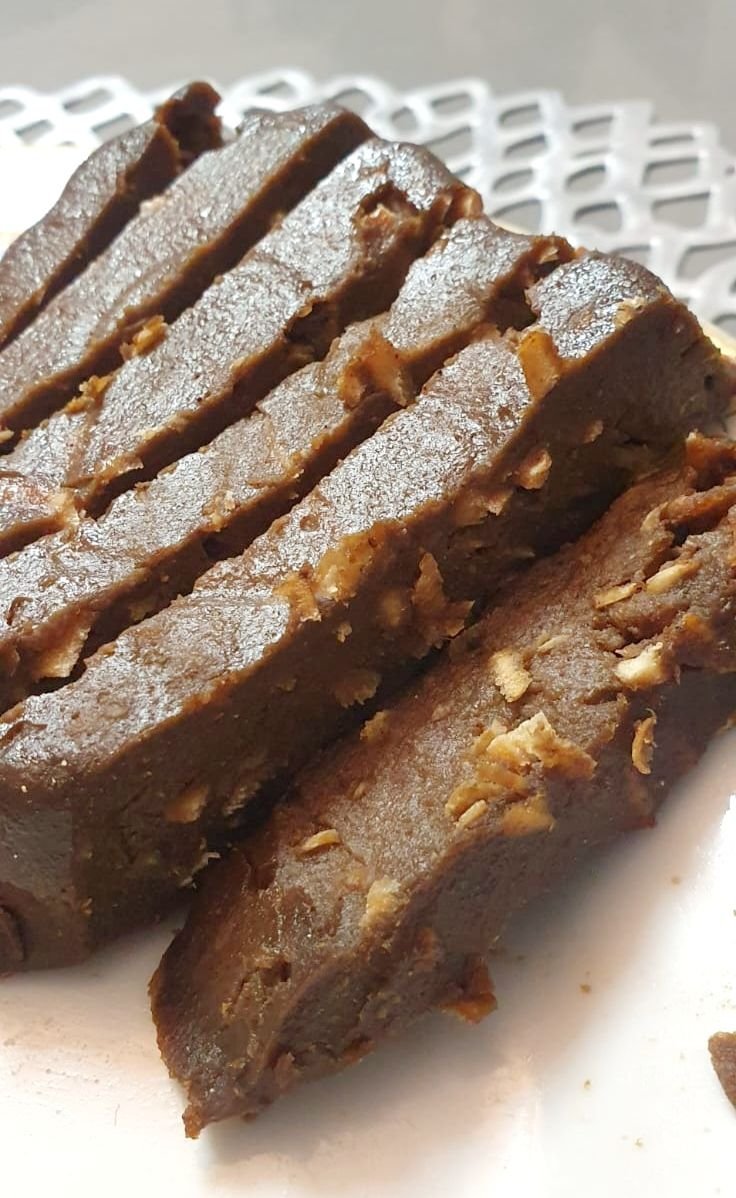 The best thing about this recipe is that I enjoyed making it, because I knew it was to please a dear friend. Then together with her and other friends, we talked about the rich flavor of this coconut majarete, how easy it is to make and how good it looks. There is nothing better than enjoying the good things in life, like food, with family and friends... all together. That's worth a lot, and in my case, it makes my life happy to see how much others enjoy what I do.
Lo mejor de toda esta receta es que lo disfrute haciéndola, pues sabía que era para complacer a una querida amiga. Luego junto con ella y otros amigos, hablamos del rico sabor de este majarete de coco, de lo fácil de hacer y de lo bien que queda. No hay nada mejor que disfrutar de las cosas buenas de la vida, como la comida, con la familia y amigos... todos unidos. Eso vale mucho, y en mi caso, me alegra la vida ver qué a los demás disfrutan lo que hago.
With this recipe for Venezuelan coconut majarete, I bid you farewell until next time. I hope you enjoyed it. Wishing you all a happy and productive week.
The photos were taken with my redmi8 cell phone. The first photo was modified with canvas.com.
Con esta receta del majarete de coco venezolano, me despido hasta una próxima oportunidad. Espero les haya sido de su agrado. Deseándoles Feliz y productiva semana a todos!.
Las fotos fueron tomadas con mi celular redmi8. La primera foto le hice modificaciones con canvas.com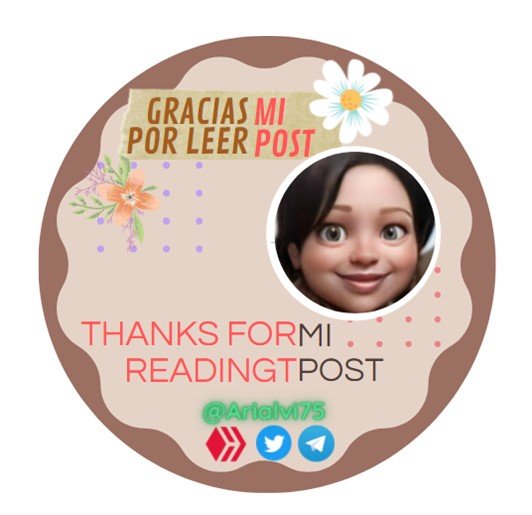 Banner made with canva.com //Banner realizado con canva.com
Separator:** Separadores de texto para Blog
---
---