DIY A Happy Married Life Crochet Slipper Gift

Before I proceed with this writing, I want to officially inform every member of the @needleworkmonday community that my wife's girlfriend that did a chief bridesmaid during my wedding years ago is officially doing her traditional marriage on the 3rd of September 2022 and you're all invited.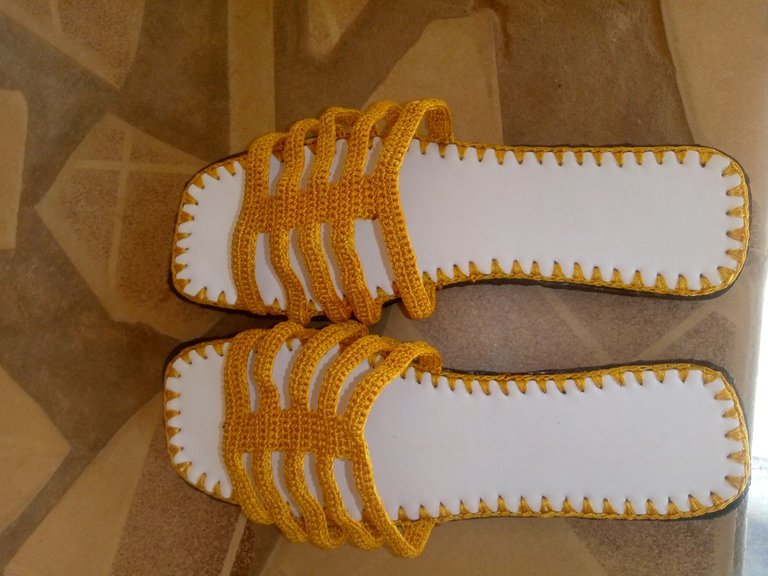 The moment she sent her traditional marriage invitation to me and my wife I was not surprised because she just visited us in Makurdi Benue state days ago that such an occasion is at the corner but I and my wife didn't expect it to be too prompt like the way it'll be occurring soon. Well, I thank God for bringing a husband who will love and care for her in all ramifications, especially during this economic hardship everywhere in my country. After I sent her a congratulatory and a well-wish message, I was wondering what to use as a means of surprise and a gift for the upcoming traditional marriage.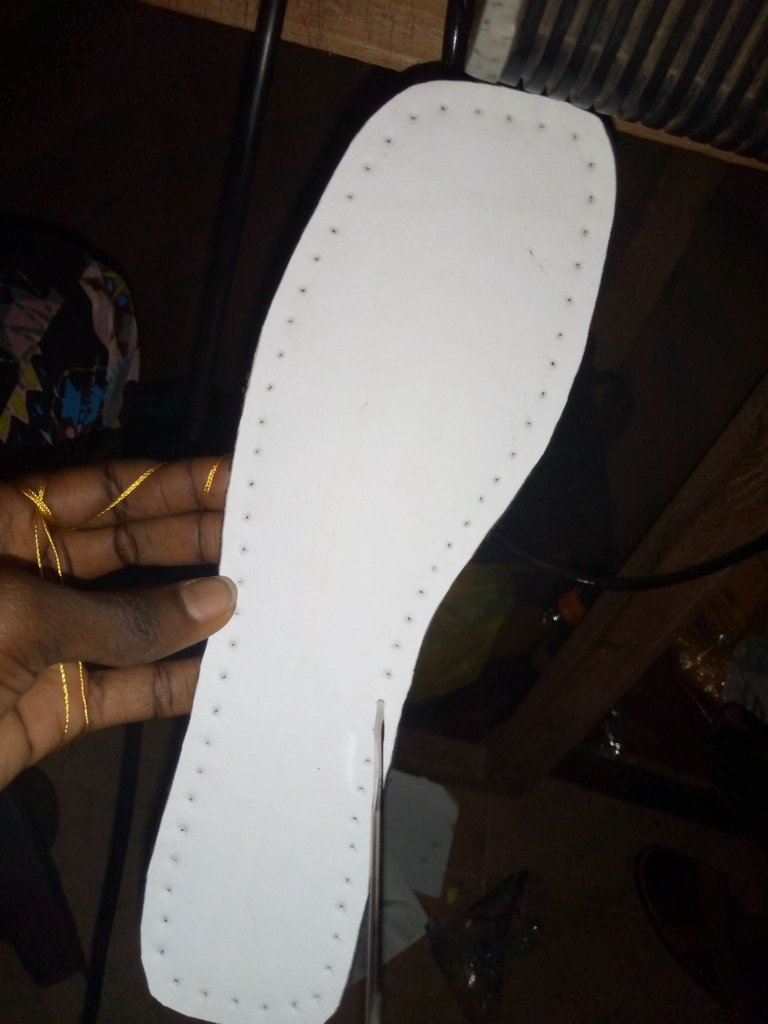 After I was worried about what to use as a gift for the traditional marriage of my wife's friend and didn't come up with any idea because there is a high rate of economic hardship both in business and other areas in the country, during the process of my bothering on what to gift to my wife's friend who did a chief bride maid for us during our own wedding. My wife looked at me and understood that there was no money in the house to buy any gift for her friend. Considering that, she suggested that I should crochet a yellow yarn-made slipper that her friend can wear during the traditional marriage.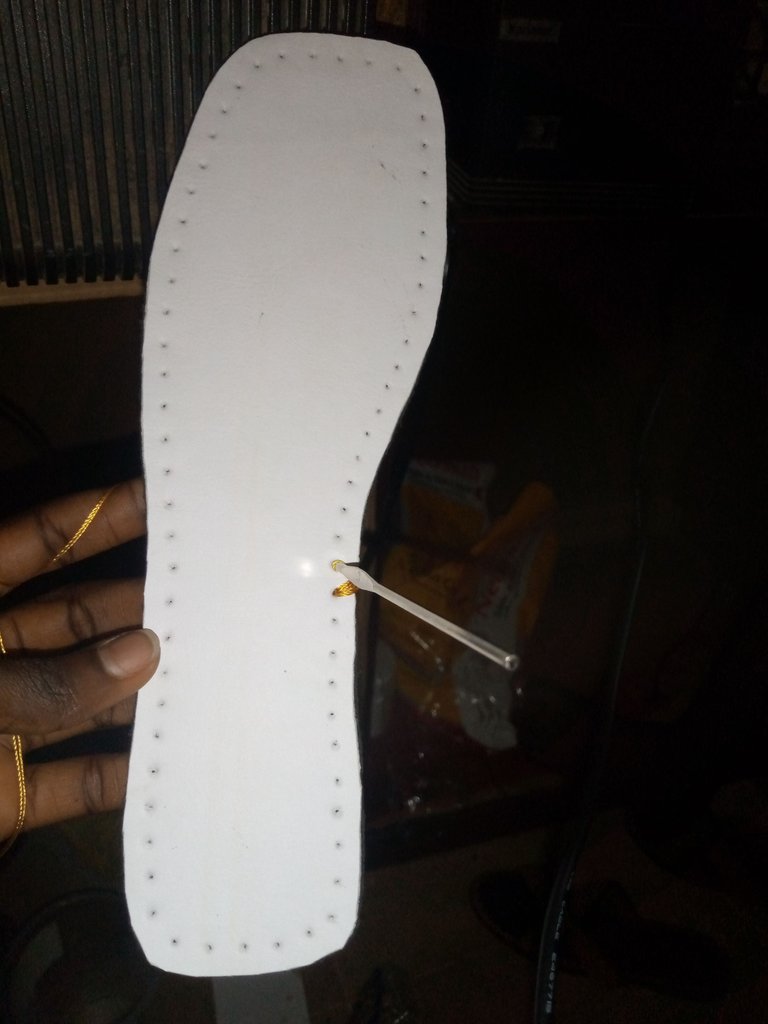 Considering the suggestion of my wife about making a crochet slipper for her friend's upcoming traditional marriage and also considering the sacrifice the lady did for me and my wife during our own marriage ceremony, I accepted my wife's suggestion to crochet the slipper for her friend but I forgot where I recorded the friend's footwear size.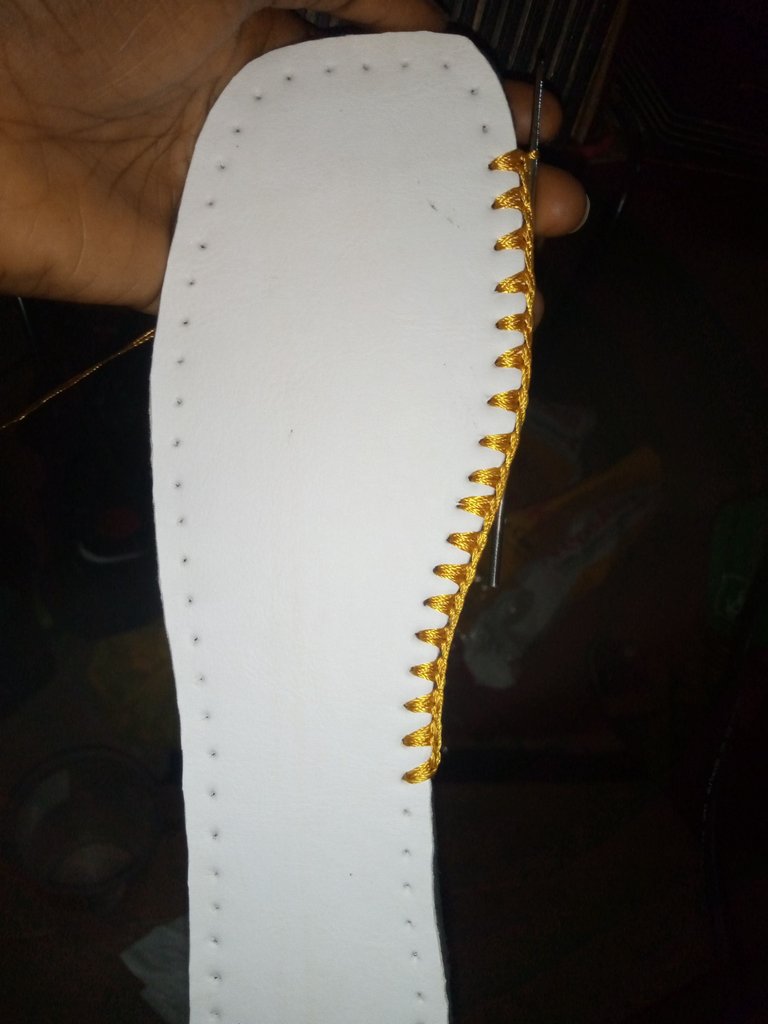 Since I didn't know how to determine the leg size of my wife's girlfriend's footwear before I could crochet. I didn't want to call the lady and start demanding the size because I'll like the yarn-made footwear which I'll be crocheting for her to be a surprise package. I have to ask my wife to describe the size for me. she later ended up telling me that both of them used to wear one size of footwear when they were still roommates back then in school. This was actually how I started crocheting the slipper.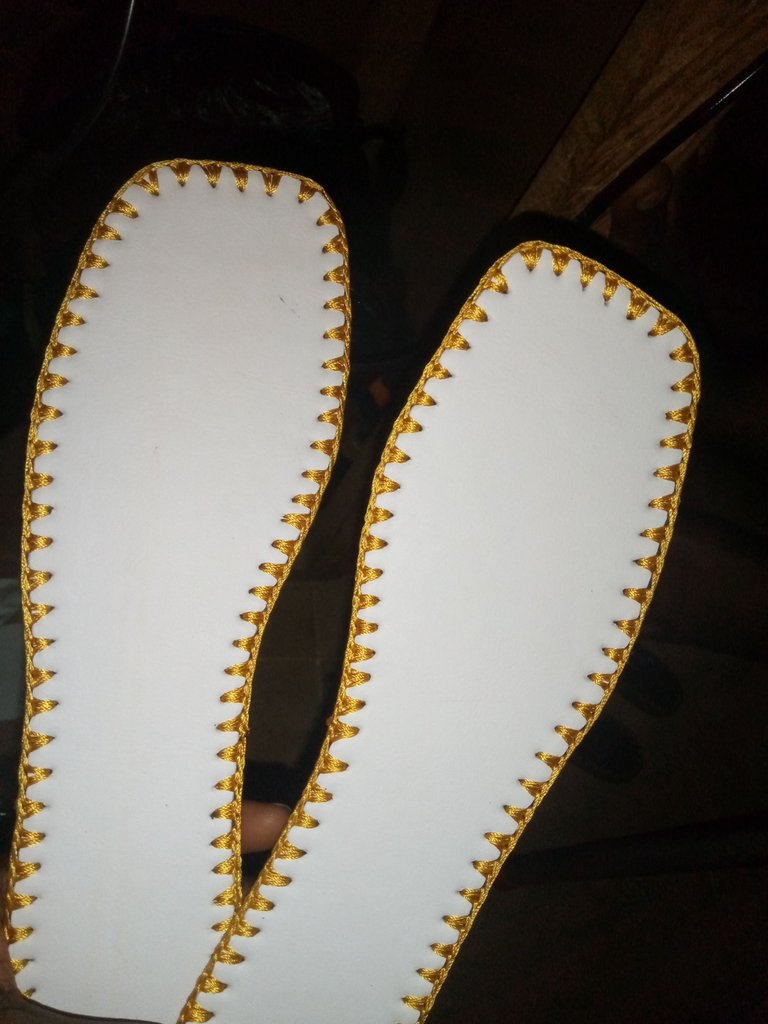 When I finished crocheting the slipper for the lady today, a customer came into my crocheting office and portrayed a serious love for the footwear demanding that I should release it to her but I told her that I can't do that but rather crochet another one for her which we later agreed on but to be collected next week as much work to crochet is still with me.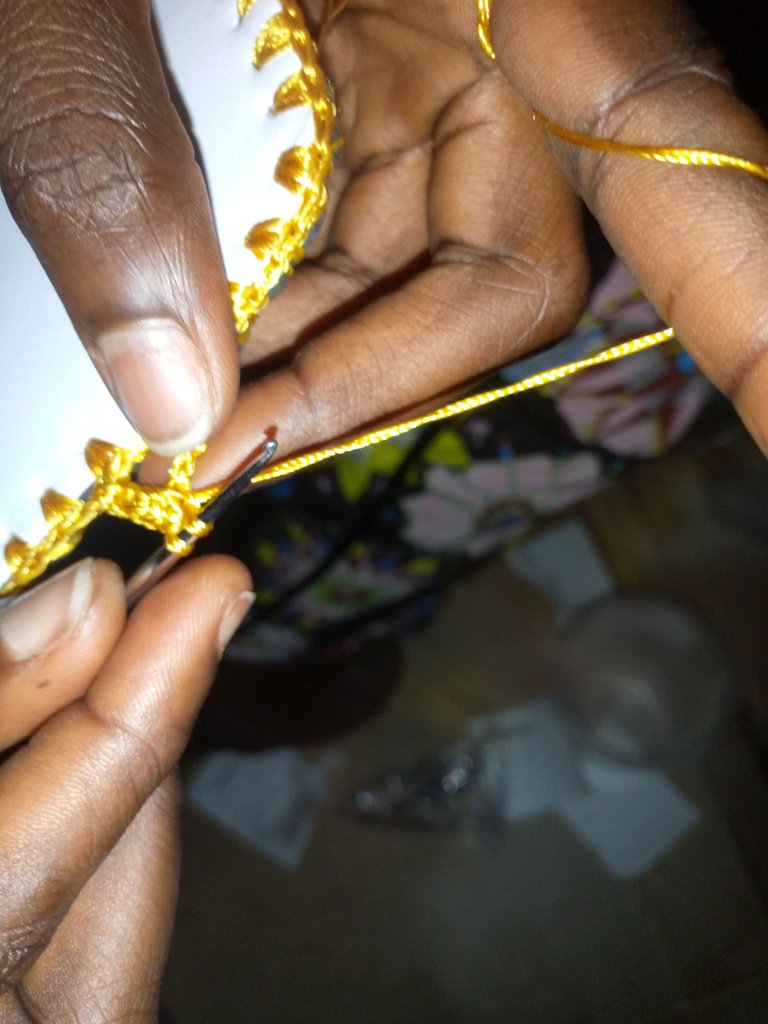 Material and tools used for the crochet of the slipper:
A Yellow yarn material.
An African-made leather and sole.
Crochet pin and needle.
A sharp scissors.
Lightening matches.
Hammer and Gum were used.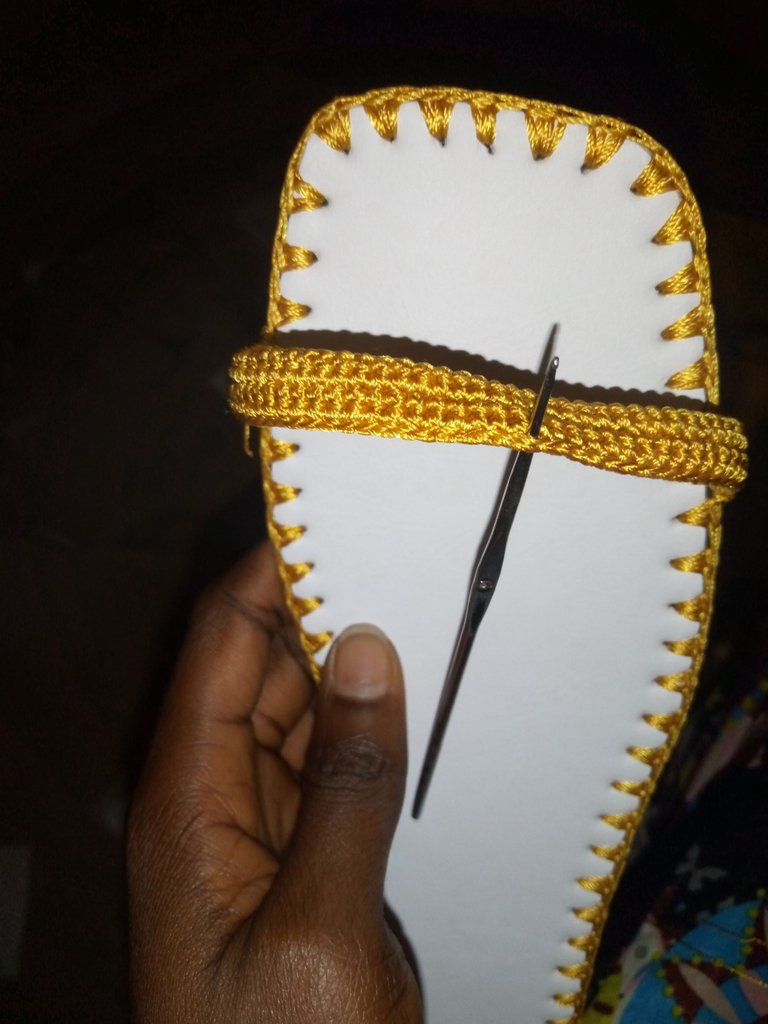 Procedures used for the crochet of the slipper:
The material was already available in my crocheting office.
I have to determine the outlook of the slipper to crochet.
I have to determine the size of the slipper before crocheting.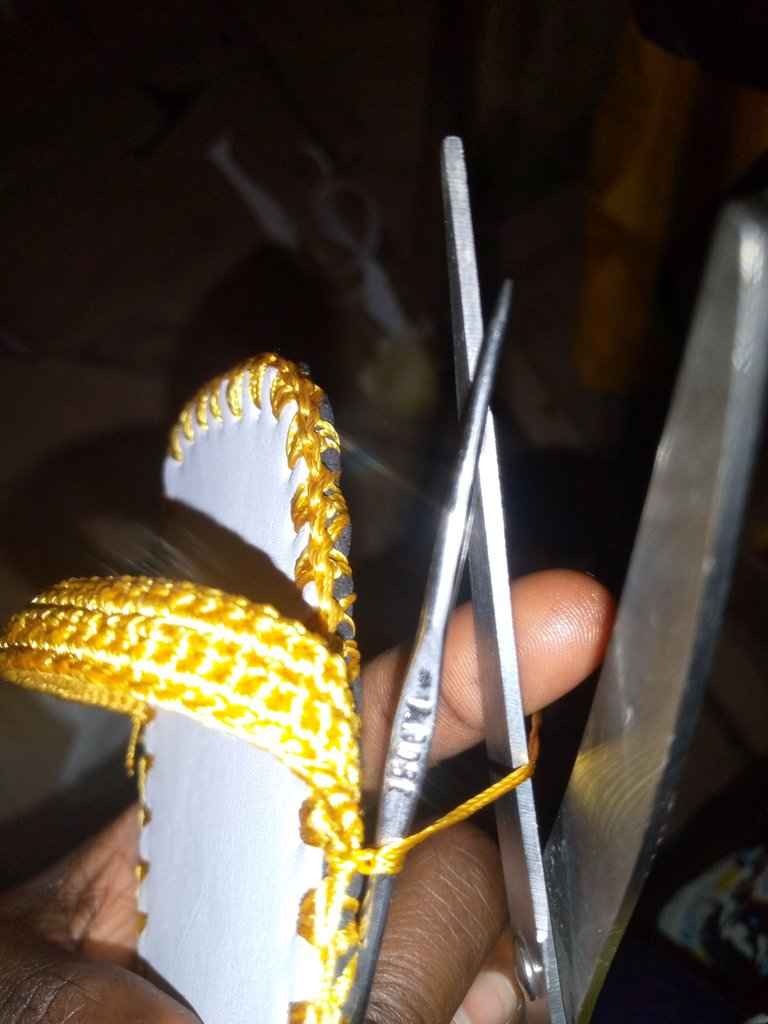 I have to measure the leather using the sole to be used for the crochet.
I have to cut the leather to be used for the crochet of the slipper.
I have to start crocheting the slipper gradually to avoid mistakes.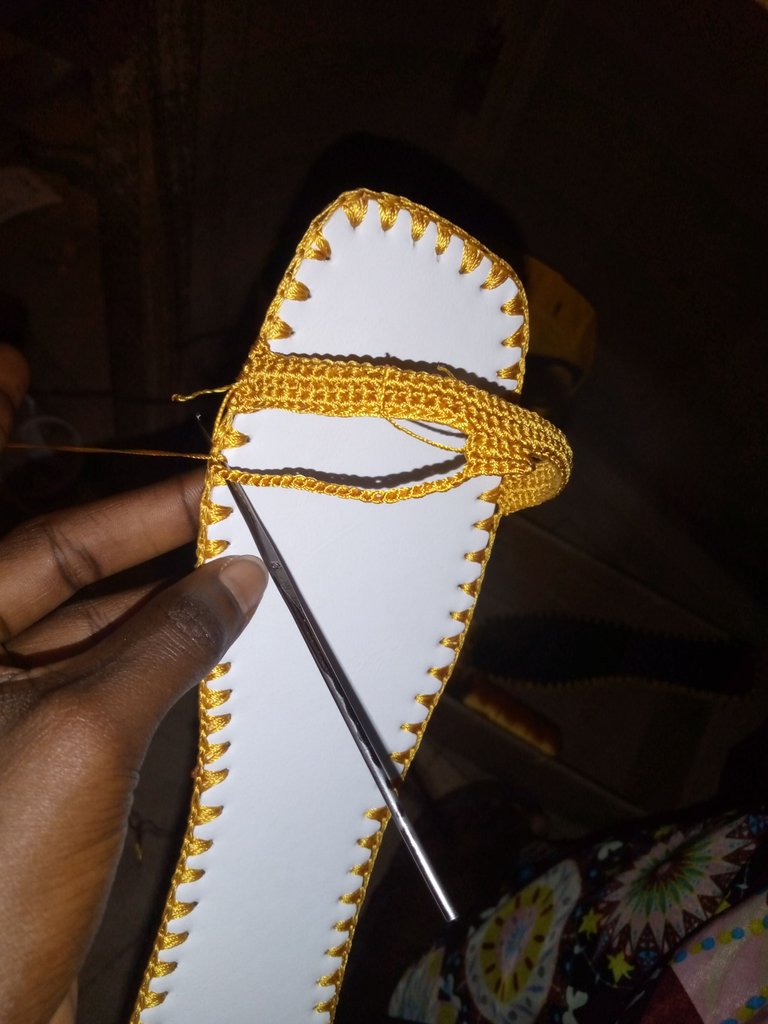 I have to sandpaper the sole and leather that I crocheted with.
I have to apply some gums on the sole and crocheted leather and place them under the sun.
After drying, I have to fix the complete crocheted slipper and then hit it slightly with a hammer to make it balance well.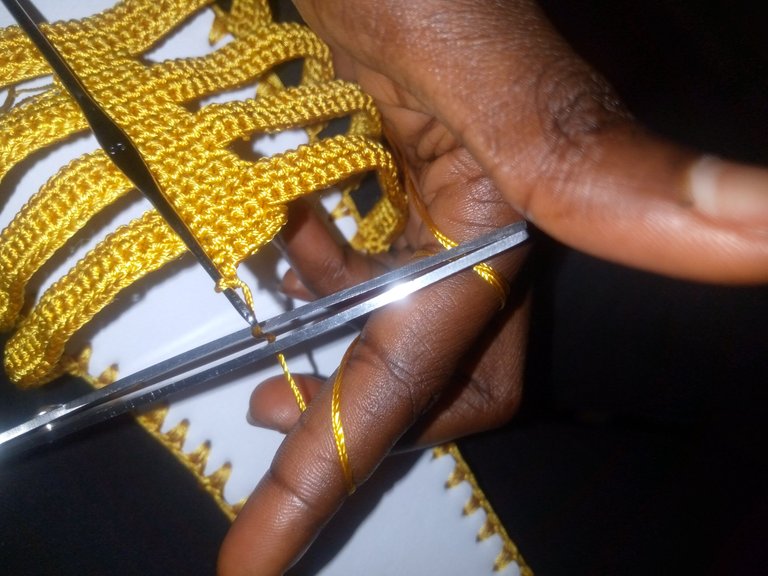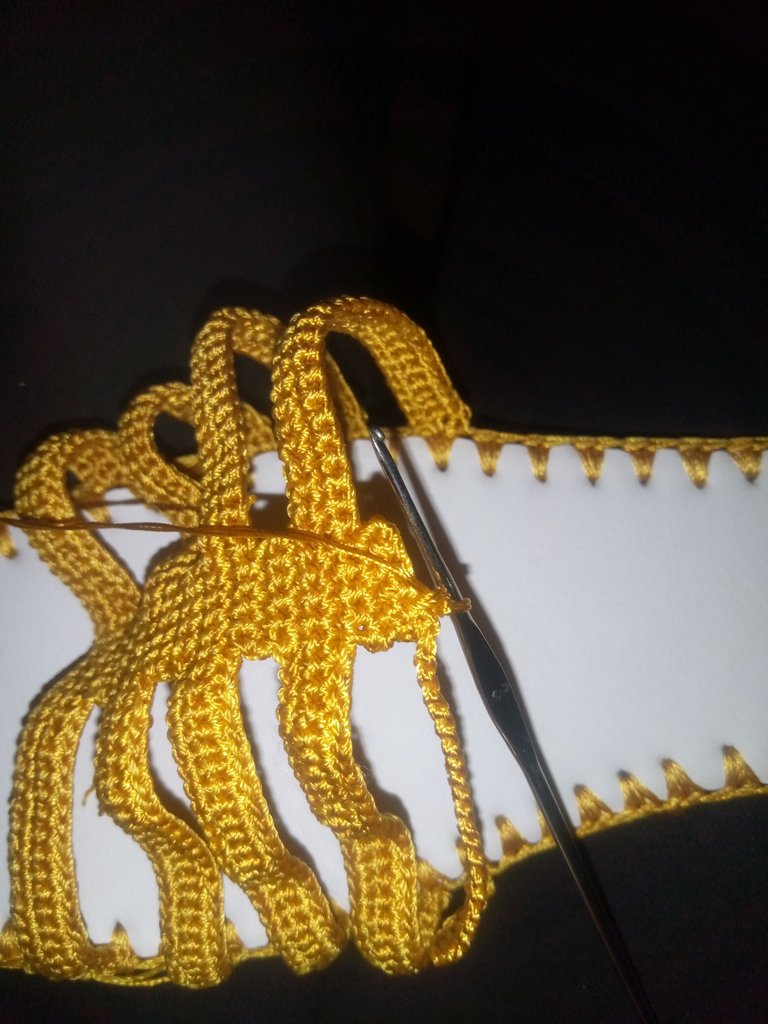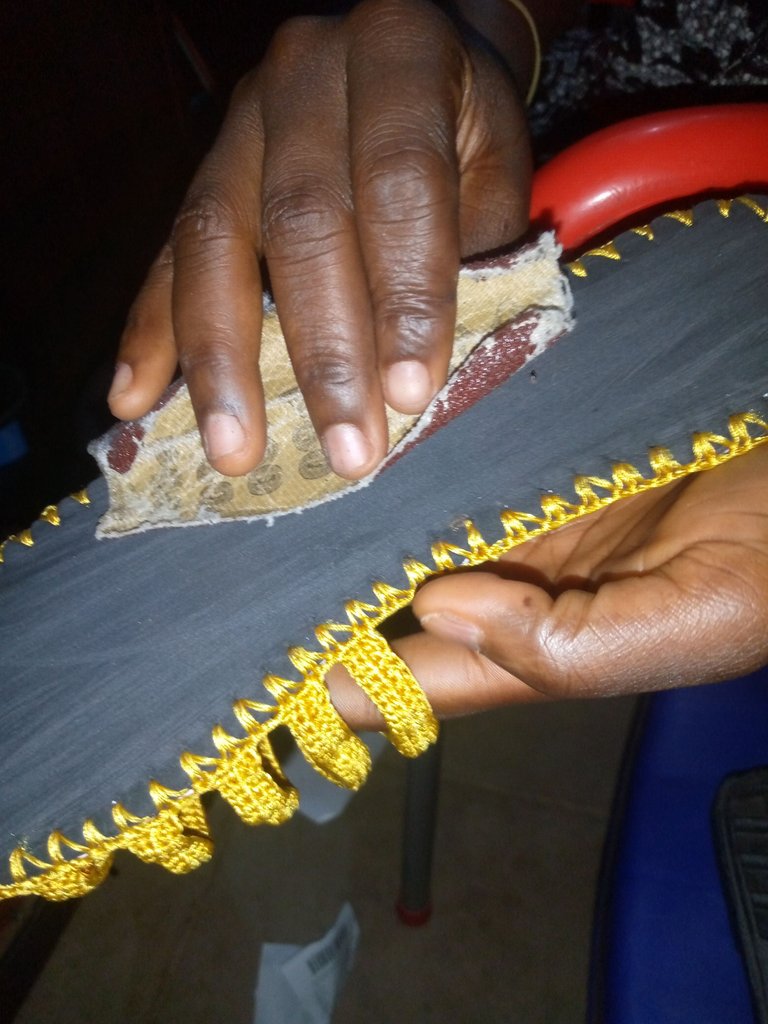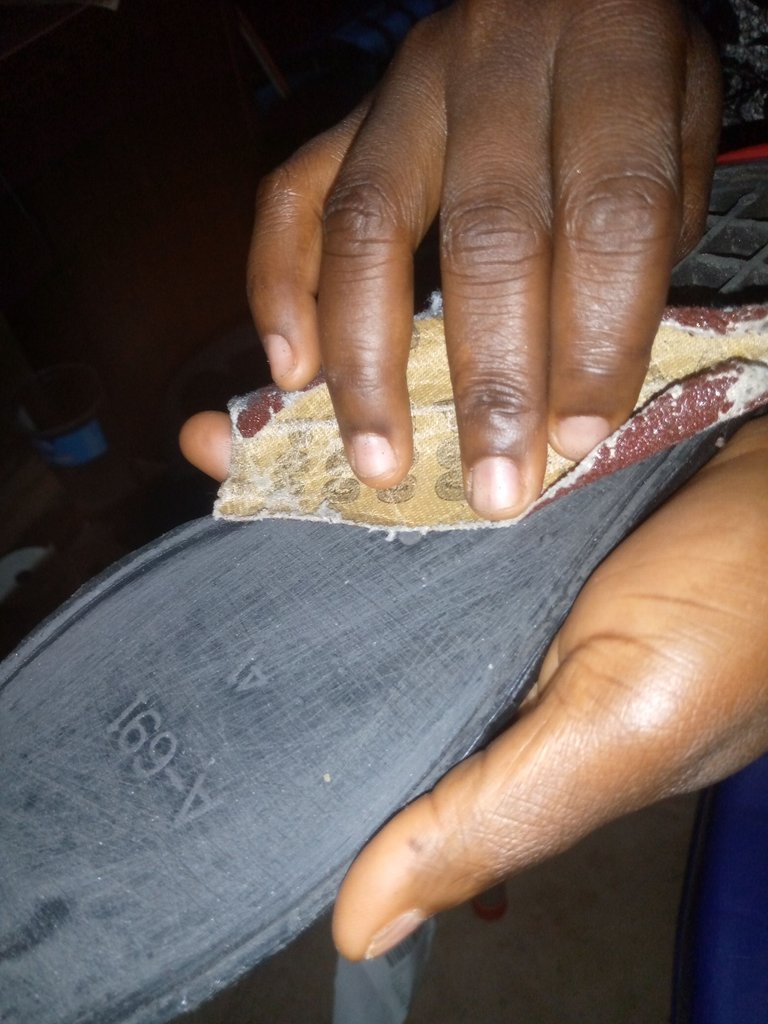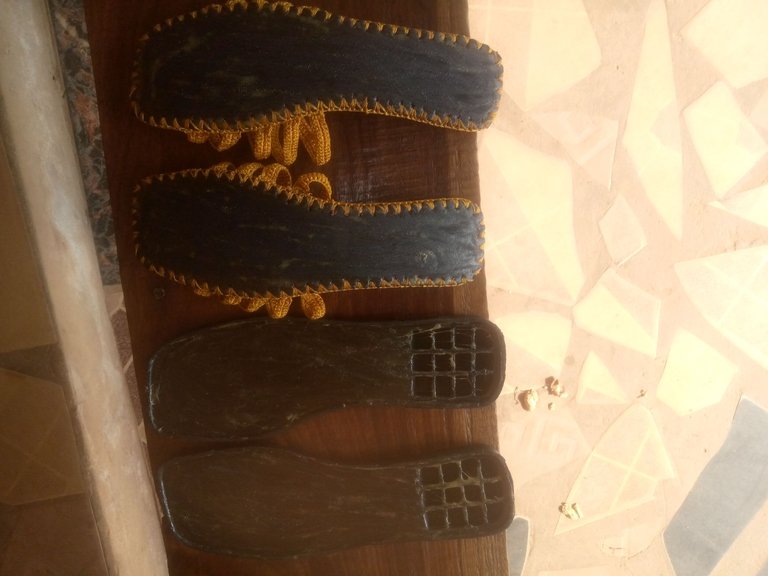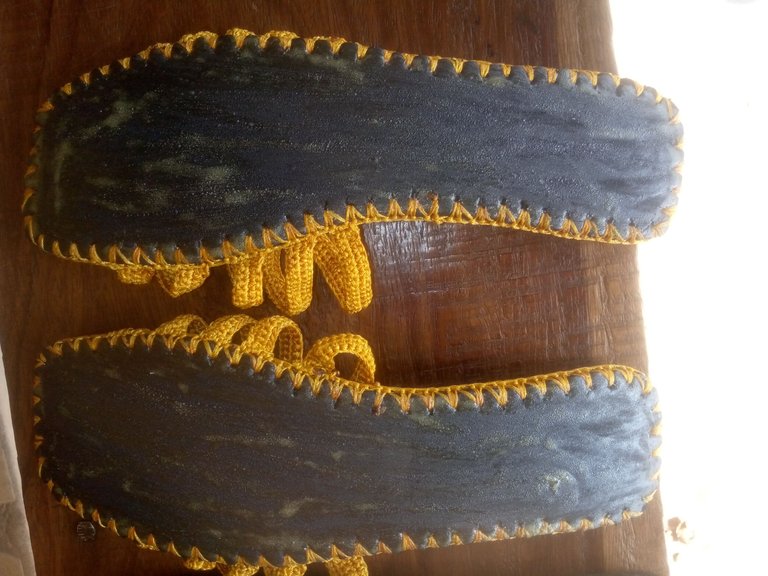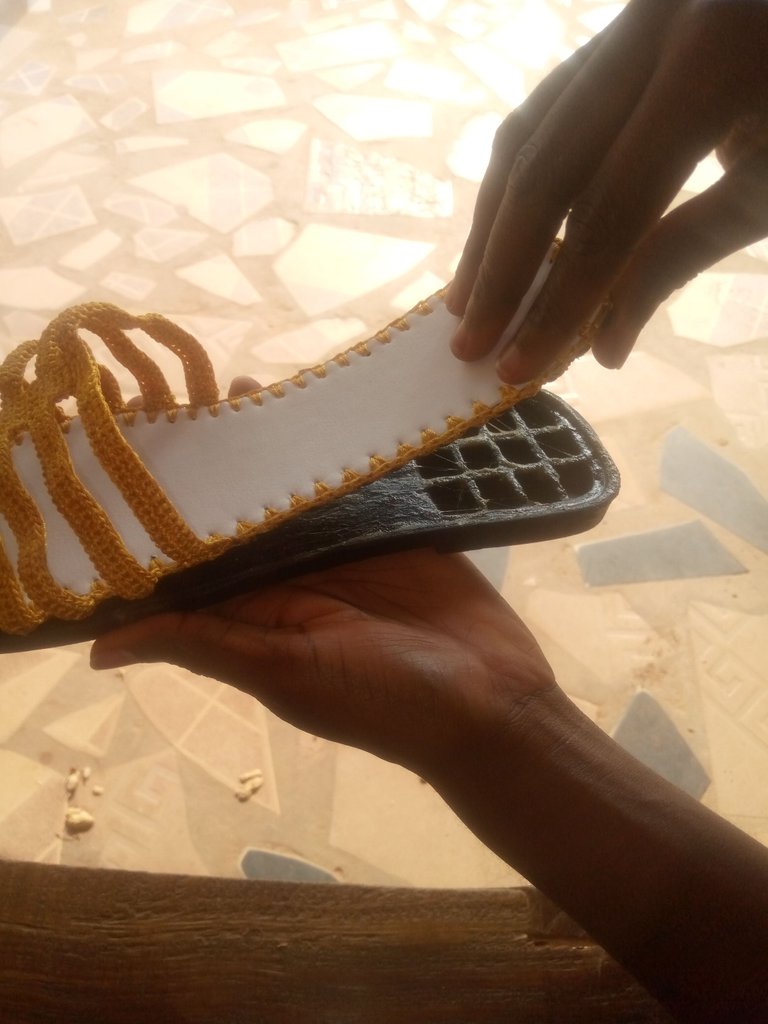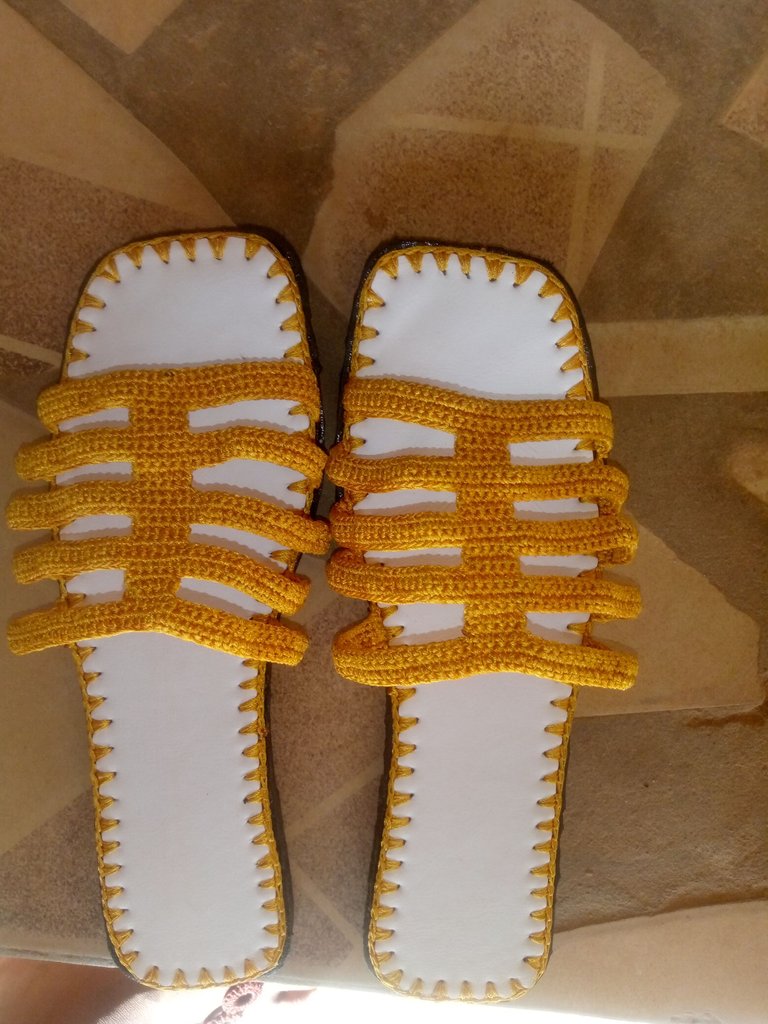 ---
---