Ask Leo: To be Patient with Hive and Leofinance is the best Option as an Investor

I don't know why some people will not be patient enough in the business aspect just because they feel like making all sorts of quick money within a short period of time. As a business person, you must be aware that every business requires patience and time. If you're not patient enough with any kind of business you may decide to venture into, especially in cryptocurrency, you may end up losing all the starting capital.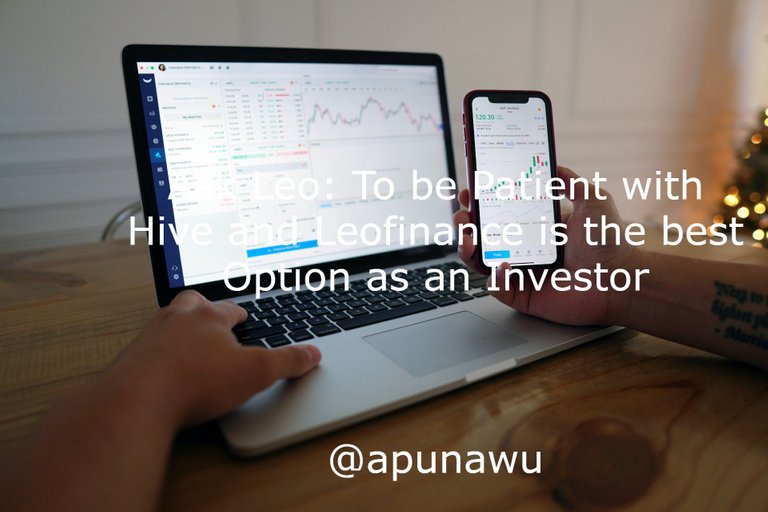 Image source
Hive and Leofinance have made it possible for both new and old investors to invest their money wisely through cryptocurrency without regretting why they invested in cryptocurrency but if you really want to make a huge profit as an investor through Hive and Leofinance. You must be patient to be a long period investor and also remove the fear of losing your asset. Since the existence of Hive and Leofinance as part of the cryptocurrency platform, the two giant companies have been paving way for investors in security and profit-making aspects.
When you invest in Hive and Leofinance, don't expect to make a huge profit within a short period of time because Hive and Leofinance are still entitled to be volatile following the general bear market period but one of the advantages you'll have as a Hive and Leofinance investor is that both companies are not the type of blockchain project that will just crash overnight. When you invest your money in Hive and Leofinance, your money will always be there to grow because there are so many good testimonies about Hive and Leofinance through old prominent investors.
Let me ask, how many cryptocurrencies have a solid foundation for investors just like Hive and Leofinance? Do you know that you can be an investor and also a blogger through Hive and Leofinance and be making double income for yourself? At least this should be one of the reasons why you must believe to invest your money through Hive and Leofinance. Just be patient like I keep saying.
You must learn to be patient as an investor through Hive and Leofinance because the two companies have a stronger blockchain and other technological experts than most cryptocurrencies which will later dump their projects in the near future. In the case of Hive and Leofinance, their Blockchain experts are always developing new projects that will help the coin bull significantly by 2023.
You can always do research through the internet about the most successful cryptocurrency investors. By the time you'll make the research, you'll notice that most whales are the ones who has being patient with the cryptocurrency after they invested for years and waited patiently by overlooking the bear market but today they are happy to be part of cryptocurrency investors.
Posted Using LeoFinance Beta
---
---