Apples
Hello, friends.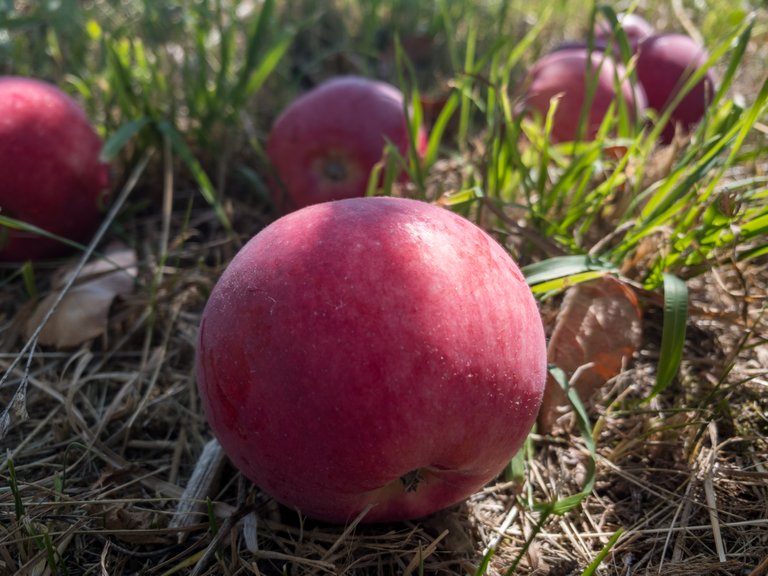 At the sight of such apples, I always want to sing the song "Apples in the snow", but there is no snow in sight and it is necessary to sing "apples on the ground".
При виде таких яблок мне всегда хочется спеть песню "Яблоки на снегу", но снега не видно и петь надо "яблоки на земле".


These are apples of early ripening, summer varieties. I collected them personally. Last week, my mother was harvesting two small apple trees. She is always in a hurry to pick berries, apples, pears. She has a certain complex since her post-war childhood. Previously, she carried unripe berries from the forest, for example, strawberries. I always told her: "Mom, they are not ripe yet, do not collect them, let them still grow." She always answered me: "If I leave them, they will be picked by another person or eaten by birds."
I understand that these are the consequences of a hungry post-war childhood.
I try to tell her: "No stranger will pick berries and apples in our garden, there is no need to hurry to collect them."
But this does not always help. So this time she picked apples that were not quite ripe. We are now using these apples to make charlotte.
Это яблоки раннего созревания, летние сорта. Их собирал я лично. На прошлой неделе с двух небольших яблонь урожай снимала мама. Она всегда торопится собирать ягоды, яблоки, груши. Это у неё некий комплекс с послевоенного детства. Раньше она носила из леса несозревшие ягоды, например, землянику. Я ей всегда говорил: "Мама, они еще не созрели, не надо их собирать, пусть они еще растут". Она мне всегда отвечала: "Если я их оставлю, то их сорвет другой человек или склюют птицы".
Я понимаю, что это последствия голодного послевоенного детства.
Я ей стараюсь сказать: "В нашем саду никто чужой не сорвет ягоды и яблоки, не надо торопиться их собирать".
Но это не всегда помогает. Вот и яблоки на сей раз она собрала не совсем зрелые. Мы теперь их пускаем на приготовление шарлотки.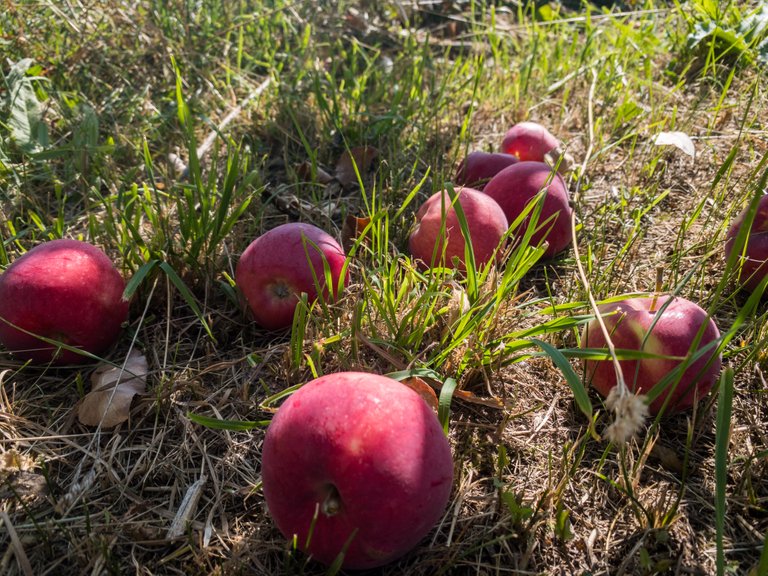 These apples were very tasty. There were 2 such containers. I gave most of the apples to my sons, they were just visiting us.
Очень вкусными были эти яблоки. Их было, примерно 2 таких емкости. Большинство я отдал сыновьям, они как раз приезжали в гости к нам.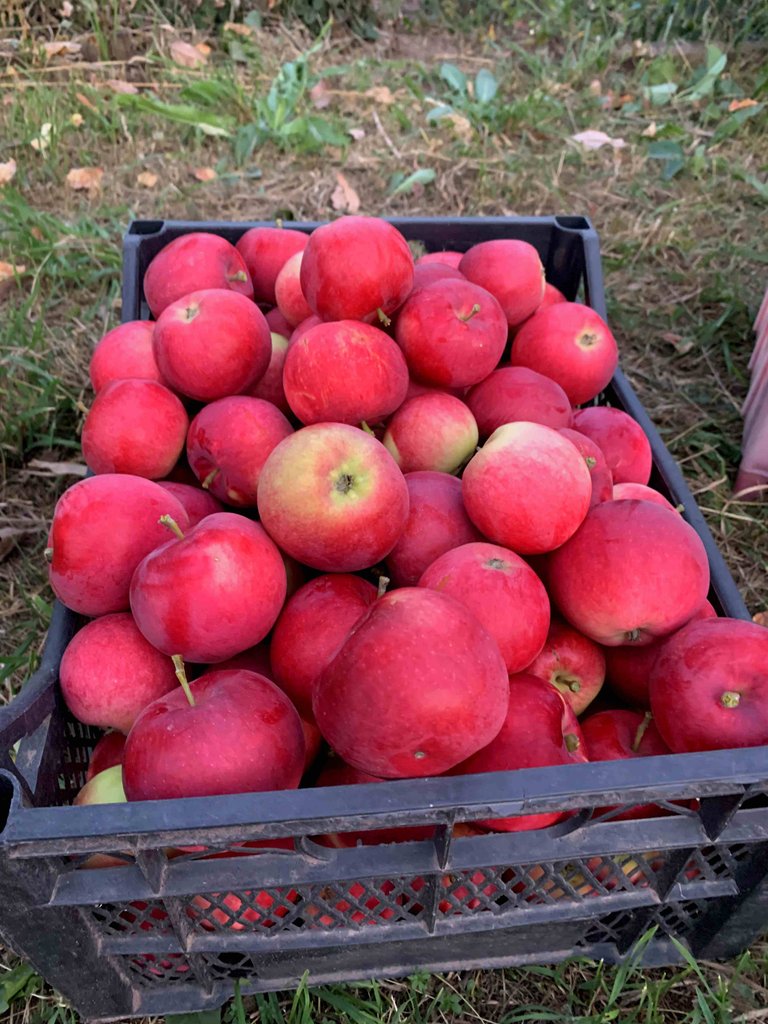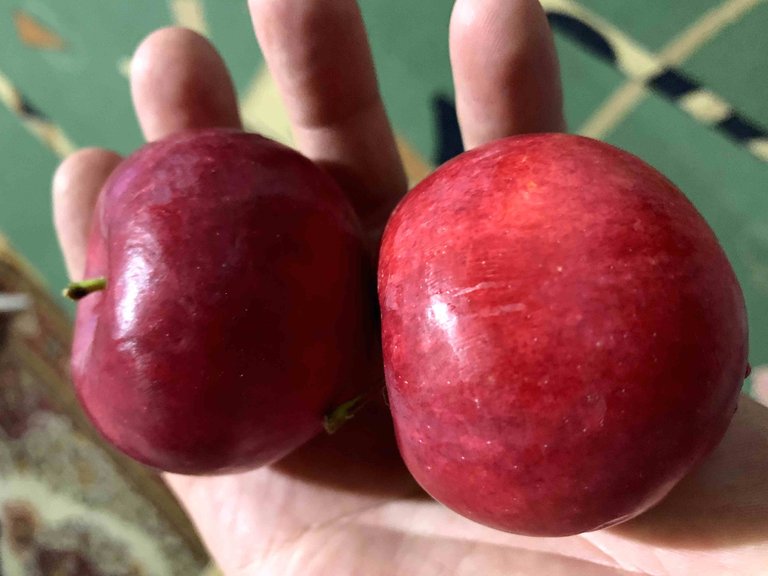 These apples are small in size, you can say for 2 bites. They are also very tasty and soft. Why do I need soft apples? My mother eats them. She already has no teeth, so she can't eat apples of hard late varieties. And she collects unripe apples herself. Do you understand the absurdity of the situation?
Эти яблоки небольшого размера, можно сказать на 2 укуса. Тоже очень вкусные и мягкие. Почему мне нужны мягкие яблоки? Их ест моя мама. У неё уже нет зубов, поэтому она не может есть яблоки твёрдых поздних сортов. А сама собирает незрелые яблоки. Вы понимаете всю абсурдность ситуации?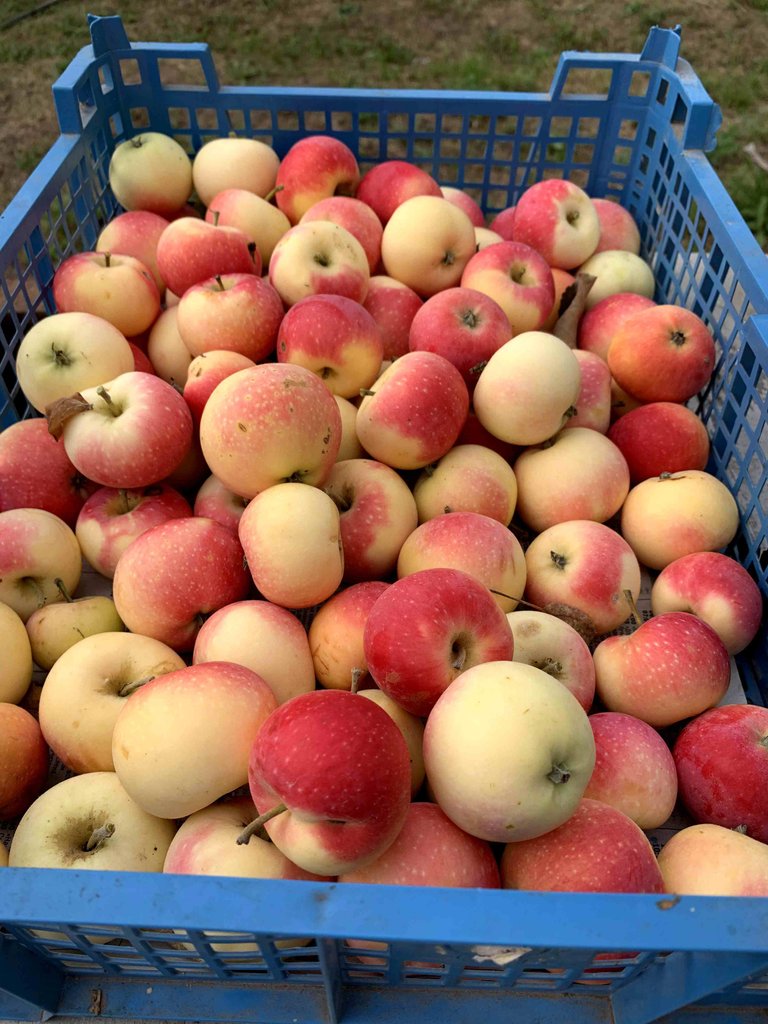 All these apples were eaten just very quickly! My mother said that it was necessary to dry and make dried fruits, but we said that we would eat the apples fresh. I would say that apples and pears were eaten in a race. But the pears ran out even faster than the apples, because they began to ripen earlier.
Все эти яблоки улетели просто на ура! Мама говорила, что надо посушить и сделать сухофрукты, но мы сказали - мы съедим яблоки в свежем виде. Я бы сказал, что употреблялись в пищу яблоки и груши наперегонки. Но груши закончились еще быстрее, чем яблоки, потому что они начали и раньше созревать.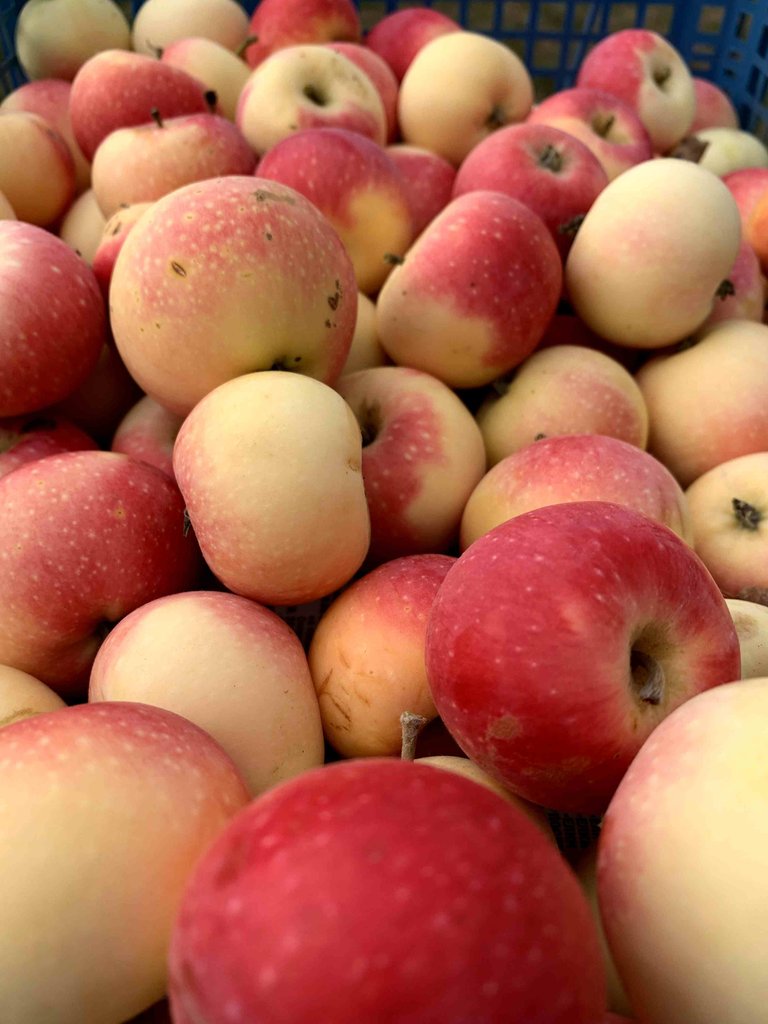 These apples were brought by a son from the forest. They are a little sour. We made compotes from these apples. Not long ago, my mother brought wild apples from the forest. They are small in size and sour. We also use them for compotes. Now we have apple compotes every day.
Эти яблоки принес сын из леса. Они немного кисловаты. Мы из этих яблок делали компоты. Еще недавно мама принесла из леса яблоки-дички. Они маленькие по размеру и кислые. Их тоже используем на компоты. Сейчас у нас каждый день компоты из яблок.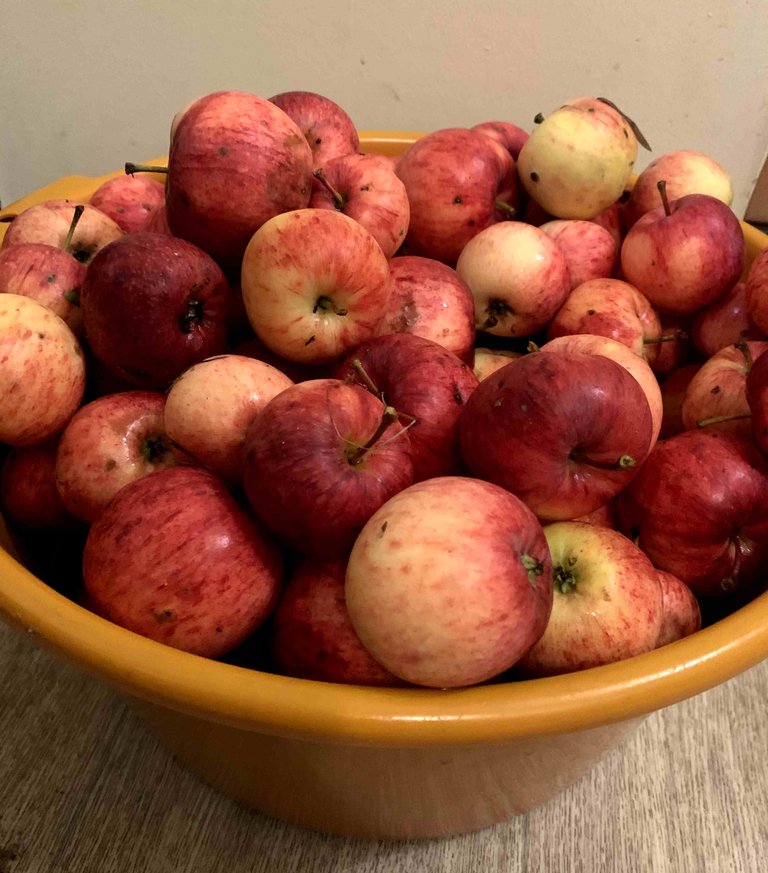 And I also collected a pear of a later variety. This tree bore fruit for the first year. The fruits were not of very good quality. We will look at the yield next year. In the meantime, all these pears went to the preparation of compotes.
А еще я собрал грушу более позднего сорта. Это дерево плодоносило первый год. Плоды получились не очень хорошего качества. Будем смотреть в следующем году на урожайность. А пока все эти груши пошли в приготовление компотов.
I add my beloved @ru-trail community as a 5% beneficiary of the post.
I add my beloved @archon community as a 5% beneficiary of the post.




Thanks for reading...
Follow Me For Daily Posts!
Good luck and have fun
[//]:# (!pinmapple 58.604559 lat 50.054655 long My first autumn weekend 2021 (23 photos) d3scr)
---
---