Tips for teaching manners to 4 to 8 year olds//Tips para enseñar modales a niños de 4 a 8 años (English and Spanish)
All mothers know that children with good manners are educated and loved by everyone wherever we go... that is why in this informative blog for moms I am going to recommend certain guidelines for our children from 4 years of age, so that from an early age we can teach them good manners and respect.
Todas las madres sabemos que los niños con buenos modales son niños educados y queridos por todos a donde quiera que vayamos… por eso en este blog informativo para mamitas les voy a recomendar ciertas pautas para nuestros niños a partir de 4 años de edad, y así desde pequeños poderles enseñar buenos modales y respeto.
Manners to teach from the age of 4.
From the time children are 4 years old, you can explain to them and they can understand that they should look adults in the eye and respond when adults ask them to do so, since in many cases at that age children bow their heads when they talk to adults.
Modales para enseñar a partir de los 4 años.


Desde que los niños cumplen 4 años ya se les puede explicar y ellos entender que se debe mirar a los adultos a los ojos y responder cuando los adultos se lo pidan, ya que en muchos casos a esa edad los niños agachan la cabeza cuando estos hablan con adultos.
1- Teaching children in a playful way how to converse with adults or greet them is the best way to help them gain confidence. Shaking hands and saying "Nice to meet you, Mrs. Falcon" could be an example.
1- Enseñar en forma de juego a los niños de como conversar con adultos o saludarlos es la mejor manera de ayudarlos con su confianza. Dar la mano y decir "Mucho gusto, señora Falcon" pudiera ser un ejemplo.
2- Table manners are very important, teach them not to put their elbows on the table, and ask please if you need something passed to you. If other children do it in a good way, we can take these behaviors as an example so that the children can see how these good attitudes are.
2- Los modales en la mesa son muy importantes, se debe enseñar que no se deben poner los codos en la mesa, y pedir por favor si necesitas que te pasen algo. Si otros niños lo hacen de buena manera podemos tomar como ejemplo estos comportamientos para que los niños vean como son estas buenas actitudes.
3- Another important point to teach is not to interrupt. We can take a cue to give our children the time to wait and again to talk when they are talking to someone, and when they interrupt let them know. We need to teach our children that interrupting people when they are talking is rude and looks very bad in the eyes of others.
3- Otros de los puntos importantes a enseñar es No Interrumpir. Se puede tomar una señal para darles a nuestros hijos el momento de esperar y de nuevo para hablar cuando estén conversando con alguien, y cuando este interrumpa hacérselo saber. Tenemos que enseñarle a nuestros hijos que interrumpir a las personas cuando estas hablan es de mala educación y se ve muy mal ante la vista de los demás.
Manners to teach from 7 to 8 years old.
At this age children are more attentive and understand more things, they should have the concepts explained above very clear, understood and put into practice.
Modales para enseñar a partir de 7 a 8 años.


Ya a esta edad los niños están más atentos y entienden más las cosas, deberían tener los conceptos anteriormente explicados bien claros, entendimos y puestos en práctica.
1- Learn to have skills with the phone. This new generation of children need to learn how to use the phone correctly and help us with the... for example when parents can not answer the phone and they can answer they should know how to answer, say "who is calling"? or "sorry, my mom is not available, are signs of good manners.
1- Aprender a tener habilidades con el teléfono. Esta nueva generación de niños necesitan aprender a utilizar el teléfono correctamente y ayudarnos con el… por ejemplo cuando los padres no podamos contestar el teléfono y ellos puedan atender deben saber cómo responder, decir "quién llama"? o "lo siento, mi mamá no está disponible, son señales de buenos modales.
2- Cutting food with a knife, saying please and thank you, not interrupting, not putting your elbows on the table, eating with your mouth closed, smiling, being cordial and Cortez are manners that are certainly at this age between 7 and 8 years should have mastered.
2- Cortar comida con el cuchillo, decir por favor y gracias, no interrumpir, no poner los codos en la mesa, comer con la boca cerrada, sonreír, ser cordial y Cortez son modales que son duda a esta edad entre 7 y 8 años deben tener dominados.
I hope you liked my article today friends, I made it with much affection for all of you.
Espero les haya gustado mi artículo de hoy amigos, lo hice con mucho cariño para todos ustedes.
My princess and I said goodbye// Nos despedimos mi princesa y yo.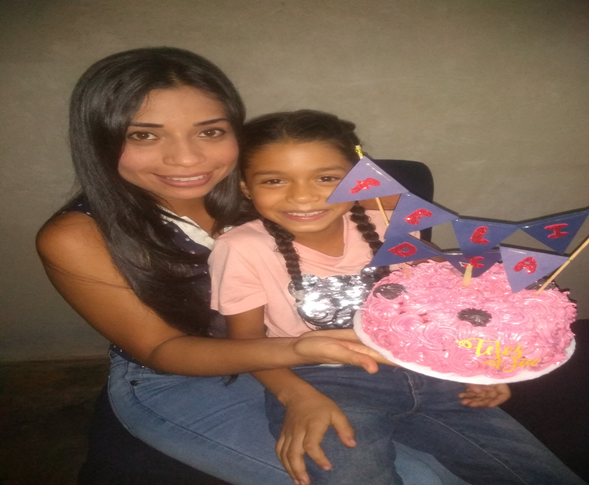 Author's own image @anyelina93
Recommended Bibliographic Reference
---
---