Nuclear energy will make a comeback.
The Ukrainian war demonstrated that the world's energy infrastructure is very vulnerable, and so is the development of clean energy, so nations are rescheduling the construction of new nuclear power plants.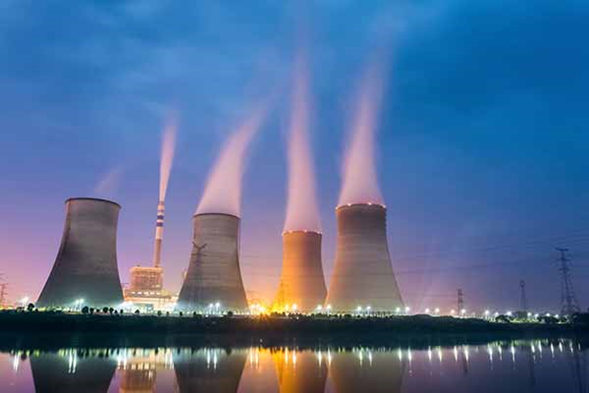 Source
Hello ecotrain friends, I hope you are very well, for better or for worse, the current world situation warrants letting the atomic genie back out of the bottle, the world is caught between climate change, and the realization that the growing energy demand cannot be met if the situation continues as it is.
The current crisis, the future crises.
The Russian invasion of Ukraine changed everything, overnight the huge reserves of energy, food and valuable minerals of both countries were no longer readily available to the rest of the world, before the Russian tanks rolled across the Ukrainian border like a tide of steel to meet determined defenders willing to do anything for their country, both countries were export powers in many of the items I mentioned above... today this is not the case, sanctions, counter sanctions blockades and destruction of infrastructure made sure of that.
In the area of energy, the situation meant a tremendous increase in the prices of oil and gas, this impacted Europe the hardest, who depended enormously on Russian hydrocarbons, and now they have found themselves in the painful necessity of turning back on electric generators that operate by burning coal to supply their nations with energy for the winter.
Many saw this as an opportunity to accelerate the transition to cleaner forms of power generation, but without Russian nickel you can't make batteries at a reasonable price, without Russian aluminum you can't make solar panels or wind turbine blades, without Russian copper you can't make coils for electric motors.
The global economic crisis doesn't help either, and meanwhile the climate change monster, of our own creation, grows in size and begins to plow at the gates of the first world, heat waves and floods, unpredictable weather, the tragedy is just beginning. We are caught between a rock and a hard place.
We can make no mistake, although Putin's failure to take Ukraine has served as a warning to the tyrants of the world, there are still potential crises that can cause the same problem, or aggravate the existing one around the world. There is still the issue of Iran, a conflict between Iran and Israel, or Iran and the United States, or even Iran and a pork chop could cause the Persian nation to close the Strait of Hormuz, one of the world's main trade routes, through which much of the world's oil passes. China, for its part, insists on its aggressive claims over Taiwan. if the conflict heats up there, China would block the Taiwan Strait and several other trade routes in the Pacific, causing an energy and economic crisis worse than the current one.
The world is very vulnerable, we cannot deny it.
However, there is an alternative to generate large amounts of energy cheaply, and without polluting much ...
Nuclear energy.
And this one may be back soon.
Since the Fukushima nuclear disaster in 2011, around the world the support for nuclear energy was greatly reduced, many countries canceled their projects, Japan for example proposed to close all its nuclear power plants, the projects that were already underway were paralyzed.
Tragedies like Chernobyl and Fukushima showed that the generation of energy through atomic reactions is something very complex, that if not handled with extreme care can cause great disasters, however, since 2011 science has advanced, and the need has grown, now many countries that only a decade ago canceled their nuclear projects are restarting them.
In the United States, for example, Congress approved $8 billion in subsidies for nuclear power projects, and private initiatives such as TerraPower and X Energy are investing millions in new nuclear power generation technologies.
In Europe, half a dozen states have reactivated projects for the construction or reactivation of nuclear power plants, notably France, a powerhouse in the sector, and Poland.
China is planning to build 150 new nuclear reactors in the next 15 years, and countries such as Argentina and Pakistan are even starting nuclear projects.
And in Japan, where the demise of hundreds of nuclear projects has begun, 17 new nuclear plants are planned for next year, but not only that, it is precisely in Japan, which is taking the next step in clean energy generation, not only plans to improve safety standards to levels never before achieved, making nuclear energy safer than ever before.
A new model of nuclear reactor manufactured by the Japanese promises a series of technological advances that will change the paradigm of power generation, first, it is much smaller than the reactors of the past decades, and it is modular, which allows its installation and modification much faster, on the other hand, it is cooled by Helium, not water, so it does not need to be near a natural source of drinking water, It produces hydrogen as a by-product of its atomic reaction, which can in turn be used for the manufacture of hydrogen engines or hydrogen cells. Currently, hydrogen production requires large amounts of energy, which is one of the reasons why this technology has not been adopted more regularly.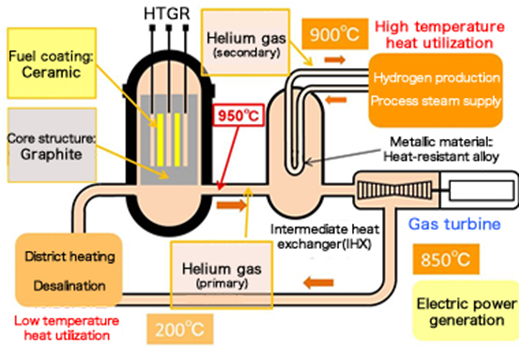 Source
The benefits of this new design do not stop there, if you want to know more, I recommend you visit this page
https://www.jaea.go.jp/04/o-arai/en/research/research_03.html
But what will happen when the nuclear fuel runs out and the rods of still radioactive materials must be discarded? Will we throw them into the sea as used to be the practice, destroying marine ecosystems and endangering the health of millions? It doesn't have to be this way, recent advances in science allow us to create batteries with synthetic diamonds and nuclear waste that can produce energy for 28,000 years, and still be safe for ordinary people to handle.
More on this here. https://www.popularmechanics.com/science/green-tech/a35970222/radioactive-diamond-battery-will-run-for-28000-years/
Conclusion.
Although in 2011 nuclear energy projects around the world came to a standstill, science did not stop advancing, perhaps, knowing that this day would come, where humanity would realize that only with real innovation and a mastery of the power of the atom would be able to overcome the challenge posed by climate change, these new projects promise a lot, let's hope they are executed quickly and safely, because time for our species is running out.
Thank you for reading me and happy evening to all.
Recommended Bibliographic Reference
[1] CAN NUCLEAR ENERGY MAKE COMEBACK
[2] RESEARCH
---
---