Mushroom ser card, the key to beat the water cards.
Hello friends I hope you are very well, today I bring you another post about a splinterlands card.
Today I want to talk about the Mushroom Seer, and the combinations that can be made with it to defeat those who use powerful magic damage cards.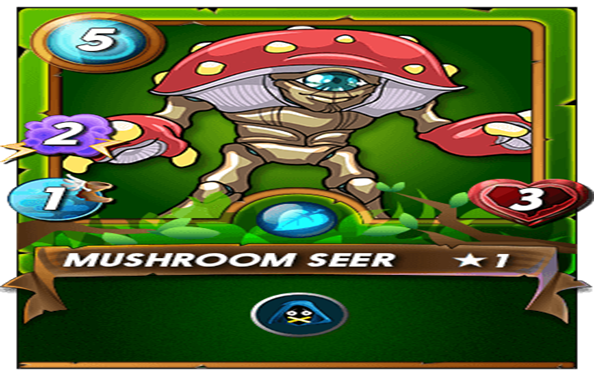 With a cost of 5 mana, it has 2 magic damage 3 health and 1 speed. It doesn't look like much, what makes it so good is its special ability, SILENCE which has the effect of reducing the magic damage of all enemy cards by 1 point. At first glance it doesn't seem like much. But when we use it with the Unicorn Mustang as a tank it becomes very interesting.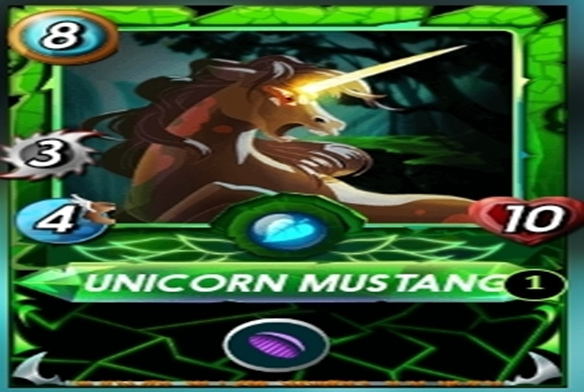 The unicorn Mustang is by itself a good card, with good damage, good speed and good health. But it is his special ability that interests us, called Void. And what it does is to reduce the magic damage by 1 point, or half.
Which means that when facing opponents with magic damage cards, the Mushroom ser reduces the damage they do by 1 point, and the Unicorn Mustang reduces it by 1 more point... and at low levels most of the magic damage cards do 2 damage... which makes situations like this happen.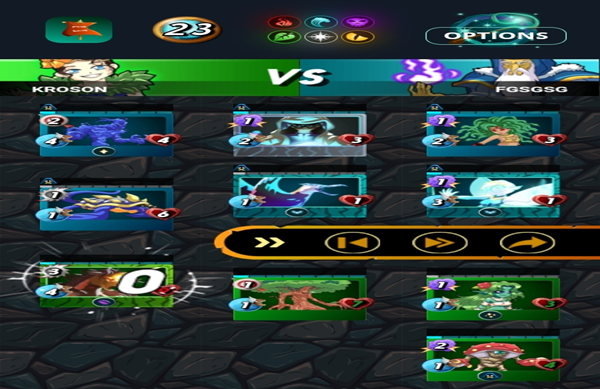 In which the magic attacks will do absolutely nothing to your tank, which would be a sure win against most water clan combinations at low levels...
As you can see the enemy summoner gives 1 additional magic damage to the cards, but that advantage is nullified by the Mushroom seer.
And of course I should clarify that what I explain here is based on my playing experience, which is from silver 1 down... so probably this combination is useless at higher levels.
But as lately we are seeing more people playing the water clan especially because of the popularization of the Venari Wavesmith combo, about which I made my first post, as you advance from bronze 2 onwards you will find a lot of people playing the water clan, and having something to win most of those games is useful.
Another thing to take into account is that rarely magic damage cards at low levels have abilities like Snipe or Sneak. So magic attacks will almost always go to your tank... where they won't do anything.
Now ... that combination can also be improved with other cards, if you know that the opponent will use the Venari Wavesmith can add to the combination the summoner Wizard of Eastwood.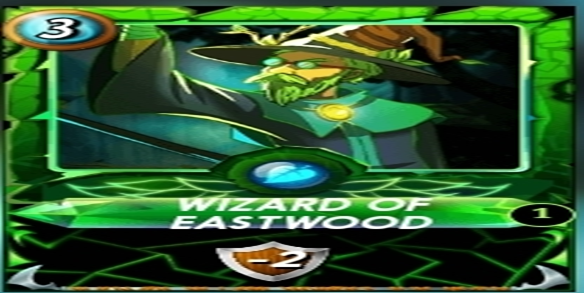 Which reduces the enemy's armor by 2 points, eliminating the powerful advantage that Venari wavesmisth gives, and allowing the attacks of your other cards to hit the opponent faster.
At higher levels, where enemy cards can have more than 2 attack magic damage, Wood Nymph can be added.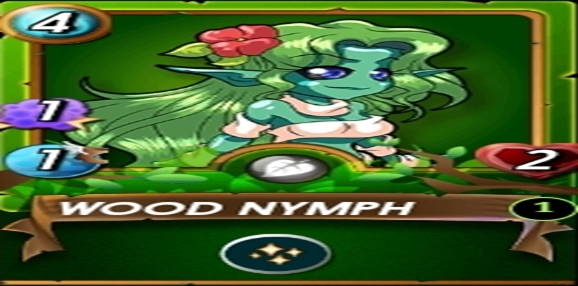 A card that although very fragile, it heals 3 health points to your tank and does 1 point of magic damage, very useful when the enemy's combination does some physical damage to your tank or has more than 2 magic damage.
That combo can be enough to beat opponents with legendary cards like Djinn oshannus.
But of course it requires to be used when you are sure that the enemy will use cards with magic damage, because this combination is not very good against physical damage cards, unless you use it with Mylor Crowling summoner. But I will leave that for another post.
Currently the Mushroom seer prices in prime are:
15 DEC per day for rental.
45 DEC to buy it at level 1.
While the Wood Nymph is at0.50 DEC per day for rental,$9.5 or less to purchase at level 1.
The Unicorn Mustang and Wizard of eastwood are basic cards that you get when you start in the game.
I hope you liked my little guide, and as always, if you have corrections, suggestions or questions please leave them in the comments, without more to add I say goodbye, but not without leaving at the end a series of links with a couple of quick games using the cards I talked about. Happy afternoon.
https://splinterlands.com?p=battle&id=sl_ba8e8b3c717e5565a139300e911d73ec&ref=kroson
https://splinterlands.com?p=battle&id=sl_ae165bb3408174c4886bd907d0b44305&ref=kroson
https://splinterlands.com?p=battle&id=sl_3987d9b941c8095a56cfe60acf53771b&ref=kroson
https://splinterlands.com?p=battle&id=sl_e8eb35720b827a01237494996985a32c&ref=kroson
---
---