13 libros increíbles de arte culinario que te harán viajar parte III / 13 amazing culinary art books that will make you travel part III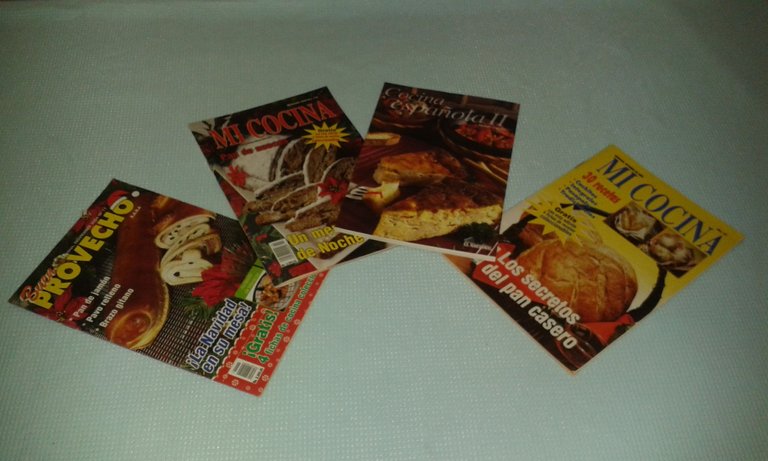 Español
"Una receta no tiene alma. Es el cocinero quien debe darle alma a la receta".
Thomas keller (Chef Estadounidense)
English
"A recipe has no soul. It is up to the cook to give the recipe a soul".
Thomas Keller (American Chef)

Un saludo cordial a todos.
Bienvenidos a mi blog.
Hoy, doy continuo con la recopilación de mis libros y revistas de cocina favoritos, en esta publicación recomiendo un mini libro promovido por el periódico El Nacional y tres mini revistas de los cuales haré una breve descripción a continuación:
Cocina Española II de la autora Marian Castillo, quien posee registros de libros de diferente temática publicados por el diario El Nacional. En este se hace mención a las tapas, hábito característico de España de origen Andaluz que consiste en tomar el aperitivo acompañado con vino y buena conversación en el bar de los restaurantes. Este mini libro, es una guía práctica para cualquier persona que tenga interés en cocinar, el cual reúne 75 recetas clasificadas en: 9 tapas, 8 acompañantes, 6 recetas con huevo, 6 ensaladas, 8 sopas y guisos, 4 arroces, 8 recetas con carnes, 13 recetas con pescados y mariscos, 5 salsas, 8 meriendas y postres.
Mini revista Buen Provecho N° 11, ¡La navidad en su mesa!, bajo la dirección de Rocío Amoretti, recetas de Nora Benarroch de Stolear, el chef Jean Jacques Burnod y Otilia. Esta comienza con un escrito titulado mestizaje de sabores, en el que hace referencia sobre la hallaca plato típico navideño venezolano. Incluye algunos secretos de cocina, consejos para las amas de casa y 24 recetas para compartir en las fiestas de navidad, de las cuales se nombran las más tradicionales: jamón navideño, ensalada de gallina, pan de jamón, estofado de cordero en cesta, suprema de pavo rellena y panettone italiano.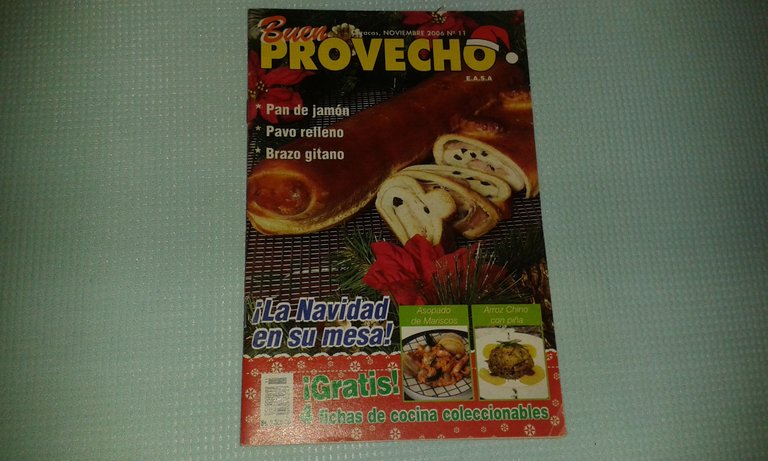 Mini revista Mi Cocina N° 97, Los secretos del pan casero, bajo la dirección de Rocío Amoretti. Es una obra esencial de pastelería que incluye algunas técnicas y consejos para elaborar pan, se inicia con un breve escrito acerca de la historia del pan. Contiene 30 recetas tradicionales,algunas de ellas son: cachitos, trenzas de pan, campesino, sándwich, rascacielos, panecillos, panettone, budín de pan, pan de jamón, entre otras.
Mini revista Mi Cocina N° 110, Un menú de noche buena, bajo la dirección de Rocío Amoretti y recetas del chef Héctor Talavera, chef Gisela Fuenmayor y Nora Benarroch de Stolear. Es un suplemento de comidas tradicionales de la navidad venezolana, posee algunas técnicas, clases de cocina y consejos para preparar comidas en el hogar, en primer lugar aborda con una breve historia las tradiciones navideñas venezolanas. Está conformada por 25 recetas entre las cuales se destacan: bollos pelones, lechón al horno, pollo relleno de vegetales, stollen, entre otras.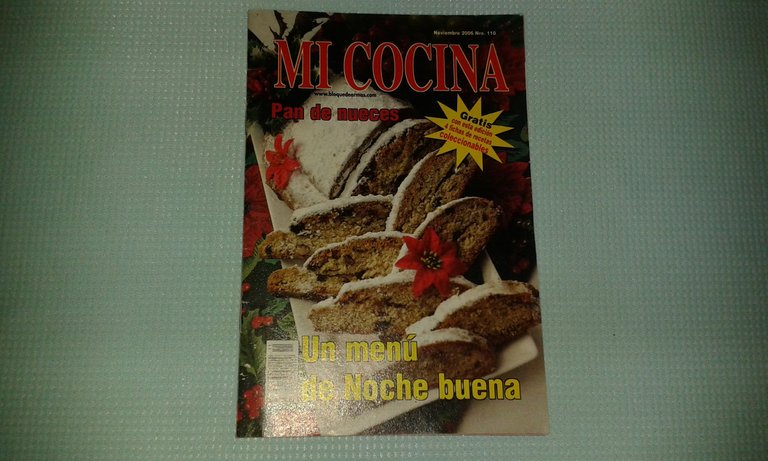 Con estos libros he elaborado recetas que por ahora no puedo compartir con ustedes porque no tengo evidencias fotográficas, pero hago el compromiso que publicaré recetas de estos ejemplares muy pronto.
Best regards to all.
Welcome to my blog.
Today I continue with the compilation of my favorite cookbooks and magazines, in this publication I recommend a mini book promoted by the newspaper El Nacional and three mini magazines of which I will make a brief description below:
Spanish Cuisine II by the author Marian Castillo, who has records of books on different subjects published by the newspaper El Nacional. This book mentions tapas, a typical Spanish habit of Andalusian origin that consists of having an appetizer accompanied with wine and good conversation at the bar of a restaurant. This mini book is a practical guide for anyone interested in cooking, which gathers 75 recipes classified in: 9 tapas, 8 side dishes, 6 recipes with eggs, 6 salads, 8 soups and stews, 4 rice dishes, 8 recipes with meats, 13 recipes with fish and seafood, 5 sauces, 8 snacks and desserts.
Mini magazine Buen Provecho N° 11, La Navidad en su mesa, under the direction of Rocío Amoretti, recipes by Nora Benarroch de Stolear, chef Jean Jacques Burnod and Otilia. It begins with an article titled Mestizaje de sabores, in which she refers to the hallaca, a typical Venezuelan Christmas dish. It includes some cooking secrets, tips for housewives and 24 recipes to share during the Christmas holidays, including the most traditional ones: Christmas ham, chicken salad, ham bread, lamb stew in a basket, stuffed turkey supreme and Italian panettone.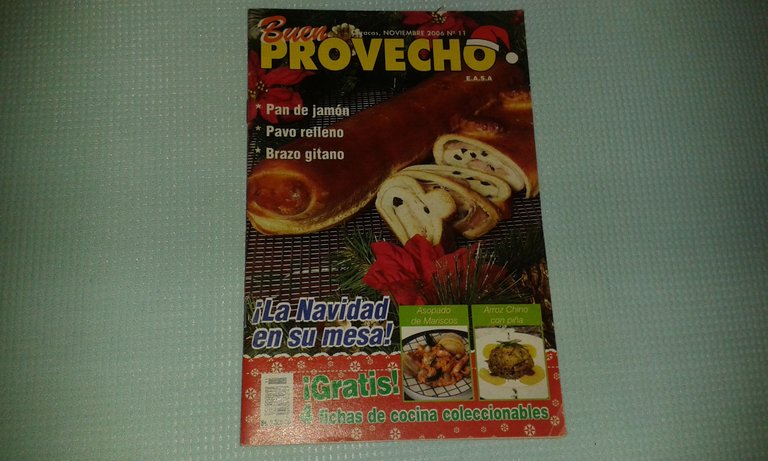 Mini magazine Mi Cocina N° 97, Los secretos del pan casero, under the direction of Rocío Amoretti. It is an essential work of pastry that includes some techniques and tips to make bread, it begins with a brief article about the history of bread. It contains 30 traditional recipes, some of them are: cachitos, bread braids, peasant, sandwich, rascacielos, panecillos, panettone, bread pudding, ham bread, among others.
Mini magazine Mi Cocina N° 110, A menu for Christmas Eve, under the direction of Rocío Amoretti and recipes by chef Héctor Talavera, chef Gisela Fuenmayor and Nora Benarroch de Stolear. It is a supplement of traditional Venezuelan Christmas meals, it has some techniques, cooking classes and tips to prepare meals at home, first of all it deals with a brief history of Venezuelan Christmas traditions. It is made up of 25 recipes among which stand out: bollos pelones, baked suckling pig, chicken stuffed with vegetables, stollen, among others.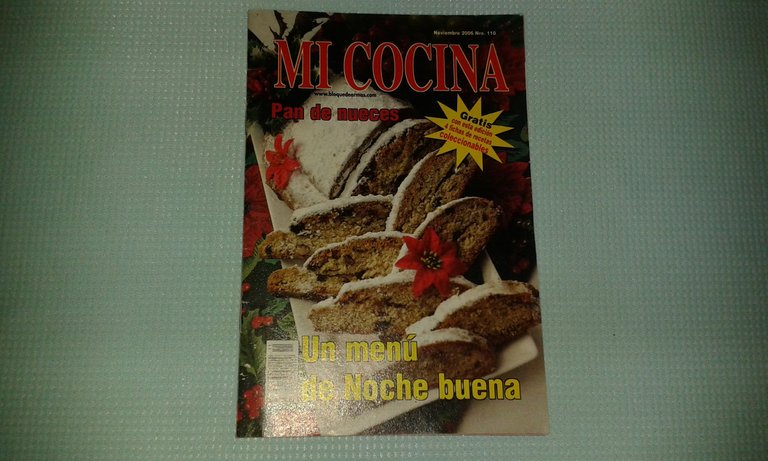 With these books I have elaborated recipes that for now I cannot share with you because I do not have photographic evidence, but I make the commitment that I will publish recipes from these books very soon.

Las fotos publicadas en este proyecto fueron tomadas con mi celular Samsung.
El separador de texto utilizado es de uso y distribución libre.
source
La traducción del texto se hizo mediante la página web https://www.deepl.com/translator.
The photos published in this project were taken with my Samsung cell phone.
The text separator used is free to use and distribute.
source
The translation of the text was done through the website https://www.deepl.com/translator.

La vida te regala muchas opciones haz lo que te haga feliz, pero recuerda que debes actuar con humildad para ser grande de corazón y rico en sentimientos.
Si te agradó este post, responde libremente. ¿Qué opinas sobre mi colección de libros y revistas de cocina?
Muchas bendiciones y gracias por leer.
Por @anyboadas
Life gives you many options, do what makes you happy, but remember that you must act with humility to be big of heart and rich in feelings.
If you liked this post, please respond freely. What do you think about my collection of cookbooks and cooking magazines?
Many blessings and thank you for reading.
By @anyboadas

---
---