My favorite Parisian Place, all categories considered : Le Musée Rodin

I know I often talk about my favorite places and it's true that there are many in this city, each for their own reasons, whether it's for the view, what you can see, what you can discover or what you can eat !
But for me, this museum is on a whole new level. I think it is one of the few places that have given me the most taste for artistic things and the desire to participate in this great movement of Art myself - * modestly through my writings (mainly novels and short stories that I hope to tell you about in the future).*
I couldn't tell you exactly how many visits I've made to this place over the years, but in my opinion, there are dozens! However, I can assure you that this is not a 'reheated' report, but rather the report of my last visit, which was a few days ago...
A small but useful clarification: the images presented here come from both my camera and my phone. Indeed, during my visit, I had a battery problem, you can see the difference, but you should notice it...
Having said that, let's begin our visit !


The location : The Hôtel Biron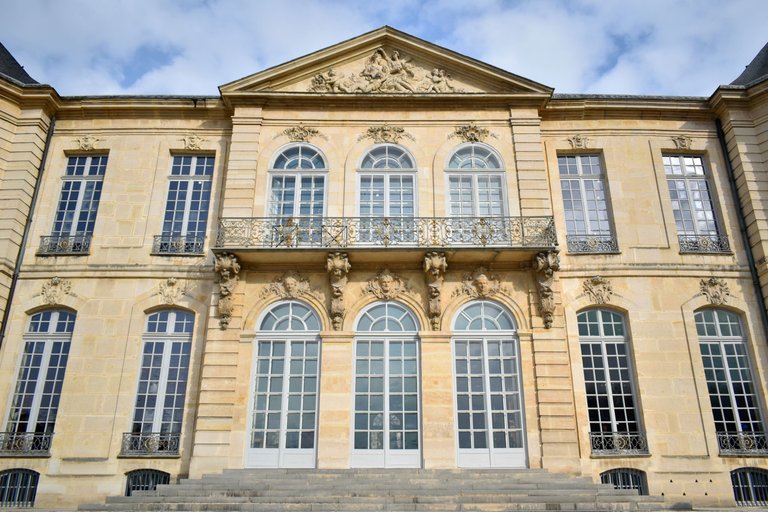 Located on the Left Bank side of Paris, the Hôtel Biron houses the museum dedicated to Auguste Rodin, one of the most famous French sculptors. You can find out more about the place itself and the artist by following the links above.
But here is an extract from the sculptor's biography :
Auguste Rodin, born in Paris on 12 November 1840 and died in Meudon on 17 November 19173, was one of the most important French sculptors of the second half of the 19th century, considered one of the fathers of modern sculpture. Heir to the centuries of humanism, Rodin's realist art is an achievement, a cross between Romanticism and Impressionism whose sculpture is shaped by the struggle between form and light. The artist's virility, nicknamed the " Holy Goat " in his time, provoked semi-public or private dramas and is at the centre of a plastic expression of sensuality, eroticism, but also of pain. For part of his life, he was the companion of the sculptor Camille Claudel.
As well as a second one about the location :
Through its two sites, the Hôtel de Biron in the rue de Varenne in the 7th arrondissement of Paris and the Villa des Brillants in Meudon (Hauts-de-Seine), the institution responsible for the conservation and dissemination of the work of Auguste Rodin, holds a collection of nearly 6,800 sculptures, 8,000 drawings, 10,000 old photographs and 8,000 other art objects. With 700,000 visitors per year, the Rodin Museum is one of the most important French museums.
The museum holds a wide range of collections, as Rodin was an artist collector; it presents mainly sculptures and a few paintings, as the drawings and old photographs cannot, for conservation reasons, be permanently displayed in the dedicated gallery on the first floor.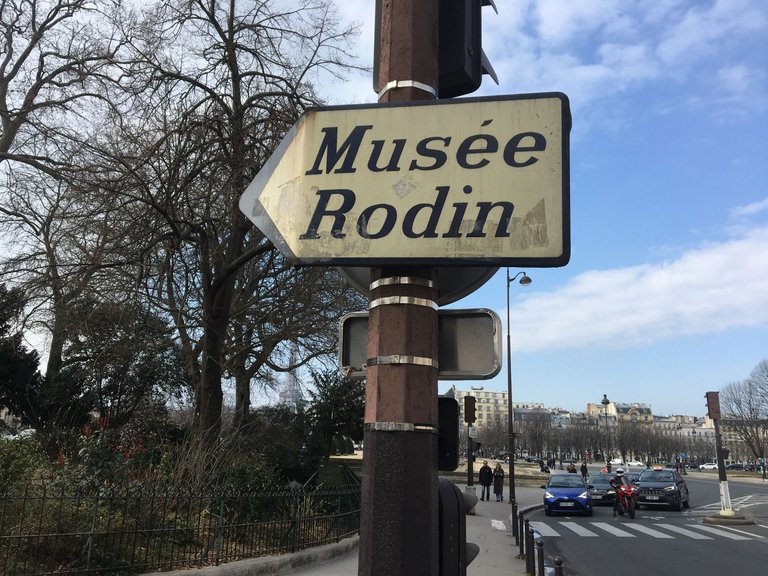 The museum is at a stone's throw from the Hôtel des Invalides, which houses the Musée de l'Armée. The Eiffel Tower is not far away either, as well as the Grand and Petit Palais and the Pont Alexandre III. In the same slightly wider area, you can find the Quai Branly Museum, the Modern Arts Museum, the Palais de Tokyo and the Guimet Museum.


The gardens
It's a bit of a original, but after this quick overview, we'll start our visit with the various notable places in the garden.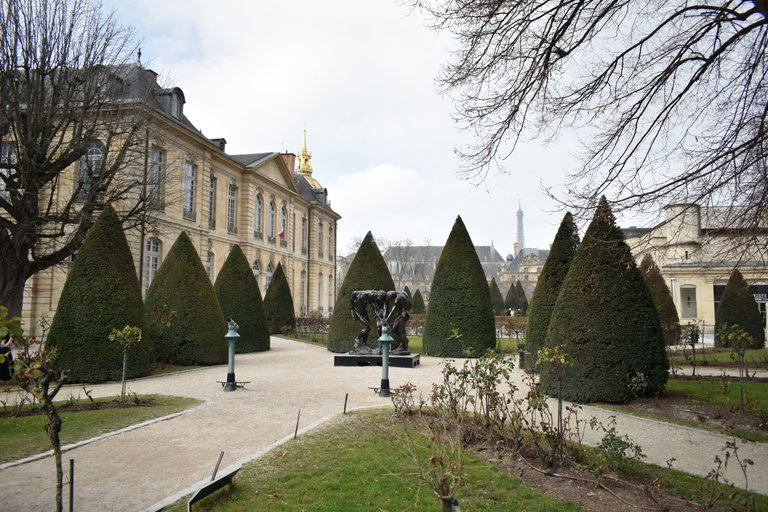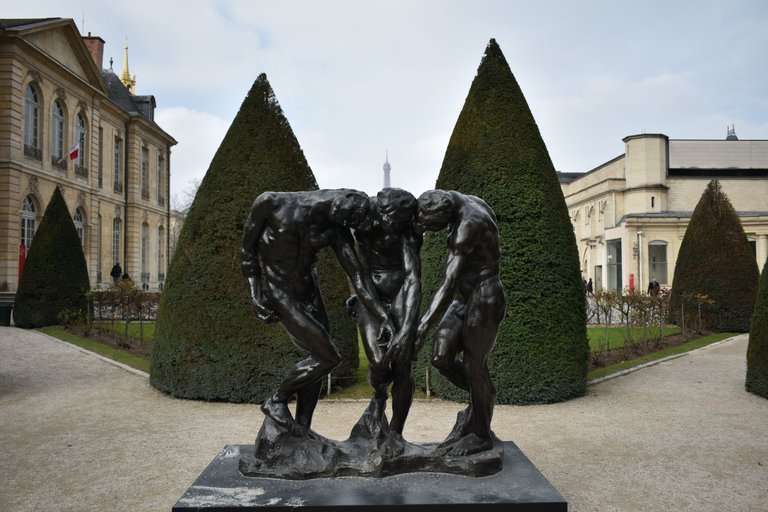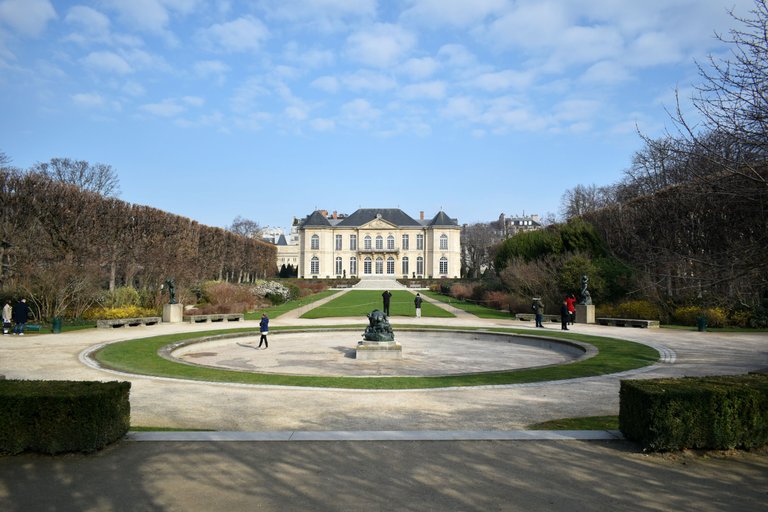 Le Penseur
As soon as you enter, you come across this well-known sculpture with a mythical aura.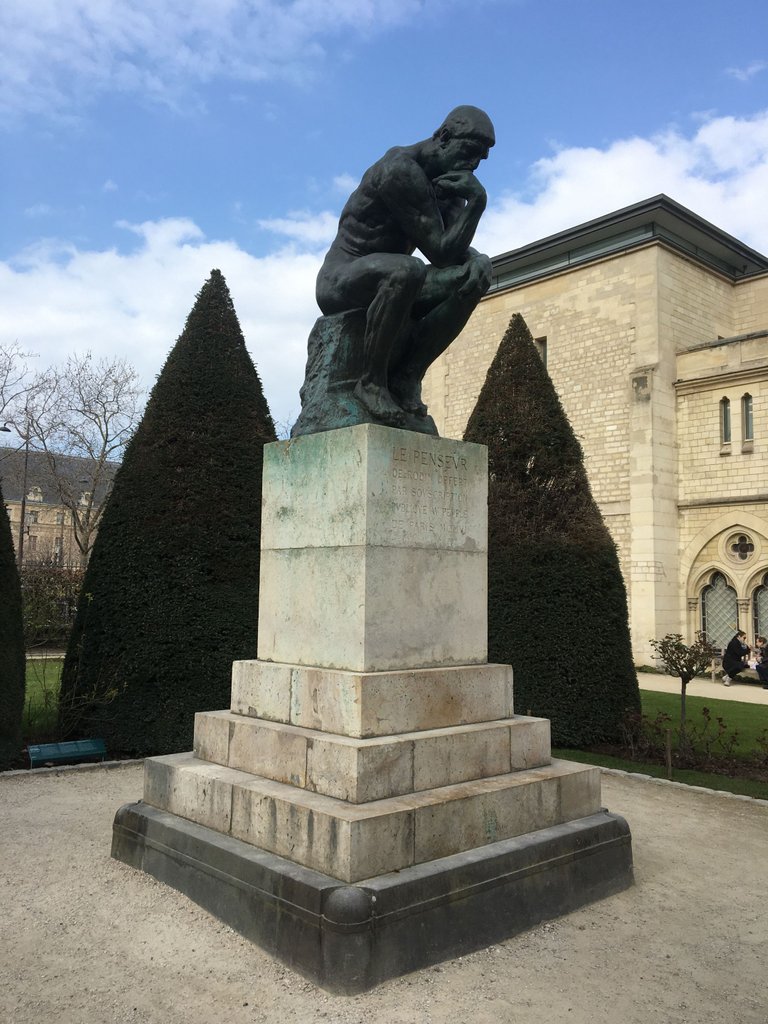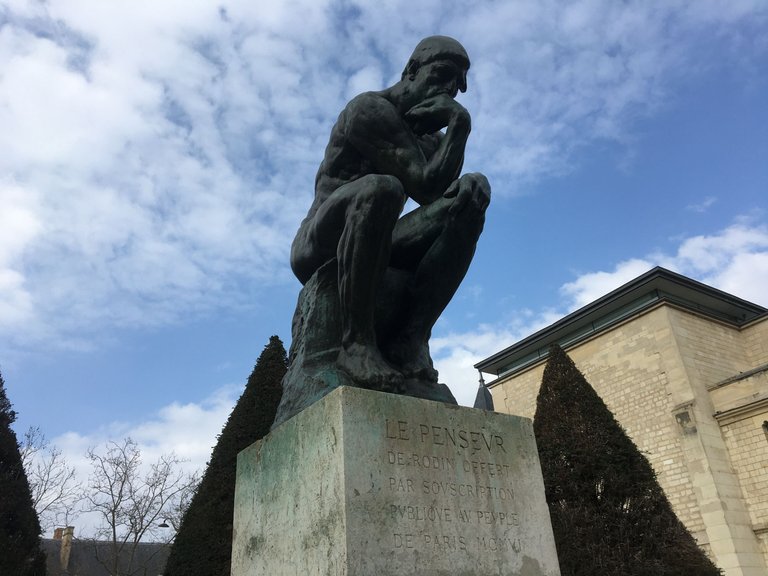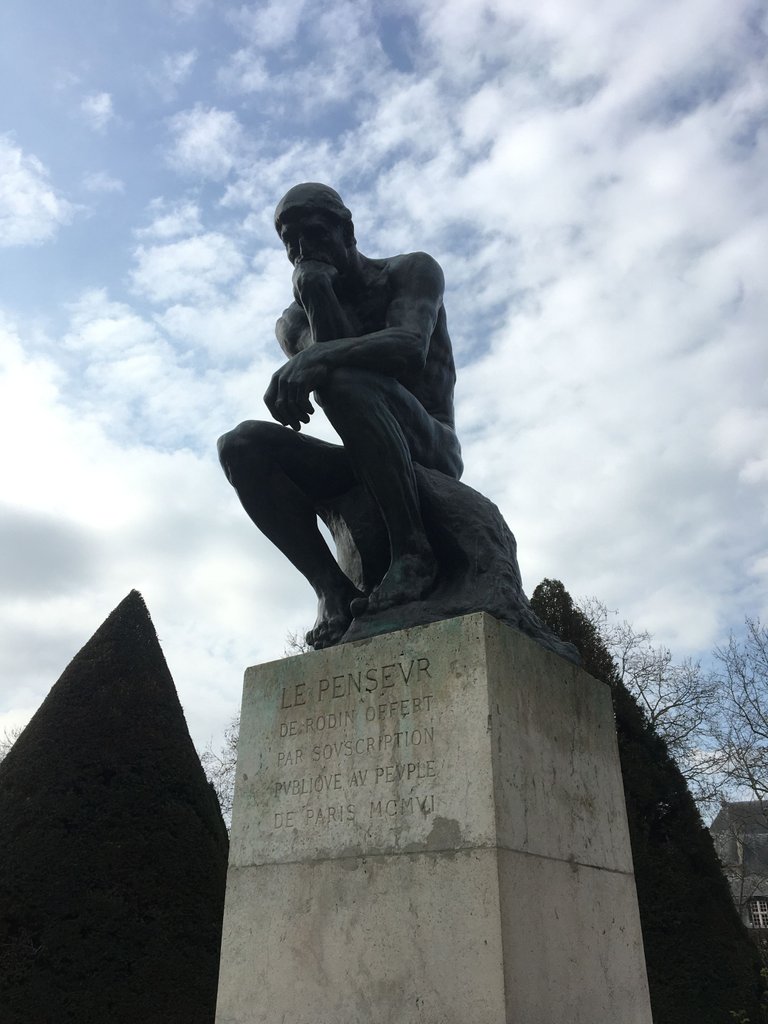 Hell's Gate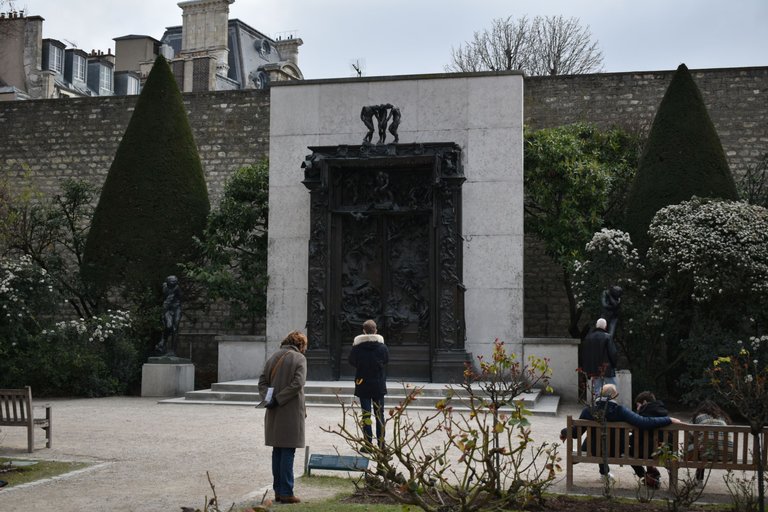 This is one of the artist's most famous works: the Gate of Hell. This is what it says on the museum website...
La Porte de l'Enfer occupies a very special place in Rodin's creation. Working feverishly for several years, he created more than two hundred figures and groups that formed a veritable breeding ground from which he drew for the rest of his career. After hoping to present it at the Universal Exhibition of 1889, the sculptor left La Porte aside at the end of the 1880s.
On several occasions, however, he had the ambition to complete his work. In the context of his great personal exhibition in 1900, he resolved to show it to the public at last, but in a fragmentary state, since he finally gave up putting up the most prominent figures, independent of the main structure, judging that they produced too strong a contrast with the background.
It was only in 1917 that Léonce Bénédite, the first curator of the Rodin Museum, succeeded in convincing the sculptor to let him reconstruct his masterpiece in order to have it cast, and Rodin died before seeing the results of all his efforts.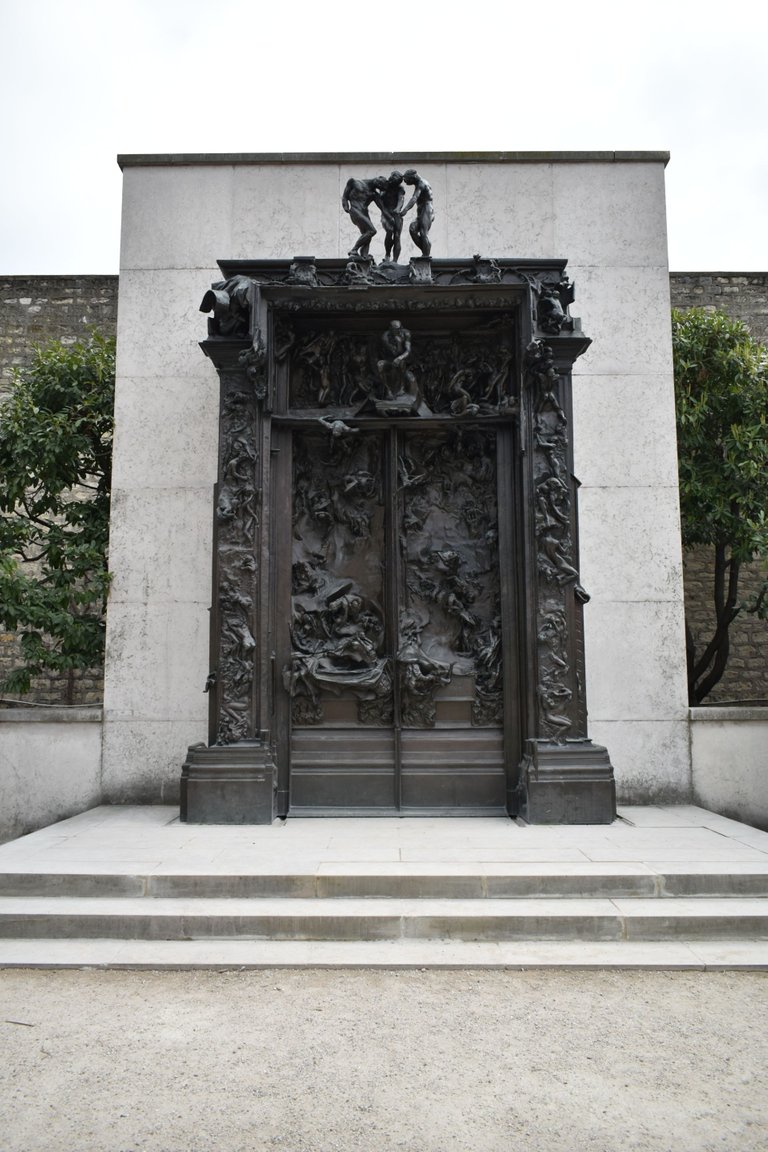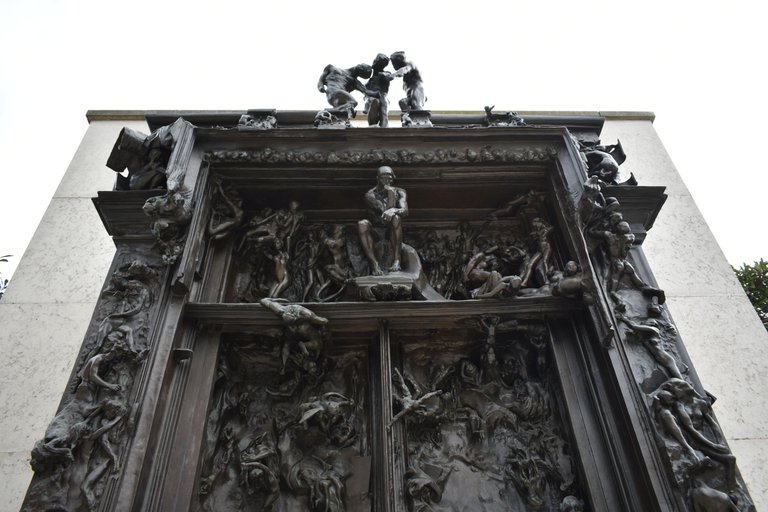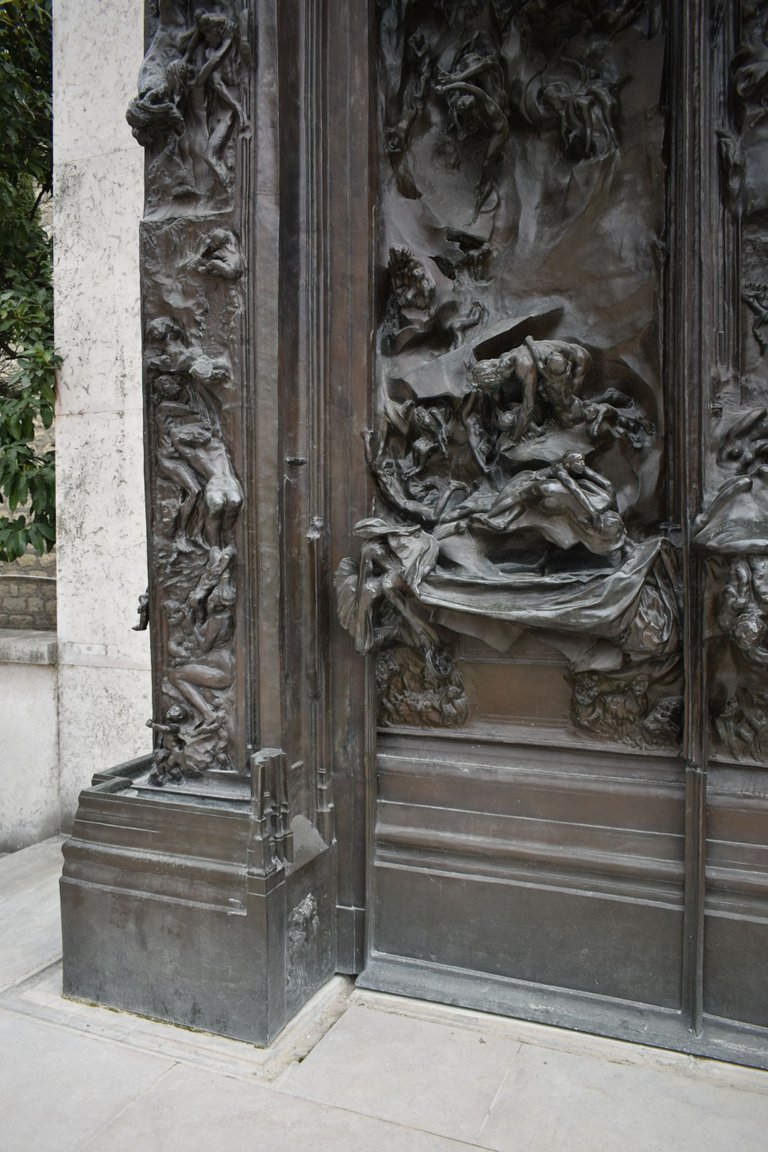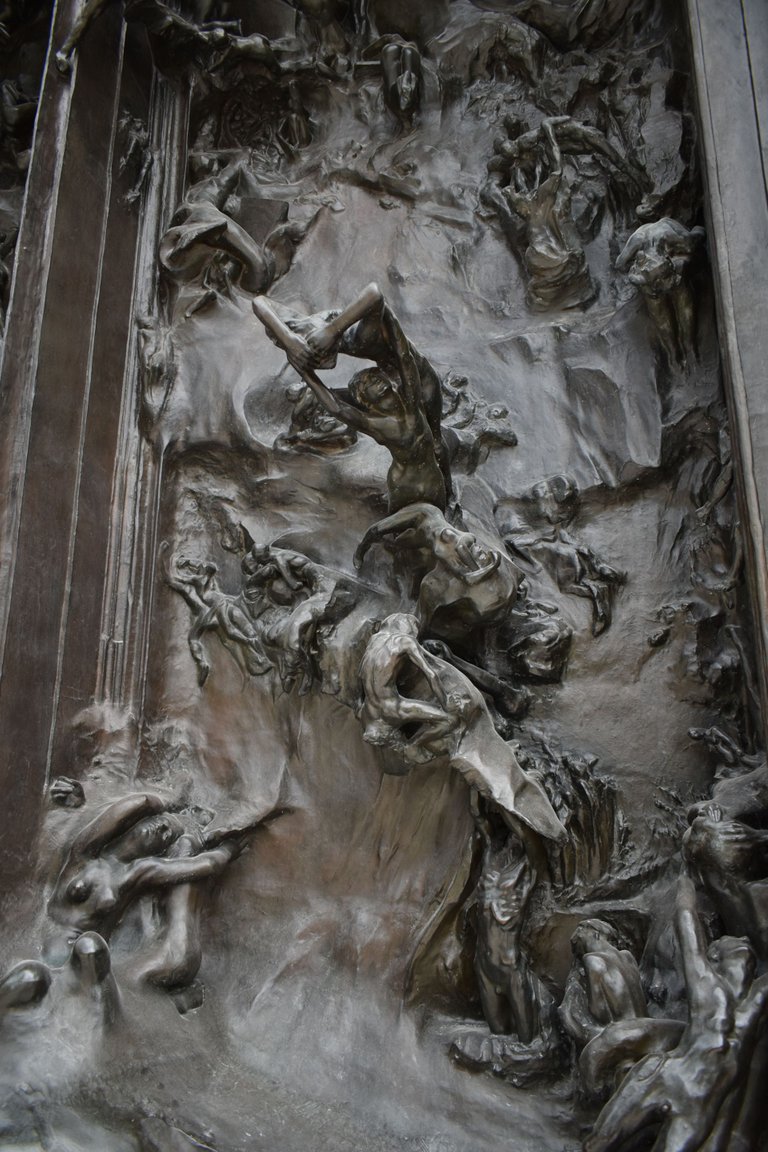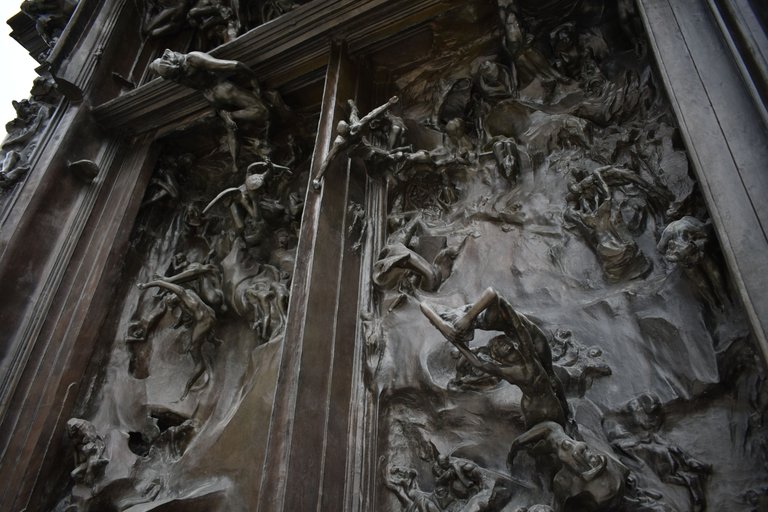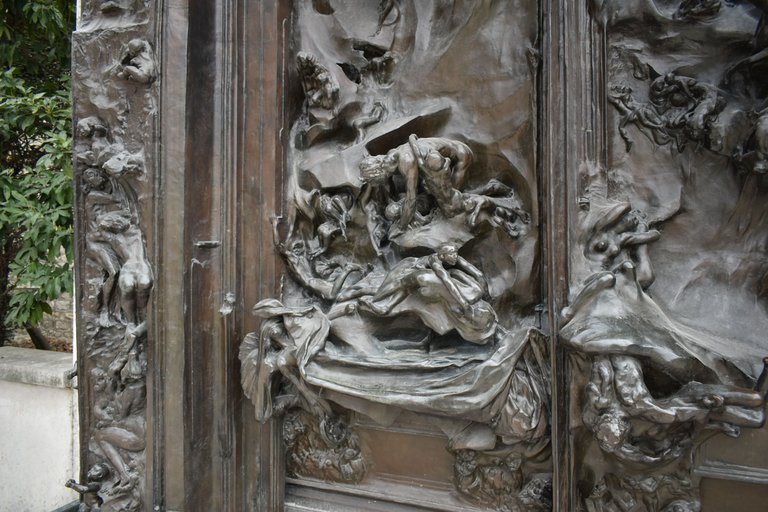 The bronzes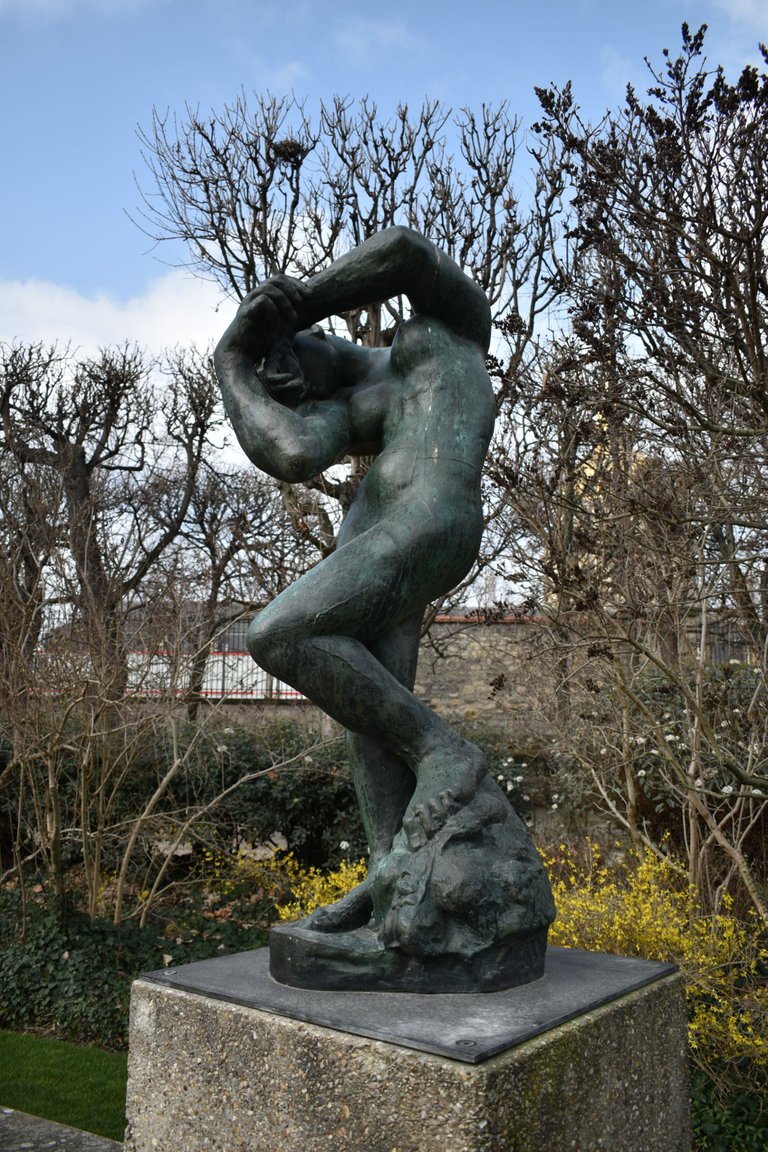 Throughout the garden space, one finds bronzes of test prints or finished sculptures, sometimes for other sculptures assembled together...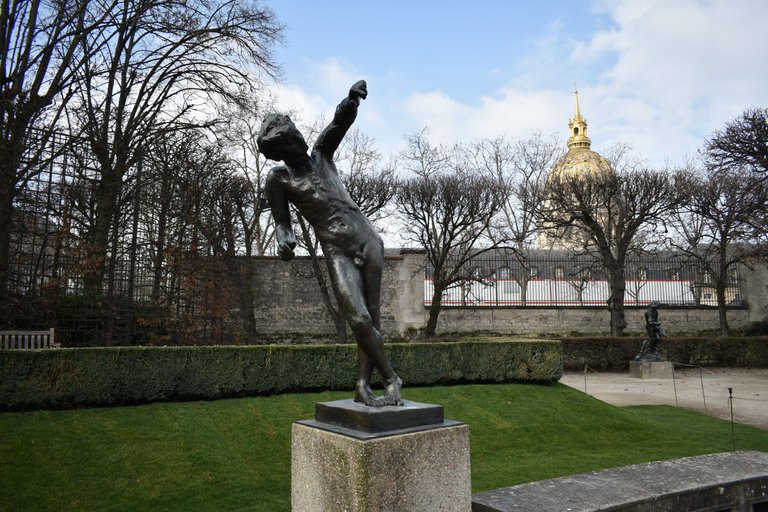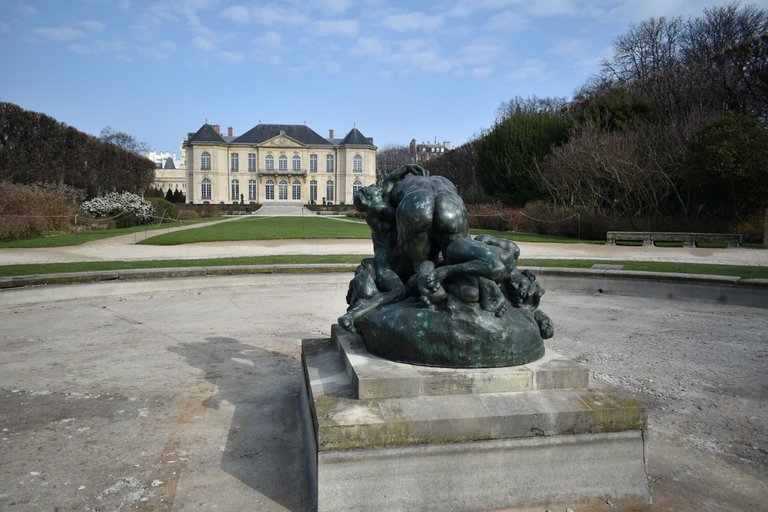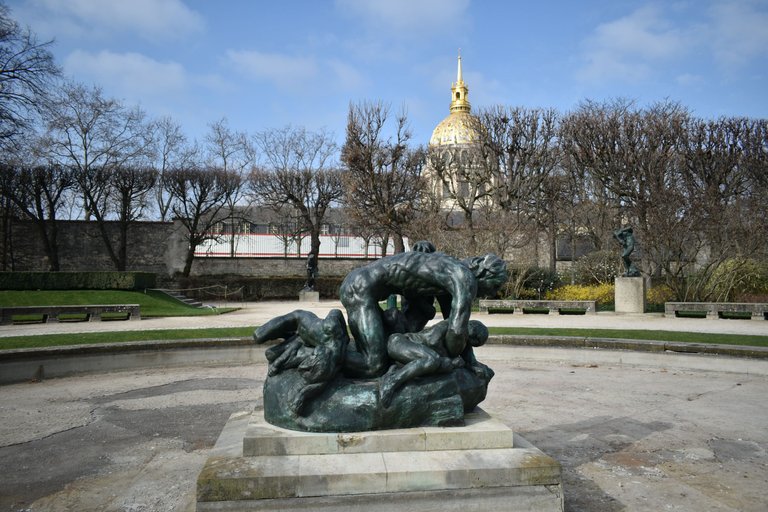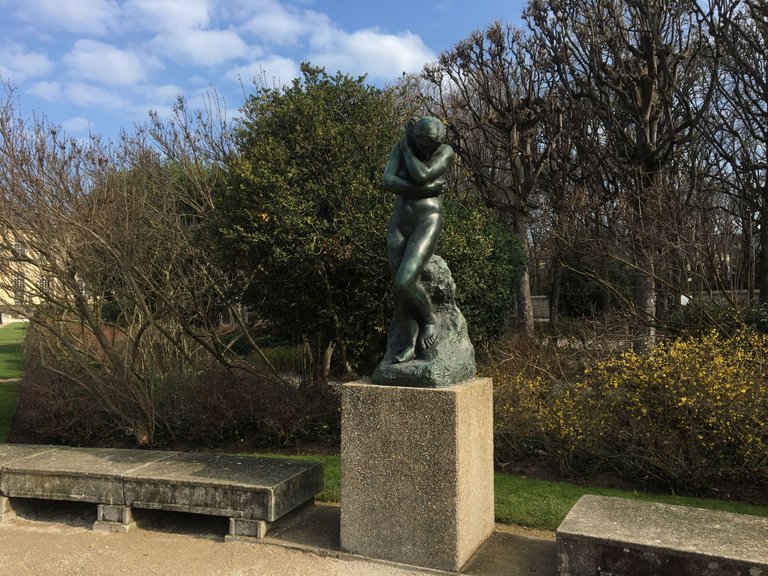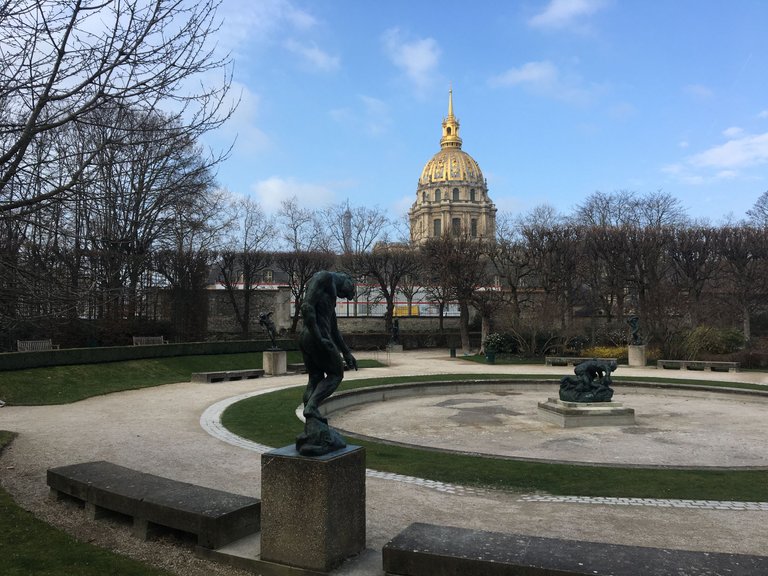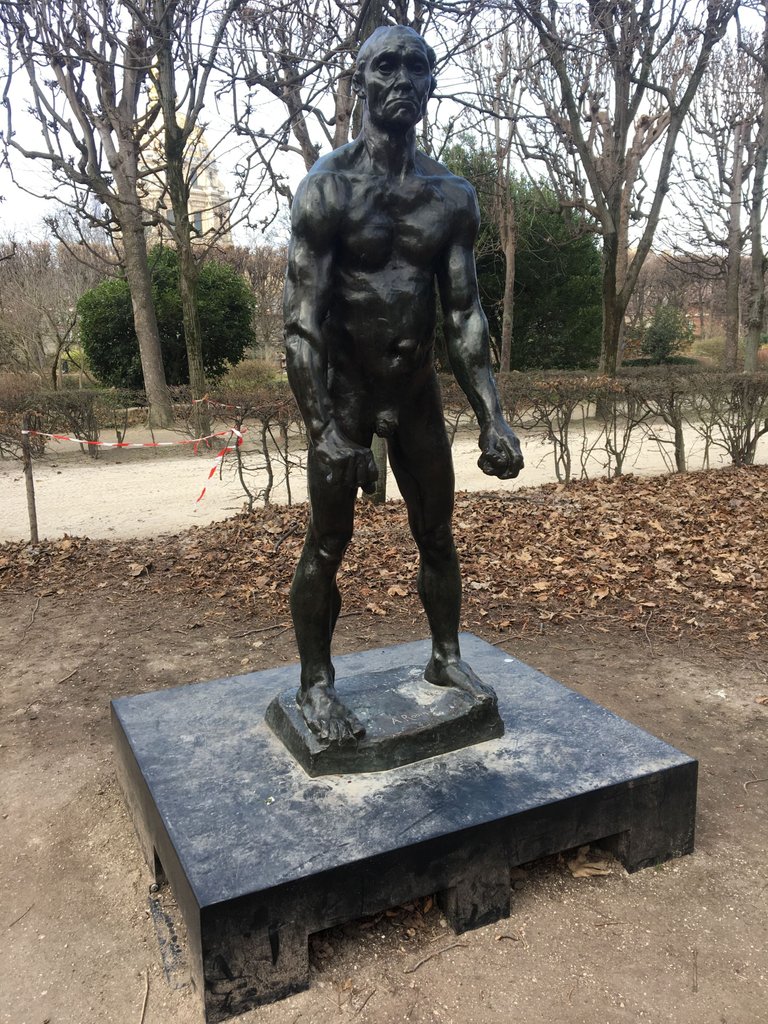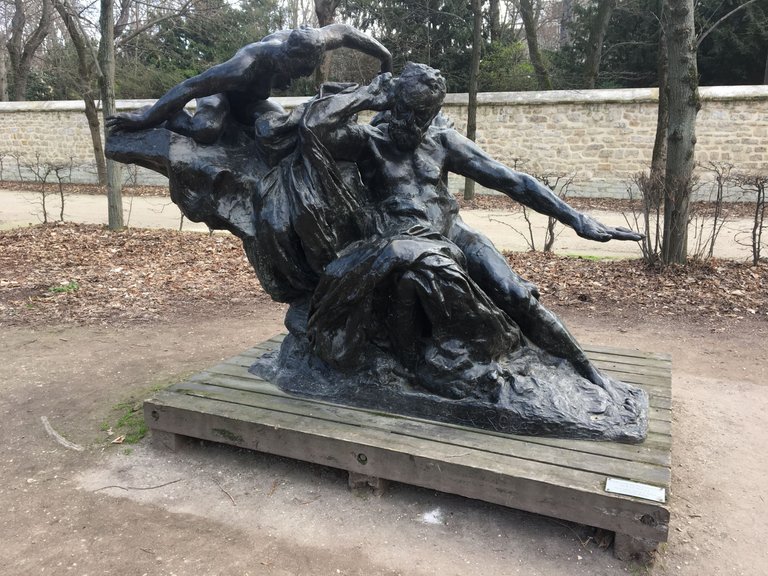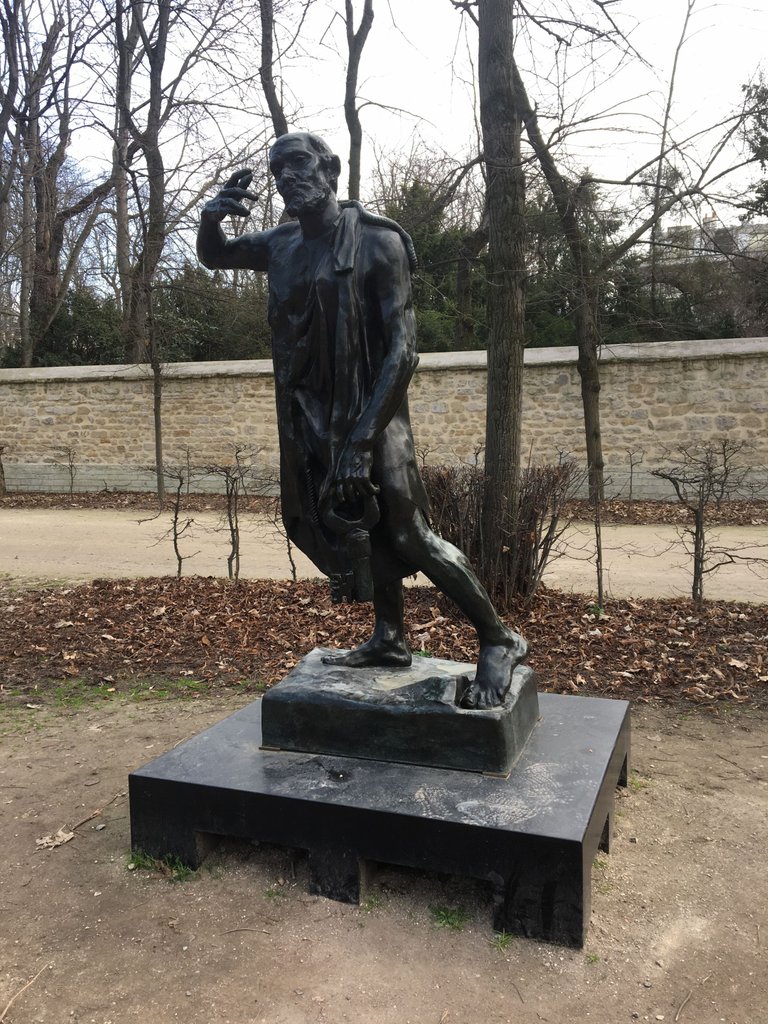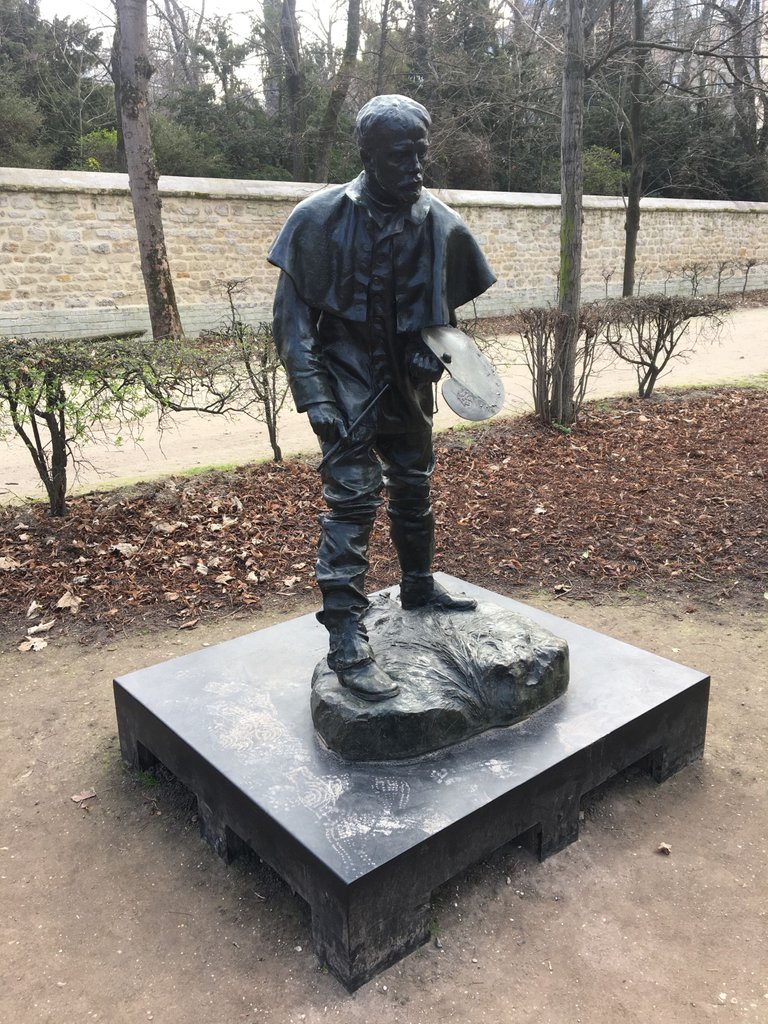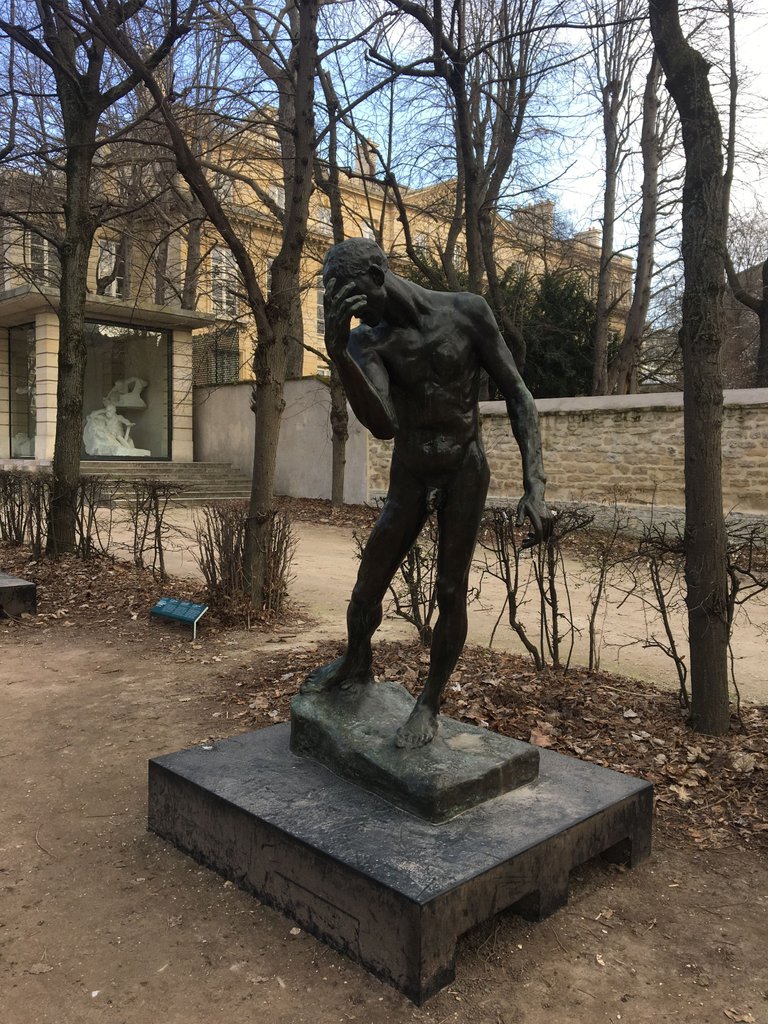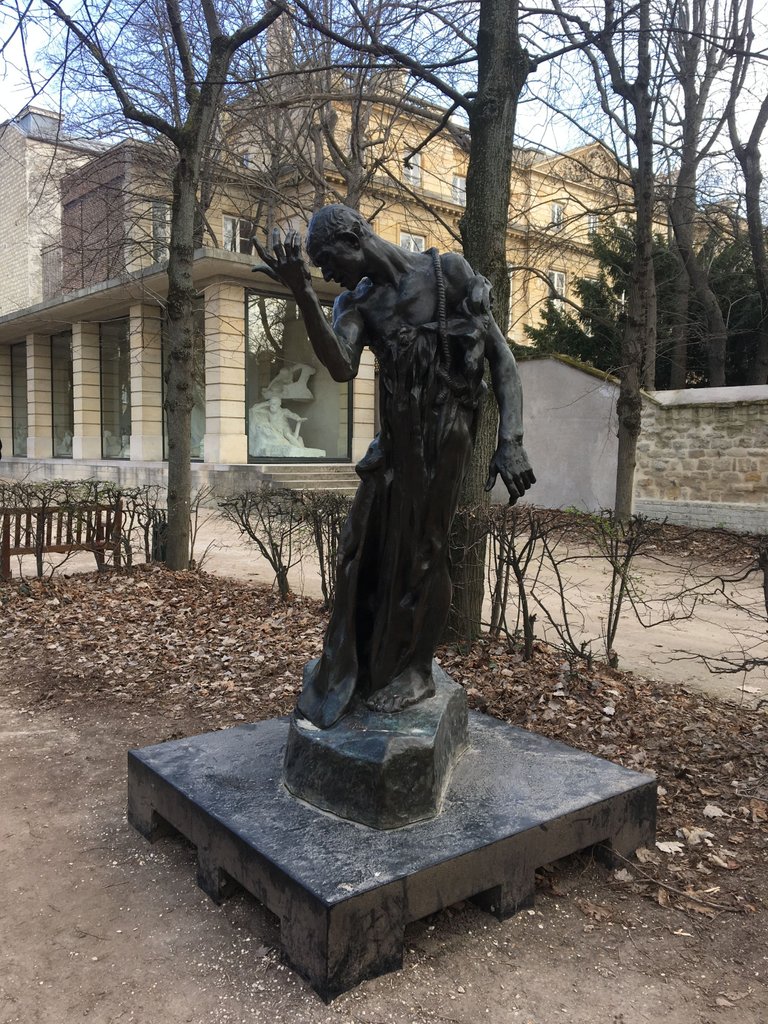 The Gallery of Marbles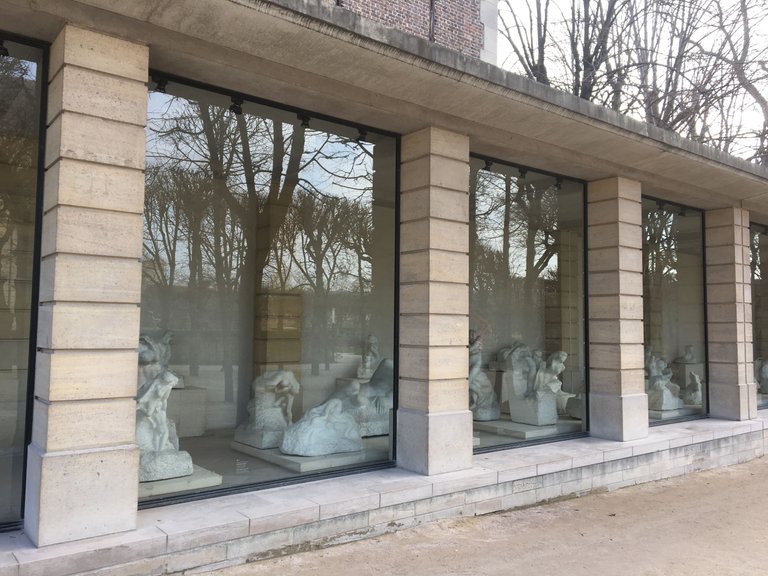 As the name suggests, there are several dozen marble sculptures gathered here. These may be commissions or other works for a public monument.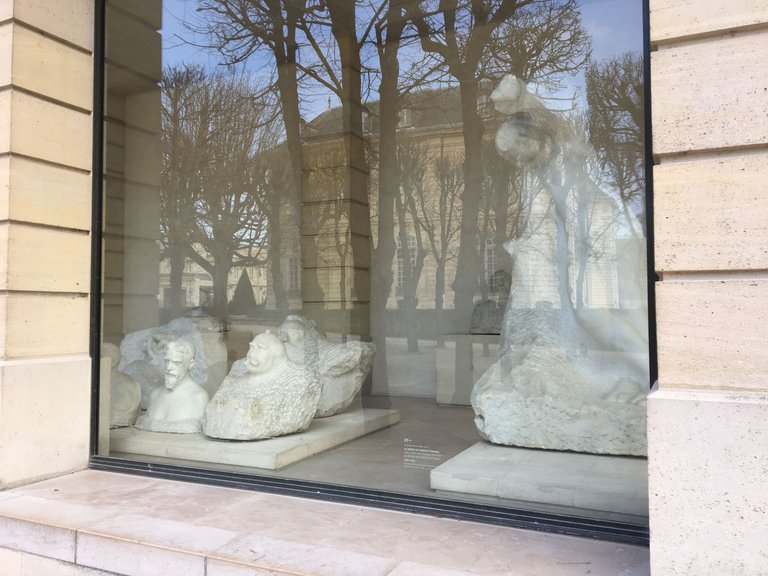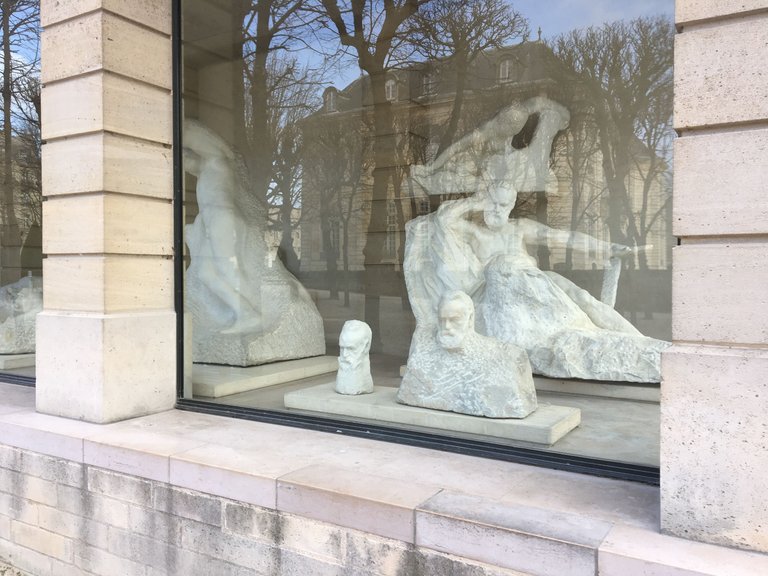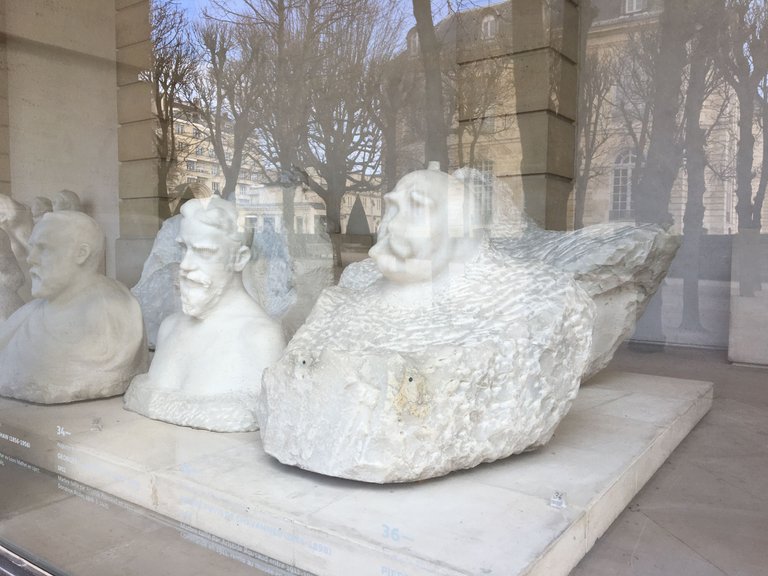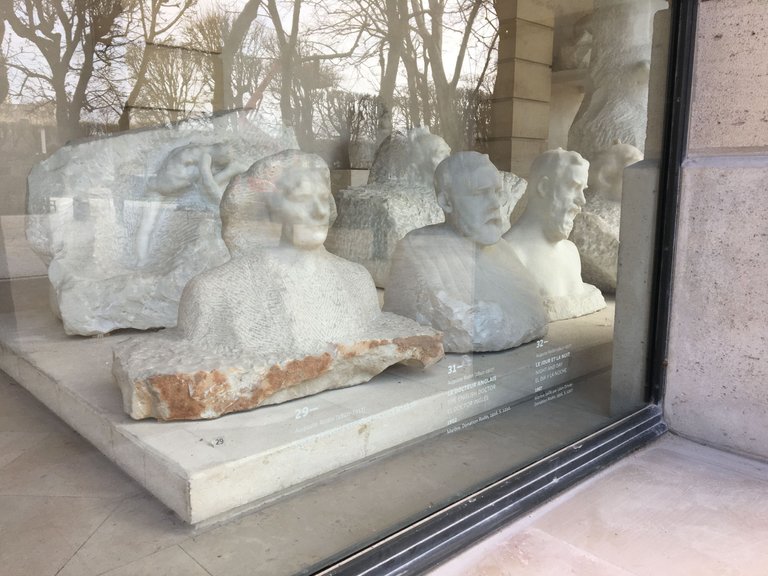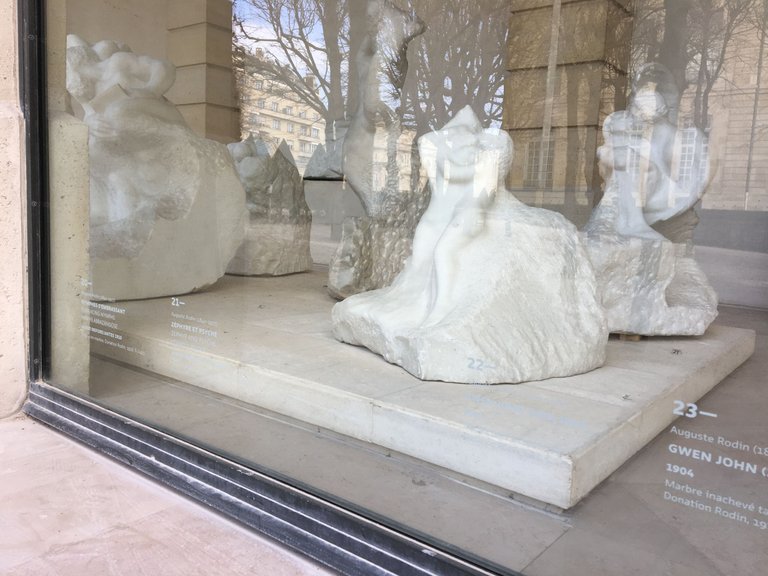 First floor of the Museum
But let's go back to the museum after this first overview of the exterior parts...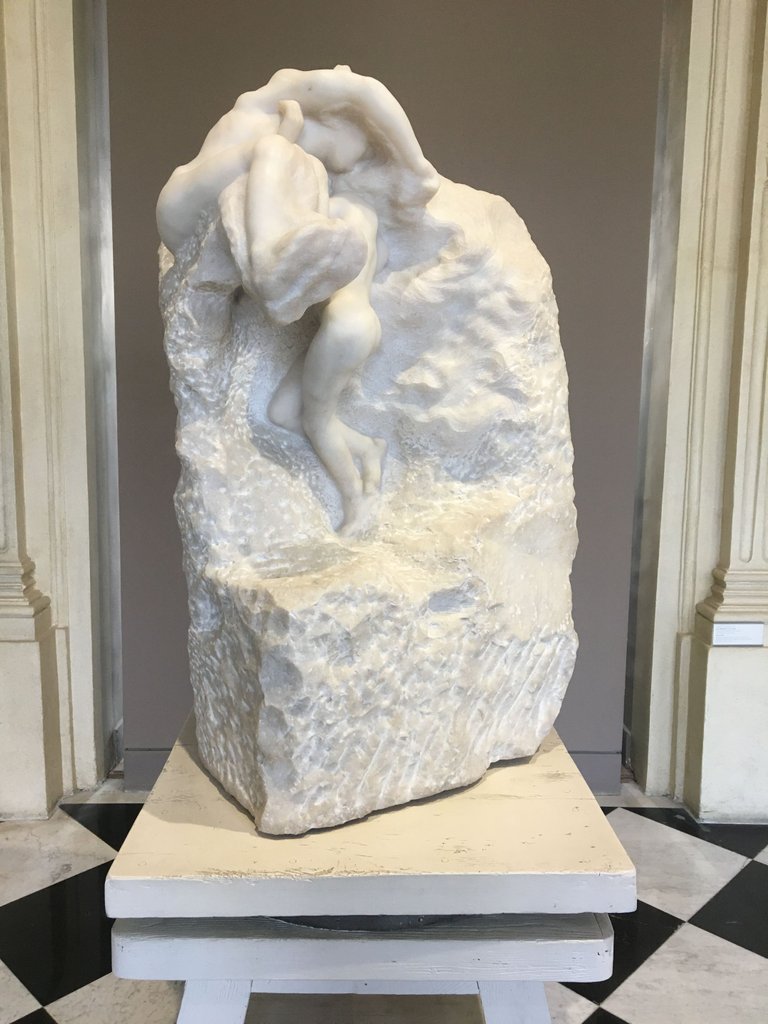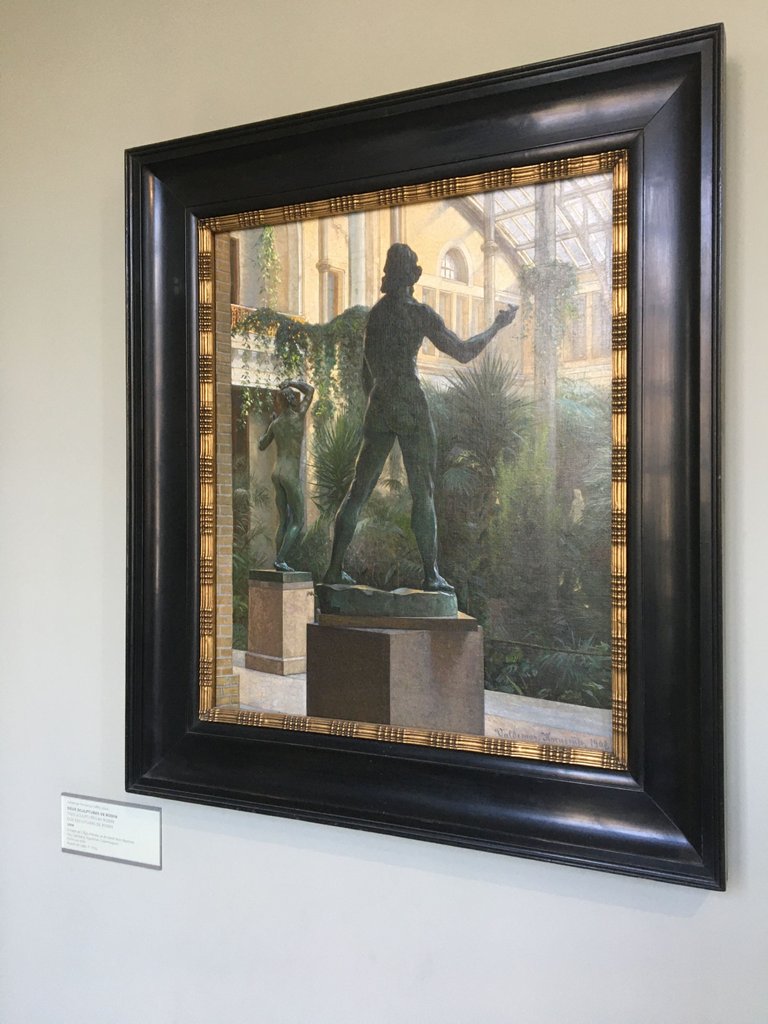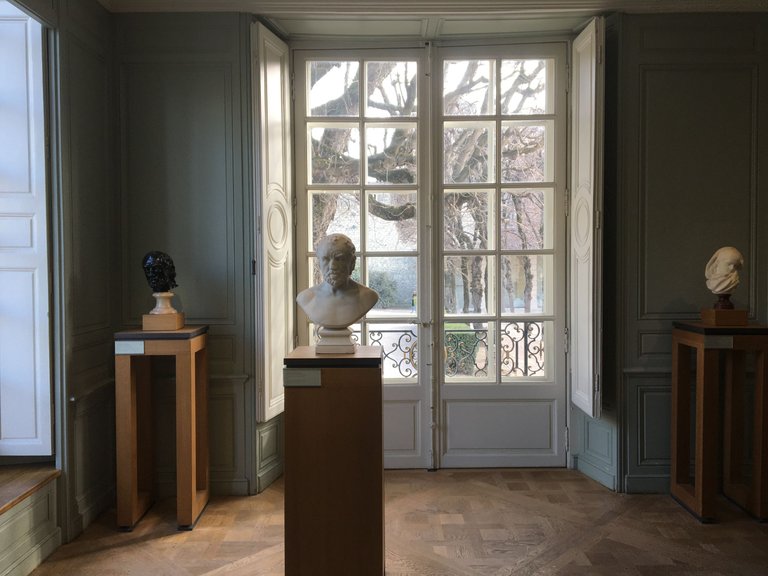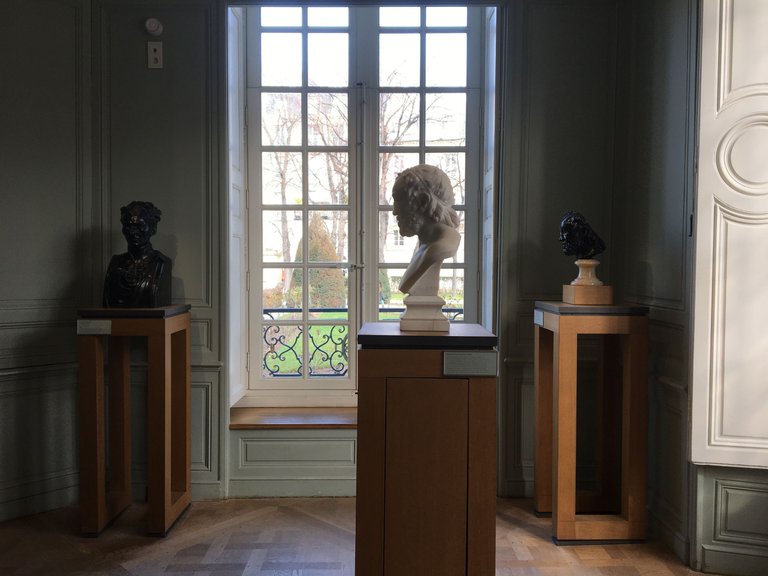 In the hotel, we follow a chronological order of the artist's work, from his training, his first works to his fame. I could not stop at each work and comment on it. The idea is more to allow you to realize the magnitude and the beauty of the works so that if you come to Paris, you try to go and make a small visit by yourselves !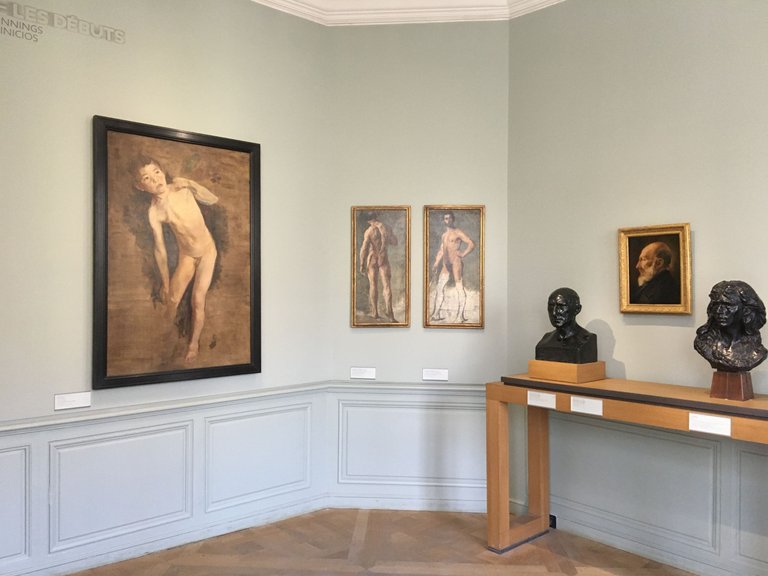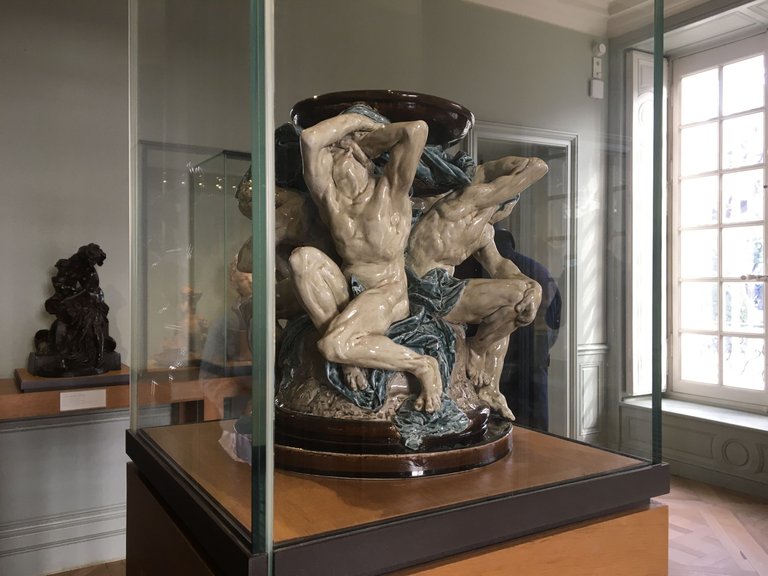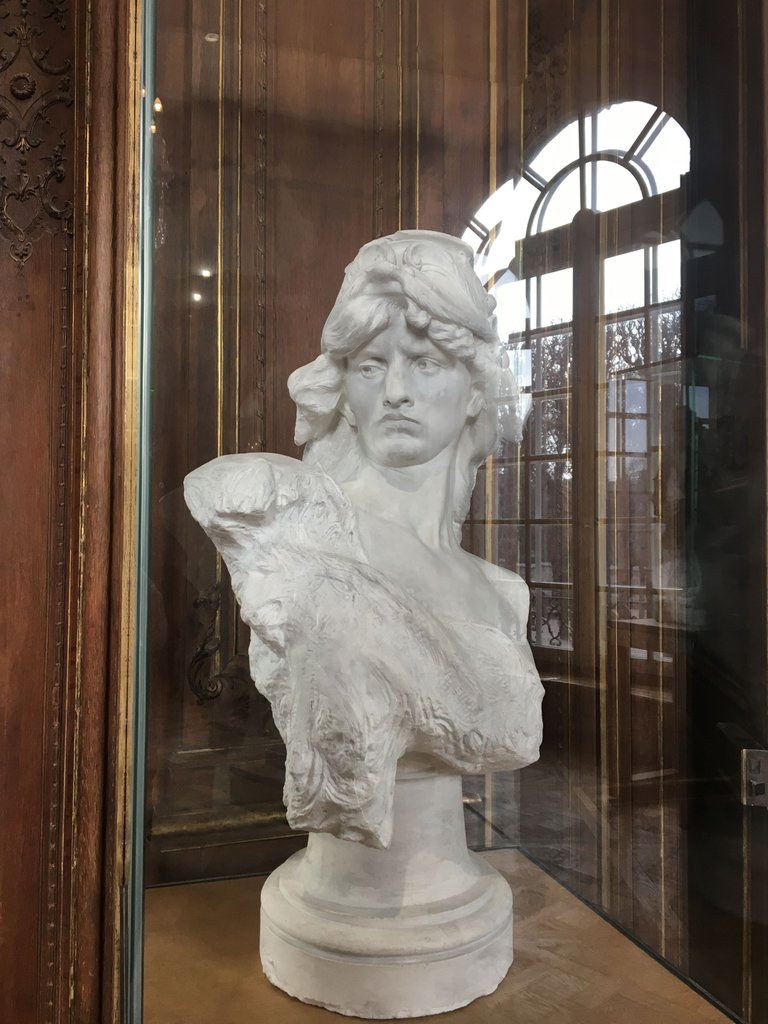 On several occasions, there is a plaster sketch and the final bronze following the same theme or model.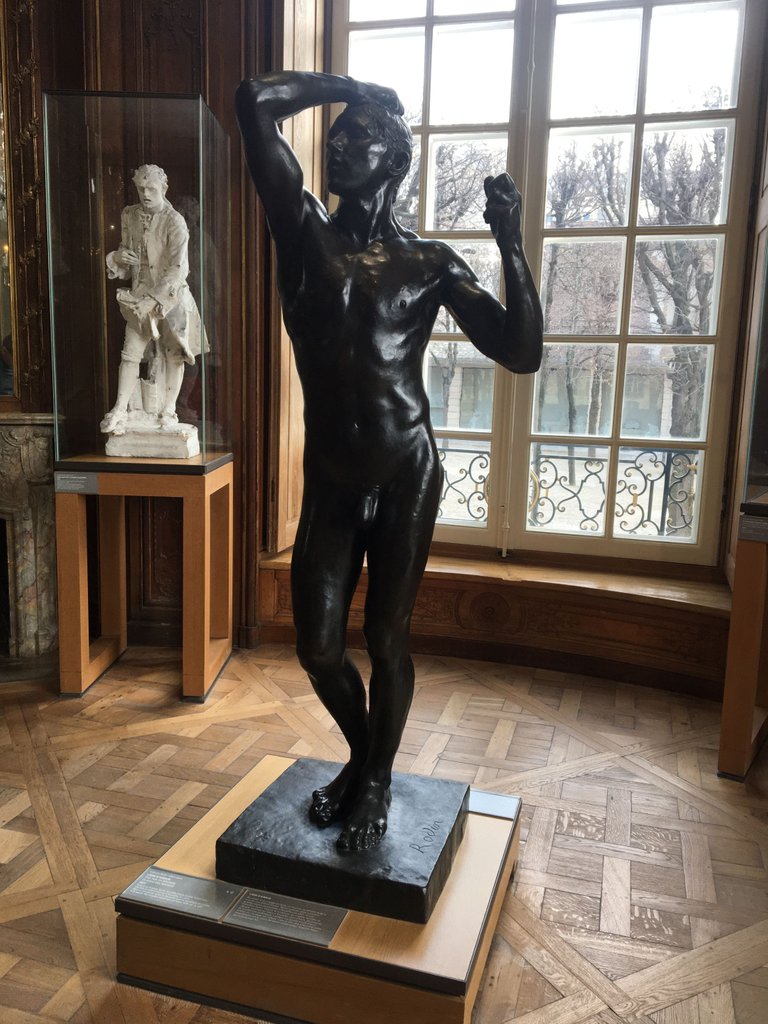 L'Âge d'airain, a major work, among those which contributed to make Rodin known.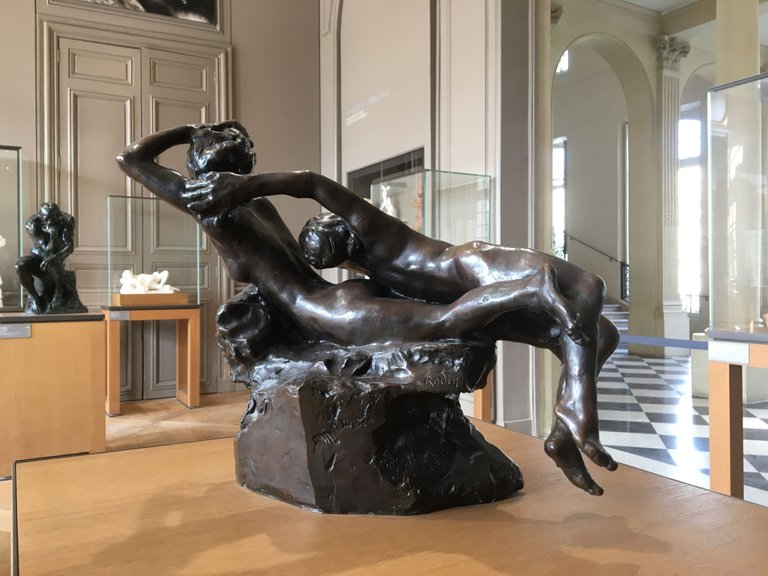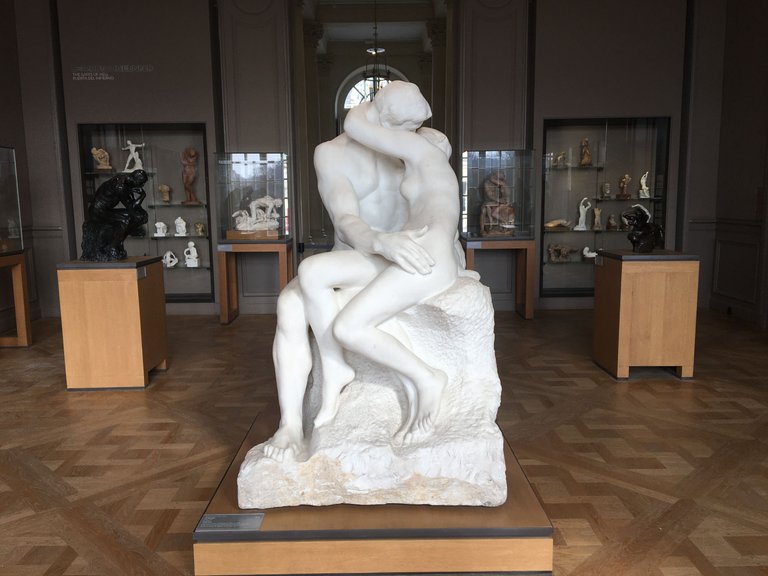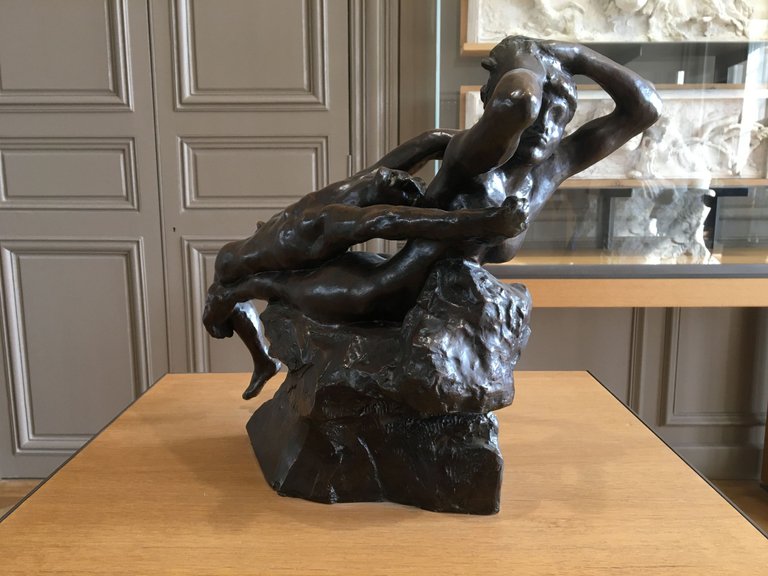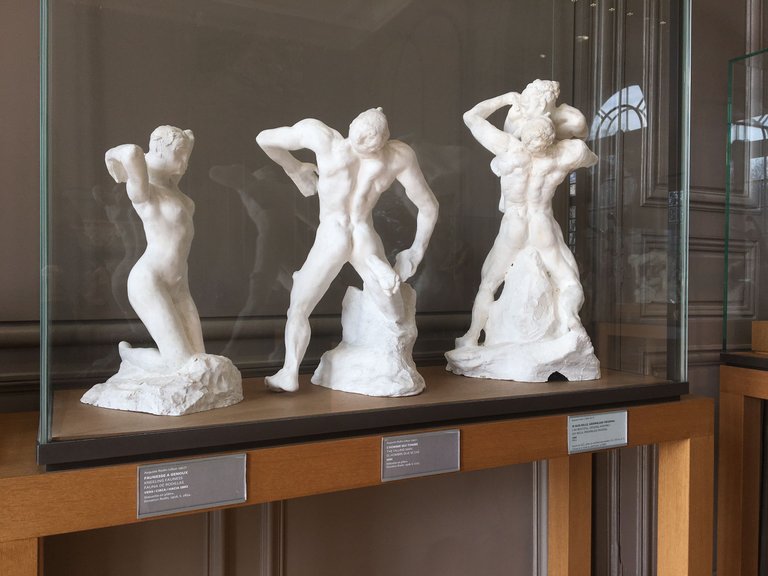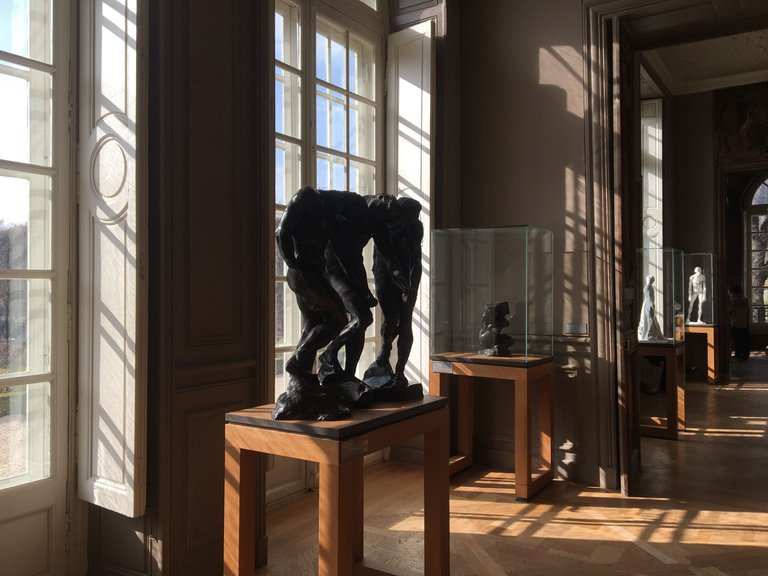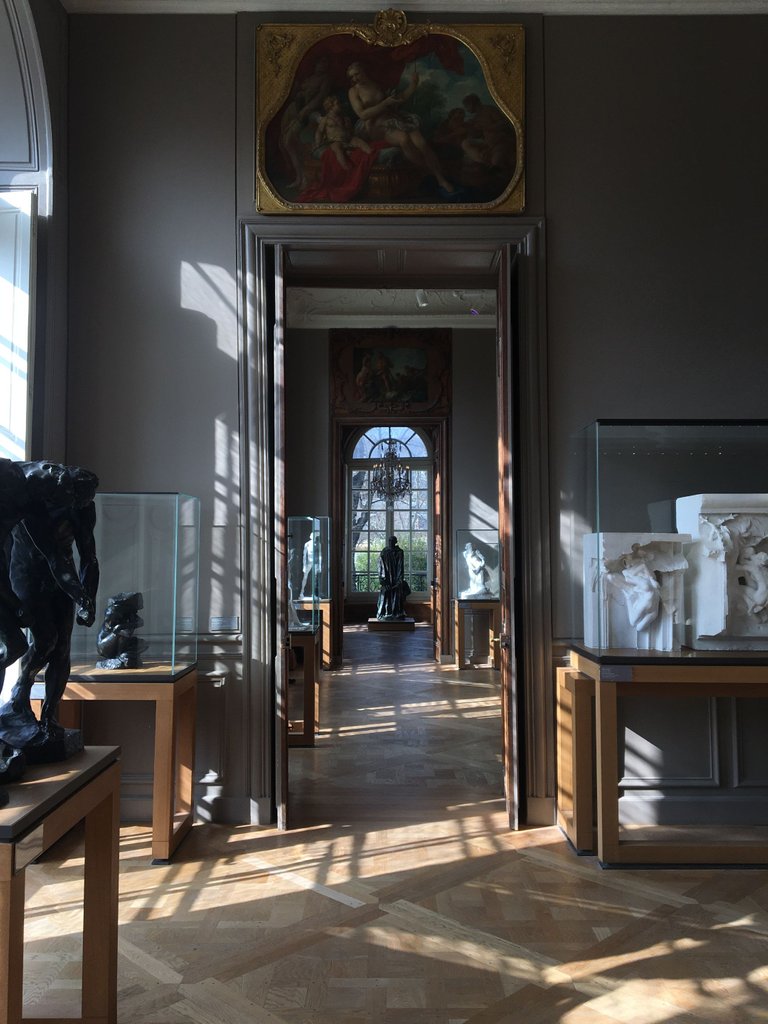 In addition to being filled with the artist's creations and essays, the space itself is truly magnificent. Woodwork, large old windows, old wooden floors, everything is there to immerse us in this atmosphere of dreams and creation.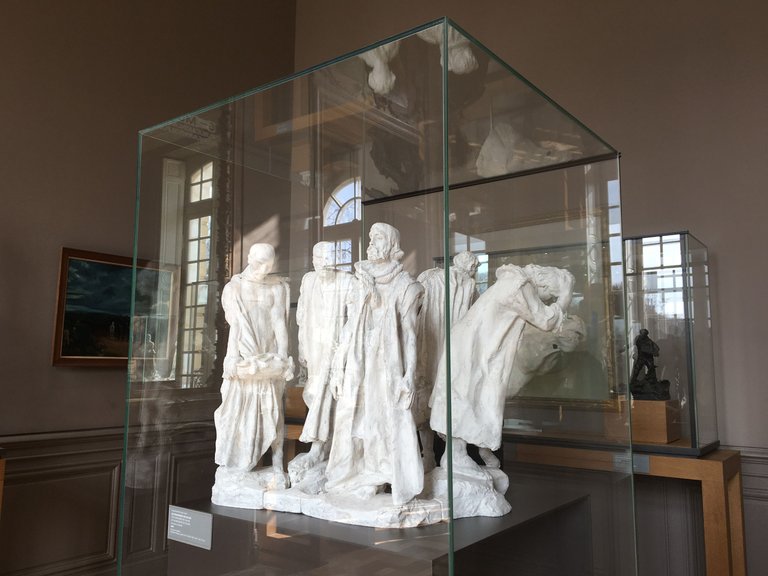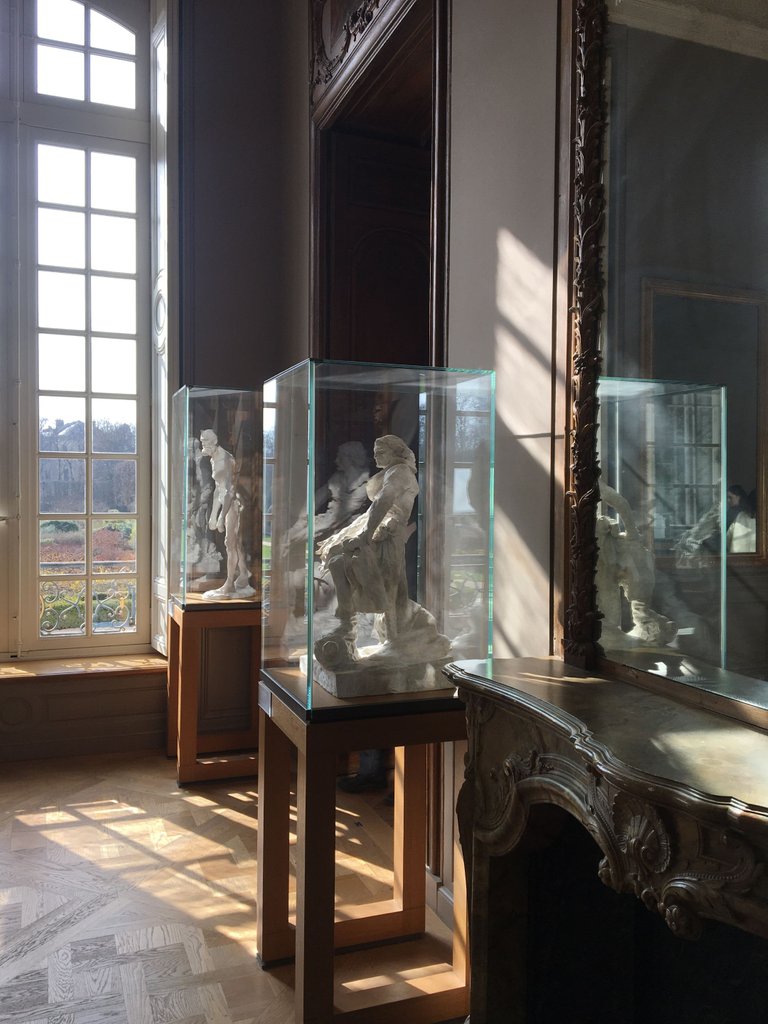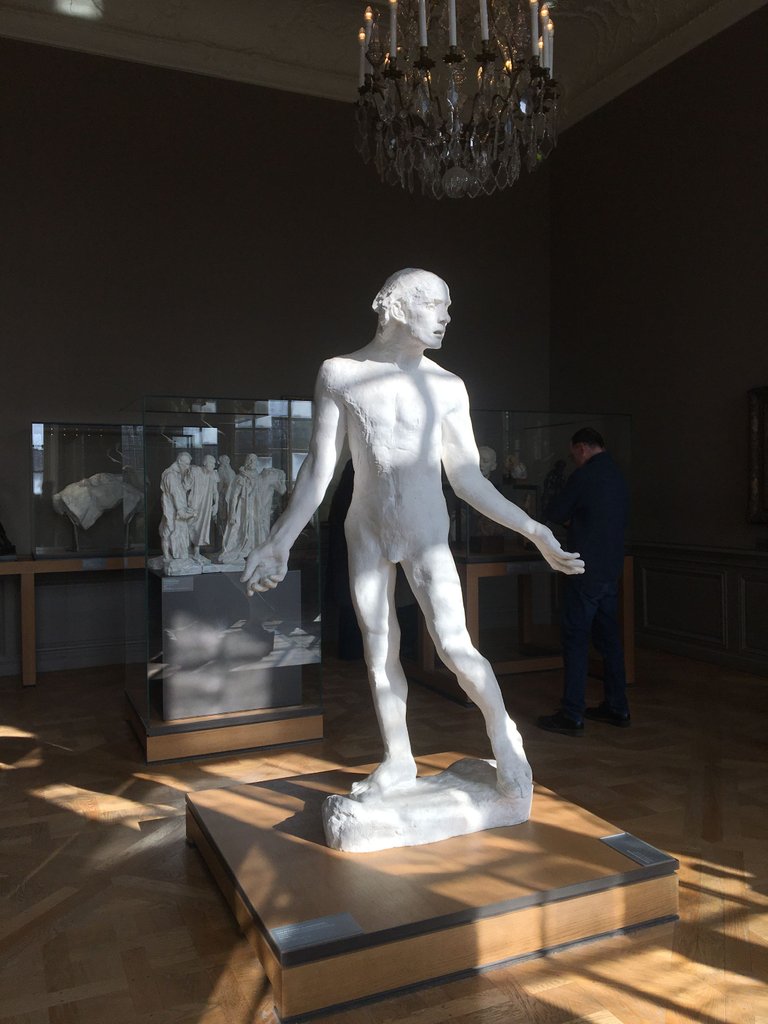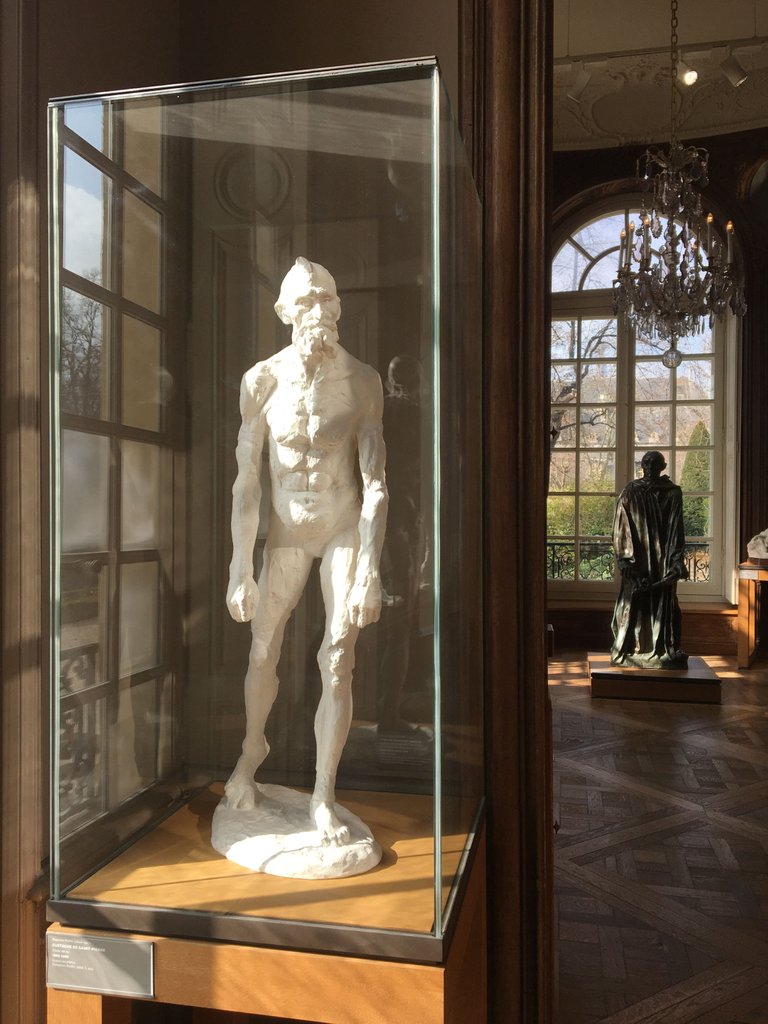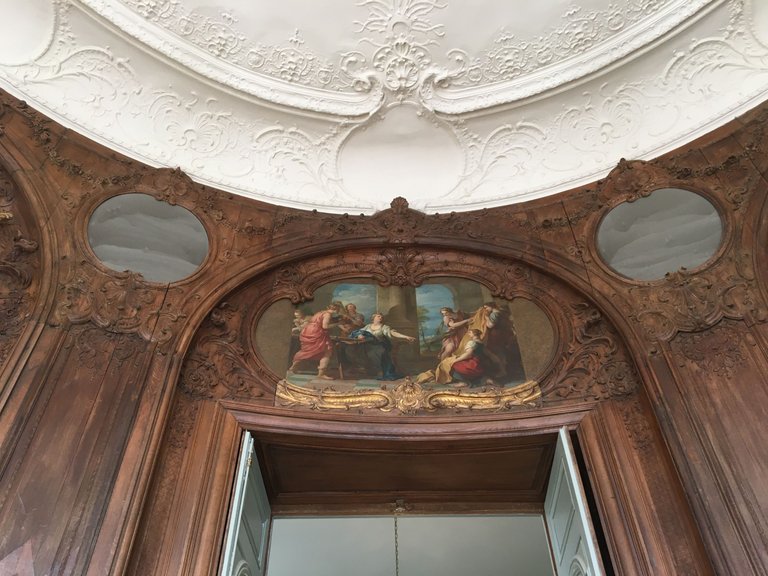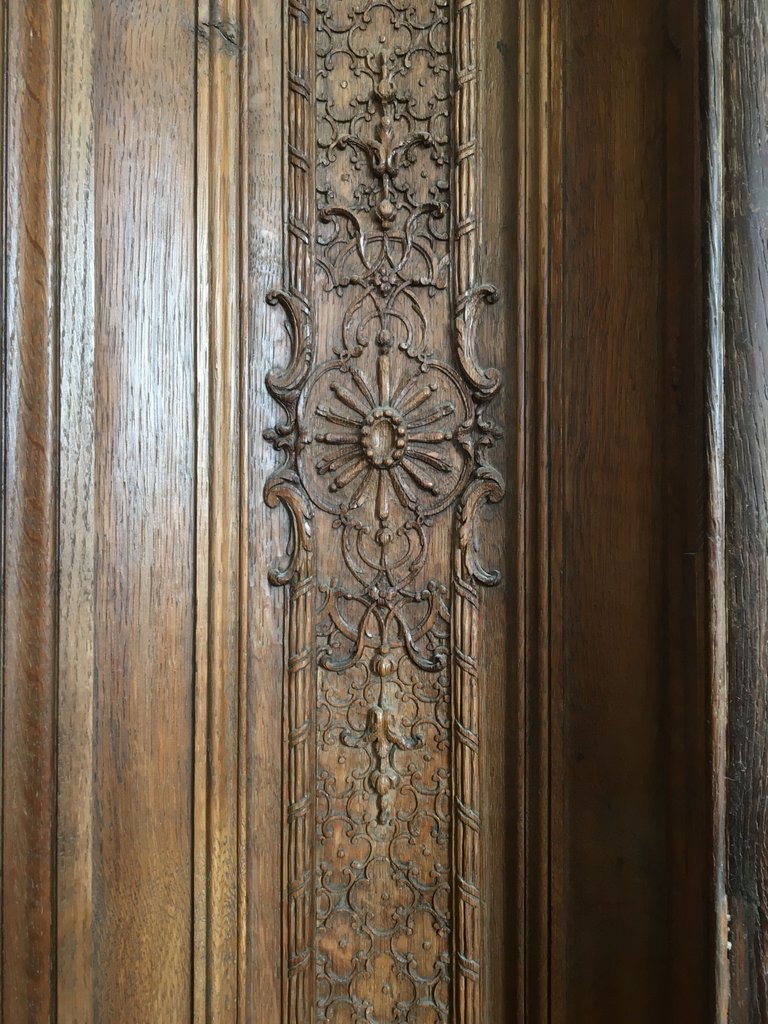 Second floor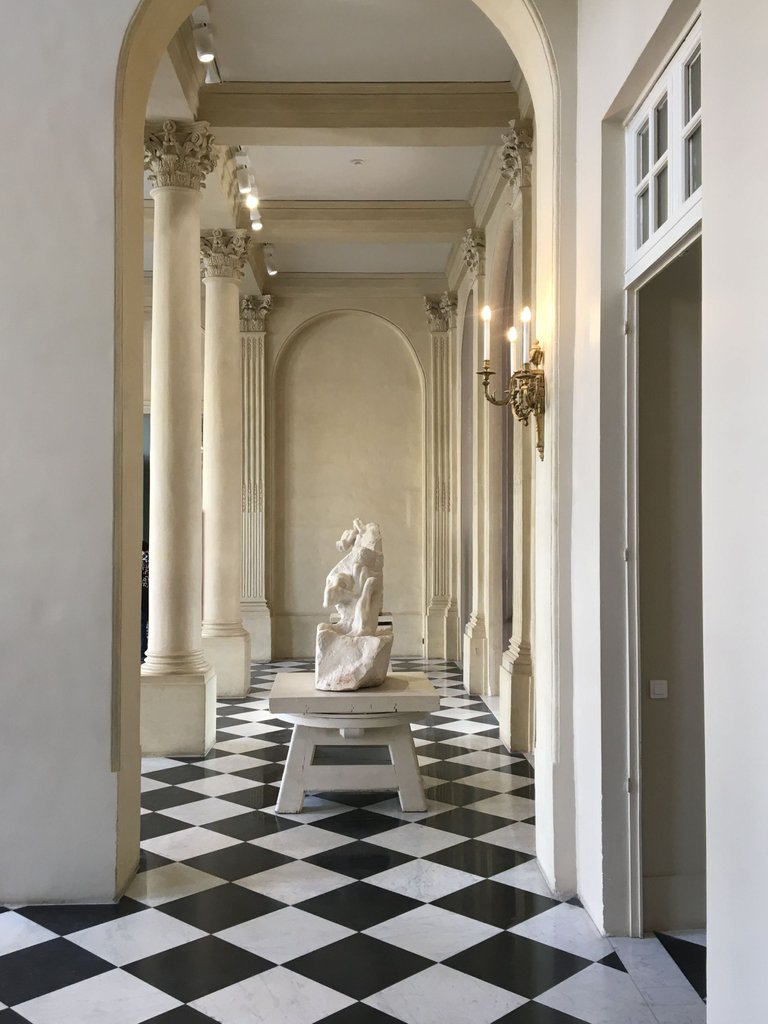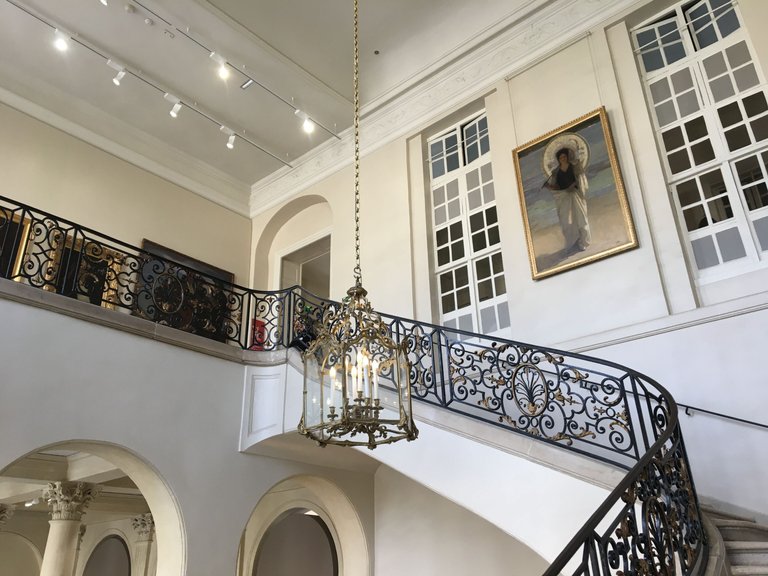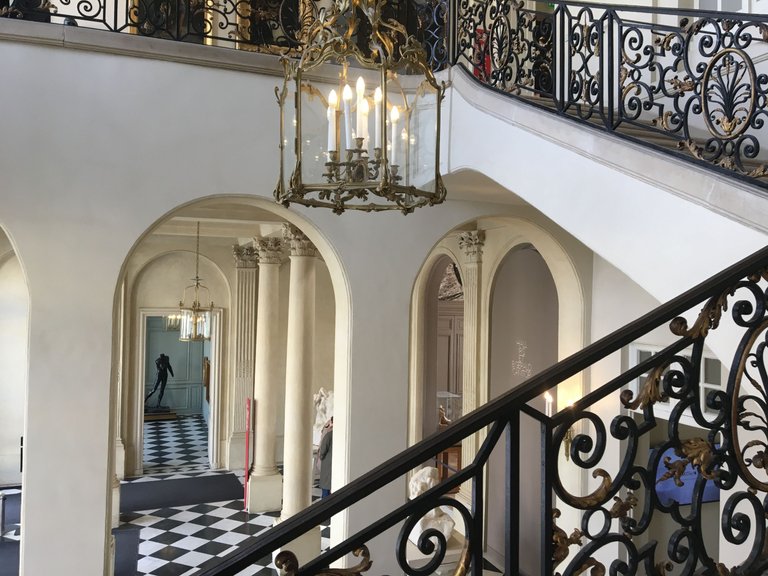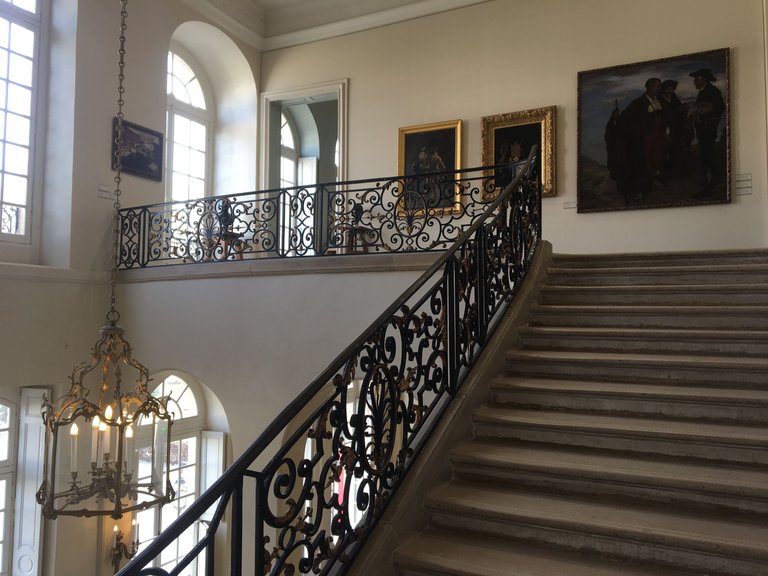 We have now reached the second and last floor of the museum...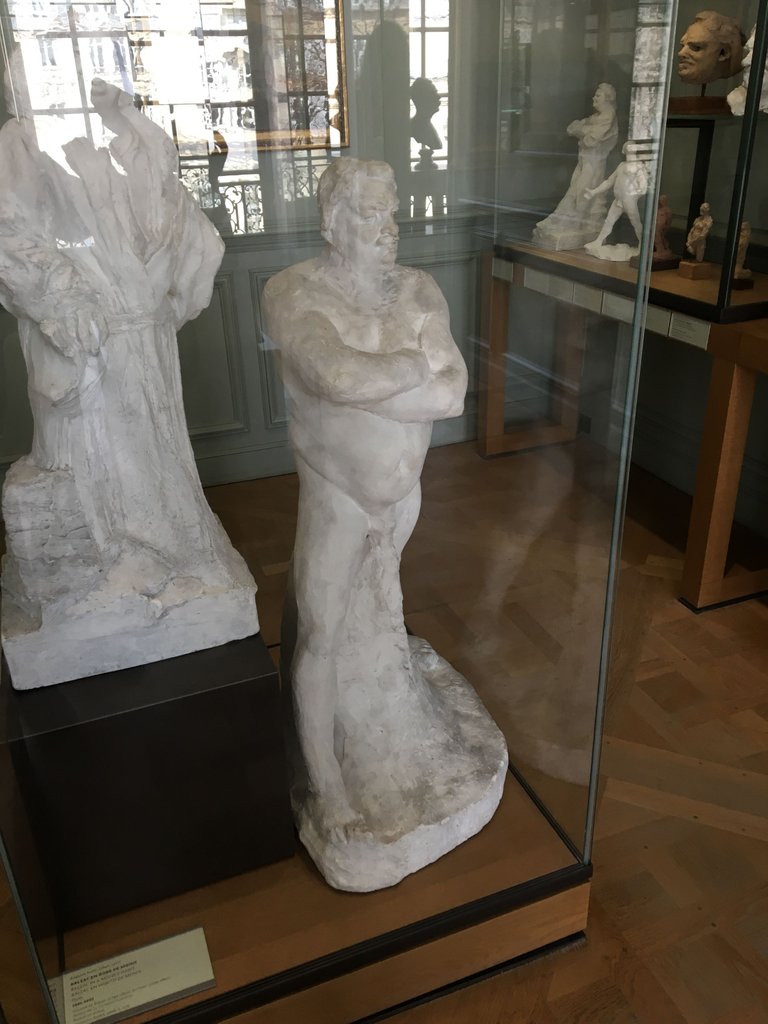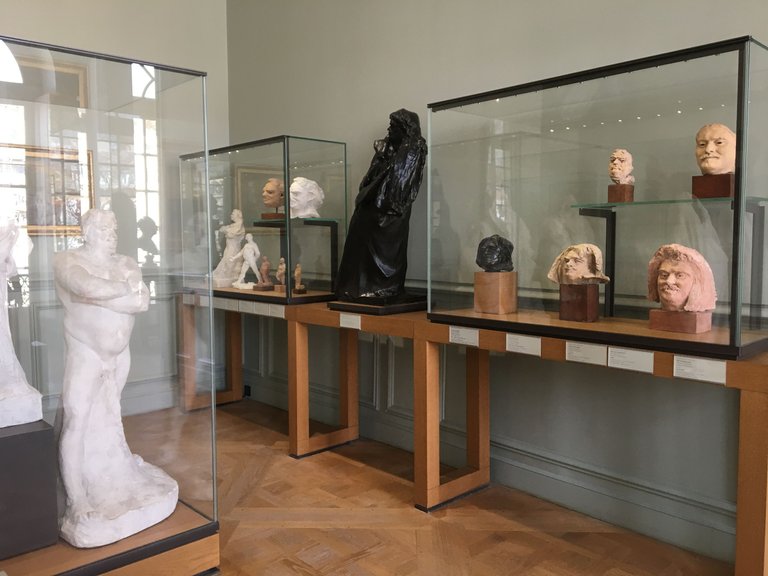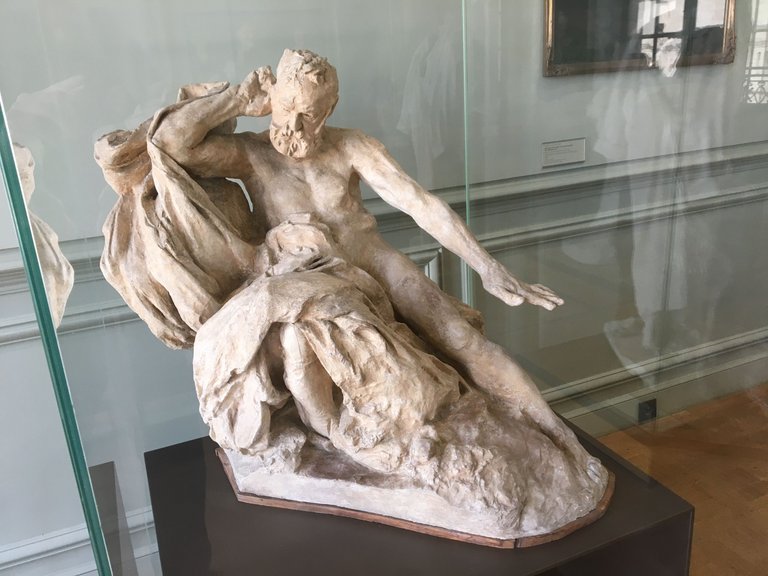 Here we find the sketches for several monuments, including one for Victor Hugo and the second for Balzac, which can be found on Boulevard Raspail.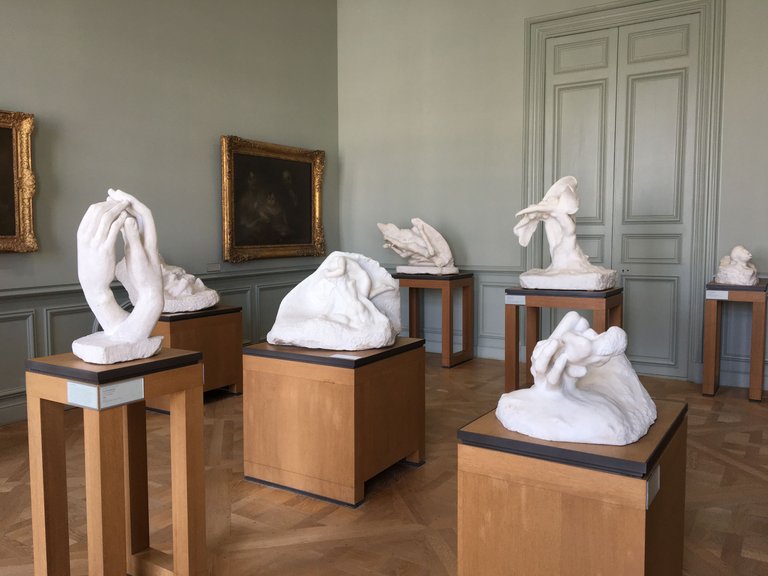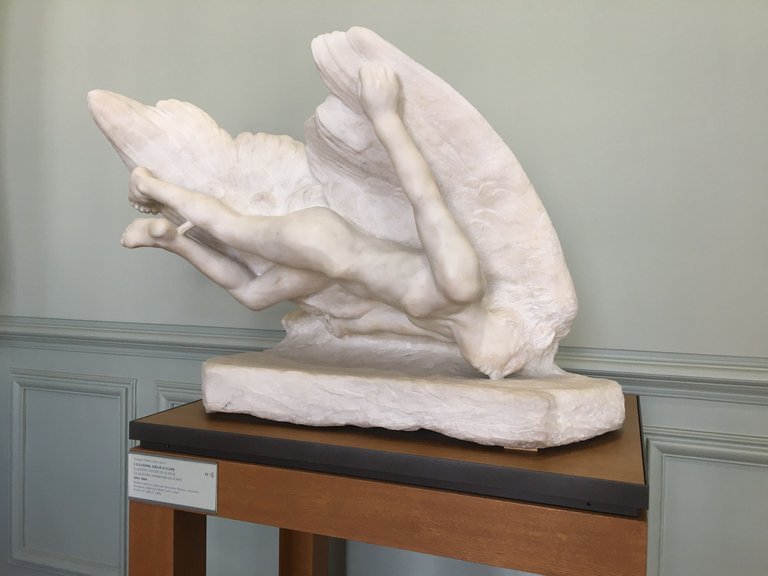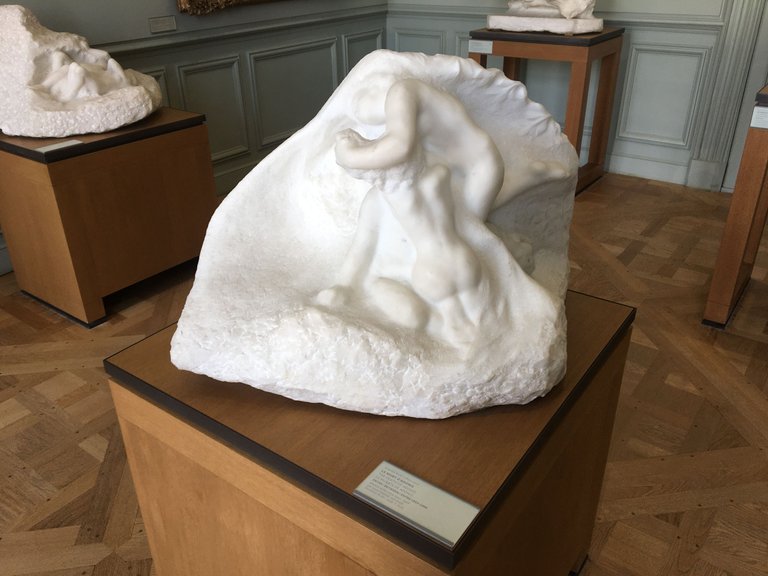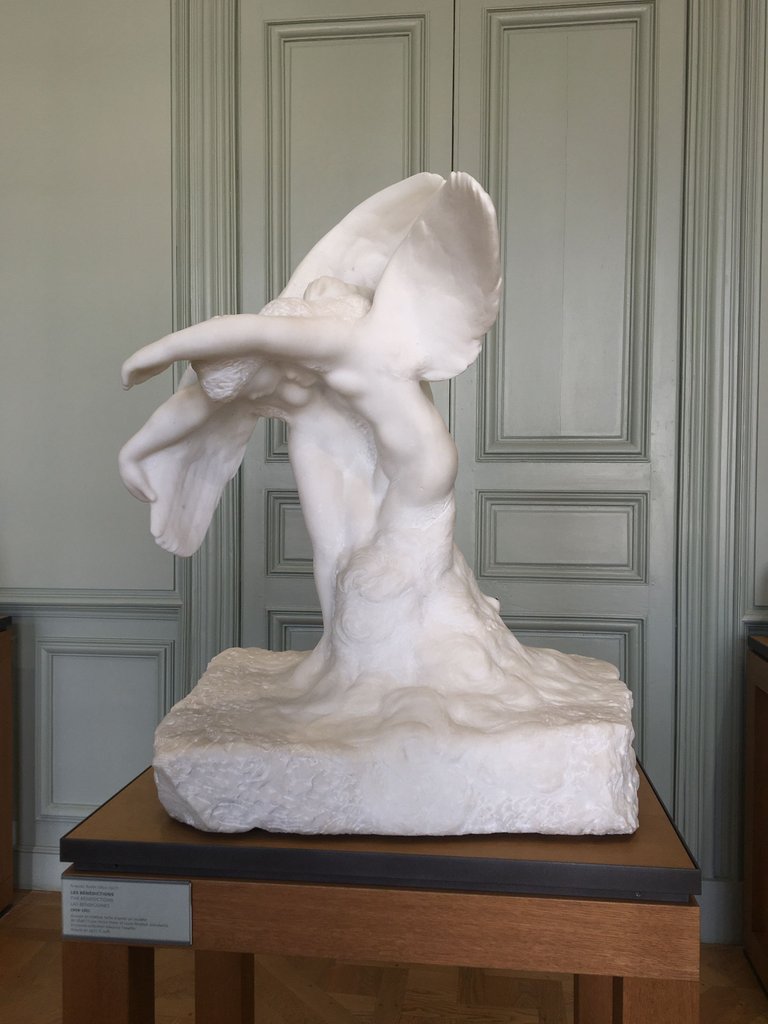 Several marbles in which one finds the romantic and antique inspiration of the sculptor.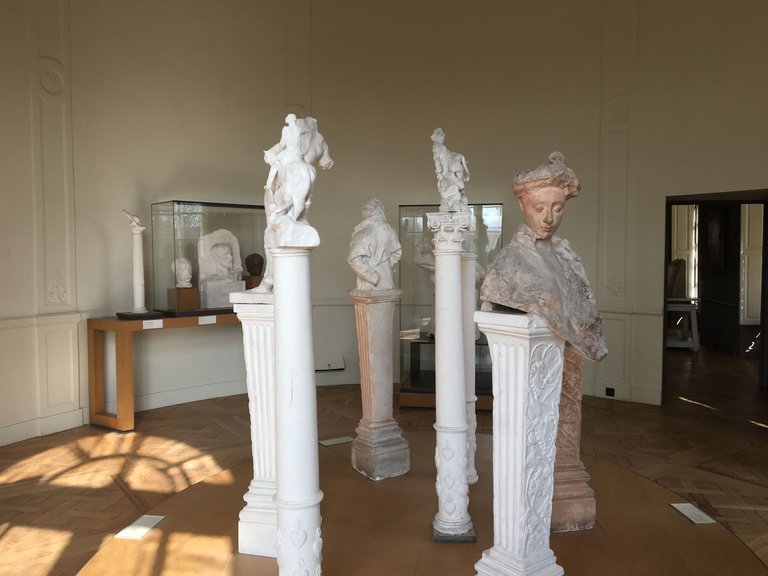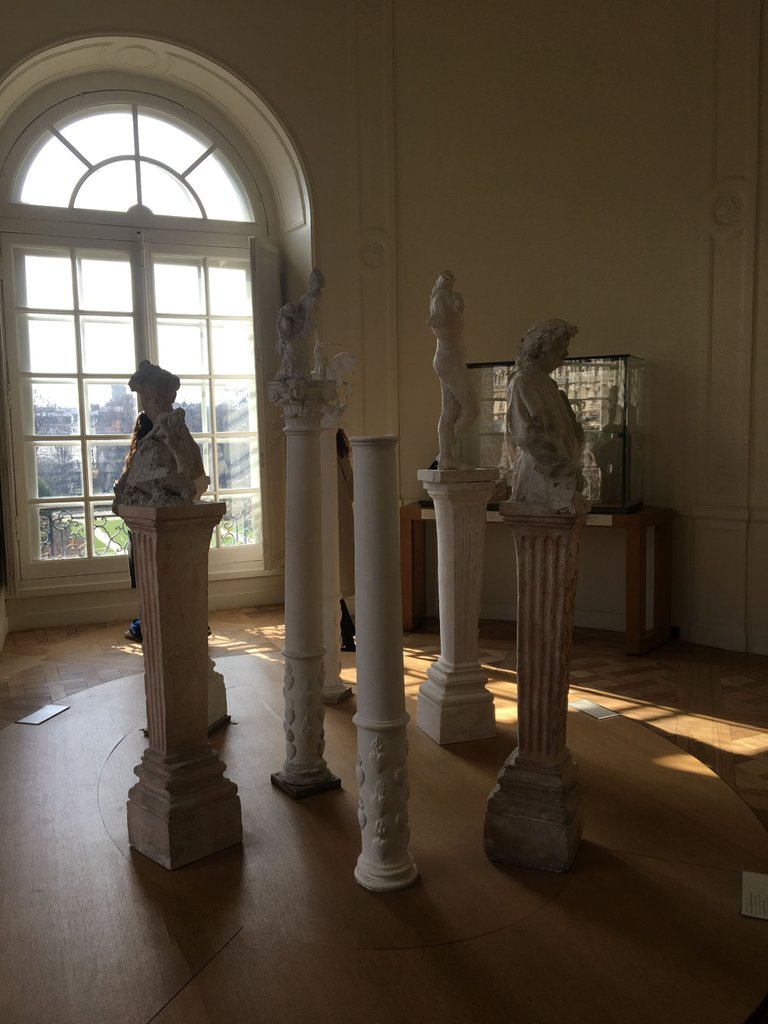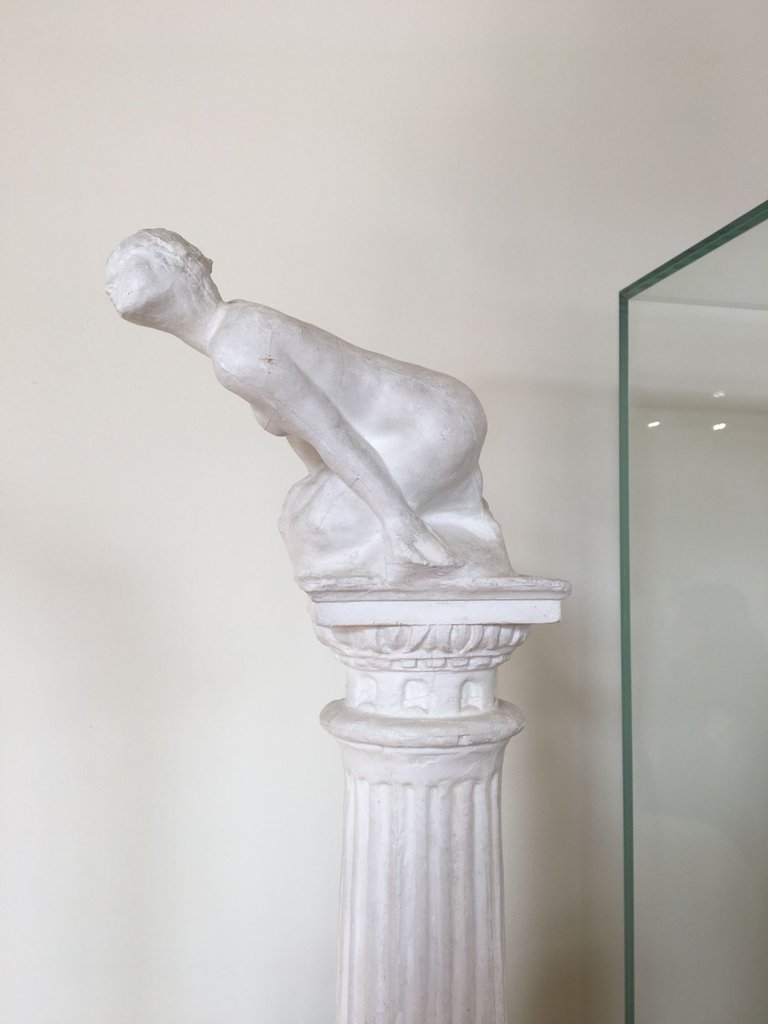 In this circular room, there are several statues perched on columns. This will be seen later, but it prefigures Rodin's passion for tests and sketches as well as assemblies made in plaster.


The Camille Claudel Room
Here we are in the room dedicated to the sculptor's muse, companion and, initially, pupil.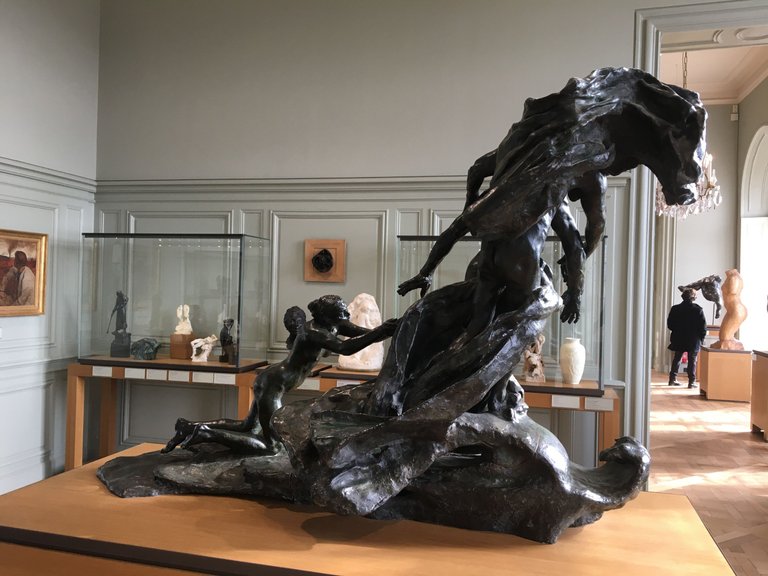 Above, the two sides of the sculpture entitled L'âge mur.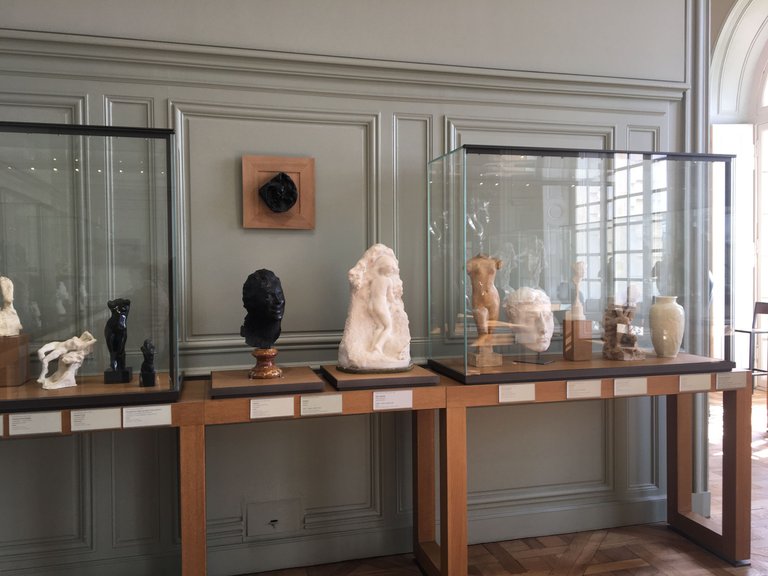 The relationship between the two artists is a real passion, which has been much talked about and I recommend that you read up on the subject in more detail. You can find some answers here (translate into your language).
Below, a bust of Rodin realized by Camille Claudel.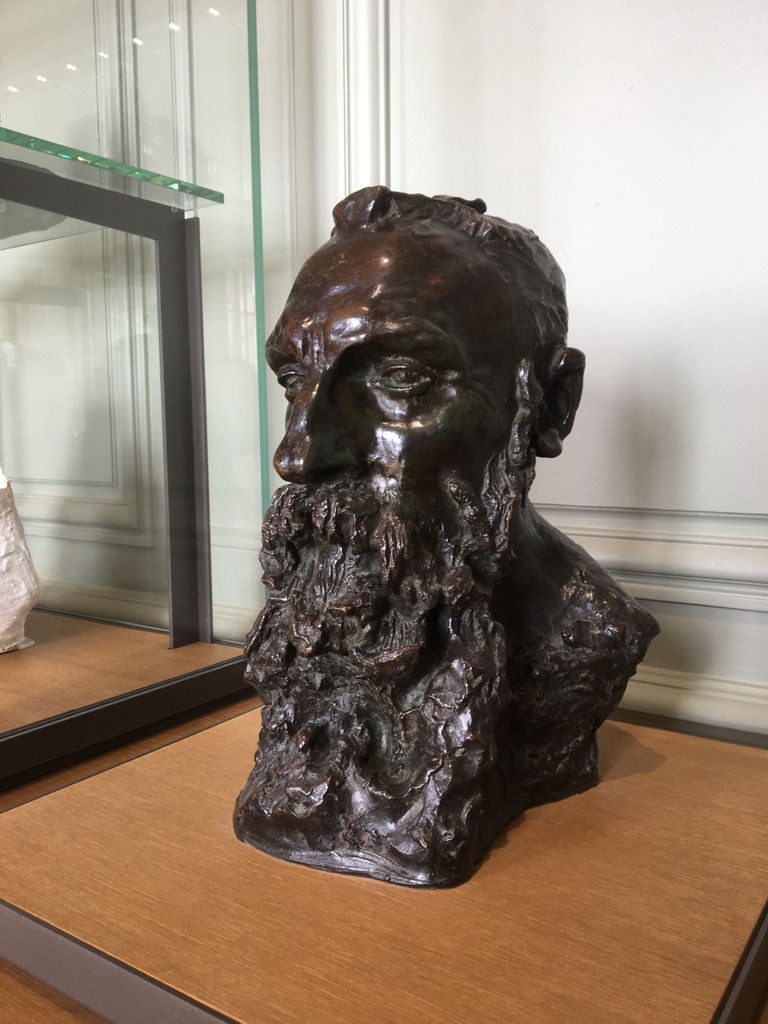 Plasterwork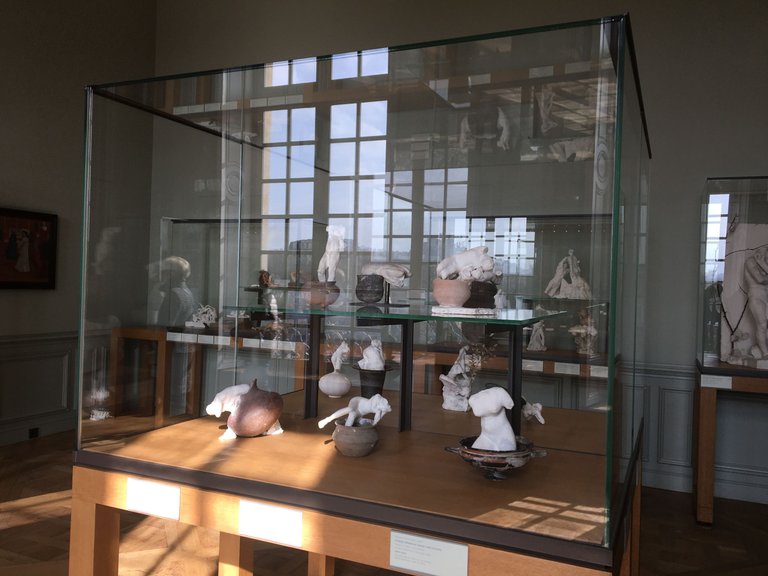 I mentioned it above, but Rodin, like most sculptors, worked a lot with plaster, but his particularity was to appropriate this medium to make assemblages, sometimes with already existing elements as you can see below.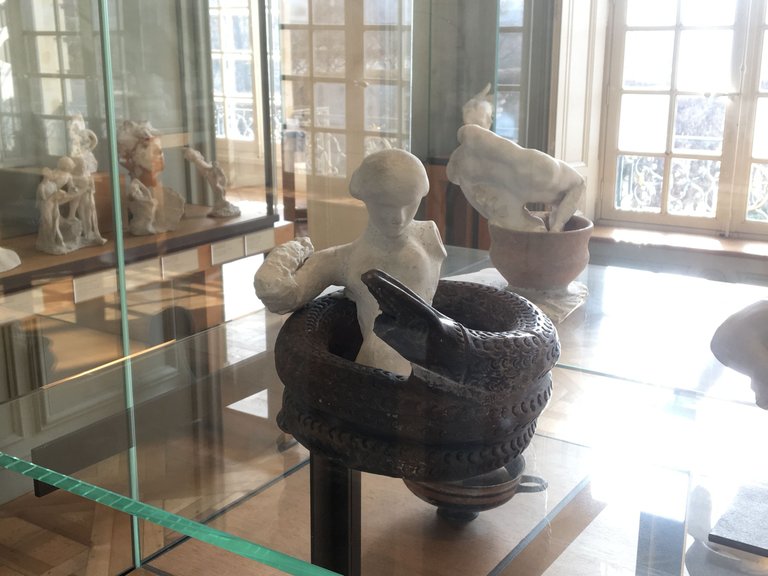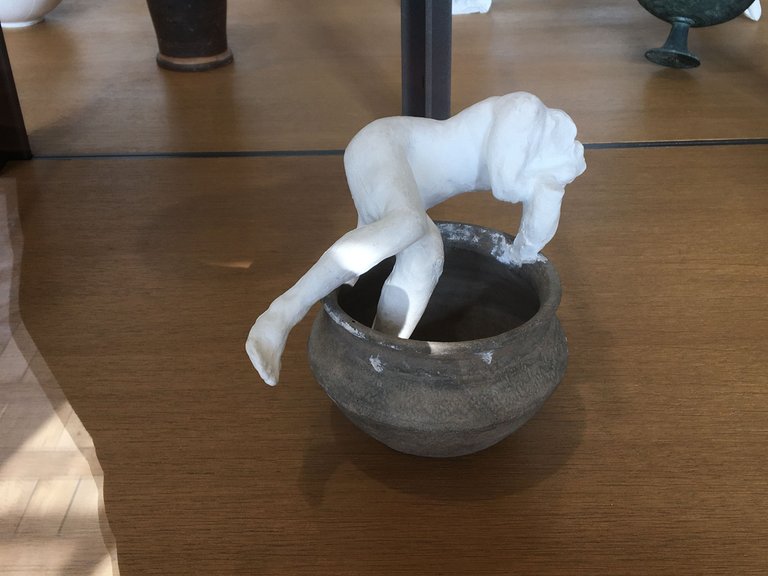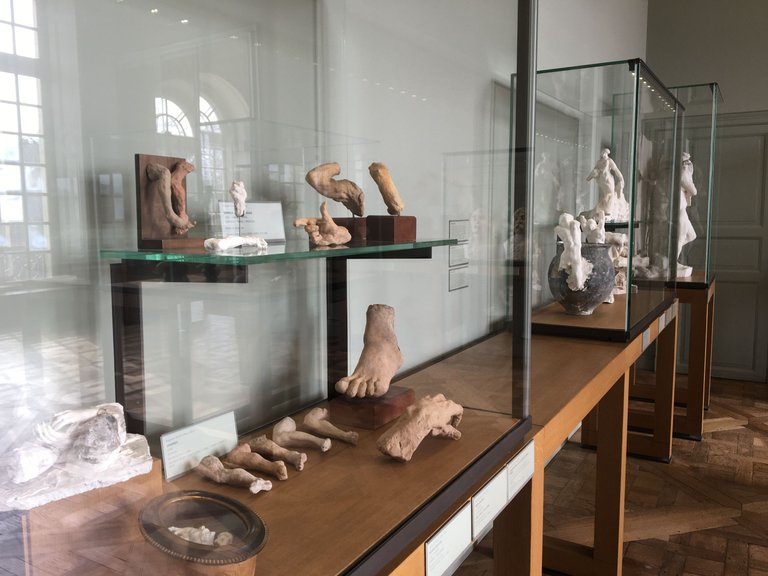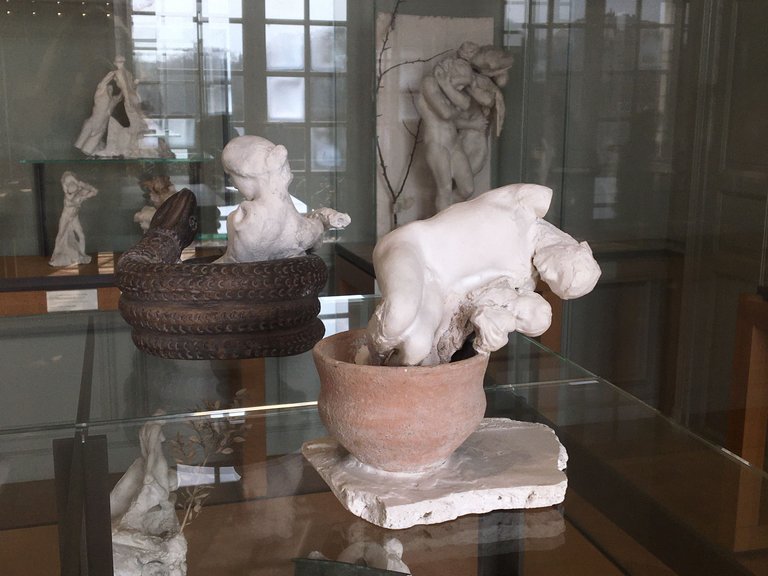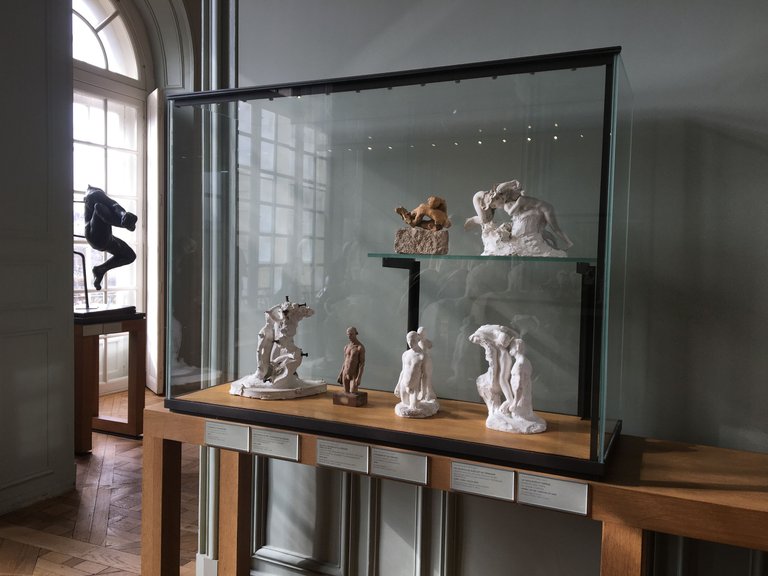 Rodin's Collections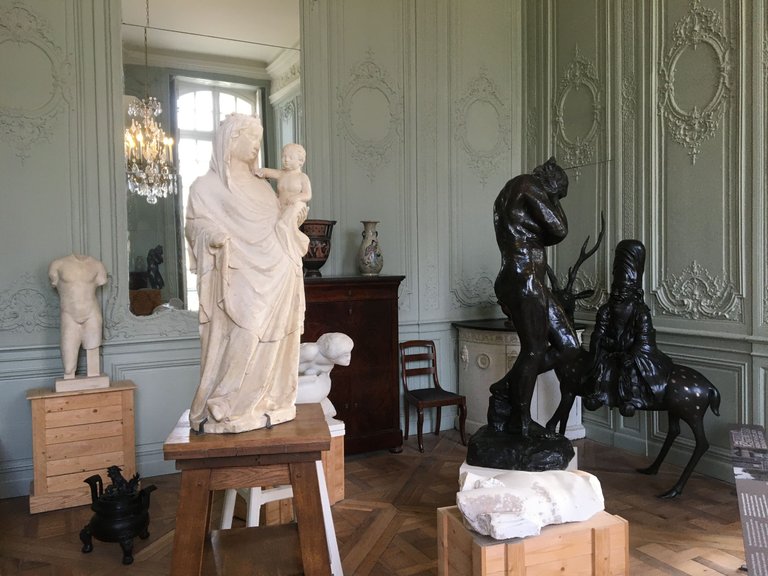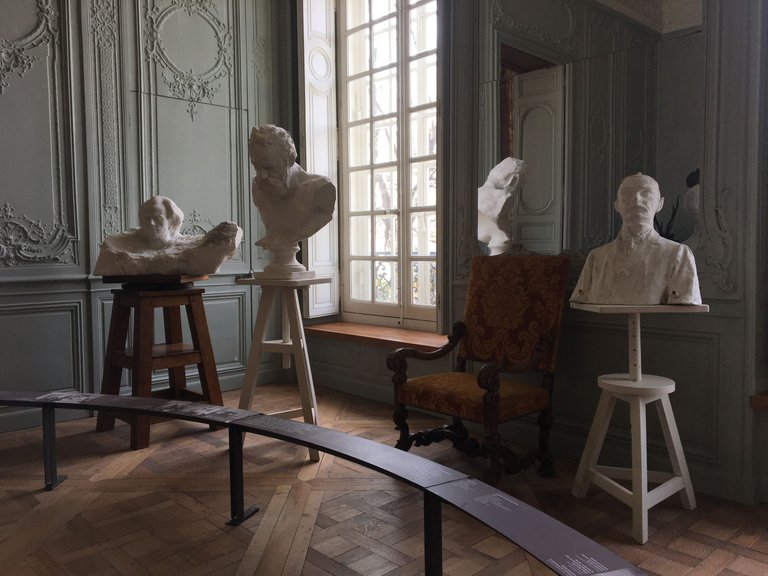 One of the other notable things about the artist is that he has been a lifelong collector of ancient objects, especially antique and Egyptian ones, which have nourished his inspiration and therefore his sculptural practice.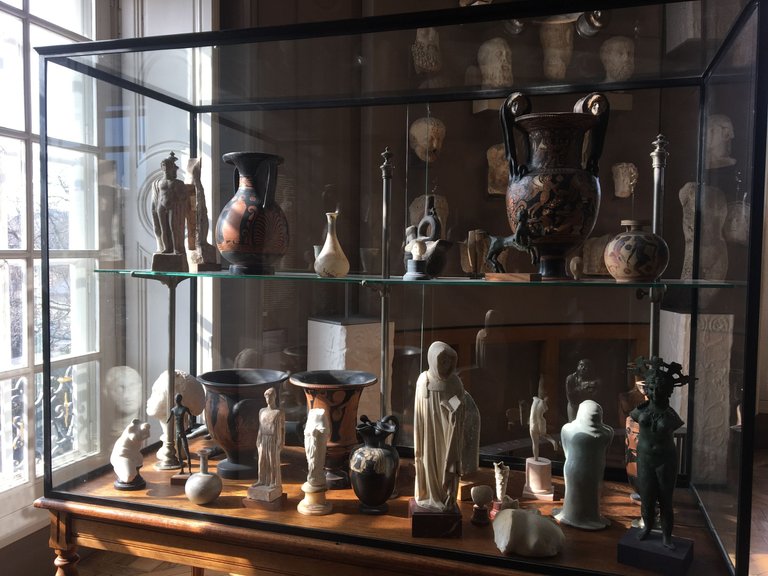 Here, a display case containing mainly Roman and Greek objects.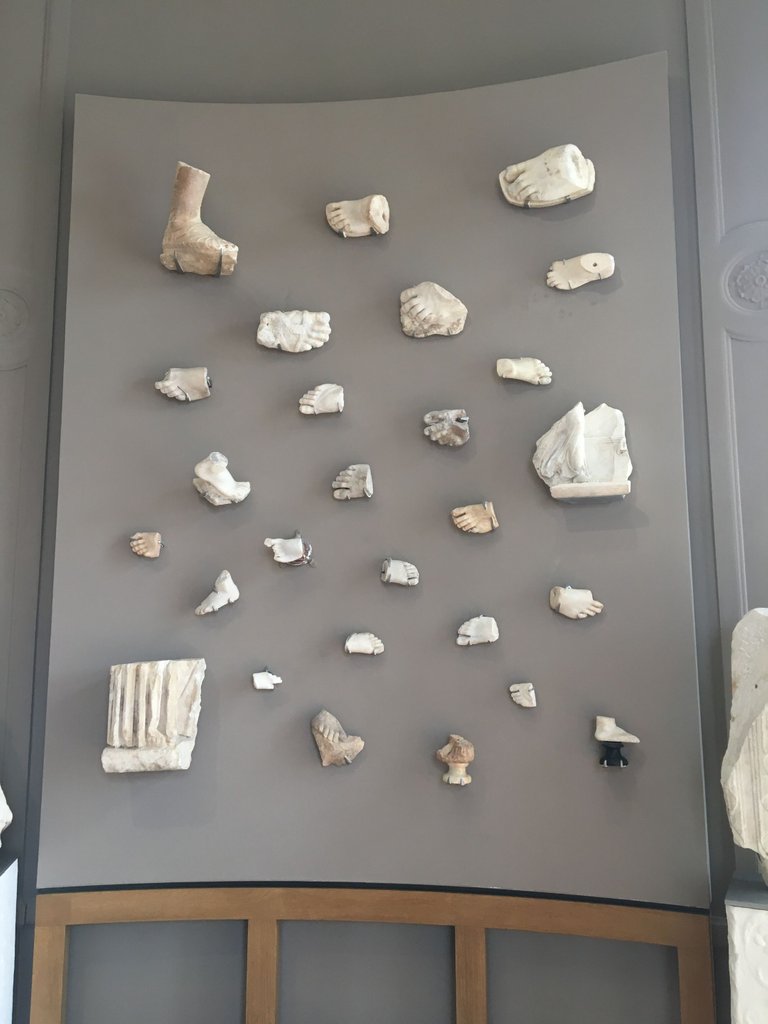 In the latter rooms, there are many fragments of marble statues and in others, pieces and drafts of the artist's work.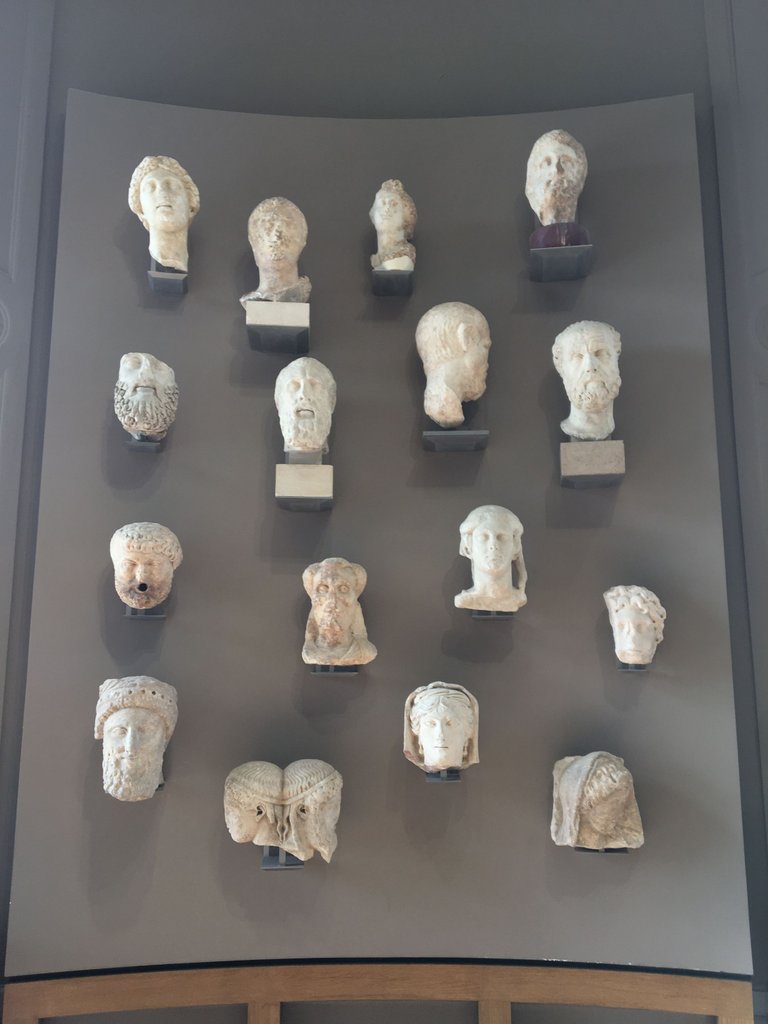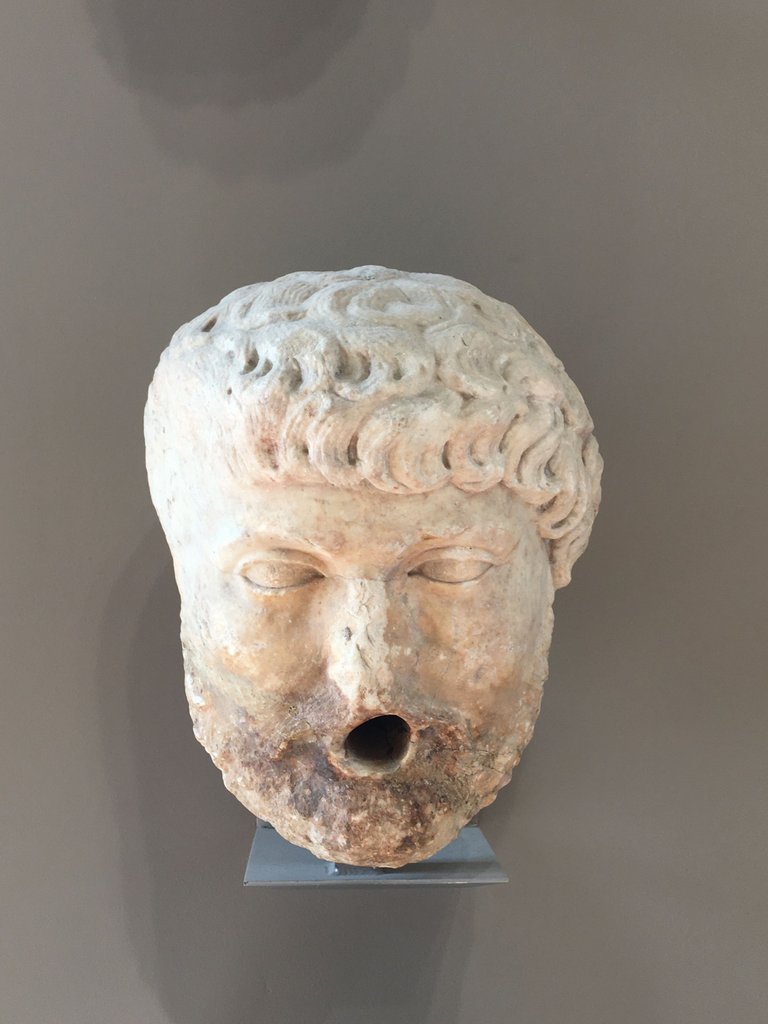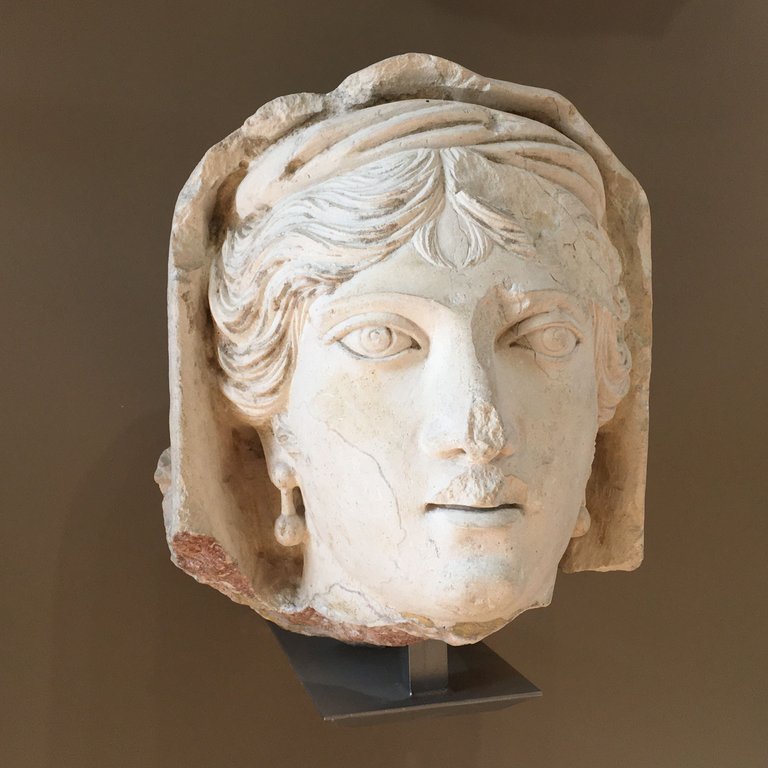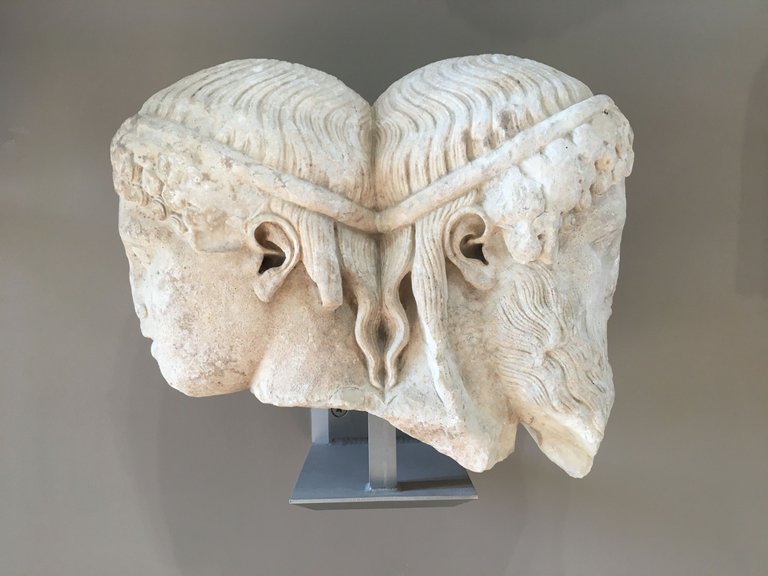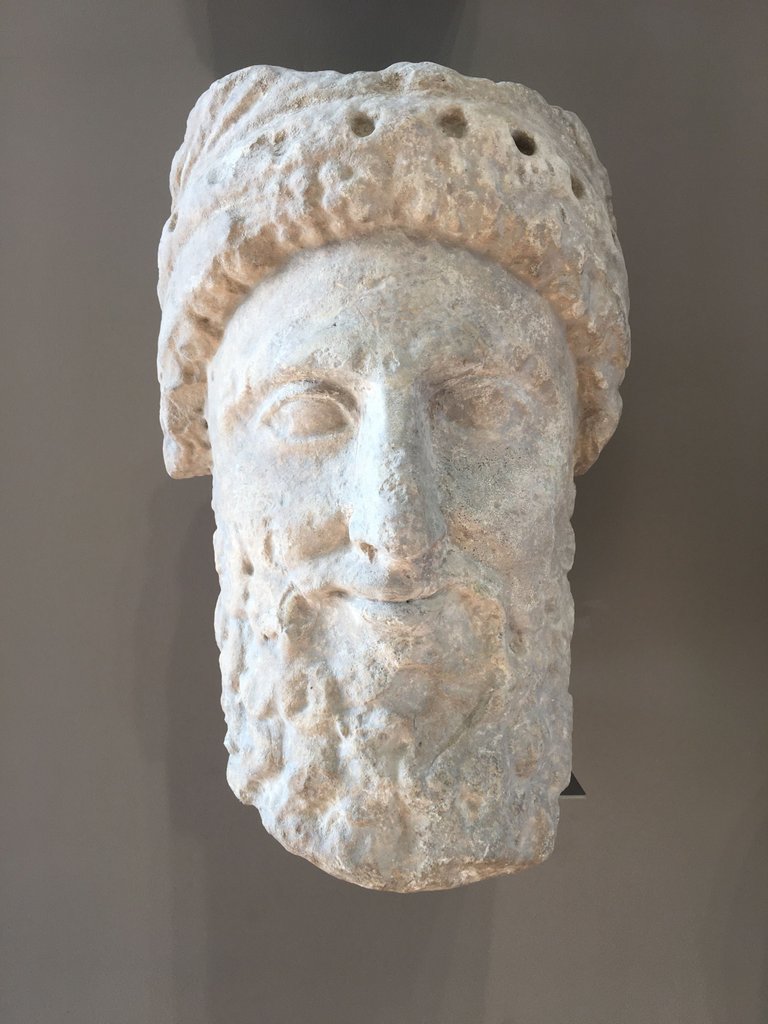 Here, a whole collection of Roman statue heads, each one more expressive than its nearest !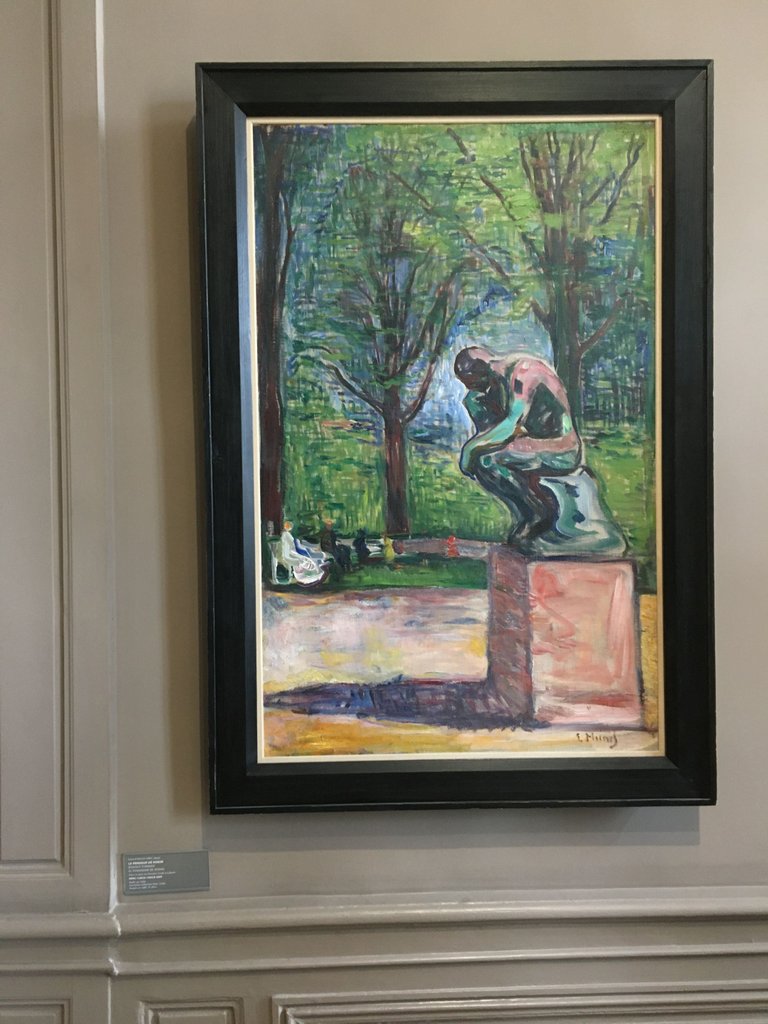 We will finish on this canvas representing the famous sculpture of the Thinker, made by the Norwegian artist Edvard Munch, a beautiful tribute !
---
I hope you have enjoyed this long and rather complete and copious visit ! I thank you for your visit and the time of your reading, do not hesitate to share your impressions, feelings, memories or questions in the comments :)
Have a good weekend and see you soon,
<3
---
---
---
Je sais que je parle souvent de mes lieux favoris et il est vrai qu'il sont nombreux dans cette ville, chacun pour des raisons spécifiques, que ce soit pour le point de vue, ce que l'on y trouve à voir, à découvrir ou bien à manger !
Mais là, ce musée est pour moi d'un tout autre niveau. Je crois qu'il fait parti des quelques endroits qui m'ont le plus donné le goût des choses artistiques et l'envie de moi-même participer à ce grand mouvement de l'Art - modestement à travers mes écrits (principalement des romans et des nouvelles dont j'espère pouvoir vous parler dans le futur).
Je ne pourrais exactement vous dire combien de visites j'ai faites dans cet endroit au fil des années, mais à mon avis, celles-ci se comptent en dizaines ! Pour autant je vous rassure, il ne s'agit pas là de 'réchauffé' mais bien du compte rendu de ma dernière visite qui remonte à quelques jours...
Petite précision utile, les images présentées ici proviennent à la fois de mon appareil photo et de mon téléphone. En effet, au cours de ma visite, j'ai eu un problème de batterie, à vous de constater la différence, mais vous devriez vous en rendre compte...
Cela étant dit, commençons notre visite !


Le lieu : L'Hôtel Biron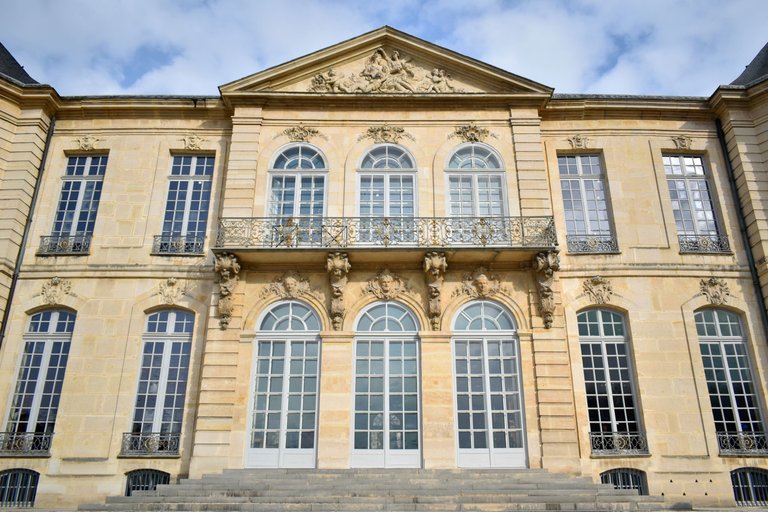 Situé du côté Rive Gauche de Paris, l'Hôtel Biron abrite le musée dédié à Auguste Rodin, l'un des plus célèbres sculpteurs français. Vous pouvez aller en apprendre plus sur le lieu en lui-même et sur l'artiste en suivant les liens ci-dessus.
Mais voici déjà un extrait sur la biographie du sculpteur :
Auguste Rodin, né à Paris le 12 novembre 1840 et mort à Meudon le 17 novembre 19173, est l'un des plus importants sculpteurs français de la seconde moitié du XIXème siècle, considéré comme un des pères de la sculpture moderne. Héritier des siècles de l'humanisme, l'art réaliste de Rodin est un aboutissement, croisement de romantisme et d'impressionnisme dont la sculpture est modelée par la lutte entre la forme et la lumière. La virilité de l'artiste, surnommé en son temps le « Bouc sacré4 », provoqua des drames semi-publics ou privés et est au centre d'une expression plastique de la sensualité, de l'érotisme, mais aussi de la douleur. Il fut le compagnon, une partie de sa vie, de la sculptrice Camille Claudel.
Ainsi qu'un second sur le lieu :
À travers ses deux sites, l'hôtel de Biron de la rue de Varenne dans le 7e arrondissement à Paris et la villa des Brillants à Meudon (Hauts-de-Seine), l'établissement chargé de la conservation et la diffusion de l'œuvre d'Auguste Rodin, conserve une collection composée de près de 6 800 sculptures, 8 000 dessins, 10 000 photographies anciennes et 8 000 autres objets d'art. Avec 700 000 visiteurs par an, le musée Rodin compte parmi les musées français les plus importants.
Le musée conserve des collections d'une grande diversité car Rodin était un artiste collectionneur ; il présente principalement des sculptures et quelques peintures, car les dessins et photographies anciennes ne peuvent, pour des raisons de conservation, être exposés de façon permanente dans la galerie dédiée du premier étage.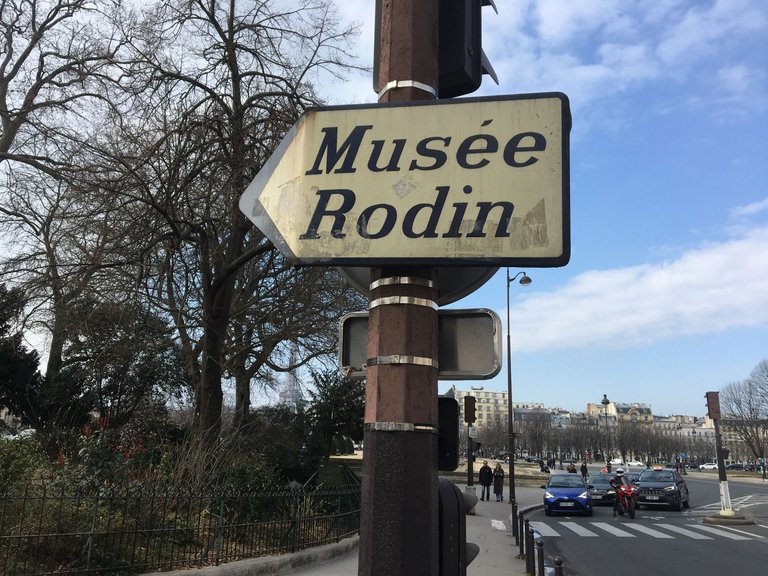 Le musée est à deux pas de l'Hôtel des Invalides qui abrite le Musée de l'Armée. La Tour Eiffel n'est pas loin non plus, ainsi que le Grand et le Petit Palais, le Pont Alexandre III. Dans la même zone un peu élargie, vous pourrez retrouver le musée du Quai Branly, celui des Arts Modernes, le Palais de Tokyo et celui de Guimet.


Les jardins
C'est un peu orignal, mais après ce rapide tour d'horizon, nous commencerons notre visite par les différents endroits notables du jardin.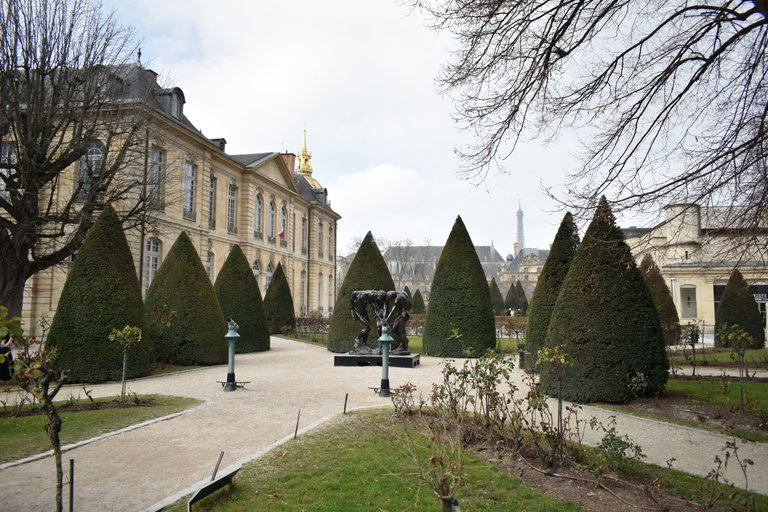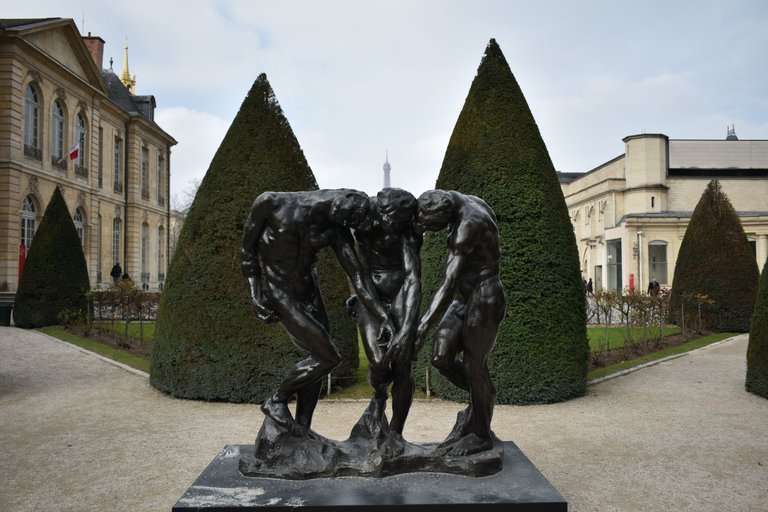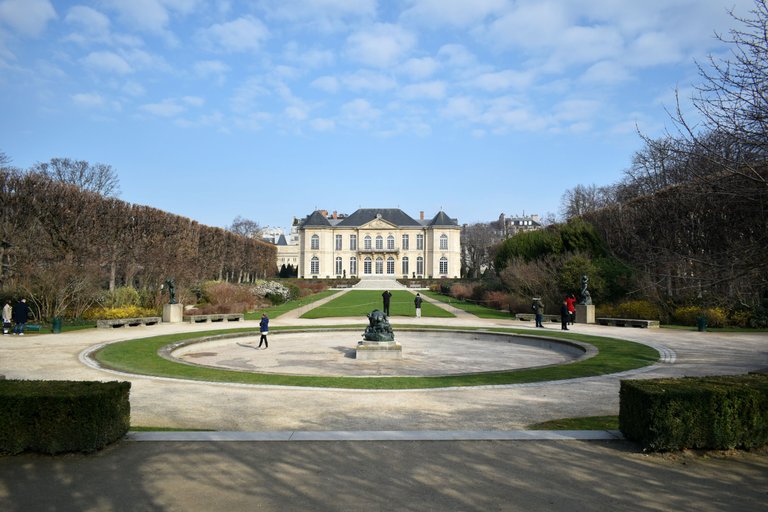 Le Penseur
Dès l'entrée, on tombe sur cette sculpture connue de tous et à l'aura mythique.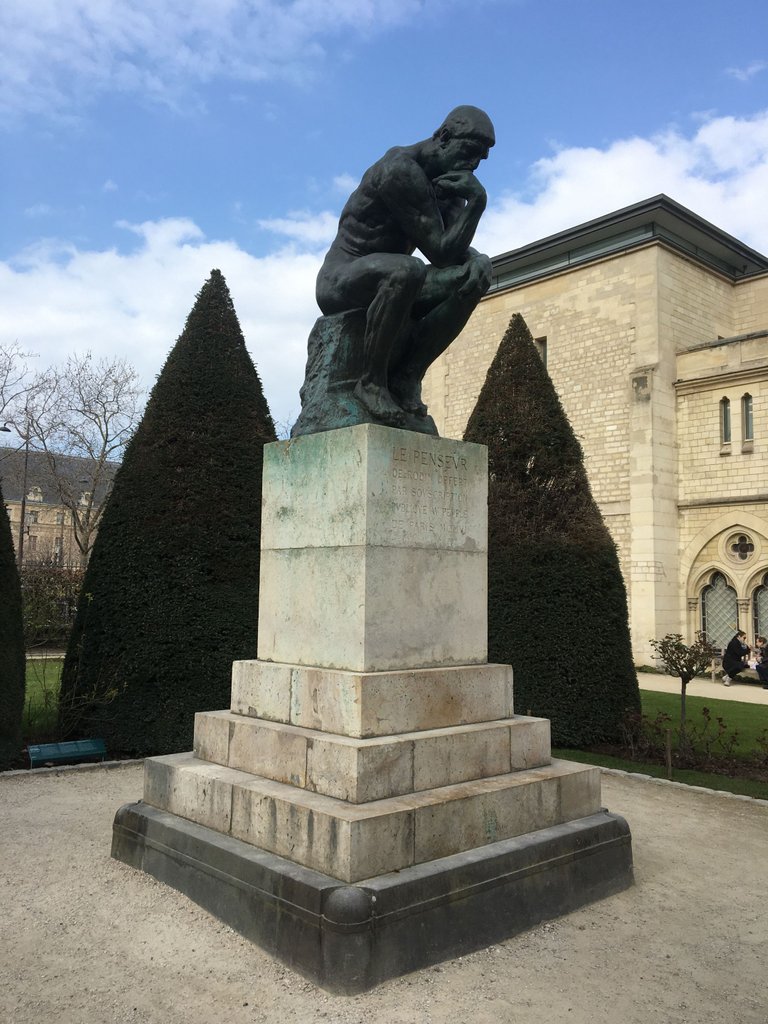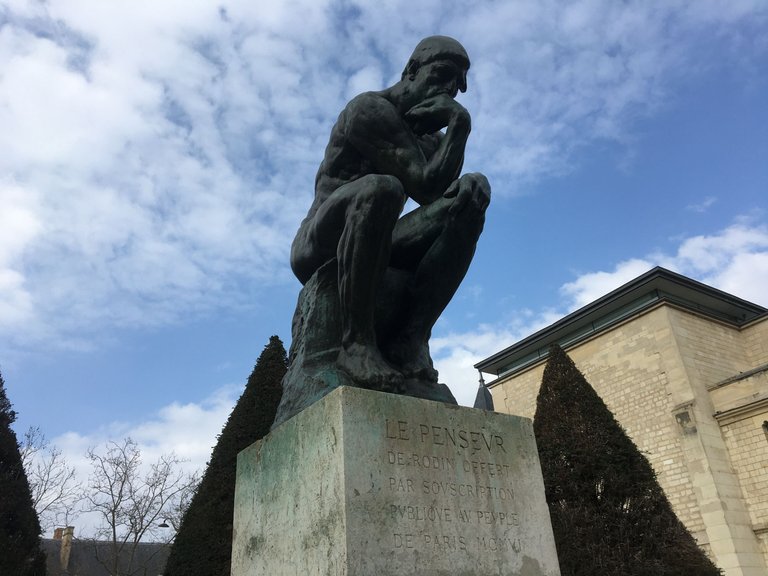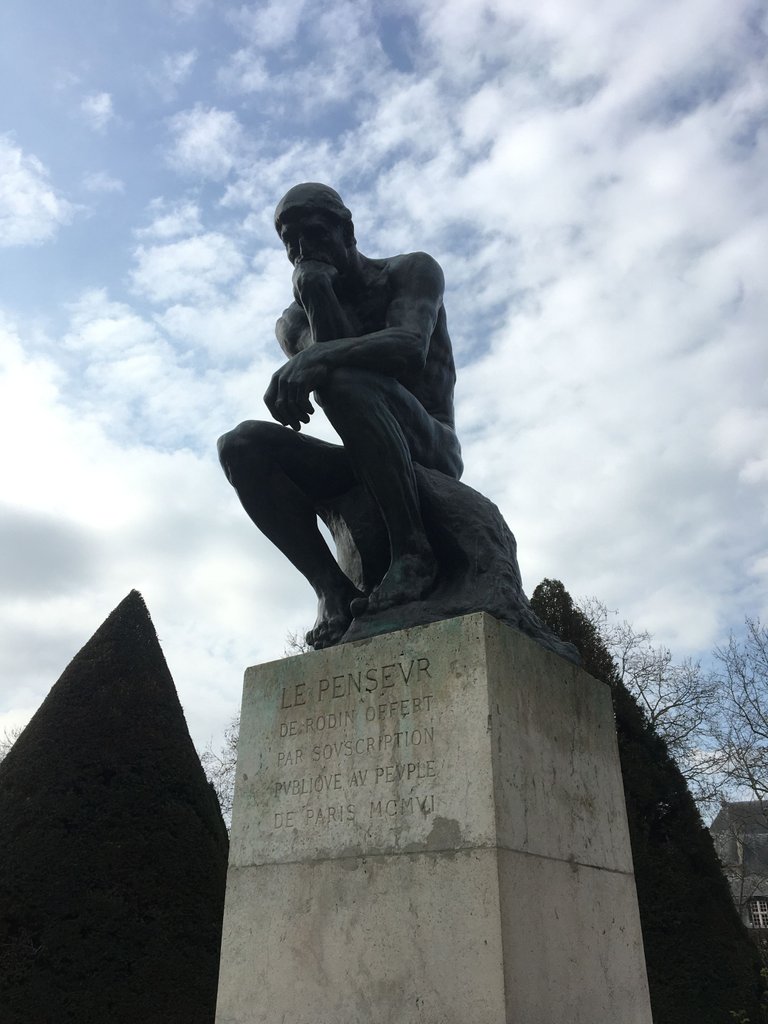 La Porte de l'Enfer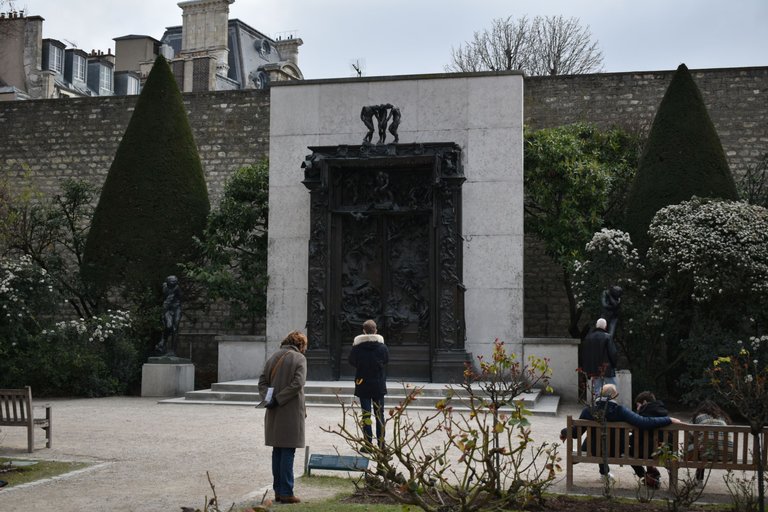 Voilà l'une des réalisations les plus célèbres de l'artiste : la Porte de l'Enfer. Voilà ce qu'il en est dit sur le site du musée...
La Porte de l'Enfer occupe une place tout à fait particulière dans la création de Rodin. Travaillant avec fièvre durant plusieurs années, il créa plus de deux cents figures et groupes qui forment un véritable vivier dans lequel il puisa durant le reste de sa carrière. Après avoir espéré pouvoir la présenter à l'Exposition universelle de 1889, le sculpteur laissa La Porte de côté à la fin des années 1880.
À plusieurs reprises, il eut pourtant l'ambition d'achever son œuvre. Dans le cadre de sa grande exposition personnelle de 1900, il résolut de la montrer enfin au public, mais dans un état fragmentaire puisqu'il renonça finalement à mettre en place les figures les plus en relief, indépendantes de la structure principale, jugeant qu'elles produisaient un contraste trop fort avec le fond.
C'est en 1917 seulement que Léonce Bénédite, premier conservateur du musée Rodin, parvint à convaincre le sculpteur de le laisser reconstituer son chef-d'œuvre pour en faire réaliser une fonte, Rodin mourut avant de voir le résultat de tous ses efforts.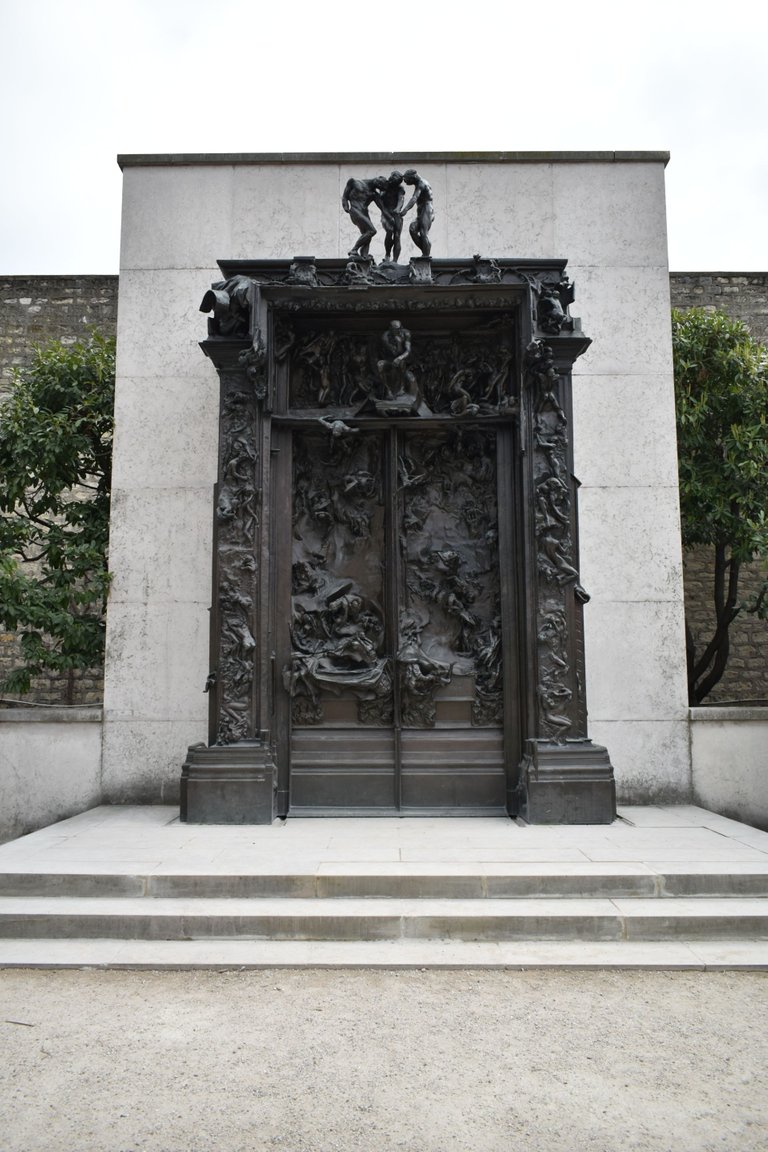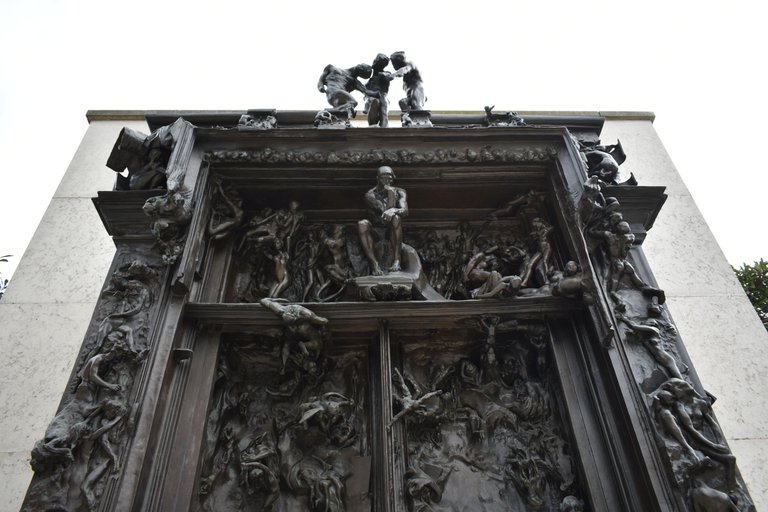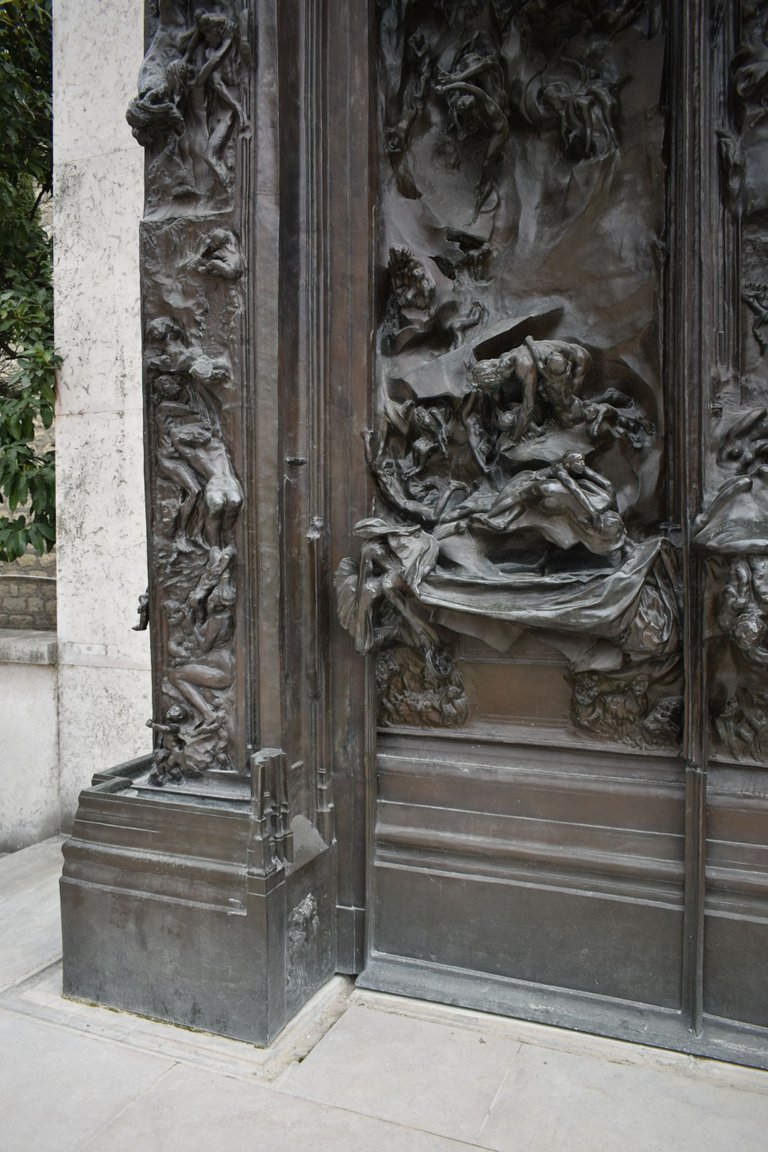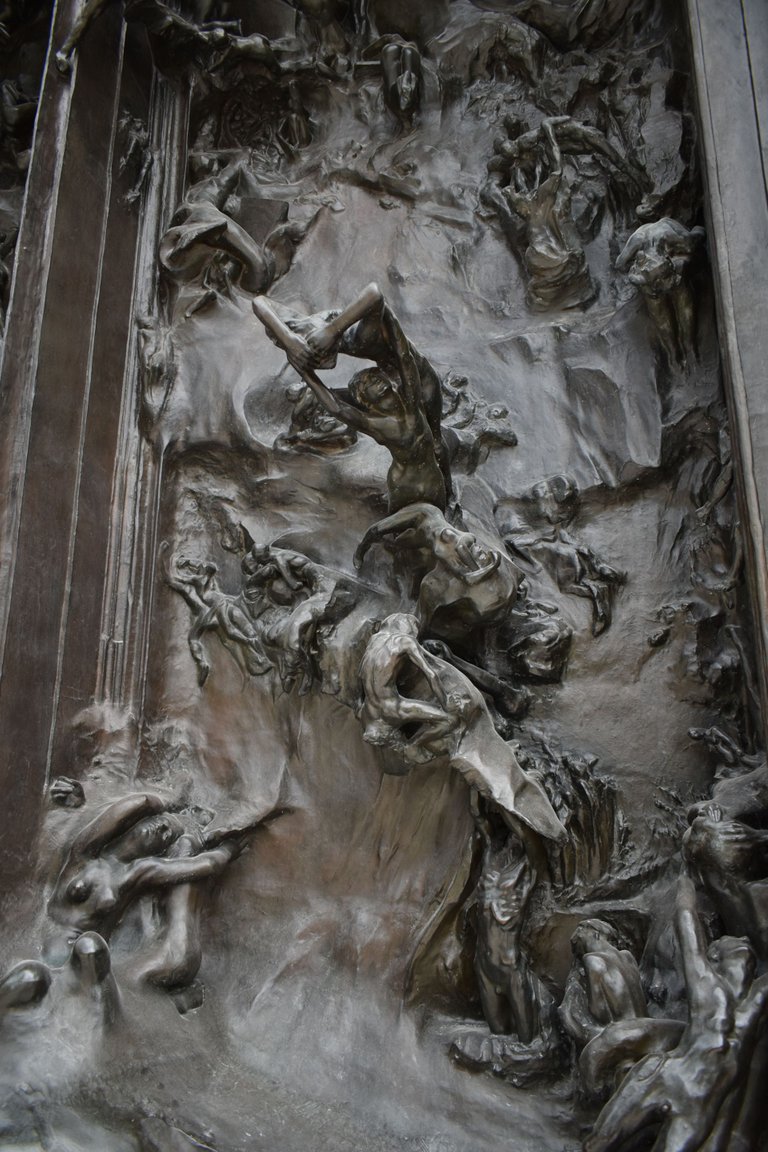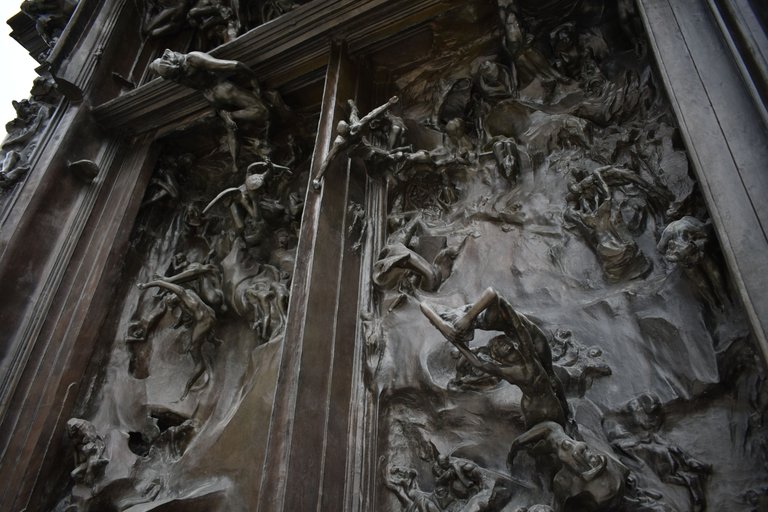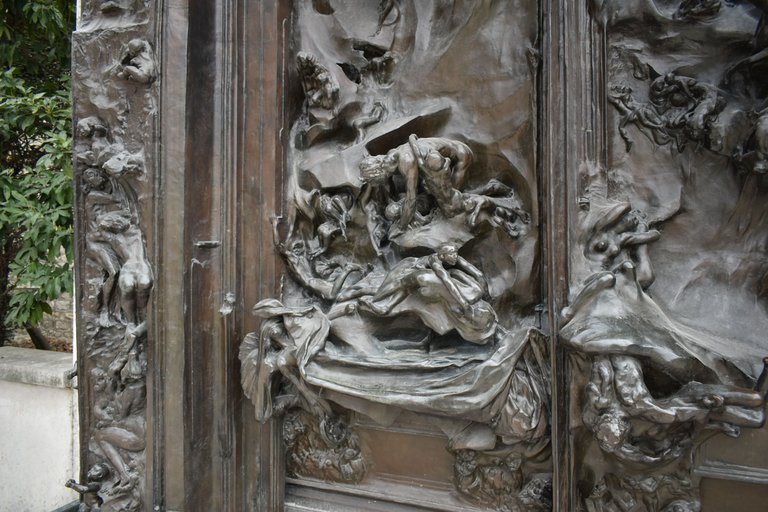 Les bronzes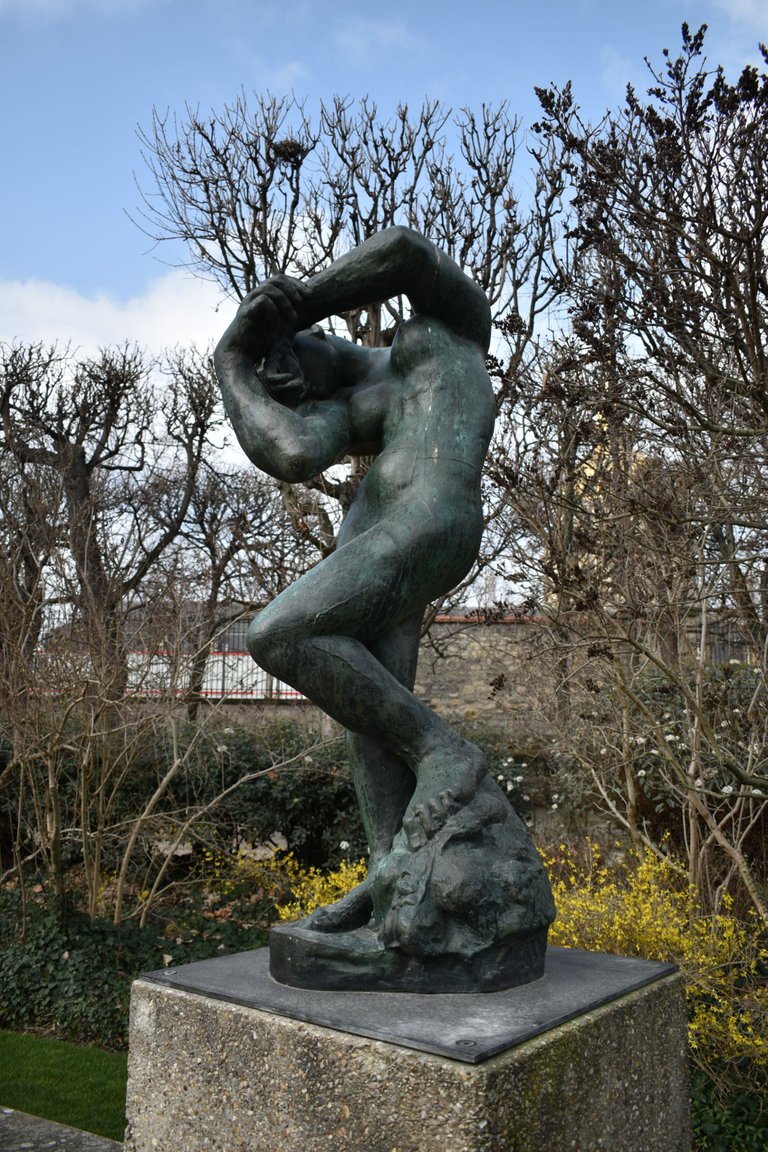 Dans tout l'espace du jardin, on retrouve des bronzes des tirages d'essais ou de sculptures terminées, parfois pour d'autres sculptures assemblées les unes aux autres...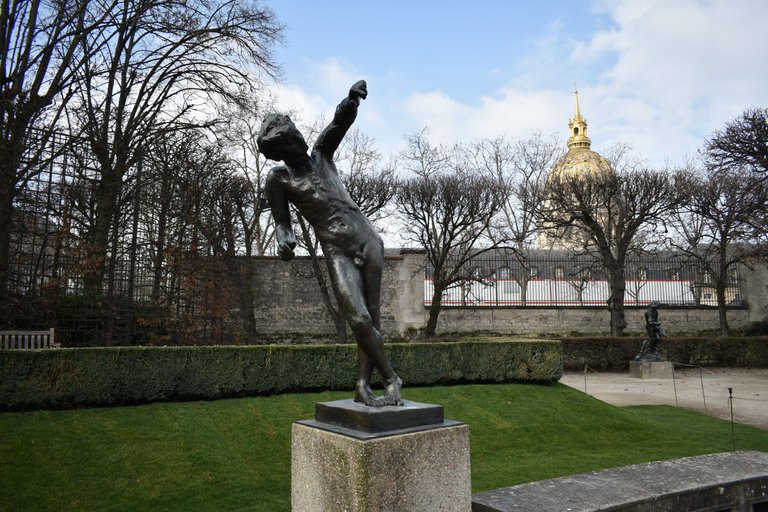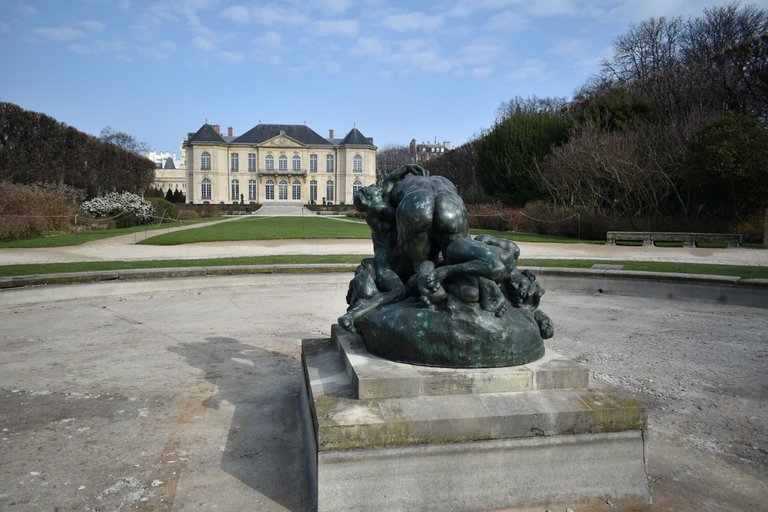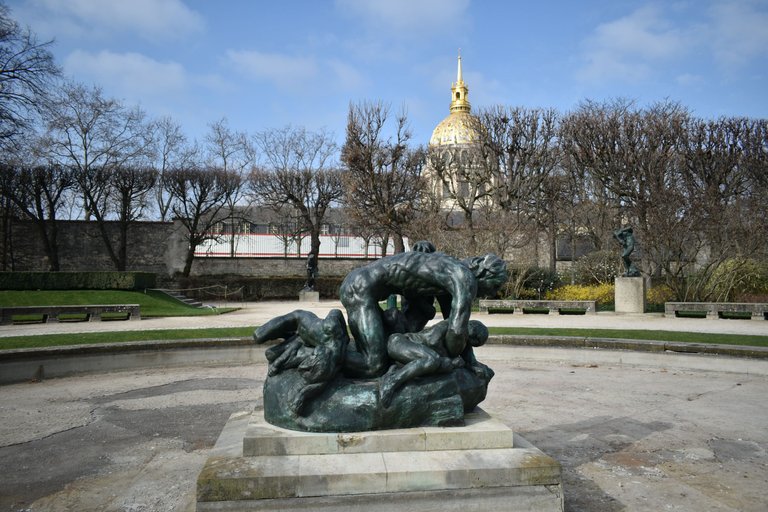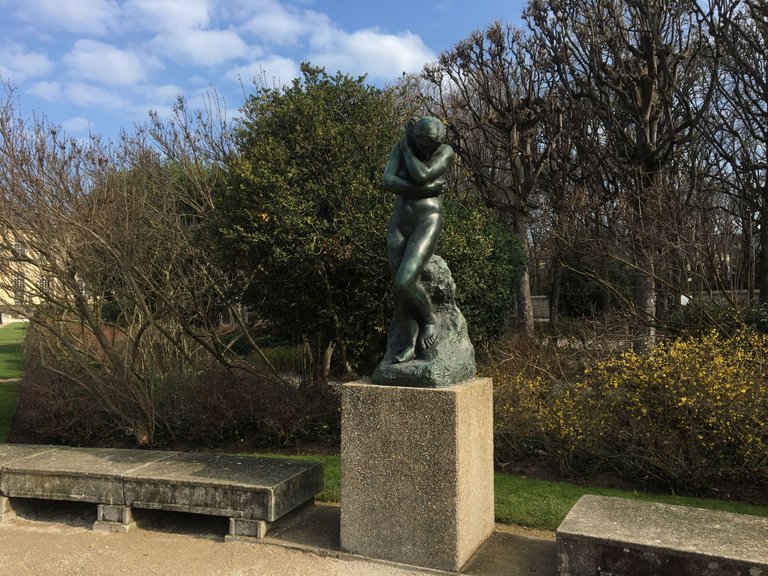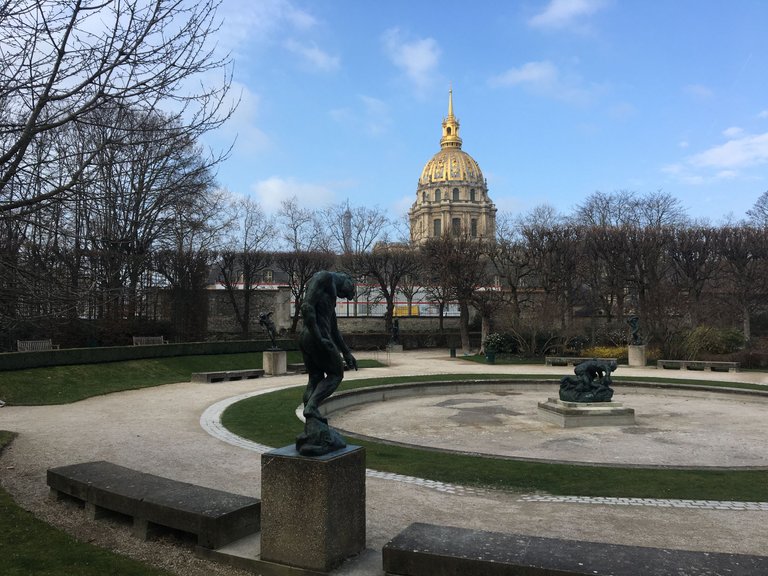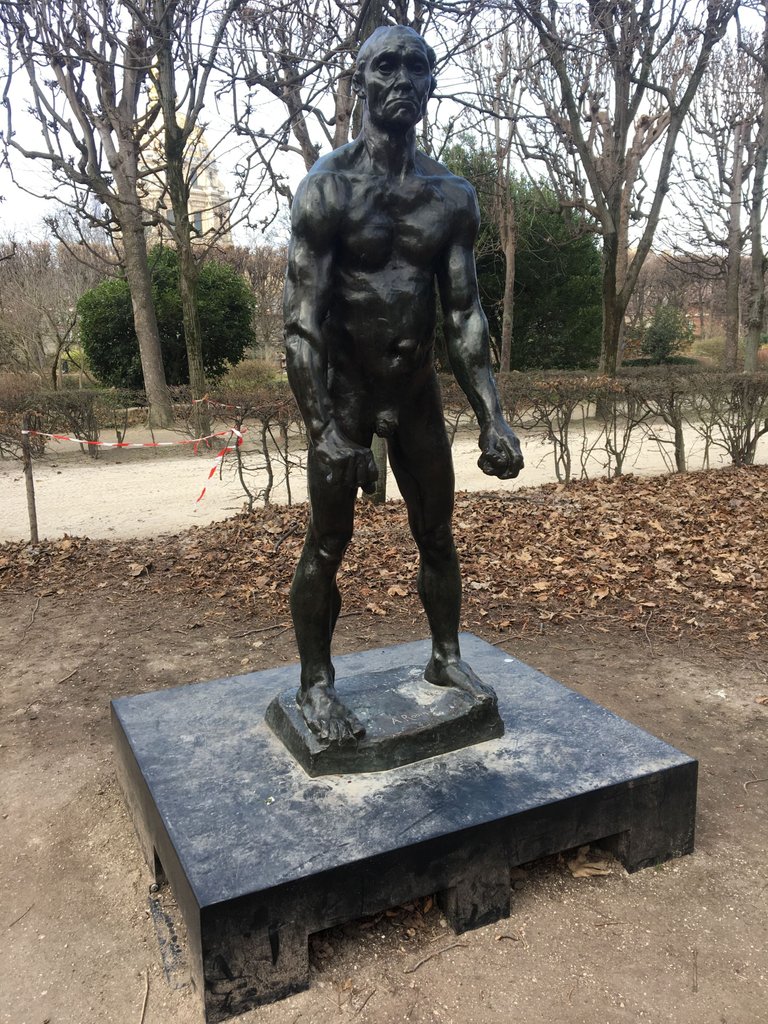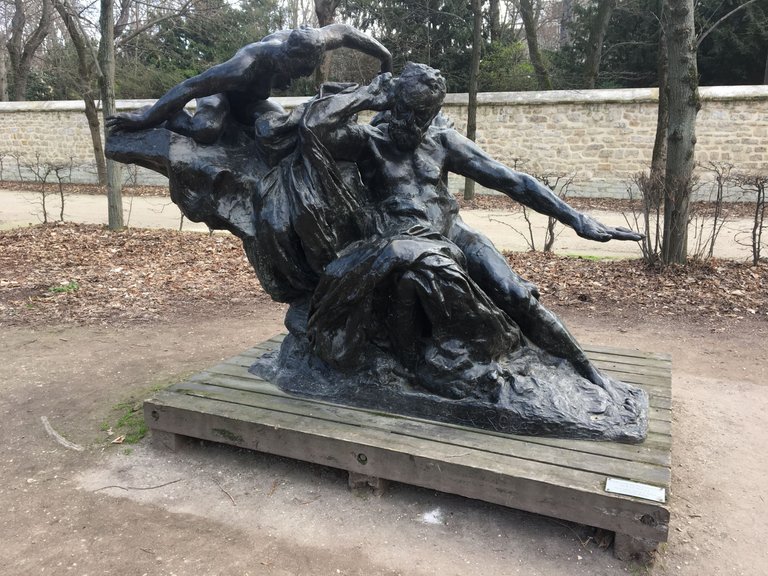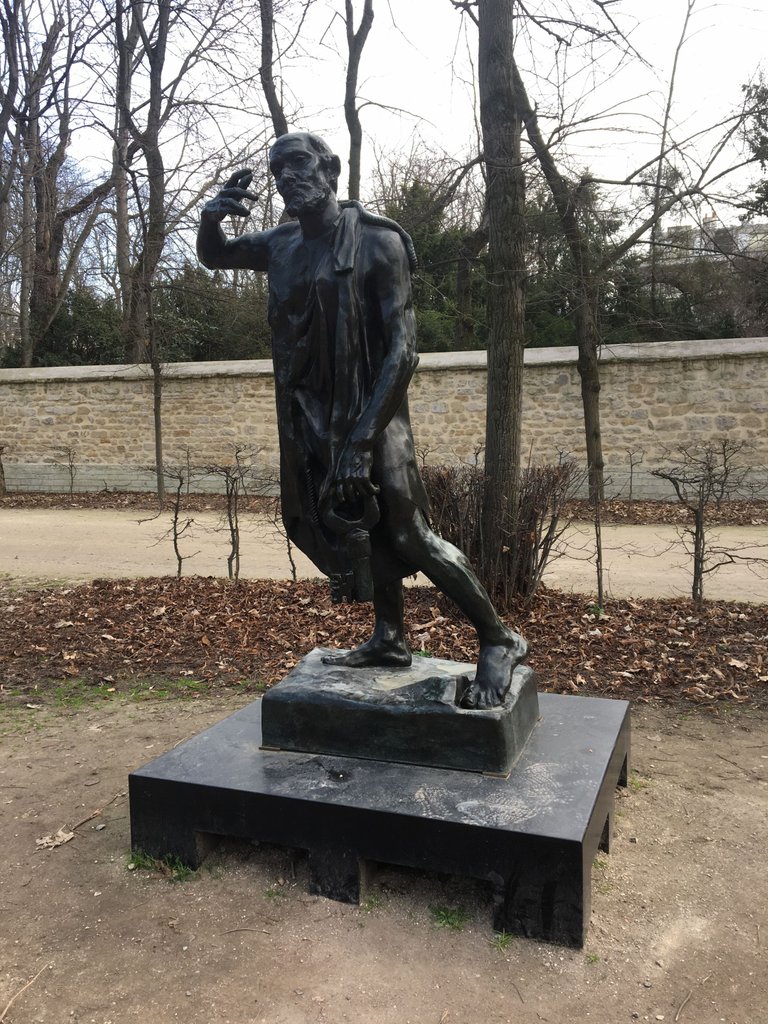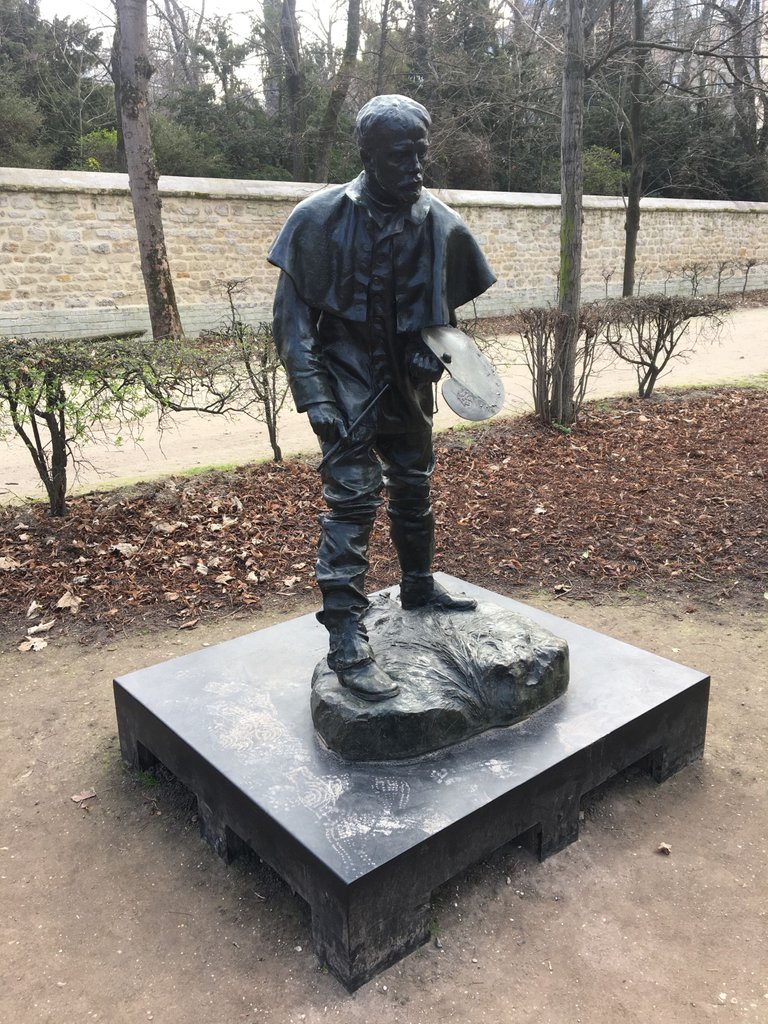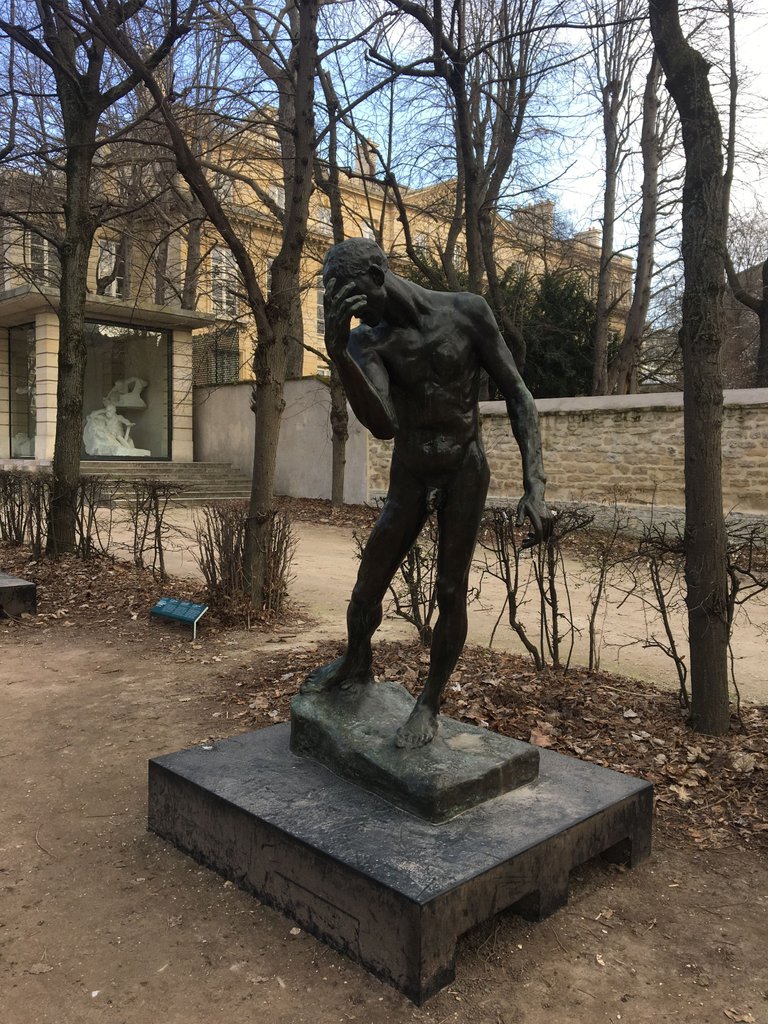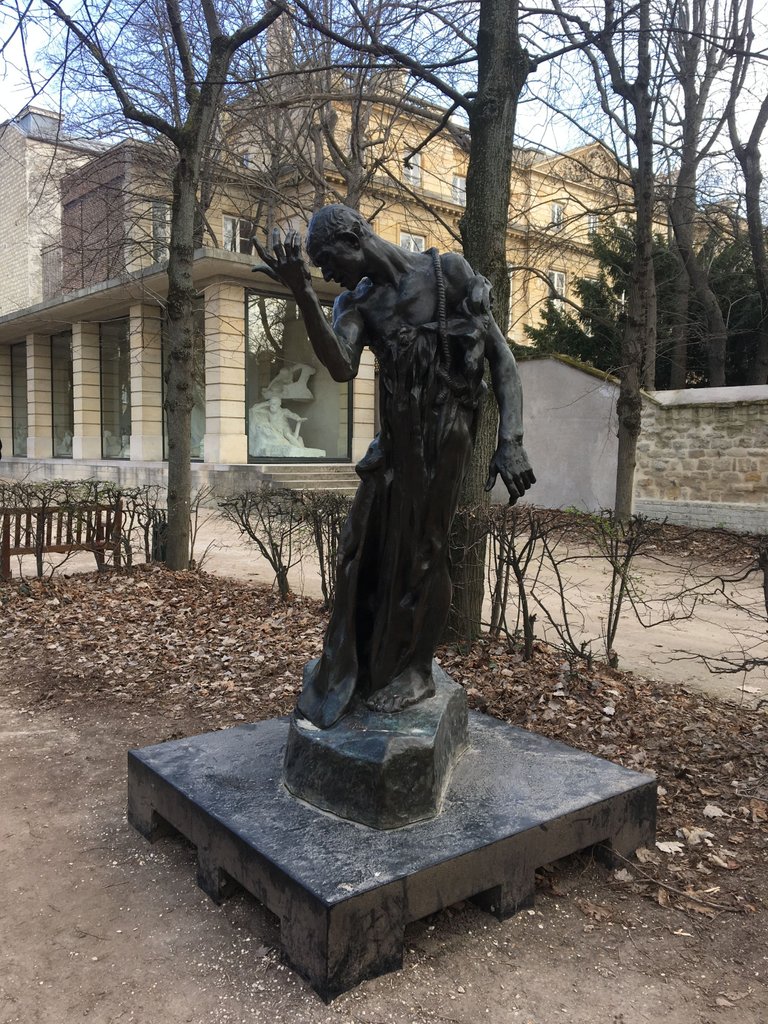 La galerie des marbres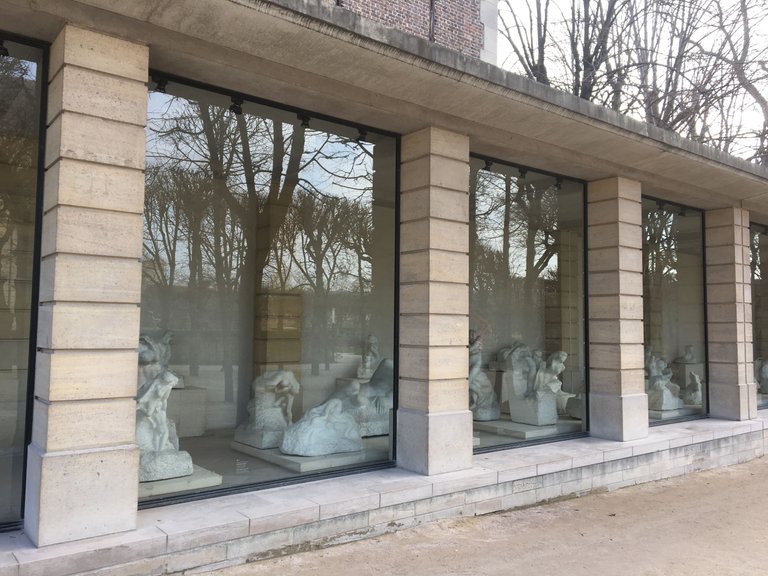 Comme son nom l'indique, on retrouve à cet endroit plusieurs dizaines de sculptures de marbres rassemblées. Il peut s'agir de commandes ou bien d'autres réalisations en vue d'un monument publique.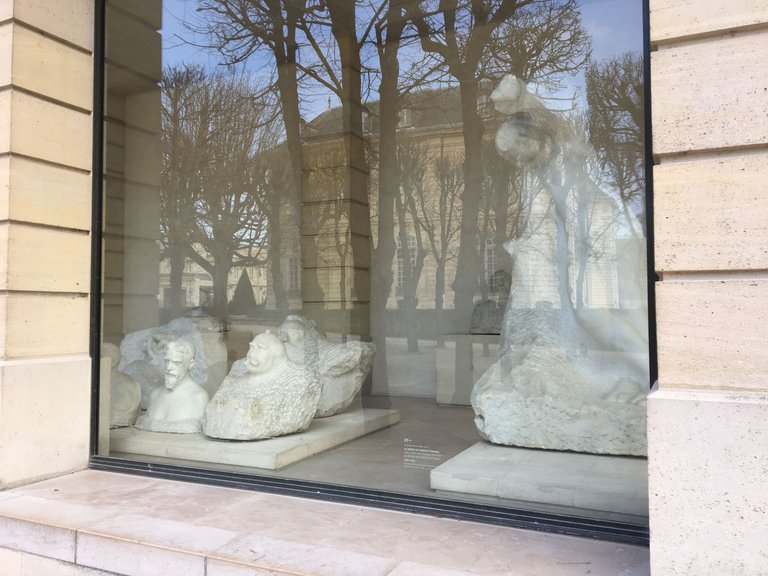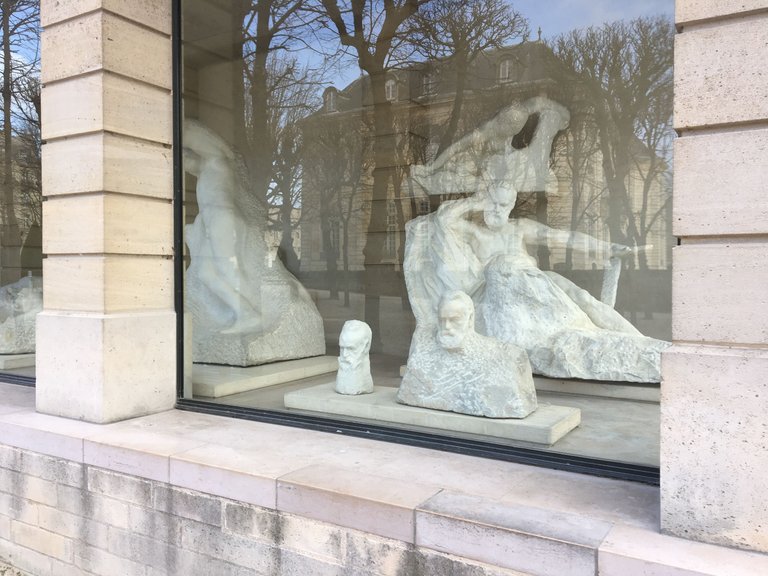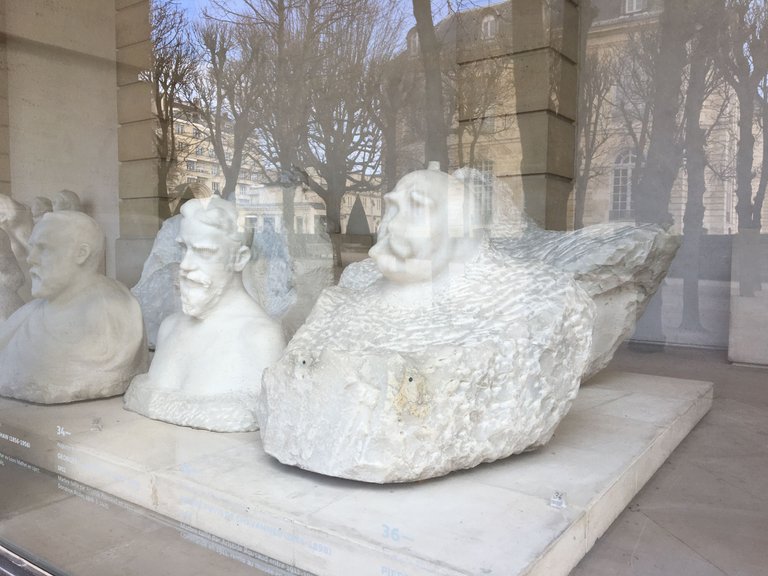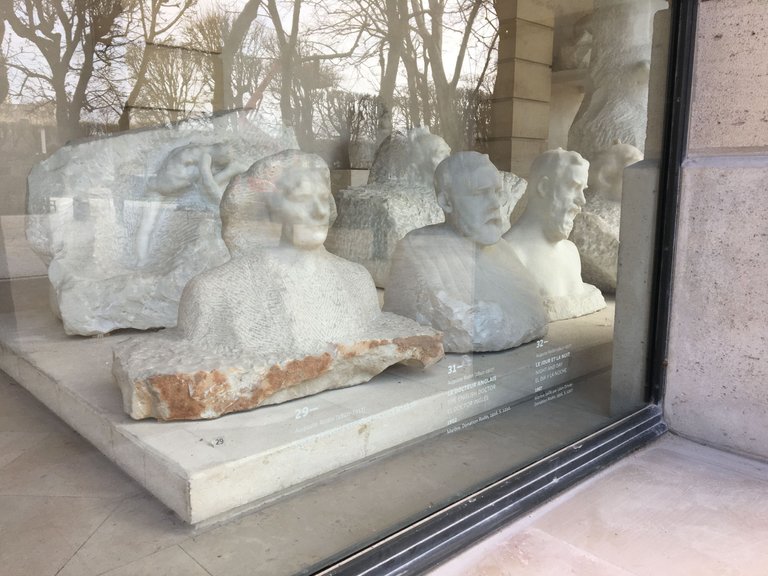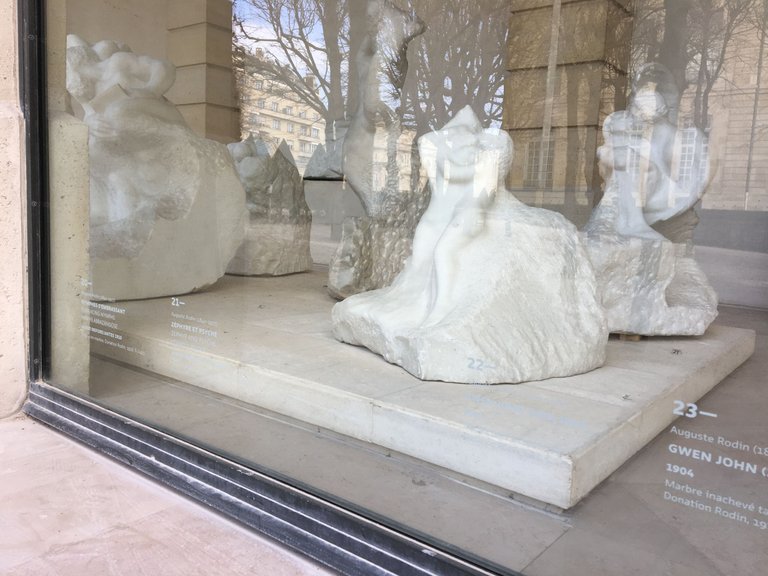 Premier niveau du Musée
Mais retournons au musée après ce premier tour d'horizon des parties extérieures...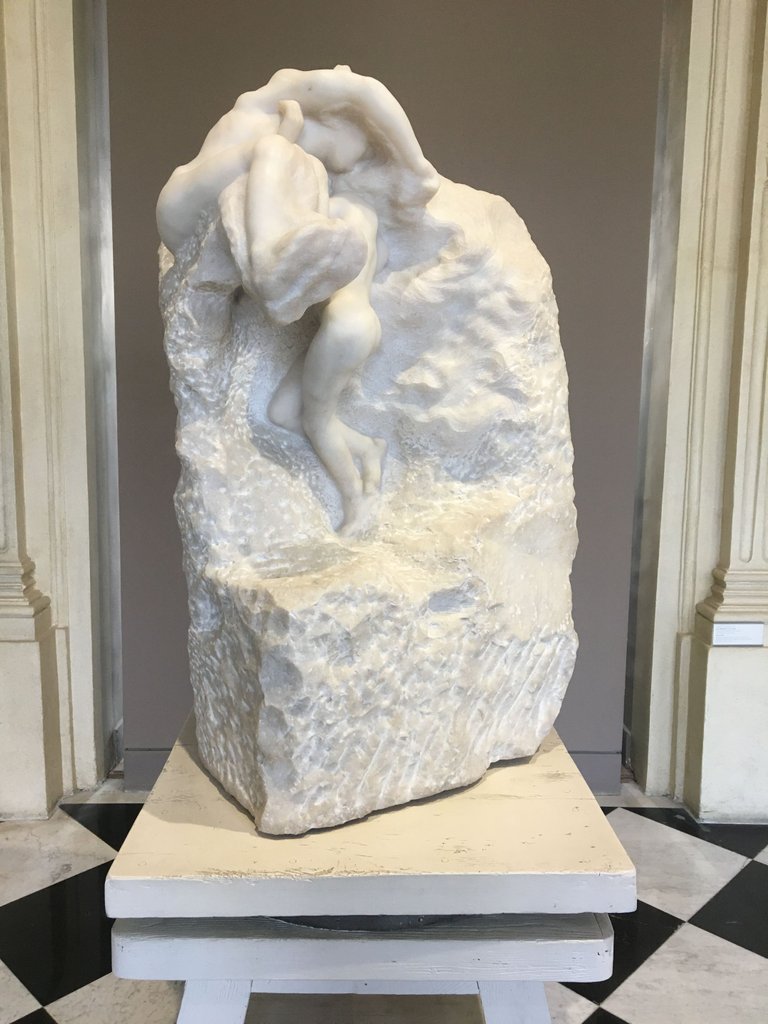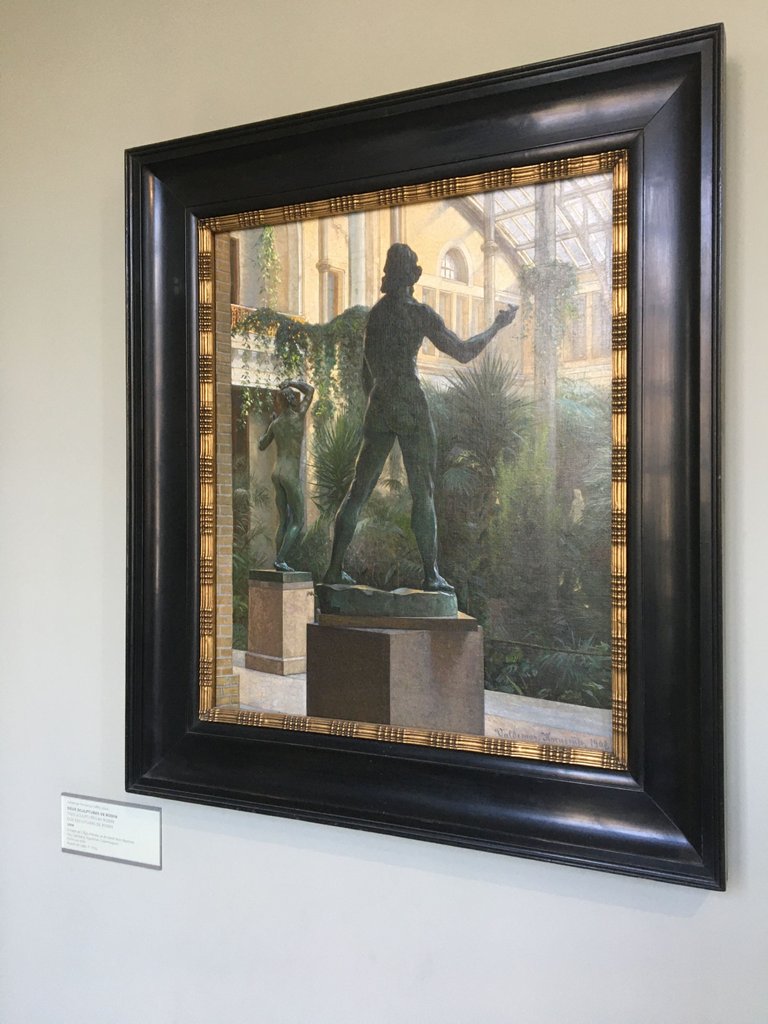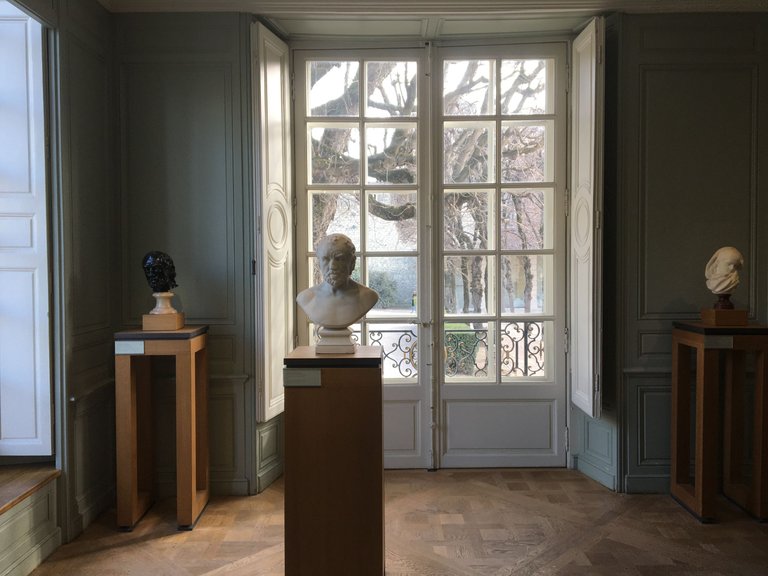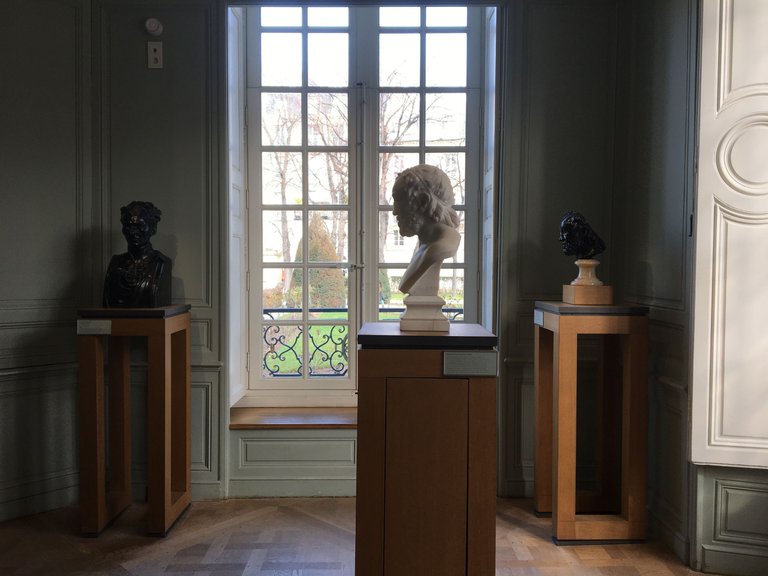 Dans l'hôtel, on suit un ordre chronologique de l'oeuvre de l'artiste, depuis sa formation, ses premières oeuvres jusqu'à sa renommée. Je ne pourrais m'arrêter sur chaque oeuvre et la commenter. L'idée est bien plus de vous permettre de vous rendre compte de l'amplitude et de la beauté des oeuvres afin que si vous veniez à Paris, vous essayez d'aller faire une petite visite par vous-mêmes !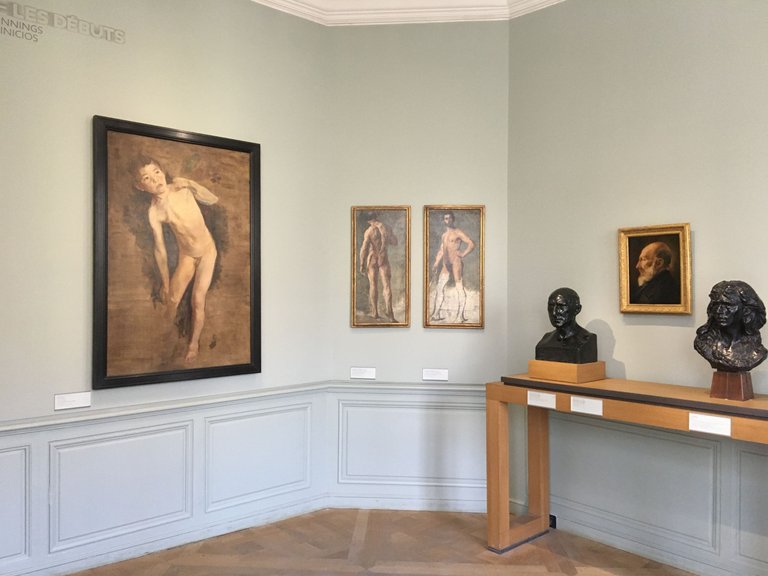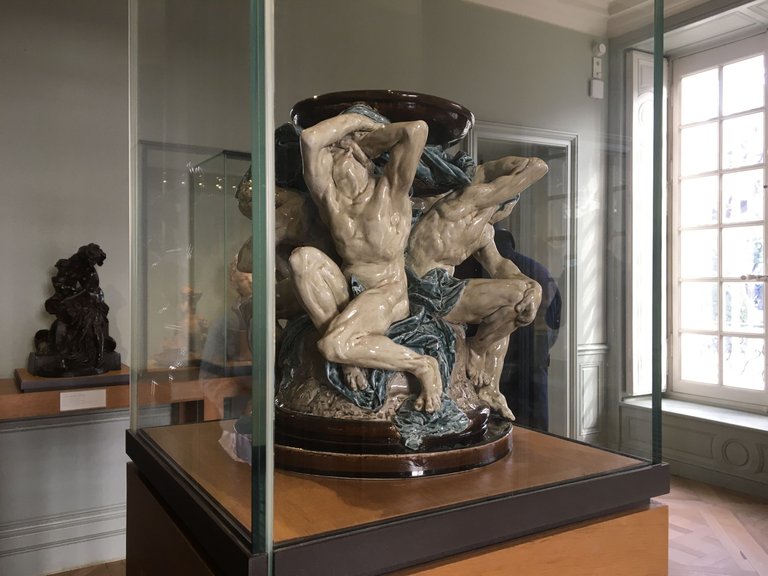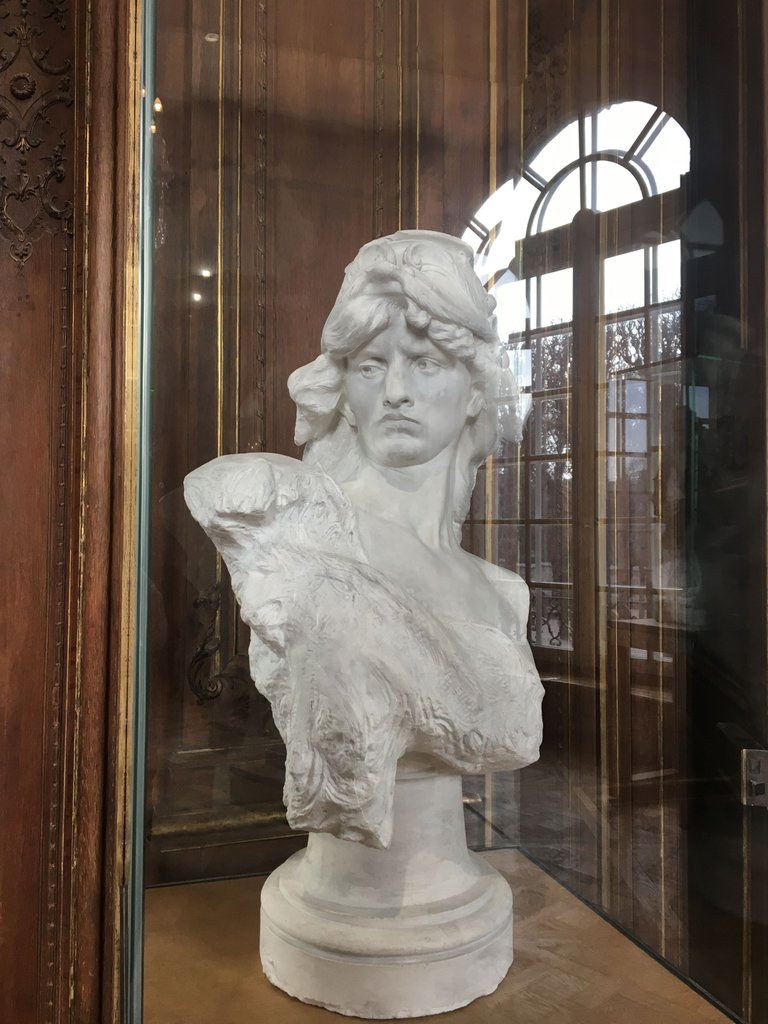 À plusieurs reprises, on retrouve une esquisse en plâtre et le bronze final suivant le même thème ou modèle.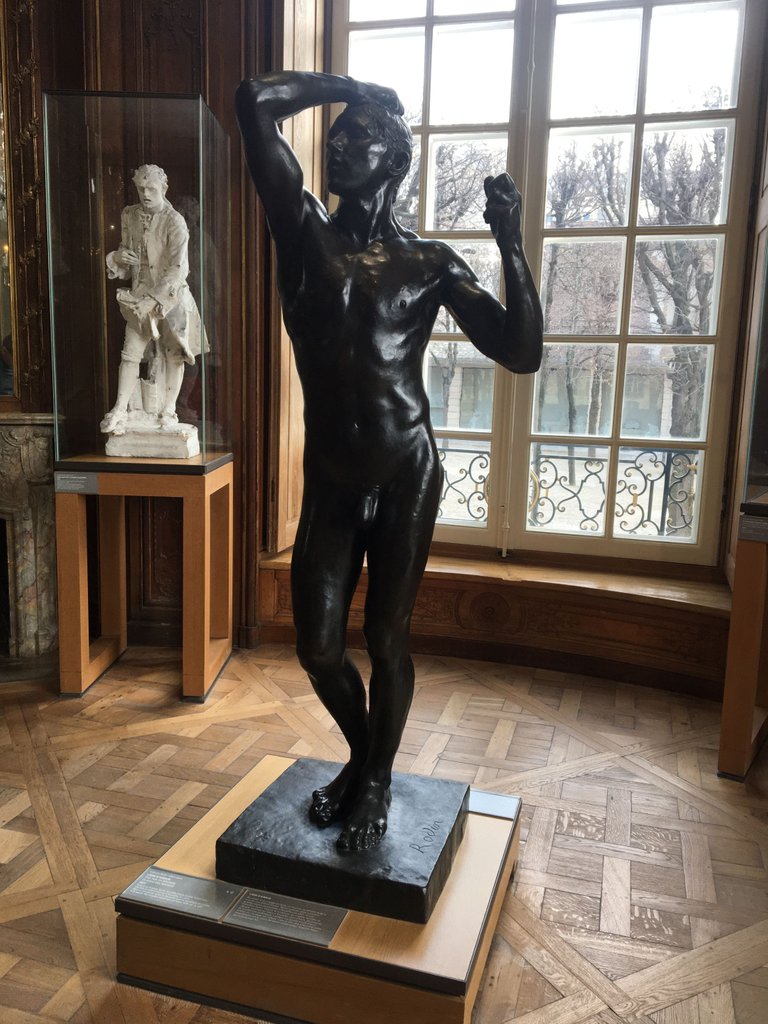 L'âge d'airain, une oeuvre majeure, parmi celles qui ont contribuées à faire connaître Rodin.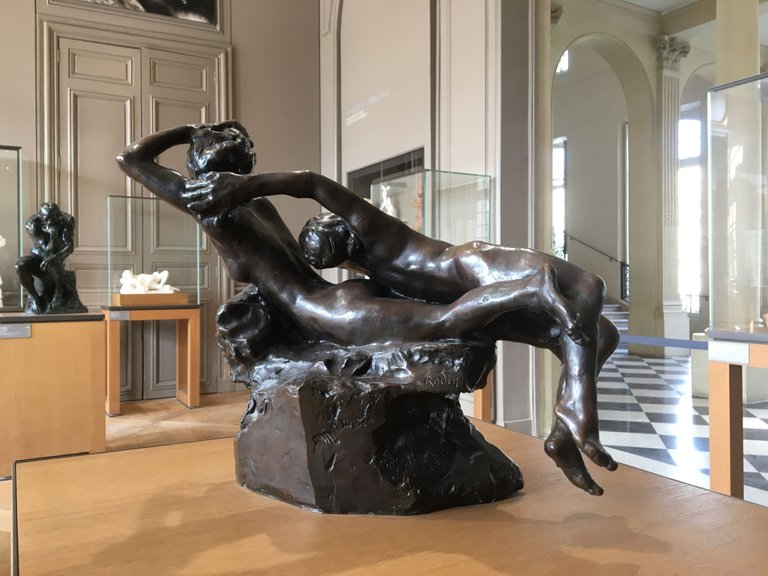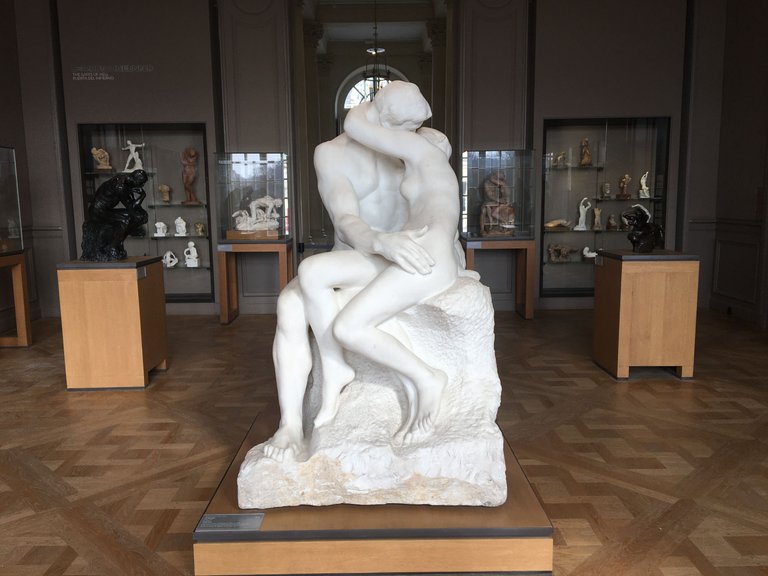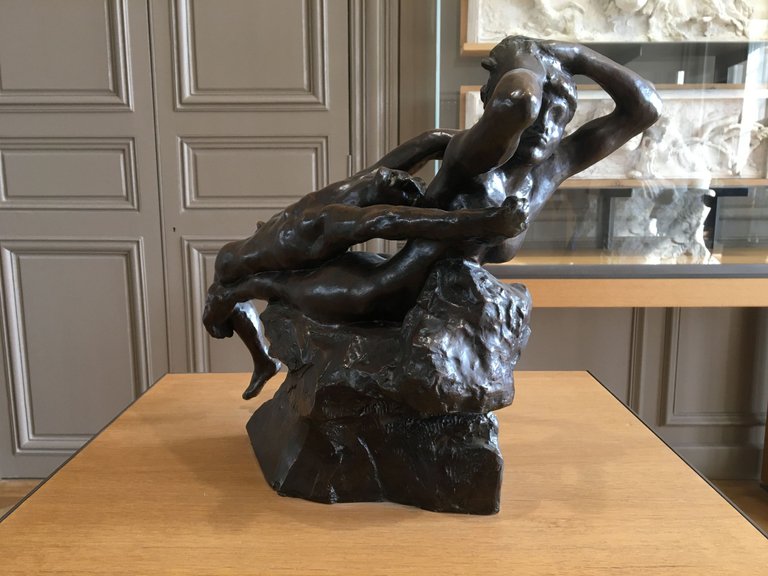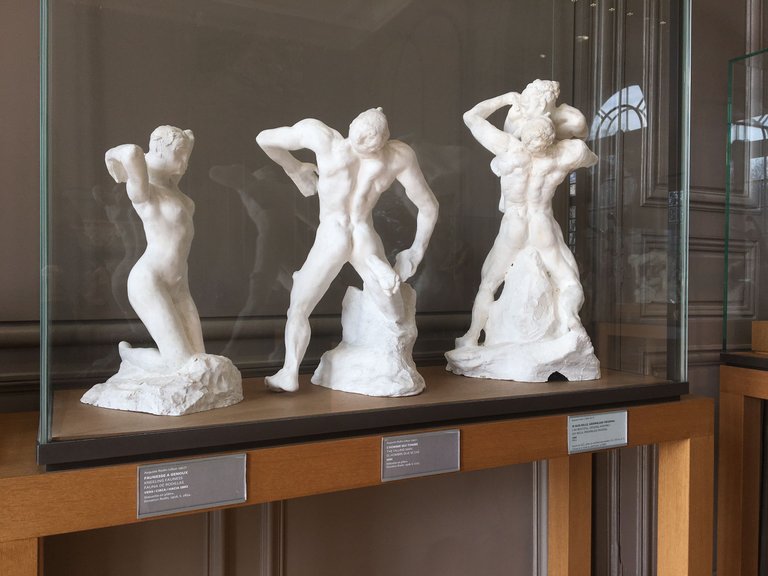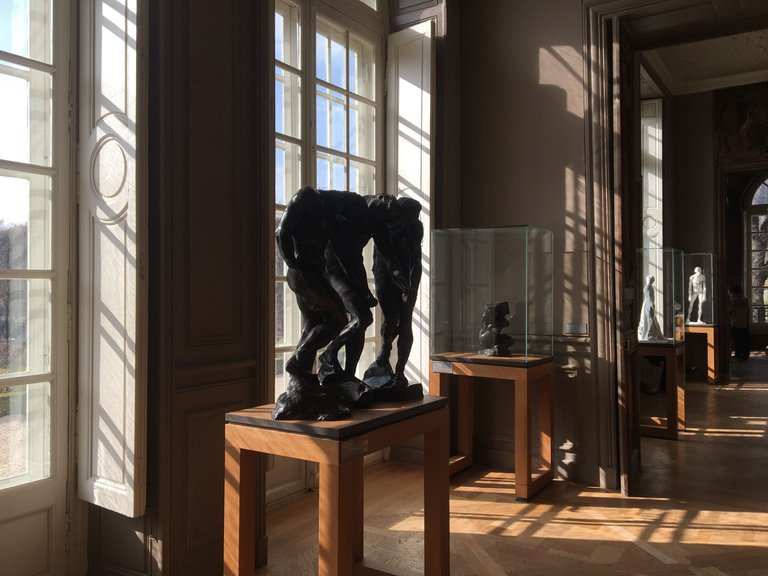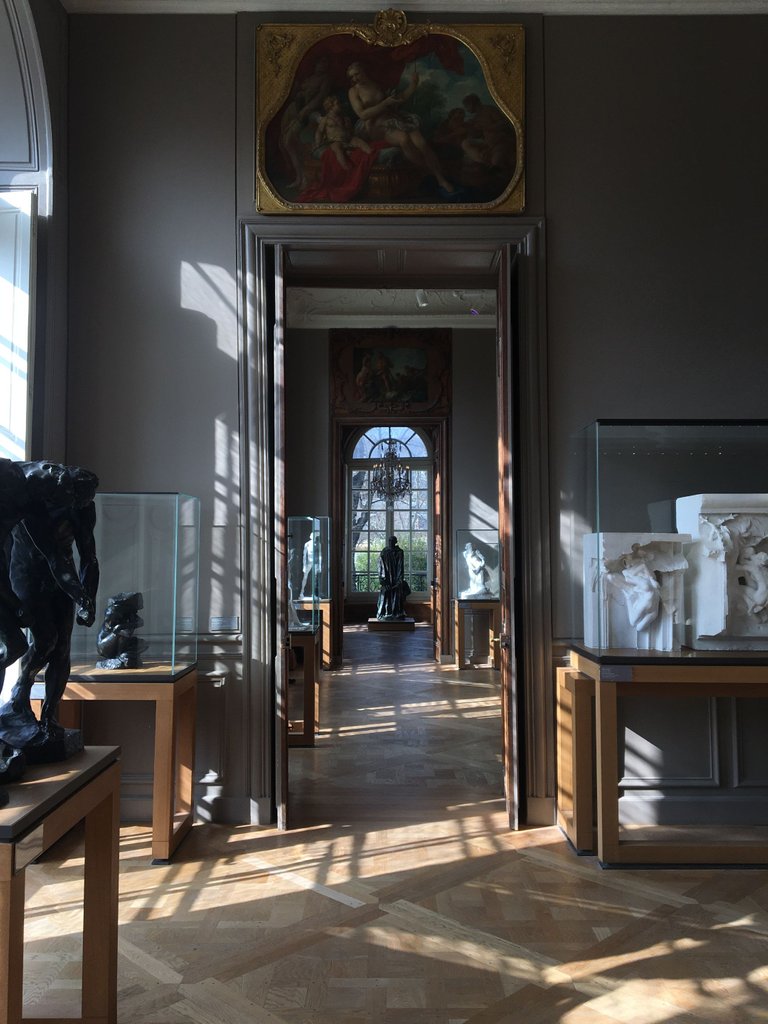 En plus d'être rempli par les créations et essais de l'artiste, l'espace est en lui-même vraiment magnifique. Boiseries, grandes et vieilles fenêtres, parquets anciens, tout est là pour nous plonger dans cette ambiance de rêves et de création.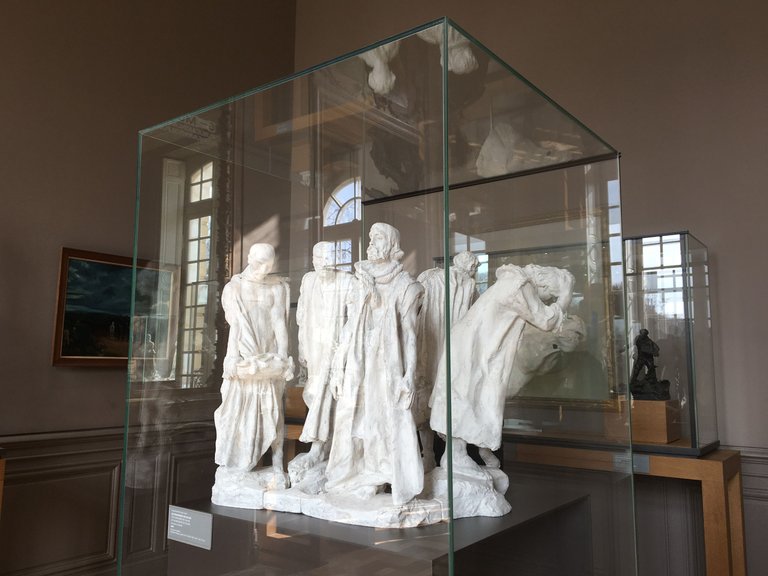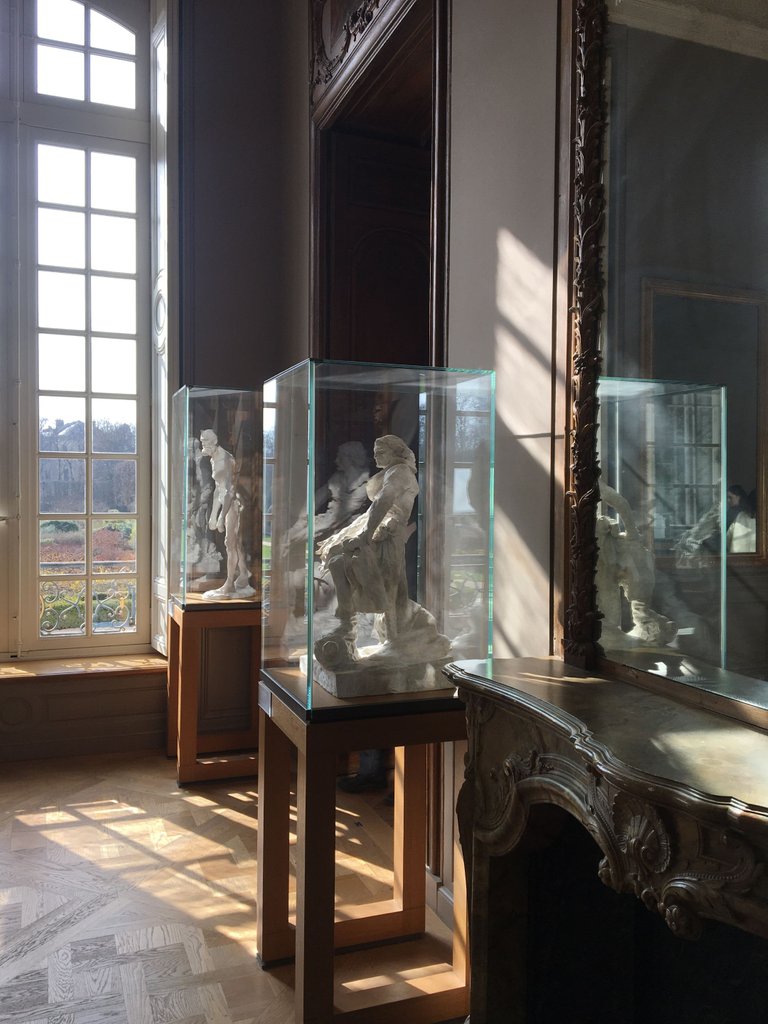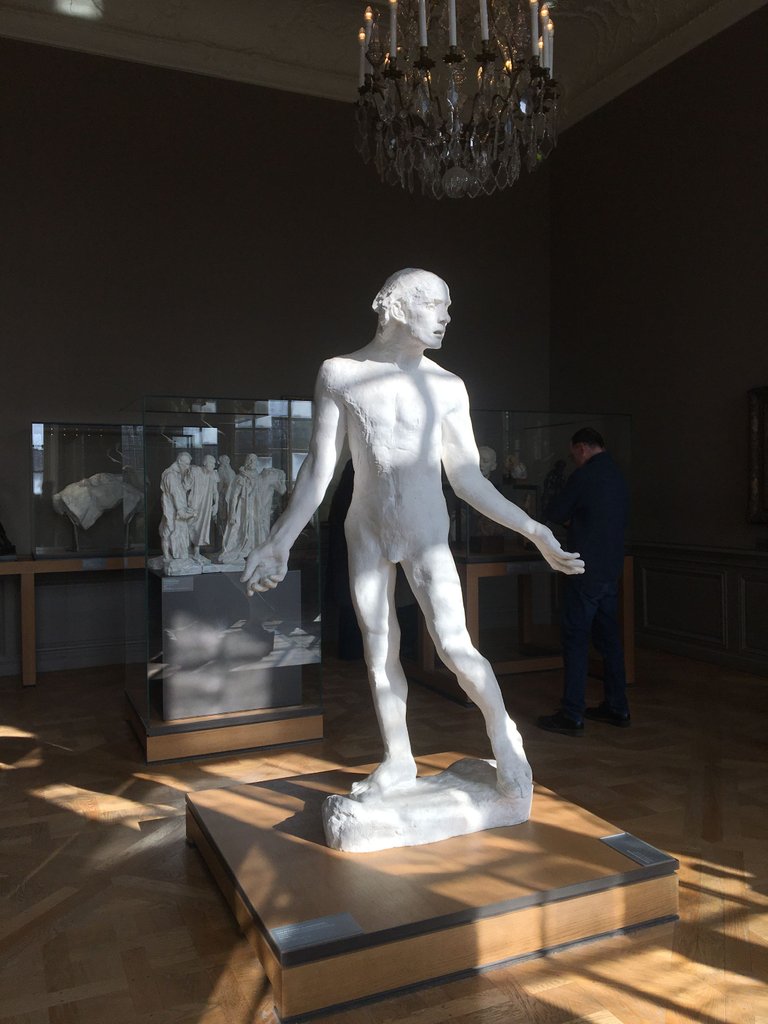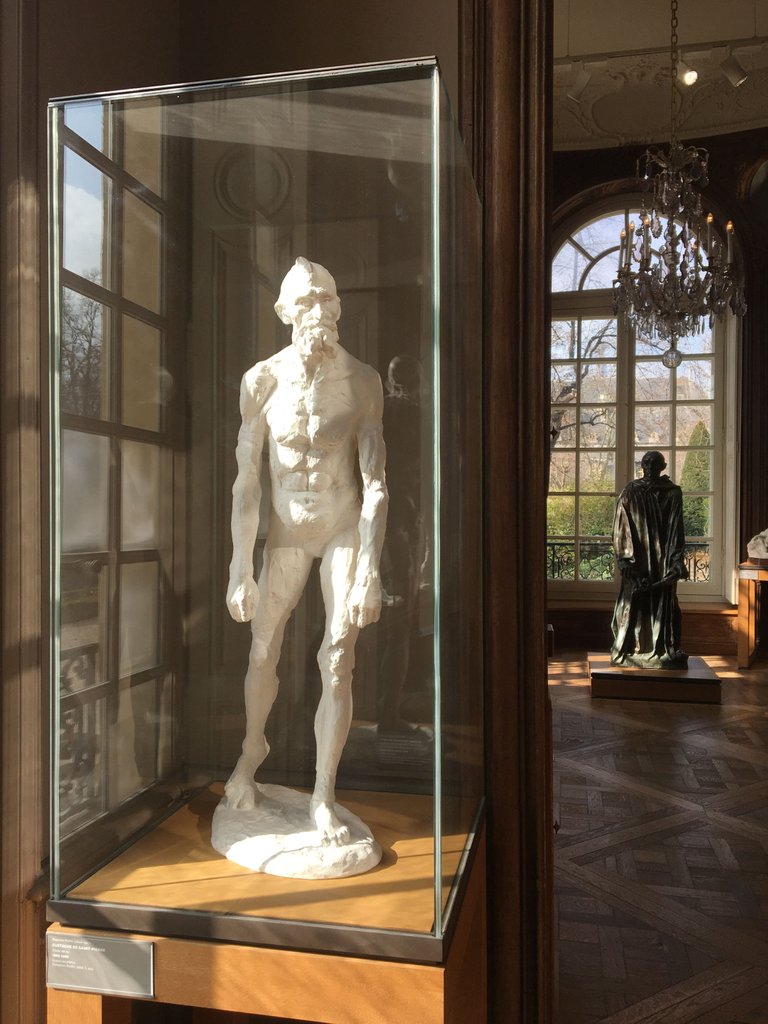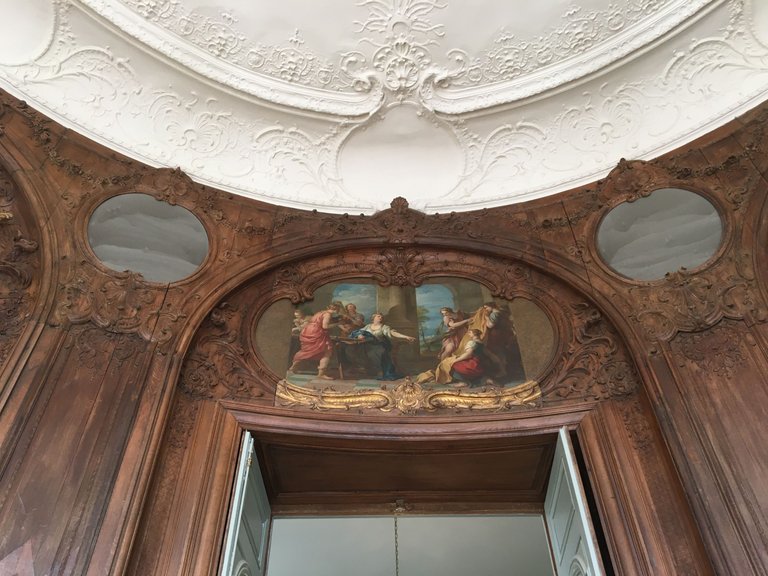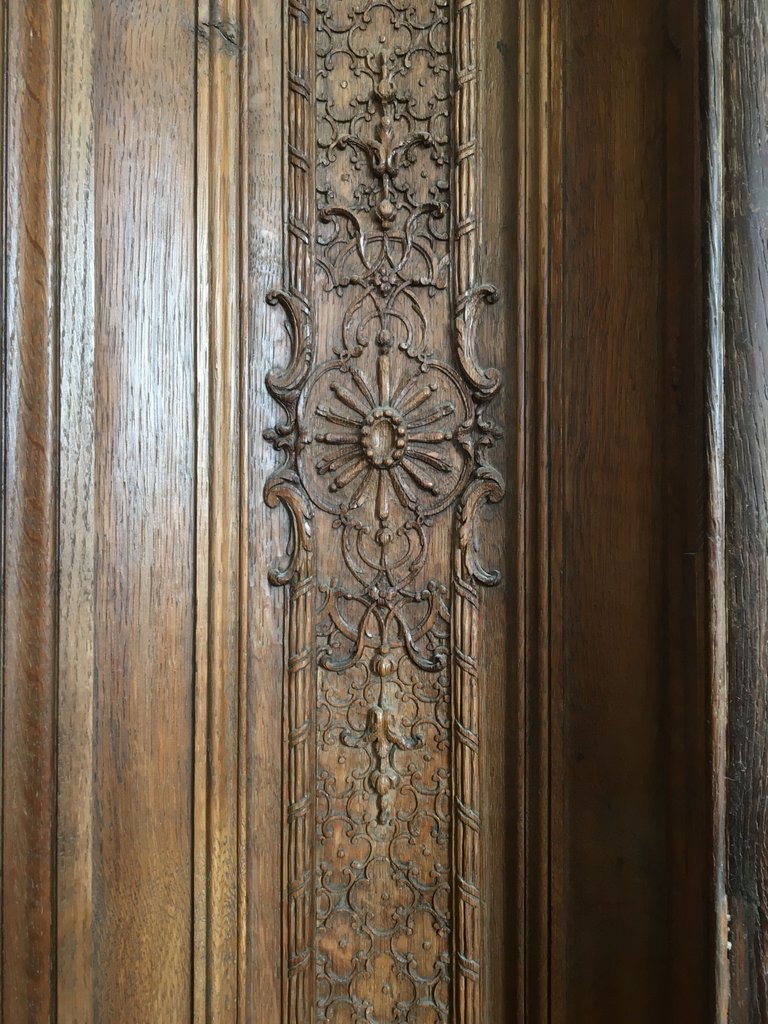 Second niveau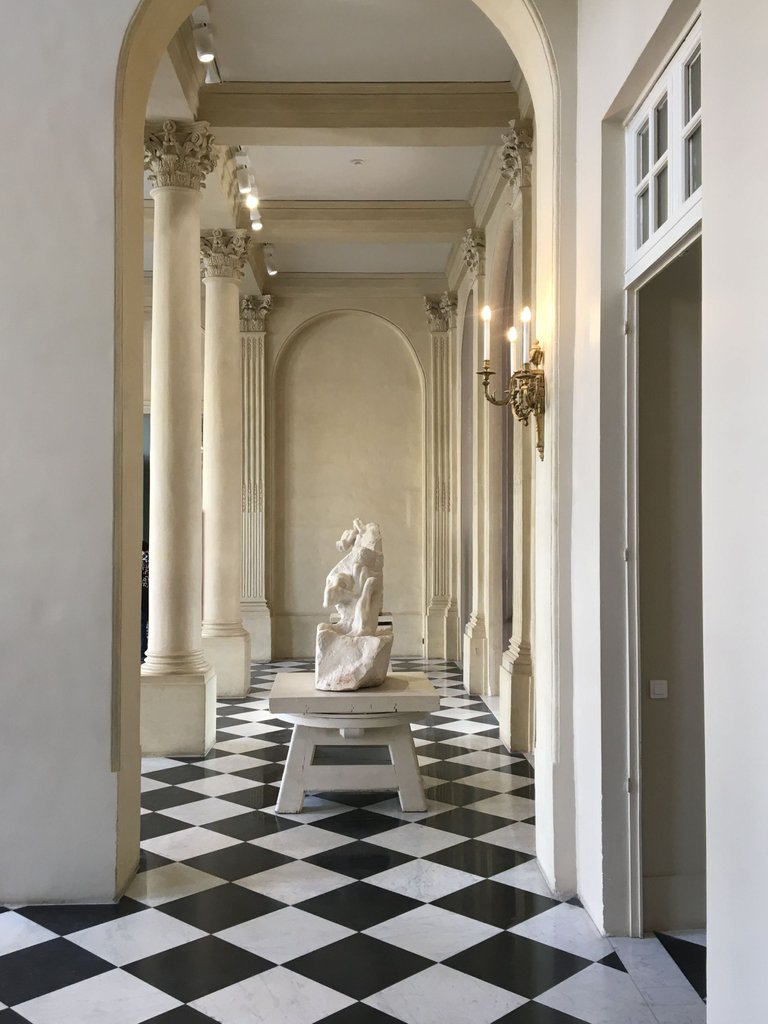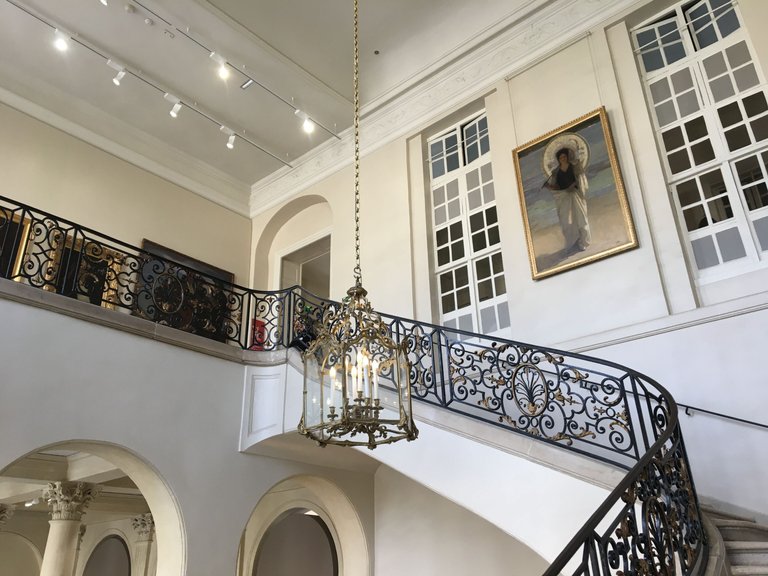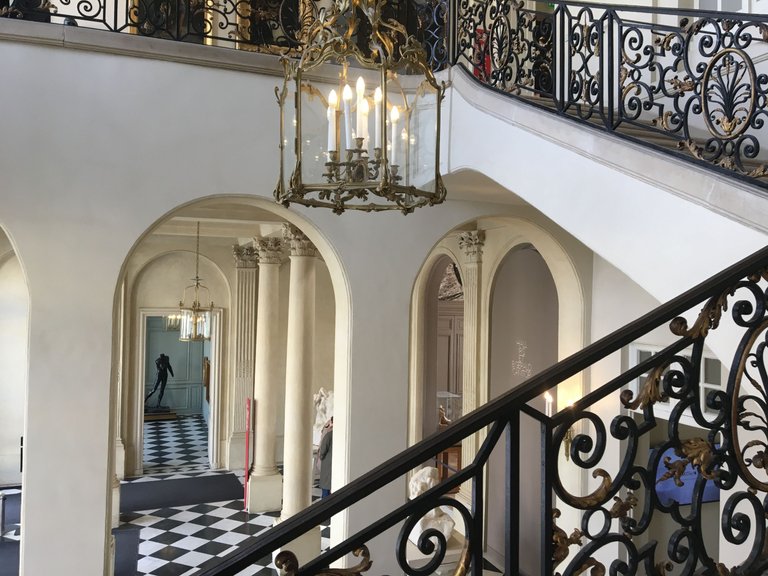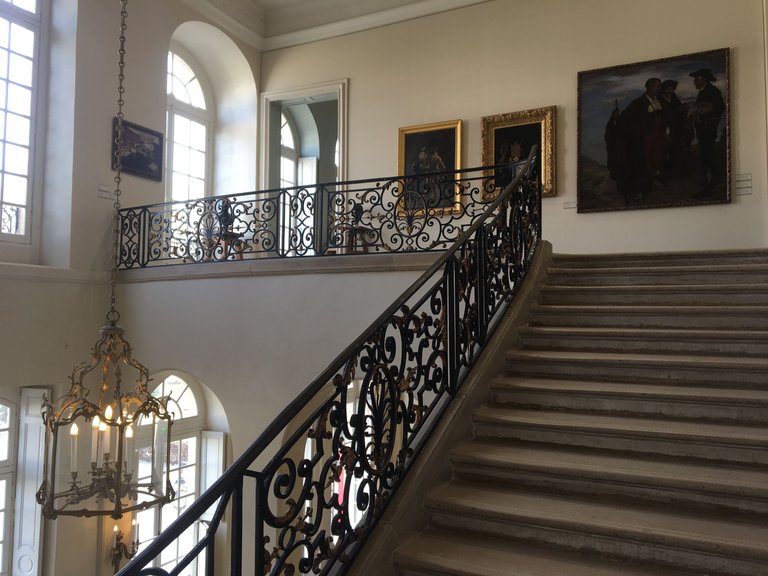 Nous voilà parvenus au premier et dernier étage du musée...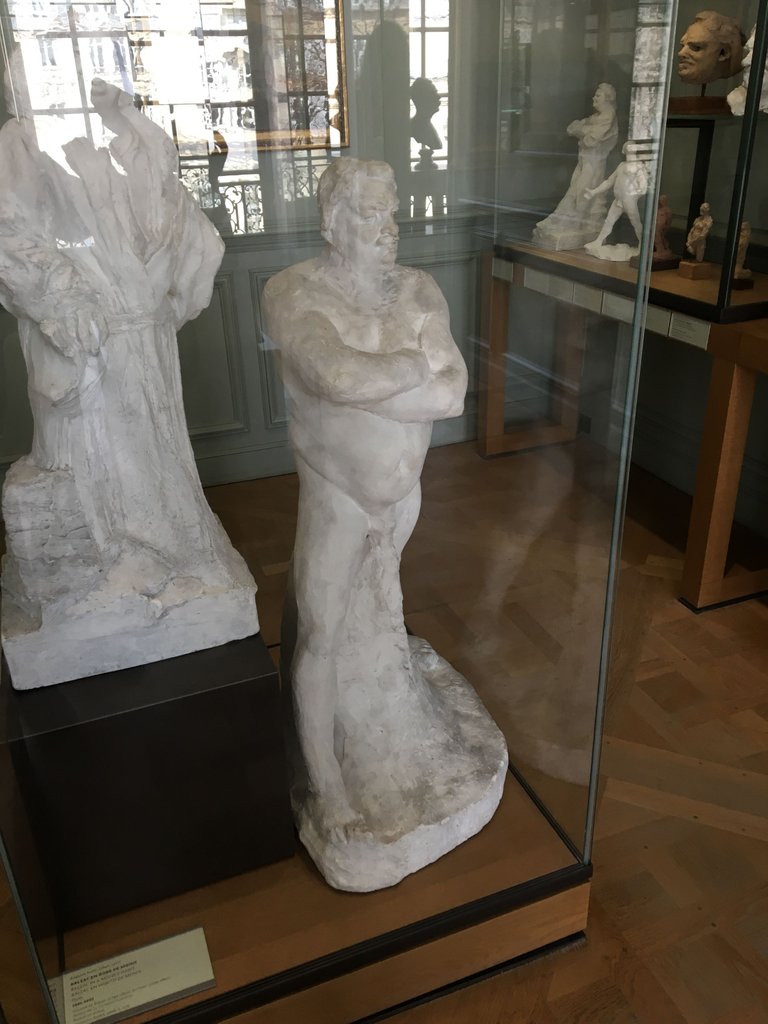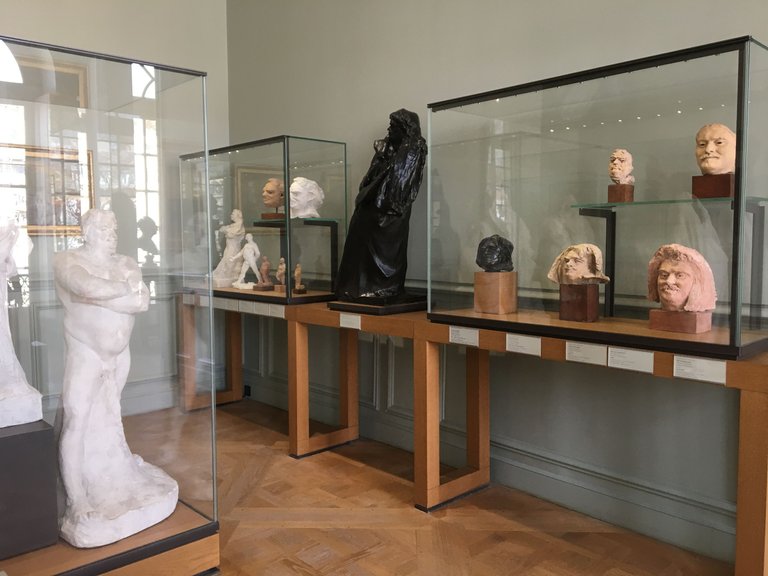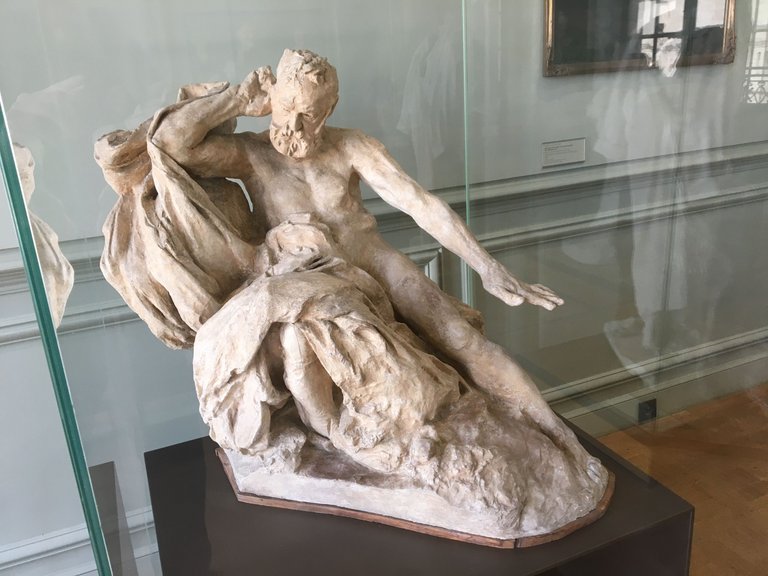 Ici, on retrouve les ébauches pour plusieurs monuments, dont un pour Victor Hugo et le second pour Balzac, que l'on peut retrouver boulevard Raspail.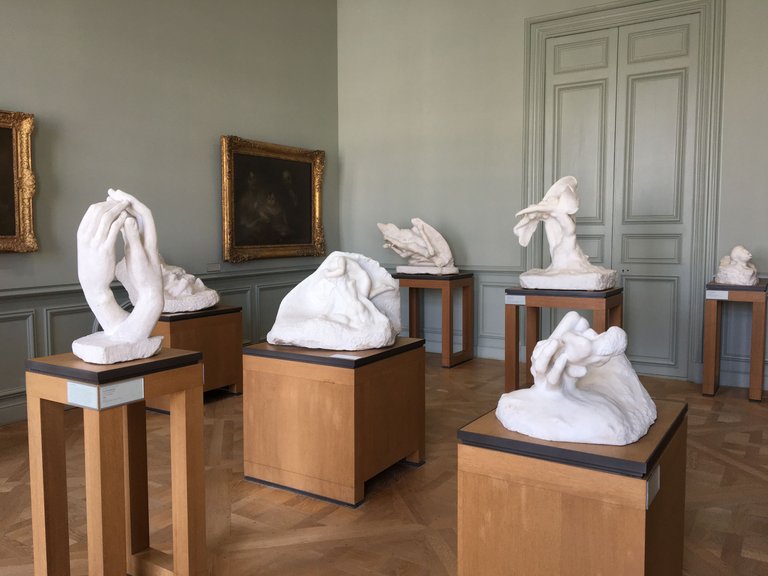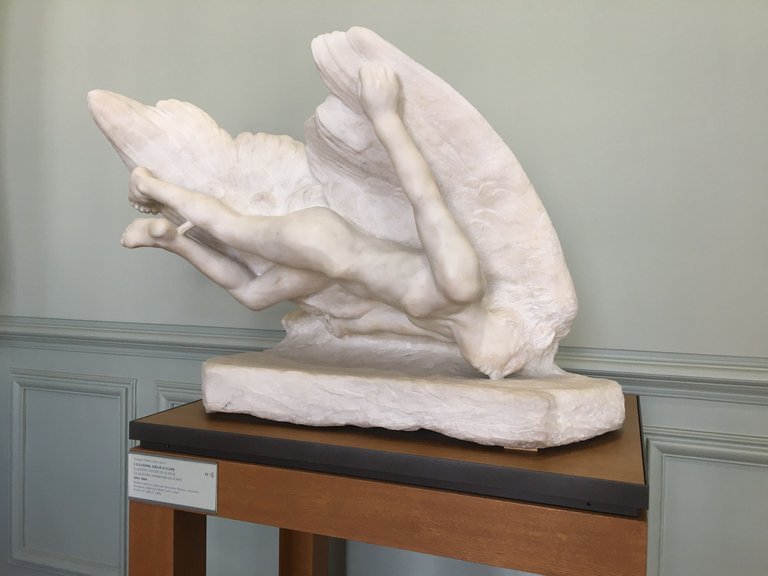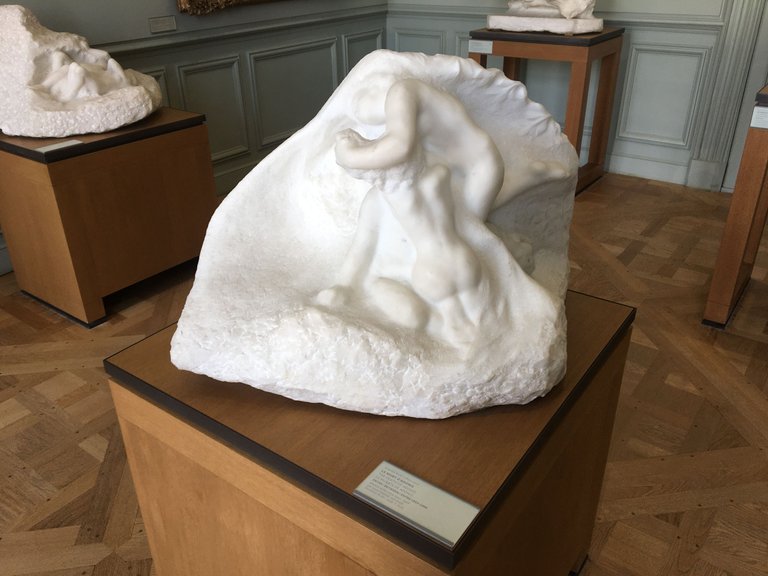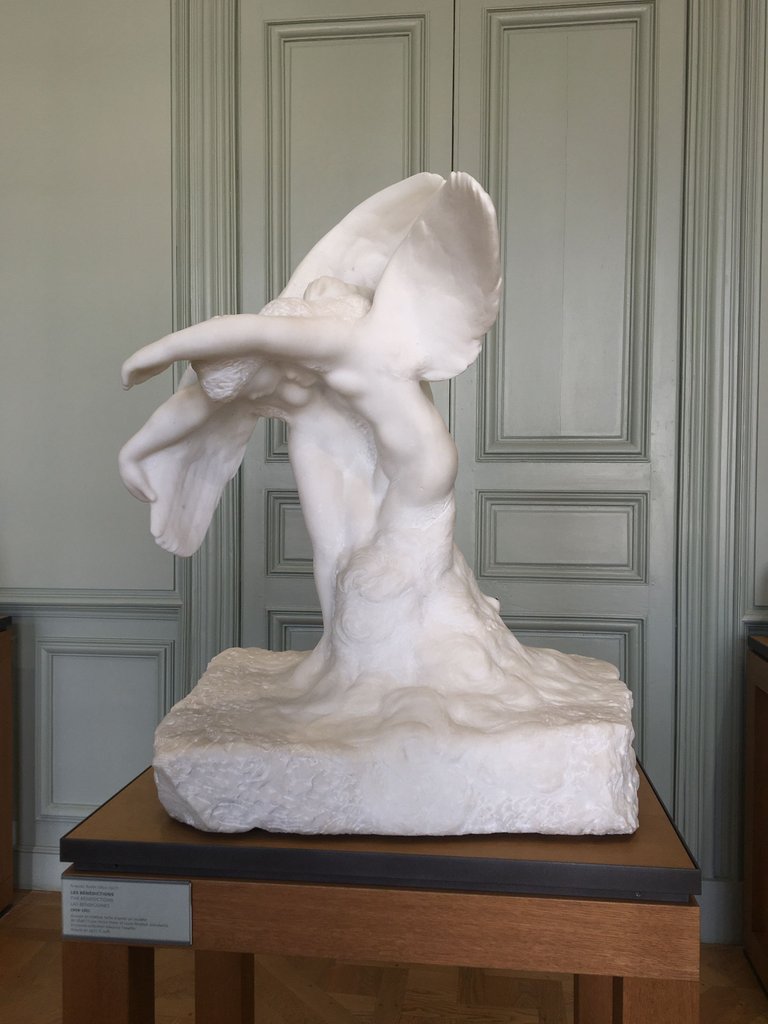 Plusieurs marbres dans lesquels on retrouve l'inspiration romantique et antique du sculpteur.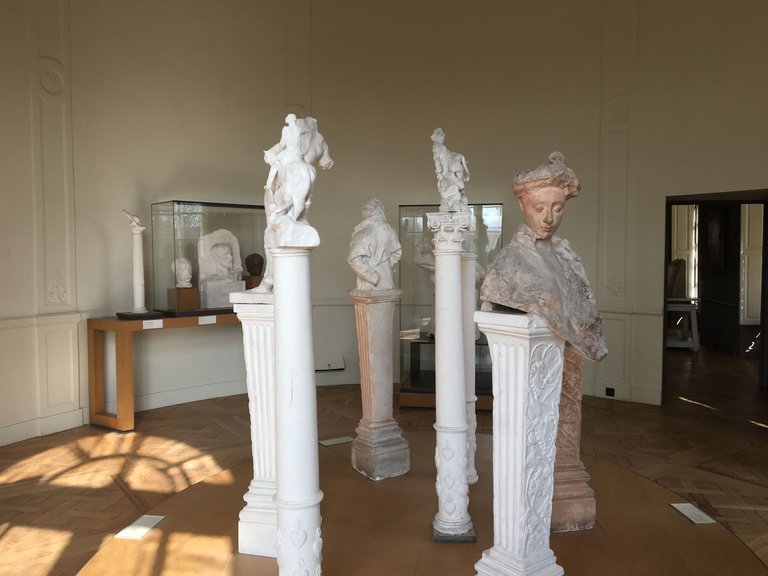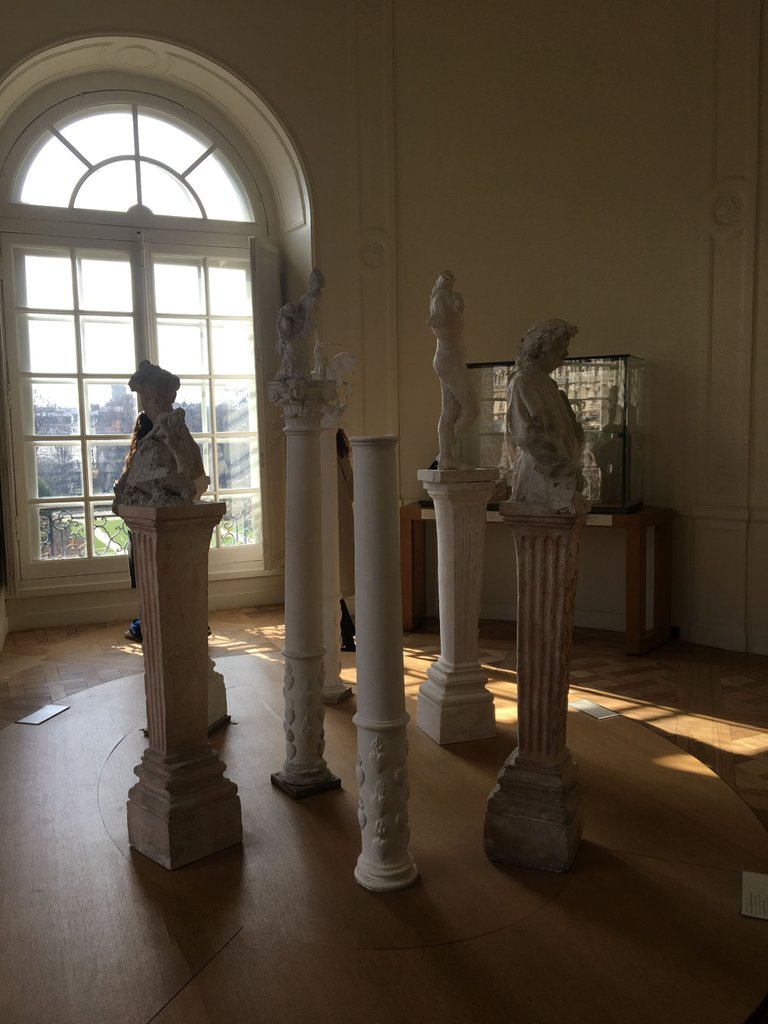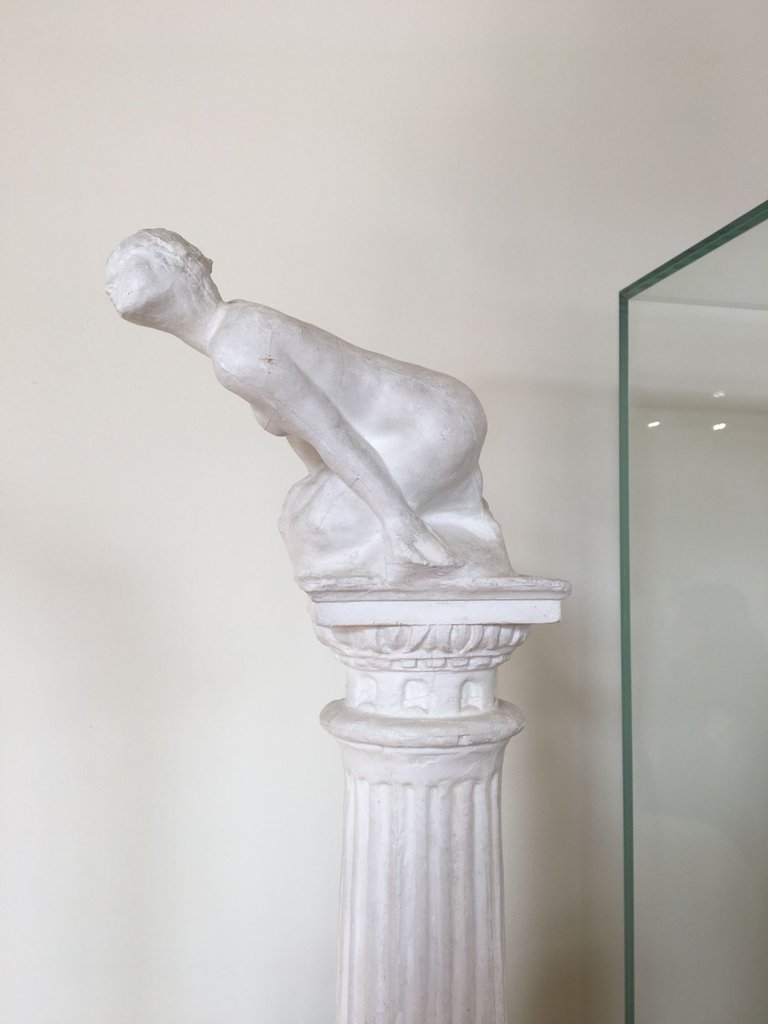 Dans cette pièce circulaire, on retrouve plusieurs statues perchées sur des colonnes. On le verra plus tard, mais cela préfigure la passion de Rodin pour les essais et les ébauches ainsi que les assemblages réalisés en plâtre.


La salle Camille Claudel
Nous voici dans la salle dédiée à celle qui fut tout à la fois la muse, la compagne et au départ, l'élève du sculpteur.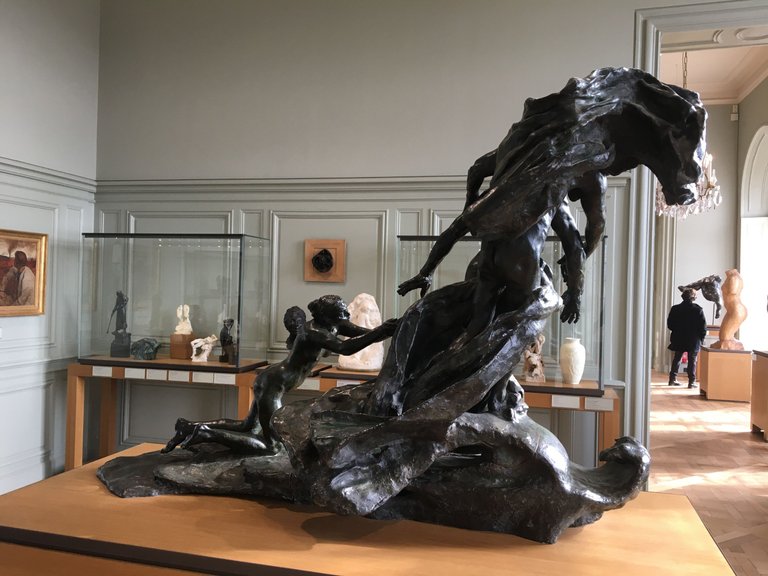 Ci-dessus, les deux côtés de la sculpture intitulée L'âge mur.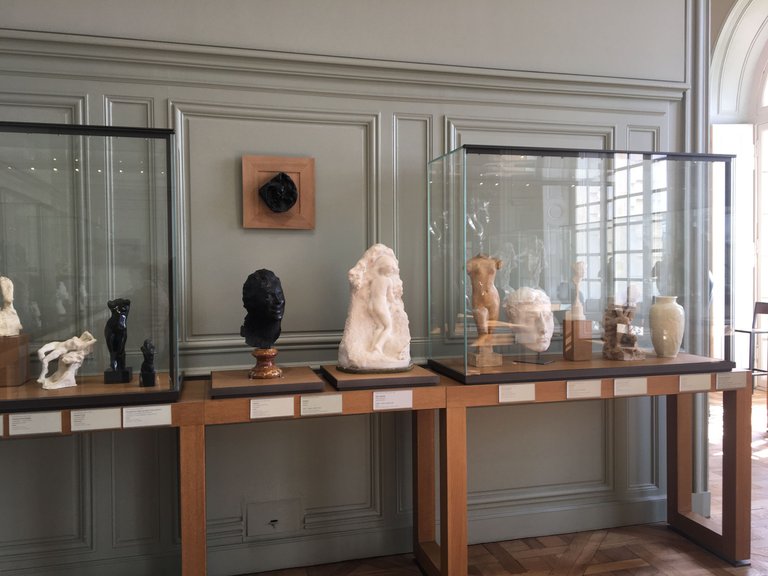 La relation entre les deux artistes est une véritable passion, qui a fait couler beaucoup d'encre et je vous recommande de vous renseigner plus précisément sur ce sujet. Vous pourrez trouver quelques éléments de réponses ici (à traduire dans votre langue).
Ci-dessous, un buste de Rodin réalisé par Camille Claudel.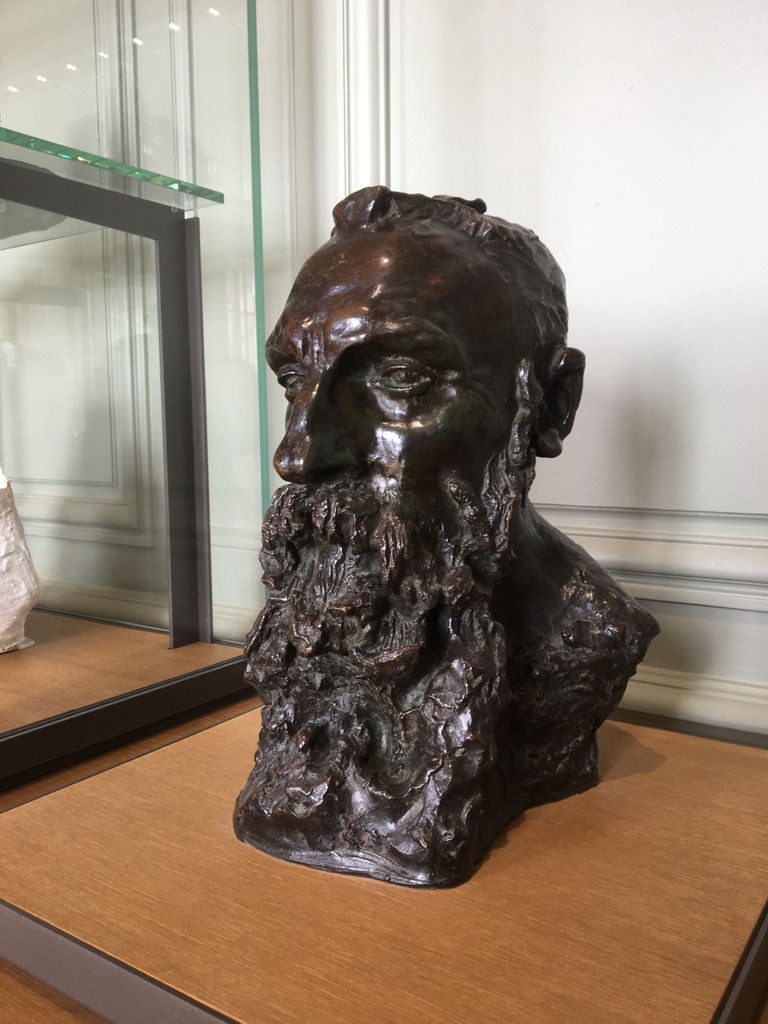 Les plâtres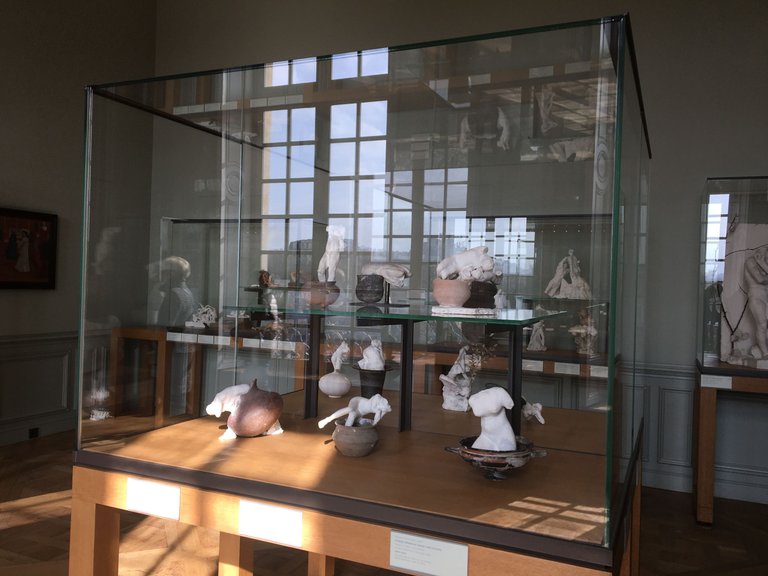 Je vous en parlais plus haut, mais Rodin comme la plupart des sculpteurs a beaucoup travaillé via le plâtre, mais sa particularité a été de s'approprier ce médium pour faire des assemblages, parfois avec des éléments déjà existants comme vous pourrez le voir ci dessous.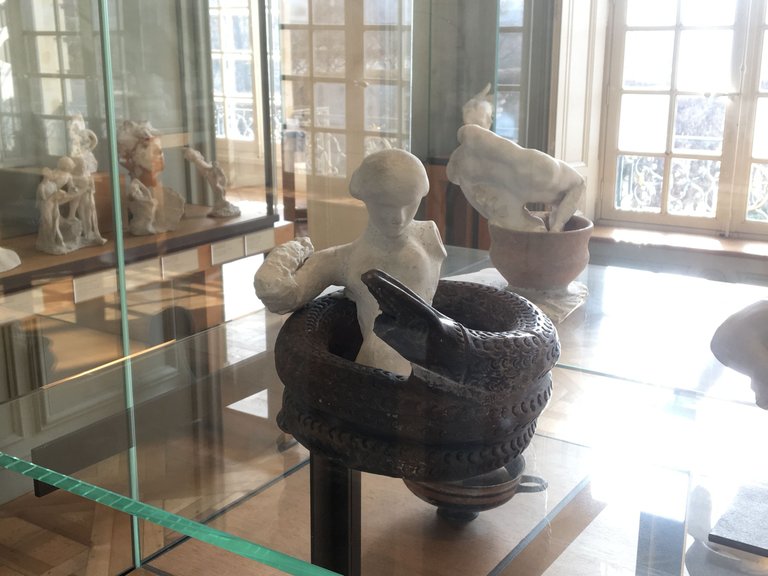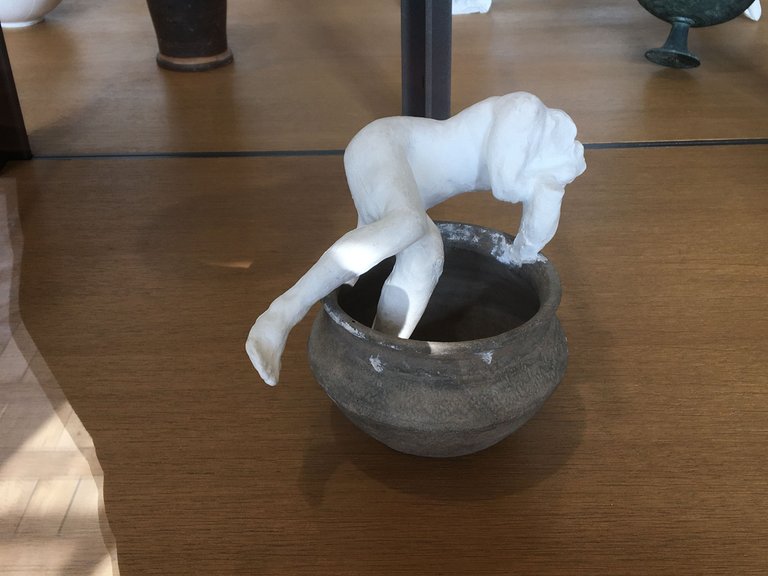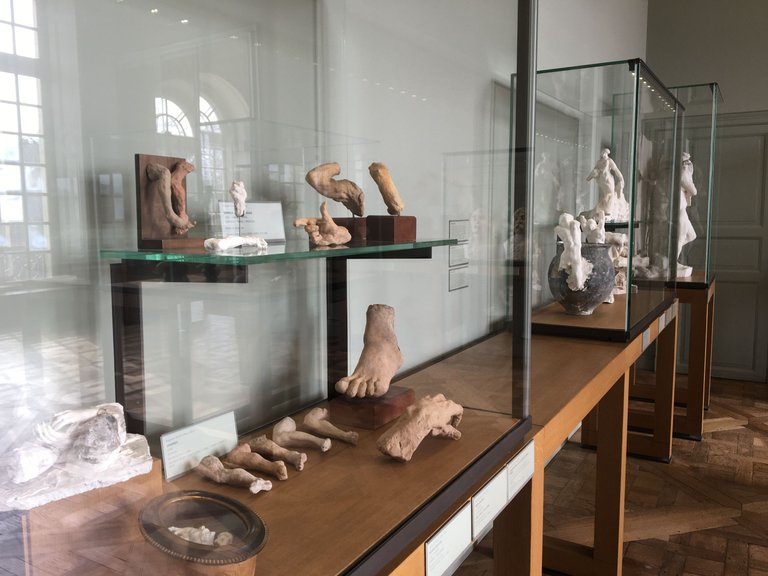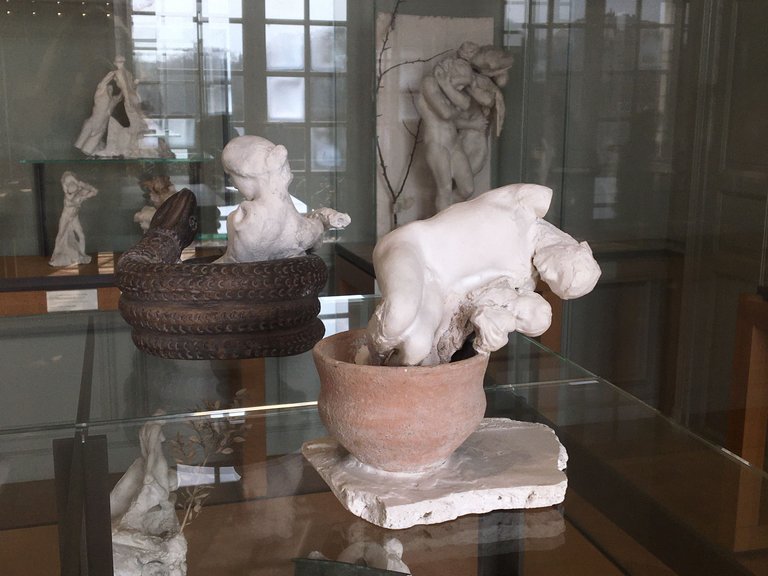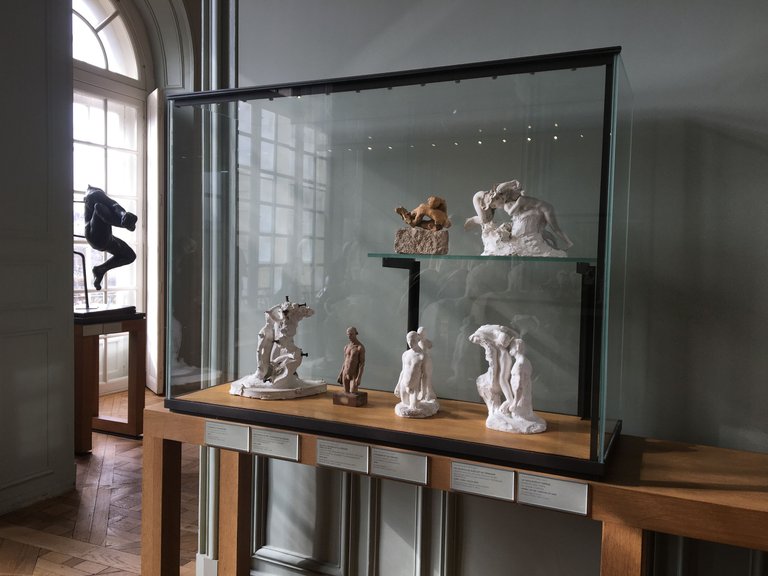 Les Collections de Rodin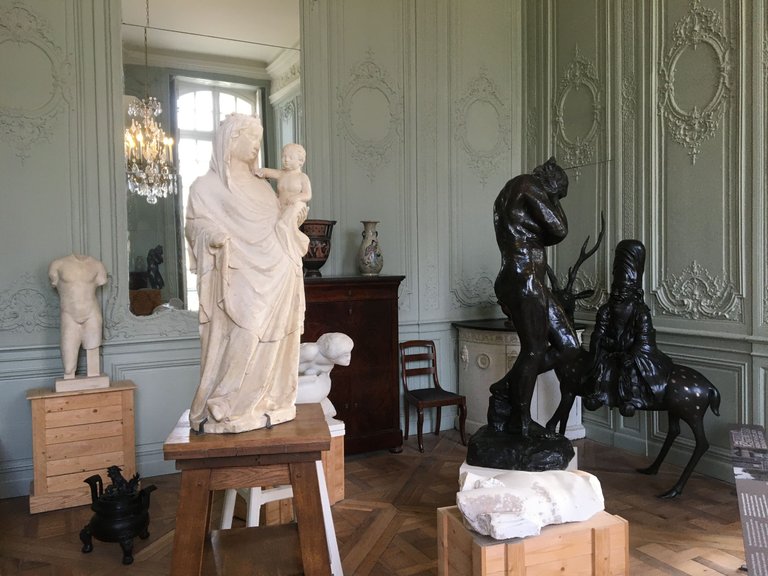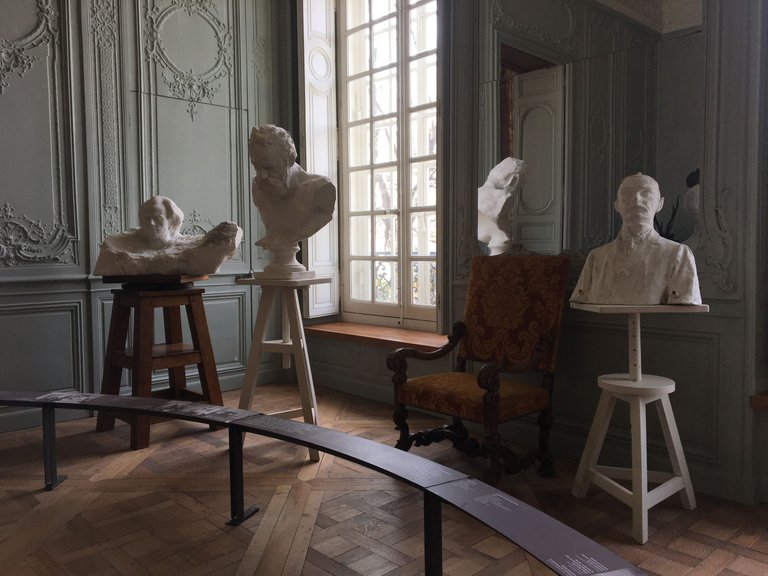 Une des autres choses notables quand à l'artiste, c'est qu'il a été tout sa vie un collectionneur d'objets anciens, antiques et égyptiens notamment et qui sont venus nourrir son fond d'inspiration et donc sa pratique de la sculpture.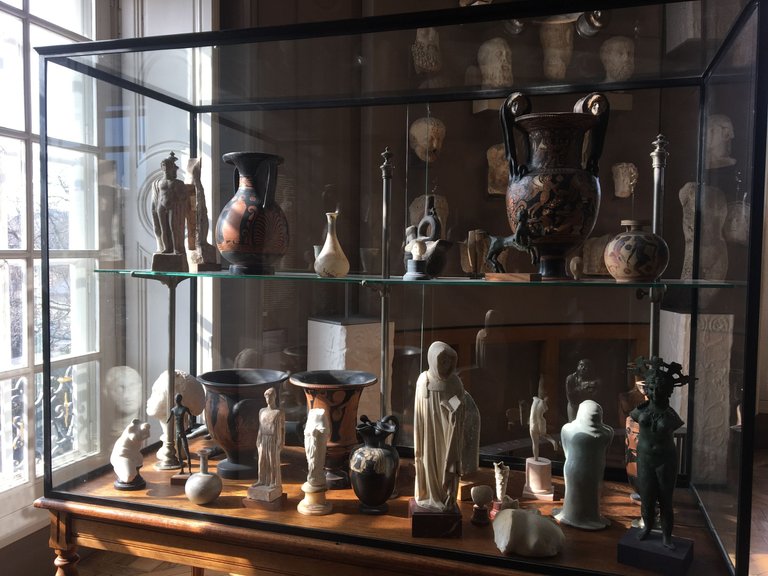 Ici, une vitrine renfermant des objets romains et grecs principalement.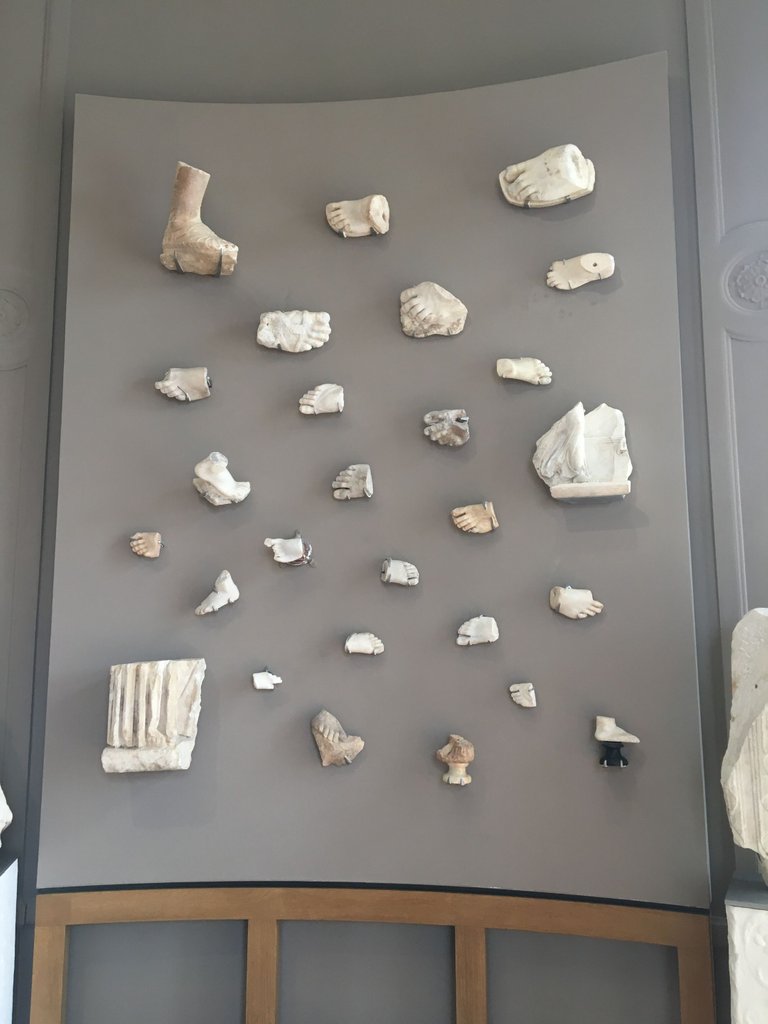 Dans ces dernières salles, on retrouves beaucoup de fragments de statues de marbre et pour d'autres, il s'agit aussi de morceaux et d'ébauches d'oeuvre de l'artiste.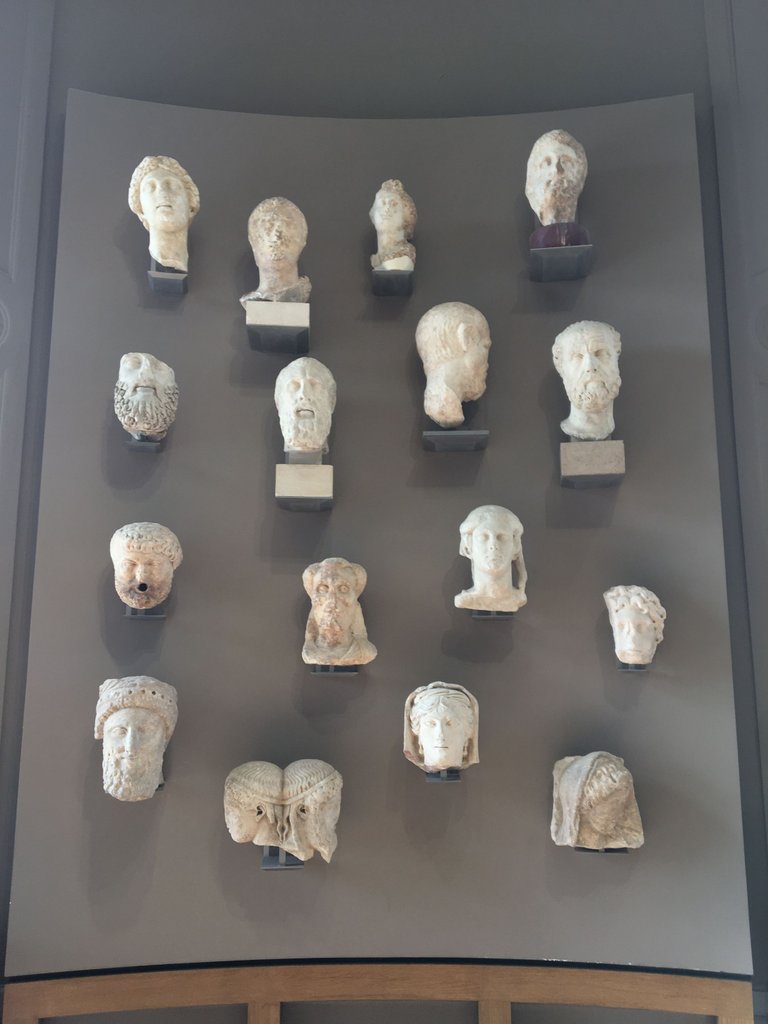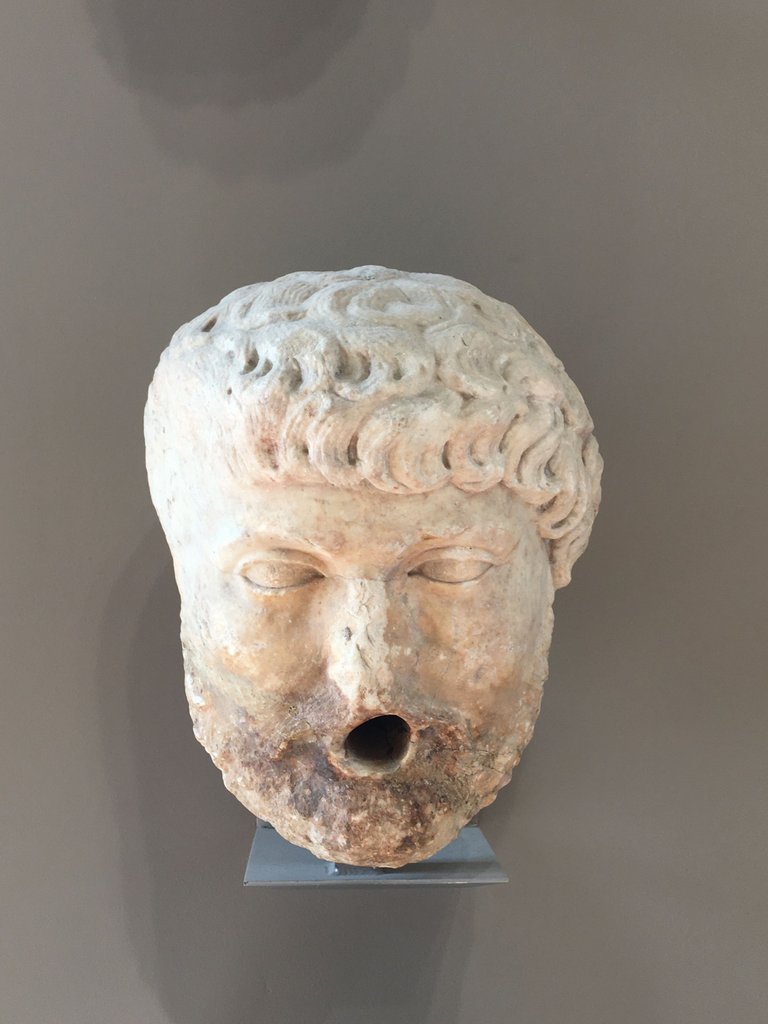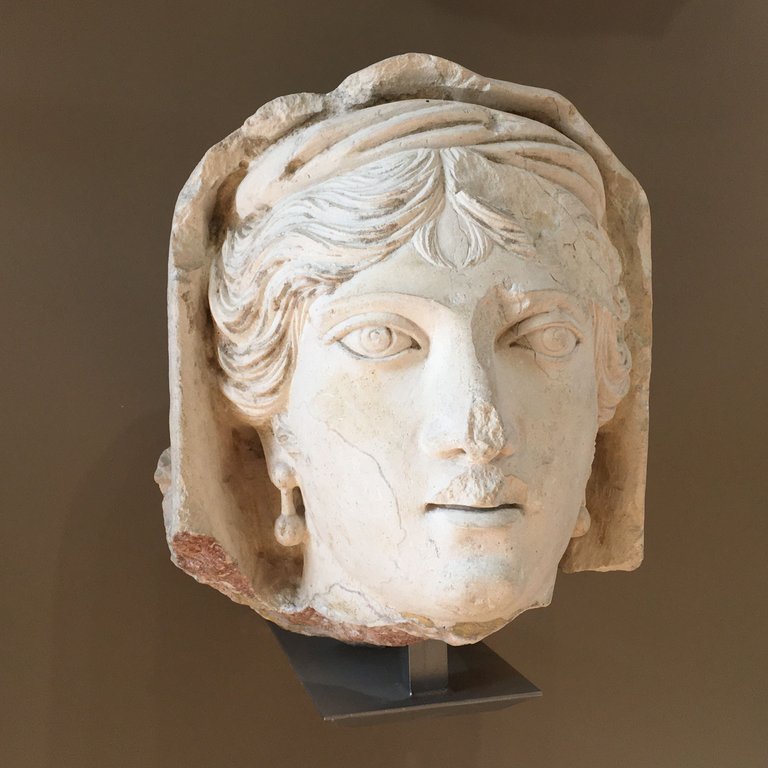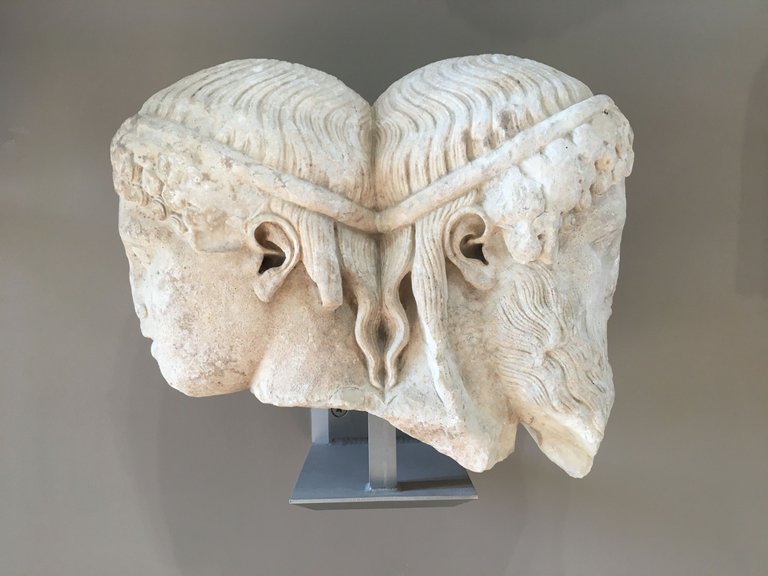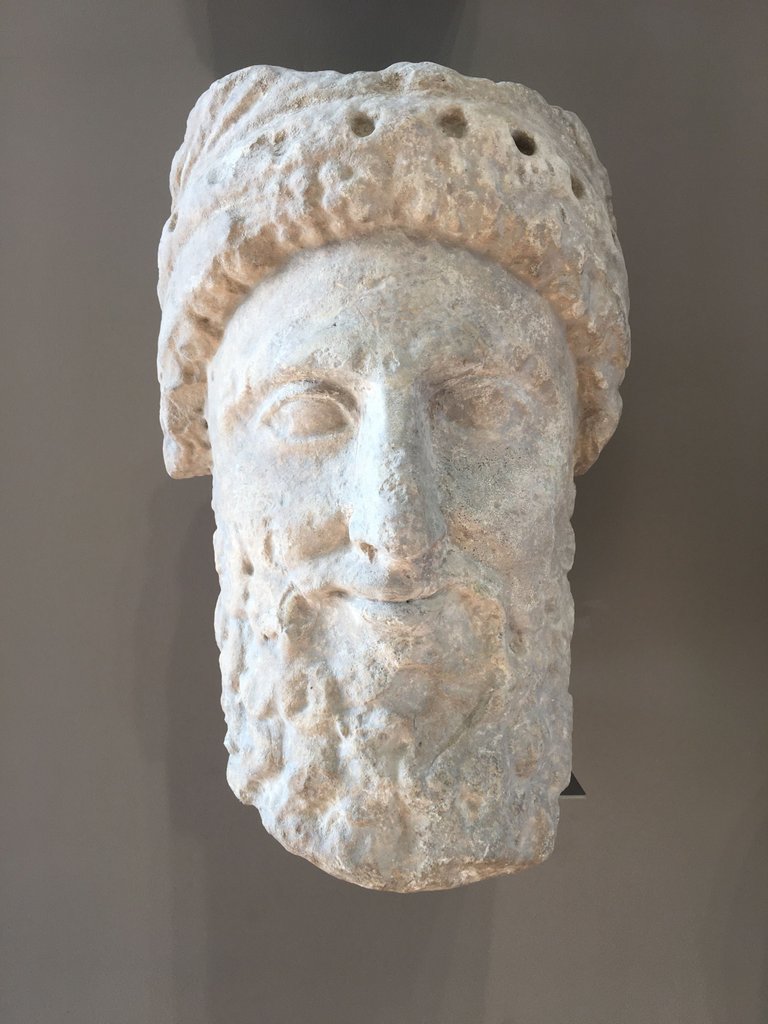 Ici, toute une collection de têtes de statues romaines, chacune plus expressive que ses voisines !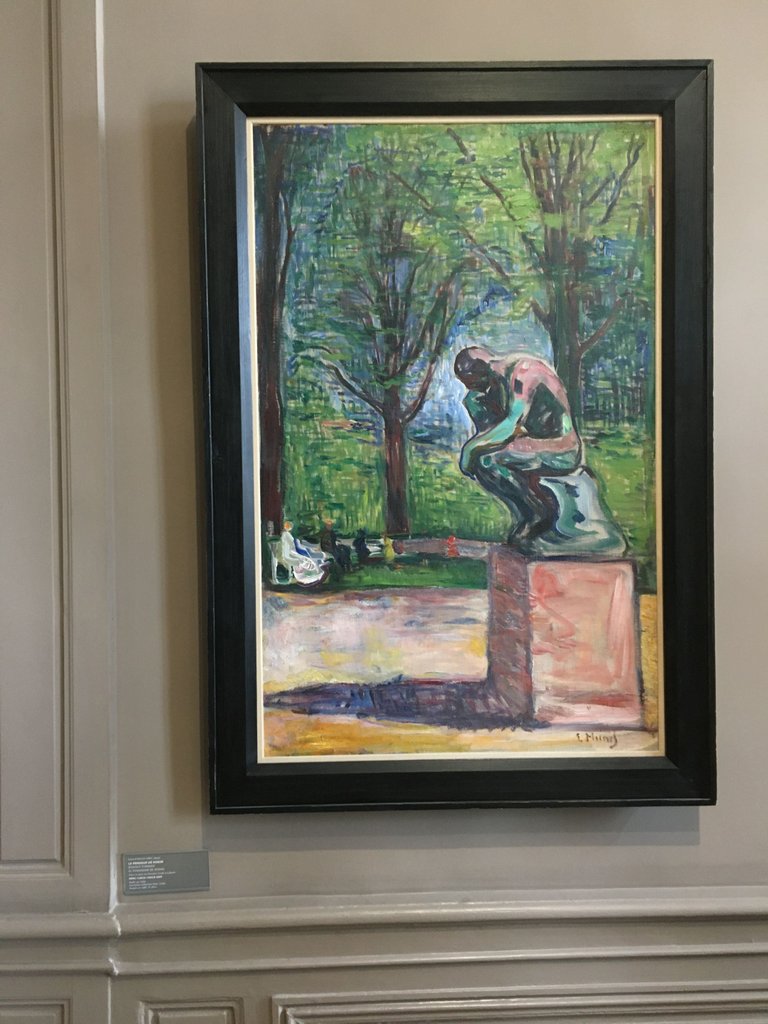 Nous terminerons sur cette toile représentant la célèbre sculpture du Penseur, réalisée par l'artiste norvégien Edvard Munch, un bel hommage !
---
J'espère que cette longue et visite assez complète et copieuse vous aura plût ! Je vous remercie pour votre visite et le temps de votre lecture, n'hésitez pas à partager vos impressions, sentiments, souvenirs ou questions dans les commentaires :)
Bon weekend à tous et à très bientôt,
<3
---
---