How to make a good Chinese Chili Sauce and to avoid making the same Mistakes I did
Hello dear Hivers ! How are you today ?
It's hot here, the thermometer is reading 30°C in Paris and it's safe to say that the heat I'm feeling is even higher, but that's clearly not the only reason I'm feeling this heat. No, the other reason is that I've just made myself a dish drizzled with a good spoonful of this Chinese-inspired chili sauce that I made a few days ago.
I'd like to make it clear that I'm not of Asian descent and I'm not claiming to have made a perfect sauce, nor one that's entirely up to standard. However, this one is already very good, but I'll be making even more progress on the next one !
All these images are mine (obviously) and were taken with my Nikon D5500 camera equipped with a Sigma 17-70mm lens, the one I use almost every day.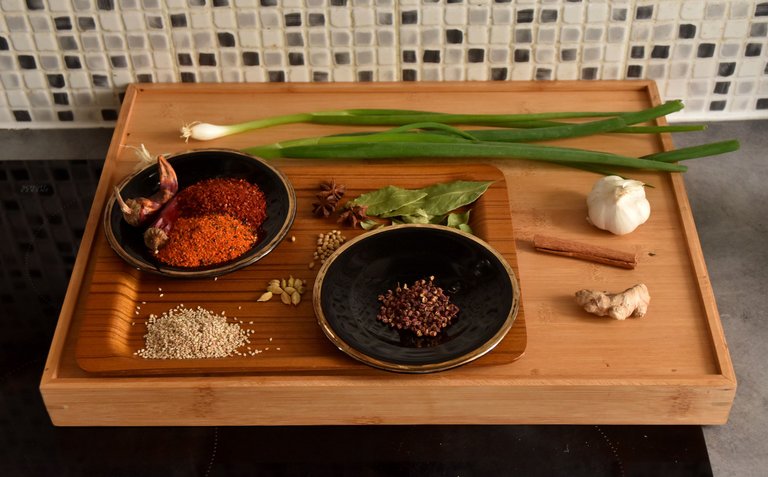 I blended several other recipes to make this recipe, but this is the one I used the most :
INGREDIENTS
1 ginger root
2 cloves of garlic
1 shallot or 1 red onion
3 star anises
1 smoked black cardamom @epices_shira
1 cinnamon stick
2 bay leaves sauce
3 teaspoons Sichuan pepper
365 g neutral oil (canola, sweet olive, grapeseed, etc.)
40 g dried chillies
INSTRUCTIONS
Cut a ginger root into strips along with 2 cloves of garlic and a shallot.
Place in a saucepan with the star anise, black cardamom, cinnamon, bay leaf sauce and Sichuan pepper.
Cover with the oil.
Heat over a gentle heat and when it starts to boil, turn off and leave to infuse for 30 mins to 1 hour.
Flake the dried chillies.
When the oil is infused, return the heat to a gentle boil.
When hot, pour over the chili flakes (make sure you have a heatproof bowl).
Toss and leave to cool, then pour into jars. You can strain the herbs but keep the chili flakes.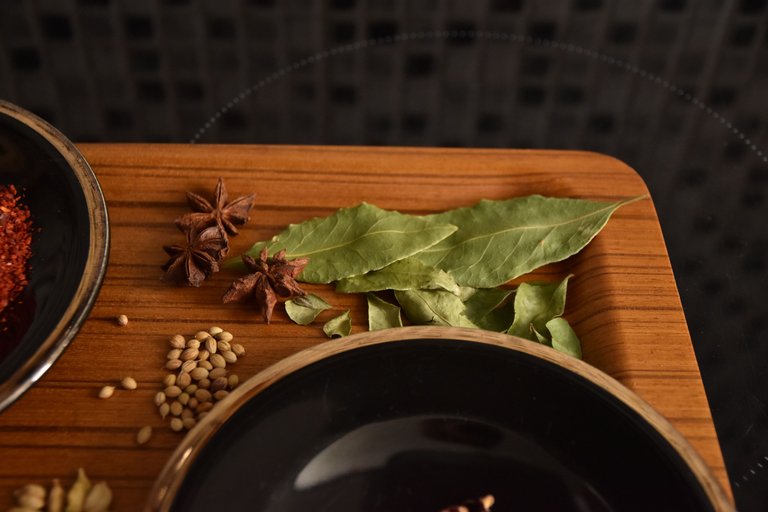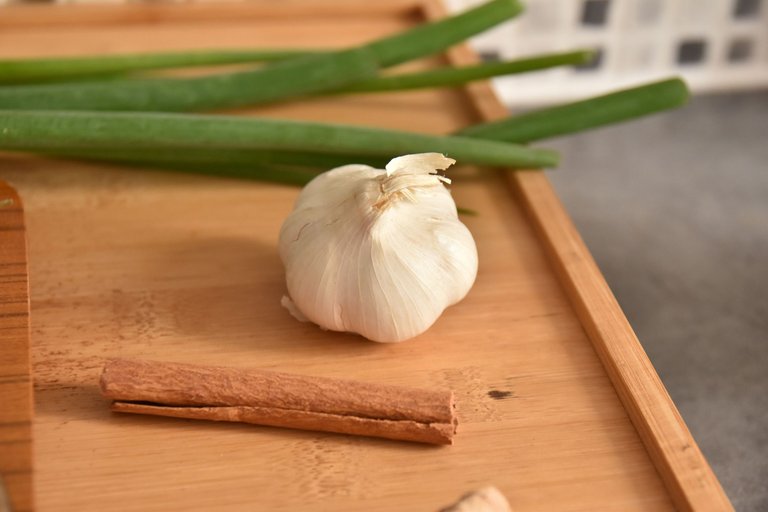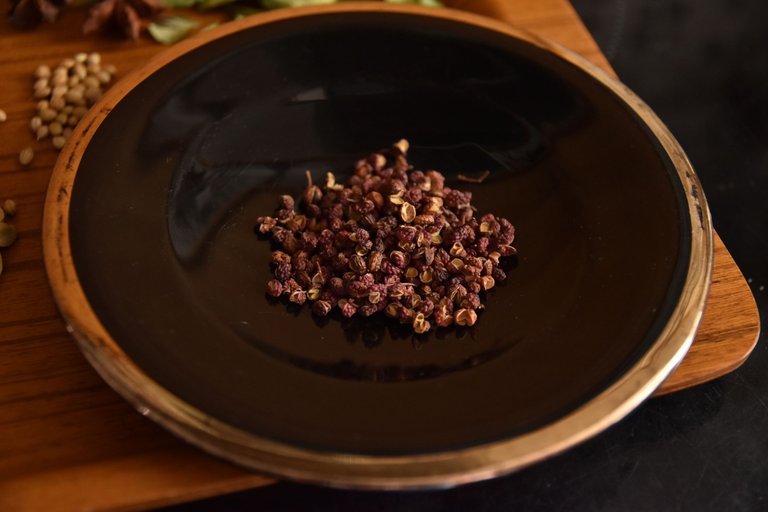 Above is a small series of details of the ingredients I used, grosso modo those mentioned above.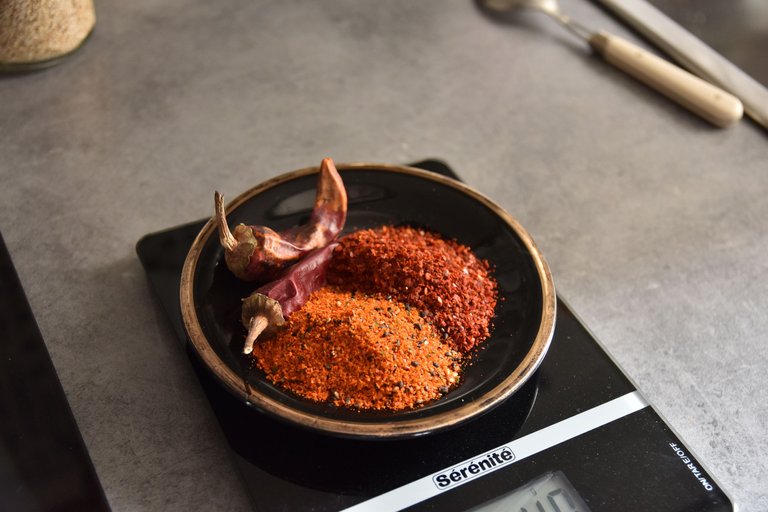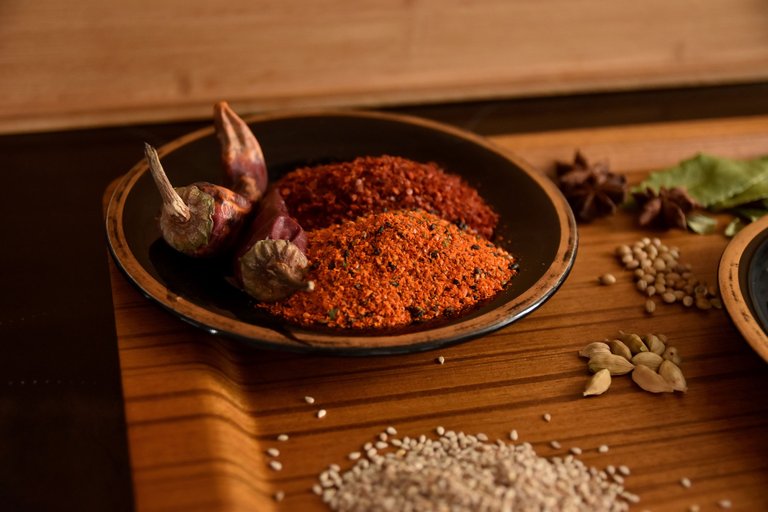 Here, two closer shots of the chillies, a third of Korean gochugaru, Espelette chillies and finally, a Japanese blend, Shichimi tōgarashi.
But let's start together these various steps, all rather simple and short.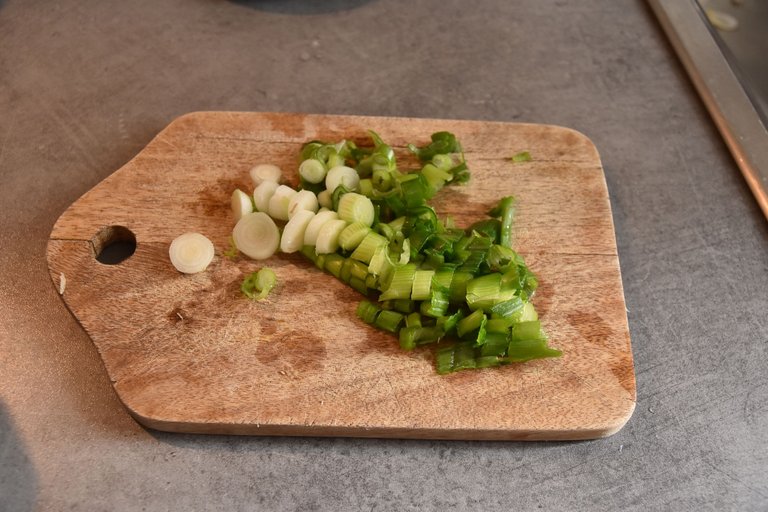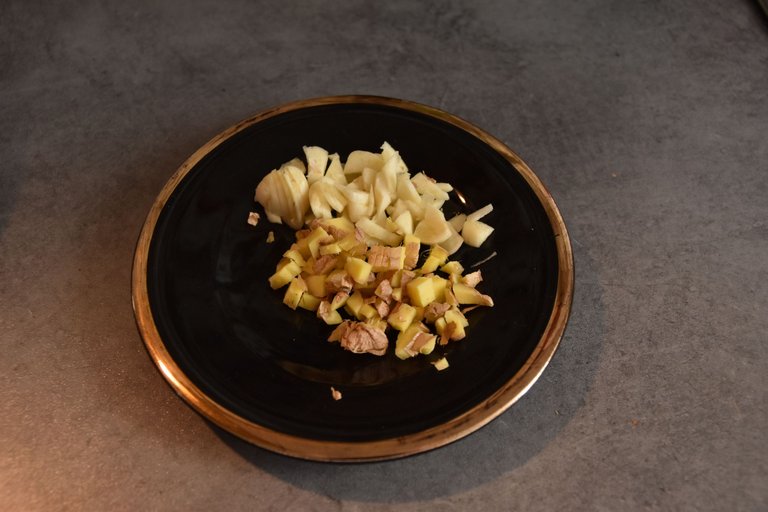 Chop the various fresh ingredients, which are the garlic, fresh onions and ginger.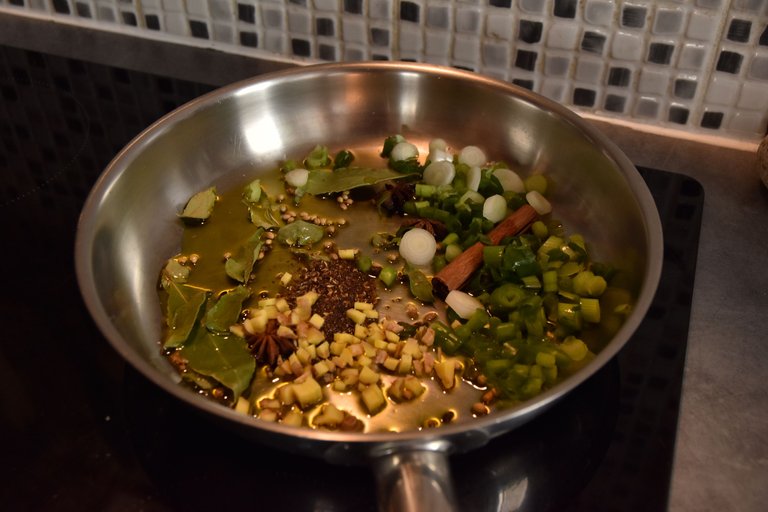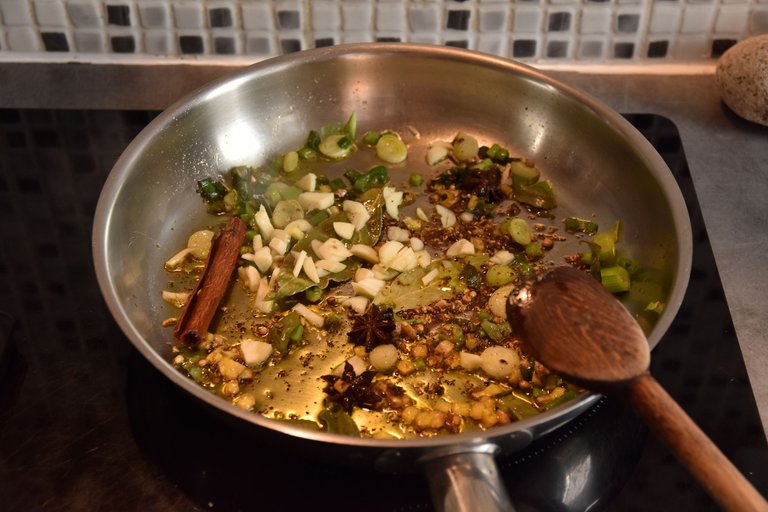 Put the spices and fresh ingredients in a frying pan with a little oil and brown over a low heat.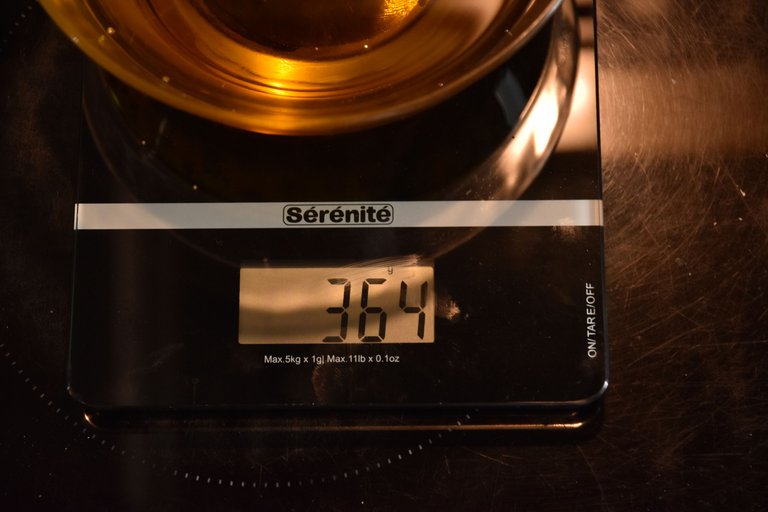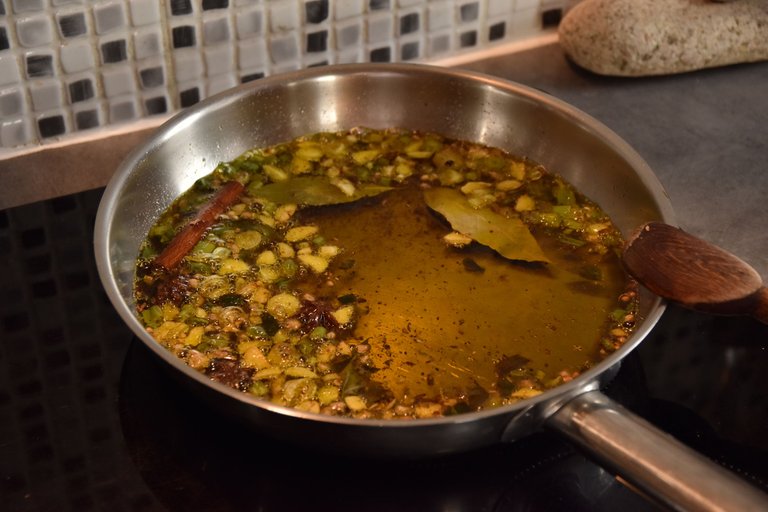 Add the 365 grams of oil, in this case I used organic rapeseed oil. Continue to heat for around 30 minutes to an hour.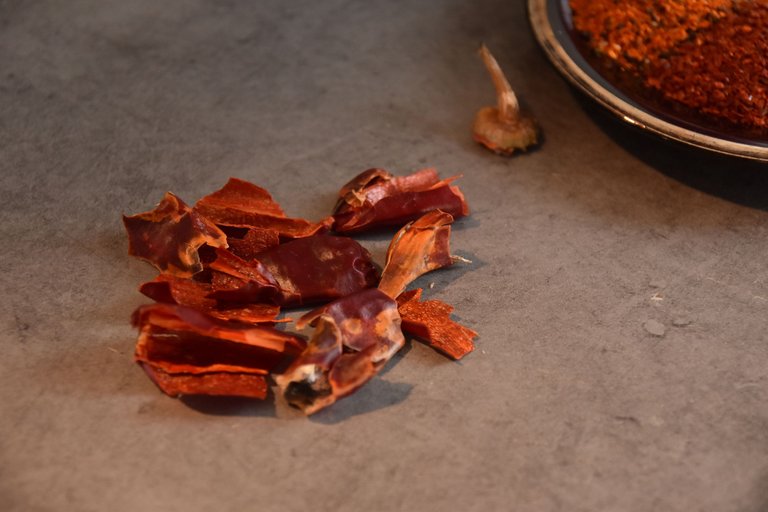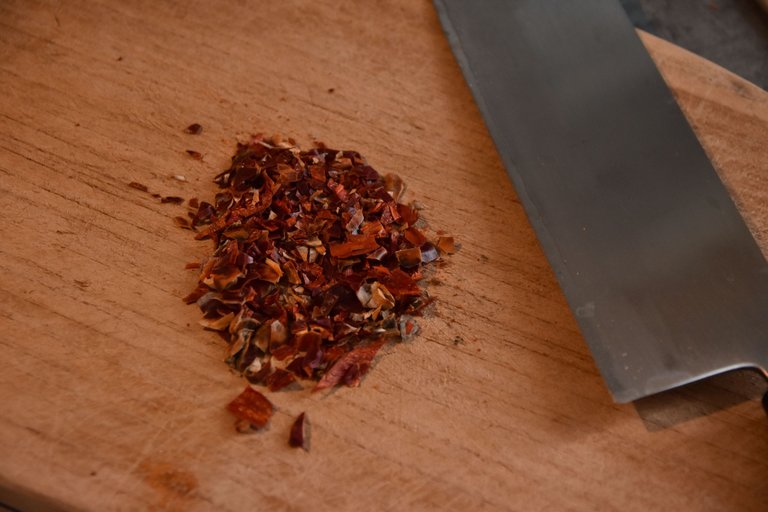 Chop the chillies if, like me, you have dried ones. These are Espelette chillies.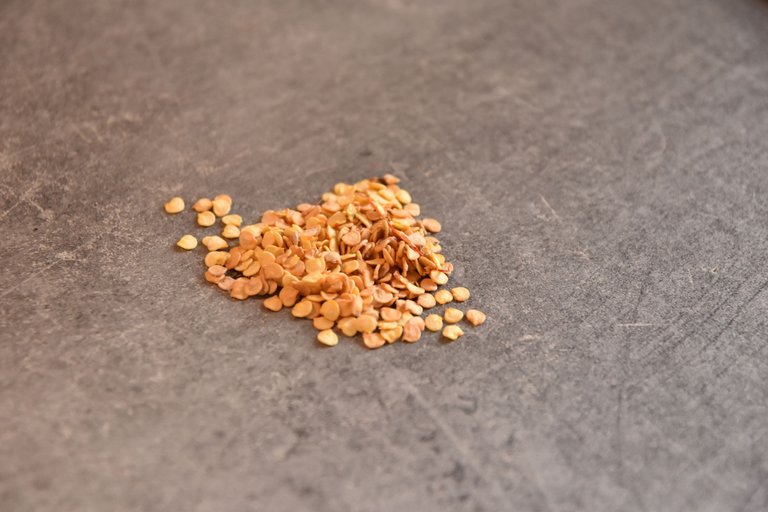 I saved the seeds to try and grow this specific variety.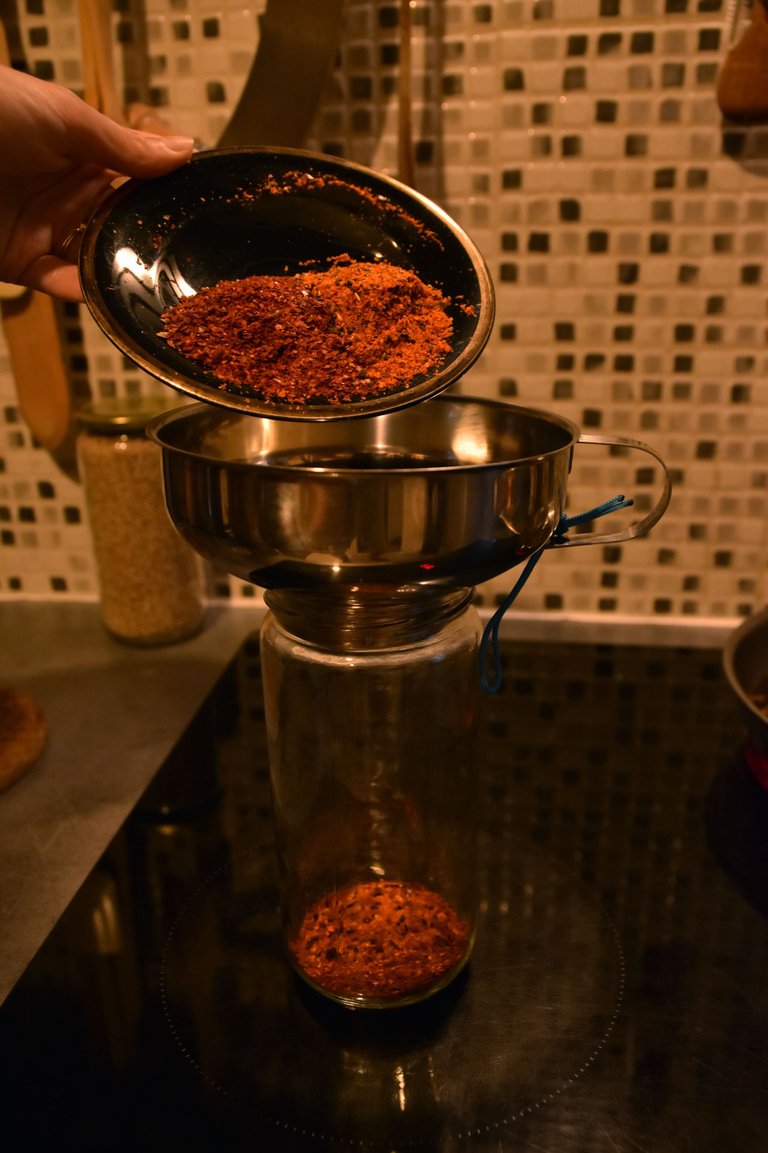 After resting for an hour, heat the oil a little and place the chillies in your container. In this case, a classic glass jar. Pour the hot oil over the chili flakes.
Now to my two mistakes.
The first was to pour soy sauce over the chili flakes while the oil was heating up. The oil started to fry completely and I think you could taste that.
The second was that at the very end, I put my sesame seeds directly into the hot oil and I have to say that some of them were completely charred.
But normally, for the other things, I'll do everything more or less the same way !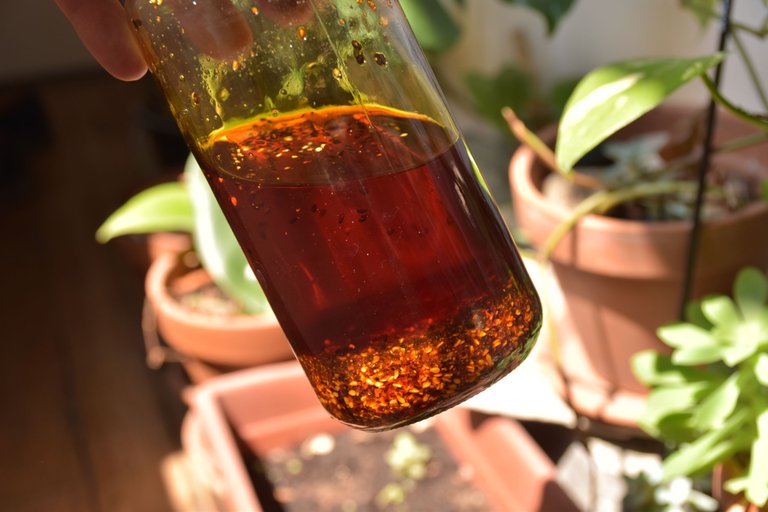 Here's the result, as colorful and beautiful as it is spicy !
I hope you've enjoyed this article and that it's inspired you to start making this very simple and tasty sauce :) Thanks for visiting and reading, I wish you to have a great day !
<3
---
---
---
Salut chers Hivers ! Comment allez-vous aujourd'hui ?
Ici il fait chaud, ça y est le thermomètre indique 30°C à Paris et on peut se dire que que la chaleur ressentie est même plus élevée, mais ce n'est clairement pas la seule raison pour laquelle je ressens cette chaleur. Non, l'autre que vous aurez bien compris, c'est que je viens de me faire un plat arrosé d'une bonne cuillère de cette sauce pimenté d'inspiration chinoise que j'ai préparé il y a quelques jours.
Je précise directement que je ne suis pas d'origine asiatique et que je n'ai aucune prétention à avoir fait une sauce parfaite ni tout à fait dans les règles de l'art. Pour autant, celle-ci est déjà très bonne, mais je ferai encore des progrès sur la prochaine !
Toutes ces images sont les miennes (bien évidemment) et ont été réalisées avec mon appareil Nikon D5500 équipé d'un objectif Sigma 17-70mm, celui que j'utilise presque tous les jours.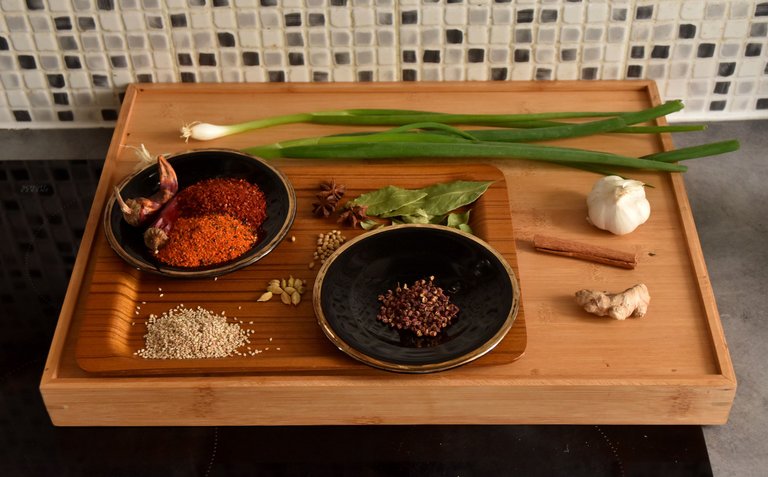 Pour réalisé cette recette, j'ai mixé plusieurs autres recettes, mais c'est principalement celle-ci que j'ai utilisé :
INGRÉDIENTS
1 racine de gingembre
2 gousses d'ail
1 échalote ou 1 oignon rouge
3 anis étoilés
1 cardamome noire fumée @epices_shira
1 bâton de cannelle
2 feuille de laurier sauce
3 cuillères à café de poivre de Sichuan
365 g d'huile neutre canola, olive douce, pépin de raisin...
40 g de piments secs
INSTRUCTIONS
Couper en lamelles une racine de gingembre ainsi que 2 gousses d'ail et une échalote.
Mettre tout cela dans une casserole avec l'anis étoilés, la cardamome noire, la cannelle, le laurier sauce, le poivre de Sichuan.
Recouvrir le tout d'huile.
Faire chauffer sur feu doux et lorsque ce commence à bouillir, éteindre et laisser infuser 30mn à 1h.
Réduire en flocons les piments secs.
Lorsque l'huile est infusée, remettre sur le feu à bouillir légèrement.
Lorsqu'elle est chaude, verser sur les flocons de piment (attention à bien avoir un bol résistant à la chaleur).
Touiller et laisser refroidir puis mettre en pot . Vous pouvez filtrer les aromates mais gardez les flocons de piment.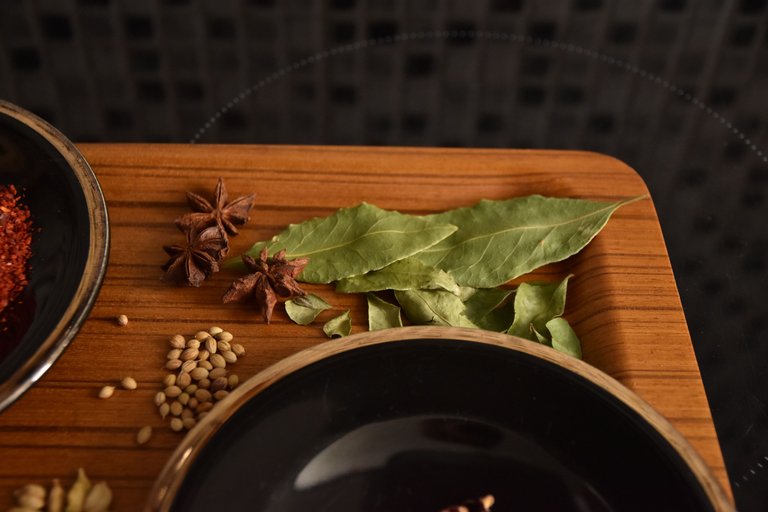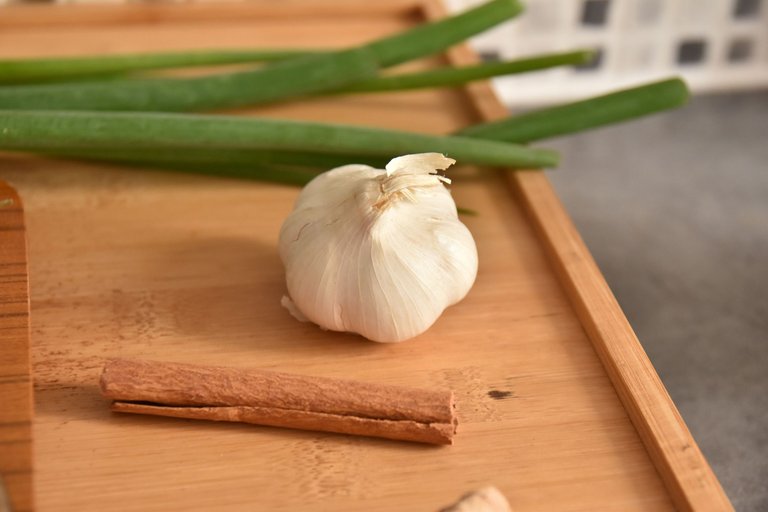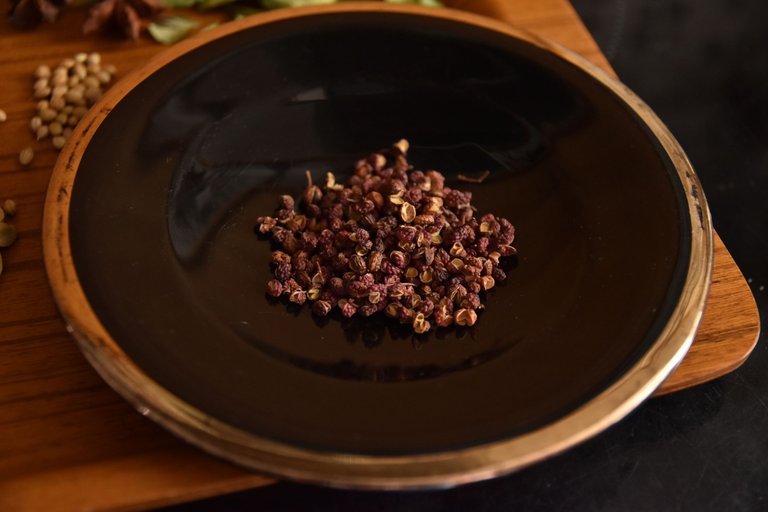 Voilà ci-dessus une petite série de détails des ingrédients que j'ai utilisé, grosso modo ceux qui sont mentionnés plus haut.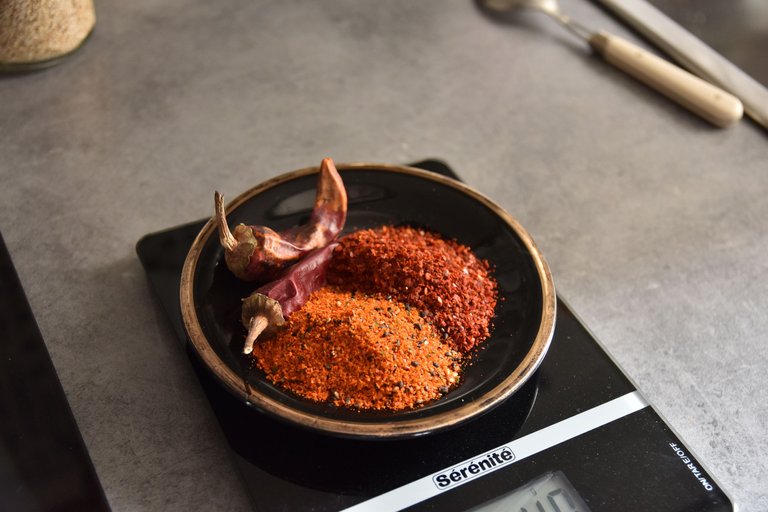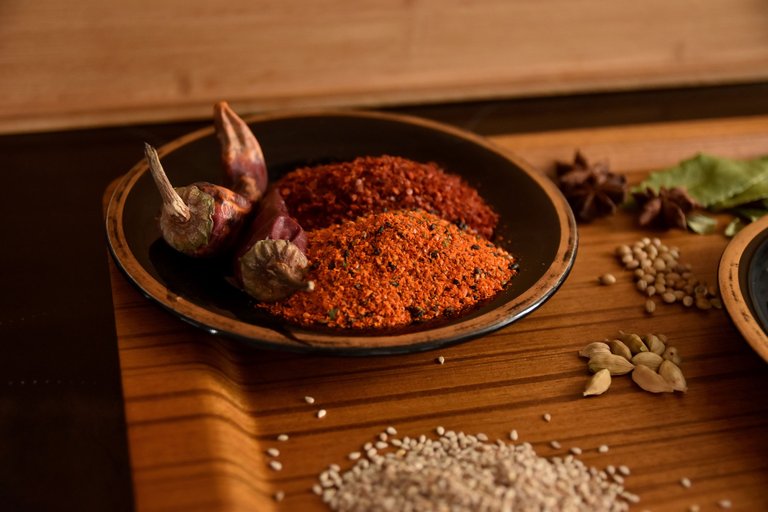 Ici, deux plans plus rapprochés des piments, un tiers de gochugaru coréen, des piments d'Espelette et pour finir, un mélange japonais, le Shichimi tōgarashi.
Mais commençons ensemble ces différentes étapes, toutes plutôt simples et courtes.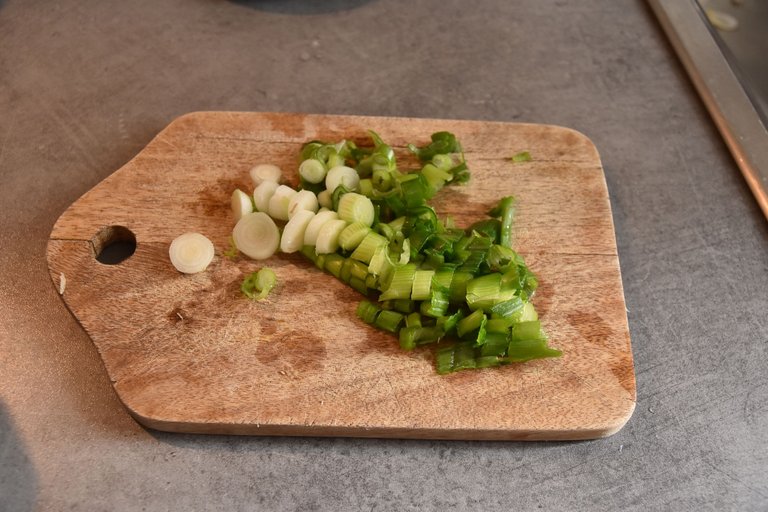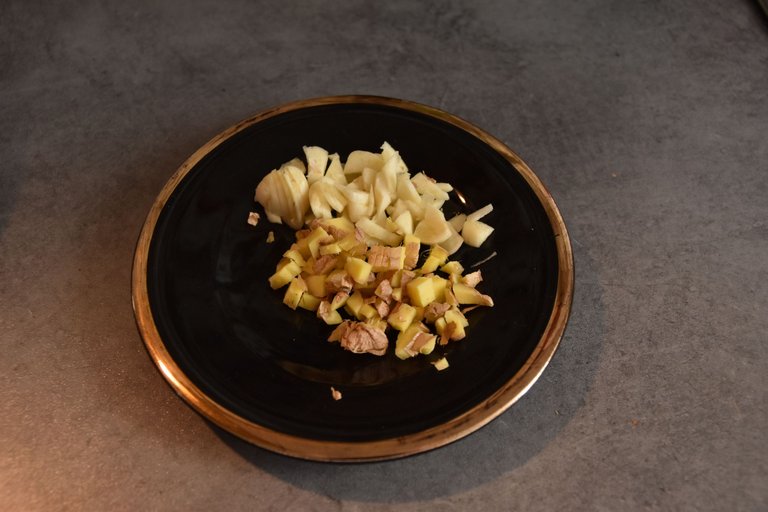 Hachez les différents ingrédients frais, ceux-ci sont donc l'ail, les oignons frais et le gingembre.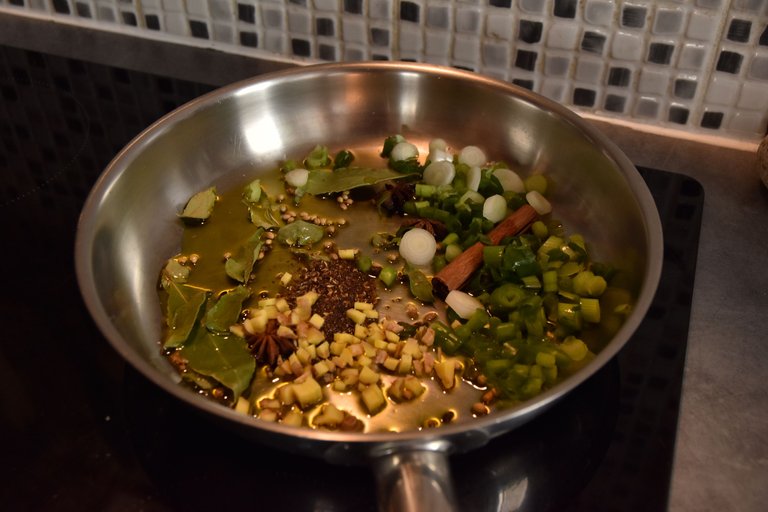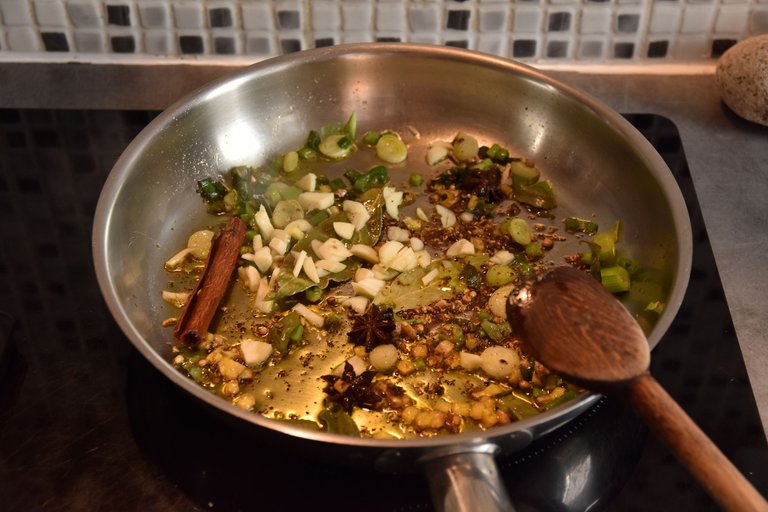 Mettez les épices avec les ingrédients frais dans une poêle avec un peu d'huile et faites revenir à feu doux.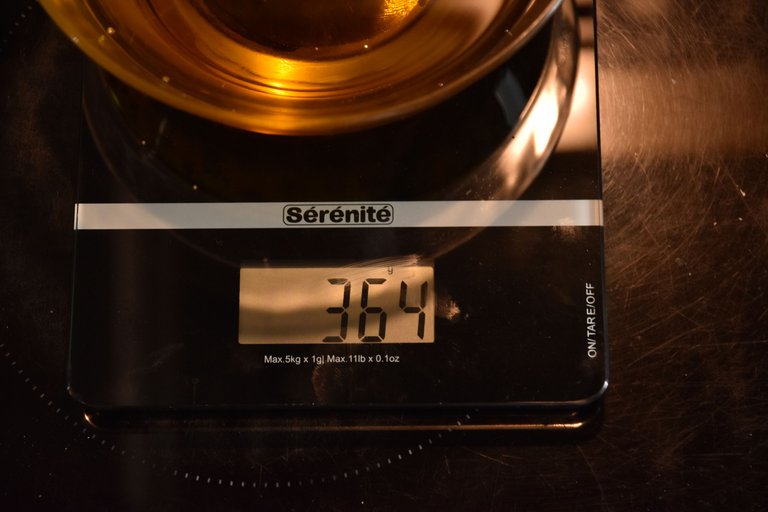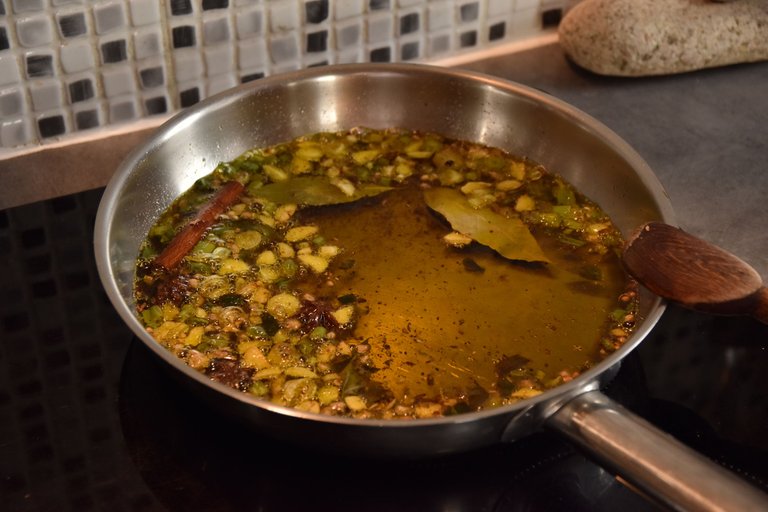 Ajoutez les 365 grammes d'huile, ici j'ai utilisé de l'huile de colza biologique. Continuez à faire chauffer pendant 30 minutes à une heure environ.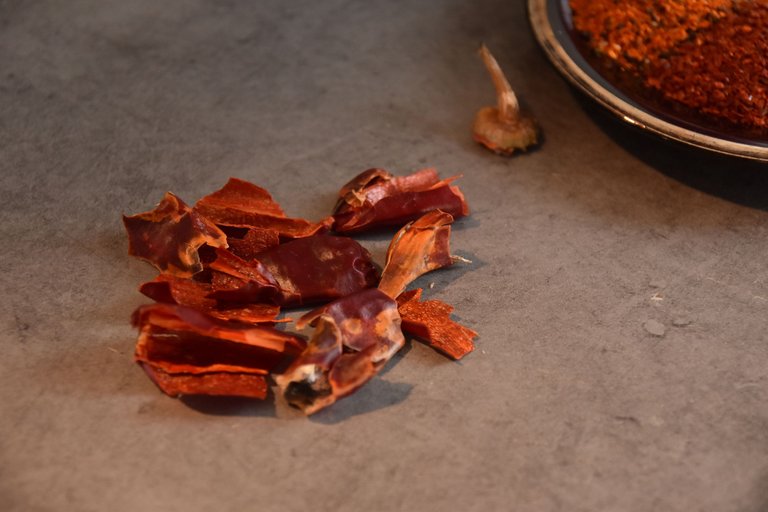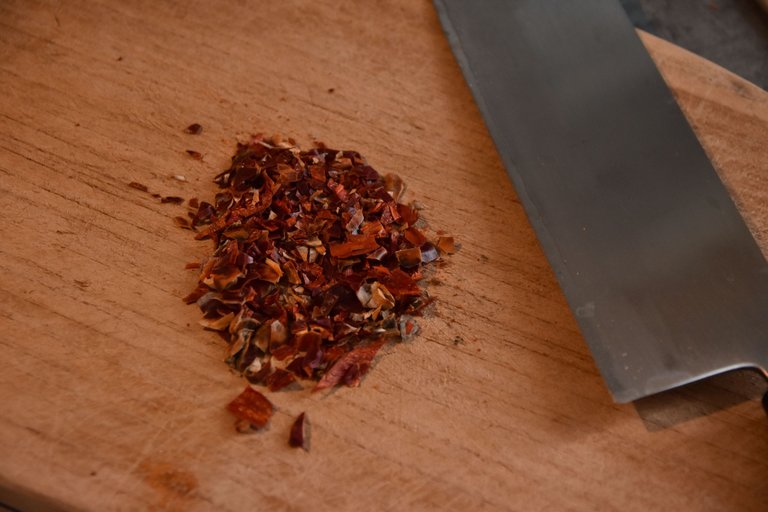 Hachez les piments si comme moi vous en avez des secs. Ceux-ci sont des piments d'Espelette.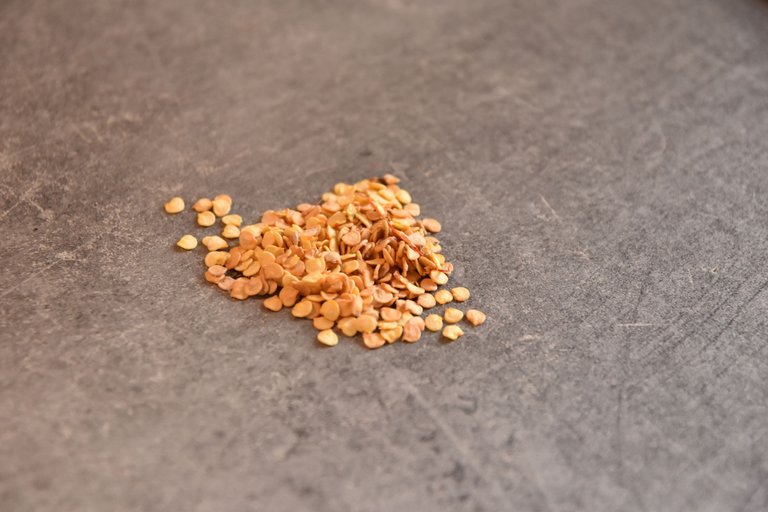 J'ai donc bien gardé les graines pour essayer de faire pousser cette variété spécifique.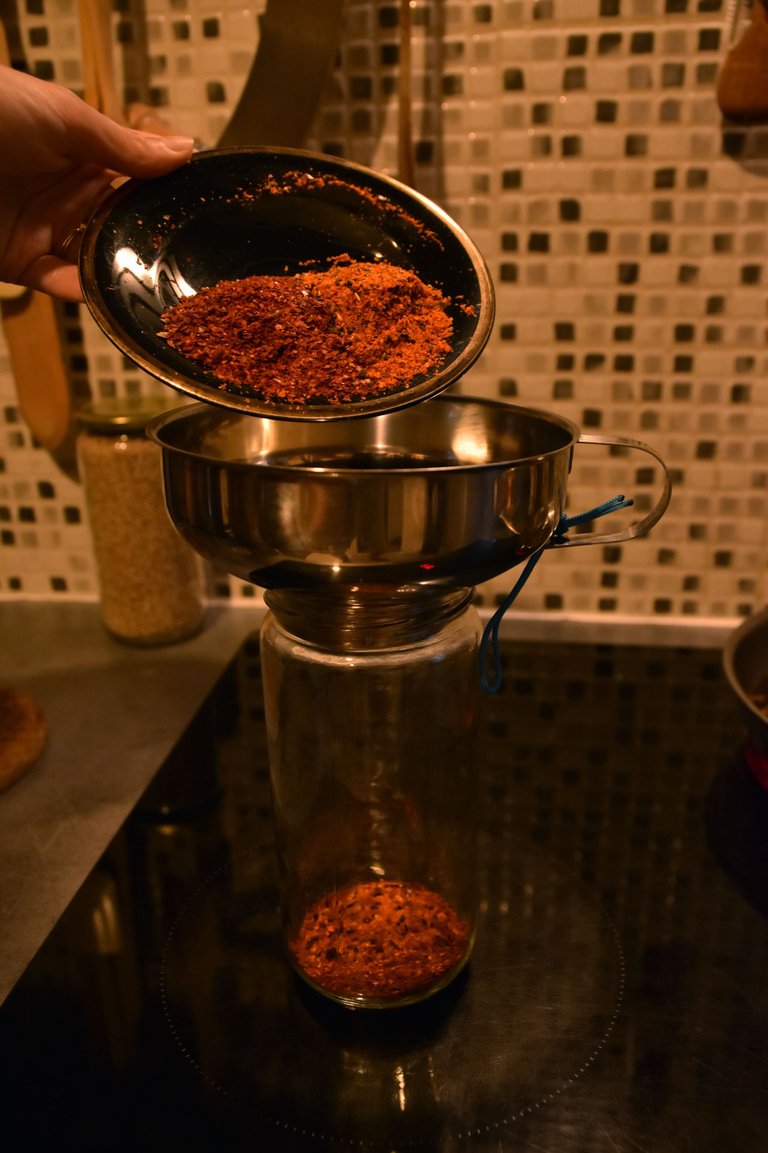 Après une heure de repos, faites réchauffer un peu l'huile et après avoir placé les piments dans votre contenant. Ici un pot en verre classique. Versez l'huile chaude sur les flocons de piments.
Maintenant, passons à mes deux erreurs.
La première aura été de verser de la sauce soja alors que l'huile était en train de chauffer. Celle-ci s'est mise à frire complètement et je pense que cela se ressent dans le goût.
La seconde, c'est qu'à la toute fin, j'ai mis mes graines de sésame directement dans l'huile chaude et je dois dire que certains ont été complètement carbonisés.
Mais normalement, pour les autres choses, je referai tout à peu près pareil !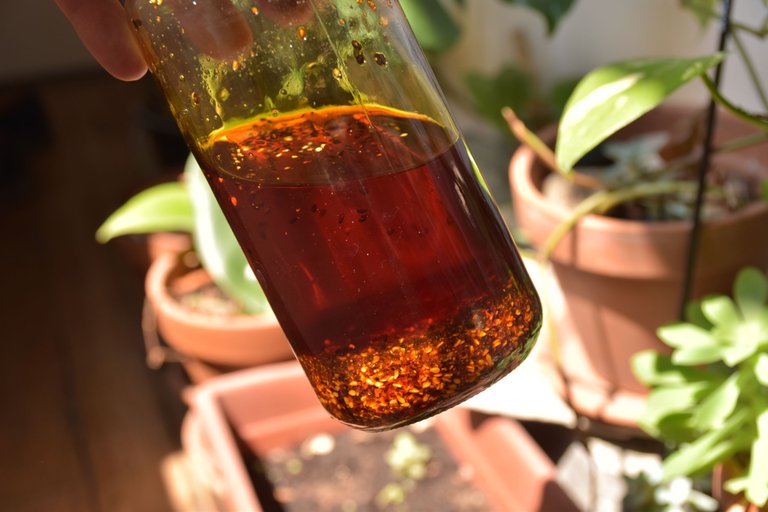 Voilà le résultat, aussi coloré et beau que bien piquant !
J'espère que vous aurez apprécié cet article et qu'il vous aura donné envie de vous mettre à faire cette sauce très simple et si goûteuse :) Merci pour votre visite, je vous souhaite une très bonne journée à tous !
<3
---
---