THE WEEKEND. My morning and the winter track
This is how a new day begins.
We see a beautiful sunrise.
The rays of the sun appear.
And in front of us are the shadows.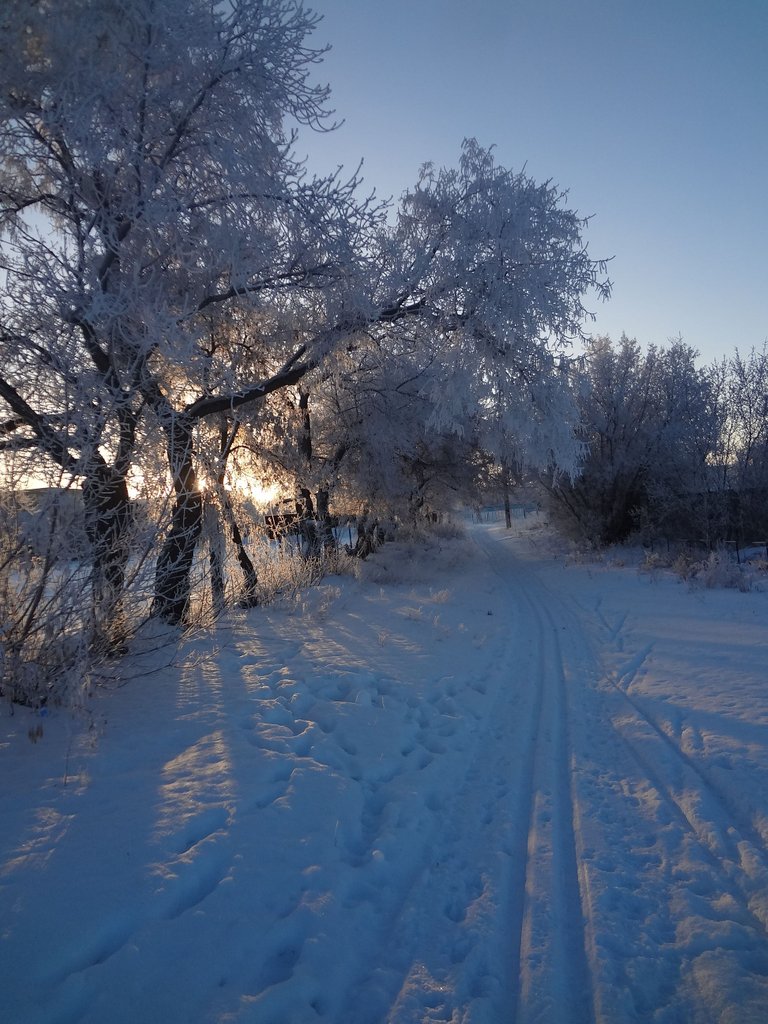 This is the same track in the city park.
Which goes next to the stadium.
And from behind the trees we can see the sun.
Amazing beauty of nature at the weekend.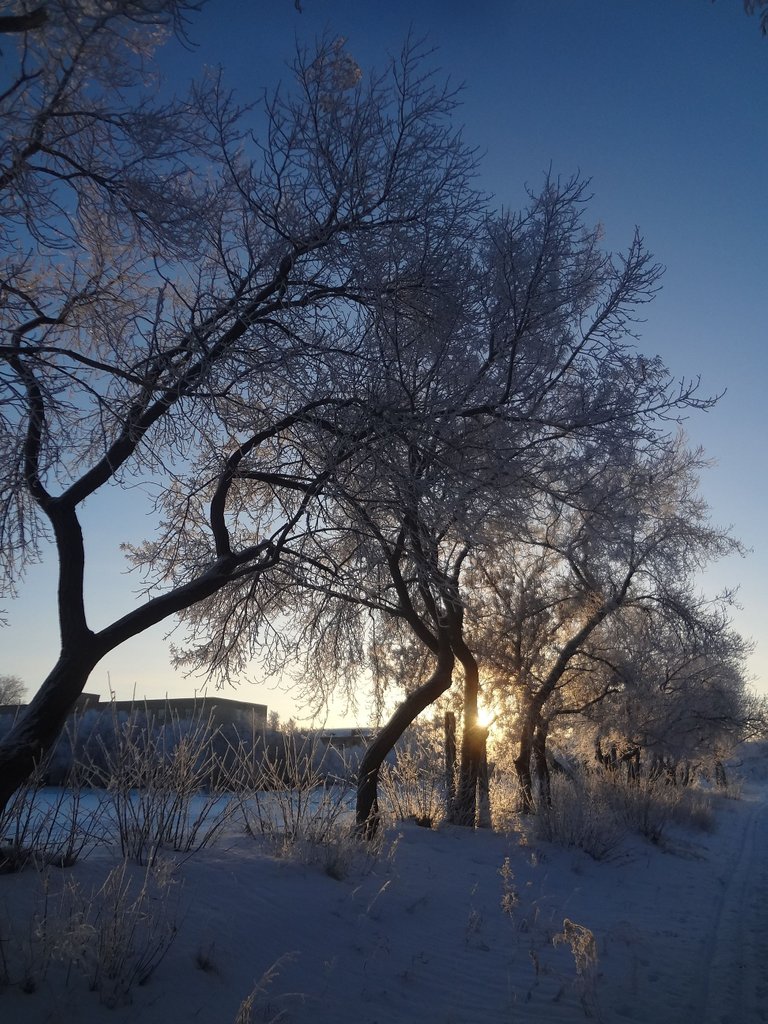 One lap of the track is almost a kilometer.
To be exact - a little more than 900 meters.
And I have to do at least ten laps (run).
It's pretty hard to do on skis, although you can.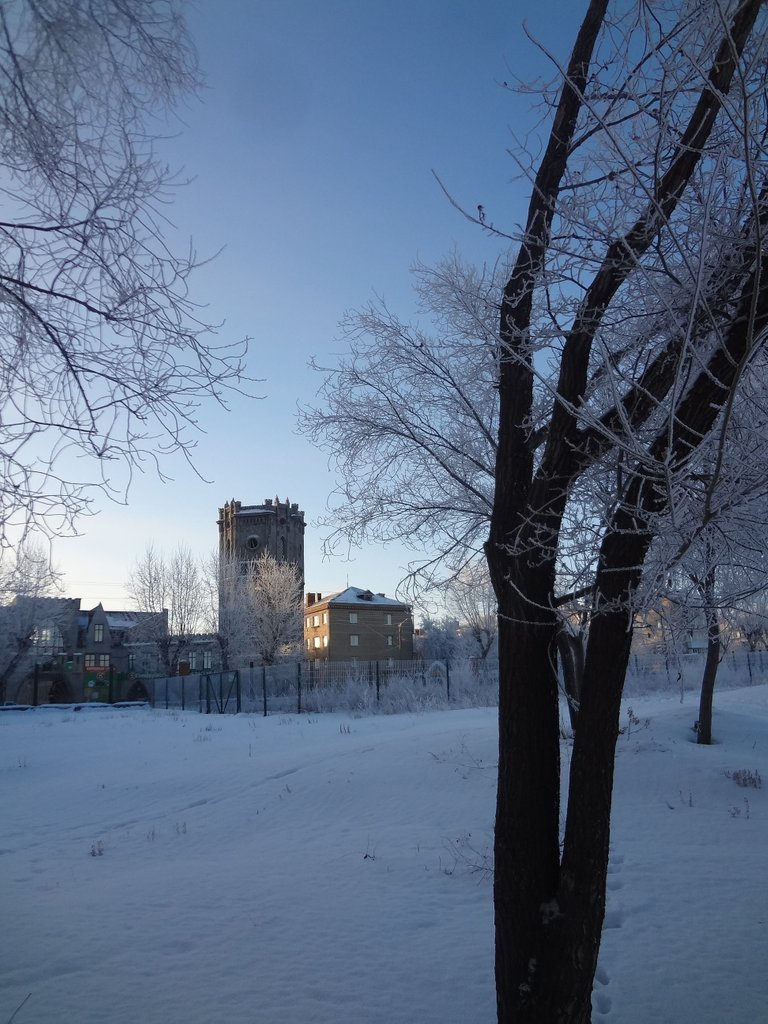 There are beautiful landscapes all around.
On the streets of the city on a winter morning.
So running on skis is always interesting.
There are already several skiers in the morning.
When you look back, you see such beauty.
The sun's rays strongly illuminated the earth.
And the whole world was enveloped in light.
A very pleasant winter morning at sunrise.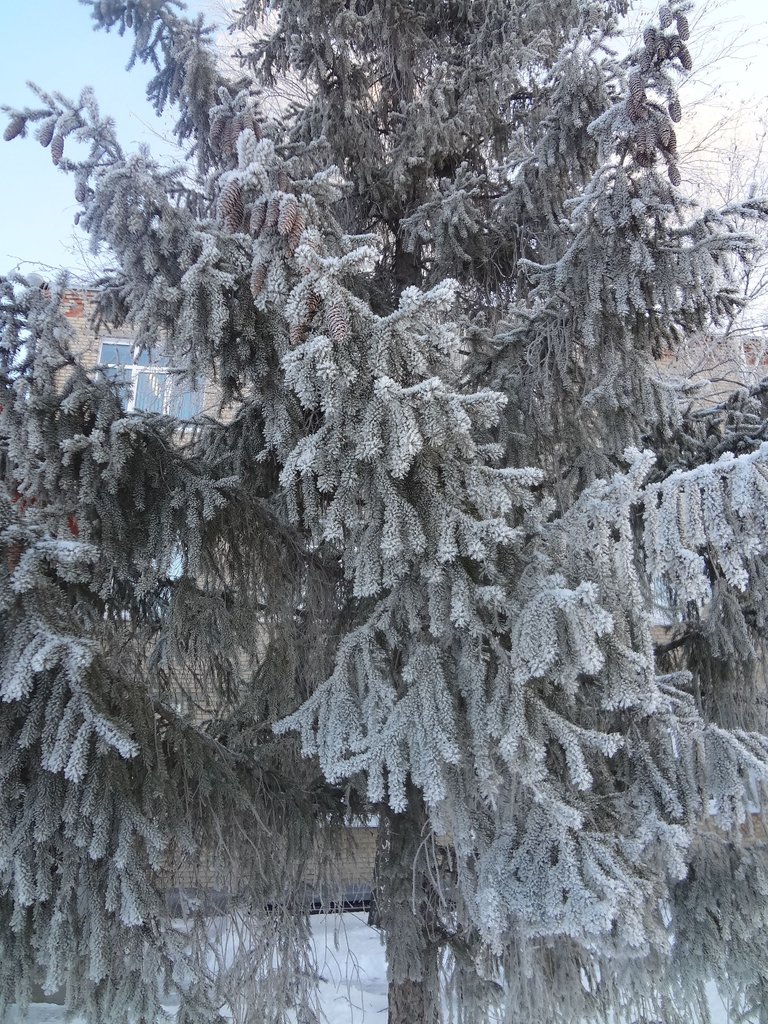 Just look at this picture. Is it beautiful?
Of course it is! Such a big, big spruce.
It's covered in hoarfrost - covered in crystal.
A fabulous picture of nature appears before us.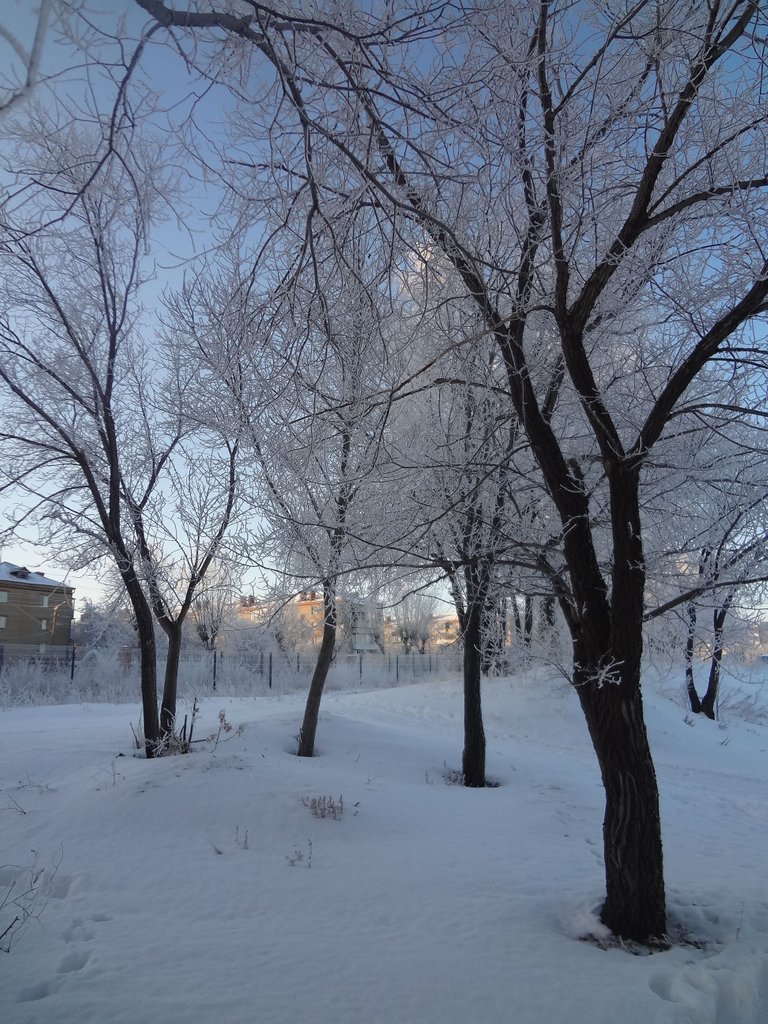 And here in front of us in this photo.
Such amazingly beautiful winter graphics.
And the frost has drawn it all around.
It's as if it took a brush and palette (of snow).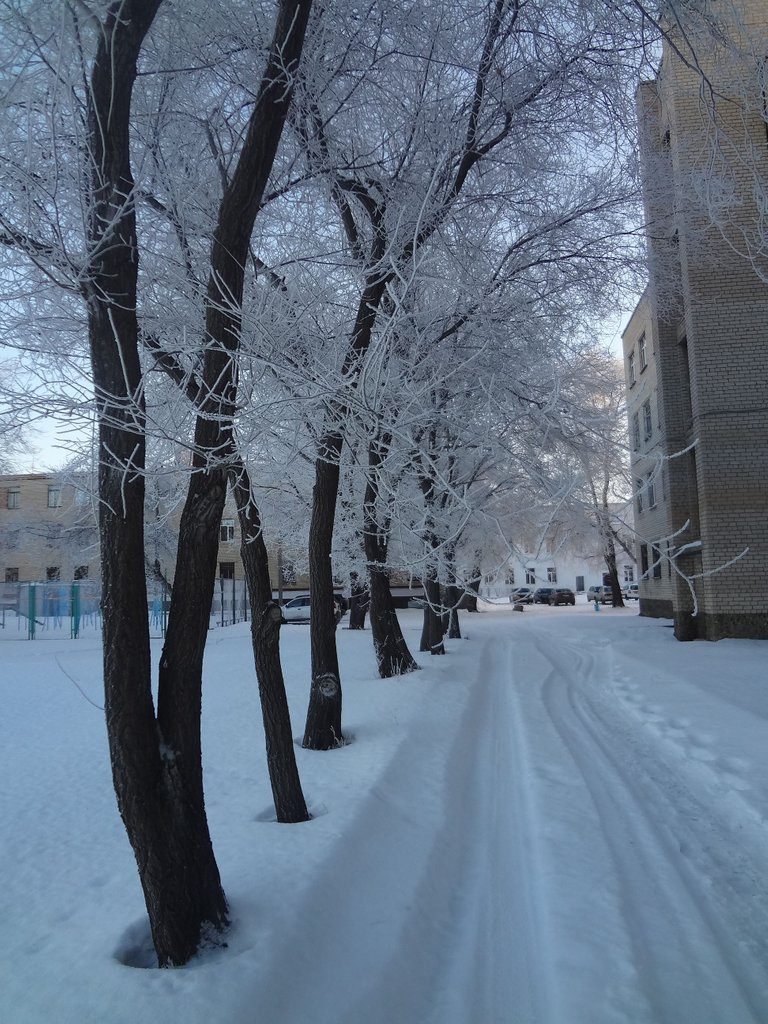 And there's also sleigh rides here as well.
Except on skis in this city winter park.
The track runs next to the buildings.
Does someone apparently live in them?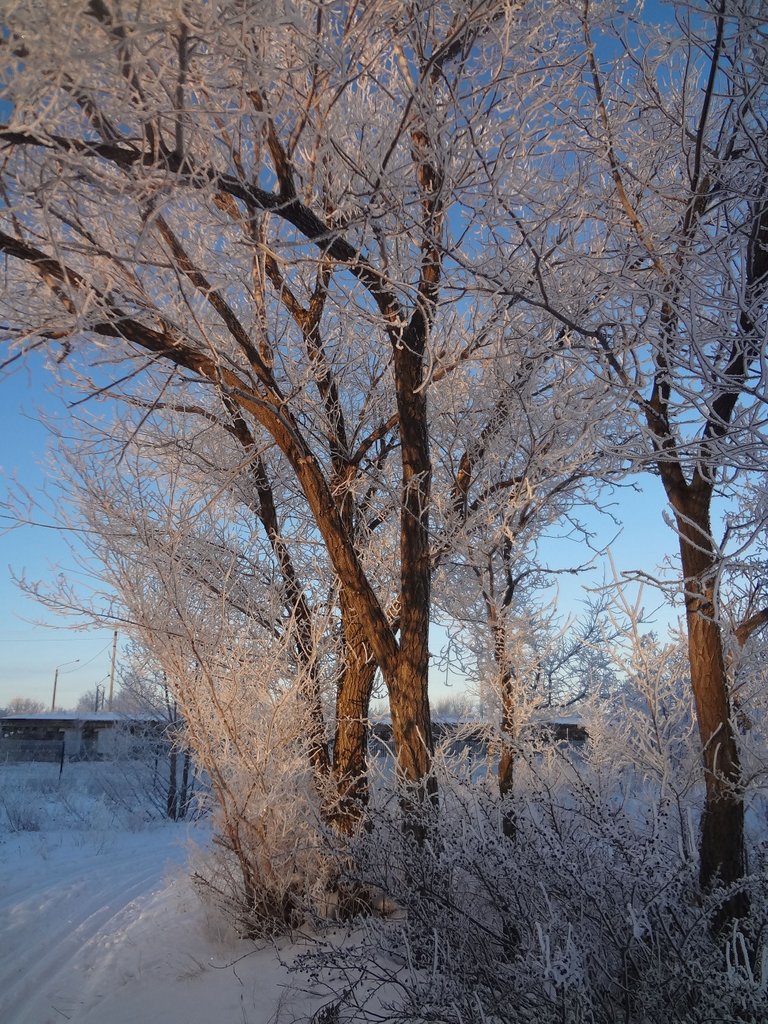 And here the sun is already shining well.
All around - those trees and the track.
And I finish my cross-country skiing.
That's the morning and I'm going home.
It's a beautiful start to a new sunny day.
I have a weekend ahead of me...

THE WEEKEND. MY MORNING AND WINTER TRACK.
Hello, my friends, here we are again together this weekend. Also back on the track in a fast run for my health as we did last week. I offer for viewing my morning, the excitement, the feeling of happiness and winter skiing. Also in front of you are beautiful and fantastic photos as the sunrise happens. Nature wakes up at this time and we see the sun appear in front of us, giving us its rays, while illuminating the whole world around us. It is wonderful to make a light jog on skis in the morning, to get a lot of emotions for yourself. It's not only physical exercise, but getting positive energy at the start of the day at sunrise on your day off. It is also good to be there in the morning, where there is a track in the city park, to see the amazing beauty of nature. So that was my photo report about this weekend. With you was @antikus369
ADDITIONAL INFORMATION:
-original photo;
-first publication;
-camera Sony 16.2.
(Translated via DeepL Translator from Russian)
Photos posted by me are clickable.
They can be viewed in large size by clicking on the photo.
Photos were taken with the size of 2592 x 1944 pixels.
For insertion into a post on Ecency and Hive, the size is reduced to 1280 x 960 points..
Photo taken - Sony 16.2 - 3x Zoom, Vario-Tessar lens.

---
---