Autumn and travel. How we got to the fairy tale. Part 2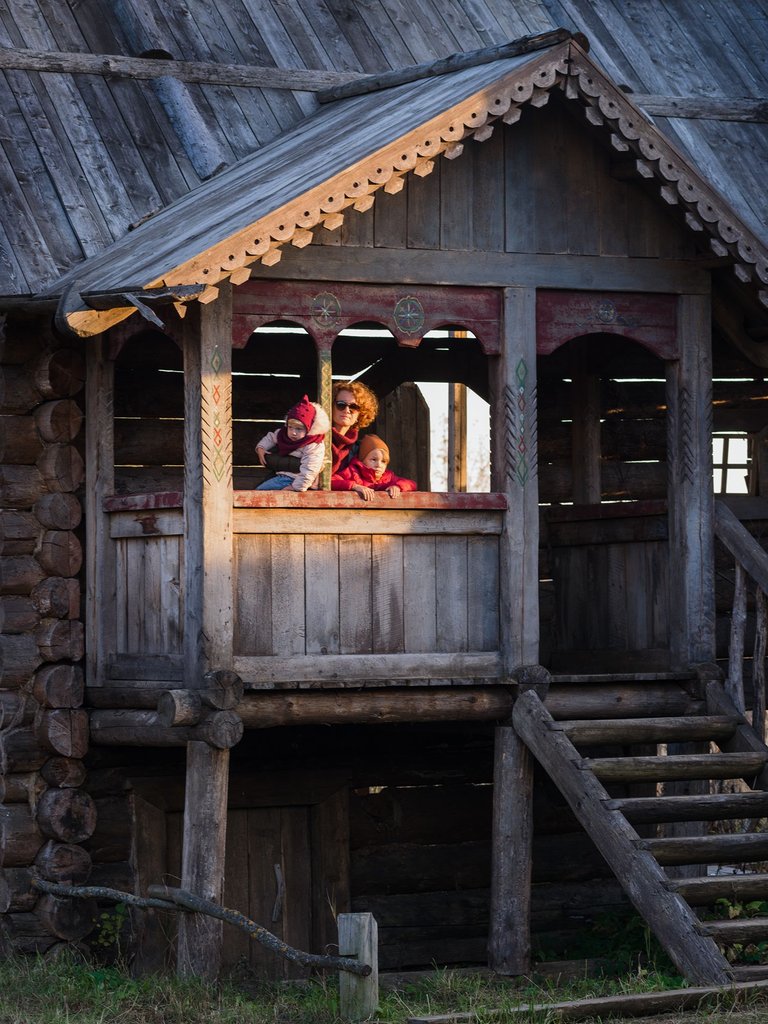 There's beauty at every turn and you can see everything.
Our kids are interested in everything, they started playing right away.
There are no prohibitions, just go everywhere and see everything.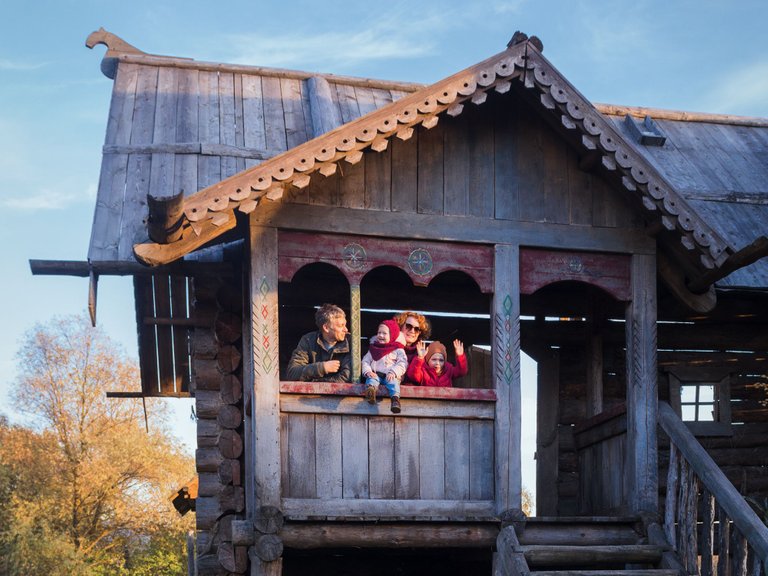 Every such production and house is like a separate theme.
Apparently, everything was so necessary for this movie?
Which was filmed here a few months of the year - a lot of work.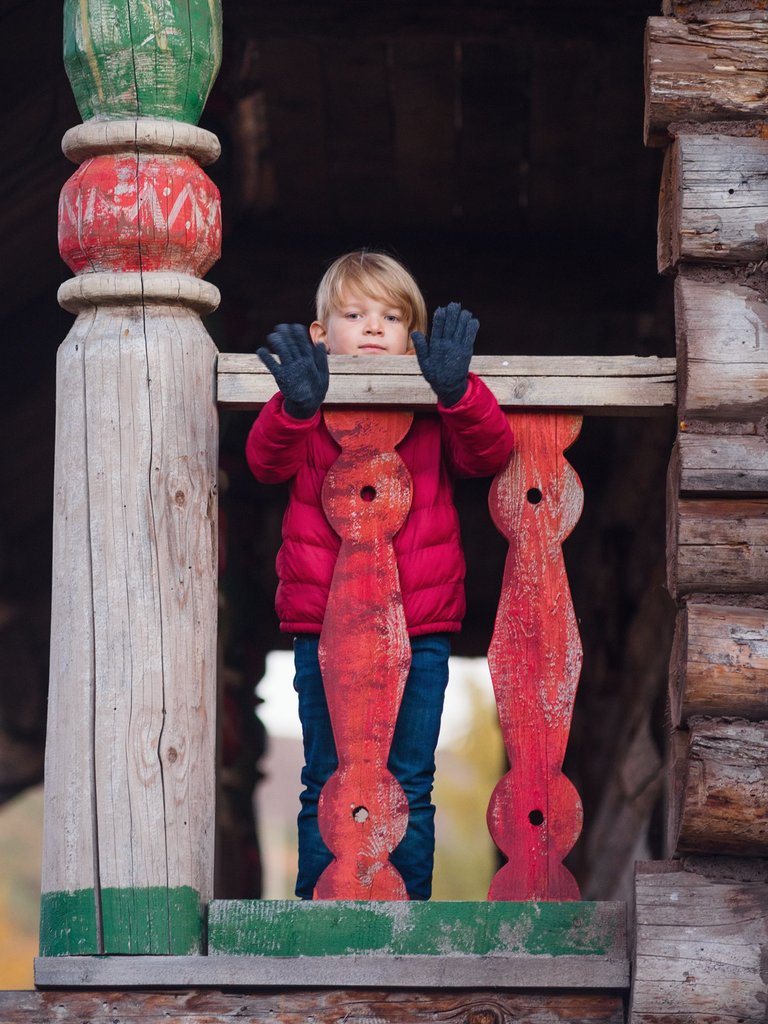 What's my grandson doing in this town of wood?
The only thing left for him to do is jump on the roof.
But then he calmed down a bit, did he find something?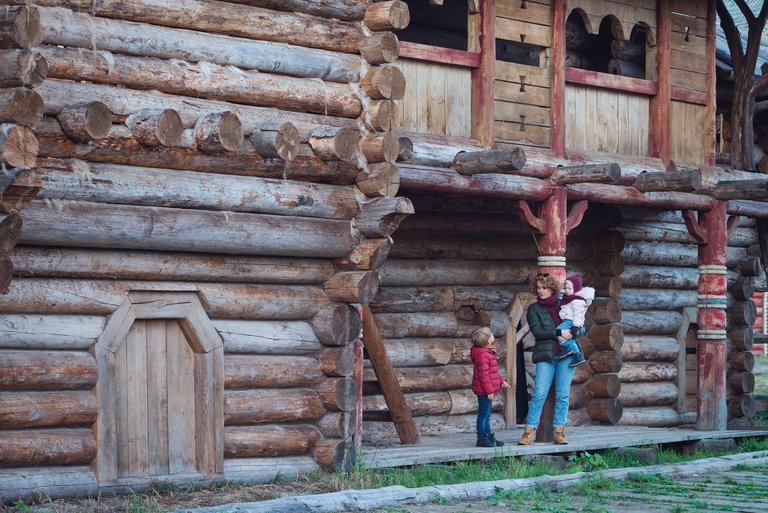 All these houses are so big and all made of wood.
Plus, the facades of the buildings are painted.
Russian and Slavic style, which is quite interesting.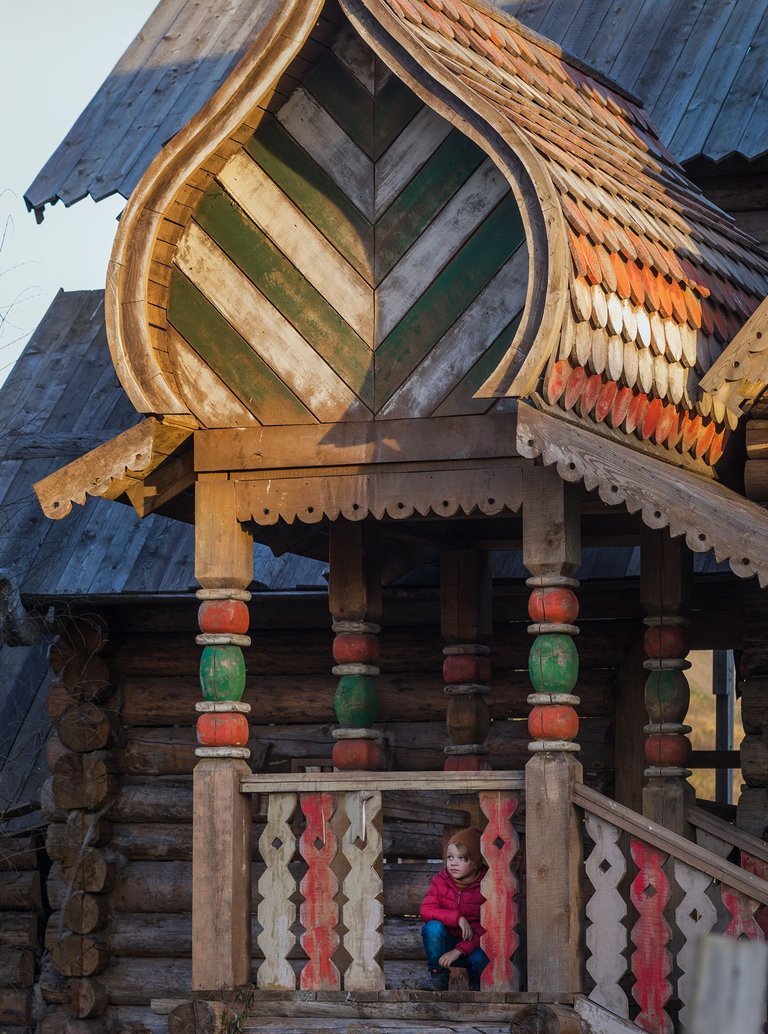 That's the amazing beauty of architecture.
It opened before us as soon as we walked in.
We all loved it here, beautiful architecture.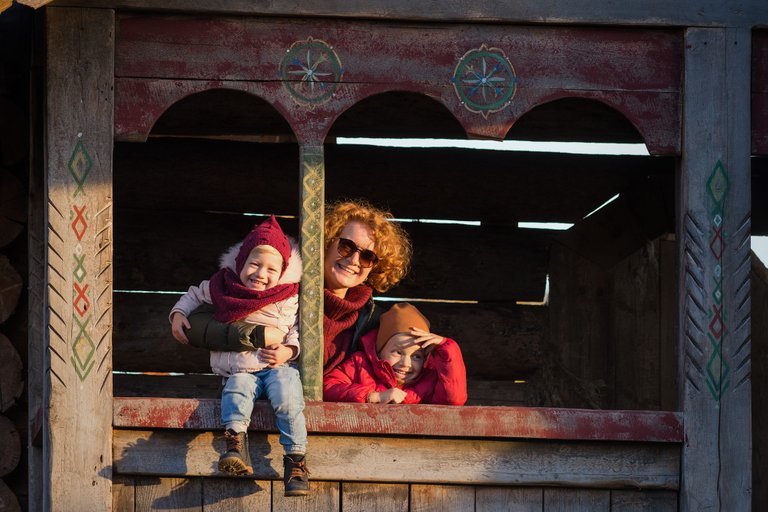 Mom and the kids posing for a picture.
It was such an autumn photo shoot.
Now we have it all in the family photo archive.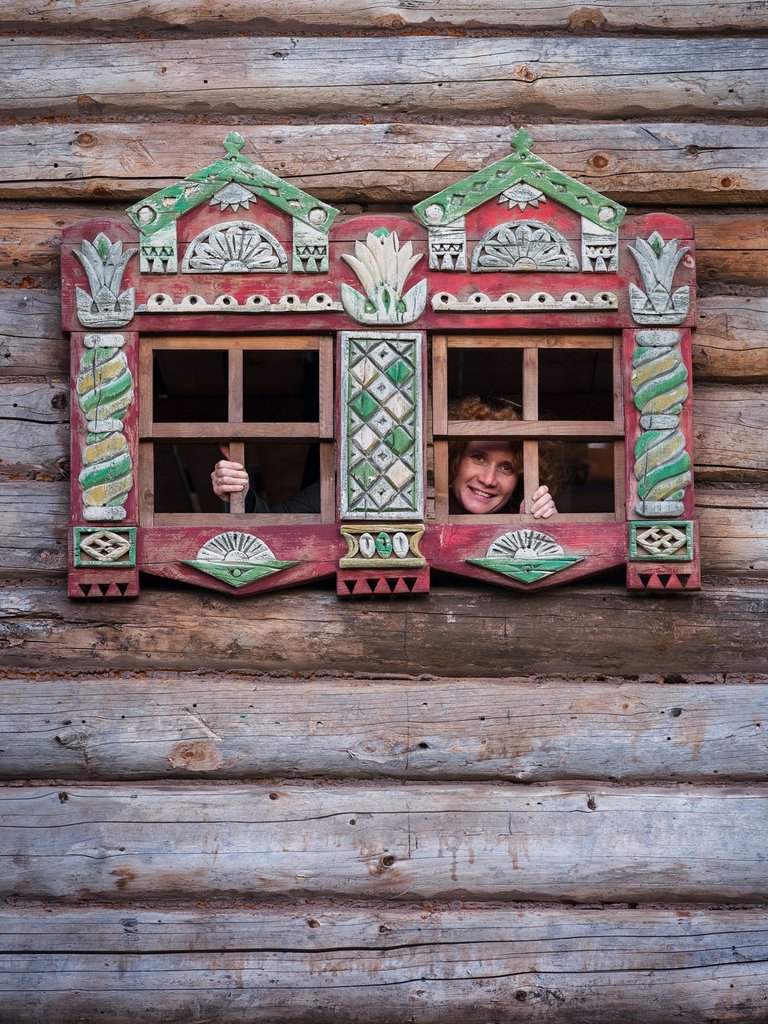 And that's the beauty in this photo.
Just look at those little windows.
The wood carvings and the beautiful painting.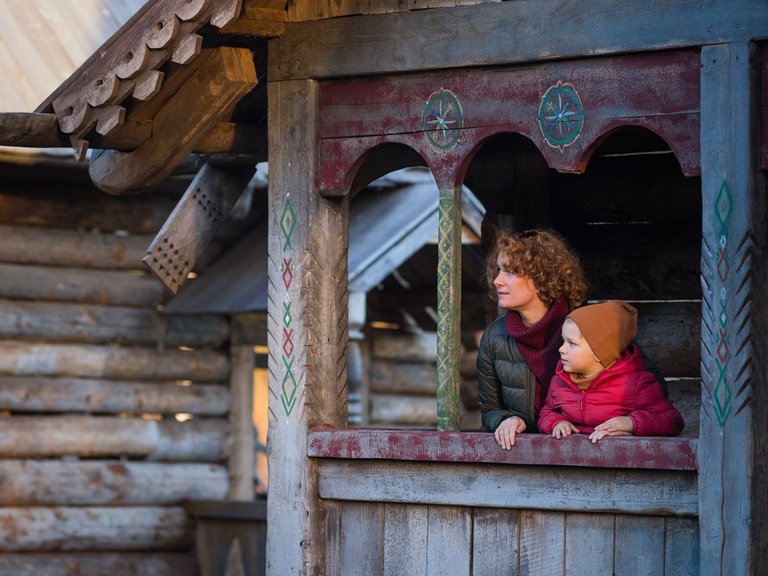 Everything here is very attractive, but neglected.
For the tourists who come - there is no service.
And so gradually all this beauty is destroyed.

Autumn and travel. How we got to the fairy tale. Part 1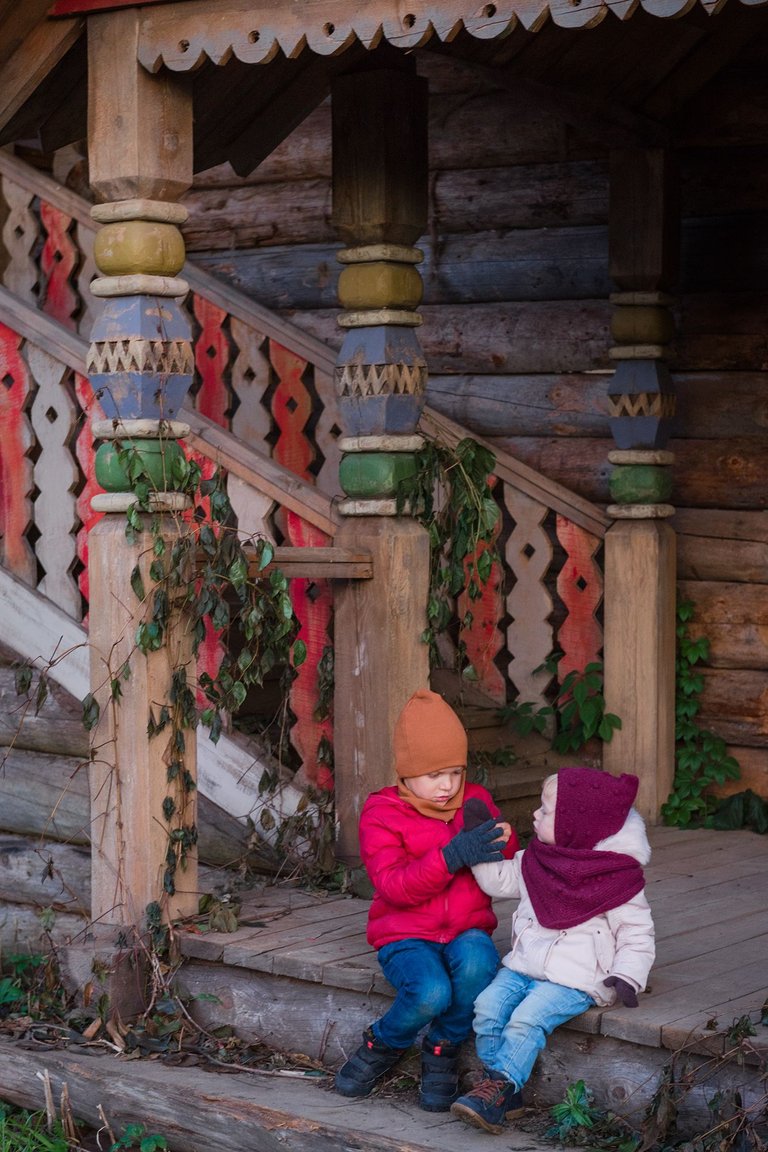 AUTUMN AND TRAVEL. HOW WE GOT INTO THE FAIRY TALE.
Hello again, friends! This is the second part of our autumn trip to the filming locations of the famous movie tale "The Last Bogatyr", or as they say - an action-fairy tale in a new way. The kids really love this movie and have seen all the episodes. As I wrote earlier in the first part, that this beautiful, wonderful, interesting and even fantastic movie (a fairy tale) was shot in our neighborhood. Not far from the town of Khimki was built a decorative fairy-tale town of wood. It's not far from Moscow, you can get there very quickly by car. Upon arriving at the place, in the village of Vereskino you will immediately see this fabulous wooden and painted town (in the Russian and ancient style, or rather in the Slavic style), which is a fortress with real towers and terems. But now there is no one there, everything is just standing there and you can walk around and look at everything. The bad thing is that all these decorations are gradually deteriorating, no one and nothing is guarded after the movie was filmed here - this fairy tale. Such was my photo report about our autumn trip. There will be more posts to come and I will tell you about how movies were made at this place.
ADDITIONAL INFORMATION:
-original photo;
-first publication;
-camera Sony 16.2.
(Translated via DeepL Translator from Russian)
Photos posted by me are clickable.
They can be viewed in large size by clicking on the photo.
Photos were taken with the size of 2592 x 1944 pixels.
For insertion into a post on Ecency and Hive, the size is reduced to 1280 x 960 points..
Photo taken - Sony 16.2 - 3x Zoom, Vario-Tessar lens.

---
---