Hive Open Mic #120 - My Happiness - Top of the World (The Carpenters)

Hello, my Hiver friends!
My Happiness
This duo is possibly not the most obvious choice for this week's theme "My Happiness".
Most of their songs had been about sadness, lost love, unhappy relationships and such like, however, there are also some happier ones, my choice included.
The Carpenters
I must say, hearing Karen Carpenters voice always makes me happy, no matter the song's subject matter, as it's one of the most beautiful voices ever to have existed, well,in my humble opinion anyhow.. 😊
She had incredible stamina in holding very long notes, mostly noted in "I say Goodbye to Love", one of my favourite tunes!
Karen manages to sing through this bit at the beginning on one breath without sounding strained:
"..Time and time again the chance for love has passed me by and all I know of love is how to live without it..."
Try it for yourself! It sure is quite a challenge even without singing it! 😀
I also love the wonderful guitar solo played by their friend and band member, Tony Peluso.
Give it a listen on YouTube if you find the time..
The music of the Carpenters has been considered corny in the past, but even if it's not to some peoples's taste, there is no doubt, that they were an excellent team, with Richard being a brilliant musician and arranger, and Karen not only a singer, but a brilliant drummer too!

She actually started off as such, before taking on the main role as the duo's singer. I believe she played the drums on their earlier recordings, and even electric bass. Truly talented!

Karen seemed a very loveable and cheerful person, funny and entertaining! It was a great loss when she died far too young at the age of 32 of Anorexia, an illness not much recognised at the time.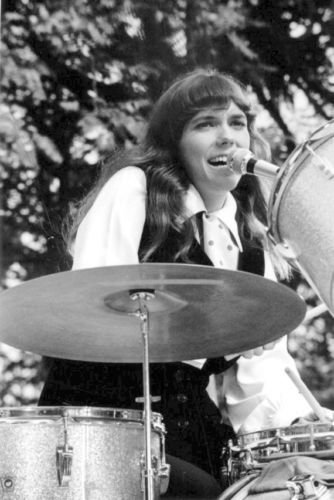 ---
Top of the World
This is probably one of the first of their songs I got to know. It sure is a catchy one, light and airy and, well, happy.
The lyrics are quite wonderful; I find especially the second and third verses beautiful, "..the wind has learned my name..", "..the touch of a breeze..". Simply poetic words!
I have recorded this with some extra layers of my voice, Carpenters style.. 🤗
Enough said.. I hope, this is to your liking and it makes you happy as it has me.. 😄
Thank you, my friends, for listening! 😀
Lyrics
Such a feelin's comin' over me
There is wonder in most every thing I see
Not a cloud in the sky, got the sun in my eyes
And I won't be surprised if it's a dream
Everything I want the world to be
Is now comin' true especially for me
And the reason is clear, it's because you are here
You're the nearest thing to heaven that I've seen
I'm on the top of the world lookin' down on creation
And the only explanation I can find
Is the love that I've found, ever since you've been around
Your love's put me at the top of the world
Something in the wind has learned my name
And it's tellin' me that things are not the same
In the leaves on the trees, and the touch of the breeze
There's a pleasing sense of happiness for me
There is only one wish on my mind
When this day is through I hope that I will find
That tomorrow will be, just the same for you and me
All I need will be mine if you are here
I'm on the top of the world lookin' down on creation..
Source: Google
---
---