Vegetable Broth: Richly Fragrant with Spices
---
---
Like a secret pleasure from a lot of soupy food.
Vegetable Broth is one of the ingredients that deserve to enrich the taste of gravy foods.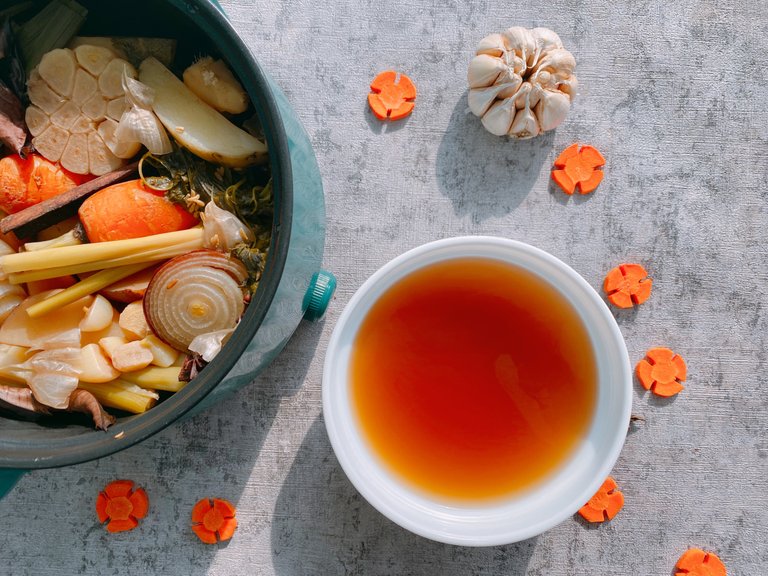 ---
---
Do you like soupy food? If so, then this post can add to your ideas for enriching the taste of the soup. If you don't like soupy foods, then the recipe that I'm going to post can also make soup dishes even tastier.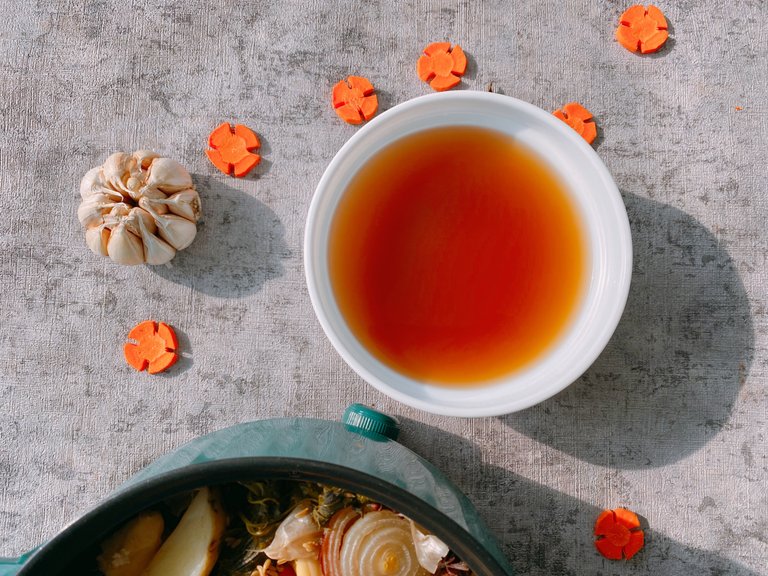 To be honest, I also just found out about the idea of making vegetable broth recently from the internet. Usually, before using vegetable broth, I only use spices and herbs directly on soupy foods. But this has a weakness. I have to separate the spices and herbs particles that have been mixed with the sauce. It is painstaking work! So, vegetable broth is a brilliant idea!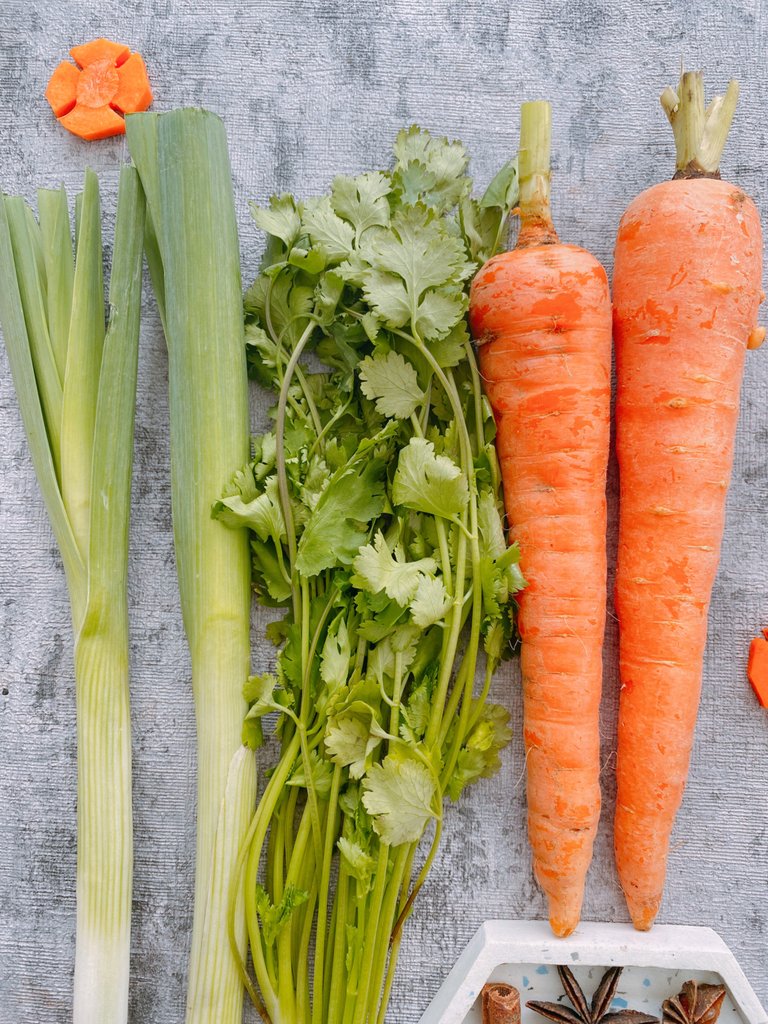 Like a secret pleasure from a lot of soupy food. Vegetable Broth is one of the ingredients that deserve to enrich the taste of gravy foods.
---
---
---
A Combination Of Many Vegetables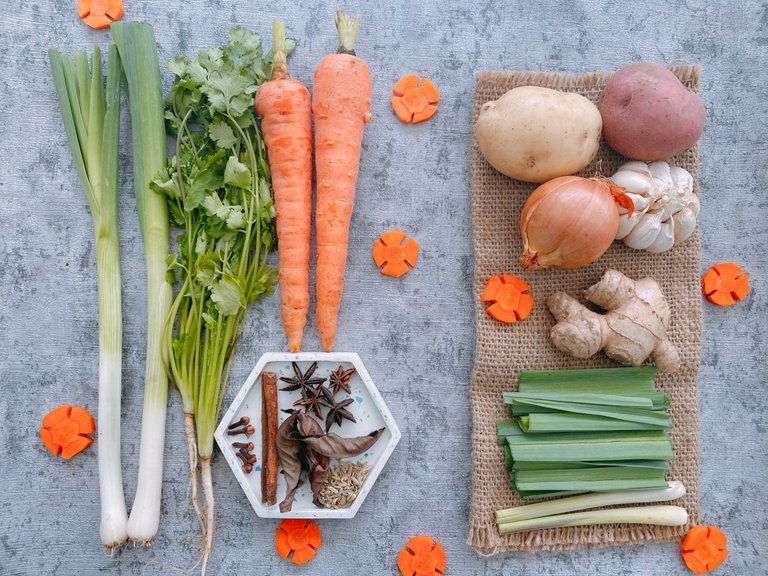 We have many options for using various vegetables to make vegetable broth. Starting from root vegetables, onions, and many choices of herbs.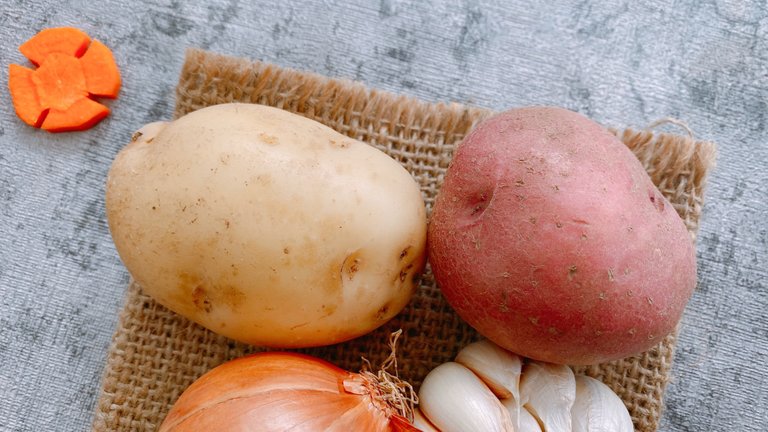 For root vegetables, I usually use white potatoes and red potatoes. Then besides potatoes, I use carrots. We no longer need to peel potatoes and carrots.
Even if we have leftover carrot potato skins, we can make those skins into veggie broth ingredients. It's just that, we should wash the potatoes and carrots before peeling them so that we can safely use their skins for veggie broth ingredients.
---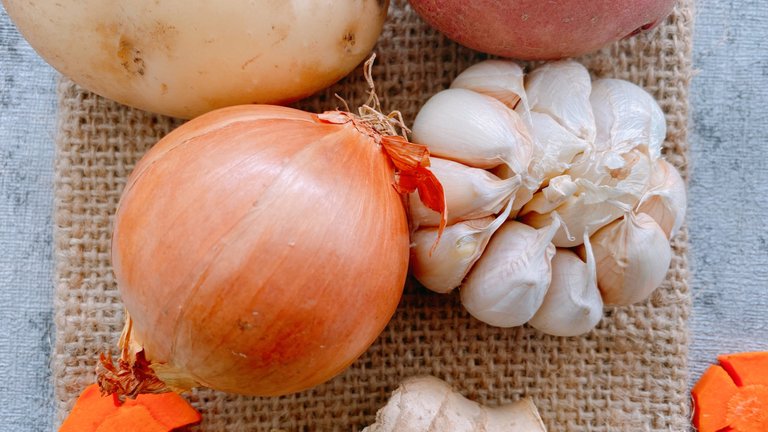 Then, for the type of onions, I use garlic and onions. You can also use red onions. Just like using root vegetables, we don't need to peel garlic and onions.
So, if we have a lot of onion and garlic skins, we can combine them with the root vegetable skins later. If you don't have enough to make broth, then you can store the vegetable peels in the fridge. Then when the amount of them is according to what we need, we can cook them together. Don't forget to prioritize the cleanliness factor.
---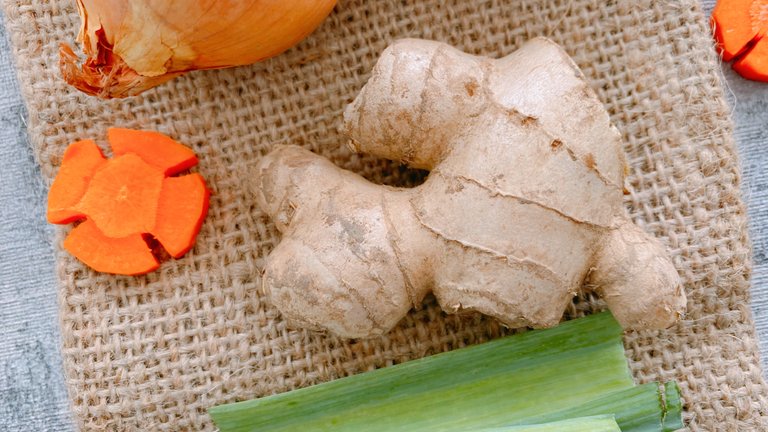 Next, I use ginger. These ingredients give the vegetable broth a rich, authentic taste. But, you can skip this Ingredient if you don't have the fresh one. Or using the powder is a great option.
---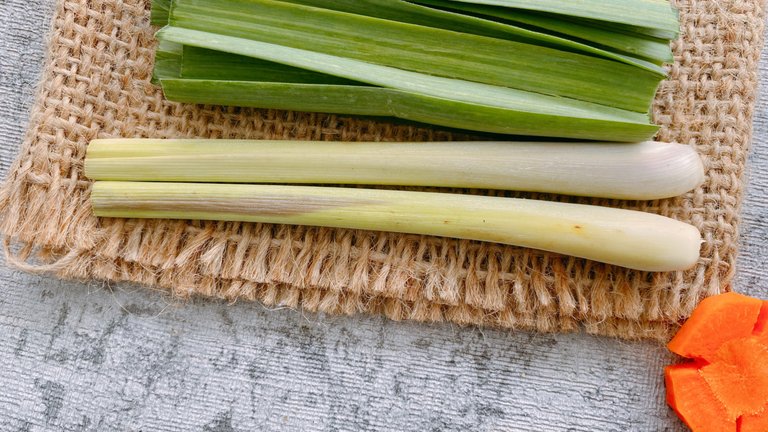 Apart from ginger, I also use some lemongrass stalks to strengthen the aroma as well as taste good and it's like aromatherapy. I'm sure the food we cook will be pleasant food therapy for our lives. do you agree with this?
---
Then, I use spring onion and coriander leaves too. You can use celery as well.
---
---
---
The Richness of Taste and Aroma of Spices
Spices are like a beautiful secret that turns ordinary water into fragrant and strong-tasting water.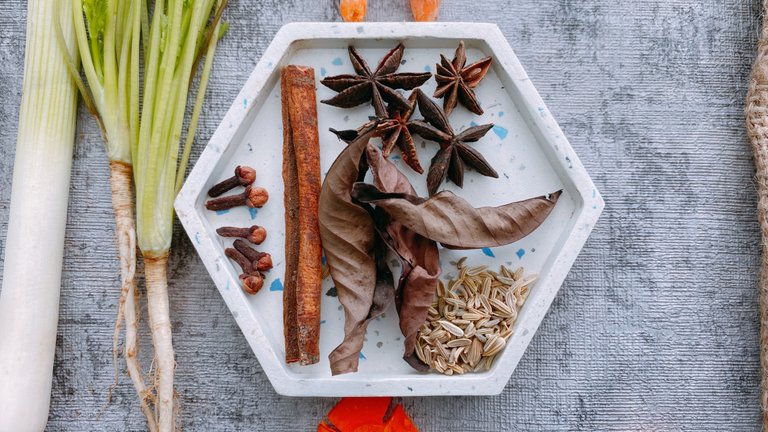 You can use the local spices that you use every day if you can't find the spices as I use. In this vegetable broth recipe, I used cloves, Lawang flowers, cumin, dried bay leaves, and cinnamon stalk.
For those of you who want a spicier sensation, you can add pepper that is still in granular form, not pepper that isn't powdered yet.
---
---
---
Amount of Water Measures Used
In this recipe, I use 1 liter of water. Then when I saw that there was actually a little water left, I finally added more water so that the final result of vegetable broth would be more.
Decreasing of water also occurs when I use high heat so that the water evaporates faster when cooked for one hour.
Easy To Make It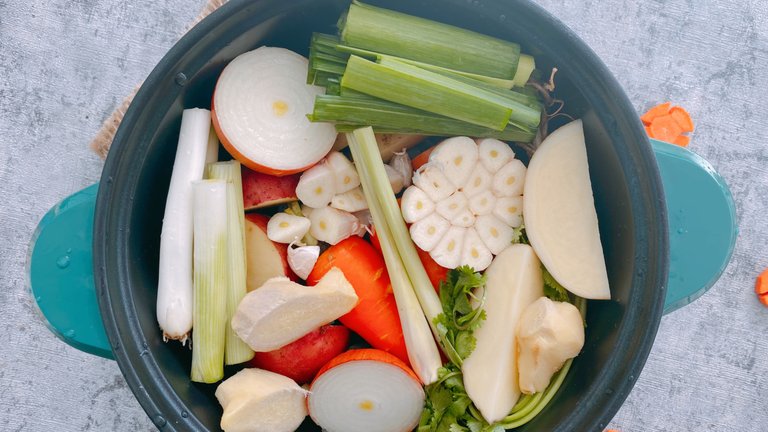 After preparing a variety of vegetables and spices, then we can make vegetable broth in an uncomplicated way. We just need to wait for all the ingredients to give the best taste and aroma to the water.
First of all, cut all vegetables. Then arrange it in a cooking pot. Don't forget to add spices and herbs.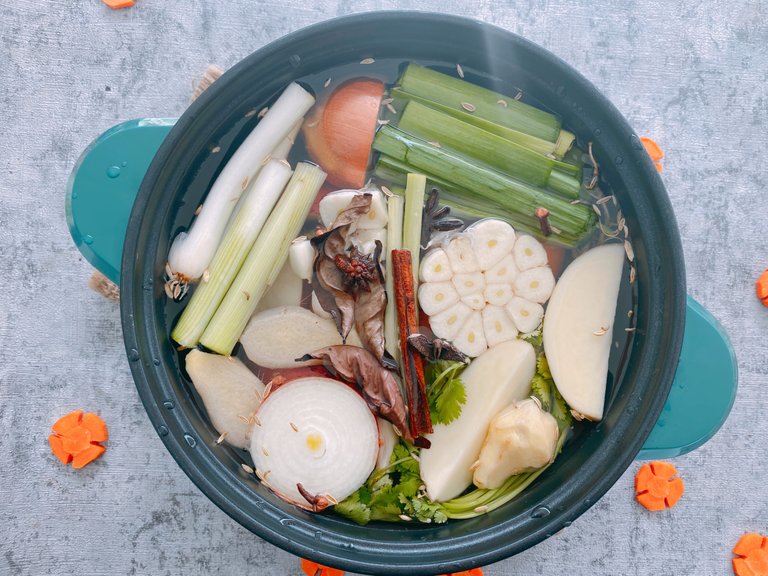 Oh, that's a beautiful creation. I love to see the different colors and shapes of vegetables in a pot, forming a beautiful harmony.
---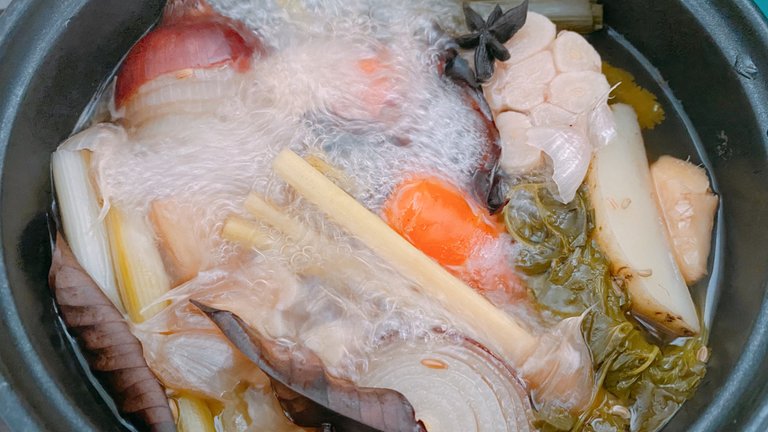 Then cook them for about half to an hour using a cover. You can see later that the water used to boil the veggies will turn darker than before.
The result is water that is fragrant and rich in spices. Congratulations, we already have a vegetable broth that can be stored for up to a week to enrich our dishes.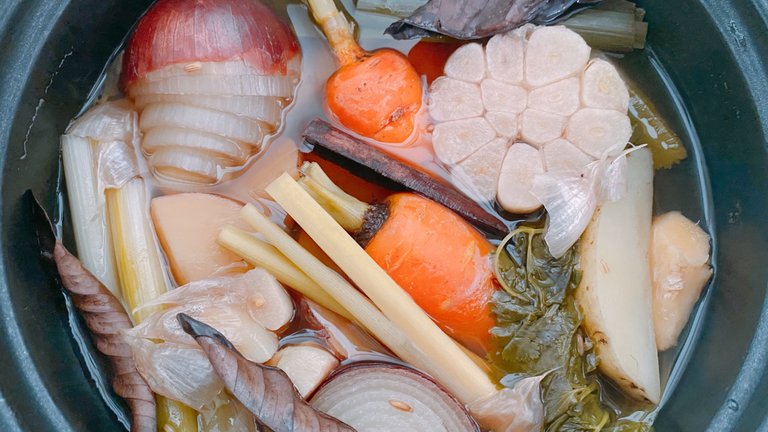 ---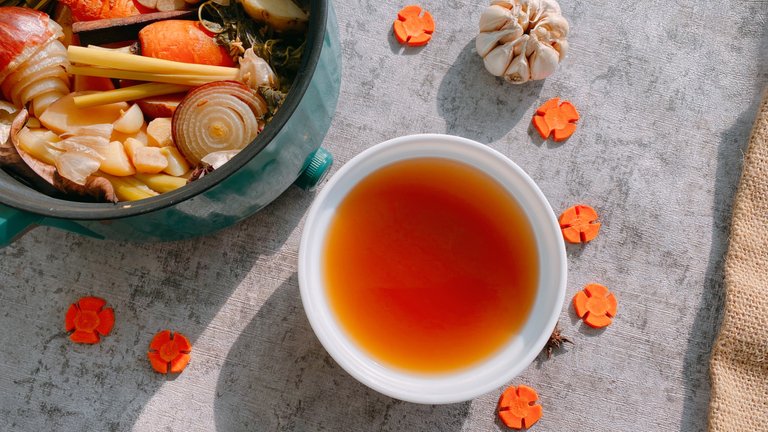 Strain the vegetables and spices. I use leftover vegetables and herbs to feed my livestock. So, no waste of food.
---
After getting in vegetable broth, let it cool to room temperature. Then store them in a jar or bottle and then place them in the refrigerator.
In addition, you can also store vegetable broth longer by freezing them. So later it will be shaped like ice cubes.
Well, I really like being able to make vegetable broth. Later I will make some soup from this vegetable broth. Also, I can make instant noodles tastier by using this vegetable broth even without other packaged spices. That's a is healthier option!
---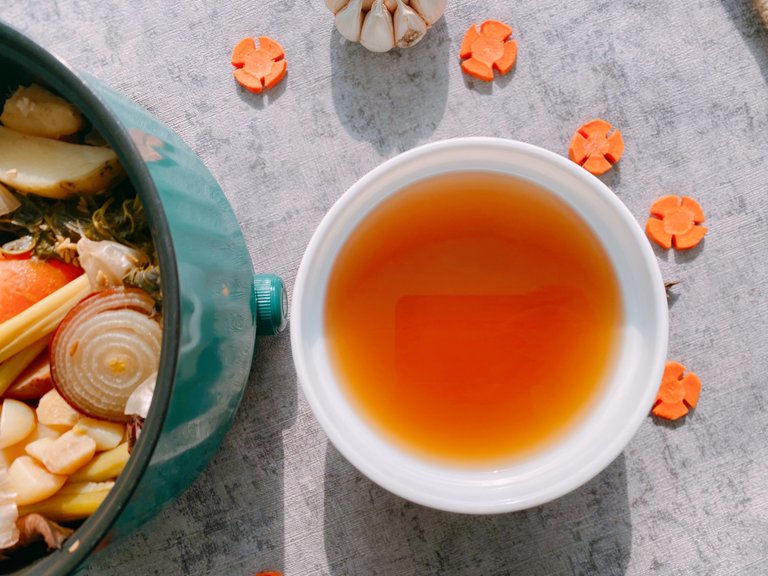 I hope you guys like my recipe this time. In fact, it is very basic to use soupy foods, but it will be very useful.
Have you ever used vegetable broth to complement soups or other types of soup like curry? What's your favorite soup or curry?
---
Thank you for reading my blog and reblog if you want my blog this time worthy of reading by others.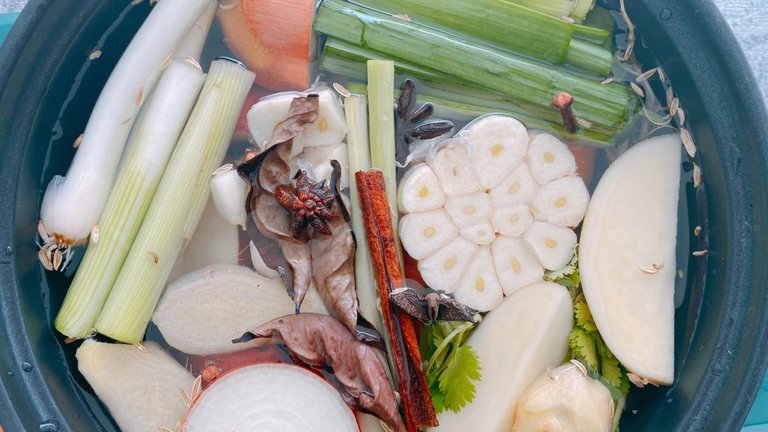 ---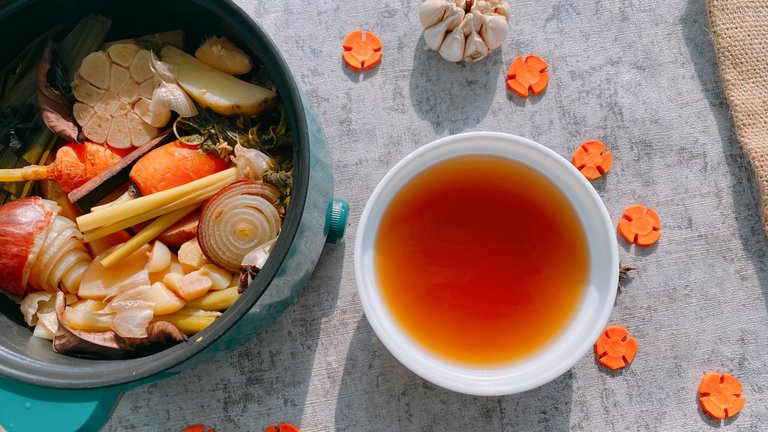 ---
---
---
Best Regards,
Anggrek Lestari
---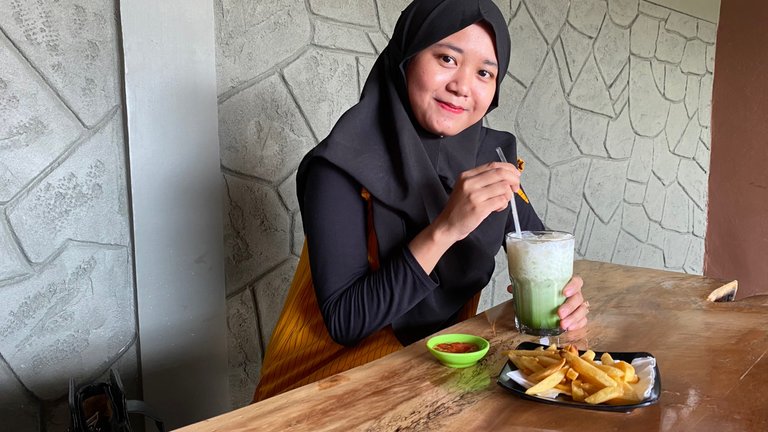 Who is Anggrek Lestari?
Anggrek Lestari is an Indonesian fiction writer who has published two major books. Now She is a full-time content creator. She has a goal to share life, poem, and food content that makes others happy and can get inspiration.
---
Contact Person: [email protected]
Discord: anggreklestari#3009
---
---
---