Vegan Burger From Tofu Ingredients
---
---
Vegan food always has an appeal when imitating the shape of animal products.
The tofu burger will trick your eyes at first glance.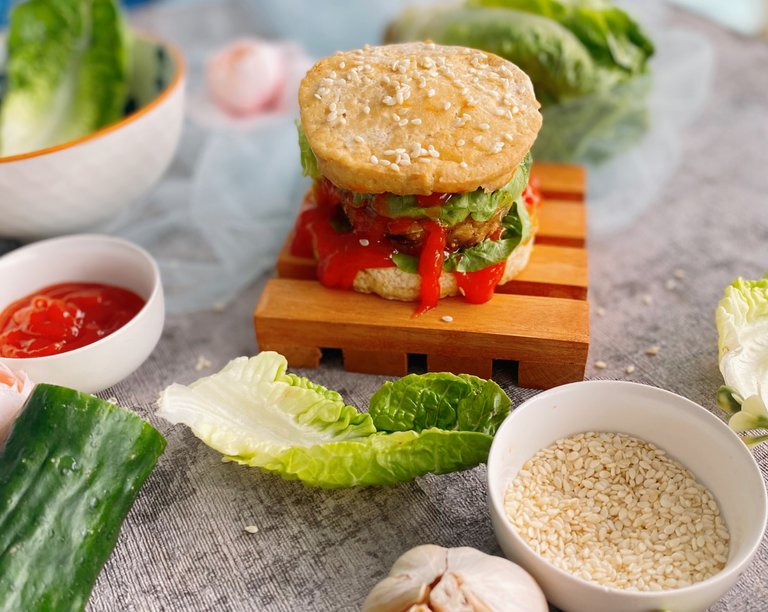 ---
---
There is the stock of tofu in the refrigerator. The supply was quite a lot because I didn't cook for several days. In fact, I bought the tofu for a 1 week's supply. So, I thought about what menu I would make to use up the tofu supply.
This time I was in the mood for a snack. Thus, it made me think of the idea of making a snack out of tofu.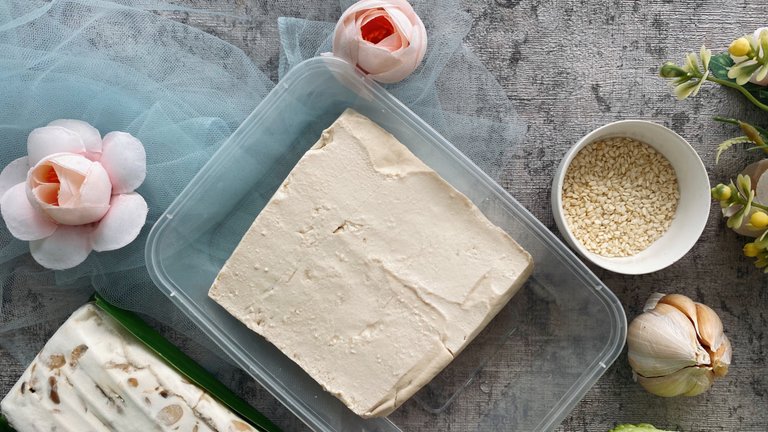 The tofu I have this time has a wide shape. Because of this form, I finally thought of making a burger from tofu ingredients. Why burgers? I had the idea to make the tofu look like the buns used for burgers.
After I got the idea to make burgers out of tofu, I took another look at the contents of my fridge. What ingredients can I use for the burger filling.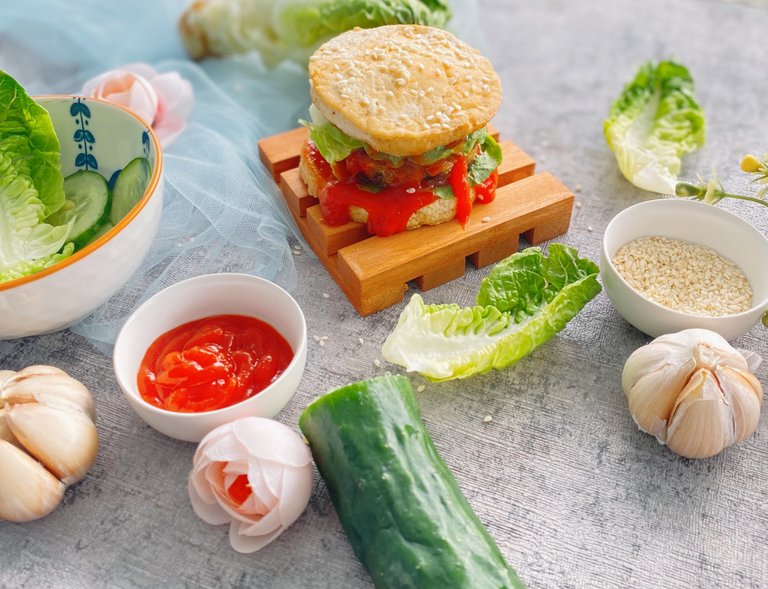 Well, I feel lucky because I still have some vegetables that will support me to realize the idea of making my burger vegan this time. Oh, great! I have a Japanese cucumber and Romaine Lettuce. Then, I have Tempeh which is still in good condition.
---
---
---
Tempeh As Plant-Based Meat
Burgers in general do offer the delicacy of meat as a filling. However, what if we make plant-based burgers? For this, I use tempeh as a substitute for the meat.
Tempeh is indeed rich in protein which is actually healthier than meat. We are actually advised not to eat meat too often, especially processed meat on fast food menus. Well, meat is consumed more slowly by the body and can cause various diseases, especially for cholesterol problems. Also, meat has a high price. So, tempeh can be a solution for those of us who avoid cholesterol problems as well as for saving our money.
---
How To Make Burger Shape
---
At first glance, we might think that tofu is impossible to make into a burger if we don't crush it first. Especially when you usually only see tofu in the form of small squares, not as wide as the diameter of a circle.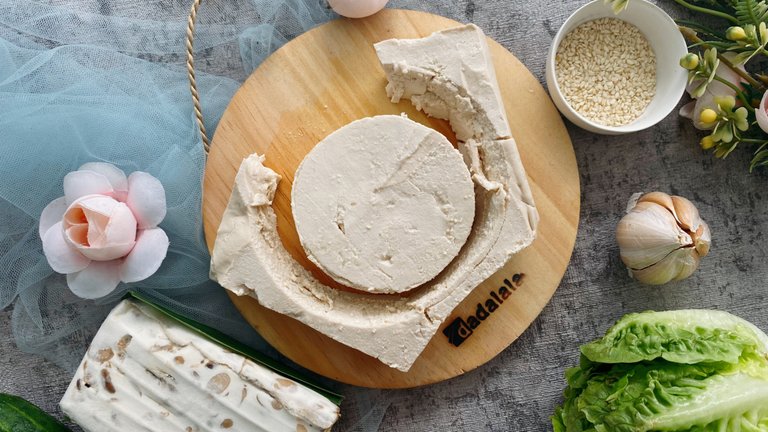 But for me this time, I don't need to crush the Tofu first to form circles like buns (which are used for burgers in general). I was quite lucky because I had a stock of Tofu in the form of wide squares which I bought from the traditional market. Because such a wide tofu shape makes it easier for me to print tofu in a circle that looks like buns.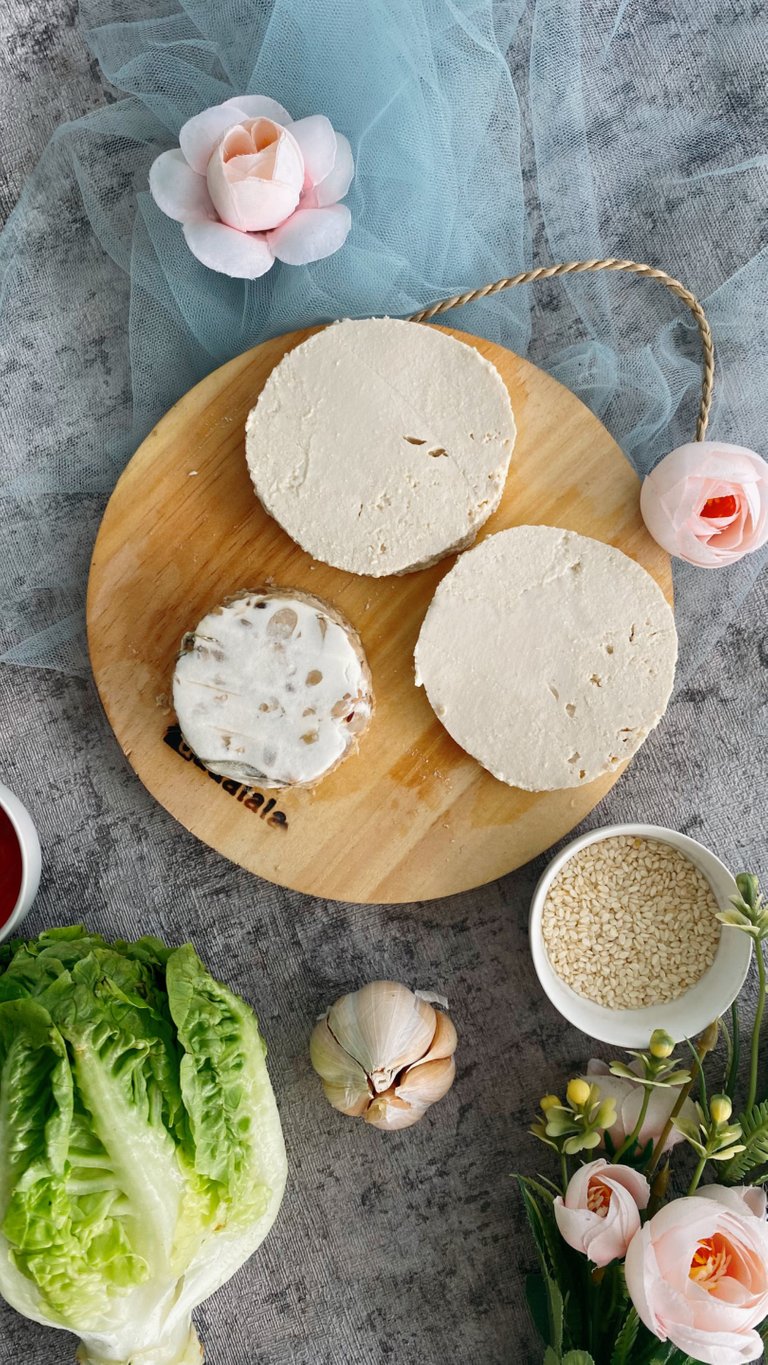 So is the case with tempeh. I have a supply of tempeh that is wide enough that I can shape it into circle-like buns.
---
---
---
Super Easy To Make It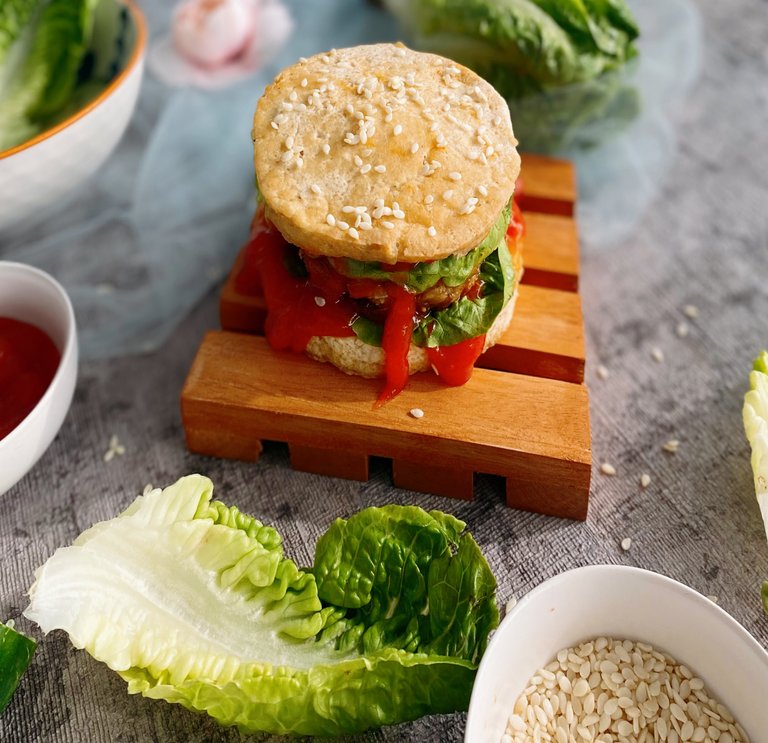 What I like the most about this Tofu Burger is how simple it is made. Of course, it's similar to making burgers in general which are classified as fast food. However, for this plant-based version of the burger, we do need a little work to make the tofu and tempeh form the diameter of the circle.
After making the tofu and tempeh circles, then we have to fry them for a while. I think this is still a simple job compared to cooking other foods because this is for snacks. So, I was expecting this thing to be easy to make.
---
---
---
All We Need To Make Tofu Burger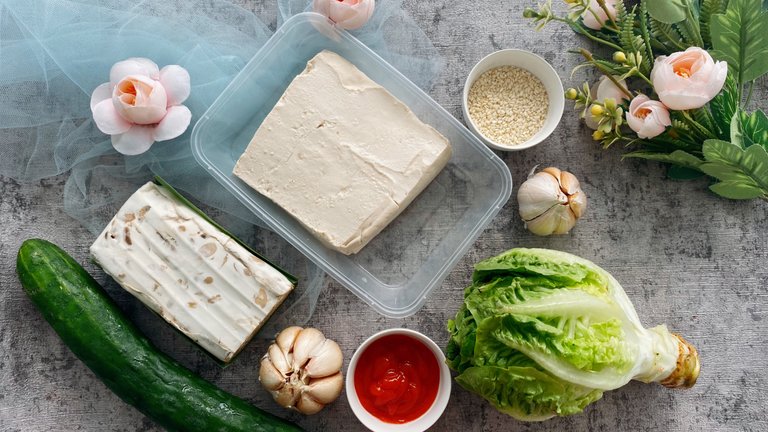 Tofu, make sure the tofu you buy has a wide square shape so that it is enough to form round-like buns.
Slices of cucumber (in this recipe I used a type of cucumber that has a more crunchy texture than Japanese cucumber.)
Lettuce, you can use whatever type of Lettuce you like. (In this recipe, I used super crunchy Romaine Lettuce. I love this type of Lettuce.)
Tempeh
Spicy sauce to taste, or use a sauce that suits your comfort taste.
Sesame seeds to taste
---
---
---
Instructions
STEP 1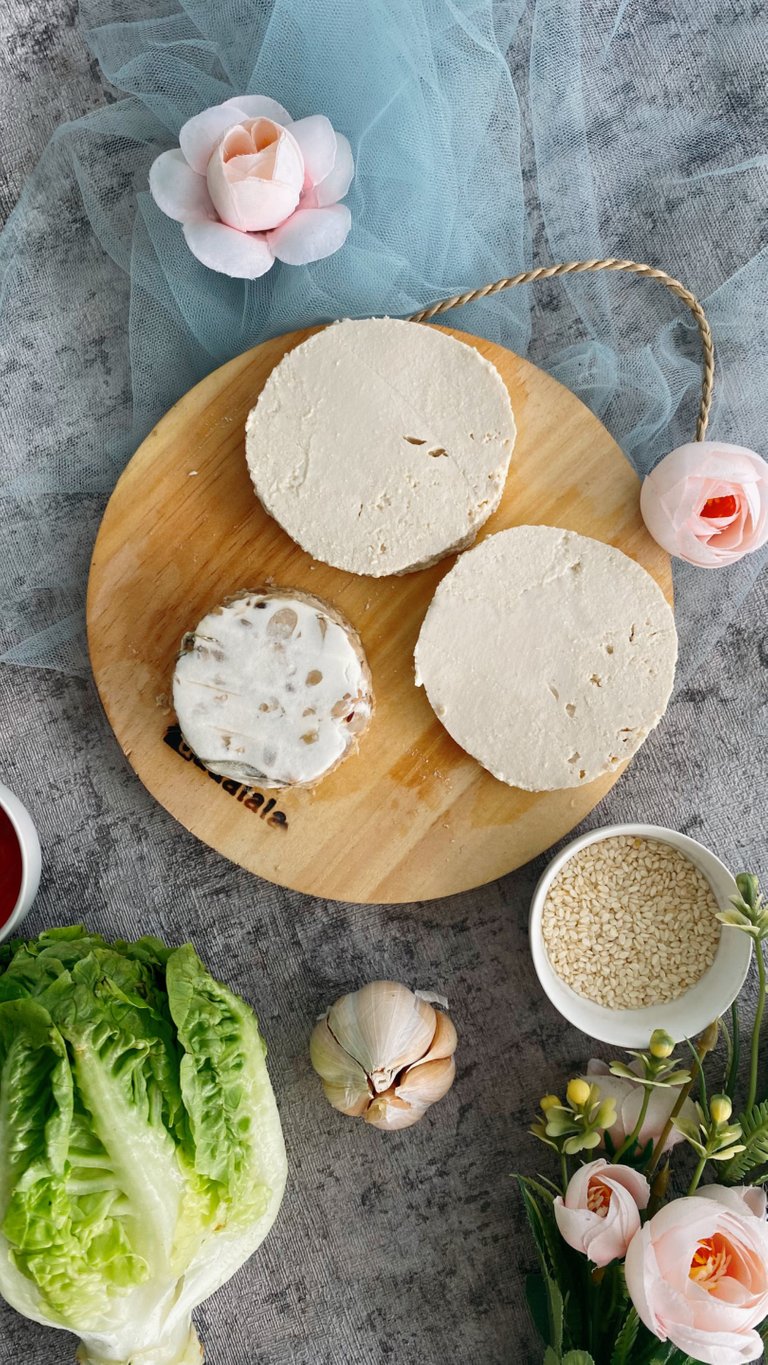 First of all, we have to shape the tofu and tempeh into buns as I mentioned earlier. Since I don't have a special circular mold, I ended up looking for a short cup lid.
I use a cup lid that has a circle diameter that is not too big. Later this size can be right to form good-sized tofu and tempeh.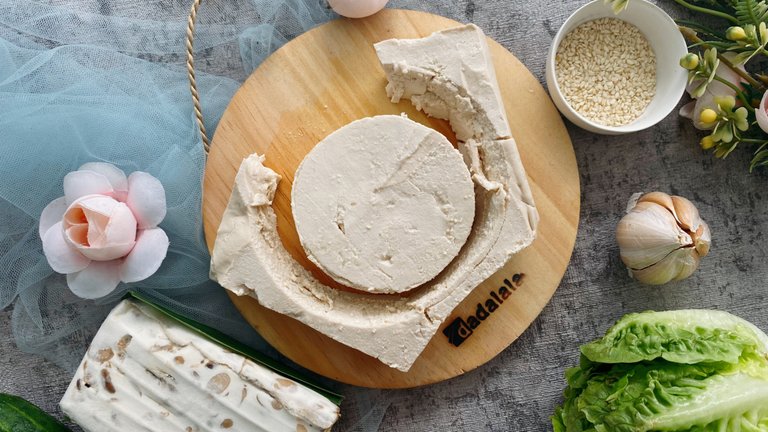 ---
Do it carefully so that the tofu and tempeh don't break. For Tofu, after successfully forming the diameter of a circle, halve the Tofu. But this is adjusted again to the thickness of the Tofu itself.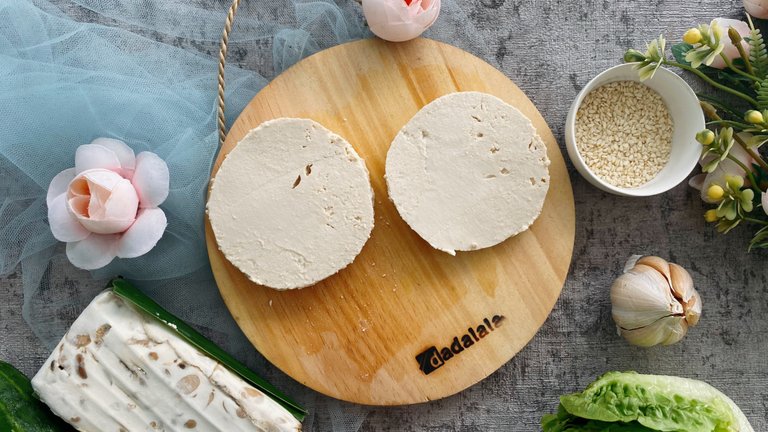 If the Tofu that you have is not too thick, then you can use other Tofu to form it into the same thing as from before.
---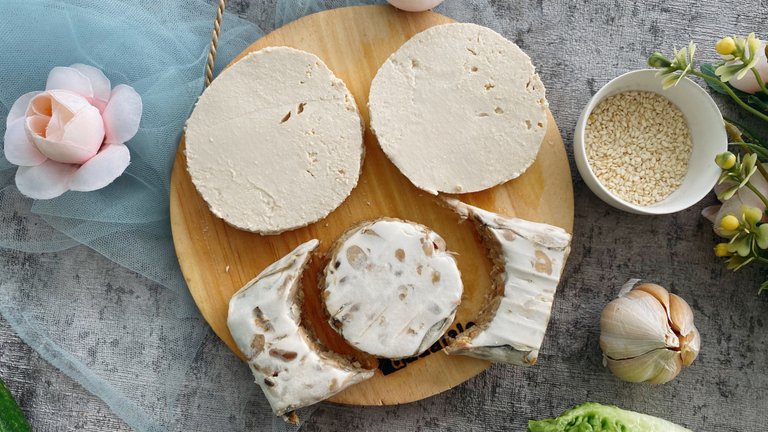 For tempeh, I don't need to cut the tempeh in half because I think the thickness of the tempeh I used is just right enough to shape the tempeh into the shape of the meat used for burger fillings in general.
---
---
---
STEP 2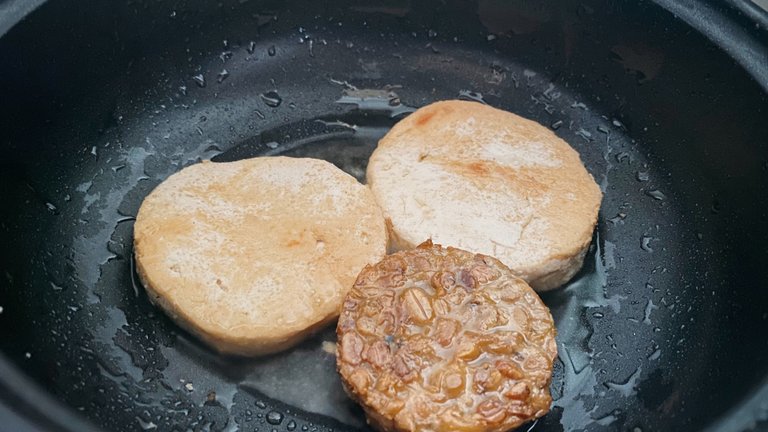 After successfully getting the tofu and tempeh according to the shape we want, then heat the oil to fry the tofu and tempeh. Use only a small amount of oil. To fry the tofu and tempeh, we don't need to use the deep frying method.
If we use the deep frying method, it will change the size of the tofu and will cause the shape and texture of the tofu to change. So, make sure the oil you use is not too much for this frying method.
---
Don't forget to turn the tofu and tempeh so they cook evenly. Also, this is to prevent them from being burnt.
---
---
---
STEP 3
Tofu and tempeh are ready to use. Then it's time for us to collect all the ingredients we need to make the tofu burger. Then we need to sort all the ingredients into one pile.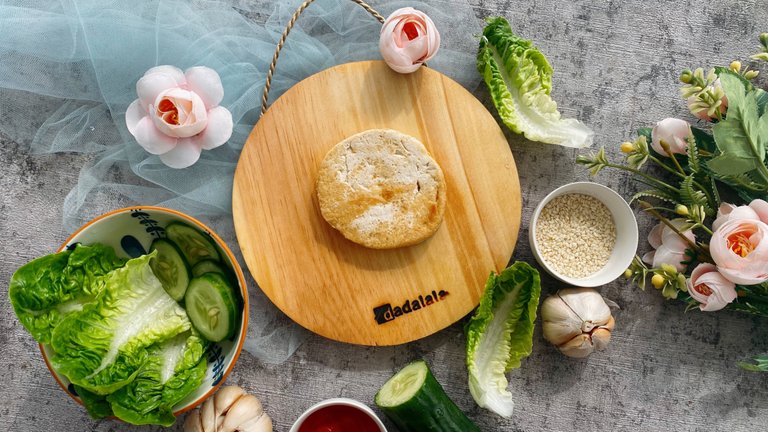 ---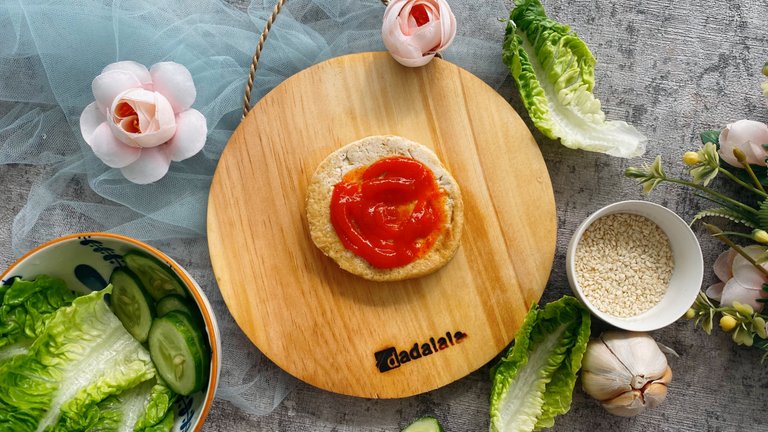 Starting from the most basic, prepare fried tofu for first part. Then, I spread hot sauce on the tofu.
---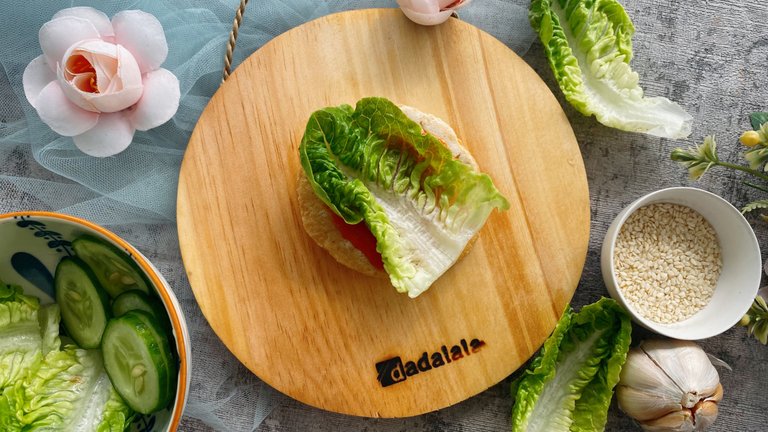 In the next step, then I added Lettuce on top of the tofu and sauce that I had arranged neatly before.
---
Then, I added some more sauce, followed by adding the Tempeh on top.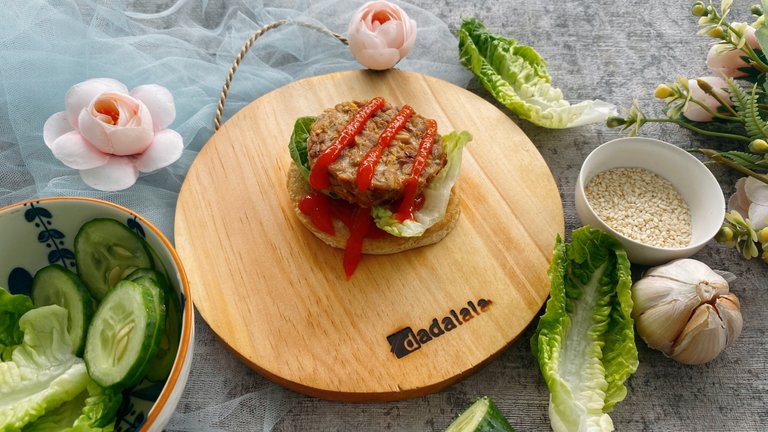 And added more sauce. The addition of sauce according to your taste. If you don't like the spicy taste, you can use another sauce that you usually use for salad dressings.
---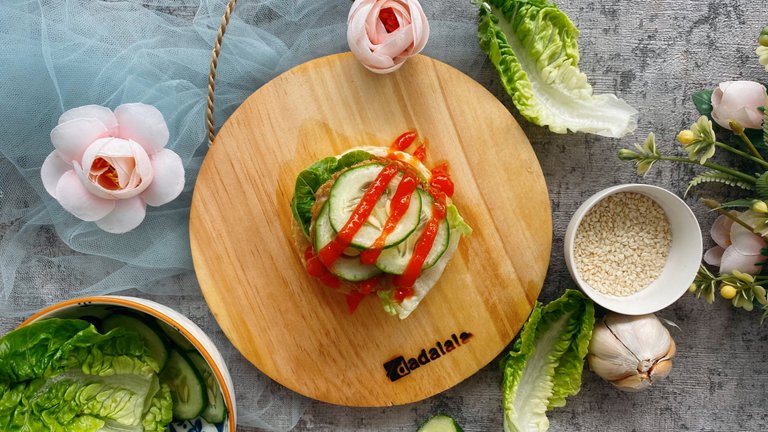 Add slices of cucumber, then add more sauce, and finally cover with a piece of tofu on top.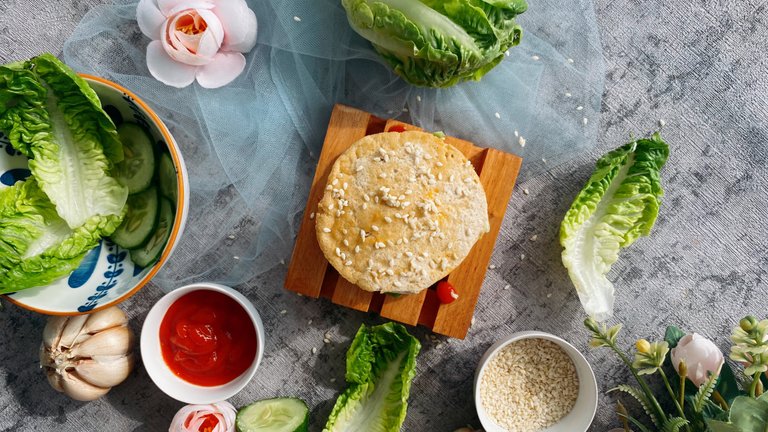 To complete the look of this vegan burger, don't forget to sprinkle sesame seeds on top. Oh, that looks good, doesn't it? What do you think about the appearance of this vegan burger?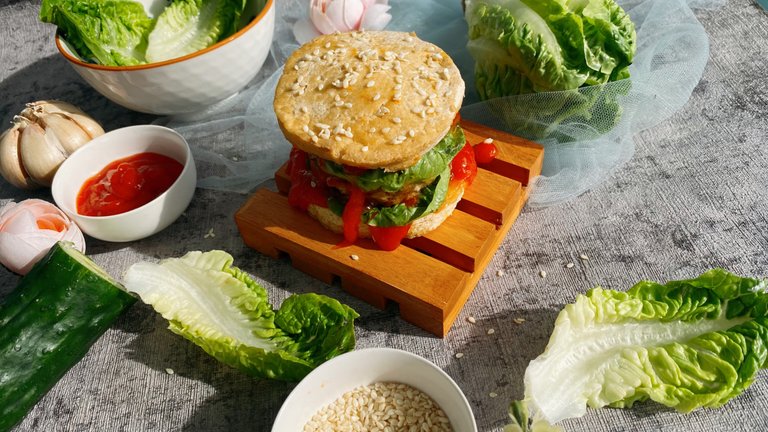 ---
How About The Taste?
I can only say it's perfect! I really didn't think so. At first, I thought the taste of this vegan burger was just so-so because I didn't use any special seasoning. Turns out the overall taste was perfect.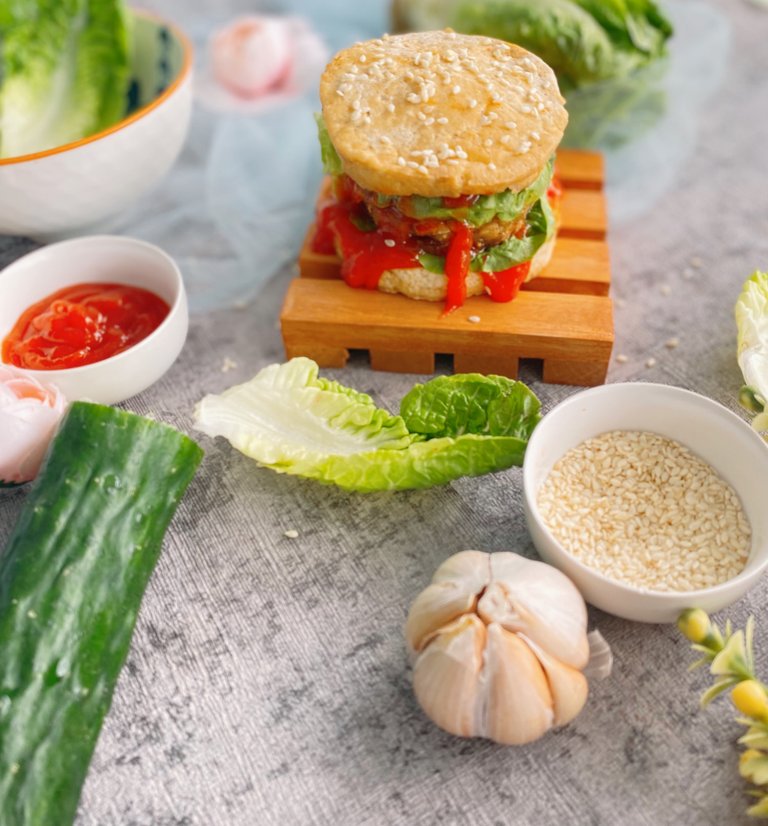 I think it's because of the use of spicy sauce that I use. This is certainly to suit my comfort food tastes. Besides that, here there is a savory taste from the tofu and tempeh that have been fried beforehand. All of these components do have an important role and effect on the taste and texture of this burger.
Another thing that in my opinion makes this tofu burger taste perfect is because the texture of the vegetables that I use are very fresh and crunchy. I've never been disappointed with the use of lettuce especially Romaine Lettuce and also Japanese cucumber.
---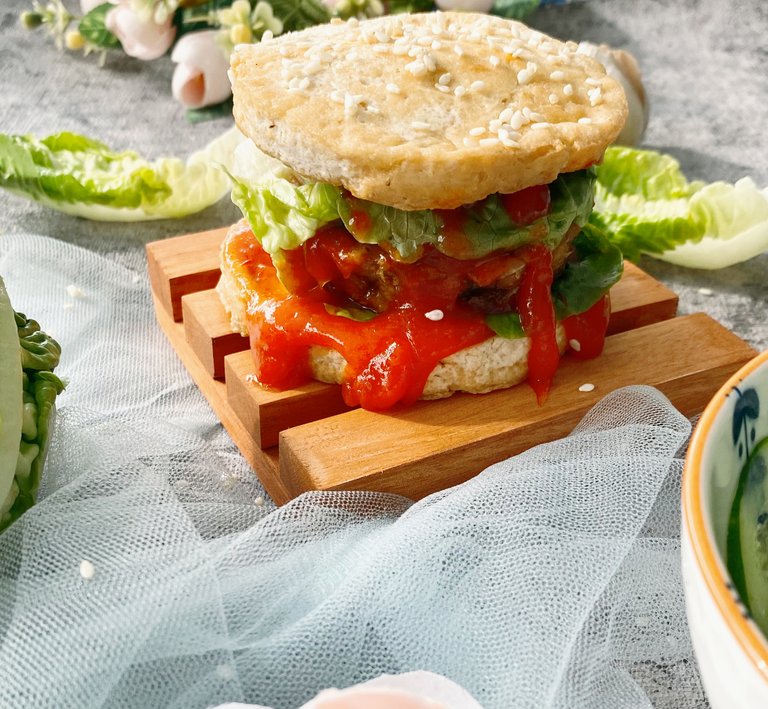 Well, I'm definitely going to make this tofu burger again next time. I was also quite surprised because my partner also really likes this burger. He said the Tofu Burger is worthy of being a variation on burgers in general. Also, he added, this plant-based burger is very good for supporting a healthier life without meat burgers.
---
---
---
What do you think about the Tofu Burger that I made this time? I hope you guys like it and can get new ideas for your snacks. have a great day.
---
Thank you for reading my blog and reblog if you want my blog this time worthy of reading by others.
---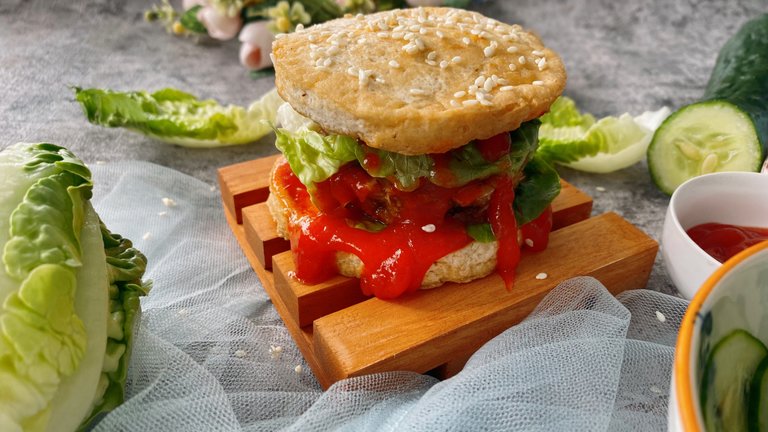 ---
---
---
Best Regards,
Anggrek Lestari
---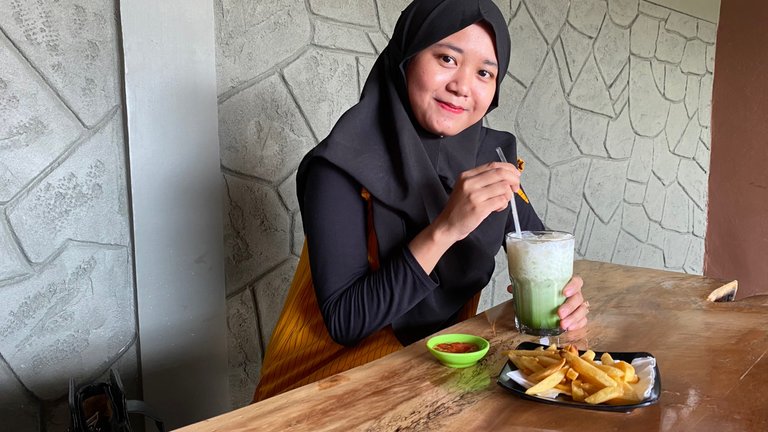 Who is Anggrek Lestari?
Anggrek Lestari is an Indonesian fiction writer who has published two major books. Now She is a full-time content creator. She has a goal to share life, poem, and food content that makes others happy and can get inspiration.
---
Contact Person: [email protected]
Discord: anggreklestari#3009
---
---
---