Sweet Savory Caramelized Mushrooms
A combination of sweet and savory flavors for a taste that cannot be described in words. About the depth of taste that always makes the tongue curious to taste more.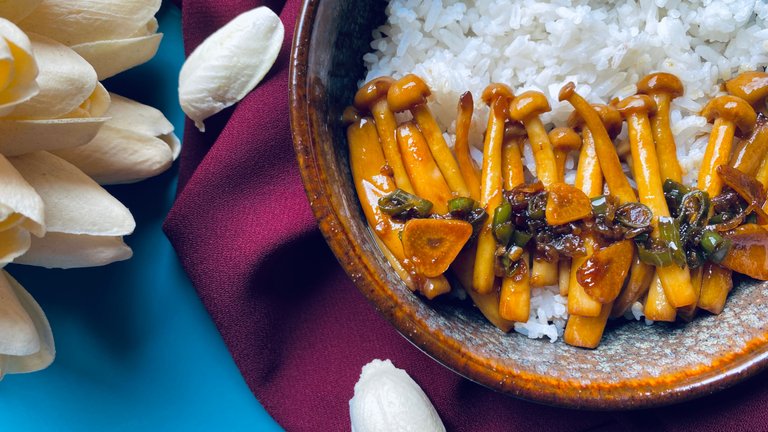 ---
It's amazing how our taste buds work. Never stop looking for new flavors, even though we often return to comfort food.
As someone who loves to cook, I love experimenting with seasoning combinations. But I still look for references to the seasoning in my previous comfort food. Especially the foods that raised me from my family and tribe.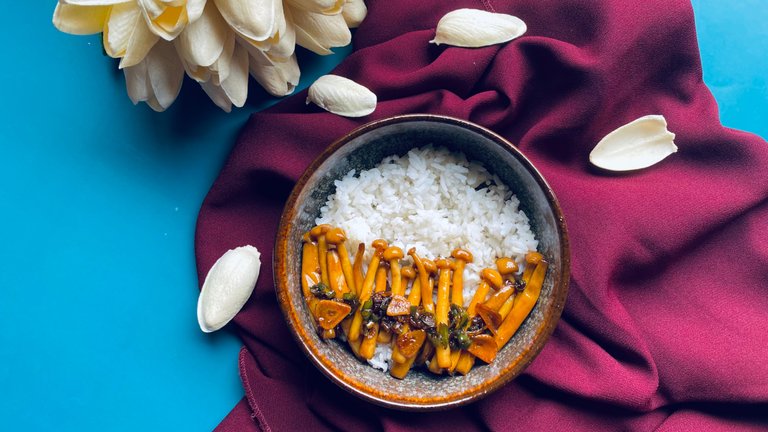 I love digging up food memories from the past. Not fancy, but nice enough. Even though it's not always filling, it can at least enable me and my family to survive.
---
---
---
The culture of serving food in a community or in the past influenced the combination of food flavors. Like my tribe for example. Javanese ethnic. I'm used to the combination of sweet and savory.
The sweet taste for side dishes usually uses sweet soy sauce ingredients. That's why at home we always have sweet soy sauce available. As usual, we always have stock of chili sauce.
---
So, I grew up familiar with caramelized food. But not with brown sugar ingredients like caramelized food in general. For caramelization, we use sweet soy sauce as I mentioned above.
For today, I will share with you a recipe for caramelized mushrooms. Super easy to make it and perfect for side dishes when you are super busy. Stay tuned.
---
---
---
Using White Shimeji Mushrooms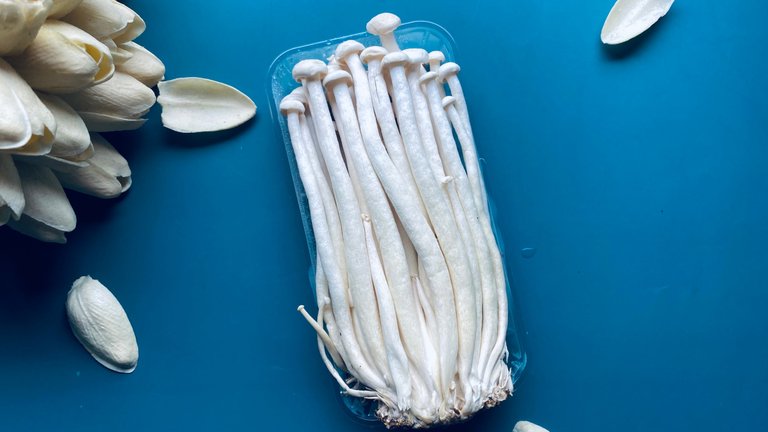 For these caramelized mushrooms, I used White Shimeji Mushrooms. Of course you can use other types of mushrooms.
But, there is one reason I use White Shimeji Mushrooms. That's because the texture of White Shimeji Mushrooms is chewy. If I had used Oyster Mushrooms, it would have been too mushy and wouldn't have gone well with the caramelized seasoning.
Another recommended option is to use Button Mushrooms, or King Oyster Mushrooms. Both types of mushrooms have a chewy texture.
Seasoning Flavors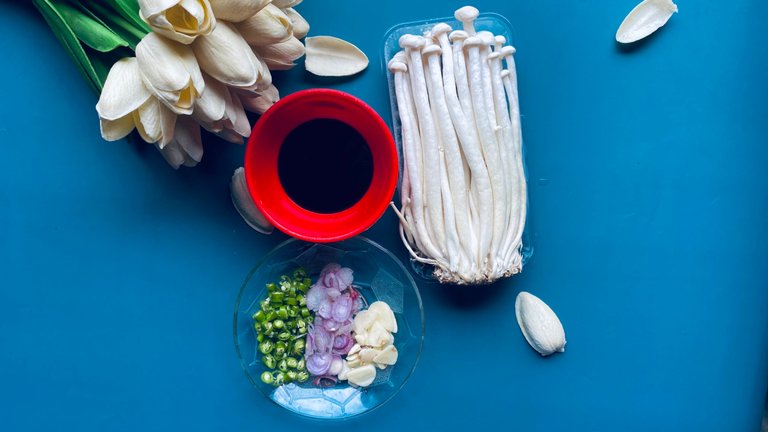 Super easy to make and consists of simple seasoning ingredients. Don't worry:
2 tablespoons sweet soy sauce
2 cloves of garlic, sliced.
3-4 small cloves of red onion, sliced
1/2 teaspoon salt
optional: Chili and spring onion.
---
---
---
Cooking Instructions
Slice, slice. Slice all the garlic, red onions and chilies quickly. While listening to music, oh it becomes fun.
The pungent smell of garlic would linger on my fingers and usually my husband would mock me. But he still kissed my hand even though my hand smelled of garlic. ❤️ Indeed, garlic leaves a pungent smell on my fingers but it is proof of my sincerity and love that I can prepare delicious food for my loved ones. ❤️
---
---
---
Heat a little cooking oil, then gradually add garlic, followed by red onion, and the last one is chili. Saute them until they become fragrant but watch them so they don't burn. They can quickly dry out and burn if you divert your attention to anything else.
So, hold your concentration a little so that the stir-fry seasoning works well.
---
---
---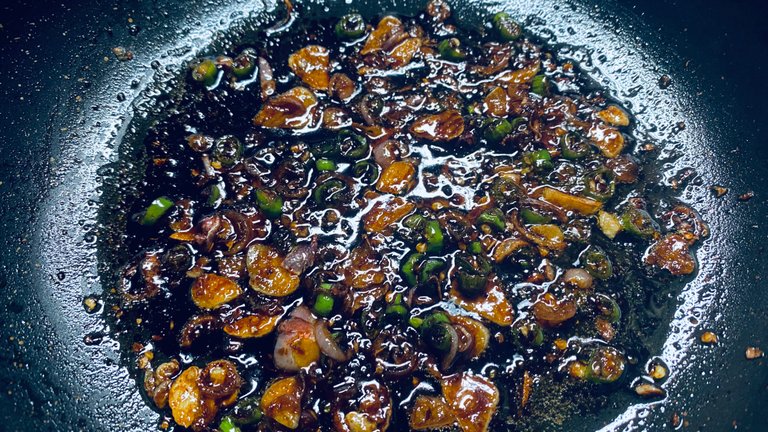 It's time to add sweet soy sauce after the stir-fried seasoning becomes fragrant. Shake the cooking pan so they are completely caramelized.
One thing, I recommend you to use a non-stick cooking pan. This is to prevent the sweet soy sauce from burning.
But if you don't have a non-stick cooking pan, then you can add a little water to prevent the sweet soy seasoning from burning during the caramelization process.
---
---
---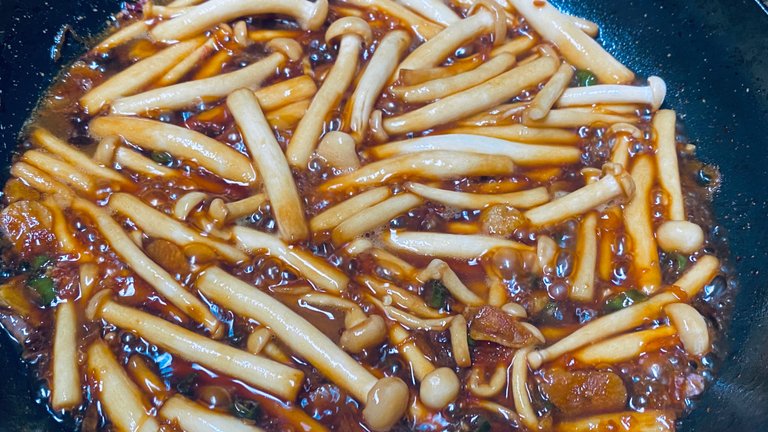 Add mushrooms and let them caramelize. Cook for about five minutes, or adjust to your taste regarding the texture of the mushrooms.
Don't forget to add salt, as well as spring onions at the end of the step if you use spring onions.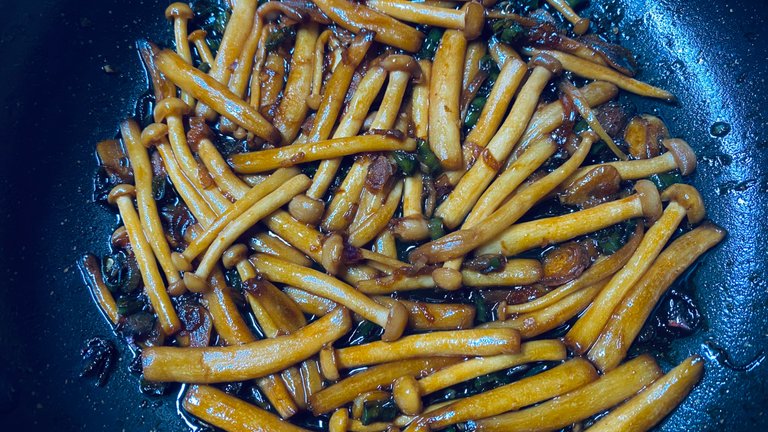 ---
---
---
Serve Caramelized Mushrooms for lots of toppings or just serve them with potatoes or warm rice like mine.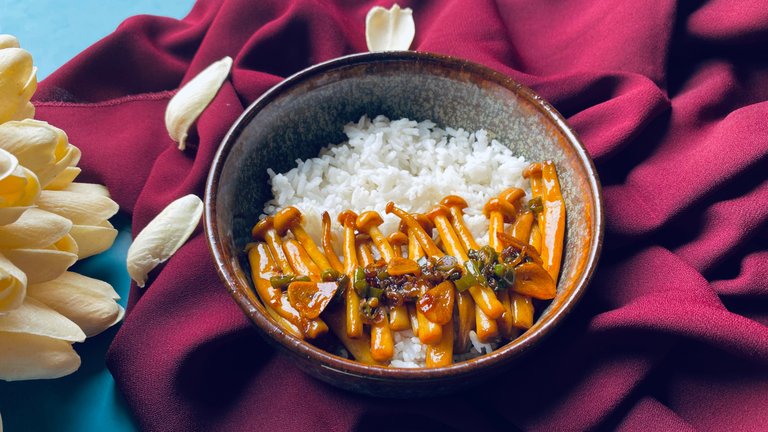 I served Caramelized Mushrooms with a bowl of warm rice for my lunch which only had a little time before I went to the city center for some errands.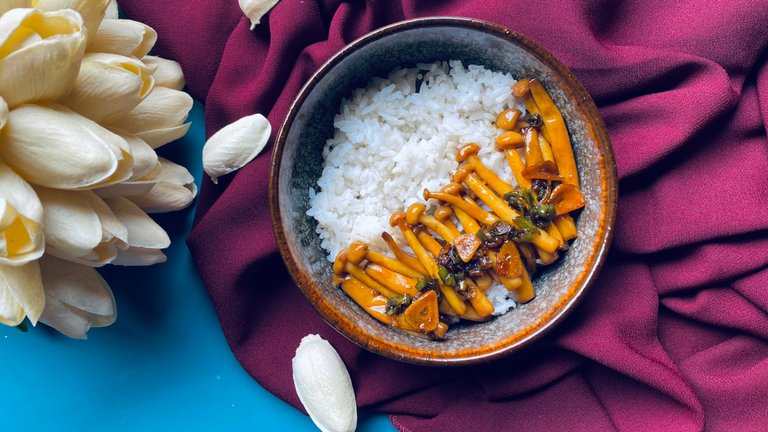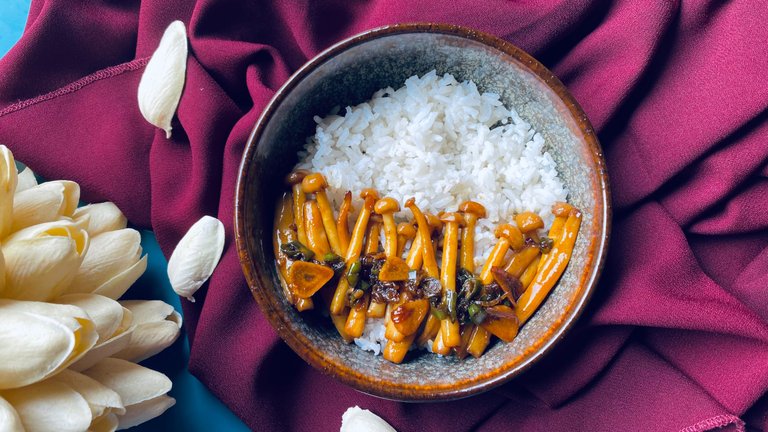 Simple, but enough to give me energy to get through a pretty busy afternoon. I hope you are blessed today.
❤️❤️❤️ Until next, FOODIES!
---
---
---
Thank you for reading my blog and reblog if you want my blog this time worthy of reading by others.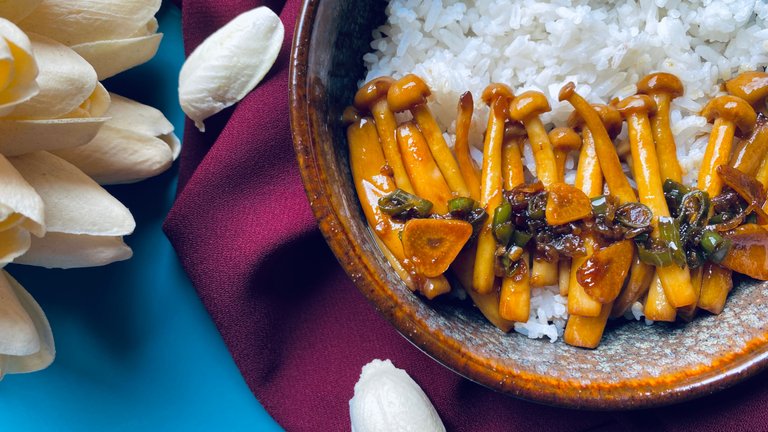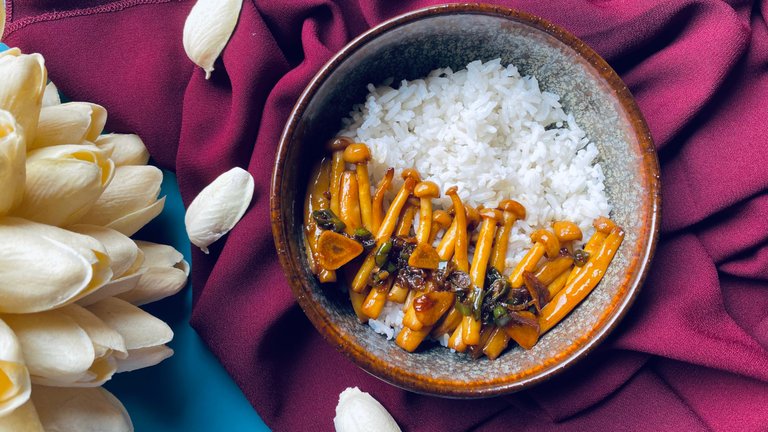 ---
---
---
Best Regards,
Anggrek Lestari
---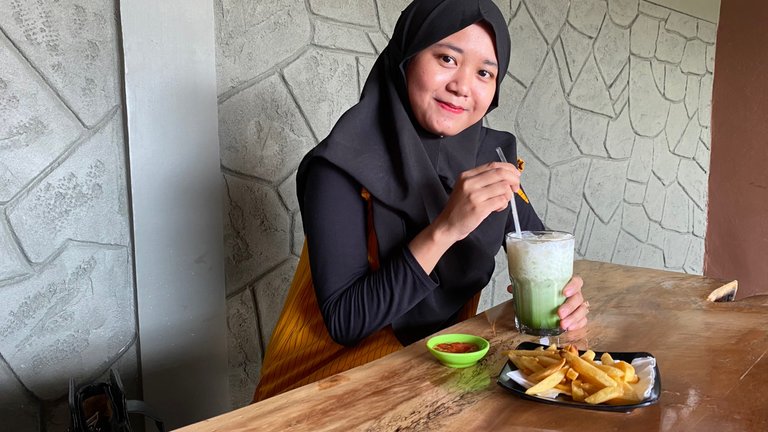 Who is Anggrek Lestari?
Anggrek Lestari is an Indonesian fiction writer who has published two major books. Now She is a full-time content creator. She has a goal to share life, poem, and food content that makes others happy and can get inspiration.
---
Contact Person: [email protected]
Discord: anggreklestari#3009
---
---
---